While Instagram is apparently Gen Z's favorite social platform, most so-called "influencers" tend to miss out on the fact that it is not just about likes and comments.
If you are a business, media personality, or anyone looking to grow on Instagram, there are specific metrics you need to monitor.
During my conversations with friends, I've noticed that they often focus on the wrong metrics, which I refer to as "vanity metrics."
Instead, what they really should be focussing on is, but not limited to:
Target audience demographics
Follower growth
Profile link clicks
Engagement rate
Reach
The good news is that some apps and software do a pretty neat job of measuring these insights and providing invaluable suggestions that will help you grow your Instagram account faster than you may believe.
This article uncovers 12 of the best Instagram analytics software.
Iconosquare is an Instagram analytics app that provides reliable and easy-to-understand metrics to monitor and improve your Instagram performance.
Iconosquare allows you to understand how your content impacts engagement on Instagram.
By analyzing metrics such as likes, comments, and shares, you can gain a better understanding of the type of content that resonates best with your audience.
Additionally, Iconosquare simplifies the process of exporting data for analysis and presentation purposes. With a single click, you can export any data as a visual graph for the desired time frame.
Furthermore, Iconosquare helps you visualize your community's growth, demographics, and geographic distribution.
You can discover where your followers are located, the languages they speak, their age range, and their gender.
Moreover, Iconosquare offers the convenience of receiving automatic reports straight to your inbox.
Useful Features
Engagement insights
Rapid exports
100+ metrics
Community analytics
Custom dashboard
Automatic reports
Pricing
Iconosquare offers different pricing plans based on the number of social media profiles you want to manage.
Pro Plan (59€/month): This plan is best for smaller businesses and marketers. It allows you to manage 3 social profiles.
Advanced Plan (99€/month): This plan is perfect for marketing teams handling multiple profiles. It allows you to manage 5 social profiles.
Enterprise Plan (179€/month): This plan is ideal for agencies and brands with numerous profiles. It allows you to manage 10 social profiles.
They also offer a 14-day free trial.
With Later's Instagram Analytics, you can gain detailed insights into your audience, engagement, and content effectiveness, helping you make data-driven decisions to improve your Instagram strategy.
Later enables you to evaluate the performance of various post formats, including carousel posts, Reels, and Instagram Stories.
You can analyze the engagement and audience response to each type of content, helping you understand what resonates best with your followers.
Using the "Best Time to Post" feature, you can determine the optimal times to share your content for maximum visibility and engagement.
Later automatically calculates your top seven posting times based on when your audience is most active on Instagram.
Later also provides valuable insights to help you optimize your Stories. You can track metrics such as story reach, impressions, completion rate, and an average number of views per user.
The same applies to Instagram Reels.
Later's Analytics tool also includes detailed analytics for your Linkin.bio page. This feature allows you to add clickable links to your Instagram posts, driving traffic to your website or specific landing pages.
Useful Features
Measure performance across various post types
Optimize your posting strategy with the "Best Time to Post" feature
Enhance Instagram Story performance
Drive traffic and sales with Linkin.bio analytics
Comprehensive Reels analytics
Pricing
Later has a 14-day free trial. The Starter plan costs $18/month, The Growth plan costs $40/month and the Advanced plan is at $80/month.
Sprout Social's Instagram Analytics suite is designed to help you measure and enhance your Instagram business strategy.
With Sprout Social's Instagram Analytics, you can track the performance of your posts, trends in hashtag usage, audience engagement, and even competitor data.
Sprout Social allows you to measure the success of your individual Instagram posts. You can see metrics such as likes, comments, and shares, and identify which types of content perform the best.
Sprout Social also helps you track trends in hashtag usage and understand which hashtags are driving the most engagement.
Additionally, the Audience Engagement Measurement provides insights into metrics like comments, likes, and engagement rates.
You can dig deeper into post-level insights with the Sent Messages Report, where you can easily sort metrics and export the data to CSV.
With Sprout Social, you can also generate beautiful, client or presentation-ready PDF reports or export the data in CSV format for further analysis.
Useful Features
Post-performance tracking
Hashtag analysis
Audience engagement measurement
Competitor analysis
Unlimited reports & data
Dynamic data visualizations
Pricing
Sprout Social offers a 30-day free trial. They have a Standard plan that costs $249/month. The Professional plan costs $399/month and the Advanced plan costs $499/month.
Sendible is a social media management platform that not only helps you enhance your Instagram presence but also provides powerful analytics and reporting features.
The primary purpose of Sendible is to save you time and effort by enabling you to generate meaningful reports in just minutes. You have access to pre-built reports that include a Google Analytics link.
With this functionality, you can effortlessly track and analyze your Instagram performance alongside website data.
One particularly appealing feature is the ability to auto-post to Instagram Stories and TikTok.
What sets Sendible apart is its capability to create custom reports that truly represent your brand.
You can utilize over 200 modules to customize your reports and highlight the social media analytics that is most relevant to your clients.
The drag-and-drop report builder makes it incredibly easy to create presentation-ready reports tailored to the unique needs of each client.
Useful Features
Powerful analytics and reporting features
Auto-posting to Instagram Stories and TikTok
Customizable reports with over 200 modules
Bulk Importing and Content Suggestions features
Integration with GIPHY, Pexels, Dropbox, and Google Drive
Pricing
Sendible offers three different pricing plans with a free 14-day trial:
Creator Plan ($29/month)
Traction Plan ($89/month)
White Label Plan ($240/month)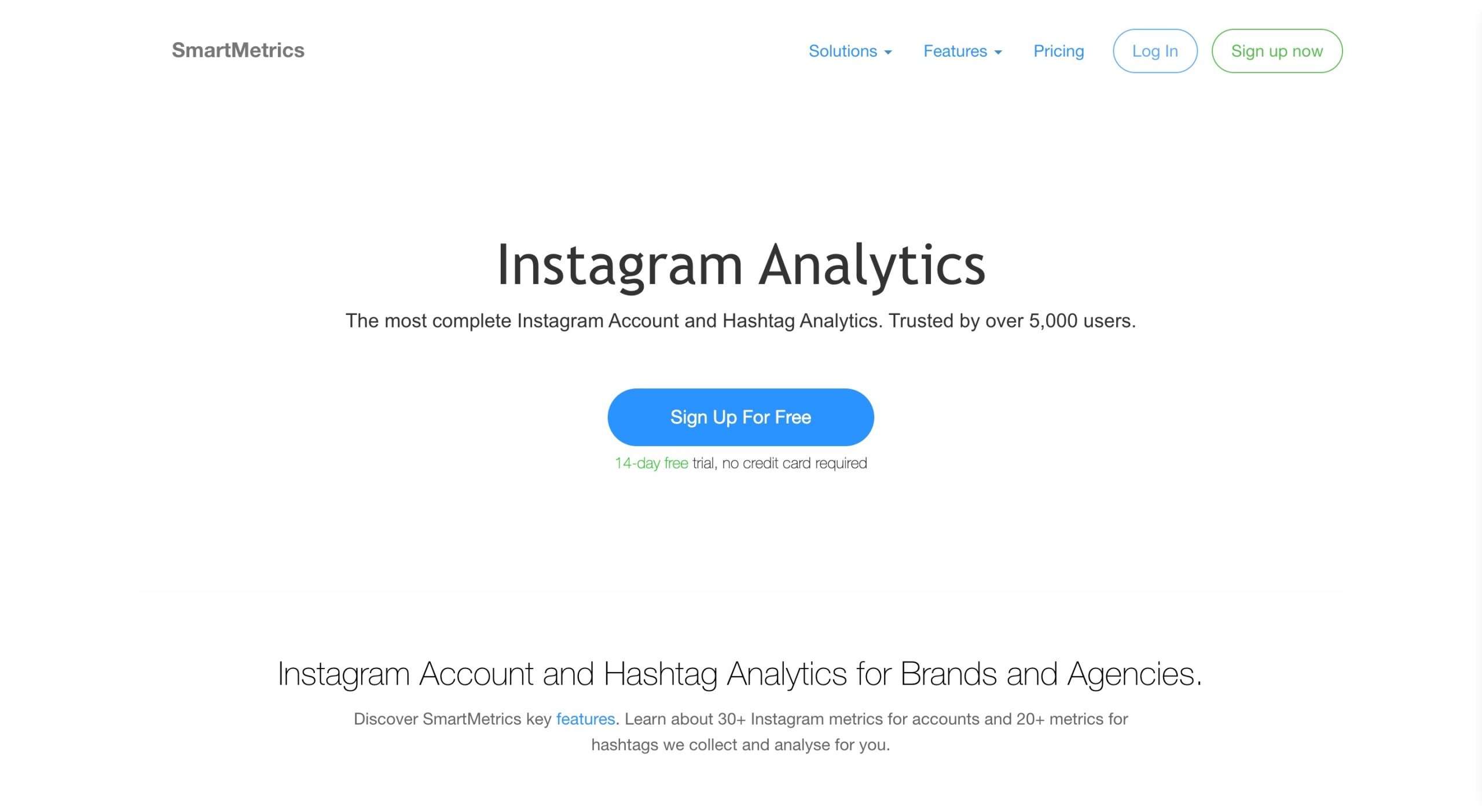 SmartMetrics is a powerful analytics tool that provides in-depth insights and metrics not available in the Instagram app itself.
With SmartMetrics, you can track your follower count, trends, and growth over time, monitor changes in followers by the hour, see who you're following, and even determine your influence rating.
SmartMetrics enables you to analyze the performance of hashtags used in your posts.
Additionally, you can keep track of mentions of your Instagram account across the platform with SmartMetrics.
Furthermore, SmartMetrics presents the collected data in a visual and easy-to-understand format.
To be more specific, it offers over 30 visualized metrics, such as graphs and charts, that provide a clear overview of your account's performance, post engagement, follower demographics, geographic distribution, and much more.
These visual representations make it easier for you to identify trends, patterns, and make data-driven decisions.
Useful Features
Followers geography
Demography & age
Engagement rates
PDF & CSV data export
Competitors and historical data analytics
Visualized Data with Graphs and Charts
Pricing
SmartMetrics offers a 14-day free trial. The $9/month plan allows you to track and analyze up to 3 profiles. The $19/month plan allows you to track up to 7 profiles. Lastly, if you need to track more profiles, they have a $39/month plan that enables you to track up to 15 profiles.
Rival IQ is a social media analytics platform that gathers all the important metrics and data about your Instagram account in one place.
Rival IQ delves deeper into your Instagram account by providing in-depth insights into your posts, Stories, IGTV Analytics, customer demographics, and channel engagement.
Additionally, Rival IQ allows you to analyze the performance of your competitors on Instagram. You can compare their hashtag performance, preferred post types, and best post times.
Apart from competitive analysis, Rival IQ provides detailed statistics about your Instagram Stories.
You can access data such as peak reach rate, retention, exit rate, taps forward and back, and more.
Moreover, Rival IQ helps you monitor the performance of your Instagram ad campaigns. You can track campaign, platform, and placement performance to allocate your budget where it matters most.
Useful Features
Instagram performance overview
Competitor analysis
Stories analytics
Instagram insights
Campaign monitoring
Pricing
Rival IQ offers a 14-day free trial and provides three paid plan options to choose from:
Drive: $239/month or $199/month on annual billing.
Engage: $349/month or $299/month on annual billing.
Engage Pro: $559/month or $469/month on annual billing.
Agorapulse is a social media management tool that provides valuable reports to help you understand the effectiveness of your social media efforts. In addition to Instagram, it supports a variety of social networks, including Facebook, LinkedIn, Twitter, and TikTok.
One of the key benefits of Agorapulse is its ability to identify which types of content perform well on each social network.
By analyzing your posts, it provides data on organic reach, paid reach, total reach, clicks, and the number of engaged users.
Moreover, Agorapulse offers recommendations to enhance your social content strategy.
For instance, if the data indicates that your audience engages more with video content on Instagram, Agorapulse might suggest creating more video posts to boost engagement.
Agorapulse also includes a powerful reporting feature that allows you to create custom reports based on your preferred metrics and date ranges.
Furthermore, it enables you to delve deeper into your social media data by downloading CSV files.
Useful Features
Instagram Stories analytics
Detects best-performing content
Tracks trends and team performance
Performance tracking of Instagram reels
Offers Power Reports for customized reporting
Pricing
Agorapulse offers a free plan and a 30-day free trial. The Standard plan is priced at $69 per month ($49 per month on annual billing), while the Professional plan starts at $99 per month ($79 per month on annual billing). Additionally, the Advanced plan is available for $149 per month (or $119 per month on annual billing).
HypeAuditor is a powerful Instagram analytics tool that offers comprehensive insights and valuable information about Instagram influencers, enabling you to make well-informed decisions regarding the most suitable influencers for your brand.
One of the key features of HypeAuditor is its ability to analyze Instagram influencers using more than 35 essential metrics.
These metrics encompass engagement rate, follower growth, and comments authenticity, among others.
Additionally, HypeAuditor provides precise audience demographics, which is another valuable aspect of the tool.
You can obtain insights into an influencer's audience location, age and gender distribution, spoken languages, and even their interests.
To further enhance its capabilities, HypeAuditor offers detailed engagement analyses. It not only provides data on an influencer's engagement rate but also examines the presence of engagement pods.
Engagement pods are groups of influencers who artificially boost each other's engagement by liking, commenting, and sharing each other's posts.
Useful Features
Analyze Instagram influencers with over 35 valuable metrics
Accurate audience demographics
Best-in-class fraud detection solution
In-depth engagement analyses
Instagram growth analyses
Account quality score
Pricing
HypeAuditor offers a free demo. You can request a demo session to learn more about the exact pricing.
Crowdfire is a powerful platform designed to provide you with valuable insights and analytics to enhance your Instagram performance.
The first feature is the Report Builder. With Crowdfire's Report Builder, you have the freedom to create custom, professional reports that perfectly suit your needs.
You can handpick the data points you want to highlight and include multiple social networks in a single report.
Next, let's talk about the Advanced Analytics feature. Crowdfire offers advanced analytics that allow you to delve deeper into your data and gain a comprehensive understanding of your ROI.
Another valuable feature of Crowdfire is Competitor Analysis. This feature allows you to compare your performance against that of your competitors.
Lastly, Crowdfire provides an Analytics Overview to help you keep track of key metrics at a glance.
Useful Features
Measure, Track, understand your ROI
A ready-to-use template for all your reporting needs
Pick and choose the data points that matter to you
Find detailed insights on each of your posts
Keep an eye on your followers and fans
Competitor analysis
Pricing
Crowdfire offers a free plan, as well as three paid plans. The Plus plan is priced at $9.99 per month and is ideal for small businesses. The Premium plan is priced at $49.99 per month and is suitable for medium-sized businesses. The VIP plan, priced at $99.99 per month, is designed for agencies and large businesses.
Pallyy is a nifty Instagram analytics platform designed to help you understand and improve your Instagram performance. With Pallyy, you can closely monitor your competitors' Instagram profiles.
By connecting up to 10 competitor accounts, you gain access to a wealth of analytics, including engagement rates, posting frequency, follower growth, and much more.
Pallyy offers a robust set of analytics to help you gain valuable insights into how your audience interacts with your Instagram profile.
You can track metrics such as followers gained and lost, reach, impressions, profile views, and more.
But Pallyy doesn't stop at regular posts; it also provides analytics for your Instagram Stories. You can track engagement metrics for your stories, including views, taps, and replies.
What's particularly handy is that Pallyy retains this data even after 24 hours, ensuring you can review what worked well in the past and learn from it.
Useful Features
Track your Instagram competitors
Create and share performance reports
Audience insights
Top post analytics
Instagram story analytics
Pricing
Pallyy offers a completely free plan that allows you to schedule 15 posts per month. The Premium plan is priced at $15 per month (or $13.5 per month when billed yearly).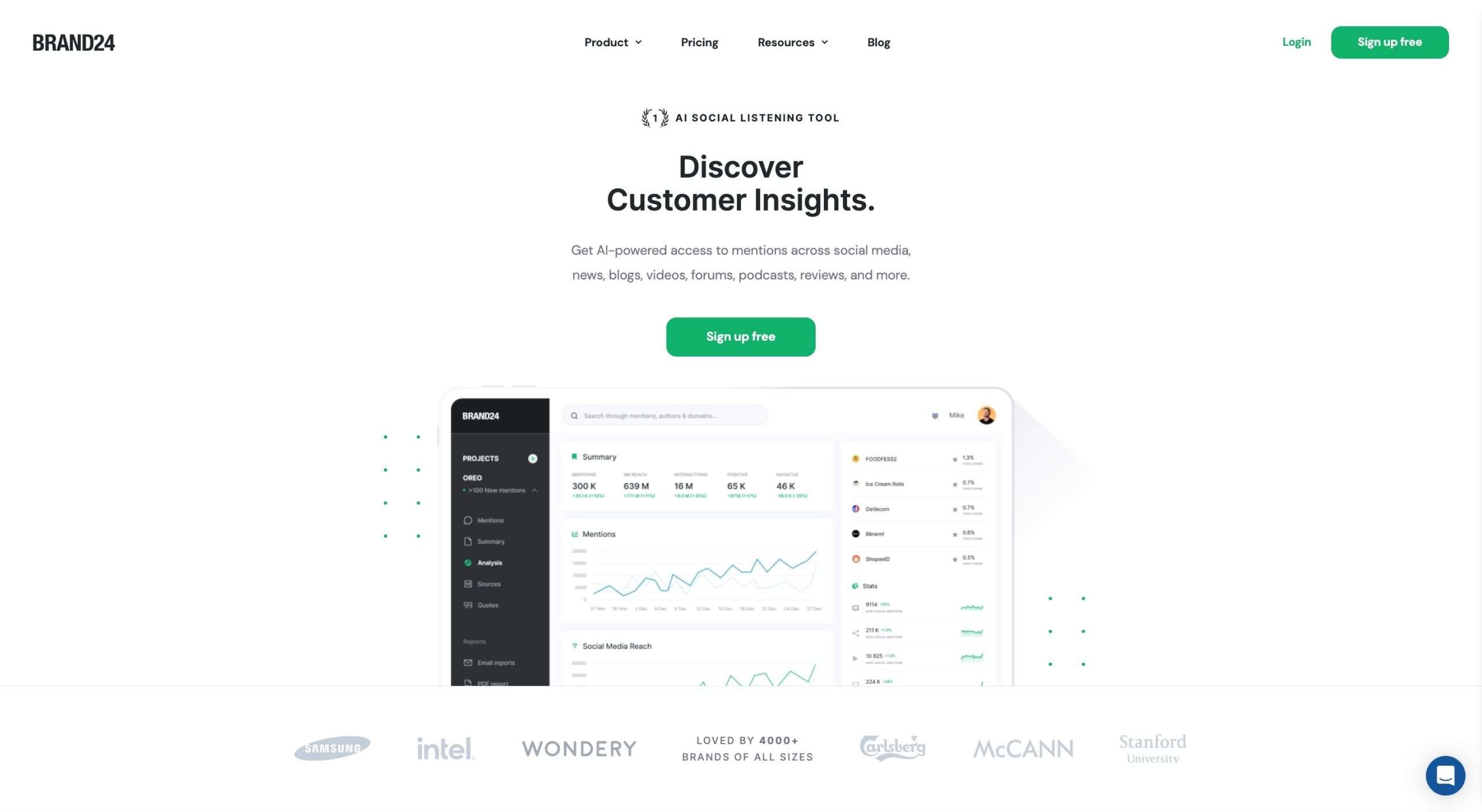 Brand24 can assist you in monitoring conversations about your brand or any other relevant topics for your business.
One of the key features of Brand24 is the Mentions Feed, which acts as a live stream showcasing ongoing discussions online concerning your brand.
Another noteworthy feature is the Discussion Volume Chart, which enables you to track fluctuations in the volume of discussions surrounding your brand.
Mention Analytics is another powerful tool offered by Brand24. It provides valuable insights into the individuals discussing your brand online.
By analyzing the quality and quantity of buzz surrounding your brand, you gain a deeper understanding of your customers.
Furthermore, Brand24 includes Sentiment Analysis, a particularly useful feature for comprehending public perception of your brand.
It categorizes mentions into positive, negative, or neutral sentiment, allowing you to gauge the overall sentiment towards your brand.
Useful Features
Mentions feed
Discussion volume chart
Mention analytics
Influence score
Sentiment analysis
Data exporting
Pricing
Brand24 offers a 14-day free trial. You can then choose to upgrade to either of the paid plan options:
Individual ($79/month)
Team ($149/month)
Pro ($199/month)
Enterprise ($399/month)
Last but not least, Squarelovin is another fantastic platform that can supercharge your Instagram game.
Firstly, let's discuss Instagram Analytics. With this feature, you gain access to all the detailed information about your Instagram posts.
Impressions, reach, and engagement—Squarelovin provides all the necessary statistics for analyzing the performance of your content.
Moreover, you can delve into specific content types such as Stories, Reels, and Feed Posts to identify which ones are garnering the most attention.
Squarelovin includes a "best time to post" feature and employs a magical algorithm that determines optimal posting times based on your audience's habits.
Additionally, Squarelovin offers Performance Reports that provide a comprehensive assessment of your Instagram account, but with a much cooler vibe.
Useful Features
Instagram analytics
Performance reports
User Generated Content (UGC) management
Branded content
Pricing
Squarelovin's Instagram Analytics solution has a free plan. The paid plan starts at around $9.9/month.
Conclusion
When it comes to growing on Instagram, it's important to focus on the right metrics rather than getting caught up in vanity metrics.
Tracking target audience demographics, follower growth, profile link clicks, engagement rate, and reach are crucial for success.
Fortunately, there are several excellent Instagram analytics software options available to help you monitor and analyze these metrics.
From SmartMetrics and Rival IQ to Sprout Social and Iconosquare, these tools offer in-depth insights, visualized data, and valuable suggestions to help you make data-driven decisions and grow your Instagram account faster.
Take advantage of these powerful analytics tools and unlock the full potential of your Instagram presence RIGHT NOW!