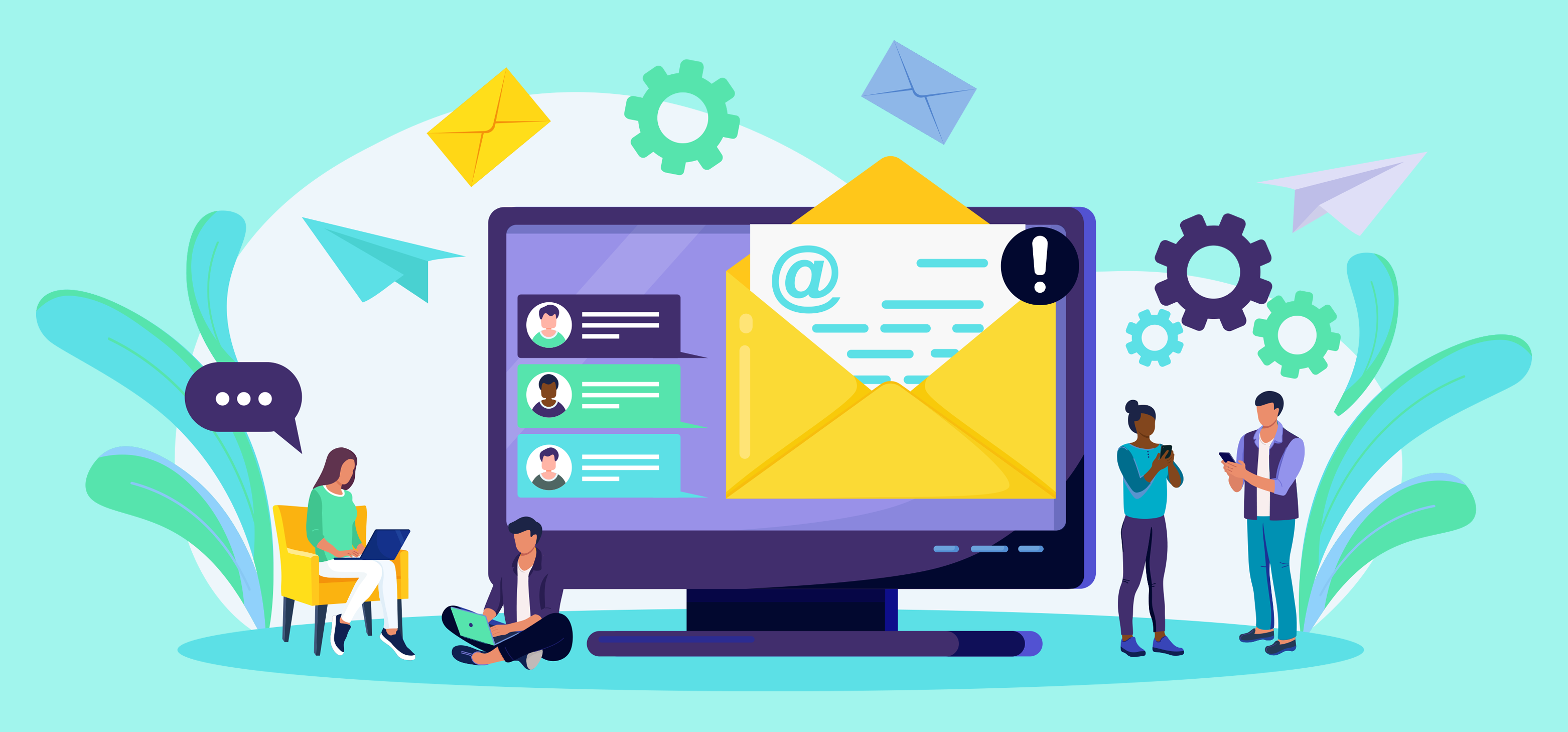 With the rise of digital marketing, email has become one of the most effective ways to engage customers and drive business growth.
Or as Noah Kagan beautifully puts it: "Social is how you grow, email is how you profit."

But crafting targeted, professional email campaigns takes time, technical skills and the right tools.
This is where Brevo, formerly known as SendInBlue, comes in.
Brevo is an all-in-one digital marketing platform built to make email marketing easy, allowing you to create beautiful, responsive campaigns that get results.
However, it's not the only option.
Are there tools better than Brevo in terms of quality, ease of use and pricing?
You'll find that out in this blog post, where we explore the top Brevo alternatives on the market.
Let's dive in!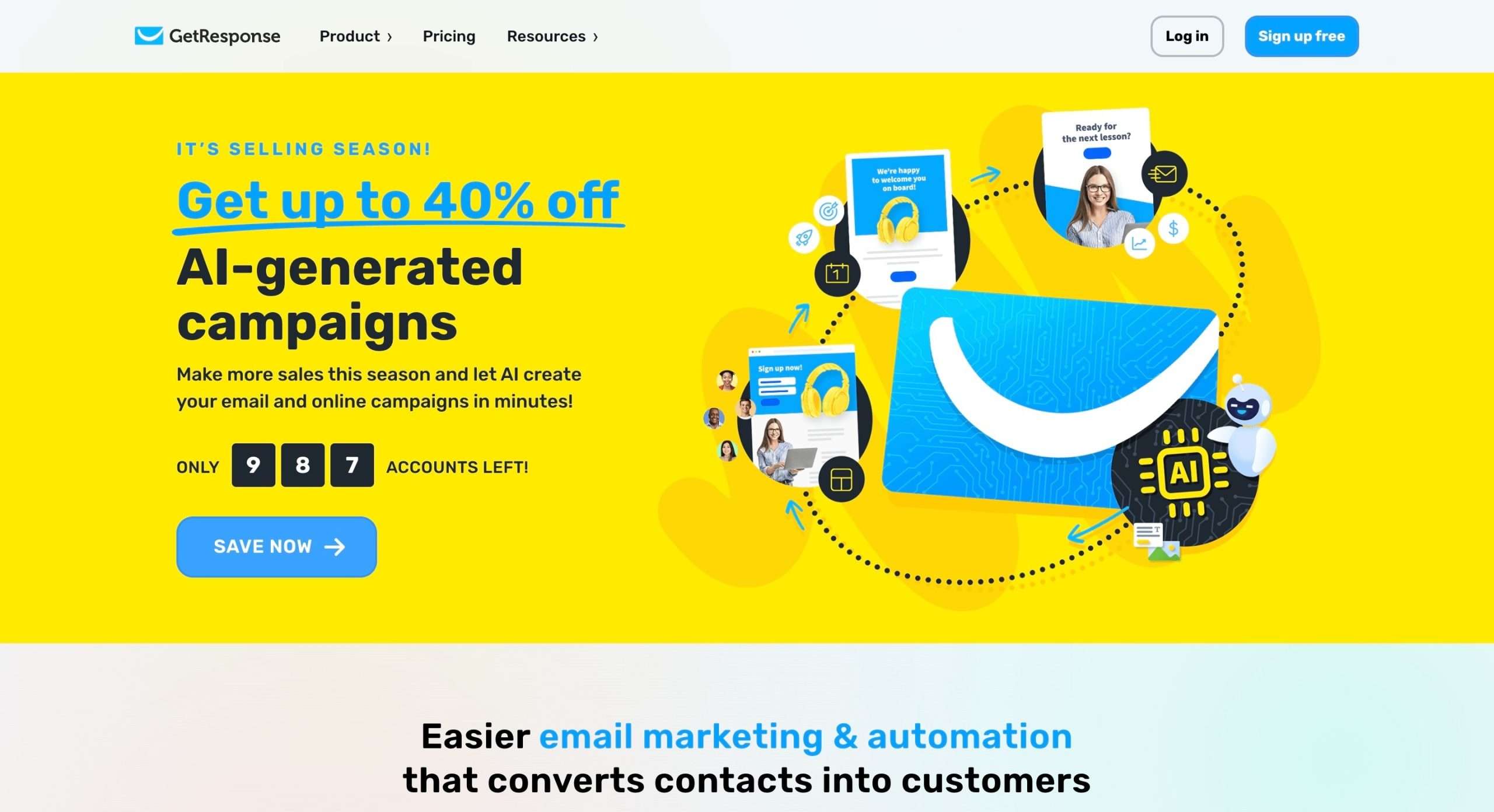 GetResponse is an awesome email marketing program that helps businesses, like yours, grow online.
It uses artificial intelligence to make creating emails and campaigns a breeze. The AI Email Generator can whip up amazing emails to get more people to open and click on them.
You also get an AI Campaign Generator. It makes complete campaigns with landing pages, welcome emails, newsletters, and more!
With GetResponse, you can talk to your customers in all sorts of ways. You can send newsletters, set up auto-responders for sign-ups, and use web push notifications and text messages.
The email creator has awesome templates to make eye-catching emails in minutes. And you can use marketing automation to send emails when someone does something on your website.
Talk about handy!
GetResponse makes it easy to see how your campaigns are working. You get reports on opens, clicks, and more. See which emails and landing pages perform best.
GetResponse Features
AI-powered email and campaign generator
Email marketing automation
Landing pages and forms
Lead generation and list building tools
Multi-channel engagement (email, web push, SMS)
Integration with ecommerce platforms
Price
GetResponse has a free plan where you can collect up to 500 emails.
You can try the premium features for free using their 30-day free trial. The premium email marketing plan starts at $19 per month allowing you to collect 1000 contacts. The price increases as your contact list grows.
Campaigner is a powerful email marketing automation platform that helps businesses create and manage highly targeted marketing campaigns.
One of the core strengths of Campaigner is its sophisticated email marketing automation.
You can set up intelligent workflows that engage your audience at the right times based on their behaviors and preferences.
Useful automation tools include lead scoring, progressive profiling, automated responses, and recurring campaigns for consistent touchpoints.
Campaigner also provides extensive options for creating compelling email content.
An intuitive drag-and-drop editor makes it easy to craft professional, mobile-responsive designs without coding.
You have access to hundreds of customizable templates, dynamic content blocks, and A/B testing capabilities.
Campaigner's segmentation and personalization features let you tailor content for different audiences.
For optimizing deliverability, Campaigner offers contact management tools like suppression lists, exclusion lists, and computed fields to maintain list hygiene.
Campaigner Features
Email marketing automation
Workflows for lead nurturing and customer journeys
Recurring campaigns
Segmentation and personalization
Drag-and-drop email designer
Geolocation reporting
Price
Campaigner has a 30-day free trial where you can access all premium features. The paid email marketing plan (they call it Starter) starts at $59 per month which enables you to manage a subscriber list of up to 5k members.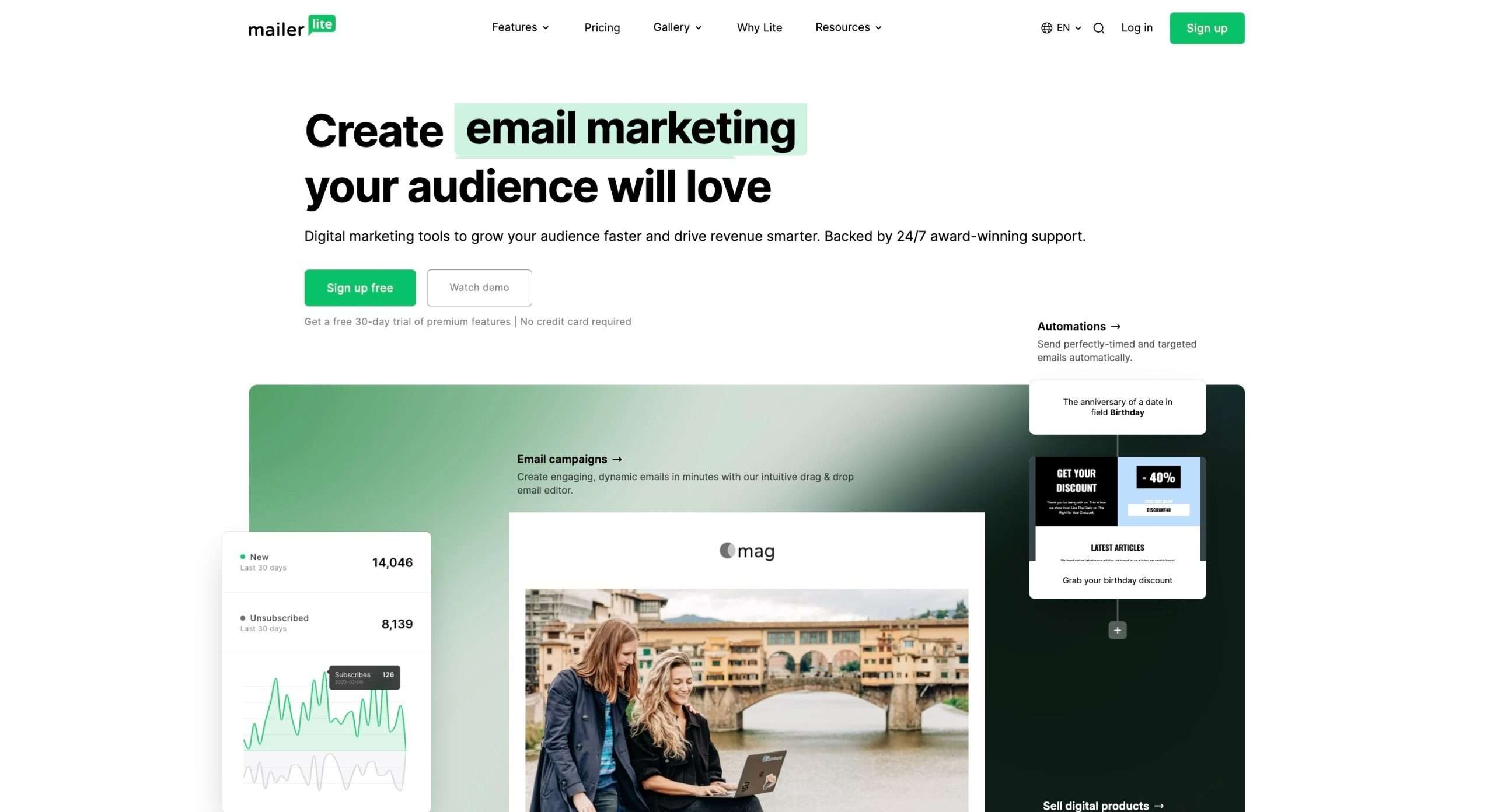 MailerLite is an excellent alternative to Brevo for growing your audience and optimizing revenue through email marketing campaigns.
With an easy-to-use drag and drop editor, you can quickly create engaging emails to connect with your subscribers.
One unique feature is the ability to offer special birthday discounts, delighting your audience.
MailerLite makes it simple to sell e-books, downloads, and other digital products directly through your email.
You can also build stunning websites for your business with their integrated website builder.
An important part of audience growth is making it easy for people to sign up for your newsletter. MailerLite offers several signup form options to help you rapidly grow your email list.
They even give you the ability to charge for premium newsletter content.
They easily work together with Stripe, Zapier, Shopify, WordPress, and WooCommerce.
Customizing a great-looking newsletter is now easier than ever with MailerLite's templates for websites and emails.
MailerLite Features
Drag and drop email editor
Performance tracking for campaigns
Sell ebooks, downloads, and digital products
Website builder included
Customizable templates for emails and websites
Integrations with Stripe, Zapier, Shopify, WordPress, WooCommerce
Price
MailerLite provides a 30-day free trial. They have a single-user free plan allowing you to collect up to 1,000 email subscribers. The paid plans start at $10 per month.
HubSpot has Email Marketing tools that are easy to use all by yourself. You don't need any designers or IT people to help you.
You can create, personalize, and improve your own emails. HubSpot has templates that let you easily design professional emails on your own.
HubSpot also tailors your emails to each person who gets them. This makes your emails more likely to be opened and clicked on.
Moreover, HubSpot looks at stuff like where someone is in your sales cycle, what lists they're part of, and other info about them from your contacts.
Then it sends emails at the best time no matter what time zone people are in.
You can A/B test your emails too.
This lets you find out which subject lines and content work best. HubSpot gives you lots of insights about how people interact with your emails.
HubSpot even has an AI that writes email content for you. You just have to give it some simple instructions or highlight stuff, and it writes the email copy.
Some other things HubSpot offers are free email marketing training, templates proven to work, and free resources. If you need help, they have customer support you can call.
HubSpot Email Marketing Features
Drag-and-drop email templates
Send emails at optimal times based on time zones
A/B testing for subject lines and content
In-depth analytics on engagement
AI-powered email content generation
Integration with HubSpot CRM
Price
HubSpot email marketing is part of their Marketing suite of products. The free plan helps you get started with lead generation and email marketing. As you grow, you can consider looking at the Starter plan starting from $20 per month.
If you are an enterprise, they have a Professional plan much suited for you at $890 per month and an Enterprise plan costing $3600 per month.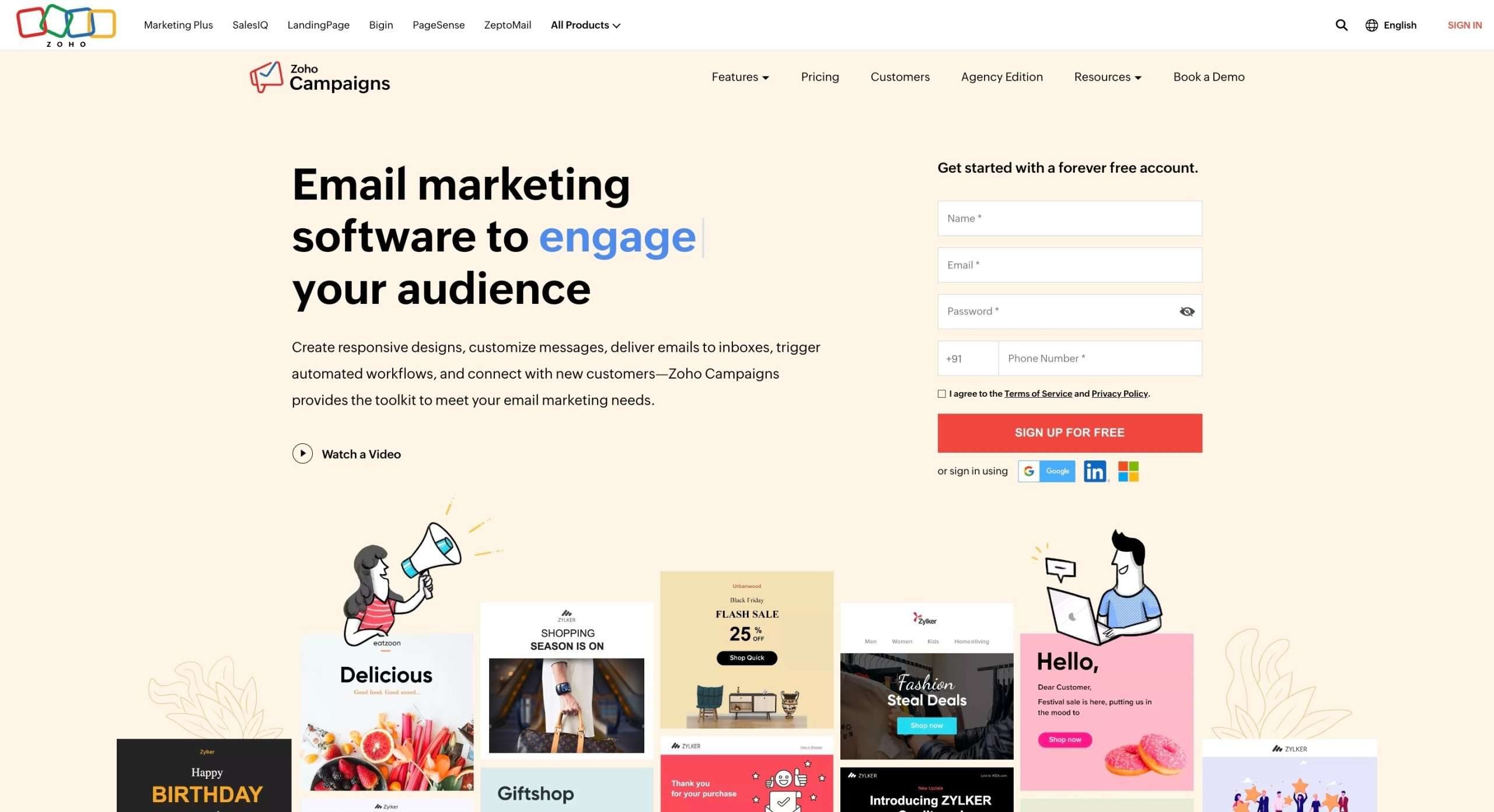 Zoho Campaigns is an email marketing software that makes it super simple to send the right messages to the right people at the right time.
With Zoho Campaigns, you can get really personal and tailor your emails through features like dynamic content.
This means the emails can include different images, call-to-action buttons, or text for each subscriber based on their interests and activity.
One of the coolest parts of Zoho Campaigns is how you can set up automation.
This way, you can create sequences or workflows of emails that get sent out automatically when someone signs up, makes a purchase, or reaches a milestone.
You don't have to keep logging in to trigger each email—they do it for you! With drag-and-drop tools, setting up these automations is as easy as pie.
Zoho Campaigns also allows you to create interactive emails with fun elements like polls, surveys, videos, GIFs, and more.
When it comes to actually sending your emails, features like send-time optimization and domain authentication help ensure your emails reach the intended inboxes.
Zoho Campaigns Features
Personalization with dynamic content
Automation with workflows and drip campaigns
Interactive emails with polls, surveys, videos etc.
Send-time optimization for deliverability
Email cadence and drip sequences
Price
Zoho offers a 14-day free trial on Zoho Campaigns. They also have a forever-free plan, allowing you to collect up to 2k contacts. To unlock all premium features, consider trying:
Standard plan, costing around ($3 per month)
Professional plan, costing around ($4 per month)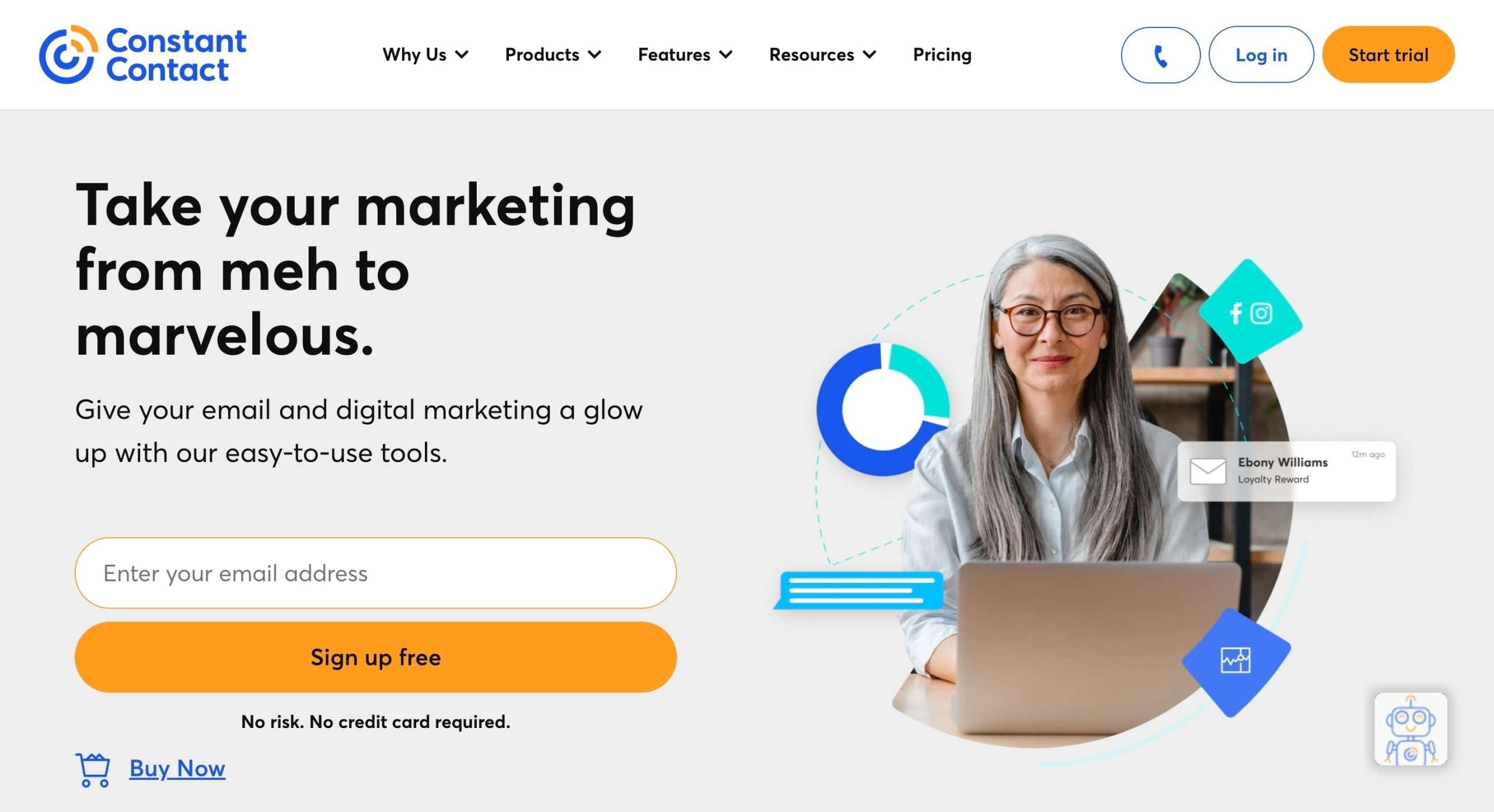 Constant Contact is an email marketing service that makes it super easy for small businesses to connect with customers.
With Constant Contact, you can create good-looking emails, send them out automatically, and see how your customers respond.
One of the best parts is that Constant Contact shows you all the numbers—how many people opened your email, clicked on stuff inside it, and shared it with others.
You don't have to build emails from scratch, either.
Constant Contact offers professionally designed templates. These templates allow you to create emails that match the personality and style of your business.
It also lets you organize your customer lists into groups.
This makes it easy to send targeted emails to different segments of your audience, like sending a discount to repeat customers.
Constant Contact lets you post your email content directly to Facebook, Instagram, and Google Ads.
For launching campaigns, Constant Contact has lead generation landing pages. These customizable pages give you a unique URL to promote and convert leads for specific offers or events.
Constant Contact Features
Comprehensive reporting to track open, click, and share rates
Professionally designed templates to customize email designs
Marketing automation to send targeted, personalized emails
Customer list management to segment contacts precisely
Integration with social media ads for expanded reach
Website signup forms to convert website visitors
Lead generation landing pages to capture new signups
Social posting integration to manage engagement
Seamless integrations with sales tools like Salesforce
Engagement tools like surveys and polls
Price
Constant Contact offers a 60-day free trial. The Lite plan costs $12 per month and is ideal for a single player. The Standard plan costs $35 per month and allows 3 members. Finally, they have a Premium plan costing $80 per month, allowing unlimited members.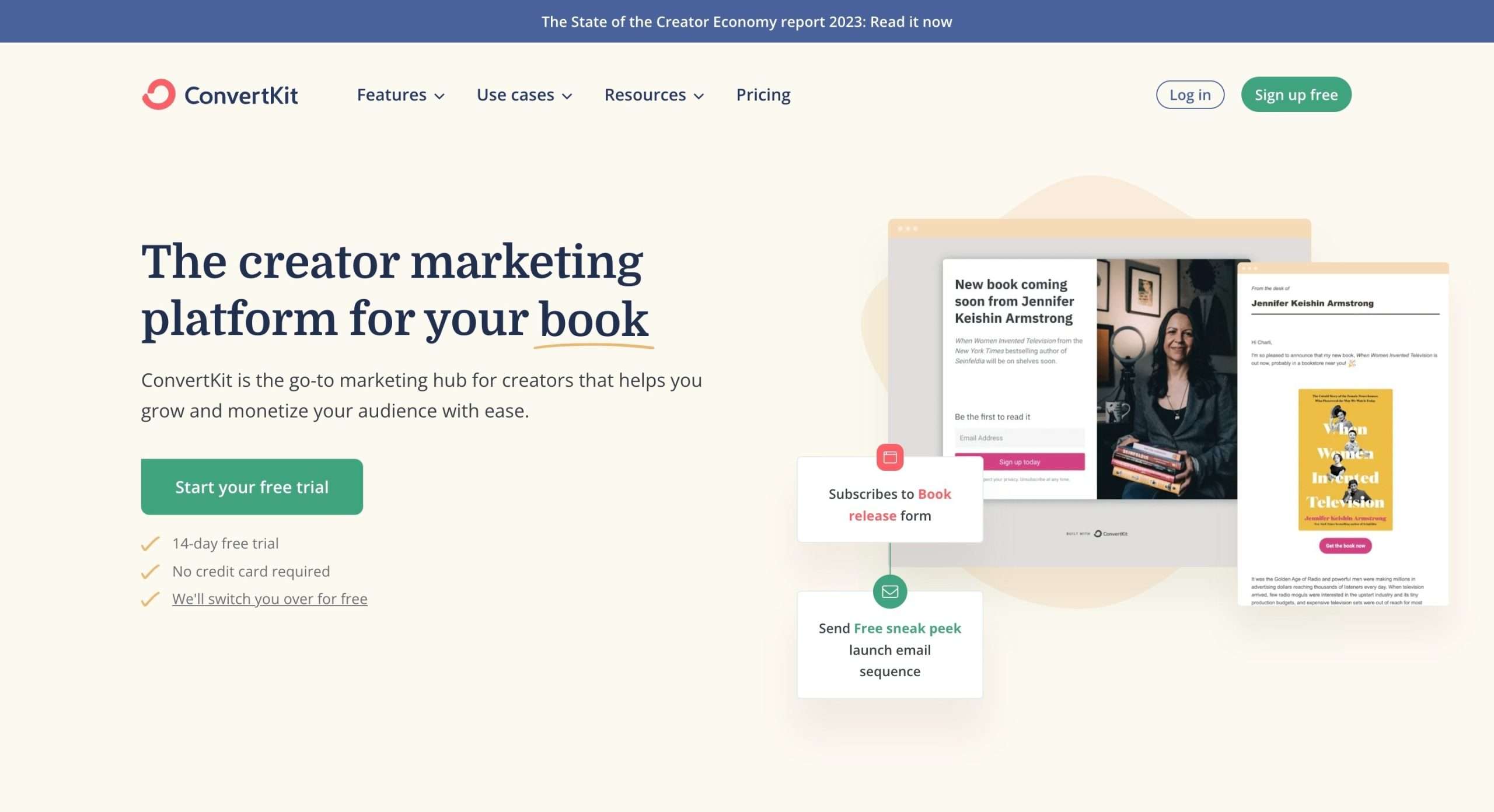 ConvertKit is an email marketing and automation platform for creators like bloggers, podcasters, and authors. It helps them grow their audiences and turn them into customers.
With ConvertKit, you can easily build an email sequence to turn new subscribers into loyal fans. It makes it simple to segment your audience and send targeted, personalized emails to each group.
One of the most useful ConvertKit features is the landing page builder.
It provides beautiful, customizable templates that let you create high-converting landing pages to promote your content, products, or services.
You can also centralize your online presence with ConvertKit's Creator Profile, which acts like a home base to highlight your channels, products, and newsletters.
When you join ConvertKit's Creator Network, you can get recommendations from other creators and cross-promote to their audiences.
And with ConvertKit's audience tools, you can tag and organize your subscribers based on their interests and behaviors.
Then you can send hyper-targeted emails to each segment, leading to higher engagement and conversions.
Convertkit Features
Segment your audience and send targeted emails
Landing page builder with templates
Centralized Creator Profile
Join the ConvertKit Creator Network
Visual workflow automations
Sell digital products directly or integrate with ecommerce
Price
For up to 1000 subscribers, ConvertKit has a free plan. The Creator plan starts at $15 per month while the Creator Pro plan starts at $29 per month.
Mailchimp is a super helpful email marketing service that makes it easy for anyone to create and send awesome email campaigns.
With Mailchimp, you can make your emails look professional using tons of beautiful templates, or you can design your own from scratch.
Mailchimp allows you to send emails to specific groups of people based on their actions. For example, you can target customers based on their recent purchase or length of email subscription.
Mailchimp also has automation tools that let you set up sequences of emails to send automatically when someone signs up, makes a purchase, has a birthday, or whatever else you can think of.
For those who hate writing, Mailchimp takes away the pain by helping you fill your emails with content that's tailored to your audience.
And if you ever feel stuck, you can browse ideas from Mailchimp's content library for some inspiration.
Mailchimp Features
Marketing automation
Audience management
Reporting & analytics tools
AI marketing tools
Key integrations like Canva, Salesforce, Shopify
Price
Mailchimp comes with a free plan where you can send emails to up to 500 contacts. If you have a larger subscribers base than that, then you can consider checking out these paid plan options:
Essentials ($4.61 per month)
Standard ($6.88 per month)
Premium ($137.54 per month)
ActiveCampaign is an intuitive email marketing platform built to help businesses of all sizes maximize their marketing efforts.
With ActiveCampaign, creating beautiful email newsletters and campaigns is a breeze thanks to the user-friendly drag-and-drop designer.
One of the handiest features is ActiveCampaign's top-notch email segmentation.
You can divide up your contacts based on preferences, behaviors, and demographics—you name it!
Speaking of building your audience, ActiveCampaign makes it simple to create opt-in forms for your website, so visitors can subscribe to your mailing list.
Here's another neat trick: ActiveCampaign tracks what visitors do on your website, so you can see exactly how people interact with your content.
ActiveCampaign pulls out all the stops to maximize deliverability through advanced deliverability tools. You don't want your hard work going to spam!
ActiveCampaign Features
Site tracking
Deliverability optimization
Email automation
Personalization
Reporting and split testing
Price
ActiveCampaign offers a 14-day free trial. The Plus plan costs $49 per month, while the Professional plan costs $149 per month.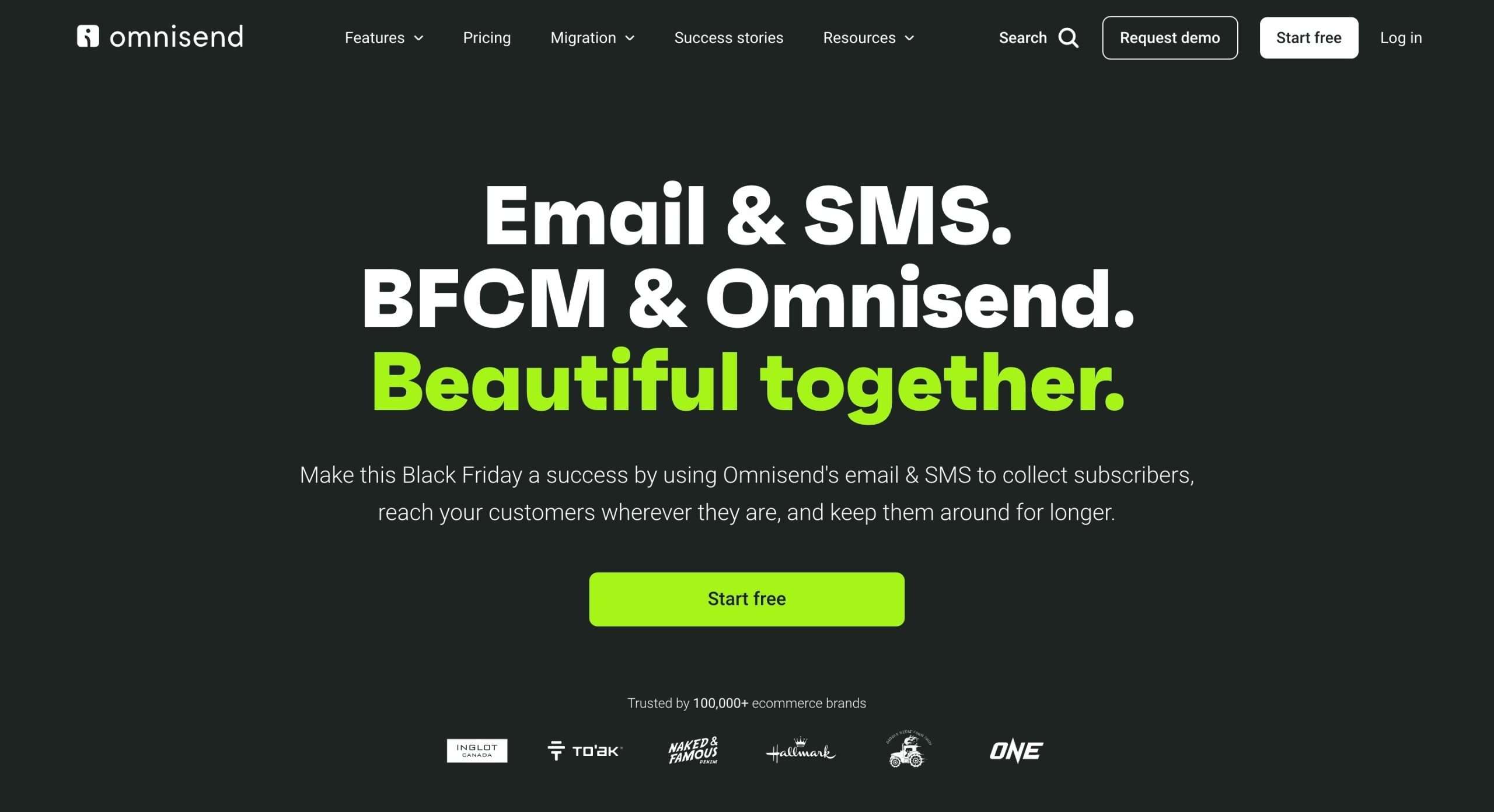 Omnisend is an all-in-one ecommerce marketing platform built to help online stores engage, convert, and reactivate customers.
Omnisend specializes in shoppable email campaigns that turn messages into sales. You can quickly create beautiful, customized emails using their template library.
Drag and drop products right into your email, add dynamic discounts and coupons, and save email templates for reuse.
Workflows and automation take your marketing to the next level. You can choose from Omnisend's library of pre-built workflows or create your own custom automation with the drag-and-drop workflow builder.
Send cart abandonment messages, welcome new subscribers, and more, all automatically.
Migrating to Omnisend is easy with their dedicated tools for importing contacts and personal onboarding.
Omnisend Features
Automation workflows
Reporting and analytics
Multi-store management
80+ integrations
Drag and drop editor
Pre-built automation
Custom workflow builder
Price
Omnisend has a free plan that allows you to collect up to 250 contacts. The Standard plan costs $16 per month.
Moosend is a really organized friend who makes your email marketing simple and successful. With its drag and drop editor, you can quickly create stunning newsletters without needing to know HTML.
But Moosend doesn't just help you design beautiful emails.
It's also there to automate your marketing campaigns, so you don't have to constantly remember to send out cart abandonment emails, welcome series, and more.
And it gets the personalization right, too. None of that creepy "Hey [First Name]" stuff.
With custom subscriber fields and product recommendations based on purchase history, your emails feel like they were written just for each person.
Here's the cool part: You get real-time tracking of all the email metrics you need to continually improve your campaigns.
Opens, clicks, shares – Moosend's got you covered.
Moosend Features
Drag & drop editor to easily create stunning newsletters without coding
Automation workflows to run campaigns
Advanced personalization with custom fields
In-depth behavioral analytics to optimize campaigns
Real-time tracking of opens, clicks, shares, and unsubscribes
Price
Moosend provides you with a 30-day free trial. The Pro plan starts at $9 per month ($7 per month when billed annually).
Mailmodo is an easy-to-use platform for businesses to create, send, and track email campaigns.
Mailmodo enables you to quickly build your mailing lists and create professional-looking email templates using a drag-and-drop editor.
You can personalize your emails with merge tags and send them to targeted segments of your list.
Mailmodo supports sending both regular emails and AMP emails, which provide an enhanced user experience on mobile.
One of the key benefits of Mailmodo is its focus on deliverability.
It uses dedicated IPs and advanced deliverability features to ensure your emails reliably reach the inbox.
With Mailmodo, you can manage multiple domains and sender-emails from one account. There are no restrictive sending limits, allowing you to scale your email marketing.
Mailmodo Features
Drag and drop email builder
AMP email support
Personalization with merge tags
Automated email workflows
Dedicated IPs for deliverability
Robust email analytics and A/B testing
Price
Mailmodo offers a 21-day free trial and three paid plan options starting with handling 500 contacts:
Lite ($39 per month)
Pro ($99 per month)
Max ($249 per month)
Choosing The Best Brevo Alternative
I get it.
All these tools probably sound the same—automation, templates, analytics.
Just more junk clogging up your inbox.
But the serious truth is: if you want your business to stop sucking, email's the way to go.
Email marketing tools have similarities, but each has unique strengths based on your goals, budget, and technical needs.
Why not take some for a test drive?
Sign up for free trials, explore the features, and see which feels like the best fit.
Your audience is waiting!