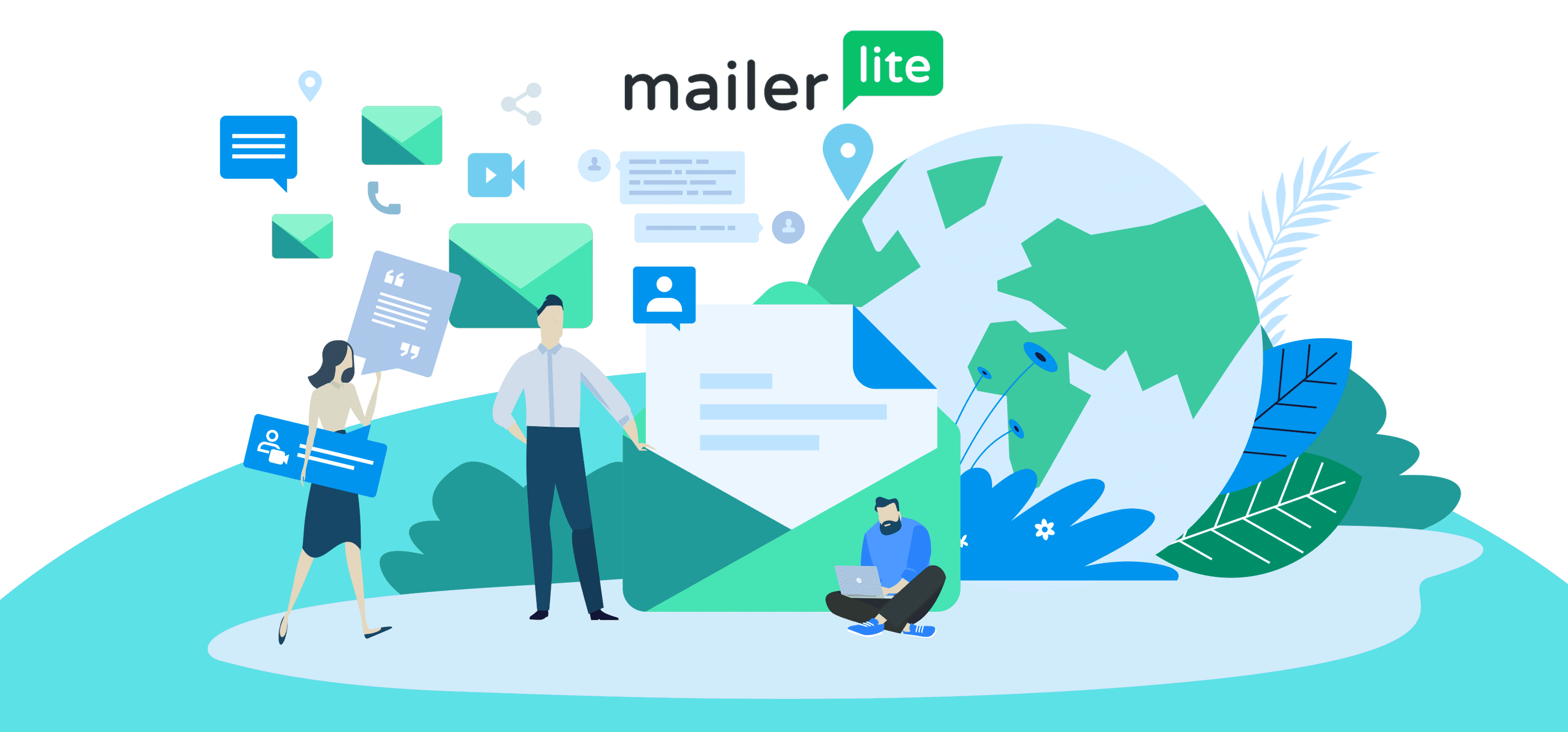 Mailerlite is well-suited for small businesses or emerging entrepreneurs who prefer beginner-friendly tools to grow their subscriber list.
It has a clean interface, scalable features, and a great pricing structure, which makes it ideal for both simple newsletters and email marketing campaigns.
If you're exploring other apps with similar functions, below are some of the best alternatives.
Let me share Mailerlite's features for comparison.
What is Mailerlite and What to Look for in an Alternative
Mailerlite is a cloud-based email marketing software that delivers a website builder and e-commerce tools in its monthly packages.
The app is designed with beginners in mind, offering drag-and-drop editors and straightforward workflows to make email automation easier for you.
Here're some of its key features;
Newsletters and transactional email.
Marketing automation.
Website and landing page builder.
E-commerce integration.
While the platform has plenty of other features, the above five sum up its core tools.
Let's check out the 12 Mailerlite alternatives that share some common functions.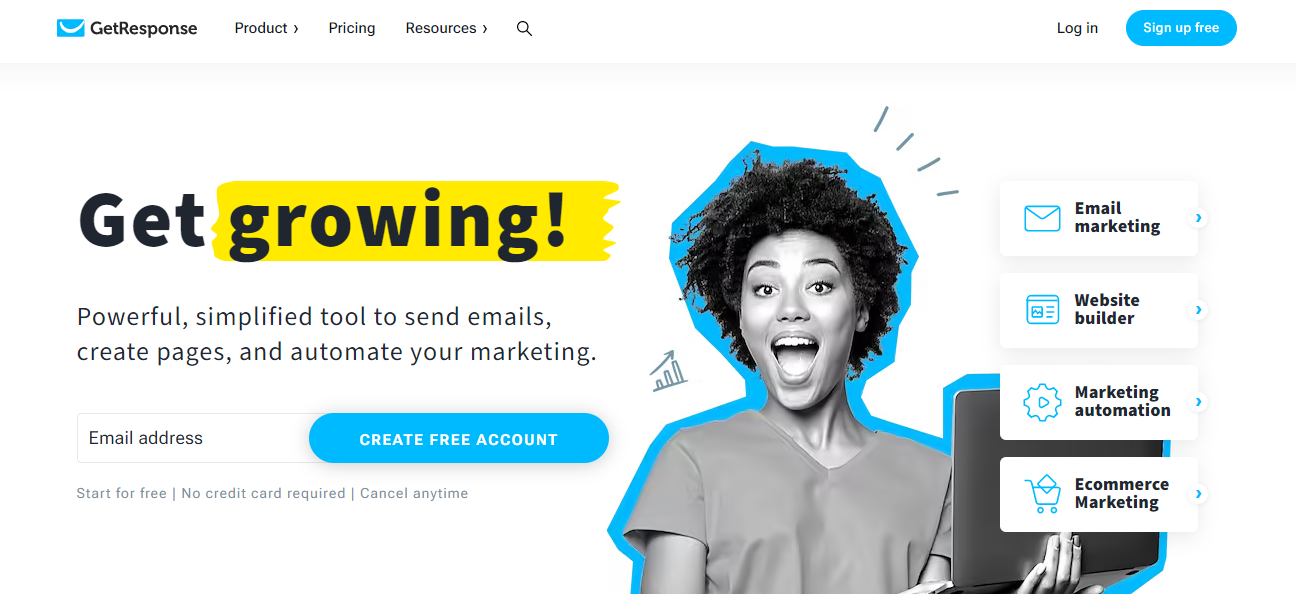 GetResponse is an incredibly versatile tool. It lets you design attractive newsletters, create sponsored ads, build eye-catching pop-up forms, and run multichannel campaigns.
You can develop fully functional websites and embed chatbots to capture qualified leads. Through its customer segmentation and AI recommendations, you can personalize your promotional content and optimize your campaigns.
You can connect GetResponse to your e-commerce store and incorporate your email marketing strategy into your sales funnel. The platform delivers conversion funnels specifically for this purpose to help you turn visitors into paid customers.
Core Features
Unlimited newsletters.
Email templates and automation.
AI-recommendations.
Multichannel marketing.
Conversion funnels.
Website, landing pages, and paid ads.
Pop-ups and live chat.
Segmentation, tracking, and analytics.
A/B testing.
E-commerce integration.
API access.
Price
GetResponse is free for up to 500 contacts. For 1000 or more, go for its premium packages. They range between $19 and $119 per month.
Converkit's features are almost similar to Mailerlite.
Here, you can design mobile responsive newsletters, build stunning pages and pop-up forms, run auto-campaigns, and sell digital products. With its marketing tool, you can schedule broadcast emails and set up multiple workflows to capture qualified leads.
To sell digital products, you can publish landing pages and embed products into your email to deliver the items.
If your business involves information sharing, you can integrate Stripe and monetize your newsletters.
Convertkit also offers Sparkloop access to let you run referral programs through emails.
Core Features
Email and SMS marketing.
Landing pages and opt-in forms.
Sales pages for digital products.
Marketing automation and auto-campaign resend.
Customer segmentation.
Split testing.
E-Commerce integration.
Team accounts.
Analytics.
Referral program.
Price
Convertkit's basic plan is free, and premium plans begin from $15 per month. You can add up to 500 thousand contacts.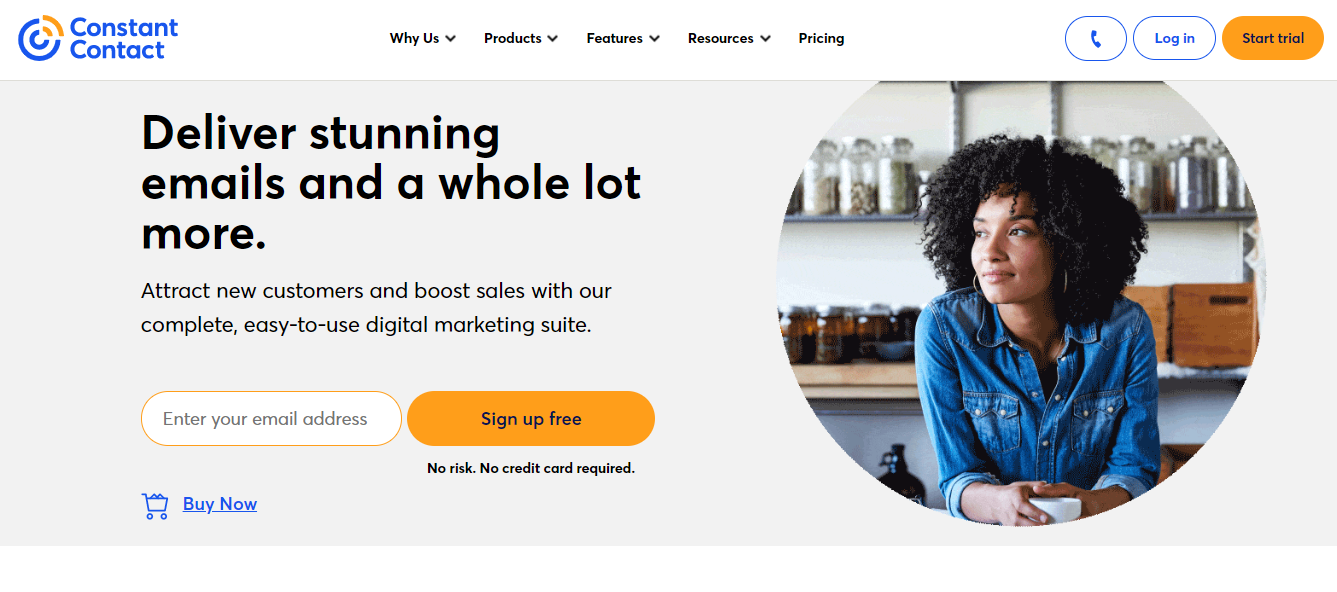 Constant Contact is ideal for beginners. It's relatively simple, but it has all the essential elements to help you run effective email campaigns.
You can choose from hundreds of templates for quick designs, build email campaigns, and track your customer engagements.
With third-party integration, you can connect your store and embed email workflow into your product pages.
Constant Contact's distinct feature is social media marketing. You can create, schedule, and manage social media ads via this platform.
Core Features
Email and SMS marketing.
Landing pages Signup forms.
Template library.
Social media ads.
Personalization and automation.
Customer segmentation.
Integration with e-commerce and other third-party apps.
Analytics.
In-house consultation and customer support.
Price
Constant Contact prices start from $10. You can tailor your contact list and increase it to 50k. The packages come with a 30-day money-back guarantee and a 7-day free trial.
Sendinblue delivers a suite of communication and marketing tools.
You can design and schedule personalized emails, set triggers to reach visitors at the right time, and incorporate SMS and WhatsApp channel into your campaigns.
With its chatbots, live chat, and opt-in forms, you can boost your engagements and grow your email list. It has a sales CRM with a team inbox to help you centralize customer communications and monitor leads.
What makes Sendinblue ideal for email marketing is its flexibility. You can send emails to unlimited contacts irrespective of the plan you choose. While there's a limit on monthly deliveries, you can utilize those credits anytime.
Core Features
Transactional emails.
Email, SMS, and WhatsApp.
Facebook ads.
Shared inbox.
Custom templates.
Marketing automation.
Landing pages and signup forms.
Chatbot and live chat widget.
CRM and Analytics.
Integration and team collaboration.
Price
Sendinblue charges $25 to $65 per month for marketing tools. You can purchase the chatbot as a separate product.
iContact is a simple and intuitive email marketing platform.
It has both WYSIWYG and HTML editor, a stock library for royalty-free images, custom segmentation, and a smart scheduler. You can place conditions in your workflow to ensure the right message delivers at the right time and set event-based emails, like birthdays, on autopilot.
Aside from its marketing platform, iContact offers in-house designing and advisory services. If you have low deliverability, you can hire an expert to help you improve your open rate.
Core Features
Email creation and scheduling.
Auto-responders.
Template and stock library.
Landing pages and forms.
Analytics and reporting.
Customer segmentation.
Audience segmentation and A/B testing.
API integration.
Client folder to manage multiple accounts.
Price
iContact's monthly prices start at $23. Its free account allows 2000 emails to 500 contacts. If you have a Salesforce account, you can buy its native app and manage emails from your dashboard.
Sendpulse has robust email campaign features and a user-friendly pipeline builder.
The campaign tool comes with a verifier and analyzer that enables you to weed out invalid addresses from your email list and track the open rate. You can create email sequences in the pipeline builder and add an SMS channel to increase your reach.
To nurture subscribers, you'll get chatbots and push notifications. You can deploy bots to your social media accounts and use push notifications for updates.
SendPulse is also ideal for content creators.
If you sell courses or digital products, you can develop lessons and manage your campaigns from one place.
Core Features
Email marketing.
Transactional emails.
SMS, web notification, Chatbot, and Viber.
Five Pop-up form layouts.
Landing page and pipeline builder.
Segmentation and A/B testing.
Personalization.
Course creator.
Integrations.
Mobile friendly.
Price
SendPulse sells each feature as a standalone product. It allows up to 15k emails for free and charges a minimum of $8 for marketing features.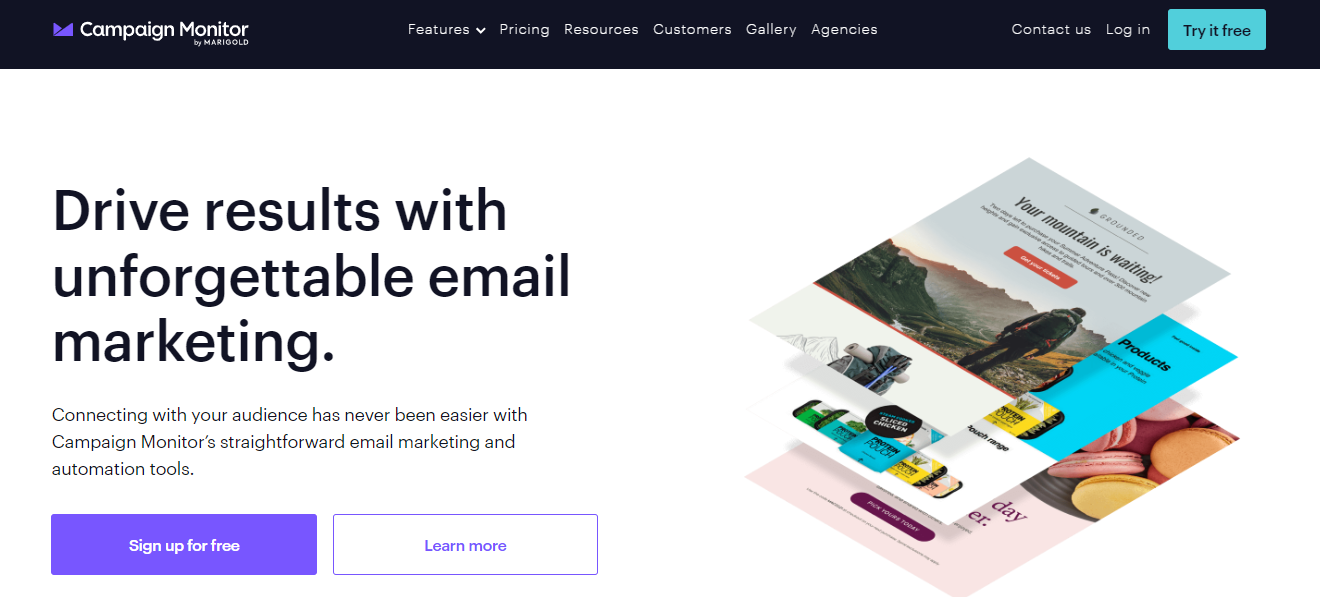 Campaign Monitor is best for its vast library of templates. It delivers over 100 customizable layouts for versatile purposes such as newsletters, events, promotions, and transactional emails.
For quick designs, Campaign Monitor shares a template generator that extracts your brand color and logo from your website URL and produces branded newsletters within minutes. With its drag-and-drop editor, you can easily tailor your content and build sequences.
You'll also find the options to personalize your content and split-test the campaign.
Core Features
Email and SMS marketing.
Signup forms.
Template and stock library.
Customer segmentation.
A/B testing.
Broken link detector.
Reporting and analytics.
Integrations with e-commerce platforms.
API access.
Agency dashboard.
Price
Campaign Monitor monthly subscription fees are based on your contact volume. For up to 500 contacts, it charges $9 to $149 per month.
You can try it for free or request a demo to learn more about it.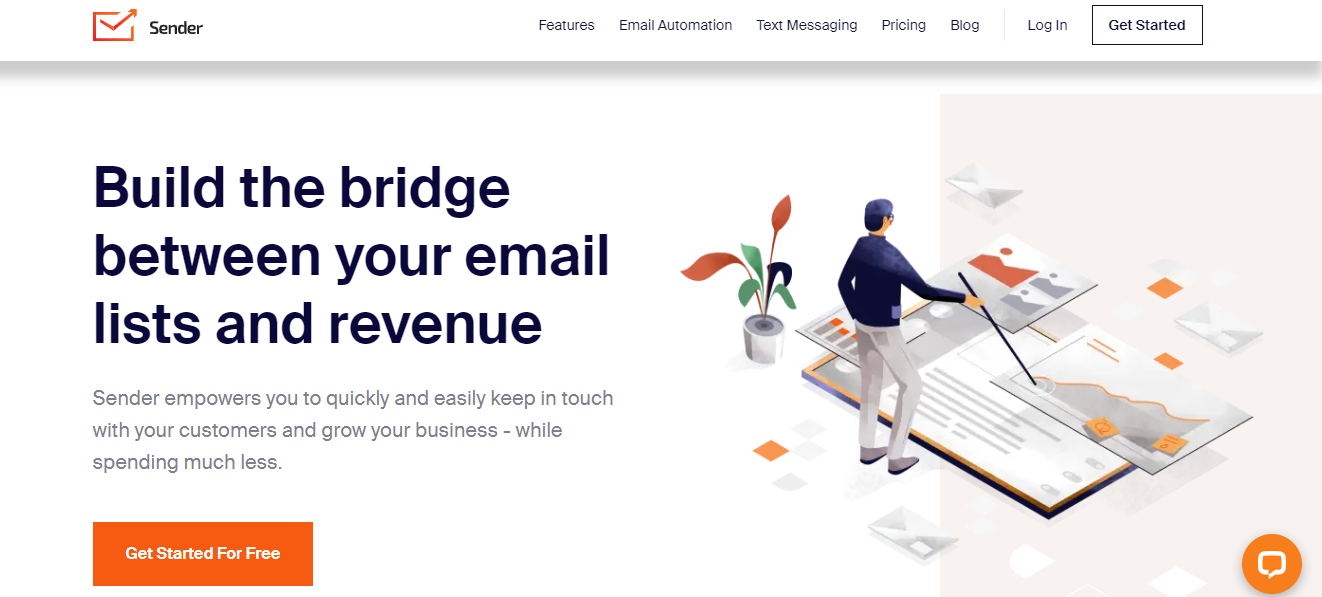 Sender offers pocket-friendly email marketing solutions. You can send 30 thousand emails to 2500 contacts for $9 and get free SMS credits on premium subscriptions.
The platform delivers a robust builder and pre-defined workflows to help you set trigger emails, such as abandoned cart messages, and launch drip campaigns.
If you run a commercial blog, you can design subscription forms and embed them into your website to grow your subscribers.
Senders also plan to introduce landing pages and push notifications soon.
Core Features
Email and SMS marketing.
Pop-ups and signup forms.
Workflow automation.
Segmentation and personalization.
SPAM check.
Analytics and heatmaps.
Integration with e-commerce stores and API access.
Excellent customer support.
Price
Sender shares its basic plan for free and charges a minimum of $10 for 2500 plus contacts.
You can opt for fixed prices or the Pay as You Go payment option.
Inbox is a good alternative to Mailerlite. It delivers a drag-and-drop builder for newsletter designing, allows transactional email automation, and lets you publish web forms on your website to grow subscribers.
You can send unlimited emails, build multiple paths in your workflows to convert more leads, and track your open and click-through rates.
The platform has a user-friendly interface and responsive templates to make it appealing to both beginners and seasoned marketers.
Core Features
Newsletters and transactional emails.
Pre-made templates.
Marketing automation and auto-send.
Customer segmentation.
Landing pages and web forms.
Split testing.
HTML editor for custom designs.
Reporting and analytics.
Email verification.
Integration with third-party platforms.
Price
Inbox shares flexible and fixed plans. Its starter package is free, and premium packages begin from $7.
The flexible payment option is suitable for businesses with a high volume. It charges $89 per year for 10k contacts.
Active Campaign provides separate plans for emails, marketing campaigns, and sales automation.
If you need a transactional email option only, you can buy up to 500k email quota each month without purchasing other features. You can access a visual editor to build multiple custom templates and automate follow-up messages.
For lead capturing and sales outreach, Active Campaign offers action triggers to help you personalize your visitor's experience. With its Chrome extension, you can manage conversations right from your inbox.
Core Features
Email marketing and automation.
From 10k to 5000k transactional emails.
Newsletters.
Landing pages and forms.
Visitor tracking.
CRM.
E-commerce and Stripe integration.
Segmentation.
Chrome and outlook extensions.
SMS add-on.
Price
Active Campaign's marketing automation plans range between $9 and $149. For transactional emails, it charges a minimum of $15 per month.
Mailchimp was originally developed for email marketing, but over the years it has expanded its functions to marketing automation and e-commerce.
You can use this app to create transactional and engagement emails, branded newsletters, opt-in forms, and landing pages. If you're a US or UK-based business owner, you can even launch an online store and get email marketing options in the package.
Mailchimp's personalization tools are its best features. You can segment contacts and incorporate dynamic content blocks in the email body.
It also has a customer journey builder to automate workflows.
Core Features
Email marketing.
Pre-defined layouts.
Journey builder.
Landing pages and pop-up forms.
Content segmentation and personalization.
A/B testing.
Audience insights.
Integrations.
Mobile friendly.
Price
Mailchimp has several plans for email and e-commerce functions. Its monthly subscriptions start from $10.
You can sign up for free.
Benchmark Email provides AI-powered marketing tools.
The editor comes with an AI copywriter and RSS email features that make it easier to regularly generate nurturing content for subscribers. You can split-test your subject lines and automate the delivery time to improve the open rate.
You can also see a breakdown of your customer engagement to measure your email performance.
Another good feature of Benchmark is an inbox checker. It allows you to preview your emails on multiple devices.
Core Features
Email marketing.
Mobile responsive templates.
Journey builder.
Landing pages and pop-ups.
Segmentation.
A/B testing.
AI-copywriter.
Address verification.
CRM.
Reporting and analytics.
Integration with an e-commerce store and over 1500 other software.
Price
Benchmark's premium packages range between $10 to $15 per month. You can purchase add-ons for extra features and ask for custom quotes.
Its basic plan is completely free.
Conclusion
Mailerlite is no doubt well-equipped with email and marketing features. But some of its key areas, like automation, have limited functionalities, which might make it less appealing to marketers who use complex workflows.
If you're planning to switch from Mailerlite to another app or haven't tried any email marketing tool yet, the above list should give you some alternate options.