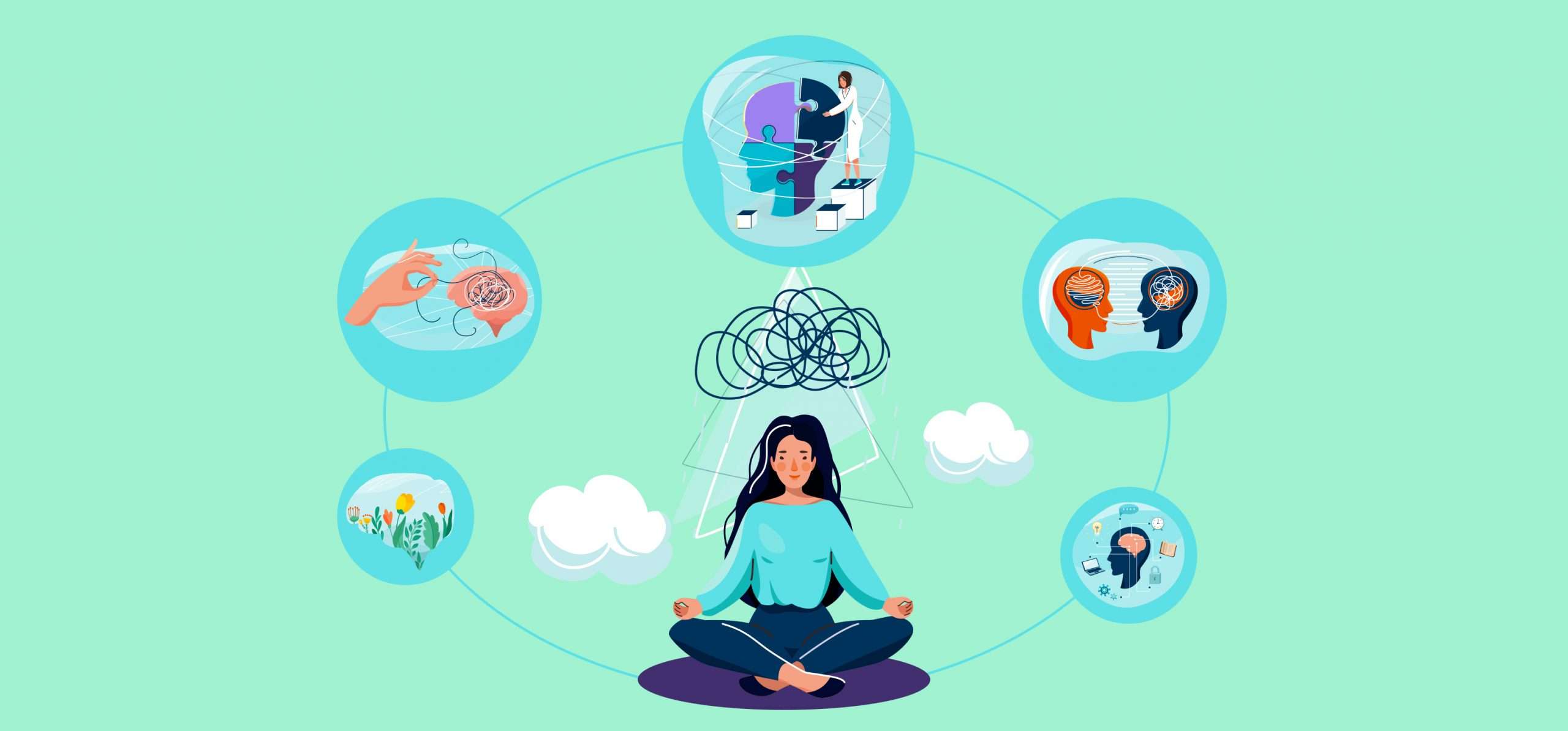 If you're reading this, chances are you've either been diagnosed with ADHD or know someone who has, and you're looking for better advice than just "CLEAN YOUR ROOM!"
According to this article by Healthline, people with ADHD have the potential to be highly creative, innovative, and successful.
In fact, proven research shows that if you are on your path toward a pursuit like entrepreneurship, ADHD truly works for your benefit.
Conversely, it's also a well-known fact that ADHD can make it difficult to stay focused, organized, and on track with daily tasks.
Through this guide, we're about to take a wild ride through the land of productivity protocols and tools that are designed keeping in mind the people with ADHD.
No more shame, no more guilt trips, just straight-up awesomeness that'll make you forget all about the struggles of being a productive ADHDer.
Proven Productivity Protocols to Follow
There are many proven scientific and simple-to-follow methods and techniques you can follow to get one step closer to conquering ADHD.
Sure, ADHD cannot be permanently cured, but so be it!
These protocols will aid you in managing your ADHD symptoms better and use them for your merits.
1. Pomodoro Technique
I know you've heard about Pomodoro countless times now, and you want something new.
Remember, new is not always better.
I mentioned Pomodoro because it has a very high success rate of working in your favor if done right, of course.
This invaluable time management technique requires you to select a task and divide it into multiple 25-minute chunks, as long as it takes you to complete that task.
However, this coaching center found out through their experiments that against the popular 25 minutes rule, a 10 & 3 is better and more effective for people with ADHD.
It simply means you have to work for 10 minutes and then take a 3 minutes break. Also, what you do in that break time also matters, a lot.
Meaning, the breaks you take in between should be of optimal timings and should help you refuel for the upcoming work time, and not the opposite.
2. Time Blocking
According to Neurodivergent insights, Time blocking is helpful not only for people with ADHD but also for people suffering from Autism as it helps prioritize tasks, sorting them based on significance.
Time blocking is like having a personal DJ for your schedule. It's like having a personal assistant that knows exactly what you need to do and when.
With time blocking, you assign specific blocks of time for each task and stick to that schedule as much as possible.
Think of it as a choreographed dance between you and your tasks. You know exactly when it's time to work and when it's time to play (or take a break).
This technique is particularly effective for those with ADHD because it helps keep them focused and on track.
Instead of constantly switching between tasks or getting sidetracked, time blocking allows you to give each task the attention it deserves and helps you prioritize your day.
Just like a DJ knows when to drop the beat, you'll know when it's time to switch gears and tackle the next task on your list.
3. Mind Mapping
The idea behind mind mapping is to visually map out all the ideas, thoughts, and tasks related to a particular project or goal.
It helps to break down complex tasks into smaller, manageable chunks and allows you to see the big picture as well as all the details.
Mind mapping can be done on paper, using a whiteboard, or using digital tools such as EdrawMind.
By visually organizing information, mind mapping helps to reduce distractions, eliminate mental clutter and improve focus.
4. Task Prioritization
The Eisenhower Matrix is a tool for prioritizing tasks based on their urgency and importance.
Tasks are divided into four categories:
Urgent and Important
Important but not Urgent
Urgent but not Important and
Not Urgent or Important.
By categorizing tasks in this way, you can prioritize tasks that are most important and urgent and avoid getting bogged down by less important tasks.
This matrix is especially useful for people with ADHD, as it helps you to stay focused and organized, and ensures that the most important tasks are completed first.
Pro Tip: See Eisenhower Matrix in action by following the practical and easy-to-follow tutorial by Untools.
5. Regular Workouts
While this is no sort of health advice, based on the research literature I read, I was surprised to find out a positive correlation between regular physical exercise and the reduced effects of ADHD.
For instance, a study done by the National Library of Medicine shows the positive benefits of exercise by reducing the core symptoms of ADHD.
WebMD suggests you do exercises like:
Aerobic exercises (walking, running, swimming, etc)
Martial arts
Strength training
Team sports
According to Healthline, exercise not only promote a healthy amount of dopamine release and makes you feel good for your effort, but it is also shown to decrease the signs of aggression and impulsiveness.
So these were some of the best ADHD productivity markers and this, by no means, is an exhaustive list.
However, following these protocols has proven to be the most beneficial for most, and I believe that to be true for you too.
With that said, let's discover some useful tools you can use every day for maximum productivity.
1. Akiflow – (Task Management)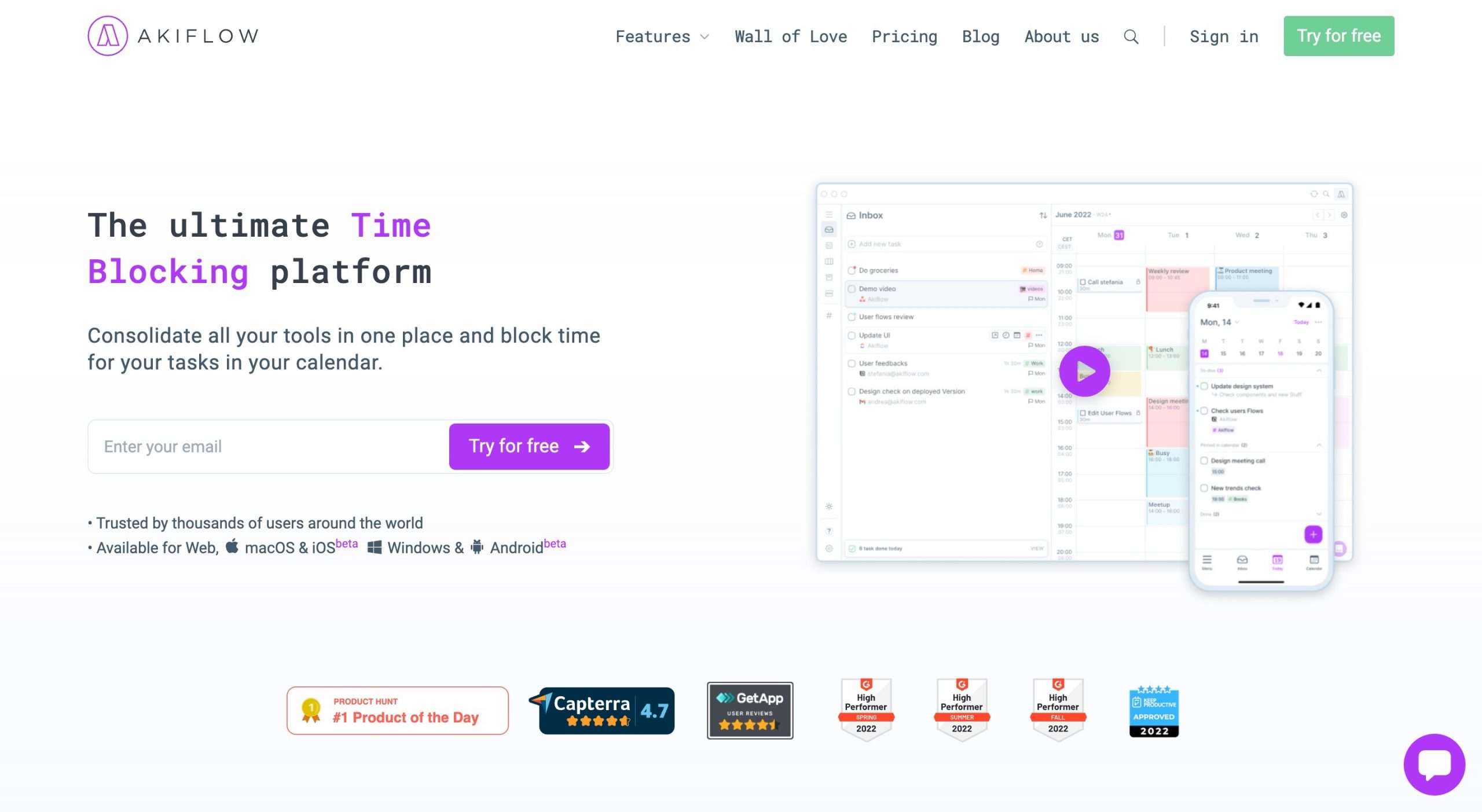 Akiflow is one of the easiest and highly minimal task management tools out there. In fact, I use Akiflow as a desktop app to manage all my tasks by integrating different apps.
Yes, that is one of its superpowers.
Akiflow enables you to combine all the different productivity tools you use and create and manage tasks out of almost anything (like email, or a specific note from Evernote).
Not to mention the very useful time-blocking feature that it comes up with.
With its simple drag-and-drop calendar, you can plan out your day into chunks of hours divided into different desired tasks you wish to complete during working hours.
To help you avoid multitasking and work without distractions on a single task at a time, Akiflow also offers a Focus Mode that comes with a clean and distraction-free interface to make it easy for you to take action.
Akiflow's Rituals feature aids you in planning for the next day in advance and also reflects on the current day in the evening/night whenever your working hours get over.
Lastly, never fear forgetting something important. With Akiflow's interactive notifications, you will be prepared exactly for what is on your plate for the day.
With all your favorite tools in one place, you don't have to run from one place to another just to find out you ended up where you started.
Price: You get a week's free trial. Their Premium plan costs $15/month.
Notable Features
Minimal interface
Connect different tools for better task management
Focus mode to avoid distractions
Notifications and reminders
Keyboard shortcuts for faster execution
Day planning and reflection
2. BrainTap – (Focus and Concentration)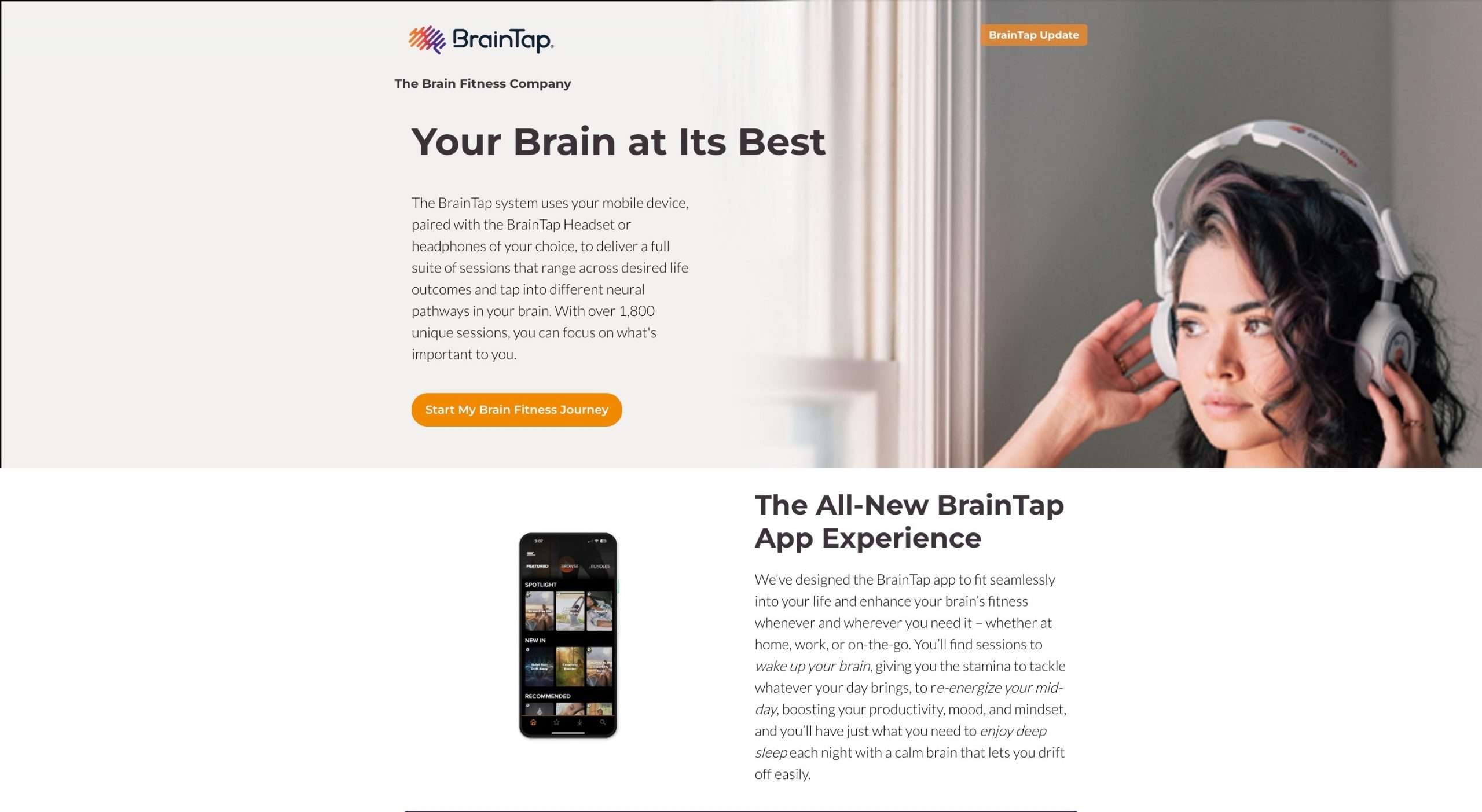 BrainTap is a tool designed for but not limited to people with ADHD to help them improve focus, clarity, and overall mental health.
It combines the latest technology with neuroscience to provide you with an effortless and science-based experience that can dramatically transform your life.
The BrainTap system helps you achieve your life goals by using a combination of your mobile device and a BrainTap headset or desired headphones.
It offers a wide range of sessions that target specific areas of your brain to help you achieve your optimal stage.
With over 1,800 unique sessions, you can focus on whatever is important to you.
From stress reduction to improved sleep, athletic performance, and optimal health, BrainTap has something for everyone.
Price: You can get started with a 14-day free trial and a monthly subscription cost of only $29/month.
Notable Features
Over 1,800 unique sessions to focus on desired life outcomes.
Effortless experience through passive participation
Science-based and validated
BrainTap exclusive headsets for an immersive experience
Available on Android and iOS
3. Morgen – (Digital Calendar)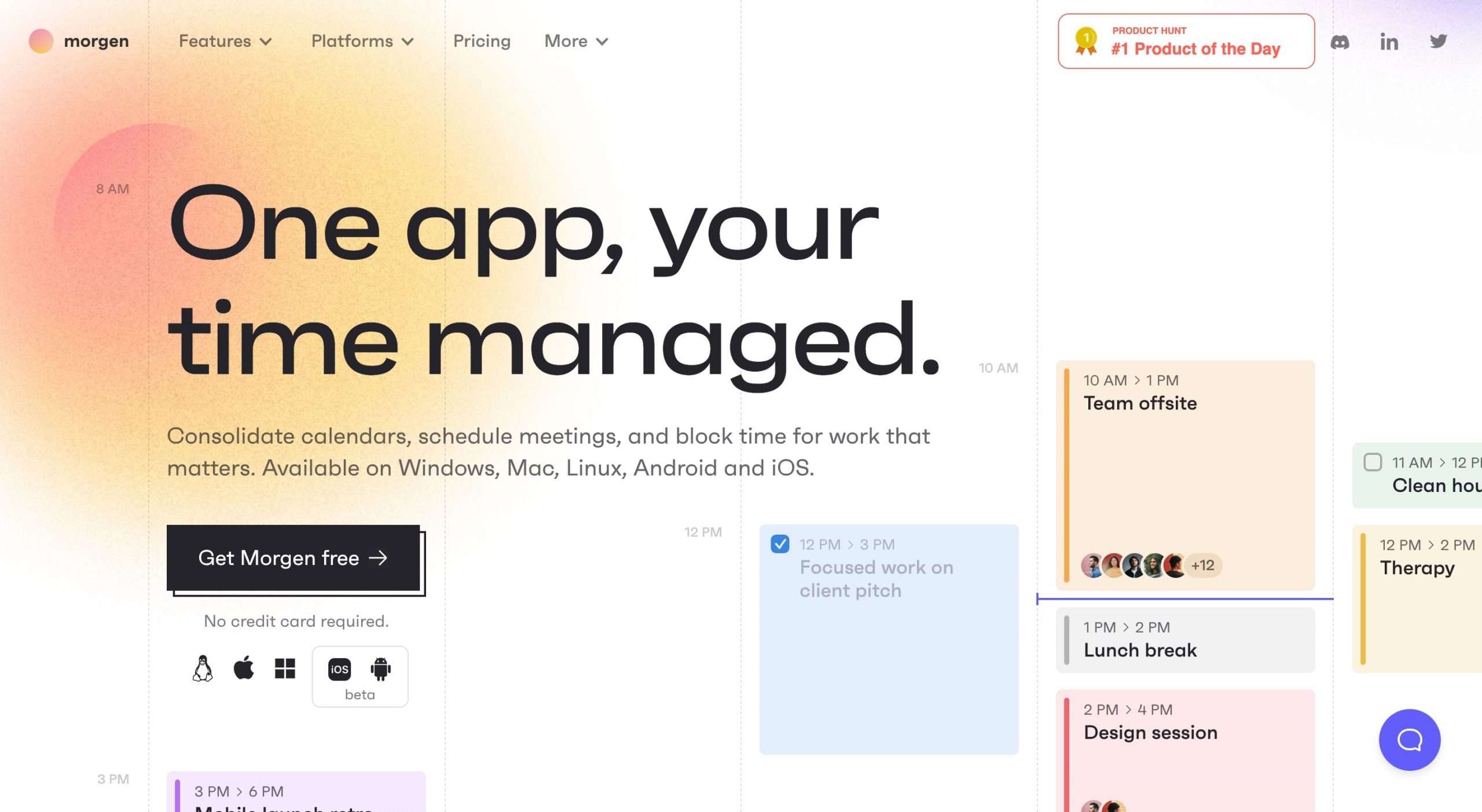 Morgen is an amazing app that helps you manage your time better.
With Morgen, you can consolidate, sync, and manage all your calendars in one place, so your work and life schedules can fit better together.
You can also integrate your to-do list and schedule time for your most important tasks.
Scheduling meetings and other events are also easy with Morgen.
You can customize your booking page, share your availability with others, and join virtual meetings with just one click.
Furthermore, Morgen integrates with all your favorite productivity tools, so you can maximize their potential.
Price: Morgen comes with a free plan, so you can give it a try without any cost. Plus, there is a 14-day free trial on the Plus and Pro plans that cost $6/month and $14/month, respectively.
Notable Features
Sync and manage different calendars
Overarching task management
Integrate your to-do list apps
Customizable booking page
Share meeting availability with a single link
Join virtual meetings with one click
4. EdrawMind – (Mind-Mapping)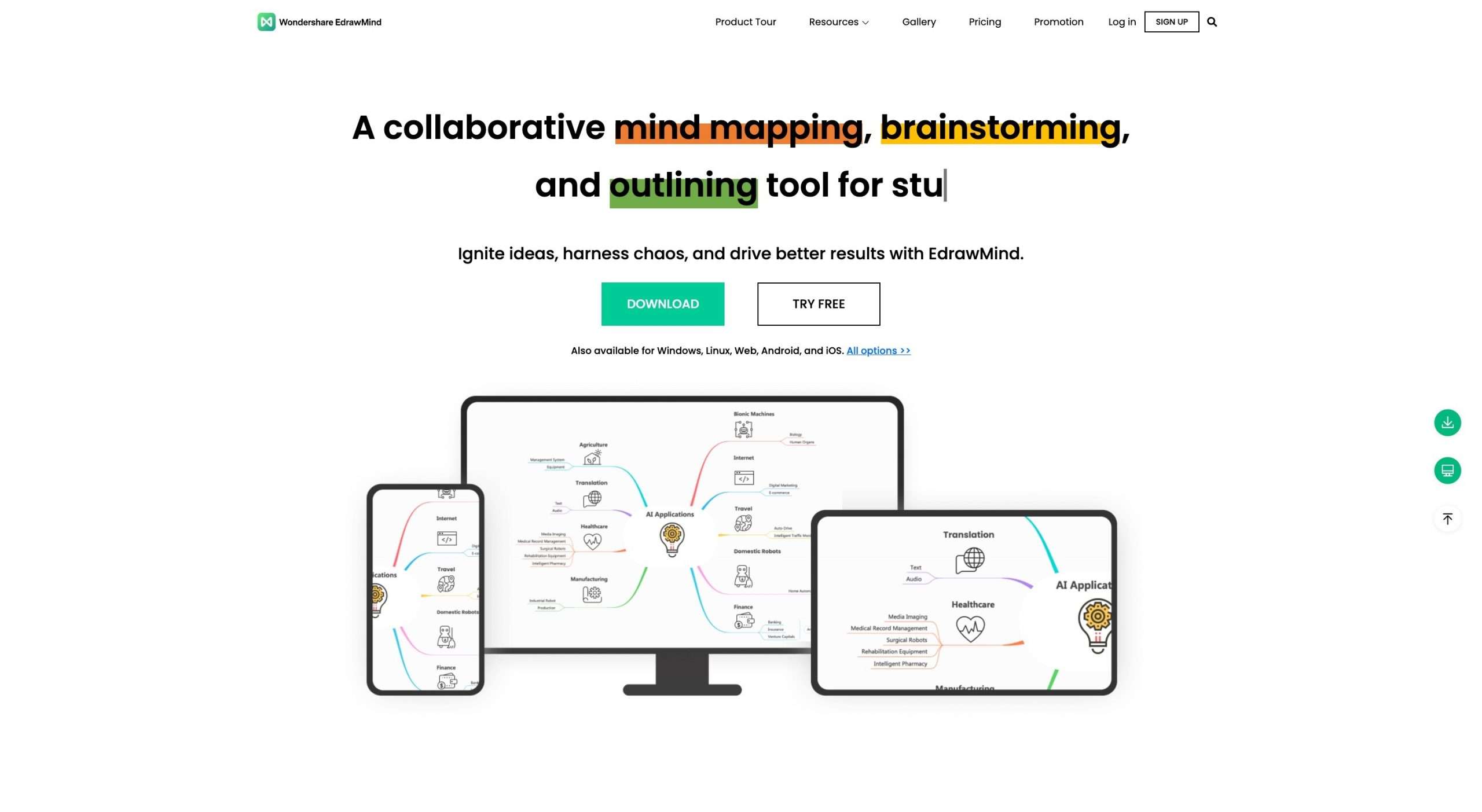 EdrawMind is an incredible collaborative mind-mapping, brainstorming, and outlining tool.
Whether you're a business looking to enhance the creativity of your team, a student trying to make sense of a complex topic, or an individual with ideas and thoughts to express, EdrawMind is an invaluable tool for you.
With an intuitive UI, powerful features, and ready-made templates, you can easily ignite ideas, harness chaos, and drive better results with EdrawMind.
EdrawMind is available for Windows, Linux, Web, Android, and iOS, so you can create your mind maps and outlines anytime and anywhere.
It's not just a single-minded tool, either – EdrawMind also offers mind mapping and brainstorming capabilities, as well as outlining and note-taking tools.
You can also create beautiful presentations in seconds, or share and cooperate with your team on private or shared workspaces.
The Mind Map Gallery is a great place to explore and stay inspired. You can access a huge selection of mind map examples and templates, or even publish your own maps to the gallery to share your knowledge and insights with the world.
Price: With an annual subscription plan starting from just $59/year or $4.92/month, EdrawMind is an unbeatable tool for visual learners.
Notable Features
Mind Mapping & Brainstorming
Outlining & Note-taking
Ready-Made Templates
Infinite Canvas
Custom Themes
Real-Time Collaboration
Cross-Platform Compatibility
5. Headspace – (Exercise and Wellness)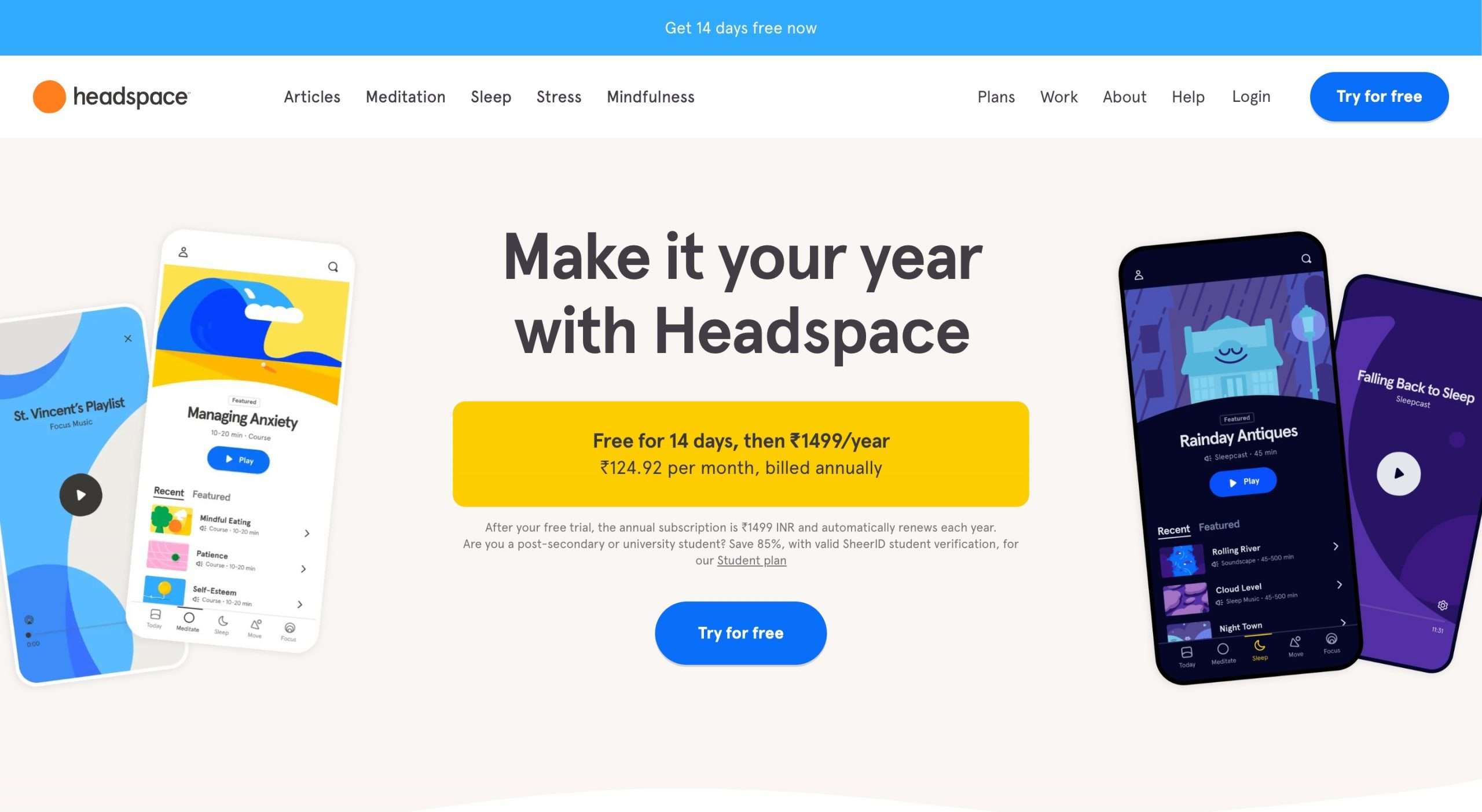 Headspace is an innovative and comprehensive mindfulness app that helps people of all ages practice, learn, and master the skill of mindfulness.
It provides an extensive library of guided meditations, as well as tools and tips to help you get started.
With Headspace, you can choose from a variety of different meditation sessions, each of which is designed to help with a specific issue or challenge. Additionally, it also offers regular challenges and insights to help keep you on track.
Headspace is excellent for you if you want to learn how to meditate, reduce stress, improve sleep, increase conscientiousness, or just improve your overall focus and concentration.
The user interface is designed to be easy to use for everyone, including kids, and their gamification system makes learning fun and helps you focus better.
Even better, Headspace also offers sleep and wake-up sessions, so you can get the most out of your sleep and wake up feeling refreshed and energized.
Finally, Headspace also has a specific program for kids and parents, so parents can have the joy of seeing their child grow into a calmer, more confident person.
Price: Headspace offers a 14-day free trial. The paid plan starts at around $1.51/month.
Notable Features
Extensive library of guided meditations
Different meditation options
Gamification
Sleep and wake-up sessions
Focus playlists
Stats and reports
6. Calendar.com (Calendar Productivity)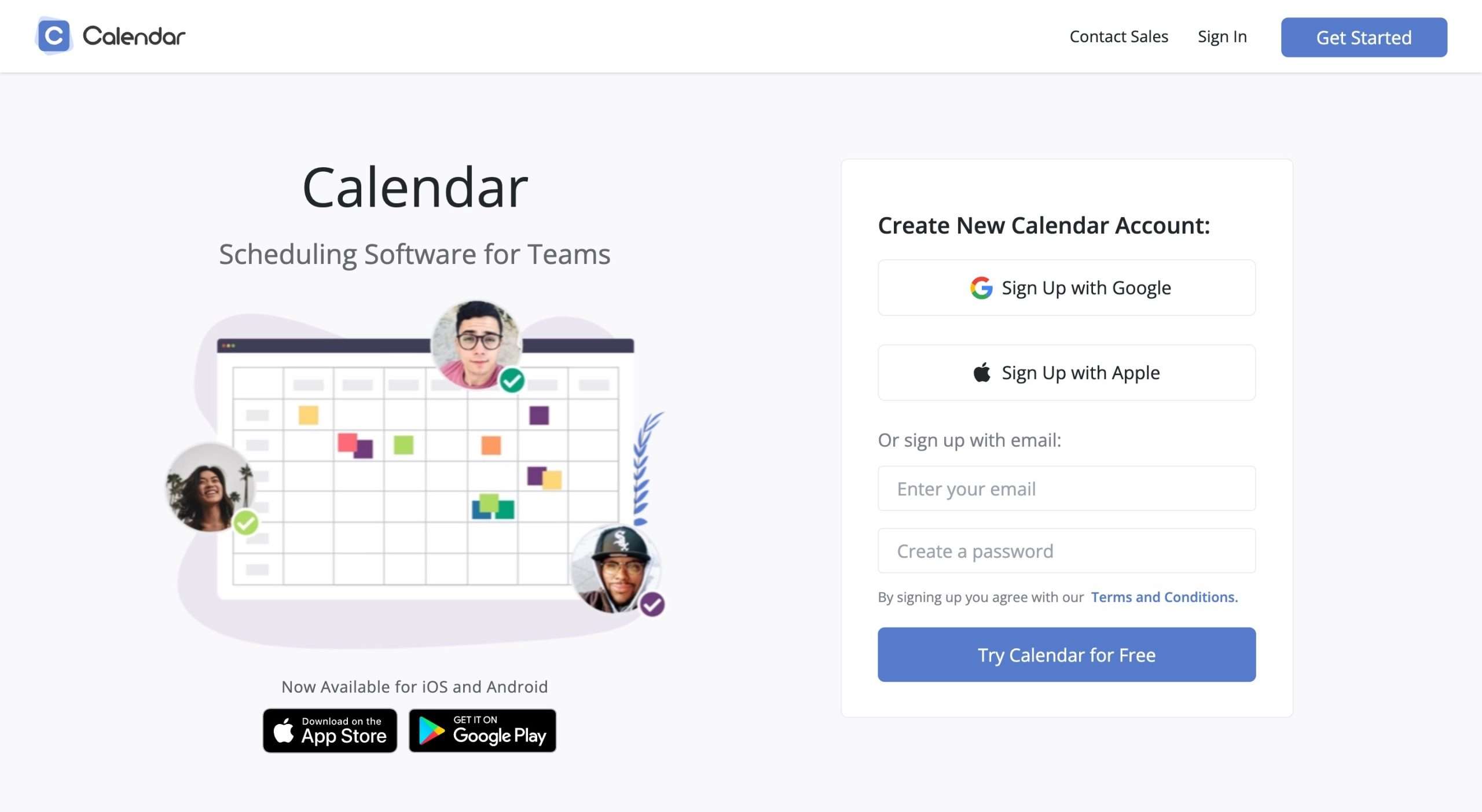 Calendar is an online calendar and team scheduling software that aims to make your life easier when it comes to managing schedules and appointments.
One of the great things about Calendar is its unified online calendar feature. You can bring together all your personal and work calendars into a single interface, giving you a convenient and holistic view of your schedule.
With Calendar, you have the flexibility to create customized time slots for different types of events and online meetings. 
This means you can personalize your scheduling pages and have control over which time slots are available for others to book.
Sharing your availability and finding suitable meeting times can be a real headache, but Calendar has got you covered with personalized scheduling links. 
You can share these links with others, allowing them to easily schedule meetings based on your availability.
And it automatically syncs ‌meetings you schedule through the app with your existing calendar.
Calendar also offers powerful analytics features that provide insights into your scheduling patterns.
Price: Calendar's Basic plan is completely free to use. Its Standard plan costs $25/month and the Pro plan costs $30/month on monthly billing.
Notable Features
Unified online calendar

Customized time slots for events and online meetings

Personalized scheduling links

Automatic sync with existing calendars

Powerful analytics features

"Find a Time" feature for multiple participants
7. Obsidian – (Knowledge Management)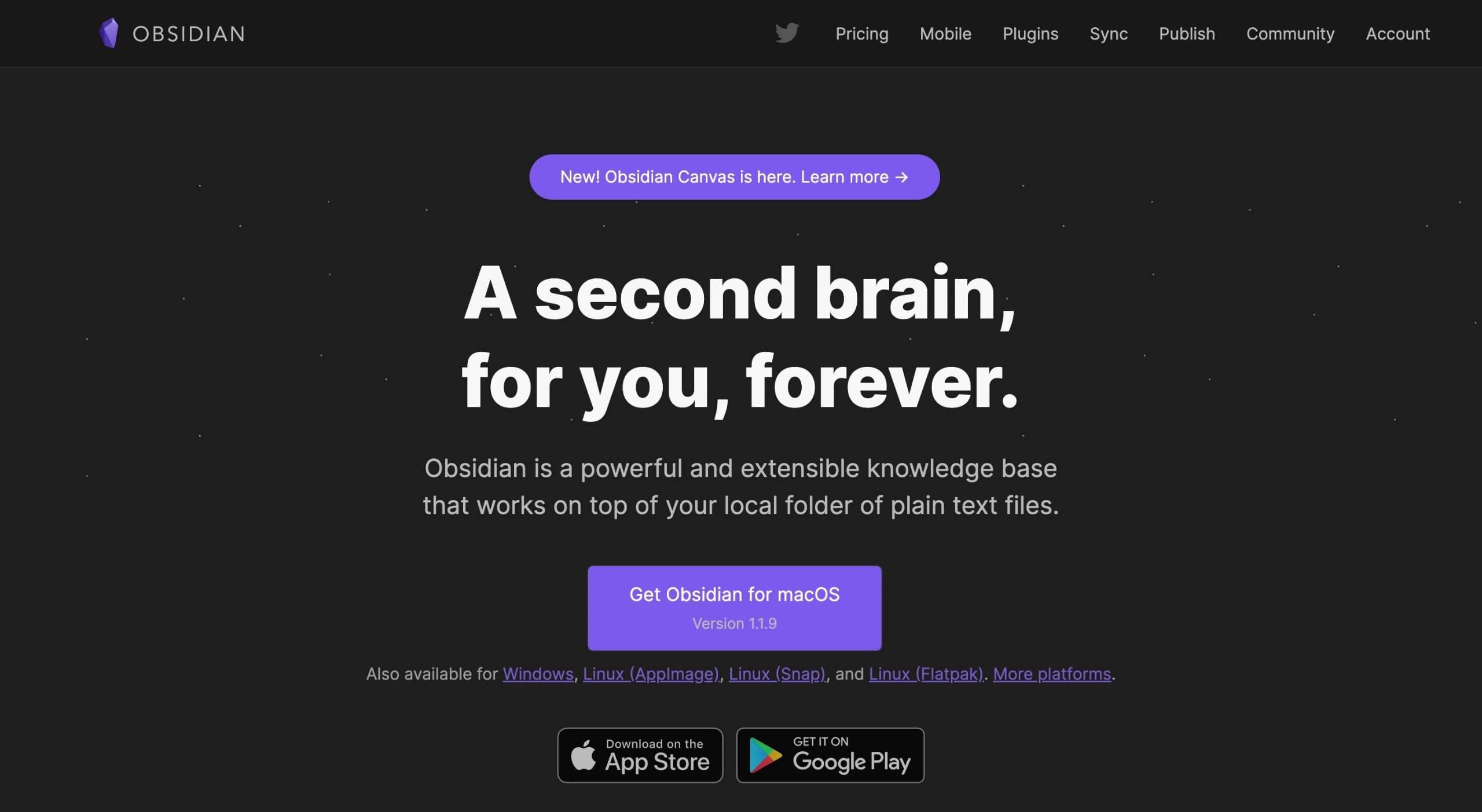 Obsidian is the perfect tool for people with ADHD looking for a powerful knowledge base that works with their local folder of plain text files.
It allows you to make and follow connections with ease and explore your notes at a glance.
With Graph View, you can filter and display options to view their knowledge in any way you want.
Backlinks and Outgoing Links are features that allow users to converge and diverge their thoughts, respectively.
Obsidian is an extensively extensible tool that can be tweaked with plugins, themes, and custom CSS. Its community plugin marketplace lets you install plugins with one click.
With its local folder, you can encrypt your notes as you wish and back them up however you want.
Price: Obsidian has a Personal plan that is completely free to use. If you want to sync your Obsidian content into multiple devices, you'll have to go with their Sync plan, which costs $8/month.
Notable Features
Graph View
Backlinks and Outgoing Links
Extensively extensible
Plugins, themes, and custom CSS
Local folder
Conclusion
So, there you have it, folks!
Now you know what productivity protocols to follow and tools to use to increase your productivity with ADHD.
But, don't forget that you are an amazing and unique person with an incredible ability to achieve whatever you set your mind to.
So don't let your ADHD stop you, use it to your advantage and take control of your life!