Starting a YouTube channel is nothing less than a thrill. But with a lot of settings and features, you may find this quite complicated, to begin with.
YouTube is a great place to build a community, grow a brand, or be an influencer if you've got a passion for something.
However, without a proper understanding of the platform, keeping up with your audience could be challenging. YouTube Studio, therefore, allows you to create, monitor, and optimize your channel using built-in tools.
In this detailed guide, you'll learn to use every key feature of the Studio and the best practices to build your brand and community around it.
What is YouTube Studio?
YouTube studio is your go-to spot for all content creators. Its real-time impressions and metrics provide a seamless guided experience to help you with video performance and viewership.
From performance tracking to optimization, you can get valuable insights that can help you fix if something's wrong.
YouTube studio even allows you to manage not one, but multiple channels at a time. You just need to switch channels.
So to get there, you really need to have a channel.
Once you create your channel, go to your YouTube profile icon and then click on the "YouTube Studio" option.
Here, you'll get your account verified and be all set for your first steps as a creator.
To understand how to create your YouTube account and channel from scratch, check out this video:
The YouTube Studio Dashboard
YouTube dashboard is your channel's gateway.
It gives you a quick overview of your channel's performance, analytics, and audience behavior. Here, you can upload your videos or go live stream by clicking the options in the top right corner of the page.
You can see many different cards that lead you to their pages where you can monitor, analyze, curate, and edit your content:
Latest video performance: Gives you a summary of your recent video or live stream performance.
Latest comments: This gives you a snapshot of the recent comments you didn't respond to.
Latest post: Can be seen if you're eligible for the Community tab. Here, you can find out how engaging your audience is.
Channel analytics: Summary of your channel's watch time, views, and subscribers over the last 28 days. Also shows your current subscribers and top 3 videos.
Recent subscribers: A list of your channel's recent subscribers. You can choose a time frame and sort the list by subscriber count.
Ideas for you: Learn about ad-friendly guidelines
Published videos: Summary of recently published videos
News: Latest updates on YouTube creation.
What's new in Studio: Updates on the latest creator tools and features.
Creator insider: Recent videos from the Creator Insider channel.
Ideas for you: Personalized tips and best practices for content creation.
How to edit videos/content?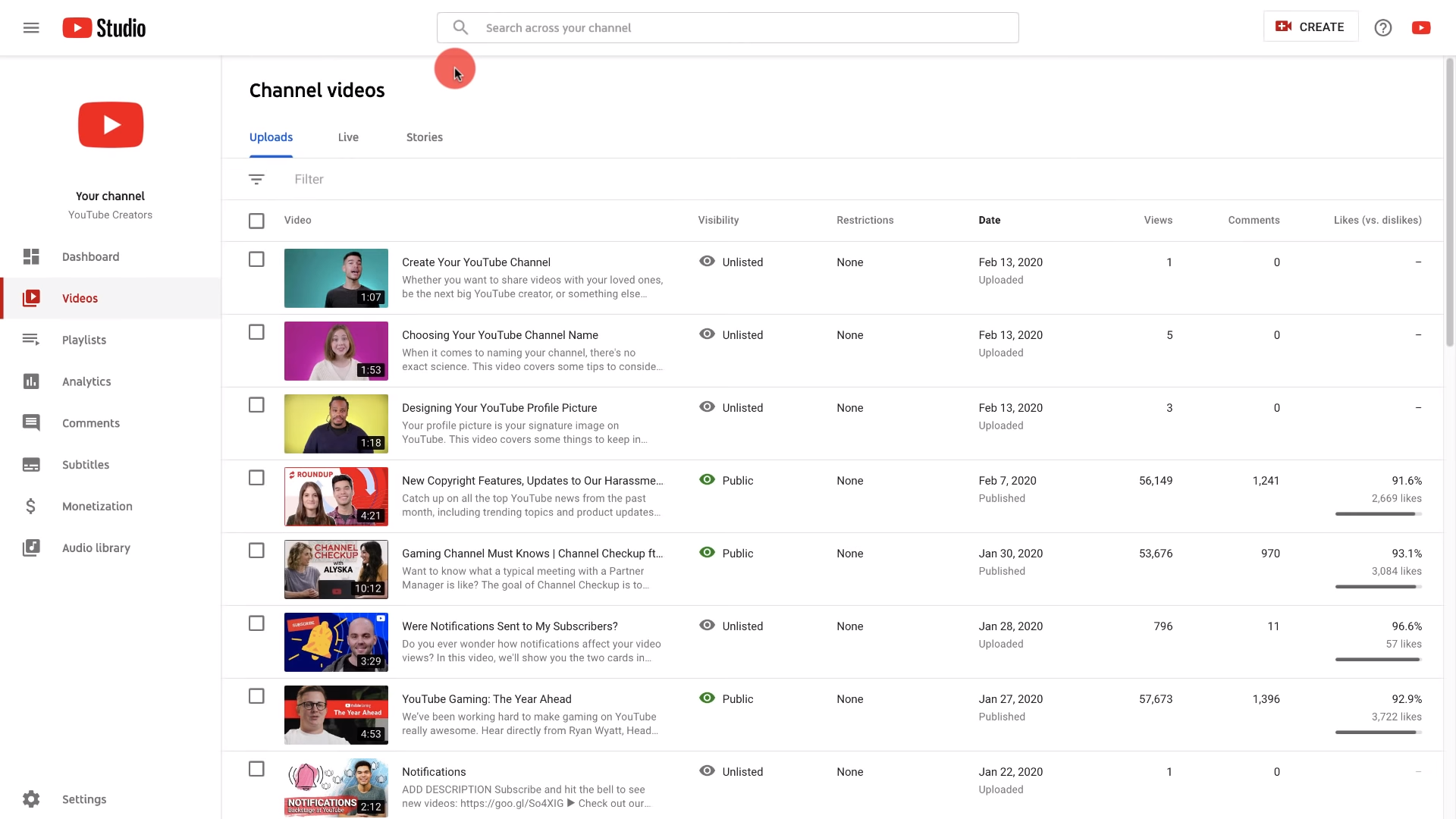 Videos or Content page in YouTube Studio shows an overview of all of your videos, live streams, and stories. Here, you can see:
If the visibility of your videos is public, private, or unlisted.
If there are any restrictions on the video like copyright claims, age-restricted videos, or even takedowns.
The date of uploading or publishing the videos.
The number of views, comments, and likes vs. dislikes.
Also, if you're in the YouTube partner program, you can see the monetization status of your videos.
Note: "Stories" is an Instagram-like feature that is used for short videos. Contents uploaded as Stories expire after 7 days. Also, if the channel's audience setting is made for kids, you'll not be able to create stories.
There is a list of content on the Channel videos which features easy editing options for each of them.
If you hover over them, you'll see 4 clickable icons that let you edit the details, check the video's analytics, review the comments, and more options.
Now click the checkbox next to any video which allows you to edit your video's title, description, visibility, and more.
There is even an "Add to the playlist" feature where you can add a video to the existing playlists or even create a new playlist.
In the "More actions" option, you can download or permanently delete your video from your studio.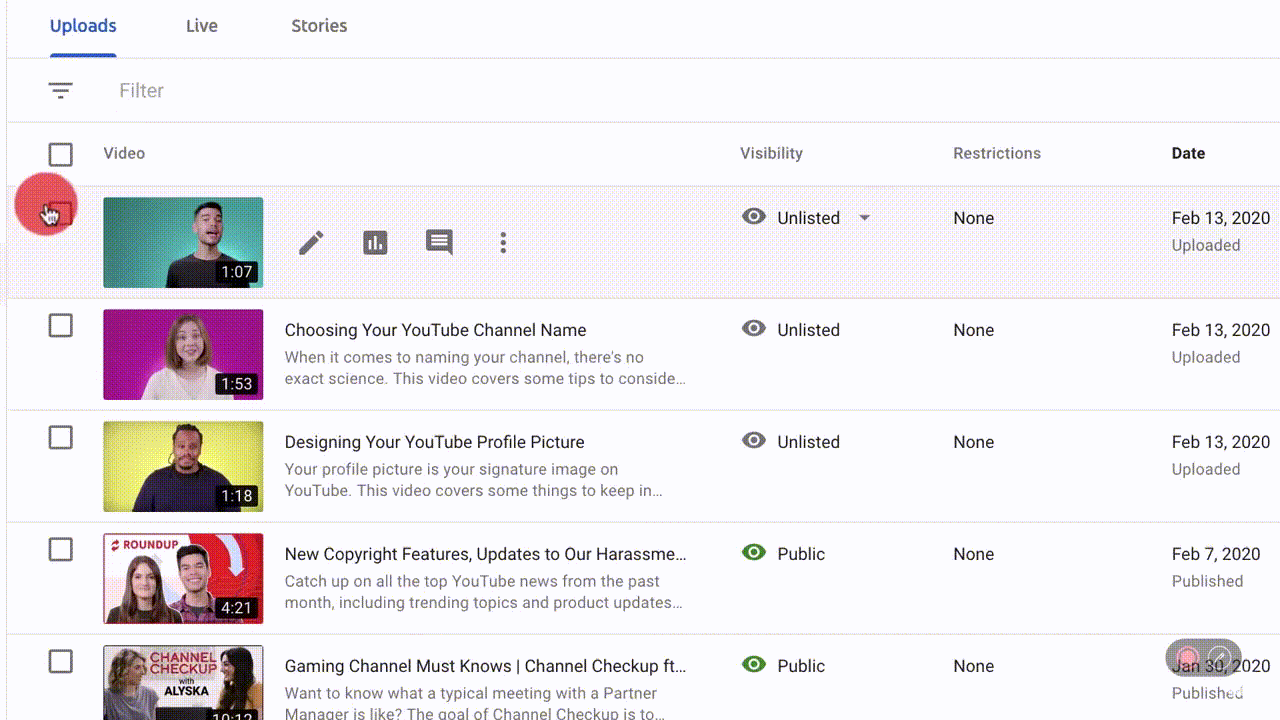 To edit your videos in bulk, you can select multiple checkboxes and then click on the "Edit" option.
Another way to edit your videos is by clicking on the video thumbnail from the video's page, which leads you to the Video details page.
Here, you can edit your title, description, thumbnail, visibility, and settings for the audience.
You can also add your videos to a playlist and create cards or end screens.
On the left-hand side, you'll see the options to analyze and edit your video:
You can view analytics for video performance data.
Editor to trim video, add end screens, cards, mid-rolls, and more features.
Review the comments with options to filter, moderate, and reply.
Add subtitles to the video.
Monetization to analyze your video's monetization status and ad enablement settings.
How to create playlists?
YouTube playlists offer an effective watching experience for the audience. Grouping your content together improves search rankings, watch times and enables your channel to receive a ton of extra views.
With easy to organize options, it makes videos more accessible and easier to binge.
Let's create a playlist now:
Click the "New Playlist" button in the top right-hand corner.
A pop-up shows up with "Playlist title" and "Visibility (Public/ Private/Unlisted)."
Next, click the "Create" button. As you hover over the playlist, click on the pencil icon to start editing.
Here, you can edit the playlist, title, visibility, and description. This is your playlist without any content.
Now go back to the YouTube Studio and click on the "Content/Video" option.
From the list of videos, tick the checkboxes to select relevant videos for your playlist.
A black bar appears when you select any number of videos. Now go to "Add to playlist" and select the playlist you've just created.
Going back to the playlist page, you'll see a thumbnail of your new playlist.
Hover over it and you'll see an option to play all of its videos.
Next, let's get back to the edit screen.
On the right-hand side, you can find all of your playlist videos. Click on the 3-dot menu button on any video to get a list of customization options.
And finally, if you missed out on a video to add to the playlist, don't worry!
Here, you can find the Playlist menu button on the left-hand side that lets you add new videos to the playlist. It also lets you arrange the order of videos in your playlist.
Pro tip: Don't overcrowd your playlist with tons of videos. Try adding 20-25 videos to a single playlist.
How to keep track of your contents' performance?
Branding on YouTube is a great way to drive traffic and revenue.
But how to know where you are in your content creation journey?
YouTube analytics, therefore, offer an easy way to track the performance of your content.
From watch time, traffic sources to audience demographics, analytics makes every metric accessible to help you understand the type of your audience and the content they're interested in.
The Studio dashboard gives a quick glance at your latest video performance.
You can check the summary of your channel's performance in the last 28 days such as subscribers count, views, watch time, average watch duration, and your top videos.
However, the data isn't enough for you to make deep analysis, and therefore, you need to visit the Analytics page.
On the Analytics page, click on the "Advanced Mode" button on the top right corner and go to the YouTube Creators search bar.
You will be able to check the data for a single video or playlist. Here, you can change the date range to check your video performance at different intervals.
For example, set your date range of 90 days to check how consistent are the trends on a long-term basis.
You can compare and review different metrics by clicking on the "See More" button on any card.
On the Analytics page, you can see different tabs for better performance reviews.
Starting with the Overview tab , it gives you personalized performance data and a detailed review of key performance stats such as subscribers, views, and watch time. Besides, you'll see an estimated revenue stat if you're in the YouTube partner program.
The overview tab also lets you compare your past video performance with the current ones for the selected date range. You can check this by clicking on any of the metrics that would display a day-by-day graph.
At the bottom of the graph, you can find play button icons on the timeline that represent the number of videos published.
This tab also provides data for your last 48 hours and trending videos for the selected time range.
Next to the Overview tab, you'll see Reach, Engagement, and Audience tabs . Also, you'll find the Revenue tab if you're in the YouTube partner program.
The Reach tab provides data on the number of viewers you've got and the ways you're reaching them. Here, there are 3 important metrics to consider:
Impressions: The count of viewers when they come across your video thumbnail while scrolling on YouTube.
Click-through rate: Percentage of the clicks when viewers see an impression which eventually results in the number of views.
Unique viewers: Estimate of different viewers who watched your videos over a period.
Down the page, you can see the data about your video's traffic sources. Finally, the page shows the viewership funnel, which is a representation of how the audience is visiting your channel.
Note: The more your video's watch time and click-through rate are, the better are the chances of YouTube recommending your videos.
The Engagement tab gives you data on viewer retention, watch time, the average duration of views, and your top videos with end screens.
Here, on Average view duration, you'll find an estimate of how long viewers stay on a video before moving on to another video. At the video level, you can also see data on likes vs. dislikes and audience retention.
In addition, the End screen feature helps you to set end screen elements that resonate well with your viewers. Ending your video with a captivating End screen is a nice way to improve click rate and keep your viewers on the hook.
With the Audience tab , you can learn about the size of your audience and the rate of engagement. The metrics such as the number of subscribers, unique viewers, and average views help to know your audience better.
Now at the channel level, you can get an idea about the watch times and the Subscriber's bell notification card. Also, you can see the types of your audience such as Age group, Gender, and the Top countries.
If you're a member of the YouTube partner program, you'll see an additional page – Revenue tab. Here, you can see the estimated revenue, estimated monetized playbacks, and playback-based CPM.
Note: Estimated monetized playbacks mean the number of times your viewers watched the video with ads. And, playback-based CPM means the amount advertisers are spending to display ads on YouTube.
There is also one brand new feature YouTube added this year – Realtime subscriber count.
Though it doesn't add a great value, you can live-watch the ups, and downs in your subs count.
How to customize your channel?
Customization in YouTube Studio helps you to add meaning to your channel's branding. It lets you create the homepage layout, set profile images, and add descriptions for brand recognition.
First, let's understand what the "Layout" tab has in store for our new channel.
Here, you can organize your channel the way you want when viewers visit your page. Adding a video spotlight gives them an impression of your channel. You can set the main video depending on if the viewers are subscribed or not.
For those who aren't subscribed , add a channel trailer, which could be a quick overview of what your channel is all about. With this video, you can encourage and evoke curiosity to subscribe.
For returning subscribers , feel free to add any featured video. You can make these changes at any time.
Next is the Featured section that lets you customize what the audience sees when they visit your channel's homepage. Here, you can organize the videos and playlists from your channel.
To add a section, click on "Add section". You can choose any videos, playlists, or associated channels to feature.
In the "Videos" section, you can select the options that pre-populate the videos for you.
For example, Uploads will automatically add the latest video that you upload publicly to the channel. "Popular uploads" highlights your top 12 videos with the highest views.
The "Playlists" section allows you to feature playlists already created by you or other creators.
"Single playlist" shows the carousel of videos you've added to that playlist as per the date of uploads. "Multiple playlists" helps you in grouping multiple playlists under one section. You can add a section title as well.
Lastly, the "Channels" section allows you to display your other channels or collaborators.
Moving on to the Branding tab where you can find different branding elements to give your channel a visually unique identity.
Your profile picture is the first thing that creates the first impression.
You may add your photo or a logo that represents your brand's identity.
Your profile picture will appear everywhere on YouTube such as your channel page, below your videos, comments as well as in YouTube search results.
Next, you can upload a channel banner image that features at the top of your channel page.
A banner image is a cool way to give a visual sense of your channel's purpose.
You can add a video watermark as well. It features in the bottom right-hand corner of the video player. Video watermarks may not be an important feature, but they let your viewers subscribe to your channel.
You can make it appear anytime during the video – at the start, at the end, or throughout the entire video.
Finally, there's the Basic info tab .
Here you can add the channel description, channel name, description in other languages as well as links to the social sites to share with your audience. For business inquiries, you may add your email in the contact information.
Once you're done with the customization, click on "Publish" and make the changes live on your channel.
How to manage comments?
The comments feature is a nice way to stay in touch with your audience. With active conversation and feedback, you're able to create a community around your channel.
Comments are, however, not always encouraging. Some of them are good and some aren't. You can be open to constructive criticism. But comments that are mean or violate YouTube's terms need to be moderated.
Promoting quality comments
Using the heart icon is a nice and easy way to encourage your viewers with quality comments. It shows your appreciation towards your viewers and is a really effective way to build fan loyalty.
Pin comments feature allows you to highlight the comment you want your viewers to see at the top. You may even pin your own comment to make it more engaging, or to evoke curiosity with questions or to just thank your viewers.
Replying to comments is, of course, a great way to set a positive tone for the community. It means you're interested in what they feel about your videos. Responding to negative comments, however, could be tricky. But it's a good habit to show you're interested in their feedback and open to any constructive criticism.
Keep in mind, spending too much time on comments isn't a productive affair. Therefore, the Comment filter helps you manage your comments and save time.
With filters, you can search for comments with specific keywords, questions, or even by subscriber or channel member status.
Now how to handle mean or inappropriate comments?
Abusive or hurtful slurs are something nobody wants to see in their comment section. Therefore, you can now remove comments that violate the community guidelines as directed below.
Visit the comment and click on the 3-dot menu icon to select Remove/Report.
By selecting "Hide the user from your channel", you can block the specific viewer from commenting on any of your videos. The viewer is, however, not alerted about the block.
At the channel level, you can choose the advanced comments feature to apply the defaults.
From your YouTube settings, go to the "Community settings," then "Defaults." Here you can choose to:
Allow all comments
Hold comments for review, especially inappropriate ones
Hold all comments for review
Disable comments
Your choice of setting will only apply to the comments for your new videos.
At the video level, you can choose this "Default" feature in the Advanced tab.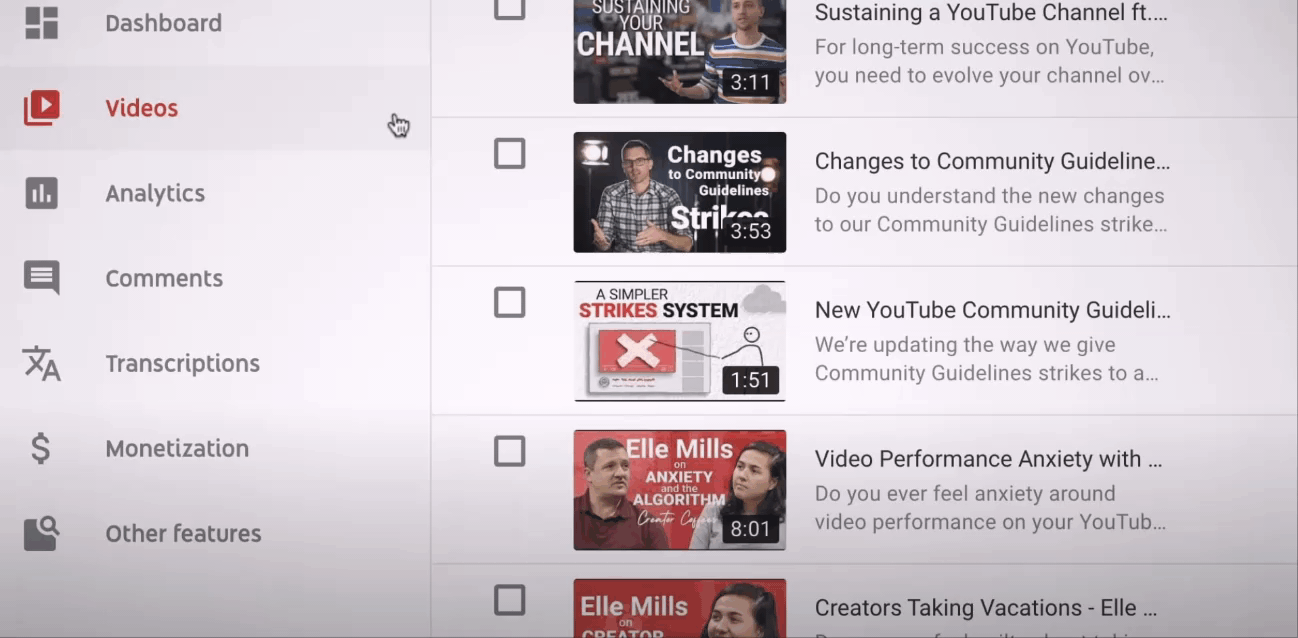 You can change the settings for the older videos as well. Go to the "Videos" page in YouTube studio, checkbox the videos, select "Edit", and then "Comments".
YouTube Studio also lets you block the words or phrases you don't want your content to associate with.
In your channel settings, go to "Community." You'll find a section where you can add words or phrases that you want to block in your comments. Such comments will be held for your review and won't be displayed publicly.
Feeling overwhelmed by the comments!
You can now opt to either turn them off completely or hold for reviews and select those you want to show in comments.
How to add subtitles?
Subtitles play a crucial role when your goal is to reach a wider audience. Captioned videos always receive more watch times as compared to videos without captions.
To add subtitles to an uploaded video, go to the Subtitles tab in the YouTube Studio. Alternatively, you may go to the "Videos" page, find a video, and select "Subtitles."
In case your video already has a pre-populated caption and you'd like some changes, go to "Duplicate" and "Edit".
If there's no automatic caption in your video and you want to add your own, go to "Add" under the Subtitles column. If there is a specific language you'd like to add, go to the "Add Language" button.
Select "Upload file" if you want to upload a transcript that already contains the formatted script of the video. It also processes the files correctly to see if they have timings or not.
Select "Auto-sync" if you want your script timings to be set automatically. Then select "Assign timings" that easily sets caption timings for the video.
Select "Type manually" if you want to type the script and set the timings manually. For additional captions, click on "+ Captions" button.
You've more control over the timing of your captions at the bottom of the editor. As the captions appear over the audio of the video file, you can drag and drop the captions at specific positions. And also shorten or lengthen the captions accordingly.
When done with the captions, click on "Publish".
How to address Copyright issues?
The Copyright Strikes card may not be an encouraging feature but lets you observe any unwanted claims against your content.
Clicking the card, you can find copyrighted strikes made by the claimant on the videos or a part of the video. This could be a video takedown notice or an alert to raise an issue against any content.
To address any strikes or Content ID claims, go to your video library. If you've multiple copyright claims, you can filter your library to sort out the videos. It shows all those videos with copyright strikes and Content ID claims.
Next, hover over the "Restrictions" column. Here, you can find more details on the copyright summary and status.
You can also check the details on the impact copyright has on your channel including your video's visibility and monetization status.
Here, you can choose to contact the claimant or send a counter-notification if you want to act against the copyright strike.
You can also observe the details about the Content ID claim and see if it has an impact on your channel's visibility and monetization status.
If there's an issue with a specific part of the content (in the partially blocked video), you can take relevant actions either by editing the claimed content or disputing it.
In such claims, it's better to trim out the disputed part of the video. For example, if part of a song in your video is under copyright strike, you should either mute the song or replace it with copyright-free songs. Note that any number of edits will not change your original video URL.
How to enable monetization?
The monetization page provides you with an overview of specific revenue sources for your videos, such as merchandise, memberships, and ads.
If you're new to applying, you'll see a page explaining your eligibility status. However, if you're eligible, you'll see your channel's progress and requirements for the YouTube partner program.
If eligible, enable monetization or update the ad settings for the video. Select the video and then go to "Monetization" on the left menu.
You can choose to enable or disable monetization for your videos.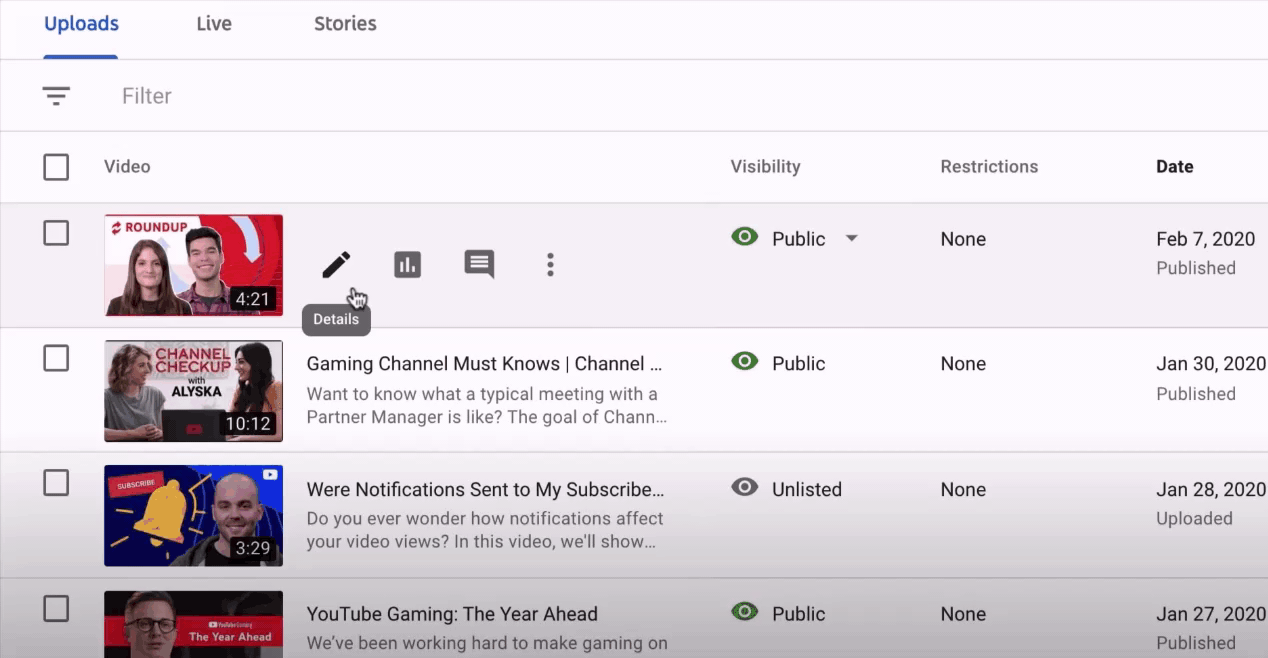 For videos that are 8 minutes or longer, you can enable mid-roll ads at any point on the video timeline. You can do so by using the Ad Breaks tool. When you select the location of the ads on "During video", click on "Place manually" to get the tool.
This opens the YouTube studio editor which allows you to create previews and to set manually or automatically generated mid-roll ad breaks.
Click on "Place automatically" to create automatically generated mid-roll ads.
Click on "Ad break" to include mid-roll ads manually
You can also manage the placement of your Ads by entering specific time codes at the top of the page. Or you may use the timeline to drag and drop as per your needs.
To delete the Ad break, click on the trash icon next to the video.
Click "Continue" once you've made the edits and save the changes from the monetization page.
YouTube Best Practices
Having made this far in your YouTube channel creation, it's time to captivate the attention of your potential audience. With over 2 billion monthly registered subscribers, YouTube is not just an ever-increasing community but also one of the best tools for branding.
Therefore, to make sure your channel is well aligned and optimized, here are some of the best practices to help your channel grow.
Verification
For creators, receiving a verification badge for the channel isn't a small feat. Verification marked with the "tick" symbol is helpful to distinguish a channel from other creators.
Once you've reached 100,000 subscribers, you're eligible to submit a request to YouTube. If it shows that your channel isn't eligible yet, make sure to sign in with the correct email address. Also, note that the creators who are trying to impersonate other channels won't get verified.
So make sure your channel:
Represents a unique face, brand name, and image
Is public with complete details such as profile picture, banner, description, and a relevant number of videos.
YouTube verification may also depend on your channel's age and regular content uploads. However, in rare cases, YouTube may verify a channel whose creator is well known beyond YouTube.
You'll find that most of the verified channels are the official channels of artists, vloggers, companies, or public figures.
For artists, verification can be symbolized as an Official Artist Channel (OAC) or a music note symbol.
Branding and Layout Curation
By nature, humans prefer visuals over texts. A banner with compelling and concise visuals always attracts attention – like a highway billboard. Besides branding, a well themed and organized channel layout itself can be an elevator pitch.
Here are some of the best practices for curating a visually appealing channel for your potential subscribers:
Banner: The best image resolution for a responsive-friendly banner is 2560 x 1440 px. Make sure the file size is 6MB or less.
Icon: JPG or PNG image format with a resolution of 800×800 px. GIFs are not recommended.
Links: You can add up to five links to the channel such as social media links, official websites, or merchandise.
Channel trailer: You can customize your channel trailer in two ways: Subscribed view and Unsubscribed view.
Playlist: Keep updating your existing playlists with 1-2 videos to keep viewers revisiting. You can direct your audience to the playlists via end screens, links, or community posts. Also, make sure to add metadata with a strong title and description to keep it optimized for search.
Channel Description and Tags
If you want better search results for your channel, you just can't ignore SEO. And for better channel optimization, you need content – both in videos and in textual form.
As explained, you can add certain keywords to describe your contents everywhere on your channel:
About tab: This tab is meant for a quick bio of the creators and a summary of their brand or creations. You can also add descriptions to the "Artist center" tab in Creator Studio if your content are based on music or entertainment.
Tags: Adding the right keywords is the key to attract search bots that can help surface your channel. Besides description, you can use relevant tags to describe your channel. For example, words or phrases containing relevant keywords, year, popular trends, geography, people, etc.
First, go to YouTube Studio "Settings" and then click on the "Channel" option. Here, under the "Basic info" tab, you can include a lot of channel tags, as much as you need.
Custom URL: Another great feature to let your audience remember your channel. To create the URL, visit the "Customization" page, go to the "Basic info" tab, and then click on "Set custom URL for your channel".
Pro-Tip: Keep the same handle as your Instagram or Twitter profiles to maintain uniformity.
Video features
Just like blogs, each video has a potential SEO opportunity that needs some level of optimization. YouTube, therefore, offers a lot of ways you can make your videos search-friendly.
Video titles: The title  is a welcome mat to any content. It gives a hint to your audience what the video is all about.
Try keeping the title as concise as possible. Though the character limit for YouTube titles is 100, keep in mind that anything beyond 70 characters gets truncated in most search results.
YouTube video titles can be as captivating as email subject lines that may help you with more clicks.
Video description: Descriptions are a great way to optimize your videos, but also to use SEO at the channel level. While adding a description for any video, make sure to include the subject, theme of the content, and your channel's identity in the first 2 sentences.
Because this shows up as a meta description during a YouTube or Google search.
Adding to the details, you should include important links such as your official site, social media platforms, other videos/ playlist links, and purchase/ freebies/ merch links.
Video tags: Though channel tag and video tag are added differently, they have the same purpose. Unlike channel tags, the video tag is more focused on video-specific audiences. For e.g.., your channel is all about digital tech.
But one of your videos explains marketing. Therefore, your tags for that video should be more specific to the digital marketing jargon and related trends.
Now the big question, how to add video tags?
Well, there are 2 different ways.
1. Adding tags to already uploaded/ published videos.
Visit the Content/ Videos page and select the video's "Details" icon.
Now scroll down the page where you can find the space to add Video tags.
2. Adding tags while uploading a video.
Visit the channel Dashboard and click on Upload video.
As it opens the video upload tab, you'll see a "Details" page that asks you to add a title, description, and more.
Now scroll down below the "Audience" option and click on "More options."
Here, you will find a space to add video tags, just below the "Paid promotion".
Note: You can add tags up to 500 characters. The more you add video tags, the better.
Hashtags: If you're not using hashtags, you're probably losing a lot of potential views and viewership.
Go to the "Videos" page and select "Details" on a video where you want to put the hashtag.
Here, at the bottom of the description, add your hashed keywords.
The best way to use YouTube hashtags is by adding a video-based keyword, the theme of the video, and trending topic or your brand. Make sure you don't leave any spaces in the hashtags.
Your hashtags appear in two places – above the video title and within the video description.
Additional features
Card: It is a preformatted notification or call-to-action function that appears as "i" at the top right corner of the video.
Your cards can be a link to other videos, playlists, merch, downloadables, and more.
To add a card during upload, go to the "Video elements" page and click on "Add cards".
For the uploaded/ published videos, go to the "Details" page for a selected video and click on "Cards".
On the "Cards" page, you can select the timeline where you want to add your card.
End-screen: It's a cool add-on feature to keep your viewers hooked on your channel. It pops up when your video is about to end.
Merch shelf: It's a great way to offer your official branded merchandise, especially to your dedicated followers. However, the creator should be eligible to access this feature. Spreadshop and Spring are well-known merchandise platforms that are easy to use.
Check out this video on how you can use the Merch shelf.
Engagement features
The ever-growing YouTube community is proof that you can keep your audience engaged with the content. Besides video posting, there are some cool features that let you stay in touch with your viewers.
Community: It's nothing different than your social media feeds. Here, you can post pictures, GIFs, audience polls, and simple texts to keep them curious or updated.
YouTube Premiere: It's like a virtual watch party. Here, you can stir up buzz by scheduling your video release with a countdown.
YouTube Live: Besides your subscribers, you can engage with new users in real-time. Live streaming is a great opportunity not just to earn new subscribers but also to monetize your stream.
YouTube Stories: This feature is similar to Instagram stories. Creators can update their viewers with short videos that expire after 7 days.
Audio Library: It's a music library that enlists sound effects and royalty-free music that you can use in your videos.
Super Chat and Super Stickers: These are fancy live comment features used in live streams and premieres. They're pinned to the top of the live chat box that stays as per viewers spend on them. It's just a way fans appreciate their creators.
Final thoughts
With tons of features available, getting started with YouTube Studio shouldn't be an overwhelming experience. Hopefully, this article helped you focus and work on important studio features initially.
In the years to come, YouTube will only be making hassle-free studio experiences – just like how mobile apps make the studio features on the go for the creators in a hurry.
YouTube may also introduce a pre-publish feature where your videos can be checked for potential copyrights, red flags, or other violations, giving you a chance to address the issues before publishing.
Who knows, you might not need to hire a manager when an automated studio can help you in managing your channel? It would be interesting to see what YouTube rolls out next.
So what are you waiting for now? There's an audience desperate to see what you've got to show.