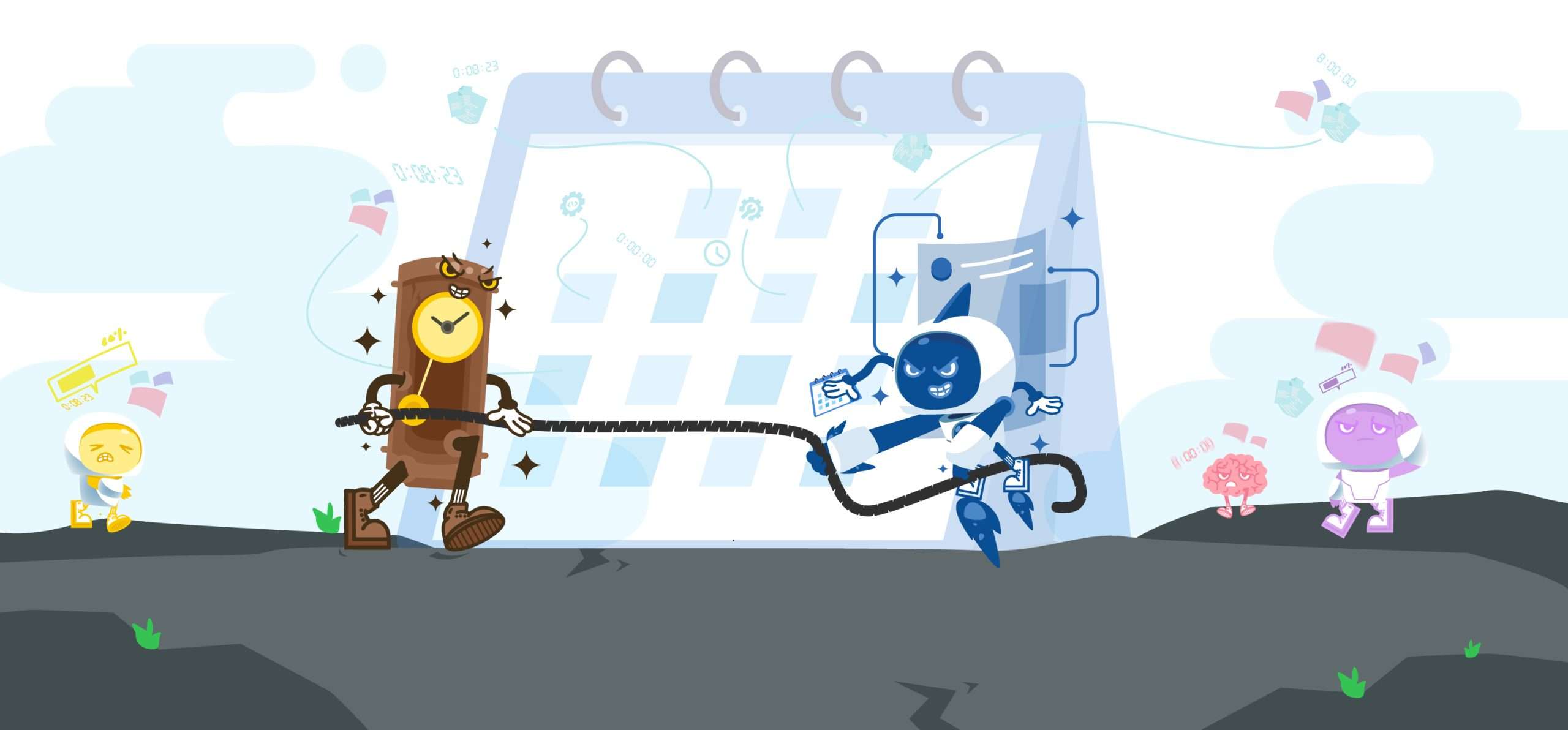 Motion and Reclaim are two powerful tools that optimize your daily routine through smart automation, efficient calendar scheduling, and effective meeting management.
However, choosing the best option can be challenging because they share many similarities.
Yet, they also offer many distinct and valuable features that set them apart.
In this guide, we will compare Motion and Reclaim side by side, exploring their exceptional features and the benefits they provide to you.
TL;DR
Motion and Reclaim are both powerful productivity tools, but they have distinct features and benefits.
Motion is user-friendly, offers automation and AI capabilities, and seamlessly integrates with Google Calendar. However, it has reported issues with the desktop app and higher pricing.
Reclaim has a user-friendly interface, effective time management and profound meeting features, and offers syncing with multiple calendars. It is also more affordable and provides detailed productivity statistics.
Consider Motion if you prioritize automation and deep work, while Reclaim is a great choice for you if you want smart scheduling, habit tracking, and affordable pricing.
Motion Overview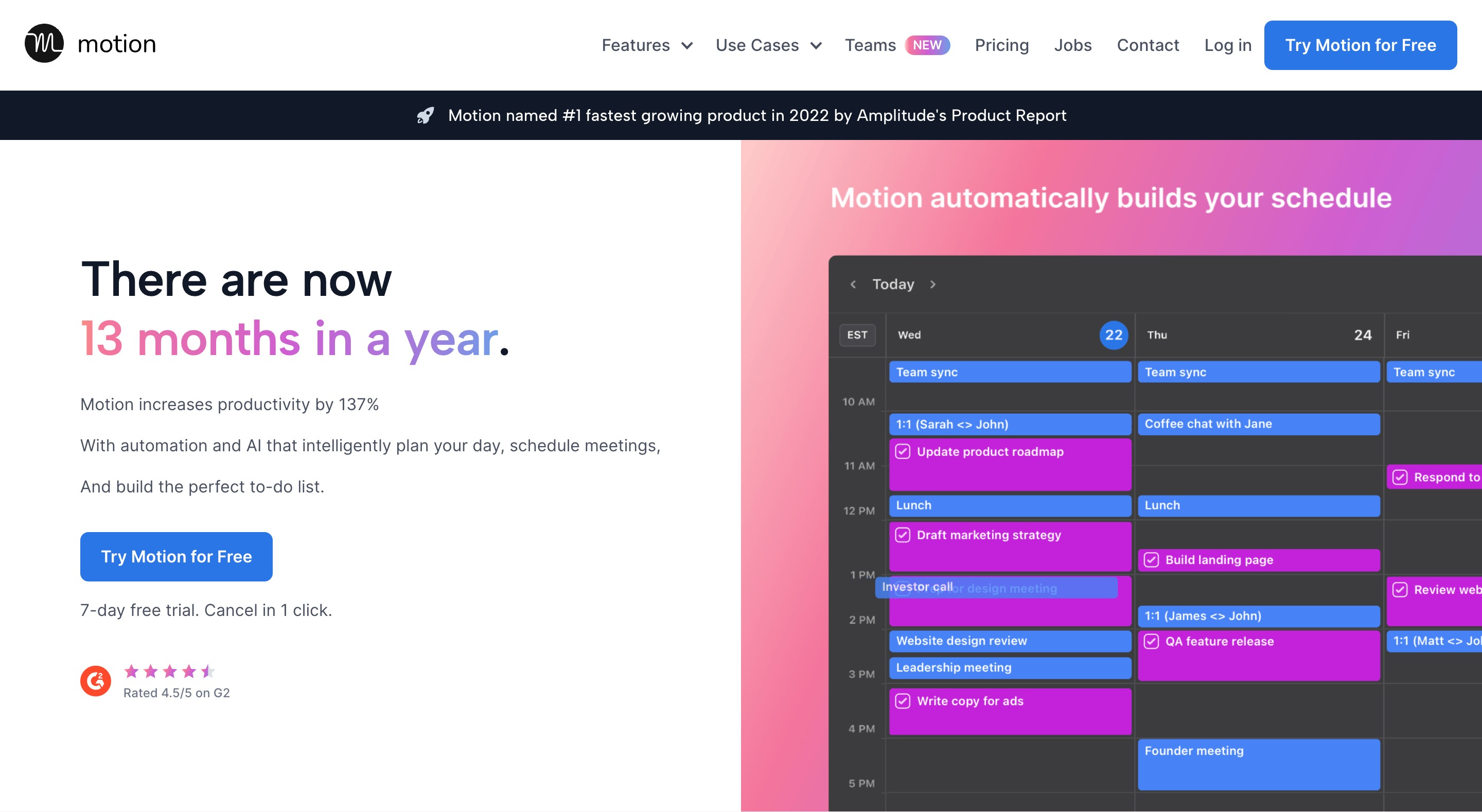 Motion is an AI-powered productivity app that helps you efficiently complete your tasks, projects, meetings, and calendars using automation, among other features.
Some of the key functions of Motion include:
Automatic schedule creation
Work prioritization focus
Rescheduling of pending tasks
And more!
Moreover, Motion recognizes the advantages of deep work and allows you to implement time blocking.
Motion seamlessly syncs with all your calendars, meetings, and events, presenting them beautifully on a single page.
Its versatility extends across various industries, from IT Service Providers to Law Firms and even Real Estate Management.
And when it comes to its integration capabilities, Motion integrates with some of the most popular apps, including Zoom, Google Meet, Gmail, and various calendar apps.
Motion is accessible through a web app, desktop apps for both Mac and Windows, and mobile apps for iOS and Android.
Pros of Motion
User-friendly interface: Motion is incredibly easy to use and loads quickly, excluding the native apps.
Automation and AI capabilities: Motion utilizes AI to efficiently plan your day, enabling you to stay organized and accomplish more with minimal effort.
Seamless integration with Google Calendar: Motion seamlessly integrates with Google Calendar, making it effortless to schedule meetings and manage your day.
Cons of Motion
Issues with the desktop app: There have been reports of the desktop app experiencing bugs.
Relatively higher pricing: The monthly pricing plan can be considered costly compared to other available options, making it potentially expensive for some users.
Reclaim Overview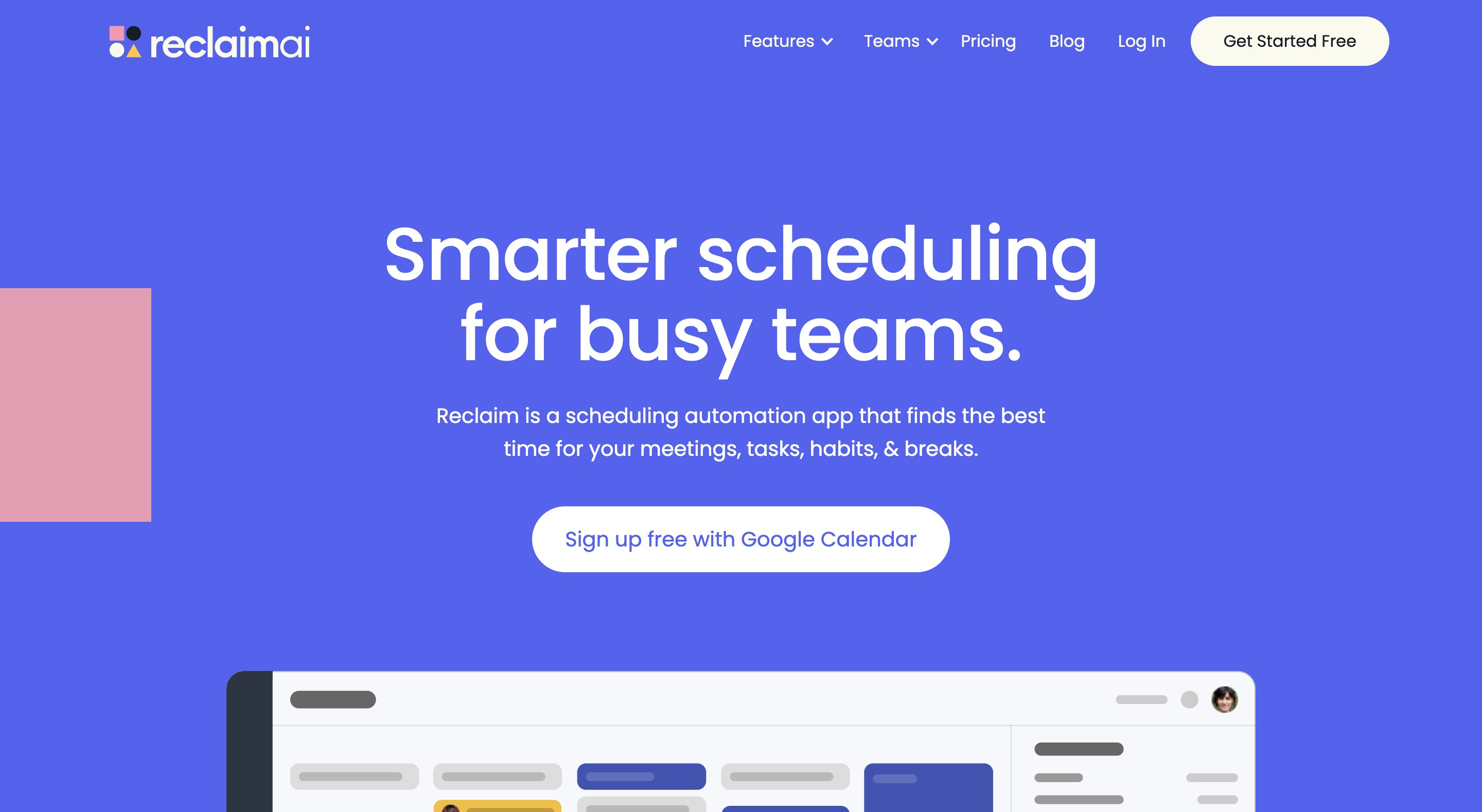 Reclaim is an exceptional smart scheduling application designed exclusively for teams seeking to automate their tasks and meetings while building healthy work habits.
One of Reclaim's noteworthy features is break scheduling, which effectively prevents burnout by introducing scheduled breaks and limiting meeting hours.
Reclaim performs intelligent and efficient task scheduling by seamlessly integrating your to-do list app(s) to identify the optimal time for your high-priority tasks. The same applies to scheduling recurring habits.
Furthermore, Reclaim assists you in determining the ideal time for one-on-one virtual meetings by conducting a thorough analysis of your calendar.
The availability scheduling feature in Reclaim empowers you to create customized links that you can share with others, enabling them to precisely book a meeting with you.
Moreover, once you connect your calendar to Reclaim, you can have complete confidence that any updates made to your original calendar will be automatically synchronized with Reclaim.
Lastly, Reclaim provides detailed productivity statistics, allowing you to gain precise insights into how you allocate your time and identify actionable steps to enhance productivity.
Pros of Reclaim
Effective Time Management: We find Reclaim.ai helpful in managing their calendars and saving time. It offers features like smart time blocking, syncing multiple calendars, and adjusting task blocks around other appointments.
User-Friendly Interface: We appreciate the visually appealing design and find it simplistic to integrate habits and tasks.
Syncing Calendars: Reclaim.ai efficiently syncs calendars from different platforms, including Google Calendar, making it convenient for individuals with multiple calendars.
Comparatively Affordable: Reclaim.ai is significantly cheaper than its competitors and also offers a free plan, unlike Motion.
Cons of Reclaim
Learning Curve: Adjusting to a new system may require some time and effort initially.
Now that we've addressed that, let's examine each useful feature of both tools individually. This will give you a comprehensive understanding of what each tool can offer in terms of enhancing your productivity.
Best Motion Features
1. Motion's User Interface
Motion is very easy to use and user-friendly. In fact, it has a much smaller learning curve compared to Reclaim, making it easier to grasp and master.
Even from a features overview standpoint, Motion presents fewer yet clearer elements on its dashboard, minimizing distractions.
This is what the Motion dashboard page looks like:
On the left menu bar, you can manage tasks,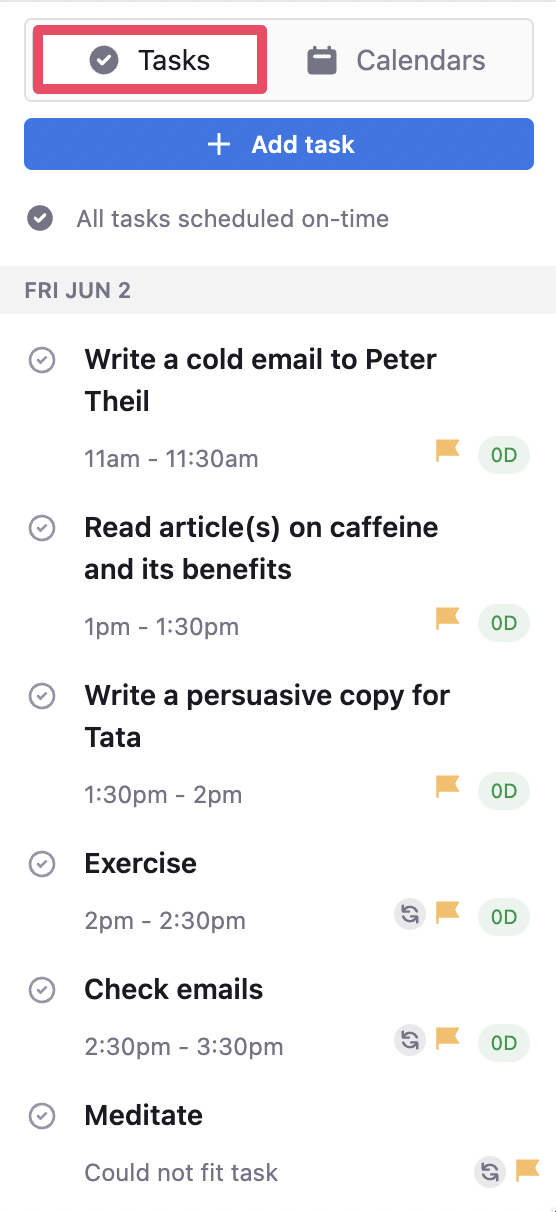 And switch to your calendar:
The main middle page displays all the tasks, events, and meetings that you are connected to and scheduled in your calendar (the one you have connected).
One more thing: on the left, you will find a timezone button. Clicking on it opens a popup that allows you to add additional timezones.
Good news? You can add multiple timezones to a single calendar.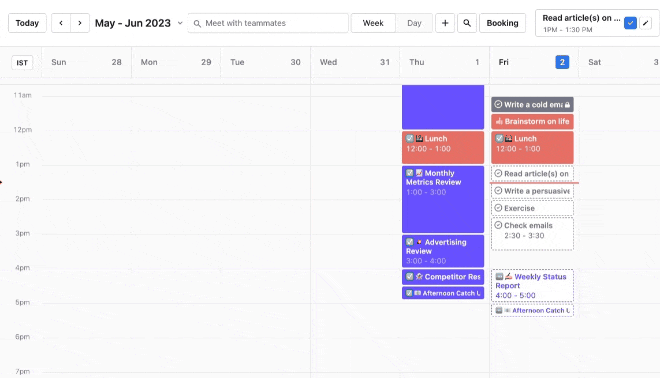 Motion's user interface is highly efficient and productive.
2. Calendar Management
Motion allows you to connect your Google Calendar as well as the Microsoft Calendar.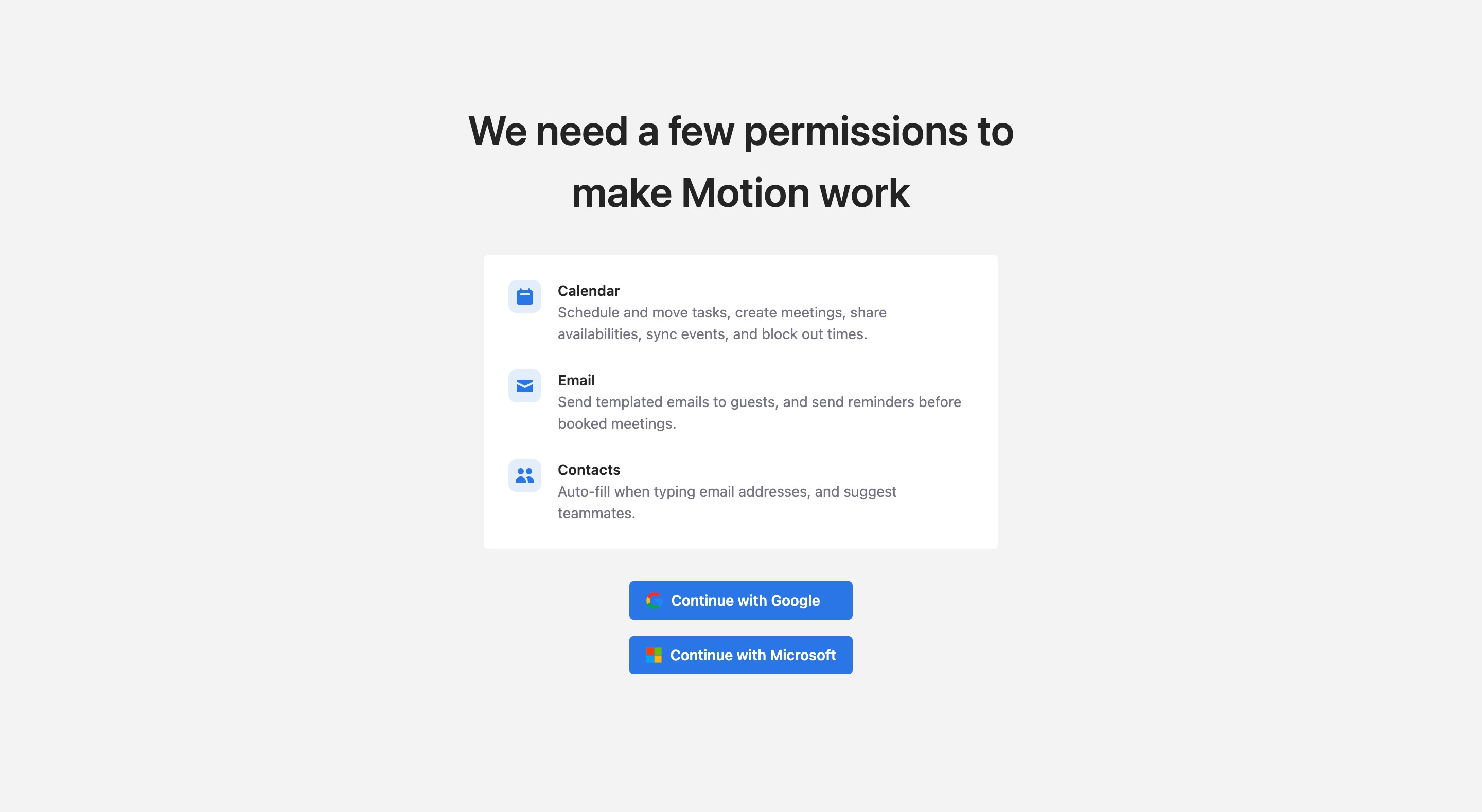 And you can add more than one calendar and even display specific sub-calendars by enabling/disabling any of them.
To change the start week and theme, head over to Settings > Default view.
Similarly, if you want to create a sync between two calendars (a "to and from" relationship), you can do so by heading over to Sync Calendars.
Lastly, head over to Settings > Schedules and create your own custom daily schedule through simple drag and drop functionality.
For instance, you can create a schedule that defines your daily work hours.
3. Task & Project Management
This is what the task and project dashboard in Motion looks like:
What you're looking at is a simple table view. To change the view, just click on "Kanban," and you will see a drag and drop board view.
To create a project, click on the blue-colored "Add Project" button located at the top right corner. A large popup window will open where you can fill in all the details and then add all the relevant tasks under that project.
One of the most useful task management features of Motion is saving time through template creation.
Next to the recurring tasks option, you will see a "Templates" button. It will ask you to add a template and let you choose between creating a template for your tasks or your projects. Go ahead and select one and start creating.
Then it's just a matter of filling in all the details.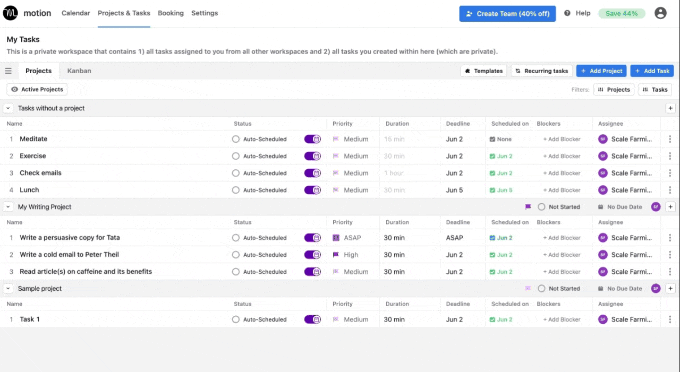 If you want to add tasks to your schedule that are repeated, the recurring tasks feature is of great help.
Lastly, you can even filter tasks and projects based on status, priority, and workspace.
Underneath the auto-scheduling tab in Settings is the Focus time feature. It smartly reduces your meeting time, enabling you to focus more on your priority tasks.
With that out of the way, let's uncover one last important Motion feature.
4. Booking (Meeting Assistant)
Motion's booking page allows you to set your availability schedule by selecting the free timeslots from your calendar. It then creates a booking link that can be shared with anyone.
Here's how it works:
1. Go to the Booking page and click on the "Drag time slots" button.

2. Add all the available timeslots and modify the "share availability" settings, including duration, teammates (if applicable), timezone, etc.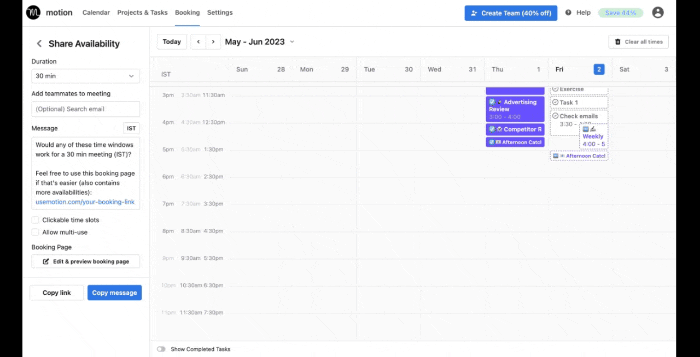 3. Click on "Edit & preview booking page. Here, you can not only view your page but also customize it further by adding invitee details and a virtual meeting link.
4. Lastly, there is another booking-related feature to review. If you want to limit the number of hours of meetings you can have in a day, go to Settings > Booking.
Additionally, remember to add live (and working) meeting links in the conference settings.
If you find it inconvenient to update the link manually every time, you can let Motion auto-generate a link for you after connecting your Zoom account.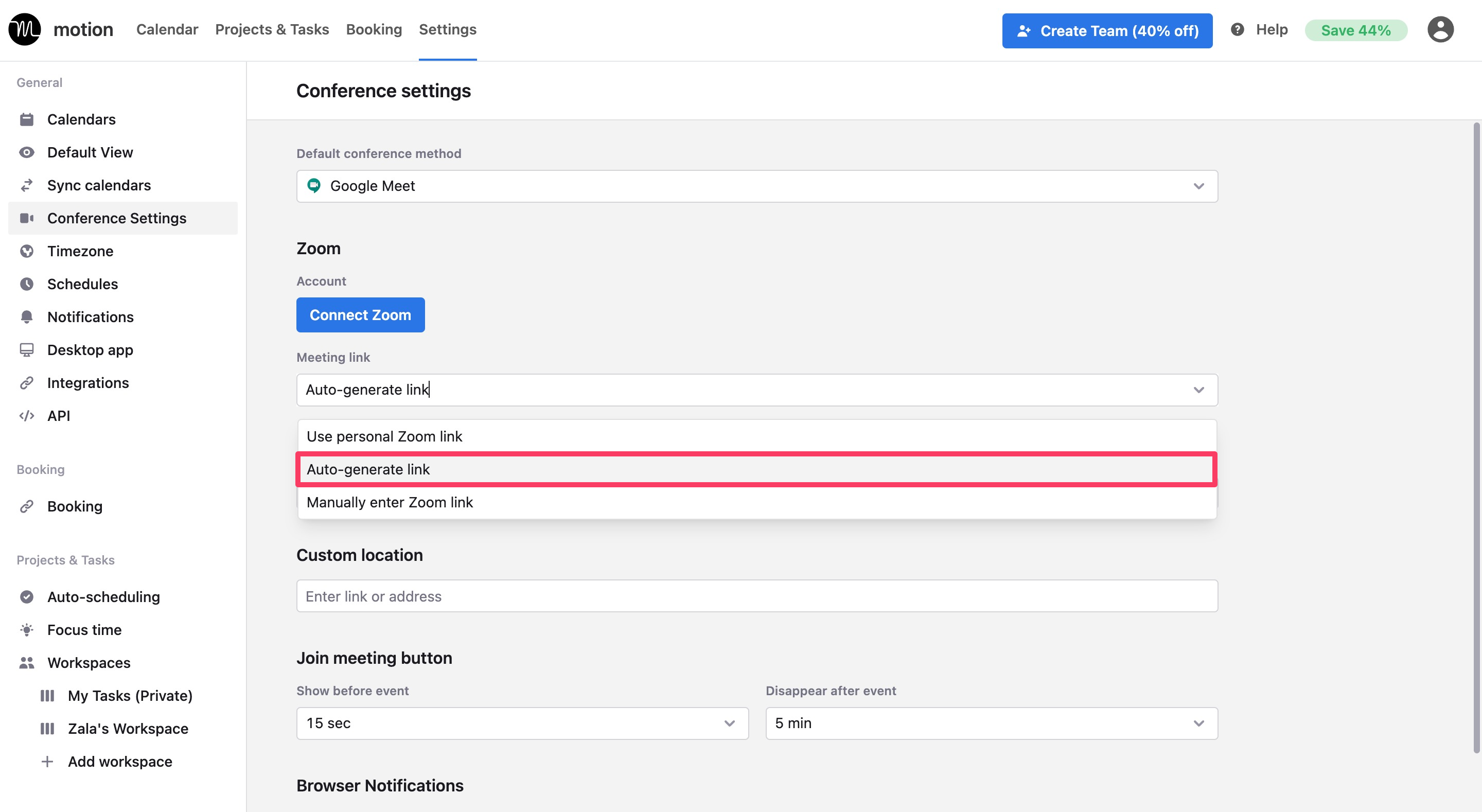 5. Motion Integrations
Motion does not offer a wide range of third-party integrations.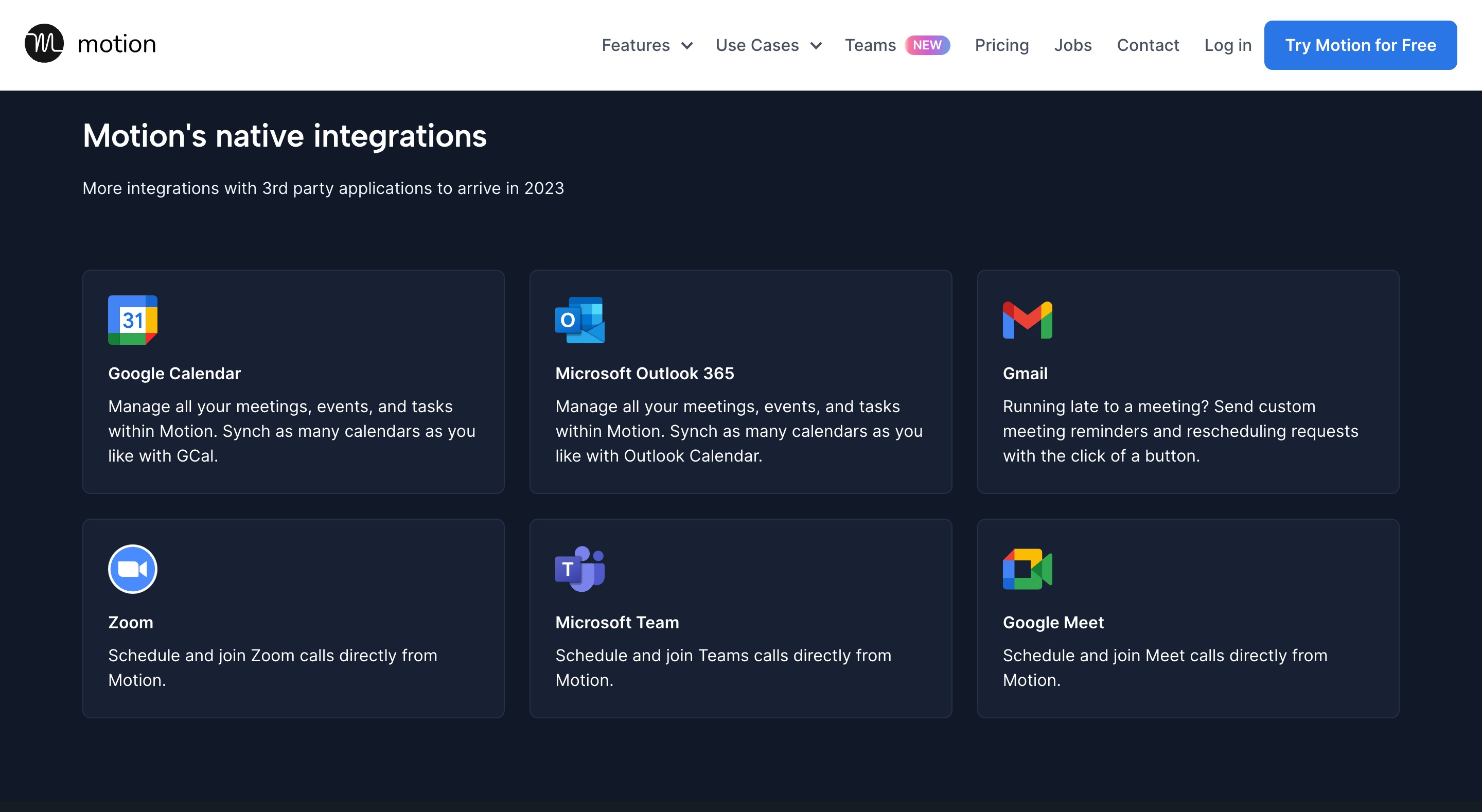 In addition to its native connections with calendar and meeting apps, it currently only supports one additional integration with Zapier.

That being said, let's now delve into some of Reclaim's impressive features and capabilities.
Best Reclaim Features
1. Reclaim's User Interface
I really love Reclaim's user interface. It's everything a productivity seeker like me would want to have.
This is what the dashboard looks like, with the planner open on the left side, your calendar in the middle, and priority habits (more on that later) on the right.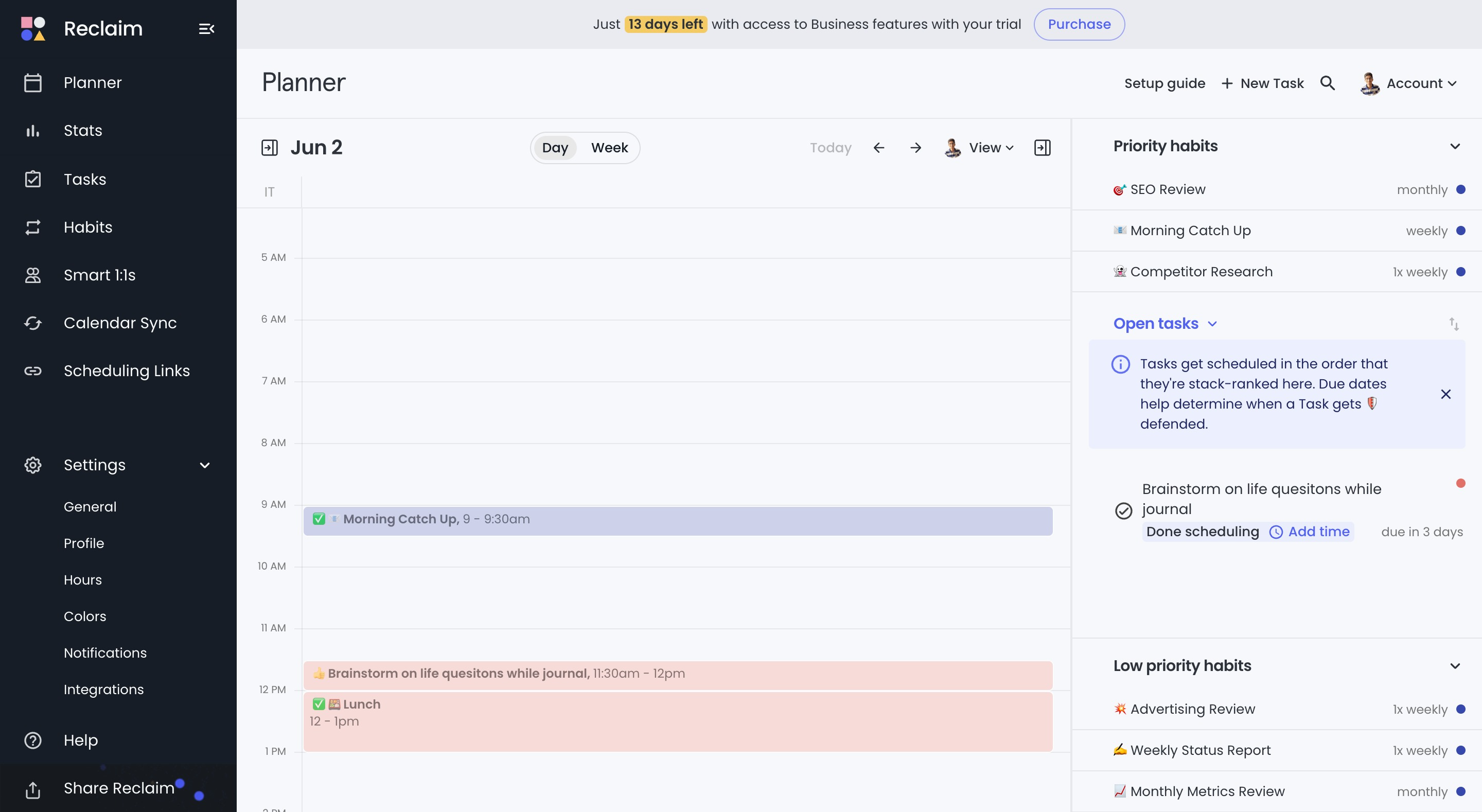 Now, if you're freaking out after seeing this, I have great news for you – It's very simple and easy to set up and use.
All the sidebars can be toggled on/off with a button, keeping only the main connected calendar open.
If you find it difficult, at any point, to set up your page, click on the "Setup guide" button located at the top right. It will take you step by step in completing all the things you need to do and get you up and running in no time.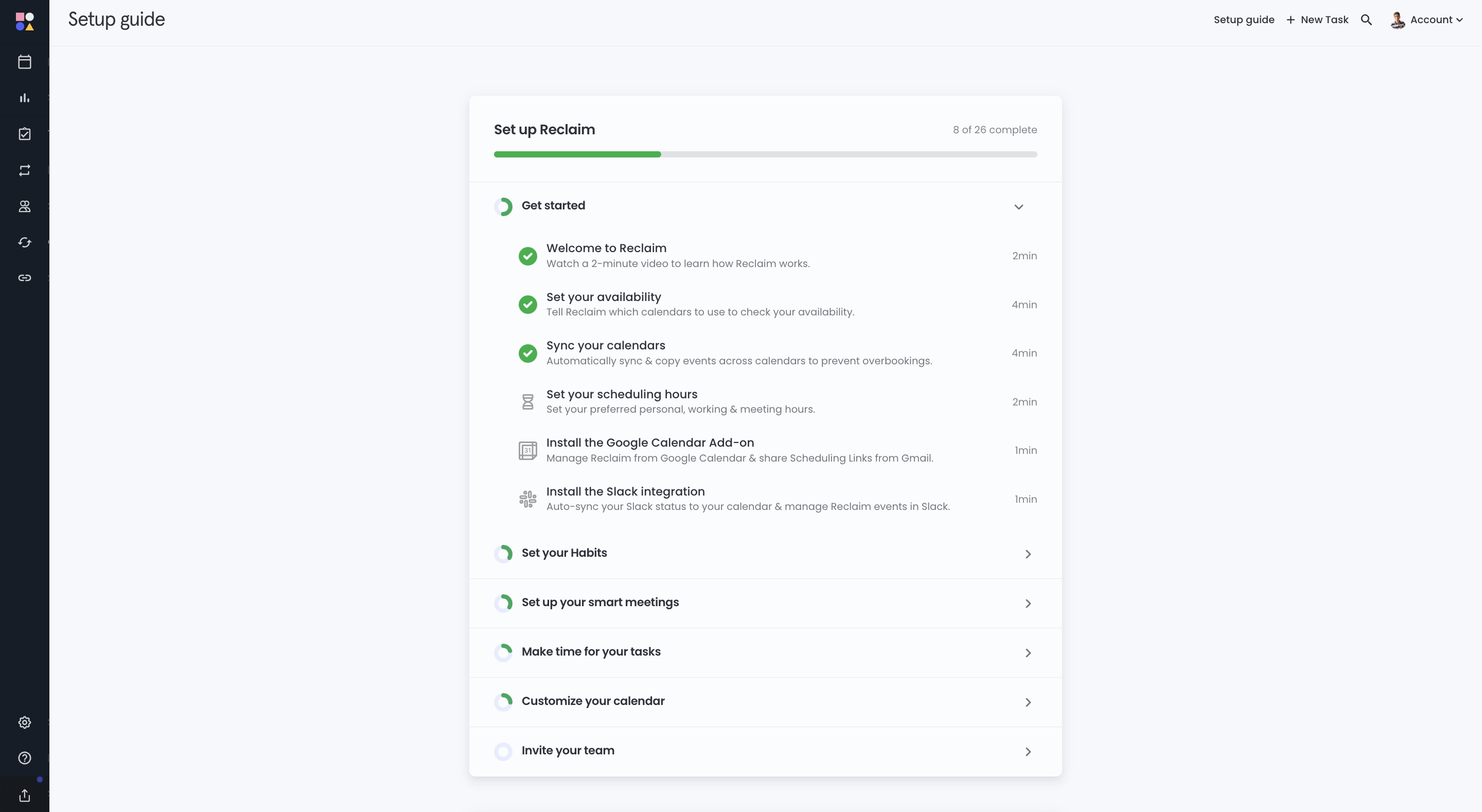 2. Calendar Management
Reclaim's calendar features are almost similar in providing value. However, there is one unique feature that I would like to show you.
From the left panel, go to Calendar Sync. This is kind of cool. It's an automation for syncing specific tasks. Click on the New Sync button.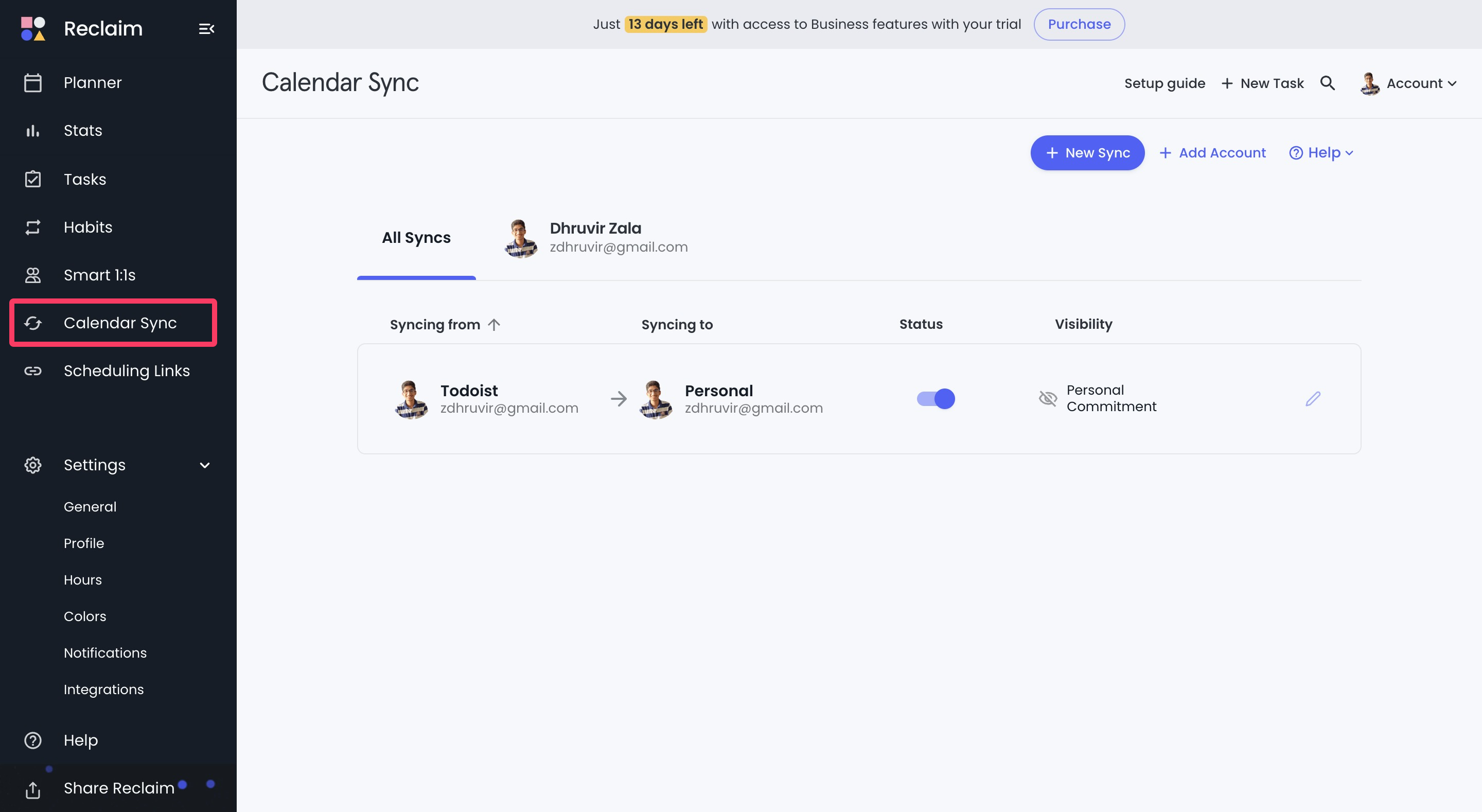 Now you can sync your desired calendars and sub-calendars with each other. Give it a try because it's powerful in practice.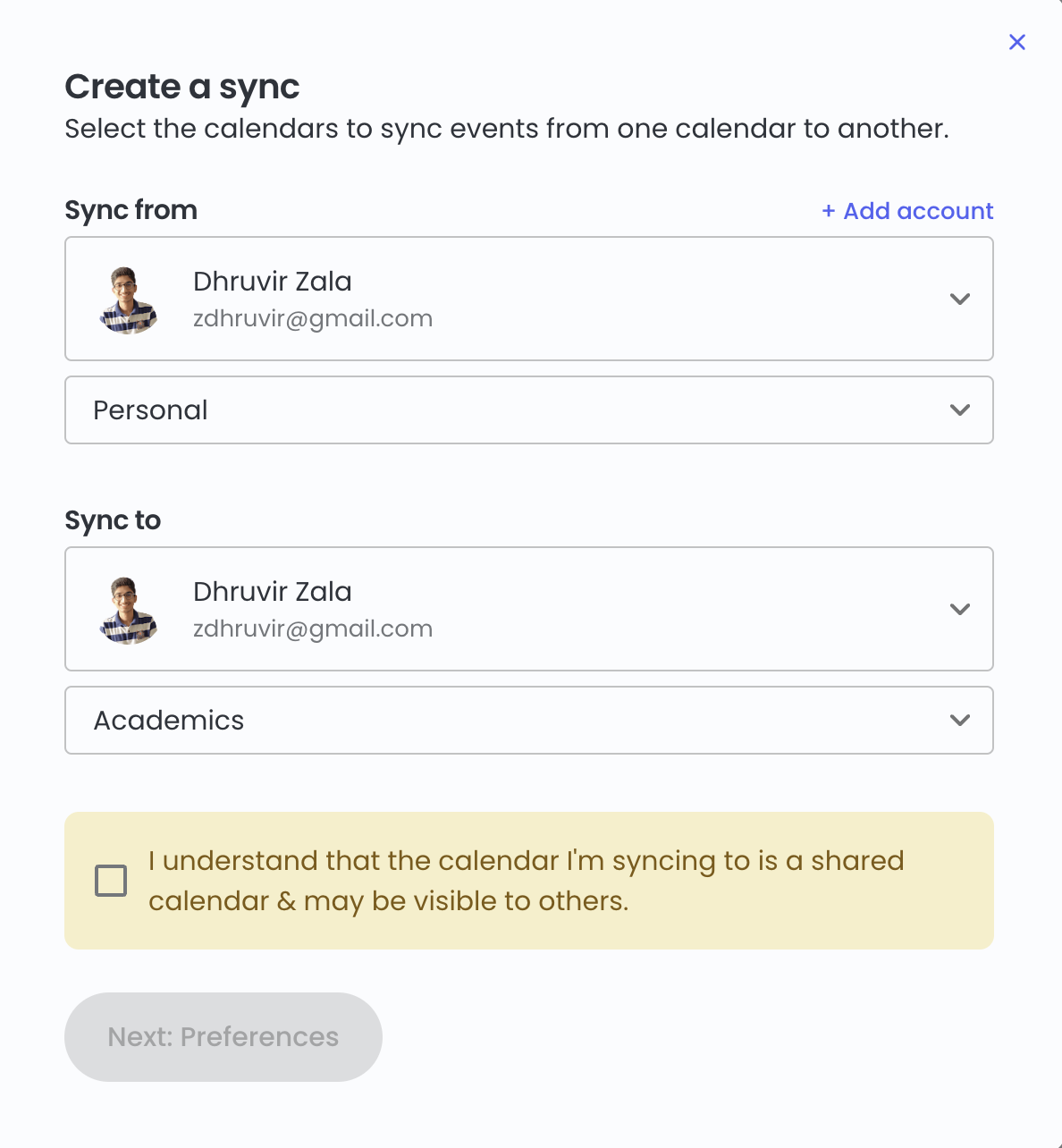 3. Reclaim Tasks
Unlike Motion, Reclaim directly allows you to connect to third-party task management apps like Todoist.
Here's a simple 3-step process to create a task in Reclaim:
1. To create and manage tasks, you'll need to begin by adding a new task using the keyboard shortcut 'C' key on your keyboard or from here:
2. Fill in all the details including task name, total time spent on that task, timeblocking details, etc and then click on save:
3. Your added task will appear in two places: the calendar and tasks.
Head over to Tasks and you will see all the tasks that are – Open, scheduled, done scheduling and marked done.
Click on the task and a full-page task details will open up.
The Start button starts the task now instead of whenever you scheduled it for. It will also update the task location in the calendar accordingly.
Click on the three dots and it will open up more options: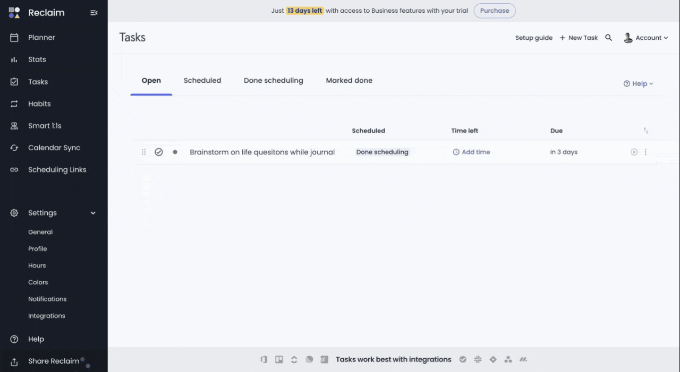 Prioritize lets you put your task on the priority habit meaning you get to work on it before your normal non-priority tasks.
4. Habits
Reclaim's habits feature is one of the best. Habits are basically tasks, but with pre-built templates and priority categorization.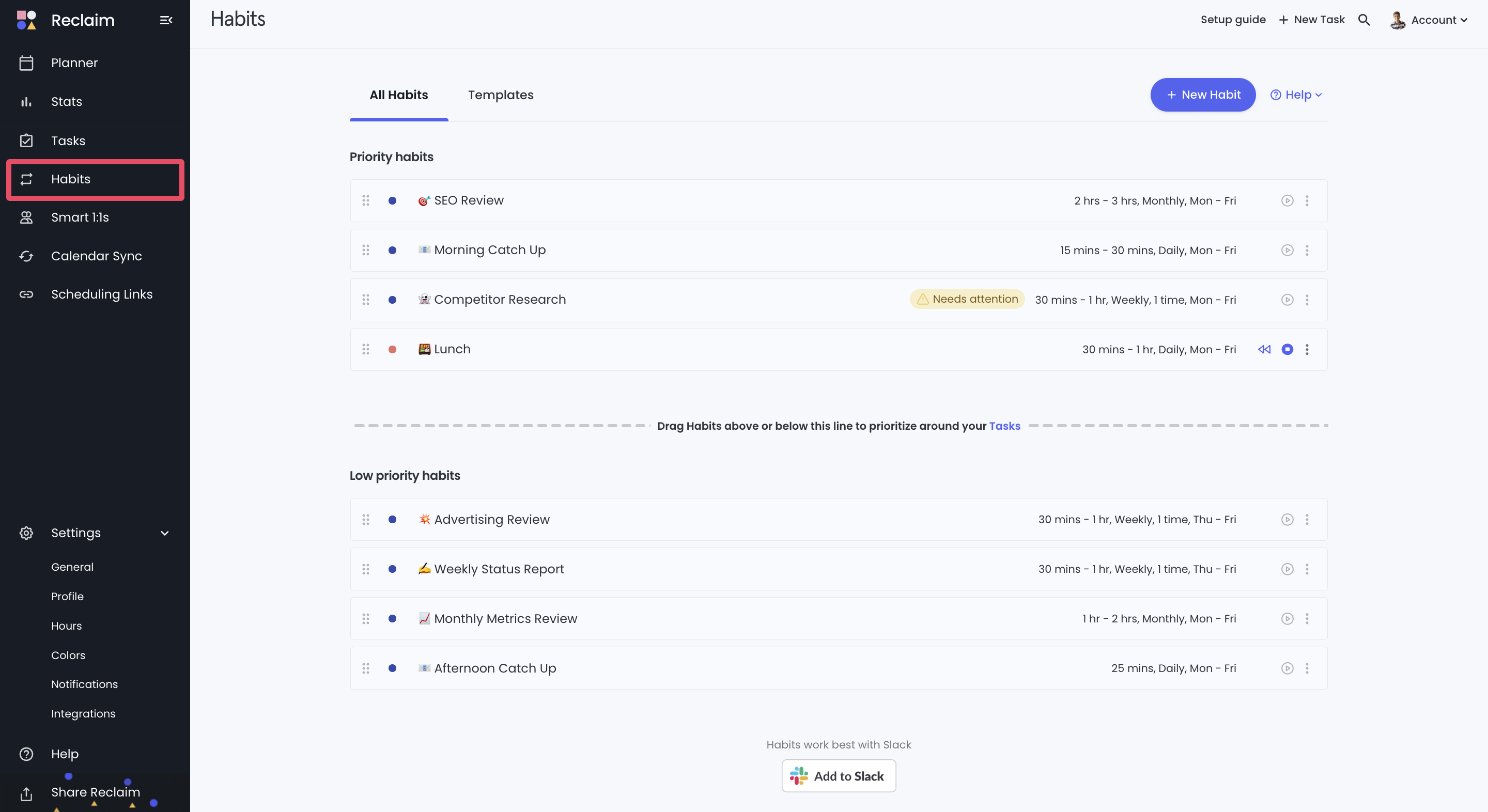 As you can see, you can place a habit in either of the two sections:
Low priority
High priority
You can also visit the Templates section, where you'll find pre-built habit templates for almost every industry.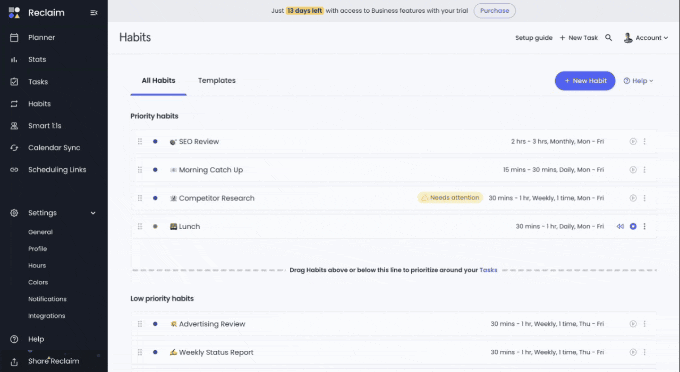 Overall, habits are a great way to classify tasks according to their importance and prioritize them, bringing more clarity to achieving your daily objectives.
5. Meeting Assistant
Just like Motion, Reclaim also has a scheduling links feature where you can do everything from creating a booking page to sharing availability.
Setting up a scheduling page is pretty straightforward. Follow this three-step tutorial:
And, this is where things start to get really interesting. Reclaim, unlike Motion, provides a lot of different meeting options.
For instance, if you want to schedule a quick meeting (varying in priority) with someone, Reclaim already has that feature within reach with just a click.
And this is a preview of a sample booking page: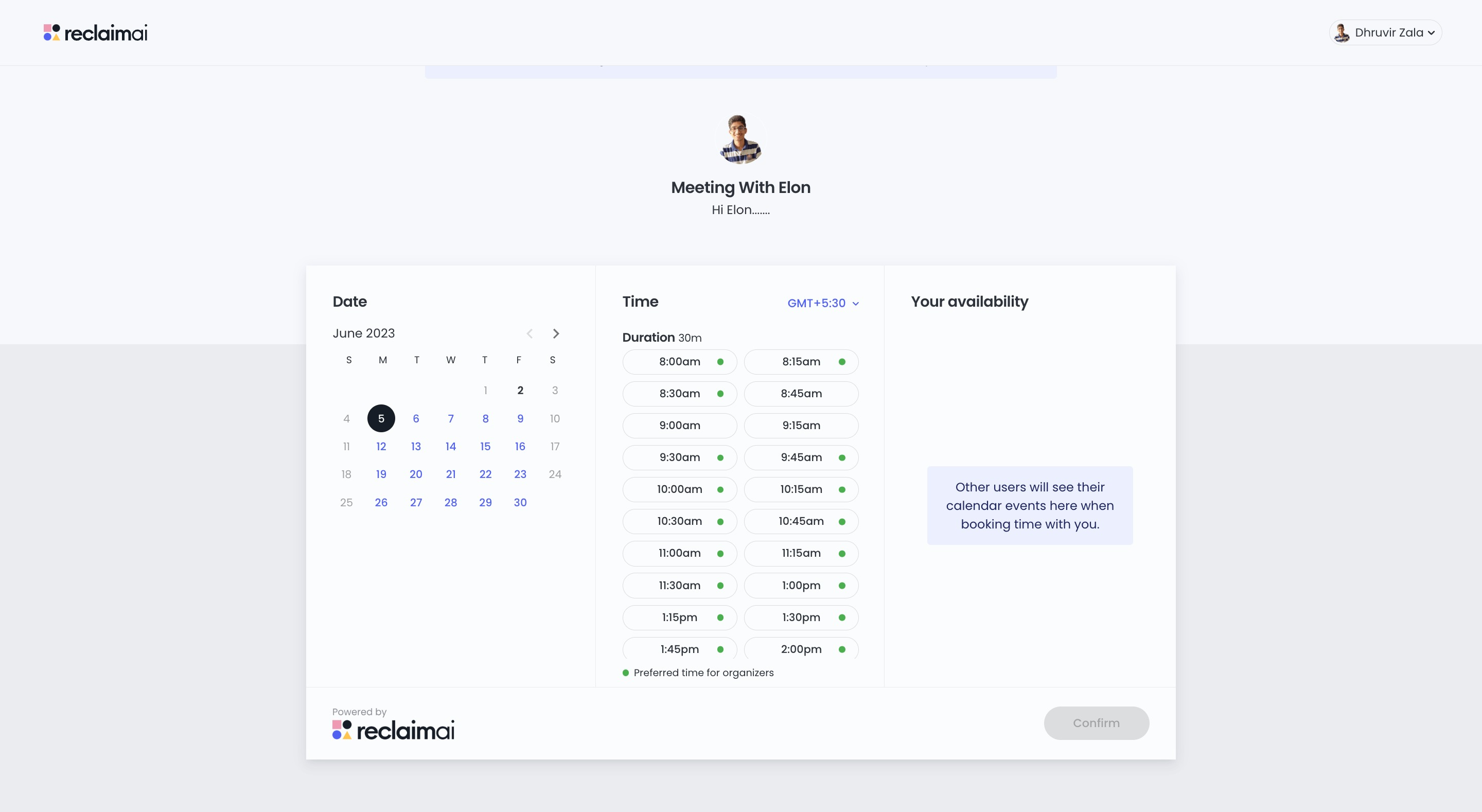 Similarly, Reclaim also provides features for Smart 1:1 meeting scheduling where it takes into account both yours and the invitee's calendar and detects the mutual free time to set a meeting.
Personally, when it comes to meeting management, I would blindly wager on Reclaim. It's that good!
6. Reclaim Integrations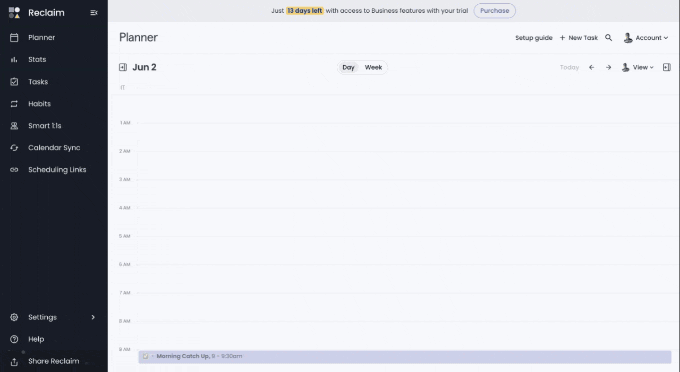 In addition to Google Calendar and Office365 integrations, Reclaim also connects with task management apps such as Google Tasks and Todoist; conferencing apps like Google Meet and Zoom; communication apps such as Slack, ClickUp, and Trello, and more.
7. Progress Tracking through Stats
Reclaim has a feature called Stats.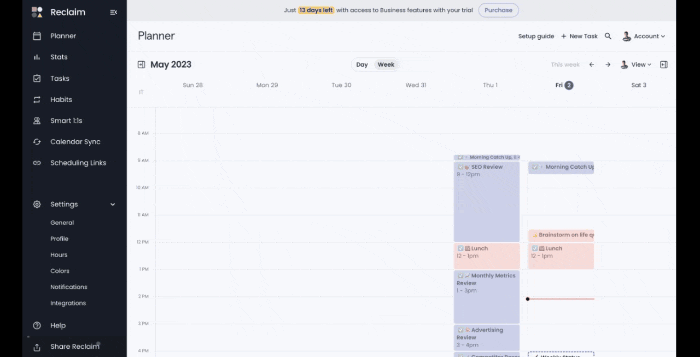 The report is divided into four parts:
Work Stats: Face time, Meeting time, Shallow and Deep work (work quality and focus).
Life Stats: Personal time, Travel and Vacation time.
Tasks Stats: Active, completed, and overdue tasks.
Habits: Weekly change in time spent on each habit.
As of now, Motion does not offer any progress tracking features. I believe measuring productivity metrics is a very useful function for any productivity tool to have.
Pricing
Motion offers a 7-day free trial. Then, the Individual plan costs $34/month ($19/month when billed annually).
The Team plan costs $20/month/member ($12/month during annual billing).
Reclaim offers three pricing plans: Lite, Starter, and Business.
The Lite plan is free forever and is a good option if you want to start getting your calendar under control. It has basic features and is suitable for individual use.
The Starter plan costs US$10 per user per month. It is designed for busy teams who want to optimize meetings and have more focused time on their calendars. This plan offers more advanced features than the Lite plan.
The Business plan, which is the most popular option, costs US$15 per user per month. It is ideal for companies that prioritize productivity and work-life balance for their employees. This plan provides additional features and benefits.
Concluding Motion Vs Reclaim Review
Both Motion and Reclaim offer valuable features that can enhance your productivity and help you manage your tasks, projects, and meetings effectively.
If you prioritize a simple and efficient interface with powerful automation features, Motion may be the right option for you.
However, if you value break scheduling, task syncing, and affordability, Reclaim could be the ideal choice.
Take advantage of the free trials offered by both tools to explore their functionalities and determine which one aligns better with your workflow.
Don't let your productivity suffer any longer.
Take charge of your daily routine with Motion or Reclaim today!