45% of resumes rarely show the true potential of a person. Many professionals exaggerate their skills to optimize their applications and unwittingly make the recruiter's job more challenging.
Pre-employment screening tools help recruiters like you identify qualified candidates faster. With the right software, you can assess applicants more objectively and make a well-informed decision.
In this article, you'll find a brief background on the pre-employment testing platforms and a list of screening apps. Compare their core features and prices to find the best software for your company.
What is a Pre-Employment Screening Test and Why Do You Need a Tool for It?
Pre-employment screening is a part of the recruitment process that involves skill testing to select candidates for the final interview. It generally comprises applicant invitations, online tests, initial interviews, and result comparisons.
This method allows recruiters to evaluate applicants' core skills and personalities to shortlist candidates who are most qualified for the job.
Pre-employment screening tools are designed to simplify that process. They offer ready templates and bulk automation to help you screen candidates at scale.
Let's look at the 12 employee screening software products I have compiled to discover the right skill assessment platform.
eSkills shares a wide selection of tools for skill assessment.
Here, you can choose from over 800 templates and add simulation features to make your test more engaging. If you can't find any best-matching template, you can contact its team of experts for guidance and build a custom test from scratch.
To add another layer of screening, you can include a video response option in your test and get recorded answers from applicants. The visual response often gives better insights into candidates' verbal communication and personality.
The best feature of eSkill is the employee assessment test. It would allow you to use this app for both pre-employment screening and on-job training.
Core Features
Candidate screening.
Video questions.
Cognitive aptitude test.
Behavioral assessment.
Employee development training.
Simulations.
Template library.
Expert guidance.
Integration.
Price
eSkill charges $100 per month for its candidate screening product. You can also ask for custom quotes.
Criteria provides an easy way to create and take pre-employment screening tests. The software generates a sharable test link that you can attach to job advertisements and any digital document to let applicants solve them remotely at their convenience.
You can build pre-employment tests to assess several things, such as cognitive aptitude, personality evaluation, and emotional intelligence. The plan allows unlimited tests and delivers mobile-responsive pages for quick access.
What makes Criteria most appealing is its game-based assessment. You can create an amazing candidate experience with immersive and interactive tests. You'll have the option to develop games for both cognitive and emotional intelligence evaluation.
Criteria also offers pipelines and score reports to help you keep track of your activities and monitor key metrics.
Core Features
Pre-employment screening.
Game-based tests.
Risk assessment.
Video interviews.
Candidate pipelines.
Reporting and analytics.
Scalable plans.
Integrations.
Price
Criteria shares separate plans for small teams and large organizations. Contact sales to get the quotes.
Testdome offers assessment tests for technical jobs. You can use it for business, accounting, IT, and programming.
The app has 150 pre-made templates, over 1000 premium questions, and multi-skill test layouts. You can create custom quizzes and add real-world scenarios to evaluate applicants' on-job experience.
To invite candidates and send test scores, you can opt for both email and URL links. You can use email channels to share reports with your team as well.
Besides its core functions, Testdome provides plenty of other interesting features. For instance, it has a cheating alert that notifies you when a user has copy-pasted a text or used someone's else identity. With this tool, you can quickly weed out irrelevant applicants.
Core Feature
Multi-skill tests.
Template library.
Custom questions.
Bulk invitation.
Candidate feedback.
Reporting and analytics.
PDF export.
Integrations.
Price
Testdome charges $20 per candidate. You'll get a 90-day money-back guarantee on all plans.
Xobin is best for both startup and large-scale organizations.
It shares templates for bias-free assessment, a wide selection of industry-related questions for customization, and webcam proctoring for monitoring. You can develop both tech and non-tech tests and generate an in-depth analysis of candidate performance.
To optimize the test results, you can include a timer to see how well each individual performs under pressure.
If you work with a team, you can add multiple users to your account and share reports with them. The app allows integration with Slack and provides an export option to download reports in Excel format.
Core Features
A diverse range of templates.
Pre-defined questions.
Personality evaluation.
Coding testing.
Customization.
Branding.
Team collaboration.
Mobile support.
API and Webhooks.
Price
Xobin's monthly prices range between $249 and $499. You can also ask for an enterprise plan.
5. HighMatch (Formally Berke)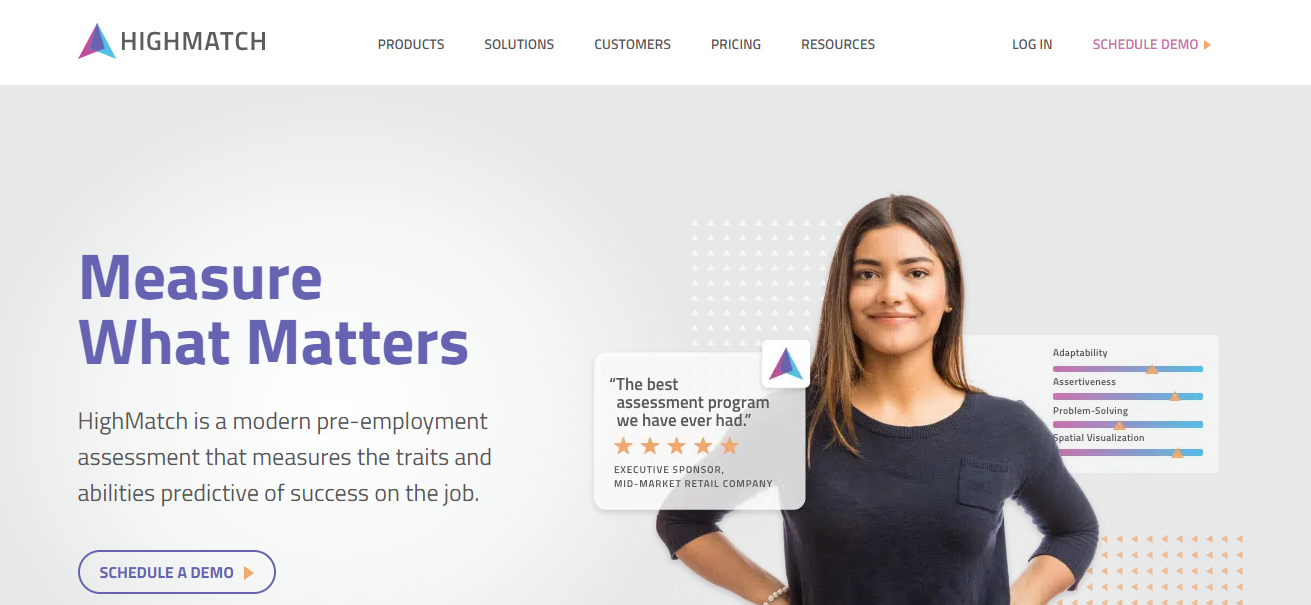 HighMatch provides a mobile-friendly screening platform with in-house consultation services.
You can use this app to make four types of assessments, including a personality evaluation, short Microsoft skills test, and real-life scenario exercises. Additionally, you can design custom questions for specific roles and build candidate profiles.
The platform comes with another feature called benchmarking to help you develop a better skill assessment system. It allows you to take tests from your current team and create a standard layout to filter applicants that don't meet those requirements.
For consultation services, HighMatch has an enterprise package. The plan provides in-house services with several side features, such as an interview kit and culture match analysis.
Core Features
Cognitive and personality assessment.
Tailored exercises.
Mobile-friendly tests.
Customization.
SMS invitations.
Reporting and analysis.
Benchmarking.
Integrations.
In-house consultation.
Price
HighMatch delivers prices on request. You can get custom quotes for small, mid, and large-size organizations.
iMocha is a robust assessment platform. It gives you the flexibility to include tech and non-tech questions in the test.
You'll get a rich library of templates and an AI-powered proctor to shortlist qualified candidates for the interviews. With its video tool, you can take remote interviews right from iMocha and invite up to three people to share the screen.
The analytics and reporting section delivers a bias-free assessment to help you hire employees purely based on their skill sets. The report even hides candidate names to ensure you and your team can evaluate the profiles objectively.
Lastly, if you plan to launch a university hiring campaign, you'll get a candidate portal to manage a large volume of applications.
Core Features
Over 2500 tests.
Customization.
Remote interviews.
Analytics.
Bias-free reports.
Candidate portal for university recruitment campaigns.
Skill assessment consulting.
Price
iMocha shares custom prices.
Devskiller is exclusively built for developers. It's a reputable global assessment test software that offers pre-made templates and real-life exercises to help you evaluate candidates better.
You can test over 200 tech skills, set various difficulty levels, and customize your questions. What's more, you can record interviews and generate analyses to compare candidate results.
Devskiller also shares an employee assessment product to measure team performance for training and development. It's an added feature that saves you from purchasing two separate tools for skill evaluation.
Core Features
Pre-employment screening.
Rich library of templates.
Automated scoring.
Advanced reporting.
Benchmarking.
Employee assessment.
Customization and branding.
Integration.
Price
Devskiller monthly prices start from $499. For custom plans, contact its sales team.
Modernhire gives you interview assessment tools to shortlist candidates.
With its on-demand phone feature, you can get recorded replies to pre-screening questions and automatically approve candidates that pass your test. If you manage a high volume of applications, you can send invitations at scale and take quick text interviews to filter irrelevant entries.
You can further engage candidates in simulated tasks to evaluate their abilities based on their problem-solving approach.
To deliver a better interview experience, you can let candidates self-schedule the meeting and take digital interviews via phone or live video. The app is incredibly easy to set up and allows you to invite teams for panel interviews.
Core Features
Voice and text pre-screening questions.
Assessment exercises.
Workflow automation.
Score results.
Analytics.
Self-scheduling.
Email support.
Zoom integration.
Price
ModernHire shares prices on request. Contact sales for the demo.
Woven is ideal for established organizations with a hybrid work model. It helps you build an objective assessment system to find software engineers for remote jobs.
The tests are automated and flexible specifically for candidates.
They get an hour-long work simulation that involves exercises, different difficulty levels, and short breaks to re-create real-life scenarios. Tests are automatically scored and inconsistencies are double-checked by the Woven team to ensure accuracy.
Candidates can also pick their own time for the test and receive initial guidance to get started.
The best thing about the Woven is the feedback section. Woven send feedback after each test attempt to let engineers know their strength and weaknesses. You can use it as a review system to continuously improve your in-house team's skills.
Core Features
Software engineer assessment tests.
Unlimited screening.
Real-life scenarios.
Workflow automation.
Slack integration.
Feedback system.
Price
Woven prices begin from $3500. You'll receive a 120 guarantee on every hire and a 60-day money-back guarantee on the annual plan.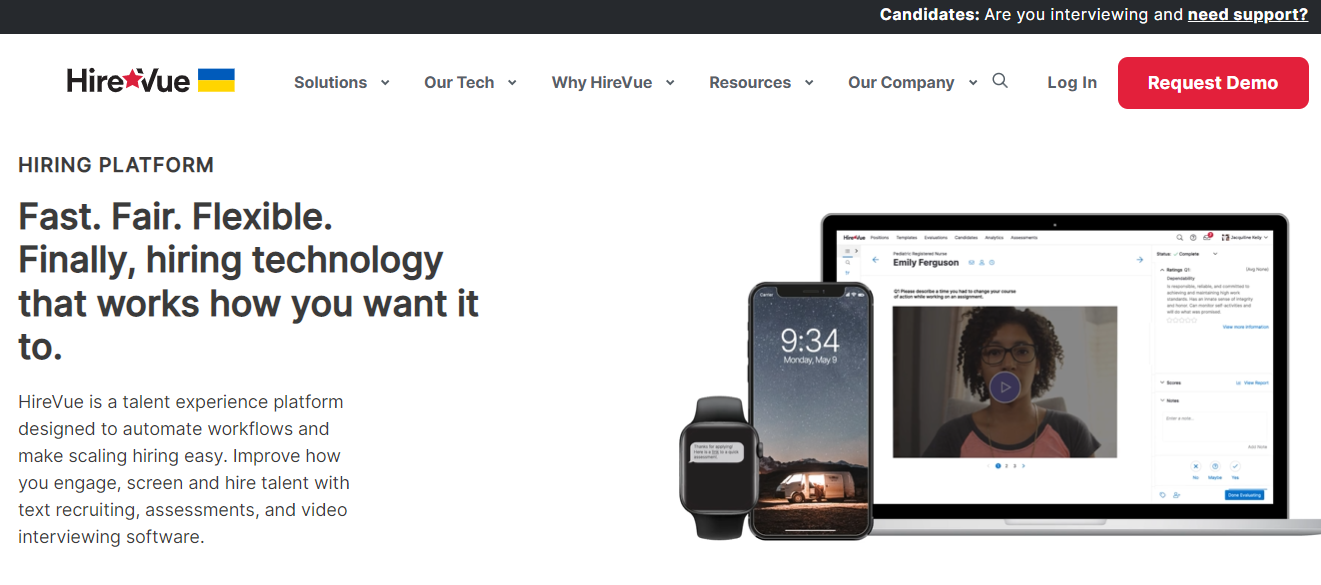 HireVue offers simple and efficient screening solutions. You can use it for interactive tests, technical skill assessments, and video interviews.
The interactive game-based test gives you measurable insights into your candidate's capabilities to show their ability to work in your company's culture.
For interview assessment, HireVue provides on-demand recording, a live video option, and over 1000 pre-build guides. You can share available slots with candidates via email and let them pick their own interview date with the self-scheduling tool.
You can also create a cross-channel communication flow and deploy AI-assistant to automate the conversations. The app supports email, text, and WhatsApp channels for a better candidate experience.
Core Features
Interview assessment.
Built-in evaluation reports.
Text recruitment.
AI-assistant.
Pre-build guides.
Communication automation.
Self-scheduling.
Integration with ATS.
Price
HireVue provides prices on request. Contact sales to get the quotes.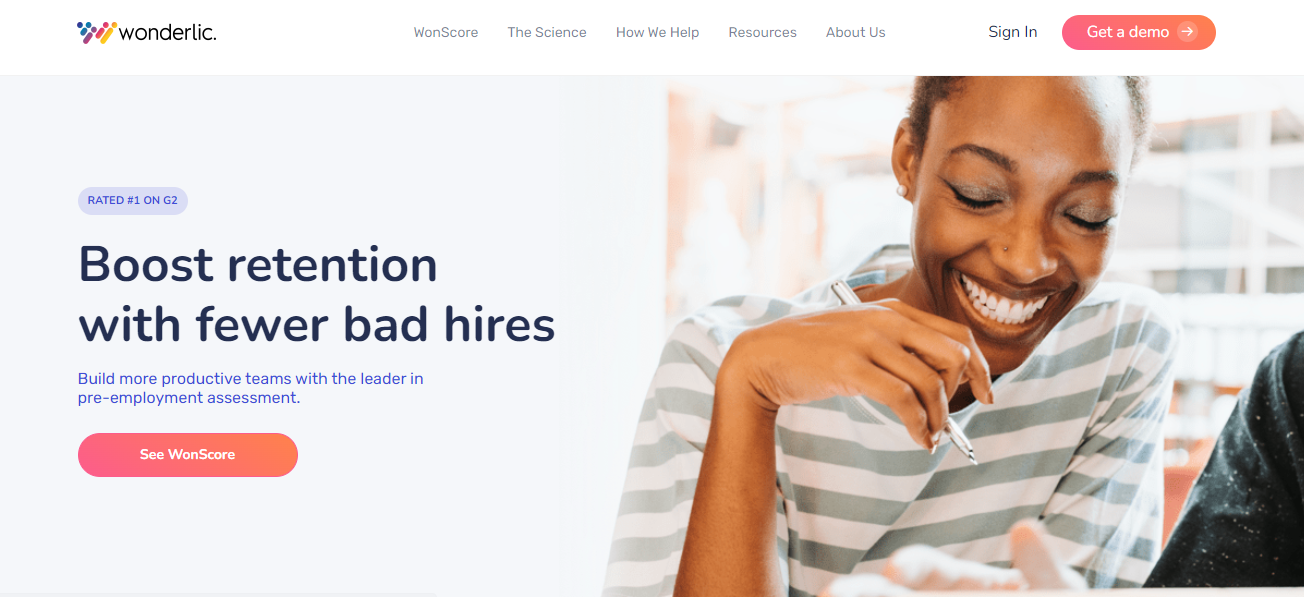 WonScore lets you create cognitive, personality, and motivation assessments.
The platform is pretty straightforward, easy to use, and provides comparison functions to help you make better decisions. With the cognitive test, you can check the candidate's problem-solving ability, while personality and motivation assessment will allow you to measure their leadership qualities and interest level.
Using its built-in job profile, you can record each candidate's score and evaluate them based on the above factors before calling for interviews.
Apart from the pre-employment screening, Wonderlic offers a student assessment tool. If you work in the educational sector and need software for entry tests, you can implement Wonderlic in your aptitude test process to evaluate students' verbal and math skills.
Core Features
Cognitive aptitude test.
Personality evaluation.
Motivation assessment.
Job profiles.
Candidate score.
Comparison feature.
Tests for students.
Price
WonScore shares prices on request. Request a demo to explore the features.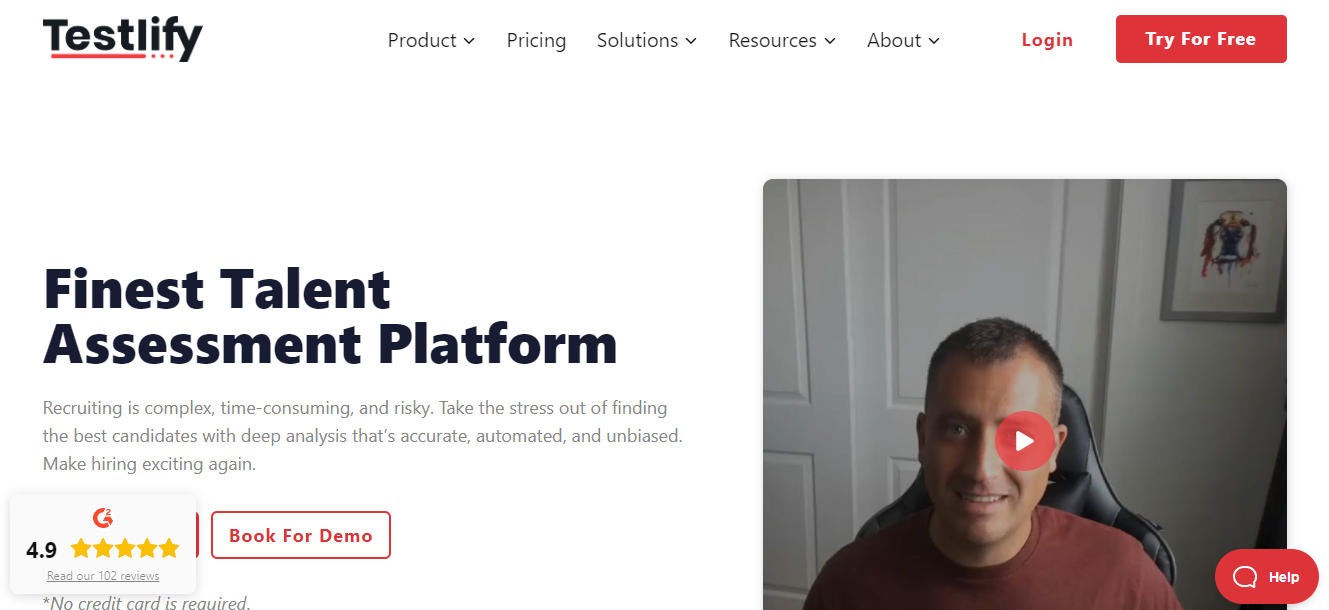 Testlify delivers short and engaging screening tests. Its template library has 300 tests for various roles, from programmer and product manager to content writer and digital marketer.
You can take different types of assessments, adjust the difficulty level, and select multiple formats to measure a combination of skills. For monitoring and records, the platform offers a proctoring tool and candidate cards.
Another thing you'll like is the assessment builder. While you can quickly find the relevant templates, with its builder, you can design tailored tests.
You'll also have the option to customize the test after the submission to see selected answers.
Core Features
Unlimited tests.
Text and video screening options.
Template library.
Candidate profiles.
Bulk invitation.
Analytics.
Proctoring.
ATS integration.
API.
Price
Testlify's prices range between $19 and $199. It's best for small teams and growing businesses.
End Note
Pre-employment testing tools are necessary for effective hiring.  
Most recruiters use them to speed up candidate screening, allowing them to save time without compromising the hiring quality.
I have reviewed the best pre-employment screening software here. Pick the most suited apps from the list and visit their official sites to make the purchase decision. Good luck!