Contextual targeting is a PPC Ad feature that allows you to promote your products to your audience without depending on third-party cookies.
It's an old advertising technique that has been around for ages but has recently gained popularity in the wake of privacy restrictions placed by giant tech companies.
Today, nearly 61% of brands prefer it over behavior targeting and use it for their display Ads.
In this article, I'll cover the basics of contextual targeting (CT) and how it can help you get more clicks.
Let's start with the basics.
What is Contextual Targeting?
Contextual targeting is Ad placement automation that runs your display Advertisements only on the pages featuring the best matching content.
It works similarly to behavior targeting, but instead of using browsing history to determine visitors' interest, it finds pages that show content related to your products.
This technique helps you position your brand at just the right place and moment to gain maximum exposure.
It also drives better results because it allows you to put your banner Ad in front of your audience without being pushy.
To fully grasp the concept, let's go over the difference between behavior and contextual targeting.
Difference Between Behavior and Contextual Targeting
Behavior targeting uses third-party cookies to track the type of sites you've visited, and based on that information, it displays relevant Ads multiple times to grab your attention.
It's an effective form of re-targeting marketing that generates 6.8% more conversions than other types. But there's a major drawback to it.
By repeatedly displaying the same Advertisement it often creates the opposite — and negative — reaction.
Let me give you an example.
Do you see the above post?
The banner appeared after I explored the B2B sales topic a few days ago.
Google gleaned my interest from the data collected by cookies and started serving me a string of business development workshop Ads.
I have been seeing it on every site since then, no matter what site I visit.
The chasing post would've alarmed me greatly, hadn't I known how it was getting my information.
Many find re-targeted Ads helpful because they offer them what they're looking for, but 54% still feel creeped out by their level of precision.
Contextual targeting, on the other hand, practices non-invasive methods.
Rather than focusing on browsing behavior, it scans your keywords with host pages and shows your Ad on sites using exact words or sub-contexts.
So, if you sell herbal shampoos, your Advertisement would only appear on sites sharing hair care treatments or personal hygiene.
Think of it as Google SEO optimization.
In fact, a search engine post is a classic example of it!
It doesn't randomly pop up on your browser unless you type in a certain keyword or a question.
Popular Platforms that Offer Contextual Targeting Options
Currently, over thirty companies are ranked as the top third-party Ad networks in the market, and several of them offer contextual targeting features.
But to avoid overwhelming you with information overload, I've narrowed down the list to three popular platforms here.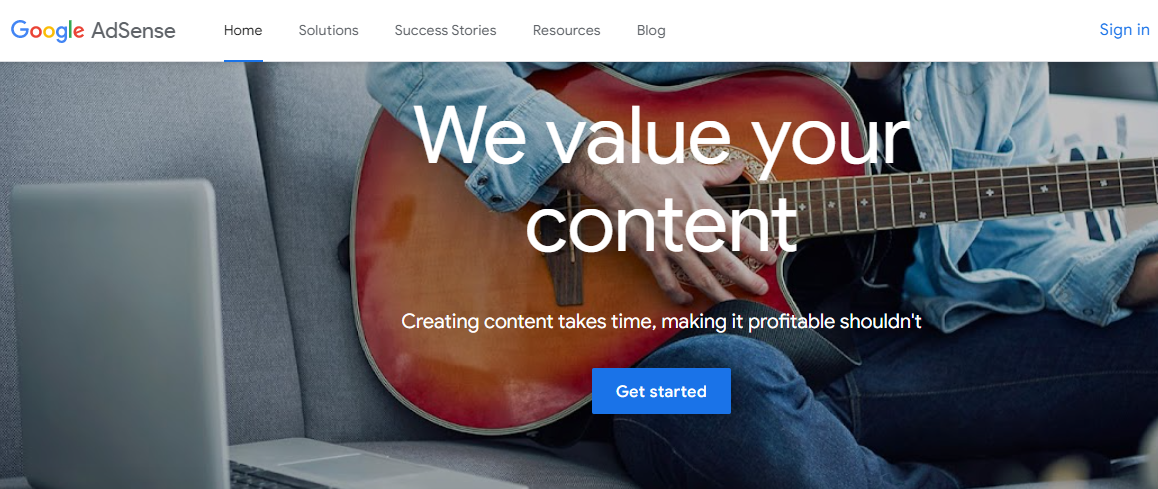 Google was the first brand that introduced contextual targeting in its AdSense product, and it still is the first one 97% of marketers go for.
Its CT feature tracks the central theme of the pages and automatically puts your banner on those that closely relate to your product niche. It makes your display Ad highly effective and drives tons of quality traffic to your site.
There're naturally several factors Google takes into account to make an accurate deduction, but it majorly depends on your specified campaign data to fine-tune its search.
How to Access it?
Google provides this option in its campaign form right below the demographics sections. Anyone with an AdSense account can use it to automate their Ad placement.
Amazon hosts millions of products and, as such, offers separate advertising services to allow sellers to promote their brands to beat the competition.
One of its products is called DSP. It's an Ad placement service that allows you to buy the space for your banner.
You don't have to be an Amazon seller to avail yourself of this service. You can use it to show your Ads on outside blogs posts, android apps, product pages, and any site across the web.
It offers all three static, video, and audio Ad types to help you gain exposure.
How to Access It?
Amazon DSP is available to you only through third-party services. It provides two options to access the feature.
You can hire an Amazon consultant to manage it for you.
You can go for agencies to use this function.
Contact Amazon Ad sales to learn more about it.
Adroll is a marketing tool that offers an extensive range of functions to help you run a successful Ad campaign.
Contextual targeting is part of its brand awareness campaign. It provides you custom field to specify your product niche and automatically shares your Ad on relevant websites.
With it, you can create both static and video Ads and control where you want to show them to convert more leads.
While Adroll's targeting option isn't as versatile as Google or Amazon, it has better outreach and offers other side features that make it an appealing tool. Such as attracting visitors coming from your display Ads with automatic product recommendations.
Explore the site to learn more about it.
How to Access it?
You can buy Adroll's monthly subscriptions to avail of the services. It charges a minimum of $19 a month. You can also explore it for free.
How does Contextual Targeting work?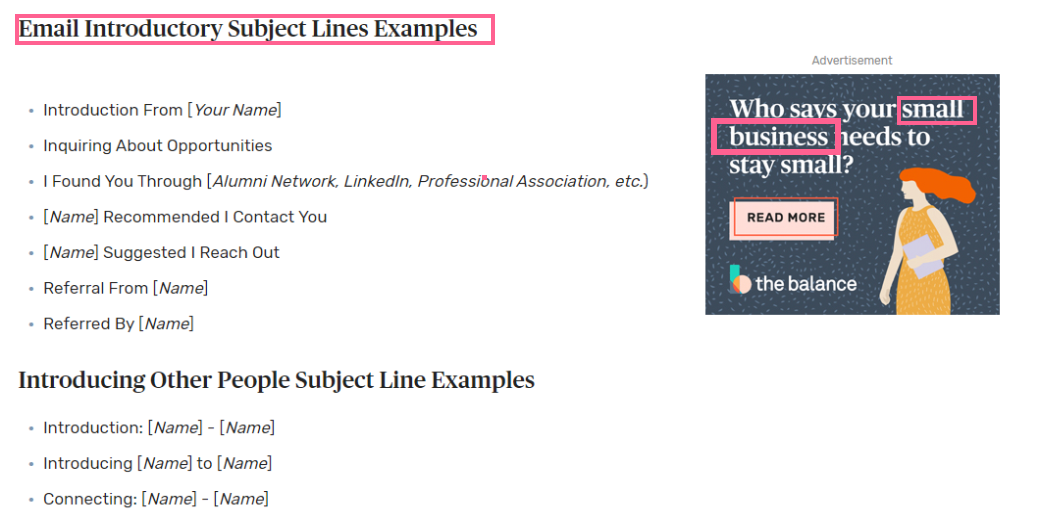 Contextual Targeting involves defining what your Ad is all about, what website niche would highlight your products, and which page is most relevant.
If you use Google AdSense, you'll be able to meet the above objectives through keywords, topics, and placement.
The topic pinpoints the page category. The placement mentions your preferred marketing channel, and the keyword determines the relevancy of the page.
How does contextual targeting work
Let's say you're a B2B marketing consultant who helps emerging entrepreneurs scale their companies. Your target market comprises small business owners who might be interested in learning how to accomplish it.
Where would you want to feature your Ad to get more visibility?
The obvious destination that comes to mind is a blog on marketing and sales. The website will be your placements, while sales and marketing will be your topics.
You can fine-tune your list further with related keywords like how to increase sales, boost revenues, lead generation, and similar terms.
By mentioning the above in your campaign, you're telling Google to place your Ad on marketing Weblogs to the pages discussing lead generation, revenues, and sales.
That is essentially how contextual targeting works.
Why Should You Implement Contextual Targeting?
There're three major reasons you should choose contextual targeting in your next campaign.
It's cost-effective.
It's safe to use.
It offers more personalization.
Let me explain each one briefly.
1. Cost-Effective 
Did you know an average small business spends about $9k to $10 per month on Google ads?
Entrepreneurs spend up a chunk of their budget on display advertisements to create brand awareness and get more sales. With that much investment on the line, you'd want your campaign to attract qualified leads to your landing pages.
Contextual Ads target only those visitors who're currently exploring subjects related to your brand. It allows you to reduce acquisition costs by making sure your Ads don't end up on random pages.
2. Secure
I am not sure if you're aware but popular browsers like Firefox and Safari have long since restricted third-party cookies to scout your prospective customer's behavior.
Now, Google has also recently announced an initiative called "Privacy Sandbox" that would eventually make third-party cookies obsolete.
While the announcement has cheered up site users, it has posed a great challenge to advertisers who typically rely on them to track their audience's preferences.
Since contextual Ads don't need cookies to measure visitors' behavior, you don't have to worry about future changes affecting your PPC campaign.
3. Personalized 
People get exposed to hundreds of Ads daily, and hardly 10% of them find them interesting enough to click on them. With such a tough market, the only way to grab your audience's attention is through personalization.
Contextual targeting changes your Ad placement based on your prospect's subject of interest.
It gives you an opportunity to choose topics that would make your products more appealing to your potential customers—such as offering resin-making tools at the DIY jewelry craft blog.
Contextual Targeting Examples 
Now that we've got a general idea about contextual targeting, let's go over three real-time examples to see different ways to use display Ads to reach your audience.
1. Cartier Women's
Cartier Women's post is an ideal example of how to highlight your brand by specifying location, topics, and keyword targeting.
In the above case, the blog is the place, Forbes is the business category, while "technique to increase sales" is a related phrase that matches the brands and blog objective.
Here, it capitalized on female entrepreneurs' desires for growth to customize its Ad placement.
Blogs are commonly used for display Ads because 60% of visitors read them to get the information they seek. By carefully choosing your keywords, you can significantly increase your click rate.
2. The Spruce Eats
The Spruce Eats is a food site that generates income by selling kitchen appliances and recipe books. It targets foodies who like to cook and would love to explore different tools to add to their collection.
In the above screenshot, it has posted its brand awareness Ad on another "how-to" food blog that entertains a similar audience.
With this Ad, Spruce has targeted amateurs' cooks looking for lasagna recipes and attracted them with a more inciting offer, "become a master chef at home."
This example demonstrates the combined effect of contextual targeting and persuasive copy.
3. Test Gorilla
Test Gorilla is a job assessment test tool that makes it easier for recruiters to screen candidates.
I came across this video while searching for the best way to draft a professional email on YouTube. This example offers you a glimpse of how Google typically leverages the category section in contextual targeting to discover relevant videos for your Ad.
Google criteria for static and animated channels are slightly different.
For static pages, it scans the text to measure relevancy, but for YouTube videos, it considers a combination of sound and content to identify the link between the two.
In the above sample, the possible relevancy between Test Gorilla and email drafting is HR and business niche.
Final Word
From what we have gathered so far, it's fairly obvious contextual targeting is one of the best ways to generate more leads.
But there's one more benefit to it that makes it an even more appealing option.
You can run contextual Ads to get real-time data on why someone would be interested in your products. With that information, you can improvise your strategy and optimize your sales copy.
While you can, of course, find your prospective customer's motives through usual preliminary research, contextual targeting simply saves you time.
Good luck!