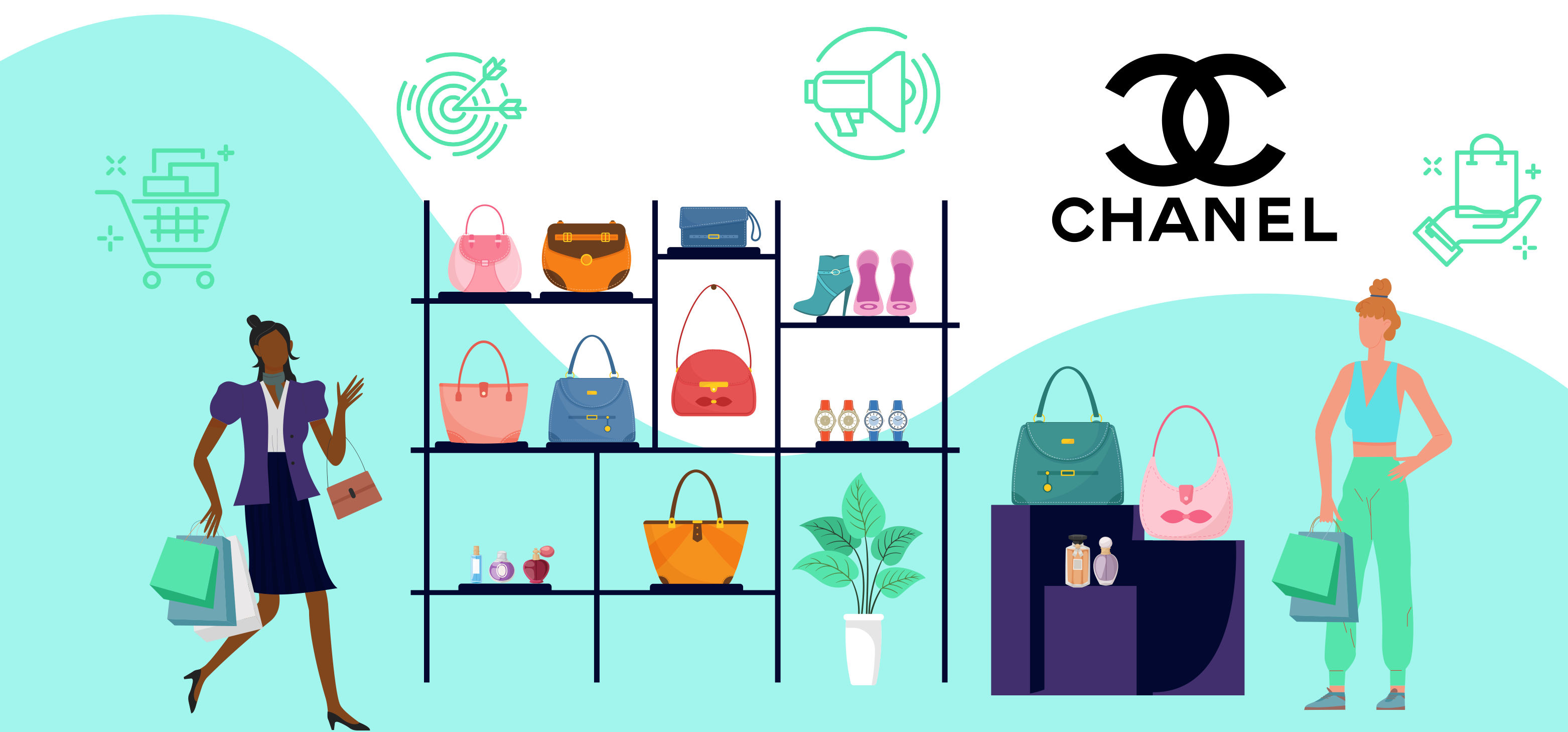 Chanel is widely popular for its designer outfits, distinctive perfumes, and high craftsmanship,
The company was founded in 1910 by a French designer, Coco Chanel, and over the years it gradually expanded its reach, earning global recognition and a net worth of $15.3 billion. 
Chanel promotes a unique mix of modernization, culture, and art through its Haute Couture collections and marketing strategies.
It's why, despite being over 100 years old, its products are still highly admired and always in demand.
In this article, I am going to share some of the marketing strategies Chanel initially employed to become an influential brand and still apply them to preserve the status quo.  
These marketing techniques might help you understand the key factor that contributes to a brand's success. 
Let's explore them!
1. Brand Personality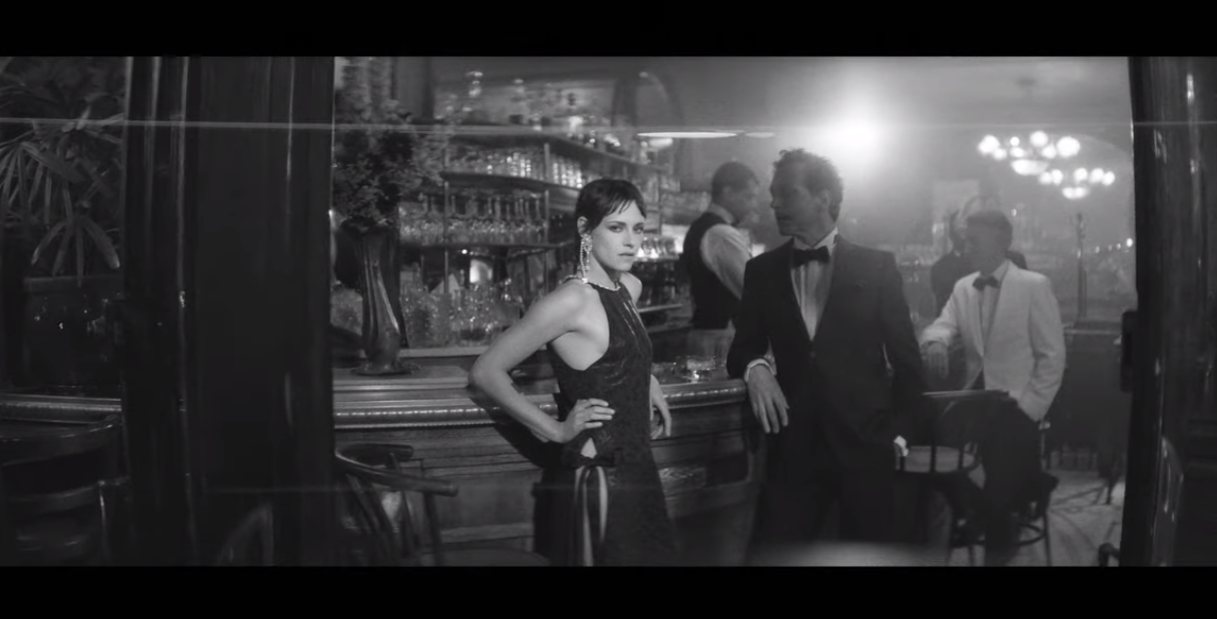 One of the common characteristics you'll find in most multinational companies is powerful branding.
Successful businesses invest a major chunk of their resources in corporate identity and brand personality, so they can easily build an emotional connection with buyers and subsequently earn brand loyalty.
Chanel also displays similar characteristics. Its corporate identity, ad themes, and brand messages; all share certain traits that invoke a distinct feeling of femininity, luxury, and endurance.
Take a look at the logo design. 
Chanel's interlocked Cs logo might primarily represent Coco Chanel, but the color conveys a timeless style, and the minimalist design signifies practicality and progression. 
The corporate logo alone summarizes Coco Chanel's entire core values, i-e., Luxury must be comfortable, otherwise, it is not luxury.
You'll find evidence of Chanel's branding in its product designs as well. Some of its bestselling items, like its 2.55 flap bag and Tweed jackets, exhibit elegant yet casual styles.
Takeaway
Your corporate identity makes your products instantly recognizable to your target audience and improves their market value.
Your brand personality, on the other hand, sets you apart from your competitors and helps you strengthen customer relationships.
Leverage both to build to create a strong brand.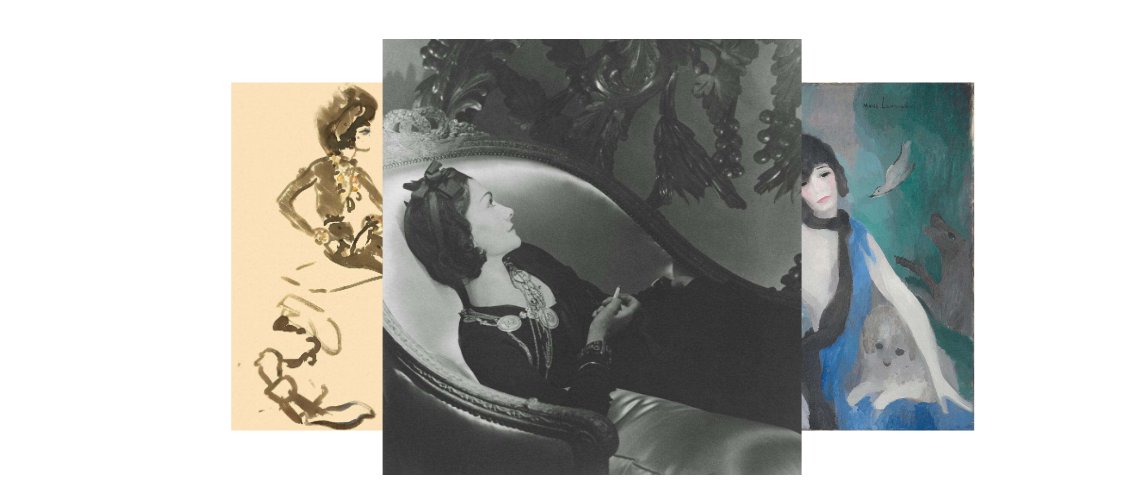 When Coco Chanel opened her shop in the early nineties, she started with simple hats.
She spent a considerable amount of time and effort in making her business work, involving her sister to promote her hats.
While Coco Chanel's millinery shop was generating decent income, what gave her the instant popularity that eventually led to the creation of Chanel, were her revolutionary designs.
Her jersey sportswear was the first of many products that allowed CC entry to the upper crust.
She gained exposure from her novel perfumes, made a splash with her tailored Tweed suits, and became the creator of the revolutionary little black dress.
With her original designs, she steered the fashion industry away from confining corsets toward comfortable dresses. 
The spotlight Chanel brand gained through CC designs allowed the company to expand its business further.
Gradually, Chanel branched out to other areas, adding more and more products to the collection, each year.
While Chanel is now popular for its trendy outfits and accessories, its success is accredited to its founder's early designs. 
Takeaway
Product innovation is a sure way to attract your audience's attention and grow your business in a saturated market. 
Most people are resistant to change, but many have a subconscious desire to try out new things. 
3. Scarcity Marketing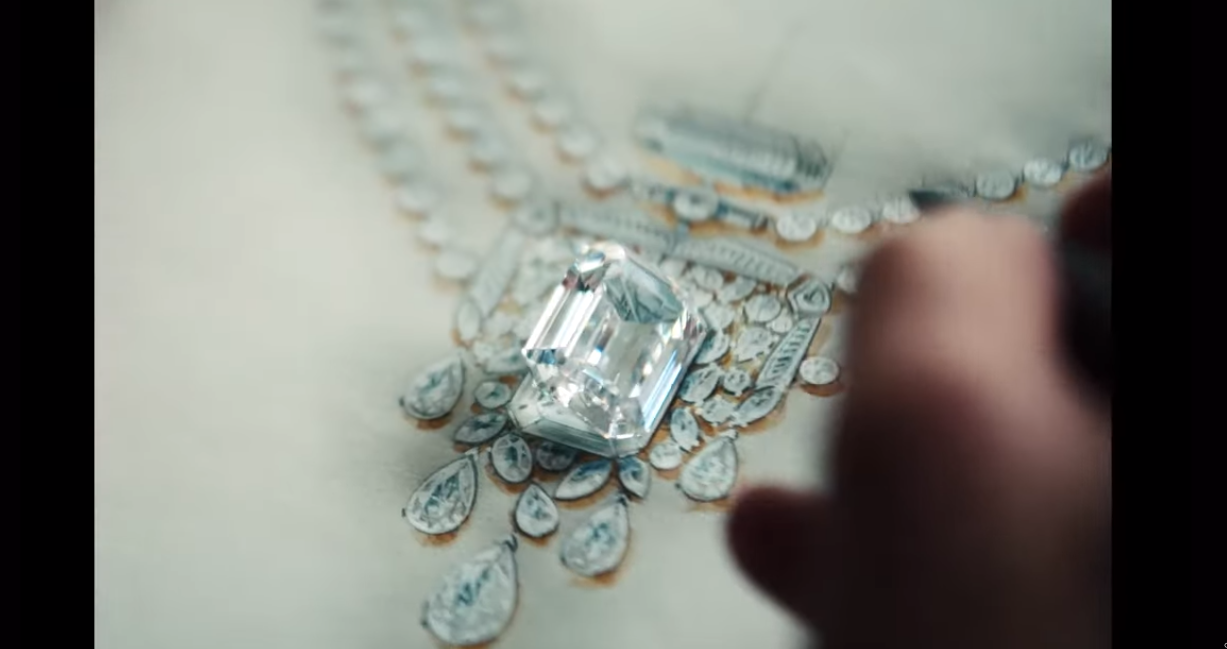 Chanel sells its products all around the world, but it, surprisingly, has only around 310 active boutiques worldwide.
It has also established its store in particular locations and releases a limited number of items each year.
On top of that, it recently introduced a quota system, under which people can only purchase a certain number of items per year.
This distribution strategy not only reduces Chanel's foot traffic but also makes the shopping experience challenging for people who don't frequent physical stores and prefer online buying.
And yet, Chanel seems to focus on that strategy more and more, every year.
What do you think Chanel aims to achieve?
Product scarcity. 
While Chanel's distribution strategy cuts down its customer base, it doesn't exactly affect its bottom line.
By creating product scarcity and offering a unique shopping experience to its customers, Chanel increases its product perceived value and, ultimately, its prices.
That's one reason Chanel items are often sold out despite having a four-to-five-digit number price tag attached to them.
Chanel's handbag sale is a classic example.
Last year, the price of Chanel's iconic flap handbag increased twice in one year, yet its demand remains strong.
Takeaway
Scarcity marketing is an effective distribution strategy that luxury brands employ to boost their product desirability.
It enables them to attract their audience's attention and add high price tags to the items.
Use that strategy to make your products look distinguished and premium.
4. Signature Styles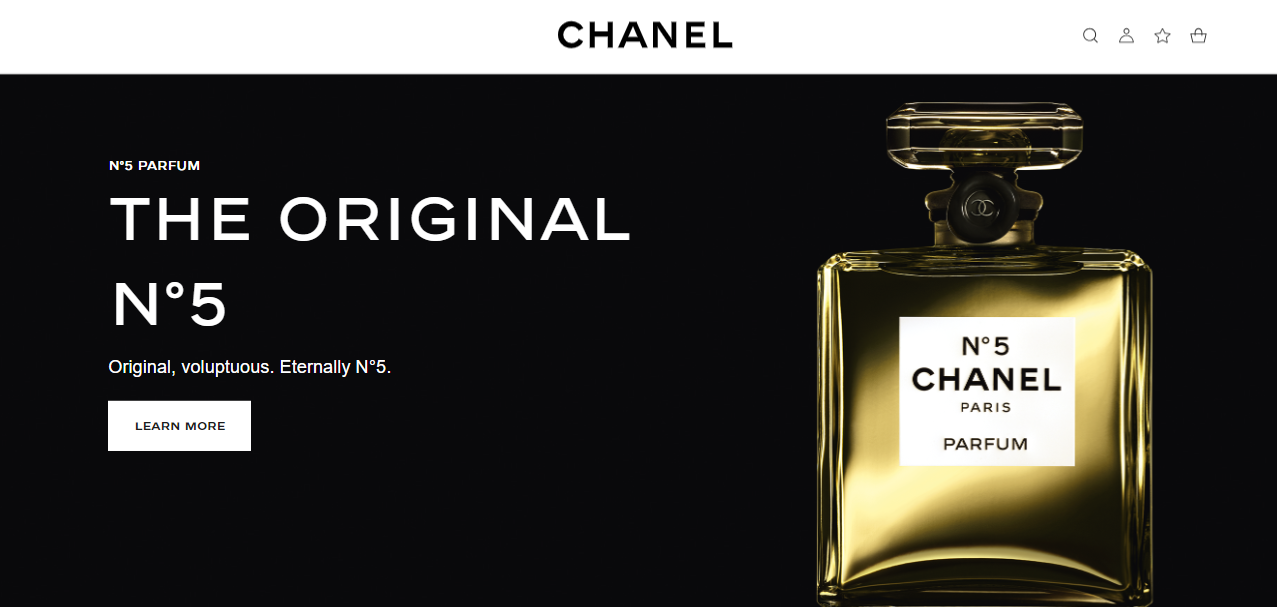 Chanel is generally recognized for its Chanel N°5 Perfume.
The company has over 136 fragrances in its collection and plenty of other best-selling products in other categories, yet people often associate Chanel with its timeless perfume N°5.
Why? Because it's Chanel's signature product.
The success of any business mainly depends on the retention rate. Acquiring new customers is expensive but relatively easy.
It's retaining those buyers that largely affect the company's sales.
Chanel preserves its loyal customer base through its signature products.
N°5 is one of Chanel's original products that CC introduced in 1921 with the help of the then-famous perfume maker Ernest Beaux.
The bottle initially gained popularity because of its unique fragrance. Later, it became Chanel's signature product.
Several variations of this N°5 have been released since then, but Chanel kept the original in its collection.
To date, around 10 million original N°5 are sold each year.
Takeaway
Signature products increase your brand's reliability. 
They give your buyers a sense of familiarity and comfort, urging them to return to the same brand and purchase the same product repeatedly.   
Amazingly enough, you don't need to be a luxury brand to build signature products.
Tons of consumer brands follow the same principle to keep the originality intact—Think Danisa Butter Cookies—almost everyone is familiar with its signature blue packaging.
5. Celebrity Endorsements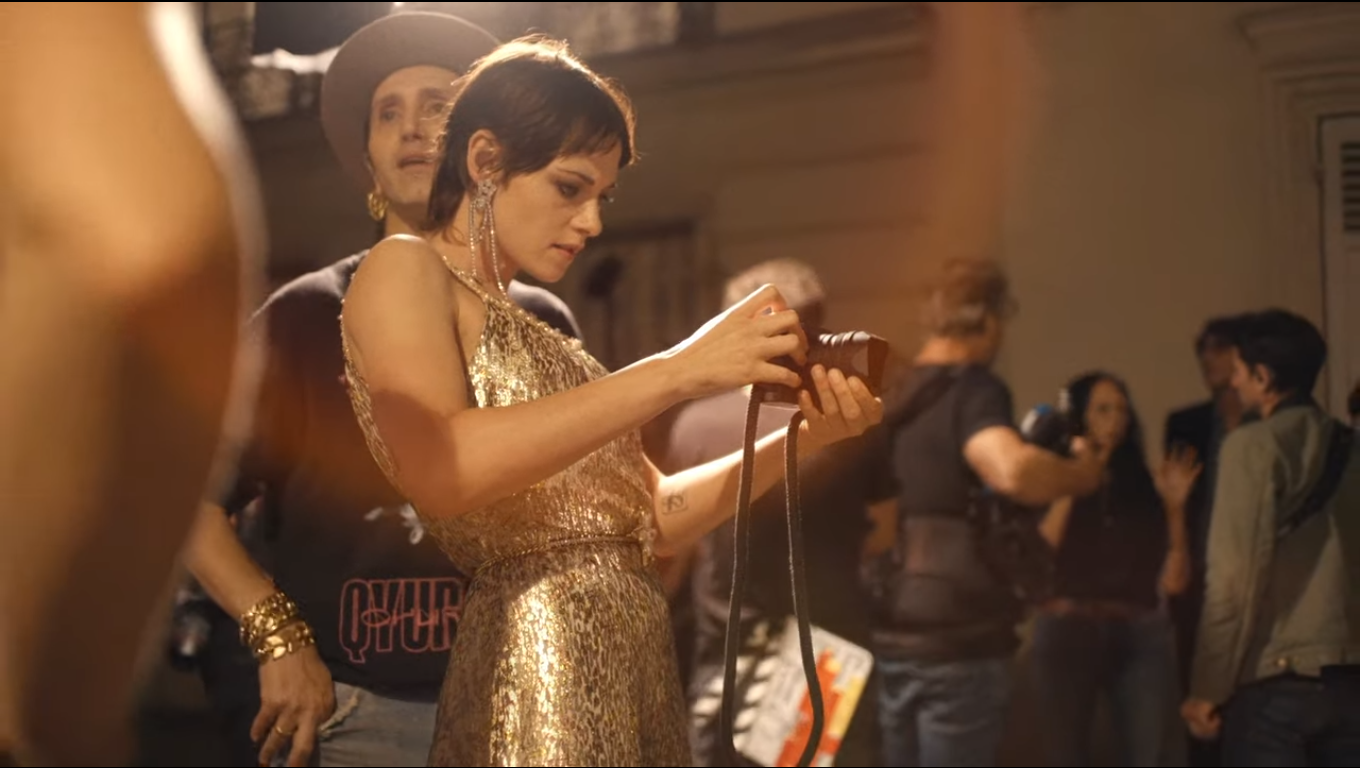 Influencer marketing is Chanel's core promotion technique. It allows it to increase brand visibility while preserving its image as a high-end fashion house.
Coco Chanel leveraged celebrity endorsements right from the start to gain brand exposure and attract new clients.
Following her death, Alain Wertheimer resumed where she left off and engaged celebrities like Marilyn Monroe and Audrey Tautou for endorsements.
Some well-known A-list artists have enjoyed Chanel's brand ambassador role, and several prominent names like Nichole Kidman and Penélope Cruz have been featured in advertisements. 
Chanel chooses partners based on their career movement and capitalizes on their ascending reputation to get more publicity.
The ideal example of Chanel's influencer marketing is the partnerships deal it made with Whiney Peak for her role in the famous Netflix series "The Gossip Girls" to target her fan base.
Takeaway
Influencers and artists are frequently featured on the news and social media.
Everything they wear is scrutinized and discussed in great detail, making them a great source of brand exposure.
You can use influencer marketing to bring your brand to the front and center. It might be an expensive venue for advertisement, but it can help you build credibility more quickly.
6. Promotion Strategy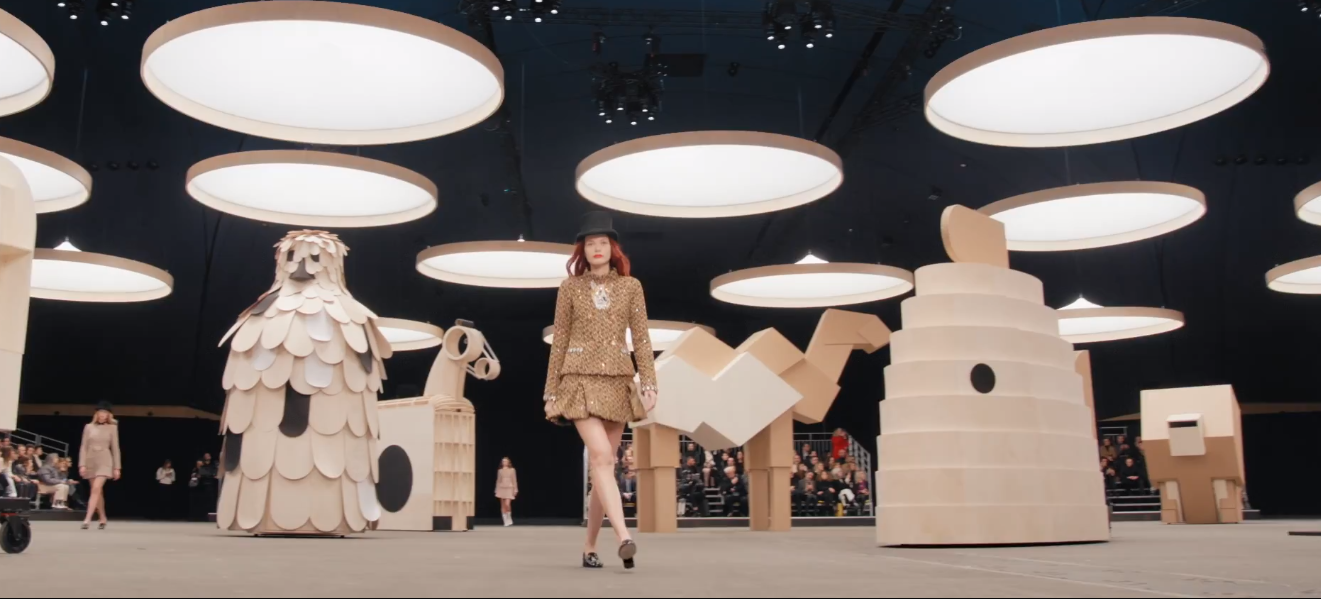 Chanel's target market mainly comprises people who move in the high-society.
To convert them into loyal customers, it chooses exclusive venues as points of contact and periodically runs privately-held promotional events.
One major source of its product promotion is the fashion show. Chanel invests millions in its runway show events for both publicity and advertisements. 
What's remarkable is that these events not only provide marketing content but also enable Chanel to deliver the right messages to the right person at the right time. 
Take the recent pandemic's economic situation, for example. 
In 2020, when its competitors were planning cost-cutting, Chanel was spending $1.36 billion on fashion shows. 
The idea was to focus on customer experience while simultaneously disabusing the floating rumors of its takeover.
The privately-held events also allowed Chanel to maintain its exclusivity and avoid turning to digital channels for sales.
Takeaway
To create an effective promotion strategy, you need to identify venues that would help you deliver your brand message more accurately and attract the right audience. 
If your business relies on references, spend your resources on word of referral marketing.
If your store is online, invest more in digital and print advertisements.
7. Digital Media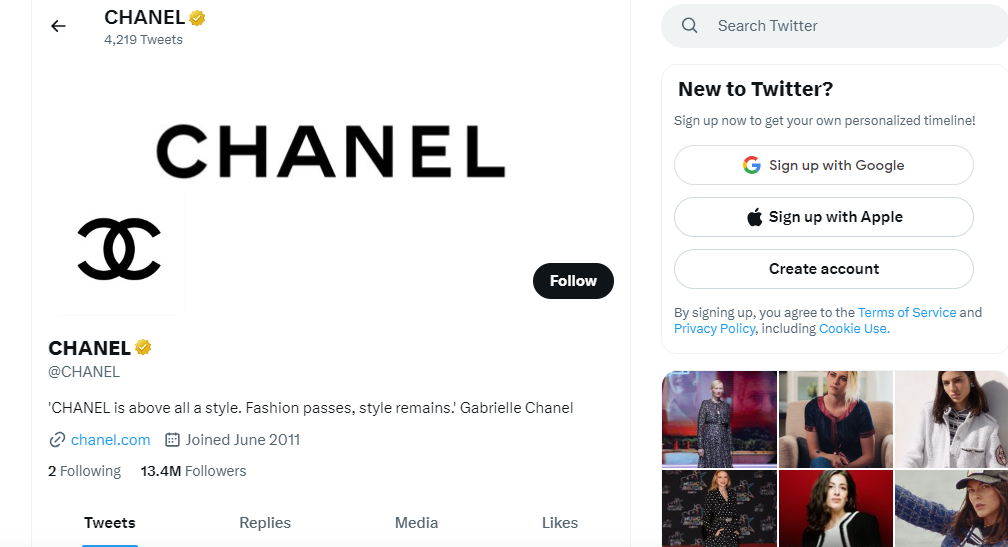 Chanel rarely relies on e-commerce platforms for sales, mainly to retain its exclusivity and allure.
But it hasn't stopped Chanel from utilizing the power of digital media to increase its digital footprint.
The brand has amassed 89.1 million global followers with social media posts and YouTube videos. It remains in the public eye through digital media to keep people curious and excited about its products.
To understand how Chanel benefits from social media, let me summarize it with this example.
If you're into fashion, Chanel recently launched a basic white Tee in its new cruise collection, featuring racetracks and a sports car.
It went viral on social media after a TikTok influencer posted a video posing herself in the F1 T-shirt.
The T-shirt further became a topic for debate because of its $4,450 retail price, generating a lot of engagement on social media.
The original post alone received 2.3 million views, so you can imagine how much Chanel's white T-shirt contributed to the brand's overall market value.
Takeaway
Digital media offers a lot of promotion opportunities. 
Using online campaigns, advertising channels, and influencer partnerships, you can make your brand more visible and relevant.
8. Customer Service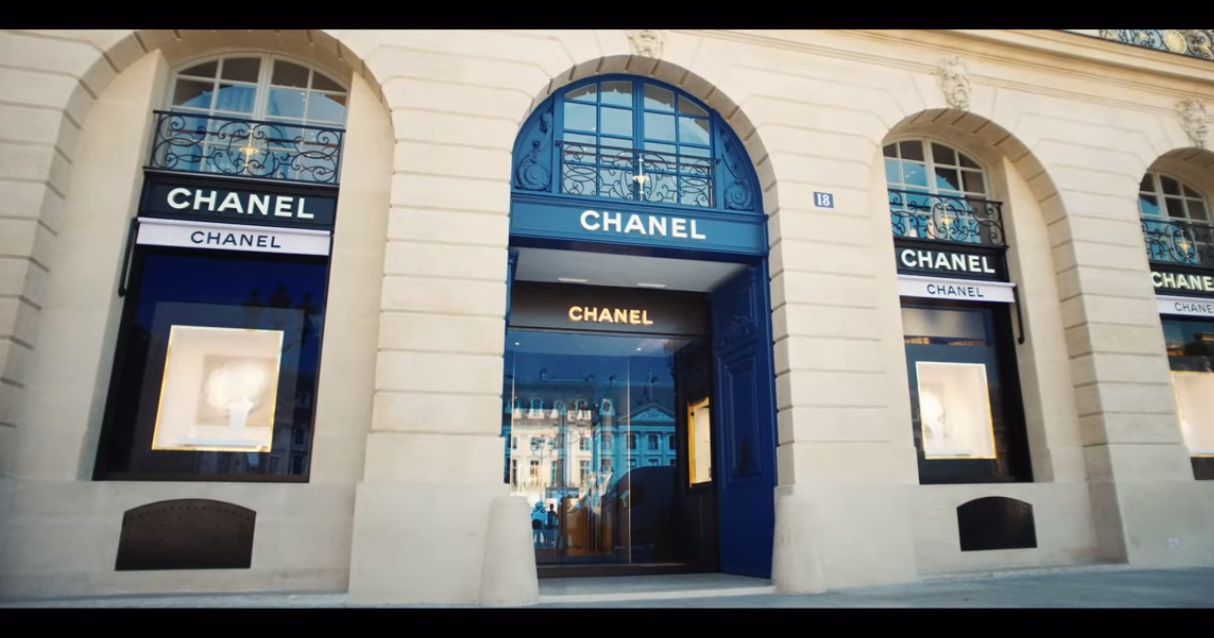 Chanel delivers an exclusive shopping experience through customer care and after-sales services to make its products feel like an investment rather than an expenditure.
As a designer brand, Chanel's main aim is to sell the luxury experience to buyers.
It focuses on nurturing and strengthening its relationship via its customer service to accomplish this goal.
Another reason for Chanel's exclusive customer service is its clientele. Most of its boutique's foot traffic consists of elite buyers and international tourists.
To entertain such a crowd, Chanel makes a concentrated effort in its customer service, so shoppers can have a pleasant purchase experience.
First-time customers often go out of their way to visit Chanel stores to enjoy the store experience.
Takeaway
Customer service is your brand's direct marketing channel, which means it directly impacts your brand image and retention rate.
By investing in your customer service strategy, you can increase buyer satisfaction and generate five times more recommendations.
9. Brand Positioning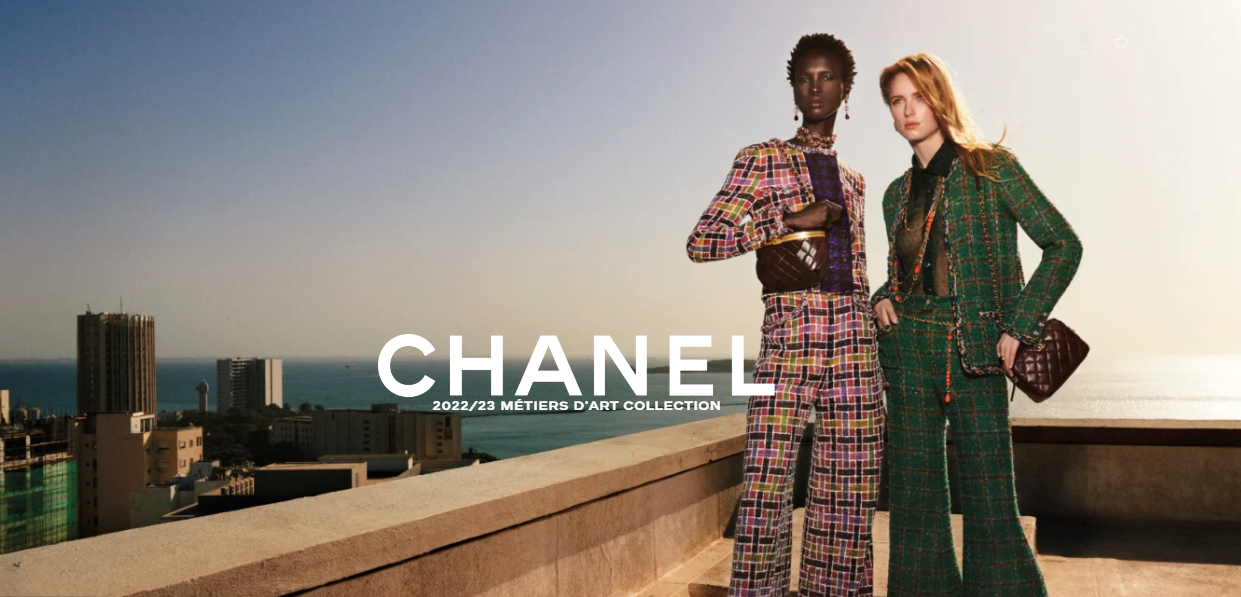 Chanel has been in the fashion industry for over 100 years with remarkable success.
It's an incredibly long time for any business to survive let alone maintain the status quote.
But despite fierce competition and market saturation, Chanel remains one of the leading global fashion companies.
How?
Clever brand positioning.
Chanel's competitive advantage is exclusivity.
It uses product scarcity, pricing strategy, and store locations to create a sense of exclusivity, while it embraces its French heritage to build a certain perception of the brand in the audience's mind.
This tactic has allowed Chanel to position itself as a luxury brand in the global market and successfully target the ladies of the haut monde.
An excellent example of Chanel's strong brand positioning is its recent decision to launch private boutiques for VIP customers, which would be accessible via invites only.
These private boutiques will likely curtail the inflow of new customers and reduce the number of purchases, but they will strengthen Chanel's brand position and boost its market value.
Takeaway
Brand positioning is a powerful strategy through which you present your company to your customers just the way you want to. It helps you set yourself apart and attract your target audience.
Chanel employs its marketing mix to position itself as a feminine and exclusive brand. You can use the same tools to create a positive perception of your brand.
Final Words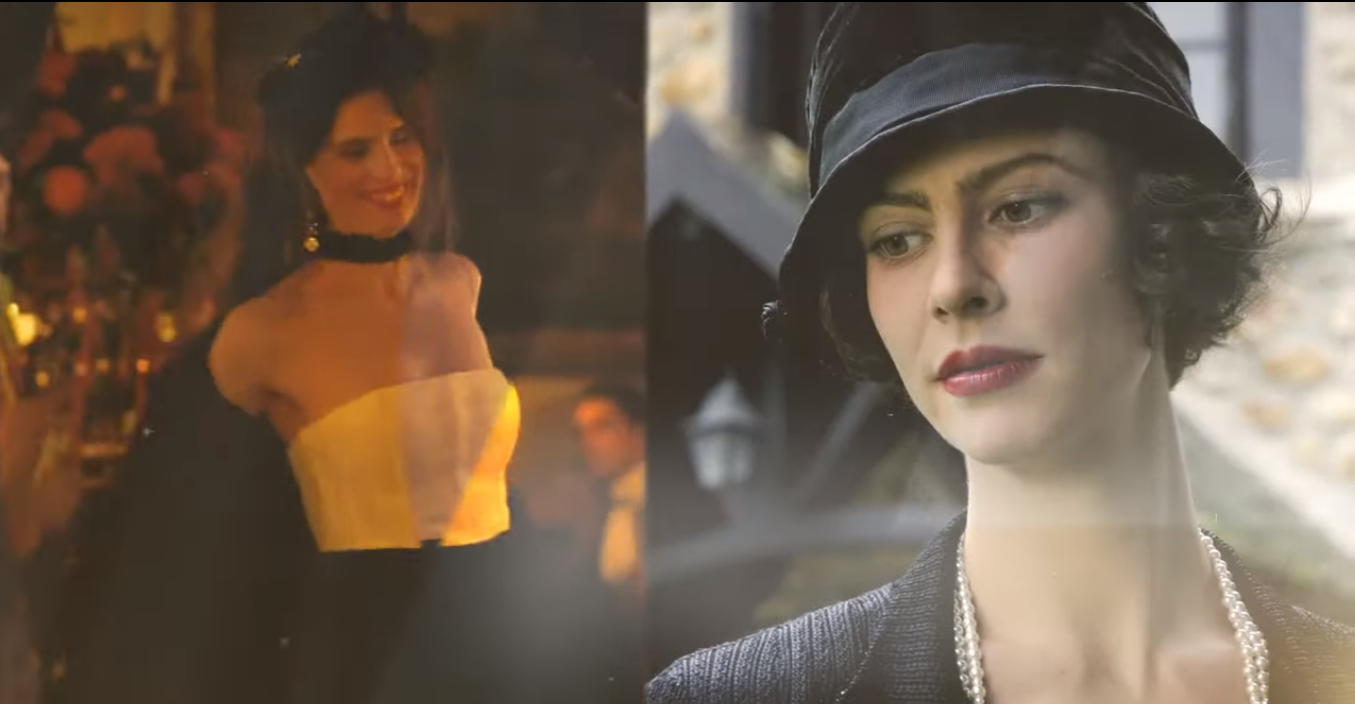 From a marketing perspective, several factors contribute to Chanel's overall success.  
It distinguishes itself from other luxury fashion retailers through brand positioning, attracts buyers via influencer marketing, and earns customer satisfaction through the personalized shopping experience.
In addition, it capitalizes on celebrity status to get more publicity and product promotion.
To summarize, Chanel's ultimate strength is its long-term strategic thinking. 
As Chanel's CEO, Leena Nair said, "We want to ensure that our 100-year iconic house continues to stay a beacon of inspiration for the next 100 years. We want to stay ahead of the curve."