Product design software allows you to turn your ideas into well-detailed 3D models and document every stage of your product development.
It's a key element to any designing process that helps you increase your productivity and improve work quality.
Engineers, graphics designers, architects, and artists typically use these types of applications to create both precise and Freeform products.
In this article, I have compiled a list of the best tools for product design. Whether you're a beginner or master at your craft, you'll find the right application suited to your needs.
What is a Product Design Software and What Features to Look for?
A Product design app provides a set of creative tools to construct simple to complex 3D models, mockups, and prototypes.
The most common product design software you'll find in the market is CAD (computer-aided designs), which generates 3D shapes around specific parameters or constraints.
It's generally used for electronic, mechanical, or architectural designs that require precise measurements.
But lots of other more user-friendly applications are also available that anyone can operate to draw manufactured or digital products.
Some Top Features of a Product Design Software are;
Rule-based and Freeform modeling.
2D sketching.
Editing and rendering.
Simulation or any presentation option.
Let's look at the 12 best product designing tools with 2D and 3D modeling capabilities. I have included a few general applications in the list to give you some user-friendly options.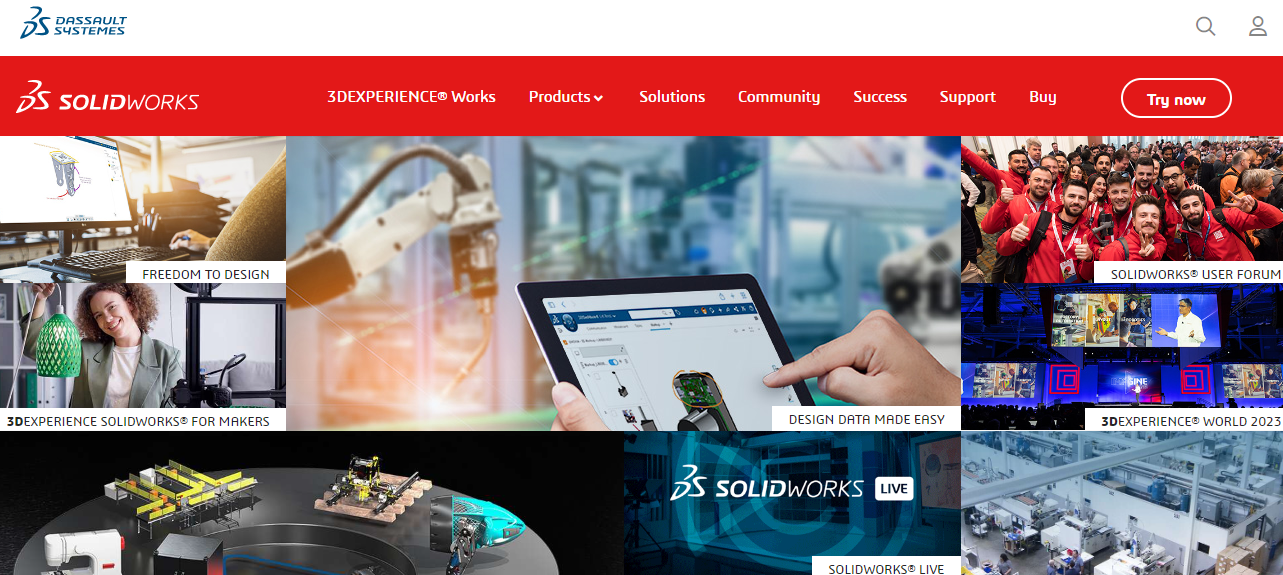 SolidWorks is an industry-standard tool for 3D CAD designs. Professionals use it to develop solid mechanical models.
It has an intuitive interface and a suite of flexible apps, which makes construction and modification incredibly easy and quick.
You can sketch 2D diagrams, build and connect complex components, generate realistic models, and much more. Through its simulation software, you can test your product behavior to see how it would work in real-time.
With collaboration tools, you can communicate with your team, share your design, and markup areas for revision.
The platform provides both on-premise and cloud solutions and works well on different devices.
Core Features
2D and 3D models.
Customization and automation.
Assembles.
Simulation.
Collaboration and integration.
Multi-device support.
Desktop and cloud software.
Price
SolidWorks shares different plans for Academia, research, and business. Contact sales to get the quotes.
If you find CAD a bit advanced for your product niche and need a professional but user-friendly app for designing, go for Adobe Substance. It's a 3D graphics platform that allows you to create, refine, and render organic models.
There are tons of interesting tools to try out different things. You can sculpt finely made models from a digital clay mold, apply material patterns to the surface, or paint natural effects like rust to add a realistic touch to the image.
If you have any real-life product photos as a reference, you can convert them into a 3D model and make additions.
With a library of pre-defined 3D assets, you can access a diverse range of ready-made standard designs and material patterns.
Core Features
Freeform 3D modeling.
Texture brushes for painting.
Image conversion.
Asset library.
Rendering.
Staging for presentation.
Price
Adobe Substance's prices range between $50 and $100 per month. Students can try it for free.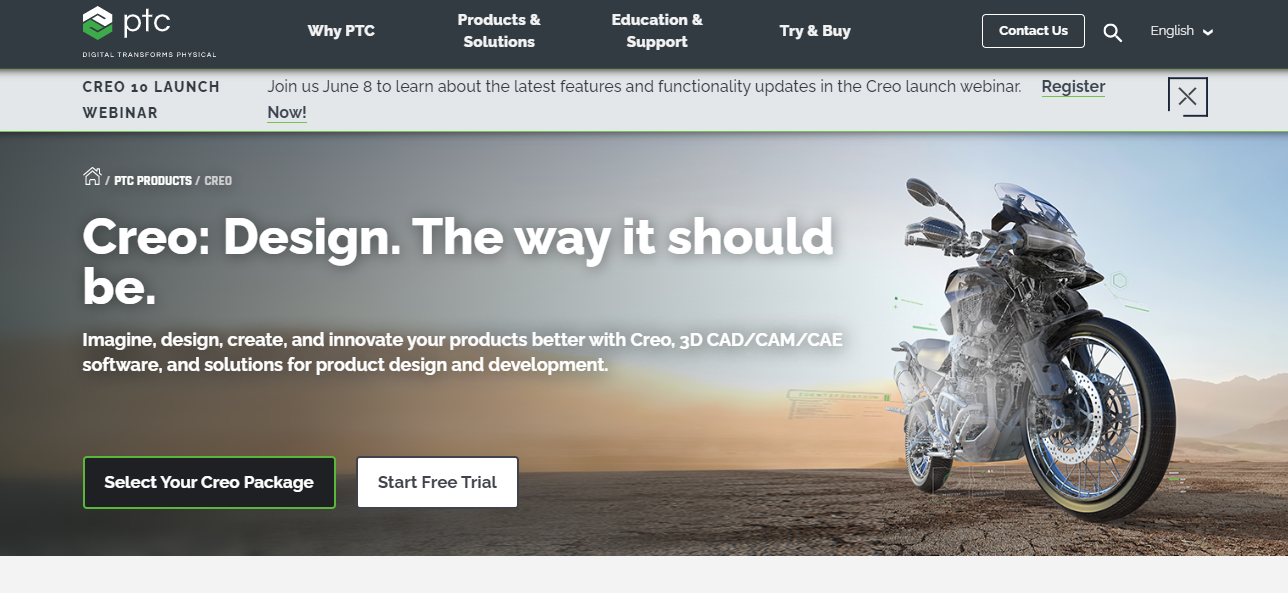 Creo is another common software professionals prefer for mechanical or electronic 3D product designs. It has a little steep learning curve, but the platform is worth the effort.
You can draft 2D sketches, create measured 3D shapes, try Freeform modeling, and do surfacing. With augmented reality capabilities, you can show your designs from every angle to your team, stakeholders, and clients.
More than 2000 large and mid-scale companies use this tool to develop industrial designs.
Core Features
2D and 3D shapes.
Top-down modeling.
Advanced surfacing.
Fluid flow analysis.
3D printing.
Mobile support.
Desktop and cloud software.
Price
Creo provides both perpetual and subscription packages for short and long-term usage. It also offers a separate program for startups, which includes training and support.
The core plan's prices start from $2,780.
Rhine is best for ideation or concept creation.
It's a user-friendly software that provides drafting and modeling tools for industrial goods and a Freeform tool to construct manufactured or artistic product designs like shoes and furniture.
You can create organic and geometrical shapes, edit and duplicate parts, and render images to realize your designs.
You can also get several plugins to simplify your workflow or enhance some functionalities. For instance, if your model requires multicolor painting, you can add a MeshPaint plugin to get that feature.
Whether you're working on a simple small project or a complex product, you can easily manage both on Rhino.
Core Features
Desktop software.
Flat drafting.
Freeform and precise 3D shapes.
Surfacing and solid modeling.
Rendering.
Analysis.
Scalability.
Plugins.
Price
Rhino charges around $995 for a commercial license and $195 for education. It has Windows and Mac versions.
Inventor helps you create rule-based and organic 3D designs.
Some of the things you can do with Inventor include 2D drawing, parametric modeling, and assembly modeling.
You can import external images for referencing and pick pre-defined standard shapes from the content library to speed up the work. You can also add conditions and rules to your designs to reuse some parts and automate repetitive tasks.
Via motion simulation and stress analysis, you can check the accuracy of your construction and eliminate technical errors.
The platform has a secure file-sharing option to send editable files to stakeholders for approval. Viewers can explode the model, see sections, annotate areas, and take screenshots.
Core Features
Desktop application.
2D drawings and 3D designs.
Constraint and flexible modeling.
Team collaboration.
Content library.
Automation.
Data management.
Simulation.
Price
Inventor charges $2,415 per year. You can break down your subscription plan and pay $300 per month.
Download the free trial to explore it.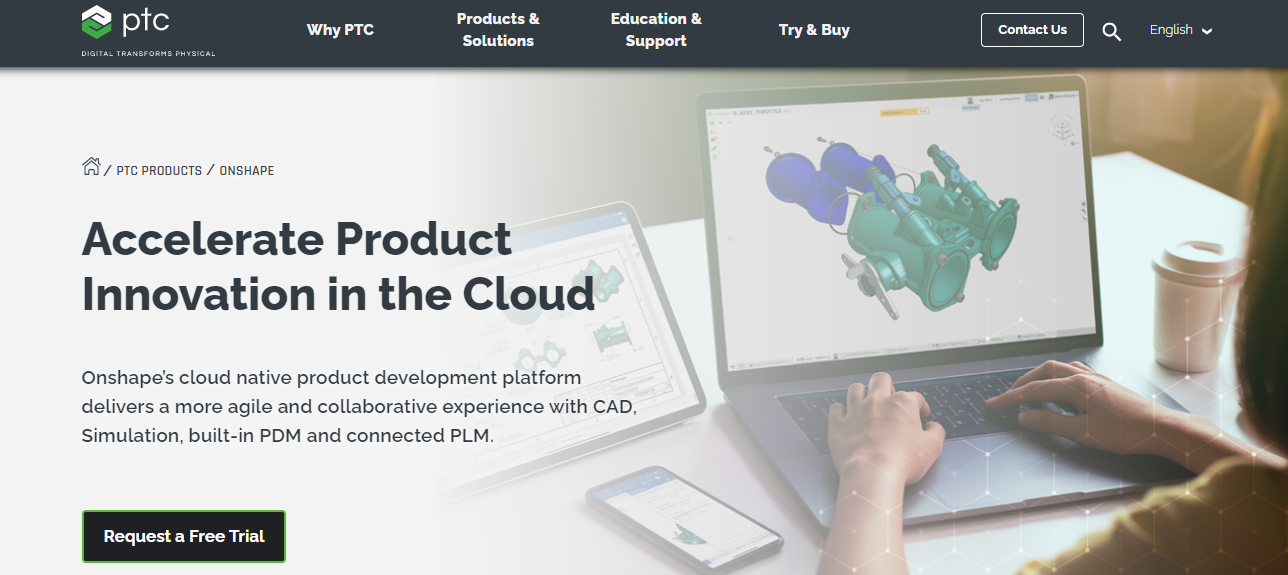 Onshape and Creo are the sub-product of the same company but entertain slightly different target markets. Onshape is exclusively cloud-based and comparatively more budget-friendly, which makes it ideal for startups and growing businesses.
The software covers essential product development processes, from drafting and modeling to simulation and sharing.
Its collaboration tool is incredibly powerful, enabling your team to work together on designs in real-time and follow your activity to stay up to date.
You can access Onshape via your smartphone and make changes on the spot.
Core Features
Drawing, modeling, and surfacing.
Assembly modeling.
Built-in PDM for data management.
Simulation and AR view.
Rendering.
Automation.
Real-time collaboration.
Mobile support.
Price
Onshape prices start at $1500. You sign up for free and explore its basic functions.
It also offers attractive plans for students and educational institutes.
Zbrush focuses on artistic or custom product design.
It's a digital sculpting app that gives users the freedom to bring their wild imagination to life through 3D models.
Most of the templates you'll find on Zbrush would relate to the entertainment industry—with good reasons. Using polygon modeling and a vast collection of brushes, you can create high-resolution characters, toy figurines, intricate decorations, and luxury items like leather jackets or jewelry.
The best feature of Zbrush is the proxy pose. It allows you to change the poses of your character without losing details. It's a great function specifically for digital products, such as game accessories. You can build different poses of avatars and mechanical objects like vehicles.
Core Features
3D sculptures.
A collection of advanced brushes and editing tools.
Powerful painting and texturing.
Proxy poses.
Texture import.
Rendering.
Multiple file export.
Compatible with Windows and MAC.
Price
You can get started on Zbrush for as low as EUR 2. It offers several plans for individuals and teams.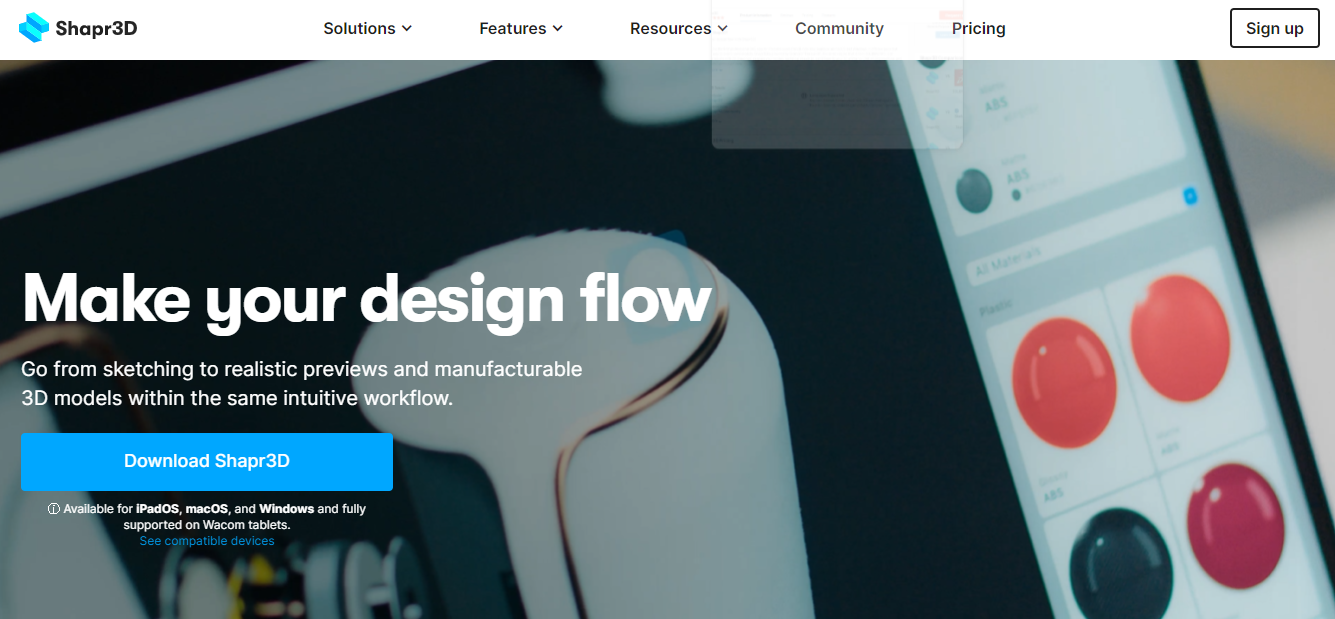 Shapr3D allows you to develop 3D designs on iPads. It's cross-platform CAD software that offers an intuitive interface and set of user-friendly tools to make sketching and modeling effortless and quick.
With direct modeling and editing features, you can create, adjust, and improvise your models to ensure your designs come out just the way you want. Through built-in rendering tools, you can instantly visualize your design and fine-tune it on the spot.
Using augmented reality, you can stage your products for presentations and show them to your team or clients.
Core Features
3D design MAC app.
2D drawing.
Direct modeling.
Rendering.
Material library.
Augmented reality.
Import and export.
Web viewer.
Price
Shapr3D's monthly subscriptions start from $38. You will have the option to try two designs for free to see the results before purchasing the subscription.
Gravity Sketch is an excellent platform for concept creation.
It offers a virtual reality studio and collaborative workspace to let teams design products together.
Using creative tools, you can draw 2D sketches of your idea and convert them into complex 3D models.
You can import data on Gravity Sketch for precise measurements, annotate areas for revision, and create copies of your product part to show different components of your model.
The software is incredibly intuitive and hassle-free.
Core Features
3D and 3D designs.
VR environment.
Freeform modeling.
Collaborative workspace.
Import/export.
Cloud and on-premise solution.
Apple app.
Price
Gravity Sketch delivers prices on request. You can try the individual plan for free.
Concepts is a simple sketching app that provides a digital canvas to generate 2D product designs.
Using brushes and vector shapes, you can draw rough illustrations of your ideas, color your diagrams, and jot down notes.
You can import pictures for references, choose presets for quick designs, customize the brushes, and export your file. It has a familiar layer editing interface similar to Adobe, which gives you the flexibility to show and hide components of your model.
Via its mobile app, you can access Concepts anywhere and share your work with your team anytime.
Core Features
Desktop and mobile sketching application.
Infinite Canvas.
Vector brushes.
Color wheel.
Customization.
Presets.
Import/export.
Price
Concepts is a free application. It charges around $30 per year for its premium features.
Adobe Illustrator is ideal for digital and print products.
It's a graphic designing app that provides a diverse range of features to create scalable vector images.
Here, you can import pencil sketches of your designs as templates and digitalize them via vector tools. With grids, pens, mesh, and gradients, you can construct any organic shape and develop near-realistic images.
Some of the product designs you can create with Illustrator include app themes, gift cards, workbooks, and posters. You can also build designs of physical products like perfumes, vases, and cosmetic items.
Core Features
Infinite canvas.
Drawing and editing actions.
Freeform models.
Shapes, vector pen, and mesh tool.
Special effects.
AI-guide for precision.
File export.
Price
Adobe Illustrator monthly subscriptions cost $21. You can pair it with Adobe Photoshop for retouches.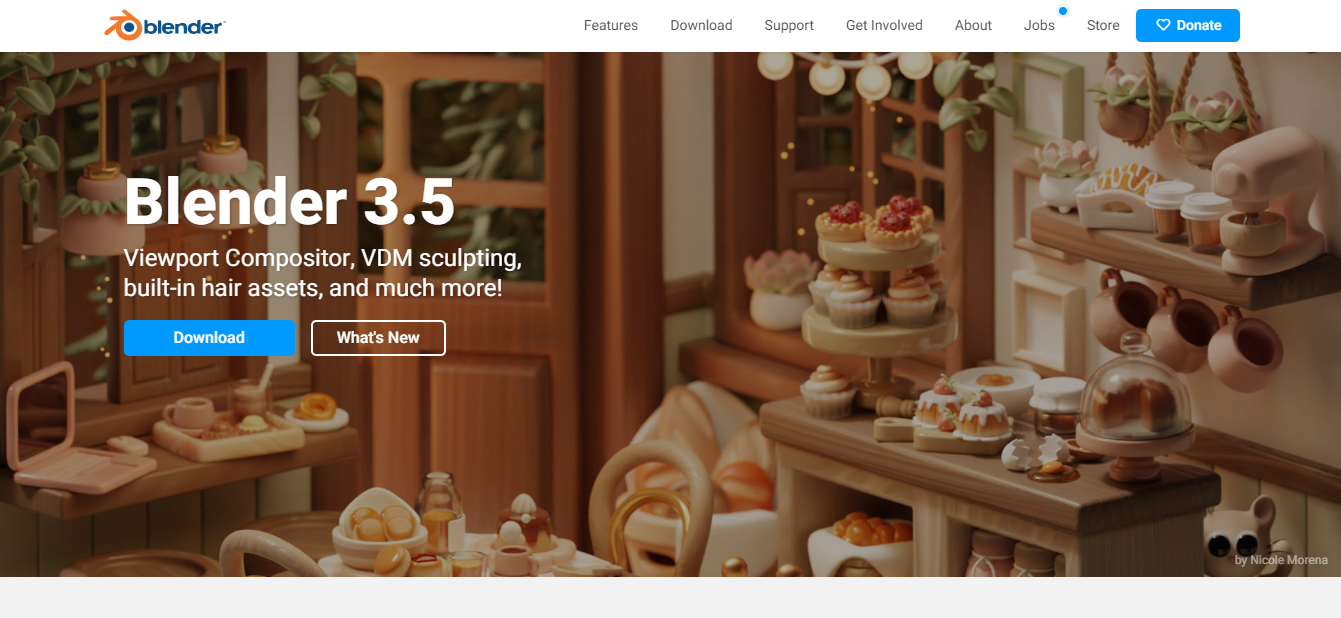 Blender is an open-source 3D software. It's an all-in-one platform that offers a variety of tools to construct static and animated models.
You can create sculptures from clay, build and paint Freeform models, develop avatars in multiple poses, and render images. Additionally, you can draw editable 2D sketches of your product and use path points to adjust them.
The most notable features of Blender are animation and video editing. With these tools, you can create a quick 360 video of your product for your stakeholders.
The software is well-suited for diverse consumer product designs such as outwear, home appliances, luxury items, and entertainment items like toys and decorations.
Core Features
Open-source.
2D and 3D designs.
Modeling and sculpting.
Rendering.
Simulation.
Animation and video editing.
Customization.
Add-ons.
Price
Blender is free to use.
Conclusion
Product design software saves you a lot of time and effort.
With the right tool, you can create amazing 3D models and easily fine-tune or modify them without starting everything from scratch.
Look up the applications I have listed in this article to find the best application for product designing. Good luck!