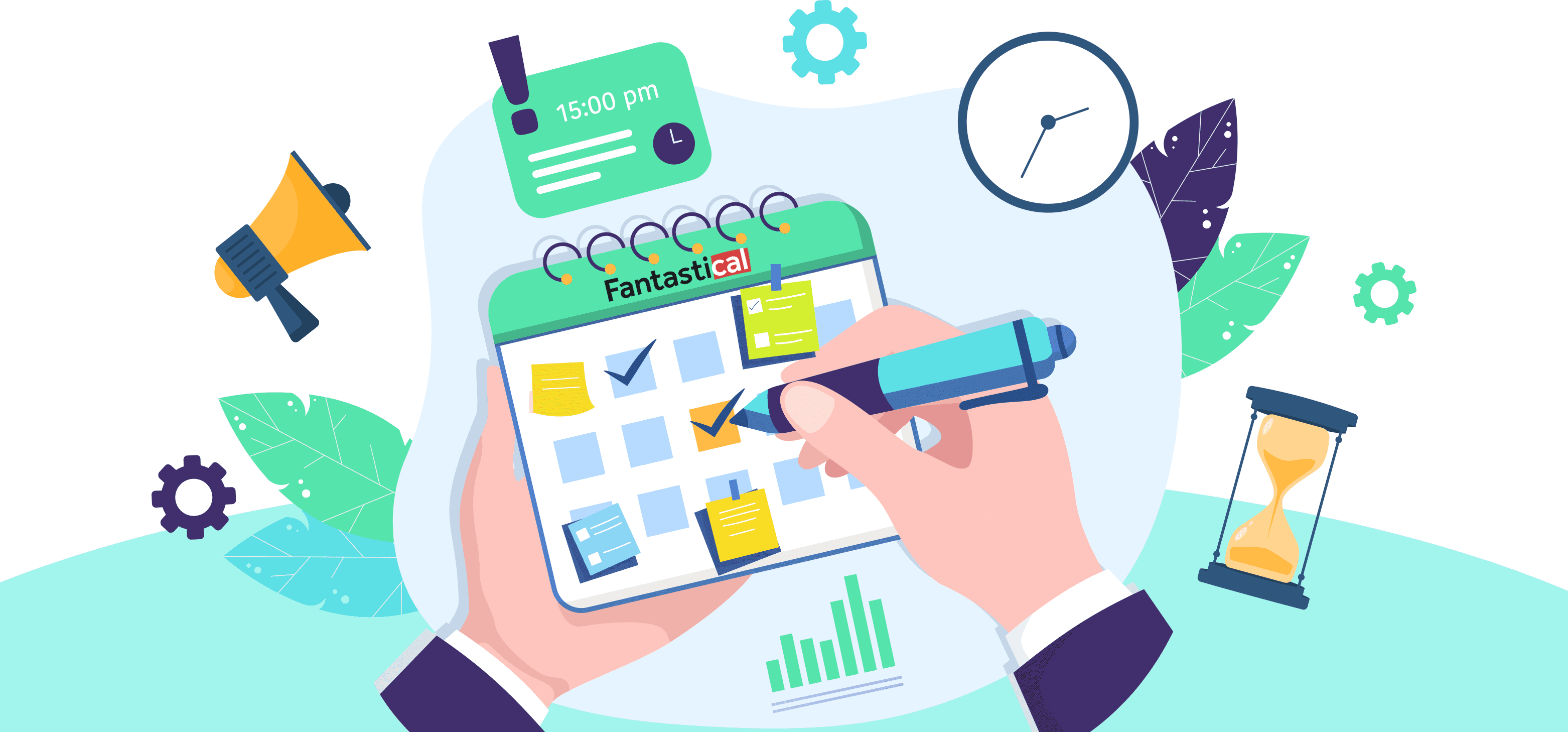 Are you tired of staring at that same old Fantastical interface day in and day out?
Maybe you're looking for a little more glamour in your calendar app, or perhaps you're just ready to try something new.
No matter why you're considering a switch, we've got you covered with our top picks for Fantastical alternatives.
From sleek and minimalist options to powerhouse apps with all the bells and whistles, we've got something for everyone.
These apps will help you up your calendar game without breaking the bank.
Let's dig right in!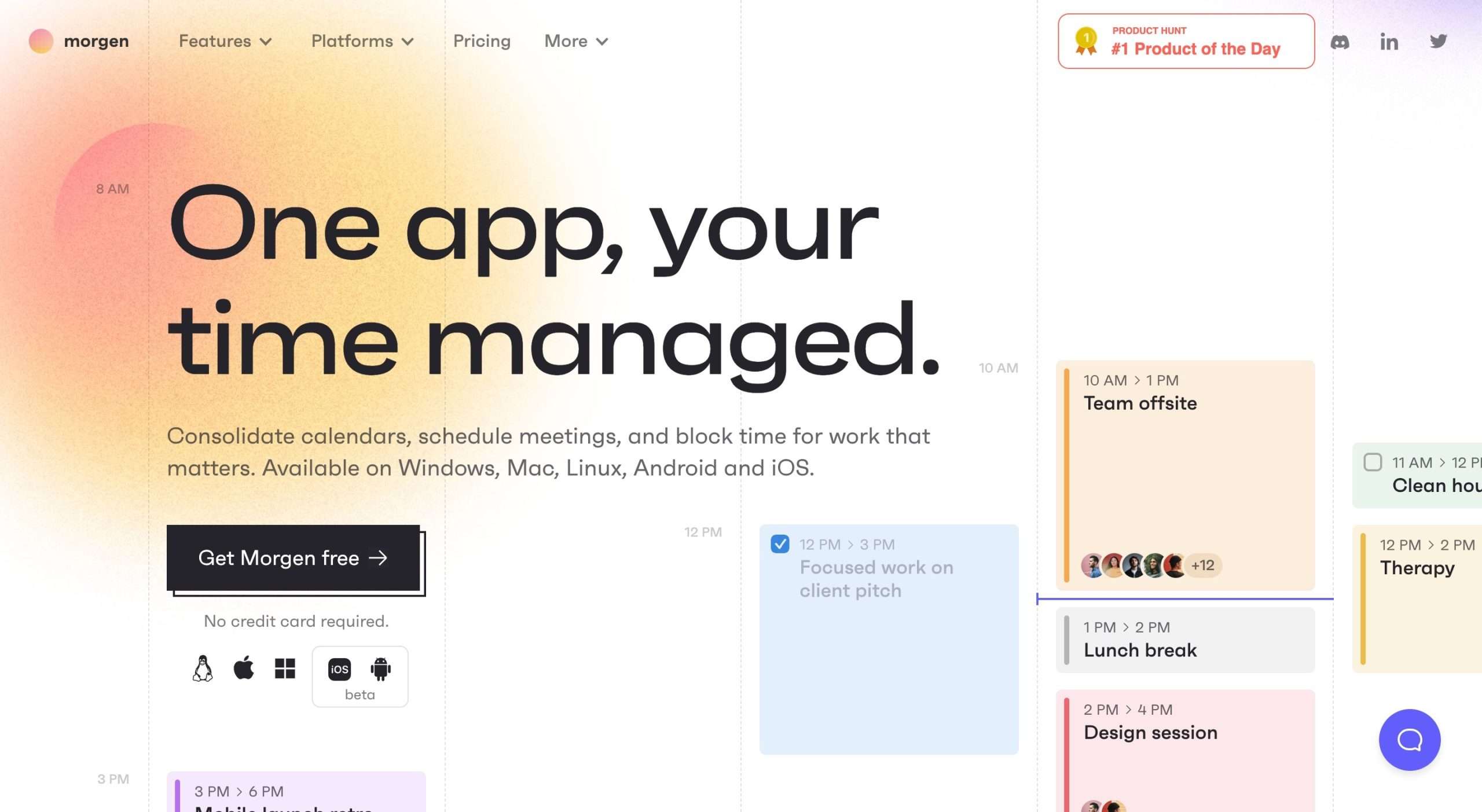 Morgen is an all-in-one calendar management tool that allows users to consolidate calendars, schedule meetings, and block time for important tasks.
Available on Windows, Mac, Linux, Android, and iOS, Morgen makes it easy to manage your calendars in one place.
Morgen connects and real-time syncs with Google Calendar, Outlook, Apple Calendar, and more, making it simple to manage your schedule across all your devices and platforms.
One of the most convenient features of Morgen is its ability to integrate with virtual meeting platforms like Zoom, Google Meet, Microsoft Teams, and Webex.
You can add your virtual meeting details to any invite with one click, and then join your next virtual meeting using Morgen's Join Now button.
It also provides a hassle-free scheduling experience, eliminating the back-and-forth coordination emails that can eat up so much time.
With Morgen scheduling links or your customizable booking page, you can pick your availabilities based on your priorities, and Morgen cross-checks against all of your calendars.
You can decide what time slots to make available and set the scheduling rules.
It also integrates your to-do lists and calendars, allowing you to easily schedule dedicated time to get work done.
You can create multiple task lists to manage different projects and priorities, and color-code them to quickly distinguish tasks in your calendar.
Core Features of Motion
Calendar Integration
Meeting Integration
Calendar Search Function
Time Zone Support
Hassle-Free Customizable Scheduling
Pricing
Morgen offers three pricing plans: Basic, Plus, and Pro. The Basic plan is free, while the Plus plan costs $6 per month and the Pro plan costs $14 per month (on a monthly billing).
Sunsama is a powerful daily planner that helps you optimize your time and streamline your workflows.
With guided daily planning, you can be intentional about how you spend your time by planning your day using a step-by-step routine.
This feature encourages you to be more productive and efficient by setting realistic daily goals and ending your workday at a reasonable time.
One of the standout features of Sunsama is its unified daily view, which pulls in tasks from popular task management tools like Trello, Asana, and others, as well as emails from Gmail and Outlook, and meetings from your calendar.
This feature enables users to view all their daily tasks and activities in one place, making it easy to stay organized and focused.
With the ability to drag and drop tasks from project and task tools like Asana, ClickUp, Notion, Jira, GitHub, Todoist, and Trello, you can easily browse your tasks and pull in the ones you want to work on today.
And imported tasks stay in sync, ensuring that Sunsama automatically updates your tasks in your other tools when you import them or check them off.
Sunsama is also synced with your calendars, integrating all your Google and Outlook calendars in one place.
Core Features of Sunsama
Guided daily planning
Unified daily view
Realistic daily goals
Timeboxing
Drag and drop tasks from project and task tools
Focus mode
Pricing
Sunsama offers a 14-day free trial and a monthly plan (with monthly billing) that costs $20/month.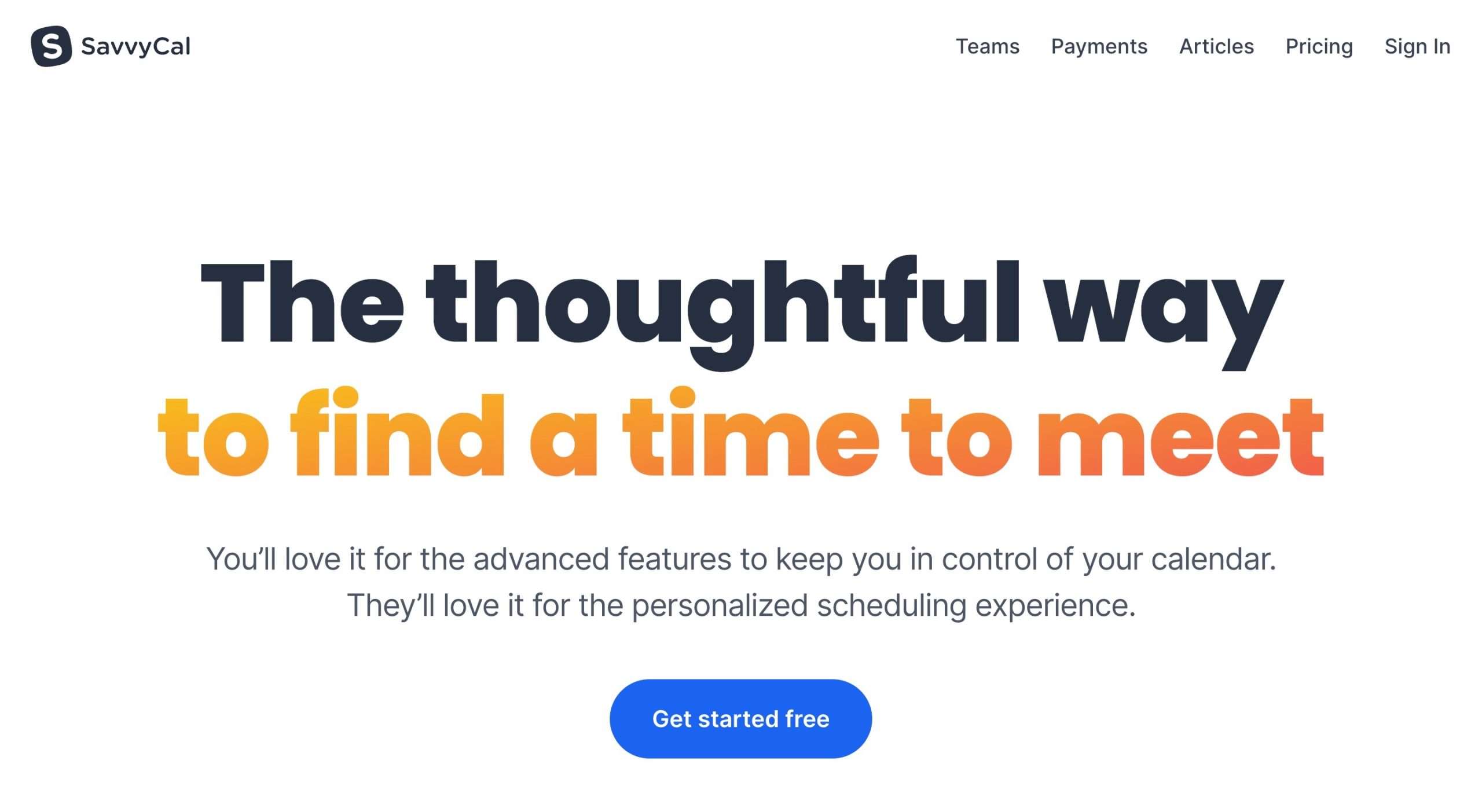 SavvyCal is a powerful scheduling tool that offers a thoughtful and personalized experience for both schedulers and recipients.
With its advanced features and beautiful, interactive interface, SavvyCal puts you in control of your calendar, allowing you to easily find mutual availability without having to switch back and forth between screens.
One of the coolest features of SavvyCal is the calendar overlay, which allows the scheduler to present their availability in a way that's easy to understand and visually appealing.
Recipients can overlay their calendars on top of yours, giving them a clear picture of when you're available and when you're not.
Rather than just presenting all your availability, SavvyCal allows you to present your preferred availability, encouraging recipients to pick the optimal time while still remaining flexible.
You can also set limits for how many meetings can be booked per day, week, or month, ensuring you always have time for deep work.
And with time zone scheduling, SavvyCal will automatically update your time zone for you when you travel.
Core Features of SavvyCal
Calendar overlay
Pre-fill recipient info
Limit scheduling frequency
Time zone scheduling
Conflict checking across all calendars
Time block availability
Pricing
SavvyCal offers three different pricing plans to fit your scheduling needs. The Free Plan is completely free of charge, while the Basic Plan costs $12 per month per member and the Premium Plan costs $20 per month per member.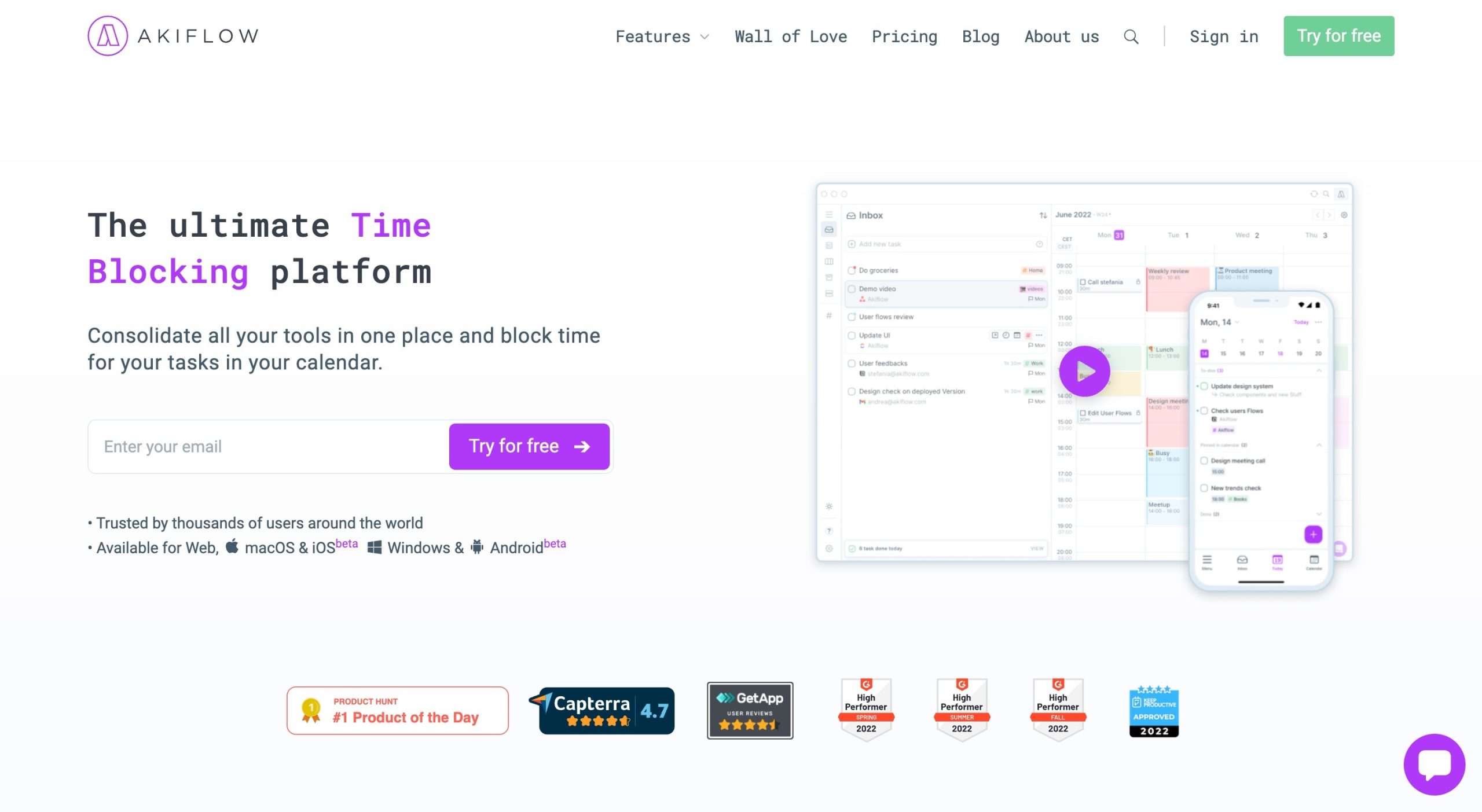 Akiflow is the ultimate time-blocking platform that allows you to consolidate all your tools in one place and block time for your tasks in your calendar. It is available for Web, macOS & iOS, Windows & Android.
One of the coolest features of Akiflow is its ability to connect with your favorite tools and take care of all your tasks in one place.
You can easily import all your tasks from your favorite tools and centralize them in Akiflow, eliminating the need to juggle between different apps.
Planning your day with Akiflow is effortless.
You can drag and drop tasks into your calendar to create the perfect schedule.
Additionally, you can easily block time for your tasks by dragging and dropping them into an open slot in your calendar.
You can also turn your tasks into calendar events to protect your time for deep work.
Akiflow also offers keyboard shortcuts that allow you to prioritize, plan, and snooze your tasks quickly.
With Akiflow, you can share your availability without switching between email and calendar tabs. You can quickly select and share your slots in seconds, eliminating the need for back-and-forth emails.
Core Features of Akiflow
Integration with other tools
Easy scheduling
Keyboard shortcuts
Sharing availability
Cross-platform availability
Pricing
Akiflow offers a 7-day free trial, followed by a monthly plan with monthly billing ($15/month). This is a reasonable price given the many features and capabilities the platform offers.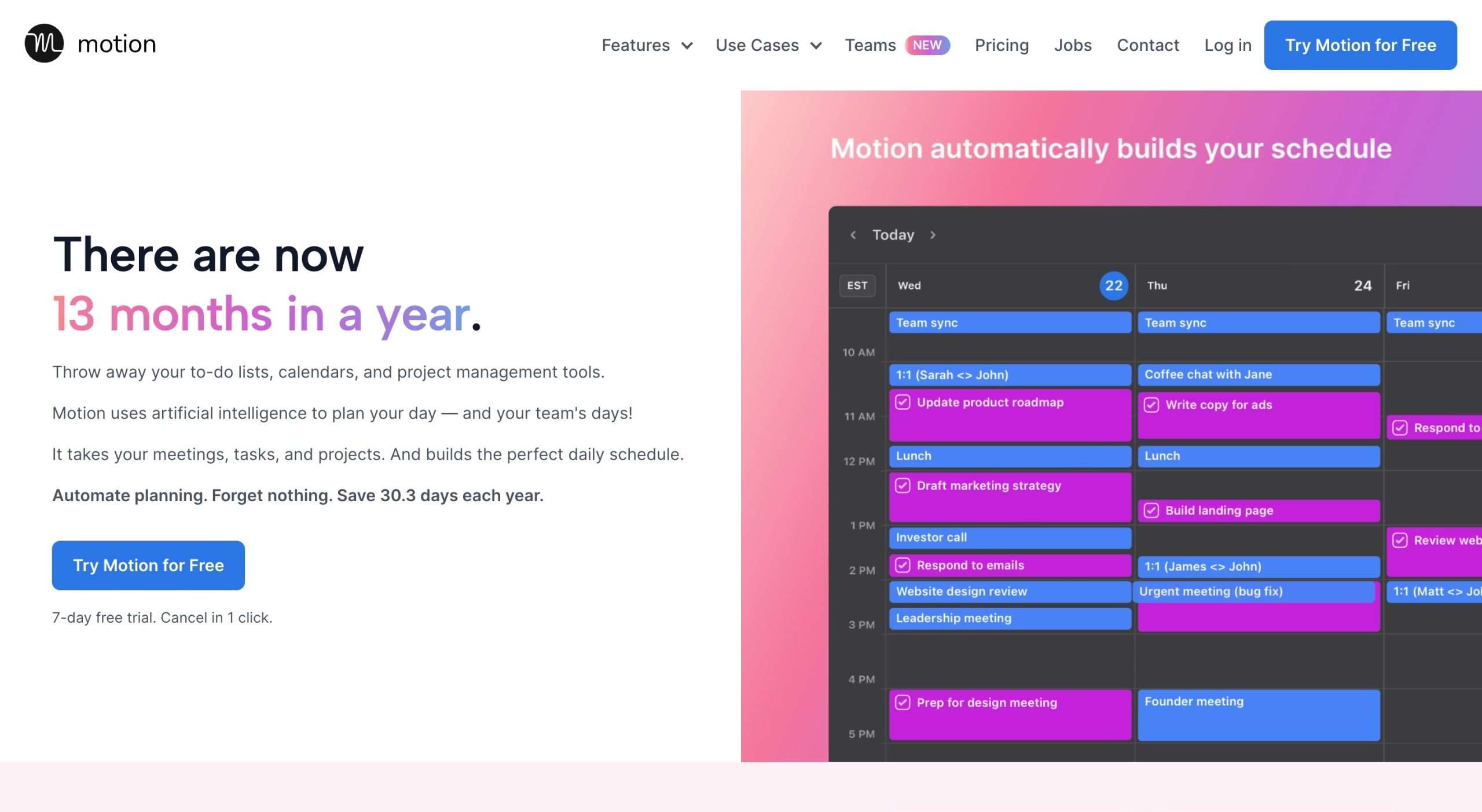 Motion is a powerful AI calendar and task management app. With Motion, you can easily combine all of your calendars into one view and sync meetings and tasks across all of them.
It can even declutter your calendar by merging the same events on multiple calendars into one, saving you time and energy.
One of my favorite features of Motion is its ability to create an optimized schedule for you based on your meetings, tasks, to-do lists, and activities.
This means you can become insanely productive without spending hours each week planning your schedule manually.
Motion also allows you to keep your tasks and meetings private, ensuring that only you can see what's on your calendar.
Motion also offers powerful project management tools that can help you and your team stay organized and on track.
With features like project prioritization and deadline planning, you can ensure that everyone is working towards the same goals.
Motion also allows you to limit the number of meetings you have each day and personalize your booking page to display your preferred meeting times.
Core Features of Motion
Combine and sync all calendars into 1 view
Keep tasks and meetings private
Add workspaces for different teams or projects
Turn common projects into templates
Custom meeting scheduling
Personalized booking page
Pricing
Motion comes with a 7-day free trial and two pricing plan options (monthly billing):
Individual ($34/month)
Team ($20/month/member)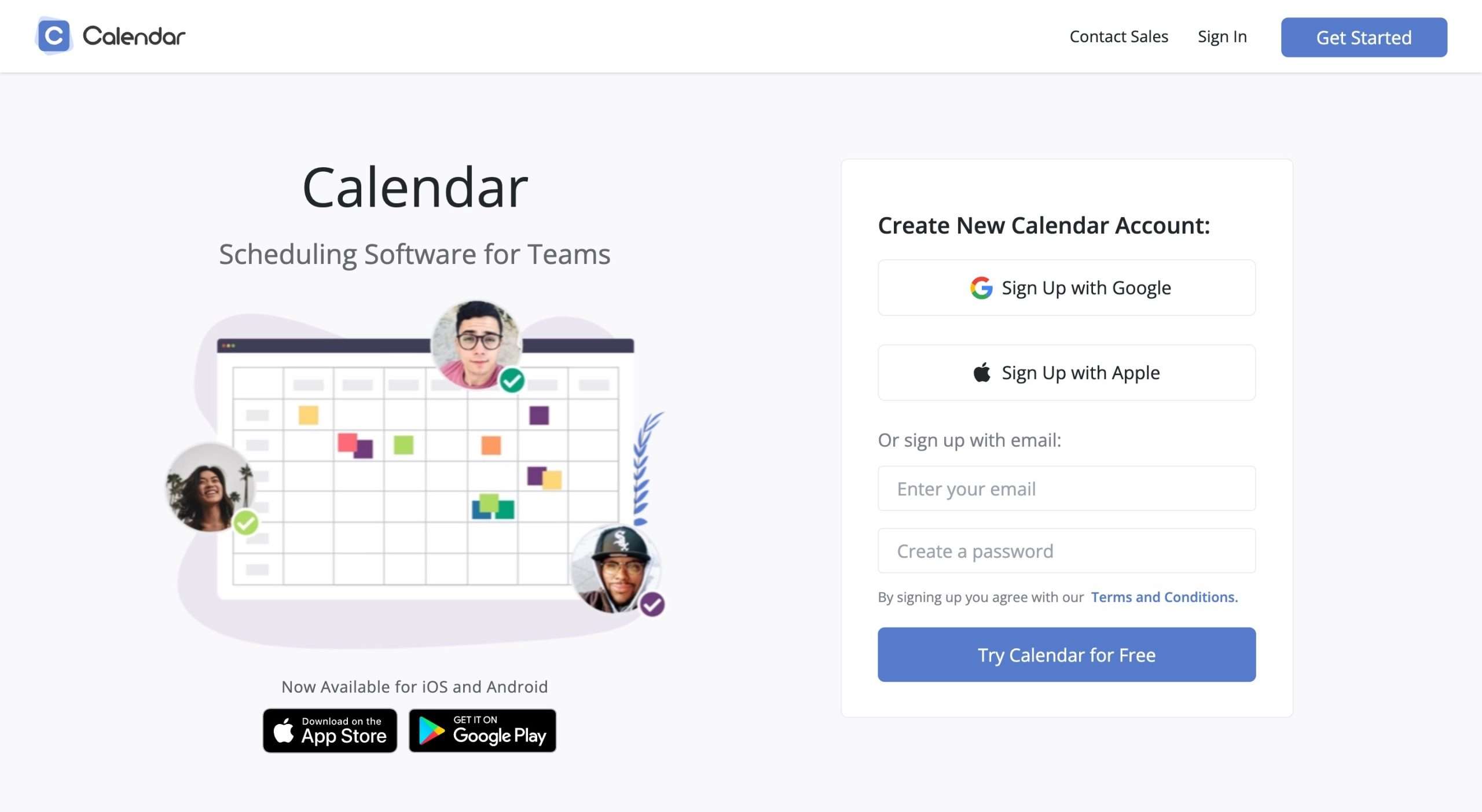 With its comprehensive features and customizable templates, Calendar.com makes scheduling meetings, events, and appointments effortless. Its ability to create customized time slots for your events and meetings is just super helpful.
You can easily choose which time slots to display, and the scheduling pages can be personalized to suit your needs.
Sharing your customized calendar link with others is another easy-to-use feature of Calendar.com.
This allows anyone to schedule a meeting with you based on your online availability, eliminating the hassle of back-and-forth emails.
Another impressive feature is Calendar Analytics, which helps you be more productive and intentional with your time.
With the team scheduling round-robin feature, you can eliminate the endless back-and-forth emails between team members, saving you valuable time and ensuring that no sales lead is missed or overbooked.
Finding a time to meet with multiple people can be a daunting task, but with Calendar.com's find a time feature, it's easy to schedule meetings with other people in seconds.
Simply enter the calendar users you need to meet with, see when they are busy or available, and create an event based on their availability.
Core Features of Calendar.com
Customizable time slots
Customized calendar link sharing
Calendar analytics
Easy one-click & multi-person scheduling
Calendar productivity blog
Pricing
Calendar.com offers three different pricing plans to choose from depending on your needs: Basic, Standard, and Pro. The Basic plan is completely free. The Standard plan costs $25 per month, while the Pro plan costs $30 per month.
Cron is a powerful calendar tool that offers a wide range of features to help professionals and teams manage their time more effectively.
With Cron, you can easily schedule meetings, events, and tasks, and control your time like never before.
It is available on macOS, Windows, and mobile devices, allowing users to stay on top of their schedule no matter where they are.
One of the key features of Cron is its deep integration with Google Calendar accounts. This allows you to sync all your events and resources seamlessly, making it easy to stay on top of your schedule.
Another cool feature of Cron is its ability to work across multiple time zones. You can easily add more time zones and reorder them by tapping on the time zone headers.
Cron also offers a range of widgets that can be added to the home screen or lock screen of your mobile device.
These widgets provide rich previews of upcoming events, a monthly overview, a button to quick-add events, and more.
Other features worth mentioning include – the ability to create and edit repeat events, resize the spacing on the calendar grid, color-code events to categorize them, and more.
Core Features of Cron
Deep Integration with Google Calendar
Recurring Events
Multiple Time Zones
Event Blocking
Mobile Widgets
Color-Coded Events
Adjust the number of days shown
Pricing
Cron is currently in beta and offers a free trial period for new users. After the trial period, pricing plans will be announced.
Vimcal is a powerful calendar tool designed to streamline scheduling and make complex coordination a breeze.
One of the standout features of Vimcal is its ability to share availabilities quickly and easily.
Rather than sending impersonal booking links or mindlessly typing out available time slots, Vimcal enables you to package your availability directly into your calendar, making it easy for others to find a mutually convenient time to meet.
Vimcal is also designed with a remote-first mindset, making it ideal for teams and clients around the world.
With timezone conversion built-in, you can quickly and easily see what time it is in any city in the world, making scheduling across multiple time zones a breeze.
You can even schedule meetings using plain English, eliminating the need for complex scheduling tools or confusing interfaces.
Vimcal also offers seamless integration with other tools and platforms. With just one click, you can launch into your next call or meeting, regardless of the platform or service you're using.
Core Features of Vimcal
Quick and easy availability sharing
Timezone conversion
Seamless platform integration
Fully-featured calendar
Mac, Windows, and iOS app availability
Pricing
You get a 14-day free trial and then Vimcal is $15/month.
TimeHero is a powerful tool designed to help you and your team manage tasks and projects with ease.
With its adaptive planning and clever features, TimeHero takes the pain out of creating and maintaining a work plan, allowing you to focus on what really matters.
One of the most significant advantages of TimeHero is its ability to automatically build an action plan for when to work on what, based on your current availability.
Whether you're a busy professional or a team working on a project, TimeHero's adaptive planning ensures that tasks are planned automatically in the time you have available, and adjusts when things change.
This means you'll always know exactly what to do next and can easily stay focused on goals and objectives.
What's more, TimeHero's seamless integration with Office 365 or Google calendars means that you can plan tasks around your meetings and events, giving you an accurate view of what you can get done each day.
The tool is built with teams in mind, making it easy to manage teams to get things done early.
You can view team members' schedules and capacity, assign ad-hoc tasks quickly, and use private and shared folders.
Core Features of TimeHero
Adaptive work planning
Integration with calendars and task management tools
Natural language text entry for quick task creation
Clever Inbox for task management
Smart autonomous recurring tasks planning
Workload and capacity tracking and forecasting
Pricing
TimeHero offers a 7-day free trial and three pricing plans:
Basic ($5/month)
Professional ($12/month)
Premium ($27/month)
zcal is a free scheduling platform that puts people first, making it easier to build stronger relationships with your clients and colleagues.
zcal has this ability to provide instant context on the people you meet.
With intros that provide key details about the person you're meeting with, you can skip the last-minute prep and focus on building rapport from the get-go.
Additionally, it allows you to showcase yourself with a welcome video, which can help get your recipients excited about meeting you.
Another benefit of zcal is its ability to personalize links for each recipient, ensuring that no one feels slighted by a generic booking link.
You can also create an unlimited number of links, so you can focus on serving your clients and growing your business without worrying about hitting some arbitrary limit.
Zcal also offers a range of tools for scheduling one-on-one and group events, including meeting polls that make it easy to find a time that works for everyone.
Core Features of zcal
Personalized booking links
Unlimited links and calendars
Instant context on the people you meet through intros
Meeting polls to find a time that works for everyone
Multiple ways to share your availability
Video conference integrations with Zoom, Google Meet, and Microsoft Teams
Pricing
As of now, zcal is completely free to use. They are planning to come up with a paid plan soon.
Google Calendar is a powerful and free scheduling tool designed to help you manage your time more efficiently.
Whether you're looking to stay on top of personal appointments, manage deadlines for work projects, or coordinate schedules with team members, Google Calendar is an excellent option.
Besides all, one of the primary benefits of using Google Calendar is its ease of use.
The intuitive interface makes it simple to create new events, set reminders, and view your schedule at a glance.
You can create events quickly by selecting a date and time, adding a title, and filling in any necessary details.
Additionally, you can add multiple calendars to your account, allowing you to keep track of different aspects of your life or work.
Google Calendar also offers a range of advanced features designed to make scheduling even easier.
For example, you can set up recurring events for tasks that happen regularly, such as weekly team meetings or monthly appointments.
You can also create event invitations and send them to other users, which is particularly useful for scheduling meetings with multiple people.
Core Features of Google Calendar
Easy event creation
Integration with other Google tools (like Gmail)
Recurring events
Customization options including color-coded event types and more
Mobile Accessibility
Easy sharing and collaboration
Pricing
Google Calendar is free to use.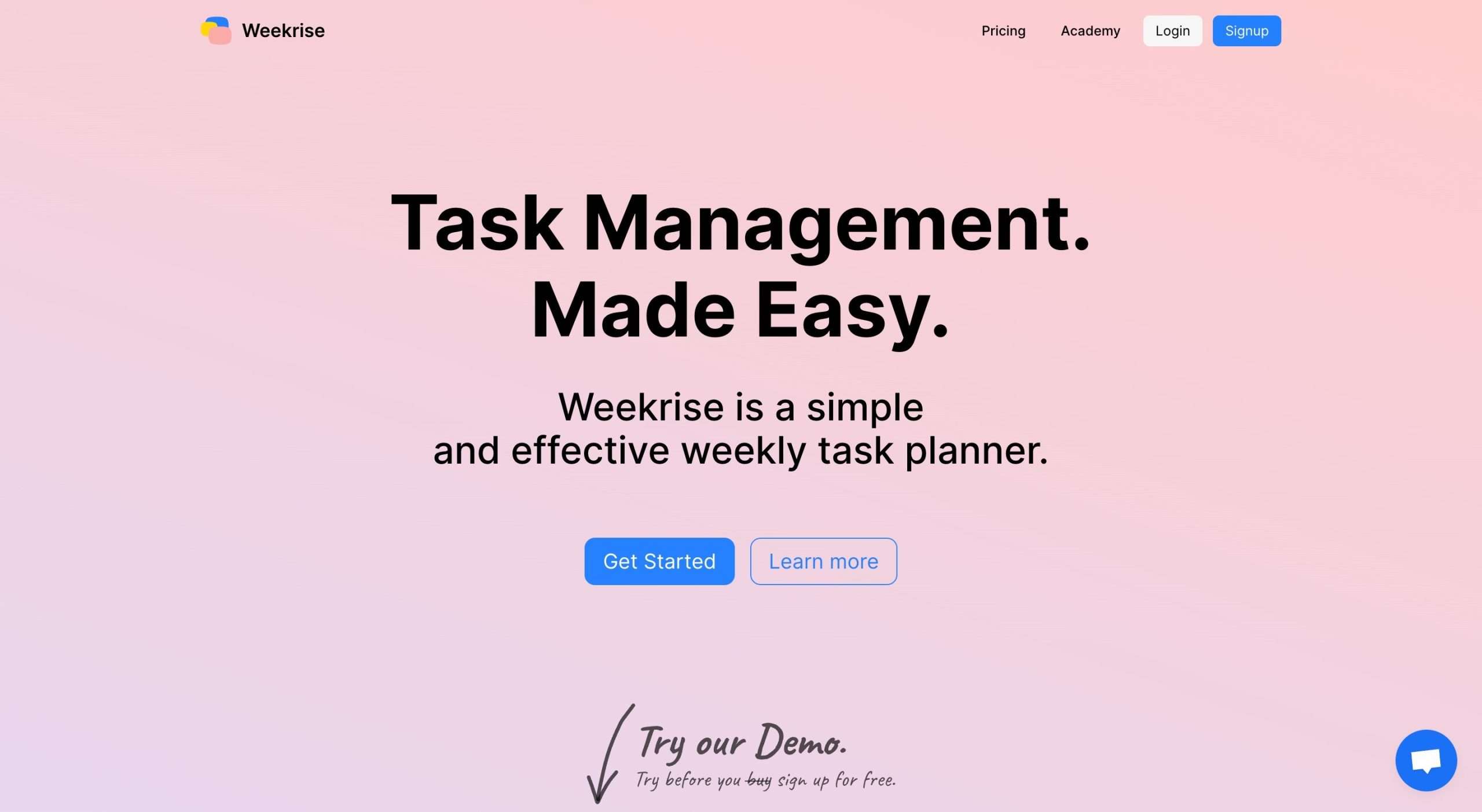 Weekrise is the ultimate task management tool designed to simplify your weekly planning. With Weekrise, you can easily manage your tasks, projects, and calendars, and collaborate with your team seamlessly.
Weekrise is very easy to use.
You can quickly navigate through the tool using the command palette, making it an efficient and intuitive option for those who prefer to use their keyboard.
Additionally, you can share Weekrise with your team, invite others to work together, and easily assign tasks, making collaboration a breeze.
For those who want to share their tasks with the world, Weekrise allows you to make your calendar public, so anyone can see your tasks without needing a Weekrise account.
To beat procrastination, Weekrise also includes a built-in Pomodoro timer, helping you stay focused and productive.
For larger projects that don't fit in a traditional calendar, Weekrise offers boards, which allow you to organize tasks and projects in a kanban-board format.
You'll also receive a daily digest report of your tasks, delivered straight to your inbox, so you always know what needs to be done.
If you're a Google Calendar user, you'll appreciate Weekrise's integration, which syncs events from your Google Calendar.
You can categorize your tasks with projects, comment on tasks, and save attachments, keeping everything organized and in one place.
Core Features of Weekrise
Weekly task planner
Command palette for keyboard navigation
Public calendar sharing
Built-in Pomodoro timer
Kanban boards for project management
Daily digest report
Support for repeating tasks and subtasks
Pricing
Weekrise offers a free plan with access for one collaborator, a pro plan for $4/month with 10 collaborators, and a team plan for $12/month with 20 team members.
Conclusion
As we come to the end of our exploration of the best Fantastical alternatives, we can't help but be impressed by the abundance of options available to us.
From the sleek and intuitive design of Morgen to the versatility of Cron, Vimcal, and Akiflow, there's something here for everyone.
If you're looking for a calendar app that goes beyond the basics and offers advanced features like team collaboration and project management, Sunsama, Motion, TimeHero, and Weekrise are all worth checking out.
And if you prefer a more minimalist approach, zcal and SavvyCal might be just what you need.
Of course, we can't forget about the tried-and-true Google Calendar, which continues to be a top choice for many users thanks to its integration with other Google services and widespread adoption.
Ultimately, the best Fantastical alternative for you will depend on your specific needs and preferences.
But no matter which app you choose, we hope this guide has helped you discover some new options and make an informed decision.
Happy scheduling!