Aweber is one of the oldest and leading email marketing apps. It has been around for over two decades, providing marketing automation services to more than 120k small businesses worldwide.
The software is user-friendly, robust, and reliable.
With its affordable subscriptions and a vast range of integrations, it can be a great marketing tool for any e-commerce business.
But if you're exploring more options, I have found some of the best Aweber alternatives for you.
What to Consider When Choosing an Email Marketing Platform
Email marketing software products generally offer diverse features.
Some are exclusive email automation tools, but many apps provide additional functions like landing pages and SMS to help you build multichannel customer journeys from one place.
Since you're looking for Aweber alternatives, you should consider applications that deliver similar features to Aweber.
Top Features Aweber provides are;
A user-friendly email builder with templates.
Customer segmentation and personalization.
Automation to create email sequences.
Analytics to measure campaigns.
Landing pages or e-commerce integration for list building.
Let's check out the list of 12 email marketing platforms that offer the above features. All the software products in the list can be excellent alternatives to Aweber.
GetResponse provides versatile email marketing and automation tools. You can use it to build websites and landing pages, design stunning newsletters, and automate email campaigns.
The software has an AI text generator and tons of templates to help you create engaging content and visually appealing layouts.
With segmentation, you can break down your contact list into subgroups and send targeted emails to customers.
You can also incorporate pop-ups and SMS into your sales strategy using conversion funnels and automate the entire workflow.
To monitor and measure conversions, you can split-test your emails and set custom reporting on autopilot for updates.
GetResponse works well with major e-commerce platforms like Shopify and WooCommerce.
Core Features
Email and SMS marketing.
Auto-responder.
Customer segmentation.
Conversion funnel.
Website and landing page builder.
Analytics.
E-commerce integration.
Mobile app.
Price
GetResponse monthly subscriptions range between $19 and $119.
You can sign up for free.
Campaigner and Aweber have common features. Both offer email personalization with workflow automation,and both provide a wide range of attractive templates for quick campaigns.
Some of the core functions you can perform with this tool include email designing, content optimization, advanced segmentation, and conversion tracking. The software has over 60+ features and an option to include SMS in the email workflows.
You will have the flexibility to add your own code to customize your emails, and split test different variations to check your audience response.
If you are active on social media, you can integrate Campaigner with your accounts and extend the reach.
Core Features
Email and SMS marketing.
Responsive templates.
Landing page builder.
Segmentation and dynamic content.
Conversation tracking.
Personalization.
A/B testing.
E-commerce and social integration.
API.
Price
Campaigner prices start from $59.
You can try it for free and ask for custom packages.
Beehiiv is a newsletter platform. It delivers a hosted website to collect subscribers and an email builder to make custom newsletters.
This app is specifically designed with content creators in mind. Bloggers can use it to set up premium newsletters, connect with advertisers, and monetize their content.
You can add up to 250k contacts to your subscriber list and segment them into different groups. With its flexible editor, you can customize your newsletter and add your brand theme.
Through its referral and recommendation features, you can increase organic traffic and scale your subscriber list.
Core Features
Newsletters.
Hosted website.
Audience segmentation.
Pop-ups and subscription forms.
A/B testing.
Analytics.
API access.
White Labeling.
Paid subscriptions.
Price
You can get started on Beehiiv for free. It charges between $49 and $99 for its premium packages.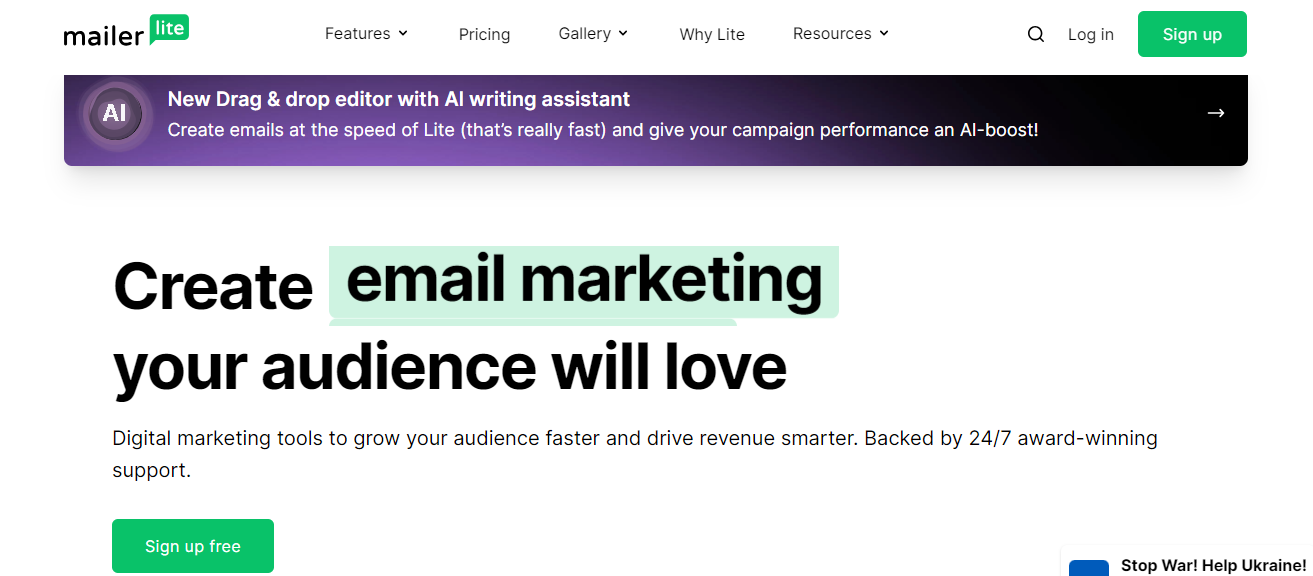 Mailerlite delivers scalable email marketing solutions.
You can build as many landing pages as you want, embed promotional pop-ups to get subscribers, and run unlimited email campaigns. With segmentation and email verification, you can clean your subscribers' list in bulk and create contact groups to improve your open rate.
Its editor is easy to use and gives you access to free templates and an image library for newsletter designing. Using Google Drive integration, you can increase your resource pool and share your work with others.
With Mailerlite's timed automation, you can set your email campaigns on autopilot and easily track conversions.
Core Features
Unlimited emails, newsletters, and pop-ups.
Website and landing page builder.
Templates and image library.
Workflow automation.
Email verifier.
Transactional emails.
E-commerce integrations.
Paid subscriptions.
Mobile friendly.
Price
Mailerlite charges a minimum of $9 to $19. The price may increase with the user volume.
You can sign up for free and ask for custom quotes.
Brevo focuses on cross-channel marketing. Via this tool, you can incorporate email, SMS, and social channels into your campaign to generate leads and convert them into subscribers.
It has an intuitive editor and pre-defined templates to design catchy promotional emails and engaging newsletters. Through its workflow builder, you can create a sequence of messages and set them on autopilot.
With heatmaps and analytics, you can easily see which elements of your content your audience like the most and how many have clicked open your emails.
If you work with a team, you can create exclusive log-ins for your team and collaborate on campaigns via shared inbox. Multi-user access option is available on the business and enterprise plans.
Core Features
Transactional emails.
Multi-channel marketing.
Workflow automation.
Shared inbox.
Landing page builder.
A/B testing.
Contact management.
Reporting.
Integrations.
Price
Brevo's basic plan is free, and premium packages start from $25 per month.
Inbox is a budget-friendly email marketing platform. It offers attractive packages to both small and established companies and allows emerging businesses to send 9000 emails per month for free.
Some of its notable functions are newsletter designing, landing page building, automation, and split testing.
If you have an active store, you can buy its transactional email plan and get a 50k monthly quota for $30.
Inbox also has an email verification function. It is available in the transactional email package and the volume can be customized to fit your business needs.
Core Features
Newsletter editor.
Mobile responsive templates.
Landing pages.
Customer segmentation.
Sign-up forms.
A/B testing.
Transactional emails and verification.
Workflow automation.
Tracking and analytics.
Third-party integrations.
Price
Inbox prices start from $14. You can create a free account and choose fixed or Pay As You Go subscriptions.
Constant Contact is an excellent alternative to Aweber. It offers email and SMS marketing, audience segmentation to personalize the content, A/B testing and dynamic content, and landing pages to collect subscribers.
You can connect Constant Contact with your Google Ad Manager to build lead-generation campaigns and design social media schedules to automate workflows. With the help of its AI generator, you can create quick text for emails and other marketing content.
If you have an e-commerce store, you can sync it with Constant Contact. The app supports 300+ integrations and shares revenue reporting for conversion monitoring.
Core Features
Email and SMS marketing.
Landing pages.
Marketing calendar.
Workflow automation.
AI-generator.
Social ads integrations.
Analytics and reporting.
Third-party integrations.
Price
Constant Contact's prices range between $12 and $80.
You can take a 14-day free trial.
Mailchimp is a popular email marketing software. It enables you to design landing pages and opt-in forms, create and schedules emails, add dynamic content, and track campaign performance.
You will get access to editable templates and a journey builder to create multistep automated workflows for your business. With campaign insights and behavior targeting, you can optimize your content and deliver emails to the right people at the right moment.
You can send a large volume of emails per month with Mailchimp and add other marketing channels like Google and Facebook ads to get more subscribers.
Core Features
Email marketing.
Customer journey automation.
Landing pages.
Social posting and ads.
Analytics and reporting.
A/B testing.
Third-party integrations.
Transactional email add-on.
Price
Mailchimp's basic plan is free, while its premium packages range between $13 and $350 per month.
You can explore its premium plans for free before purchasing subscriptions.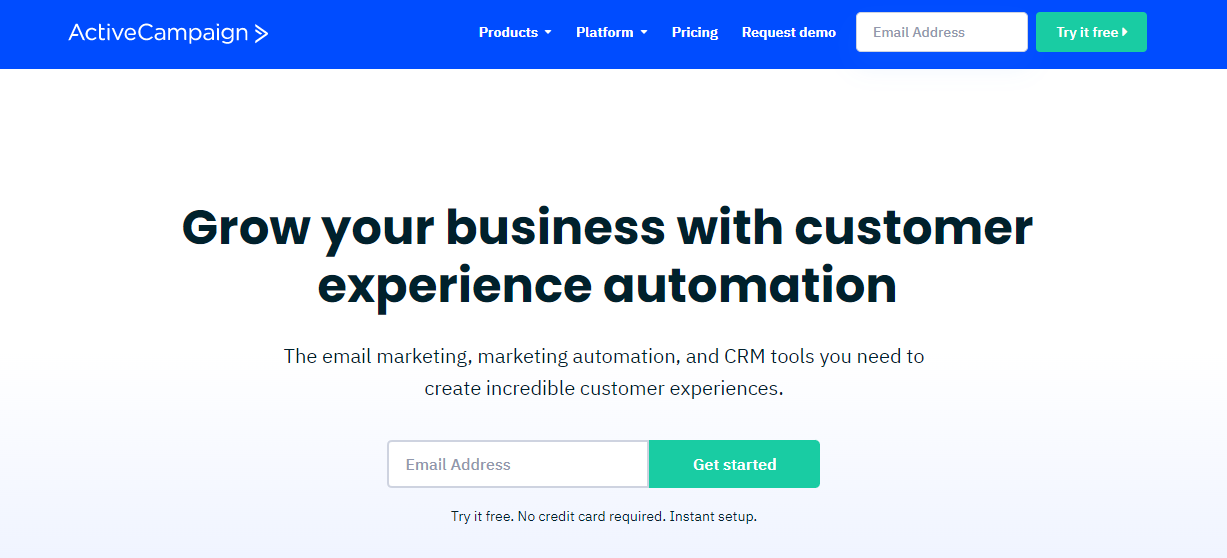 Active Campaign provides multichannel marketing, workflow automation, and e-commerce integration.
Here, you'll get 150+ email templates and over 800 pre-built automation templates to create versatile marketing campaigns to get subscribers. Via its campaign manager, you can easily send newsletters, run campaigns, test your content, and much more.
You'll have the flexibility to reach out to your customers through multiple channels, including landing pages, SMS, and ads. For email optimization, you can enable a predictive sending feature that will automatically send emails at the best times.
With segmentation and conditional content, you can personalize your customer journeys and improve conversions.
You can use Active Campaign from your smartphone. It provides Android and iOS apps.
Core Features
Email and SMS marketing.
Automation.
A vast library of templates.
Content manager.
Personalization.
Landing pages.
Split testing.
E-commerce integrations.
Tracking and reporting.
Mobile app.
API.
Price
You can purchase an exclusive marketing automation package or buy a bundle pack to get a CRM in the plan.
Contact sales for the pricing.
Emma is ideal for teams. It delivers subaccounts and an approval dashboard, so you can easily collaborate with others on email and SMS campaigns.
You can create marketing calendars, design mobile responsive emails, build landing pages, and send SMS. What's more, you can segment your audience to optimize your campaigns and automate your workflows.
The best thing about Emma is its feature distribution.
You can opt for its exclusive email marketing plan or buy both email and SMS in a bundle pack. This is an appealing option specifically for small businesses that exclusively use emails for marketing.
Emma also provides in-house services to those who need help with strategy and design.
Core Features
Email and SMS marketing.
Landing pages.
Mobile-responsive templates.
Segmentation.
Workflow automation.
Marketing calendar.
A/B testing.
Reporting and analytics.
Third-party integrations.
Price
Emma's annual subscriptions range between $99 and $249. You can request tailored packages.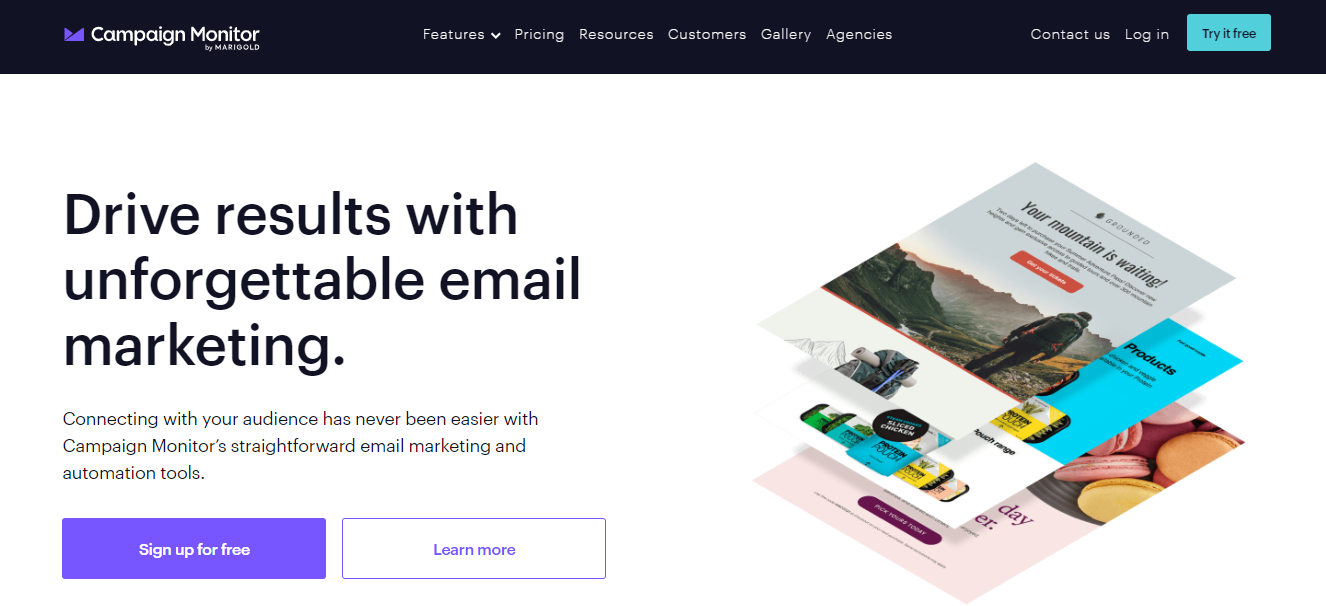 Campaign Monitor is well-suited for both private brands and agencies. It has excellent automation tools for e-commerce stores and a client dashboard for agencies.
You can integrate your CRM and store with Campaign Monitor and connect landing page builders like Unbounce to create multichannel sequences.
To run targeted campaigns, you can segment your contact list and add an SMS channel to your marketing strategy. With the design tester, you can easily preview and adjust your campaigns before publishing.
Agencies can create subaccounts for clients and manage billings from the dashboard. They can also set up workflow automation and apply them to multiple accounts.
Core Features
Drag-and-drop builder.
Pre-built templates.
Email and SMS automation.
Segmentation.
Advanced personalization features.
A/B testing.
Tracking and reporting.
Agency dashboard.
Third-party integrations.
API access.
Price
Campaign Monitor charges a minimum of $9 for up to 500 contacts. You can include from 500 to 50k contacts in your account.
Take a free trial to learn more.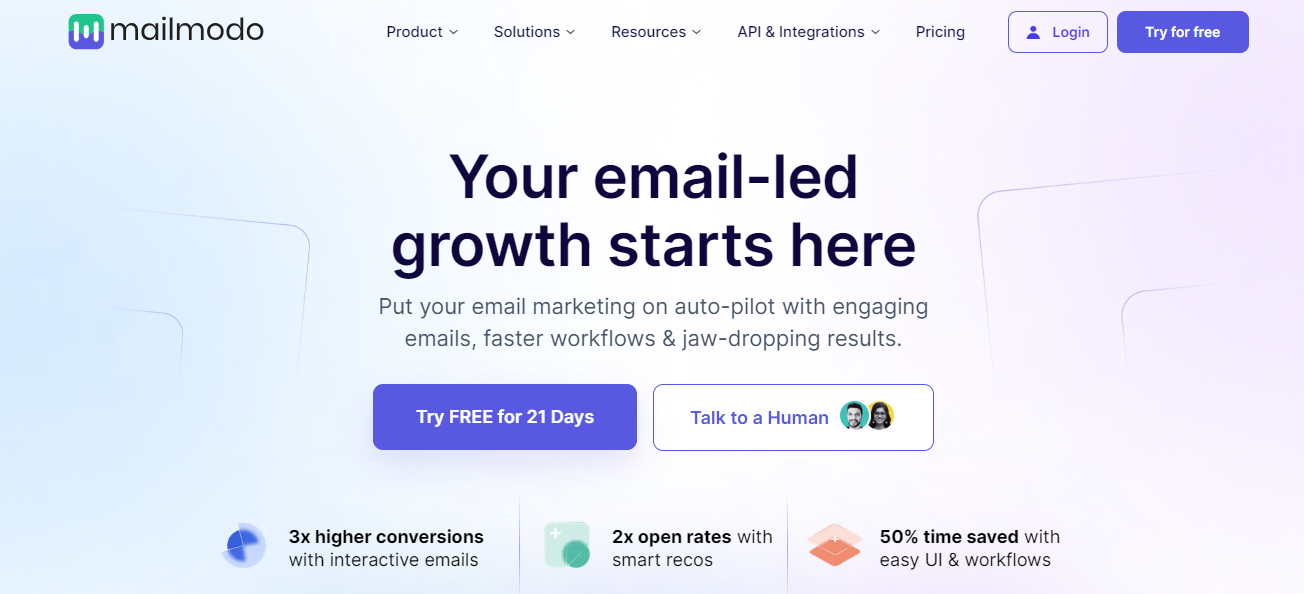 MailModo is best for high-volume emails. You can use it to send around 75k to 1000k emails and automate your workflows.
Some top features MailModo provides are; a no-code editor, visual journey builder, transactional emails, and third-party integrations. You'll get 500+ ready templates and a CMS to manage contacts.
What makes MailModo stand out is its AMP email tool. You can design interactive emails and attach your business address to them to boost conversions.
You'll find several widgets and templates in the library, but you can easily develop AMP emails from scratch.
Core Features
HTML and AMP emails.
Visual journey builder.
Templates and widgets.
Bulk action.
Segmentation.
Transactional emails.
Campaign manager.
Analytics and reporting.
Third-party integrations.
Price
MailModo charges $99 to 599 per month. You can book a demo to get details or take a free trial for 21 days.
Conclusion
Aweber shares some of the powerful email marketing tools. But plenty of other applications now offer similar and even better features. To choose the right app for your business, shortlist platforms that support the functions your company needs.
For instance. If you like product versatility, applications like GetResponse and Brevo would be excellent choices for you. If you have a high subscriber volume, software like Inbox might be more well-suited for your company.
List down the common features you're looking for and pick the app that meets your requirements. Good luck!