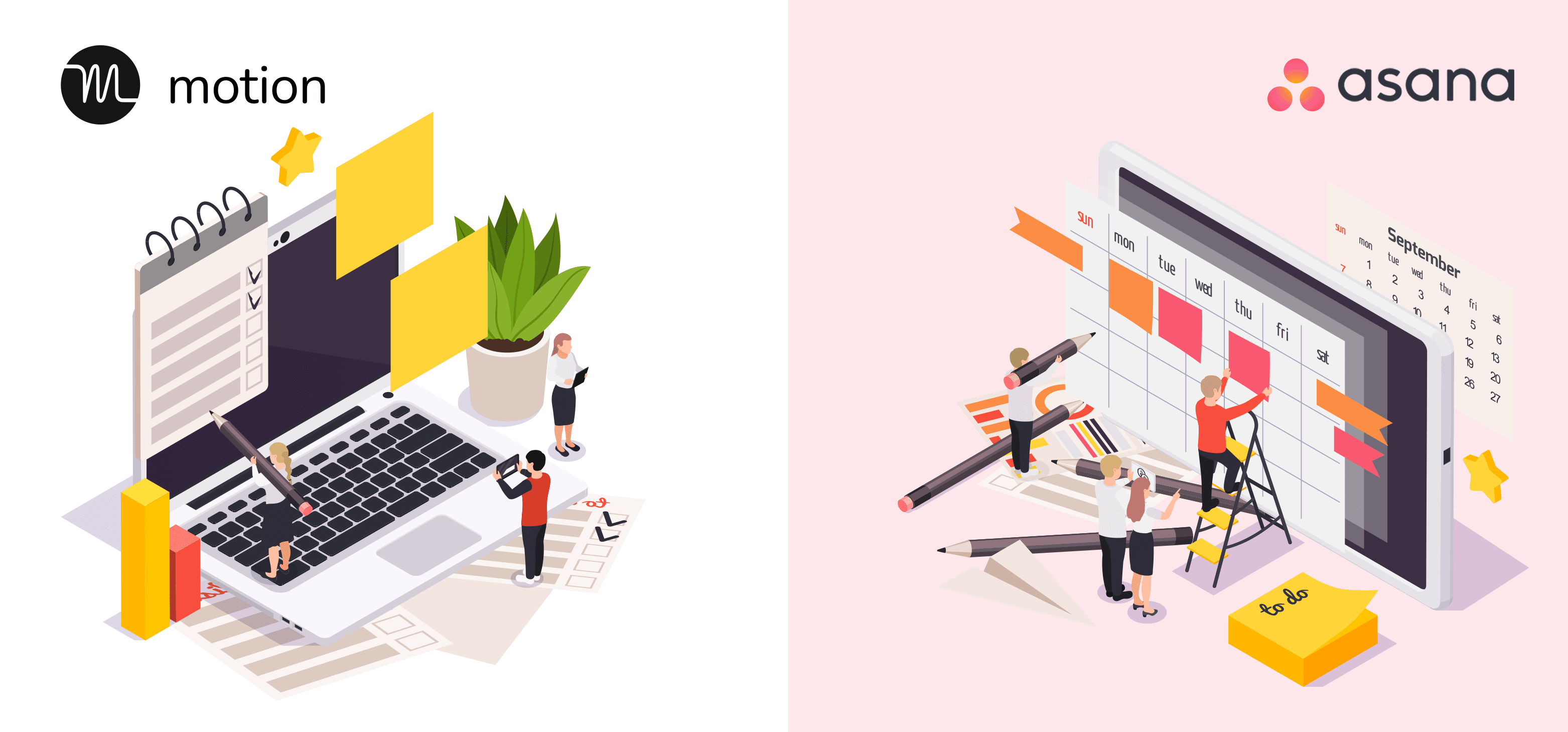 Trying to find the best project management tool for your team can be overwhelming. You need a tool that is easy to use but also has all the features you need.
There are so many project management tools on the market, it can be hard to decide which one is right for you.
We decided to compare Motion and Asana head-to-head to see which one comes out on top. Both of these tools have great reviews, but which one is the best?
Keep reading to find out!
TL;DR
Go with Motion if you are looking for a simple and beginner-friendly task & project option with powerful meeting and calendar management features. Choose Asana if you need a more mature tool with fine-grained access control, task automation & reporting features.
Simply put, Motion is an easy-to-use project management tool with robust calendar and meetings management features. Asana is better suited for larger and more complex projects, with a heavy emphasis on collaboration & delegation.
Motion vs Asana Ratings
| | | |
| --- | --- | --- |
| Review Platform | Motion | Asana |
| G2 | 5/5 | 4.3/5 |
| Product Hunt | 2.8/5 | 4.8/5 |
Motion overview
Motion is a project management tool that combines calendars, task management, and meeting management into one easy-to-use interface.
It's user-friendly and intuitive, which makes it easy to use even for those who are new to project management.
Motion also has a great mobile app (for both Android and iOS) so you can take your project management on the go.
It is created in such a way that creating tasks and dropping them into your calendar is made effortless.
And talking about calendars, Motion connects with Google Calendar and Outlook calendar, so you can easily sync your calendar with Motion.
And the best thing is their decluttering mechanism. Motion will show the tasks that are due on the current day and hide all other tasks.
Also, every task or meeting that is due for the day will be shown on this amazing homepage with changing backgrounds.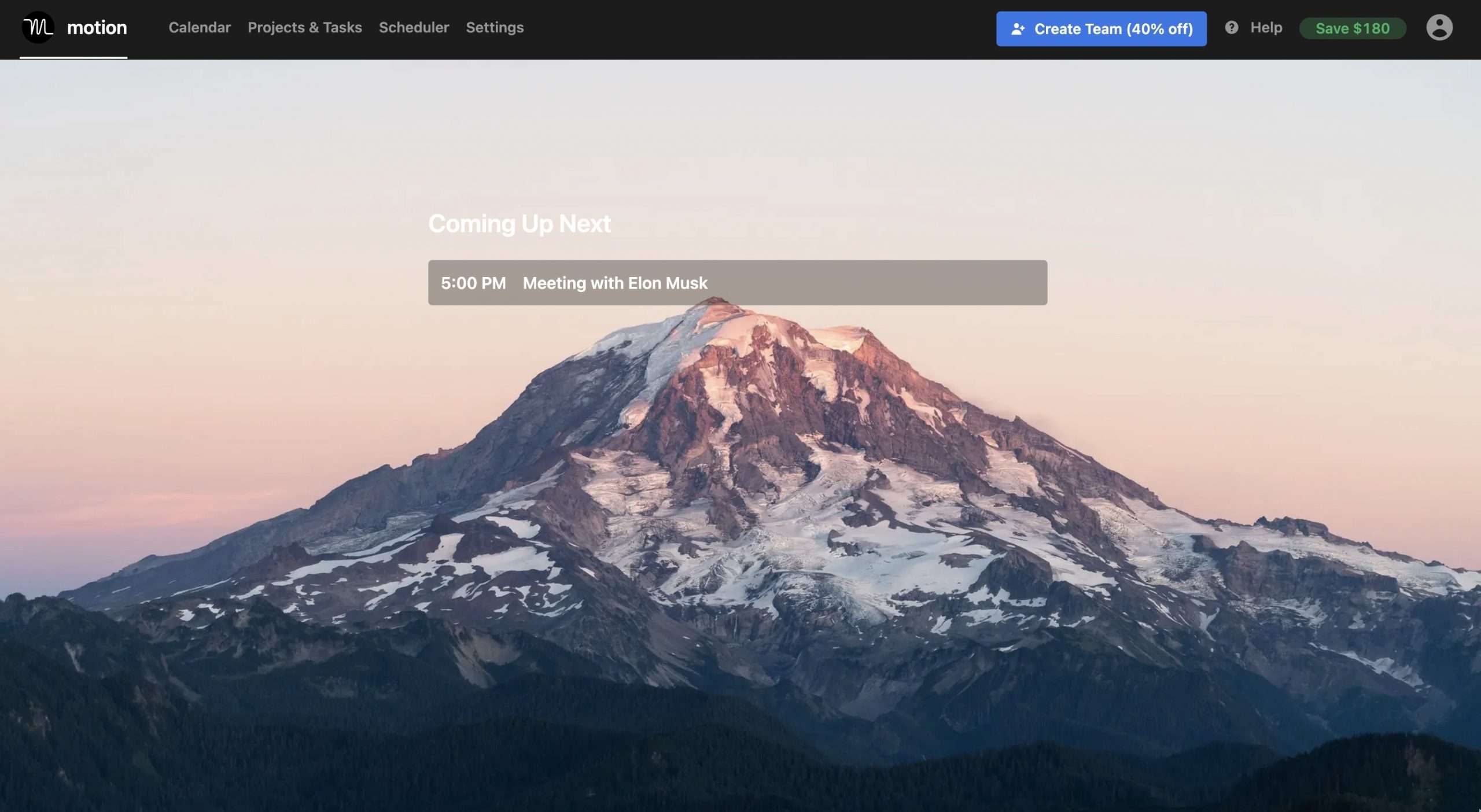 Taking the guesswork out of the picture, Motion is an excellent choice when it comes to task and project management.
Things I like about Motion
Motion is user-friendly and intuitive.
Motion has a great mobile app (for both Android and iOS).
Motion integration with Google Calendar and Outlook calendar.
Motion's meeting management and meeting link-sharing system.
Things that can be improved about Motion
Motion's task management system is a bit rigid, making it hard to customize tasks and projects.
Motion has limited third-party integrations.
Asana Overview
Asana is a popular project management tool that helps teams to organize and track their work.
Asana is known for its ease of use and its flexible features, which allow it to be adapted to a variety of workflows.
Asana also integrates with other productivity tools, such as Slack and Google Calendar, making it an essential part of many people's workday.
Unlike Motion, Asana has a more robust task management system, allowing for the customization of tasks and projects.
Asana also has an outstanding calendar view that helps you to quickly visualize your workload, and it's easy to add new tasks or meetings from the calendar view.
Asana also makes it easy to assign tasks and track progress, as well as check in with teammates to make sure everyone is on the same page.
It integrates with almost countless third-party applications, making it almost infinitely more customizable.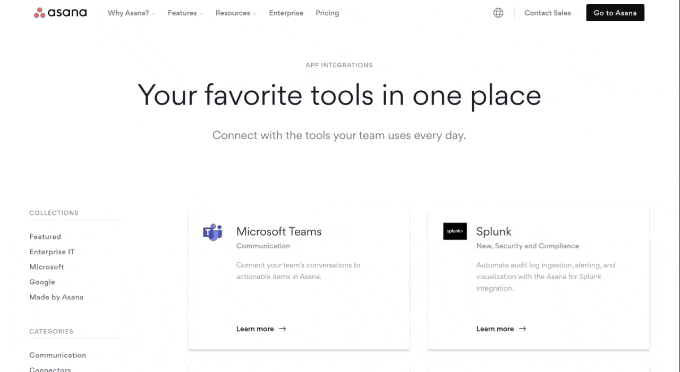 Finally, besides numerous task and project management options, Asana's insight feature provides valuable data on team performance.
Unlike Motion, Asana provides a completely free plan with all the essential features. Additionally, its premium plan is relatively less expensive than Motion.
Things I like about Asana
Asana's ease of use for beginners and power users alike.
Asana's task management system is very flexible and customizable.
Asana integrates with almost countless third-party applications.
Their pre-made templates have various use cases and are easy to get started with.
Things that can be improved about Asana
Asana's UI can be difficult to navigate and understand.
1. Ease of use
Motion and Asana are both designed to be easy-to-use task and project management tools.
Motion's user interface is straightforward and allows users to quickly create and manage tasks with ease.
Motion also offers a simple drag-and-drop feature to quickly add your tasks to your calendar and the ability to easily collaborate with others on projects.
Asana is the more complex of the two tools, offering more customization and collaboration options. Its user interface can be somewhat difficult to learn at first, but with practice, it becomes easier to use.
Here's what Motion's dashboard looks like: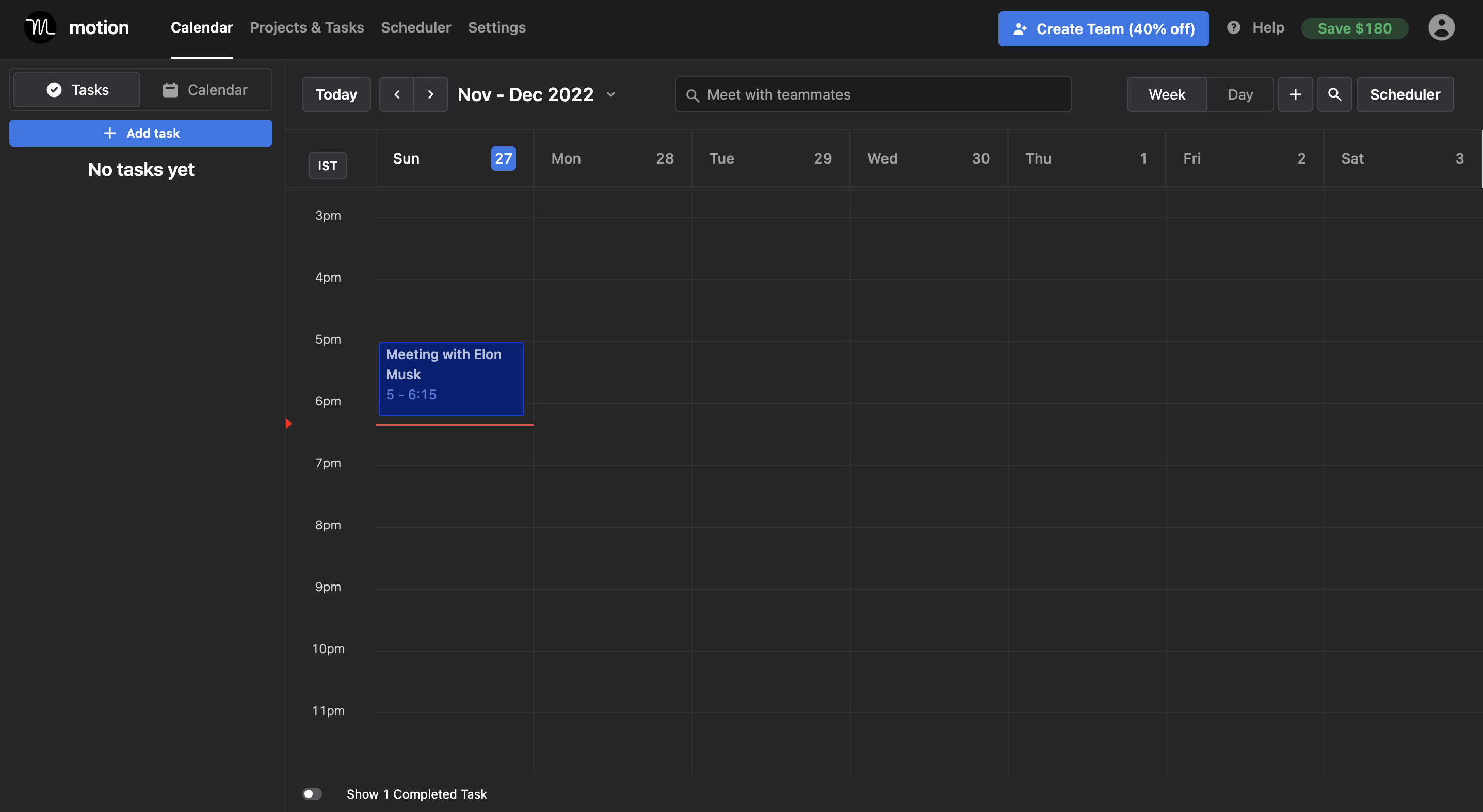 On the header, you'll see the options to access its three most famous features – Calendar, Projects & Tasks, and Scheduler.
This is where all the magic happens!
The left pane allows you to create tasks and automatically drop them into your calendar located in the right pane.
Moving forward to Asana's user interface, this is how it looks as soon as you log in:
Now, although people argue that Asana's interface comes with a steep learning curve due to its variety of features, it is worth noting that Asana offers a great number of customization options and contrasting colors to keep things clean.
In Asana, you can choose to show or hide the left menu bar, which is not available with Motion.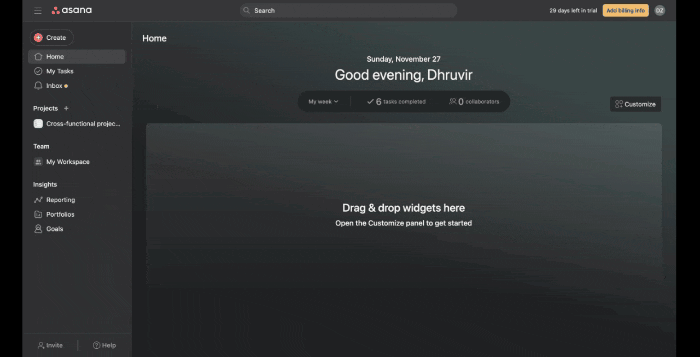 The left menu bar is the place where you can access all of your tasks, projects, workspaces, reports, portfolios, and more.
On the right, you will see a button called Customize.

Click on it and you'll be able to further customize the look and feel of your Asana dashboard. You'll also be able to add/remove different widgets (like a personal notepad to jot things down) it has to offer.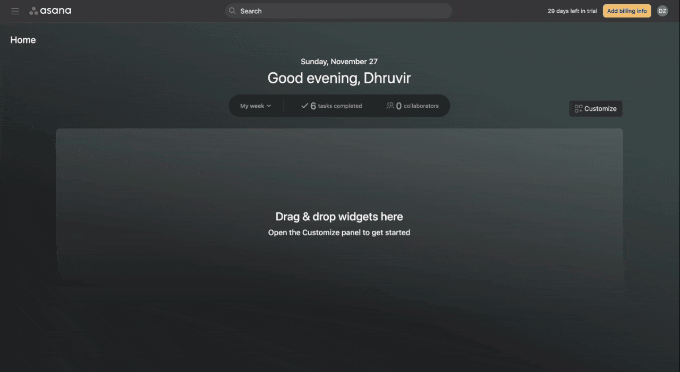 Pretty cool!
Motion's simplicity is great for fast task management while Asana has more customization options and a learning curve to make the most of its complete suite of features.
2. Task & project management
Motion offers users a wide range of options for managing tasks, such as task lists, shared checklists, sub-tasks, calendar integration, and more.
Motion also allows users to assign tasks and mark them as completed, making it easy to track progress on projects.
Here's how to create a new task in Motion:
On the left panel, you will see a blue colored button named Add task.
As soon as you click on it, a task creation popup window will open up where you fill in all the details like task name, assign person, recurring tasks, due date and more.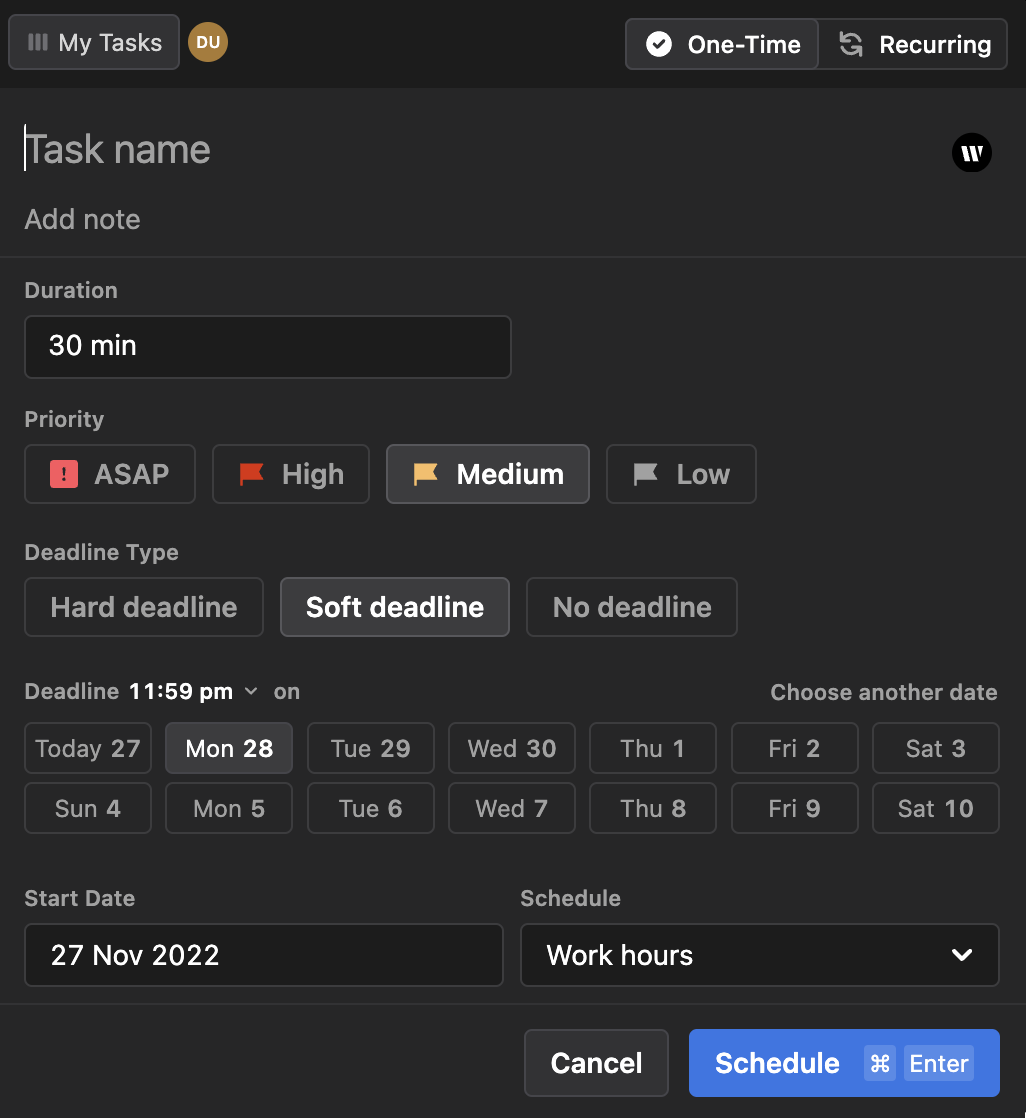 Once you have done this, simply click on the schedule button to add the task and you are done!
I really appreciate the sub-features provided under Motion's task management, like defining the priority of a task, the ability to make the task one-time or recurring, and the different types of due dates available.
Motion also allows users to add notes and comments to tasks easily, making it more convenient for teams to collaborate on tasks.
As soon as you create a task, open the separate Projects & Tasks tab.
There, you will be able to clearly view your tasks based on projects as well as Kanban.

Also, if you notice, on the right you will see a button named Templates.
You guessed it right!
You can create a task or a project template, and save it for later use.
Asana also offers a wide range of options for managing tasks, such as task lists, sub-tasks, and more. You can easily assign tasks, add due dates and comments, and mark the task as complete.
Here's how you can create tasks in Asana:
From the left menu bar, click on My Tasks. You will see a button to add tasks, click on that.
Write the name of the task and then. Click on details to see more options.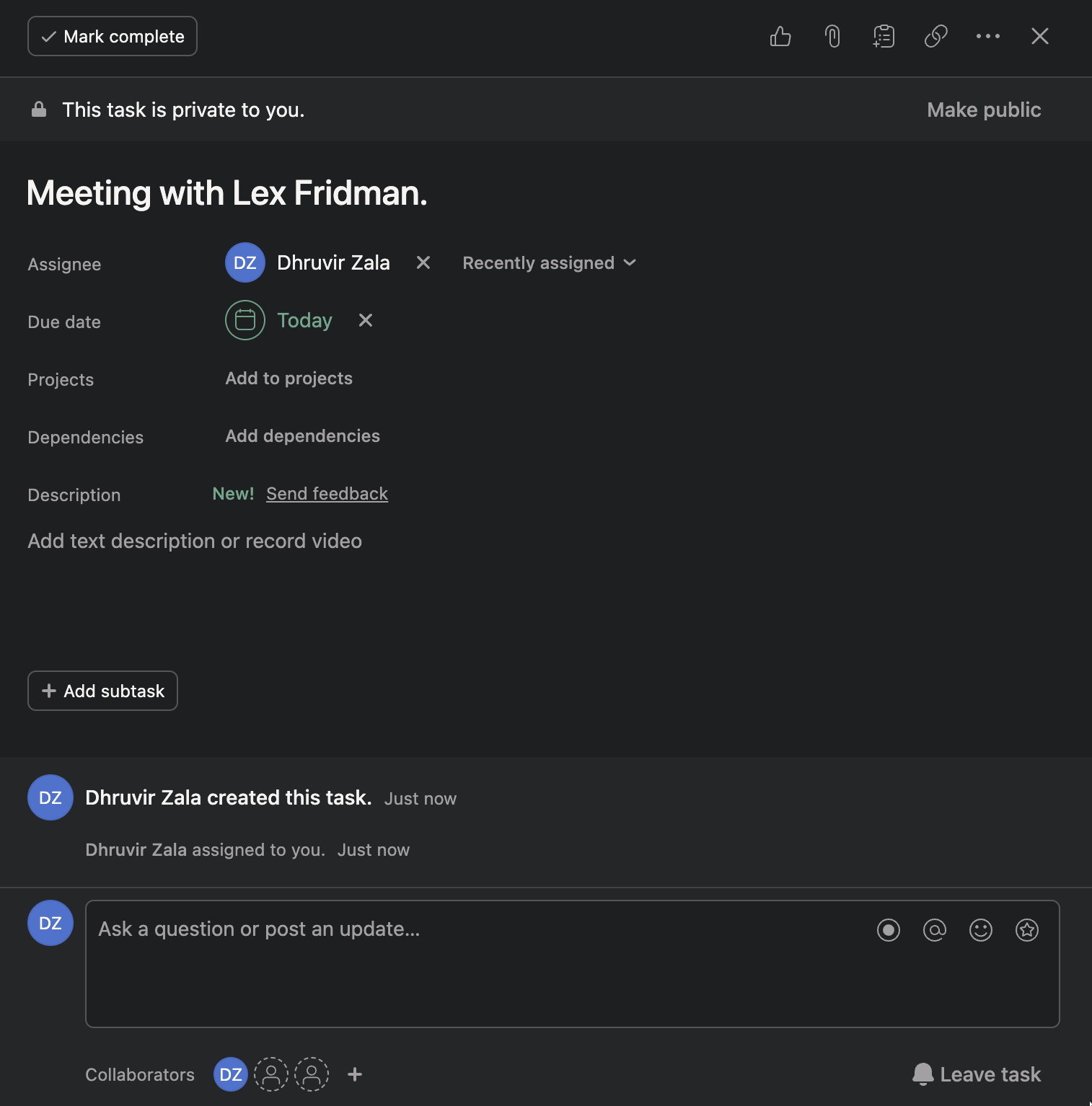 Here, you will see there are way fewer task options than Motion. But, wait for it as there is more to it.
Some options are disabled by default and therefore need to be enabled first before you can see them in your tasks' pane.
To do that, click on the customize button located at the top of your task pane. You will be able to enable and add different fields as shown in the GIF below.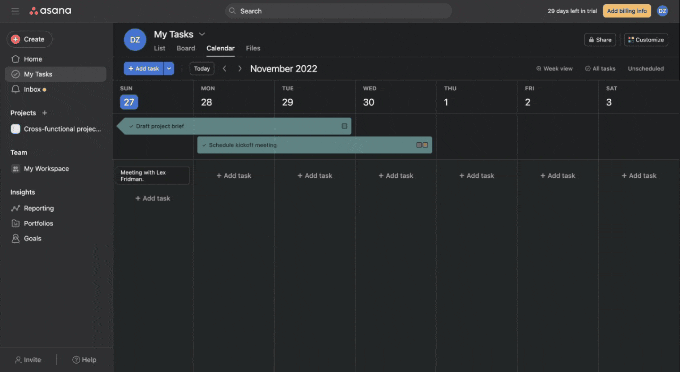 Not only that, you will be able to add rules to your task. Motion does not provide this feature, as of now.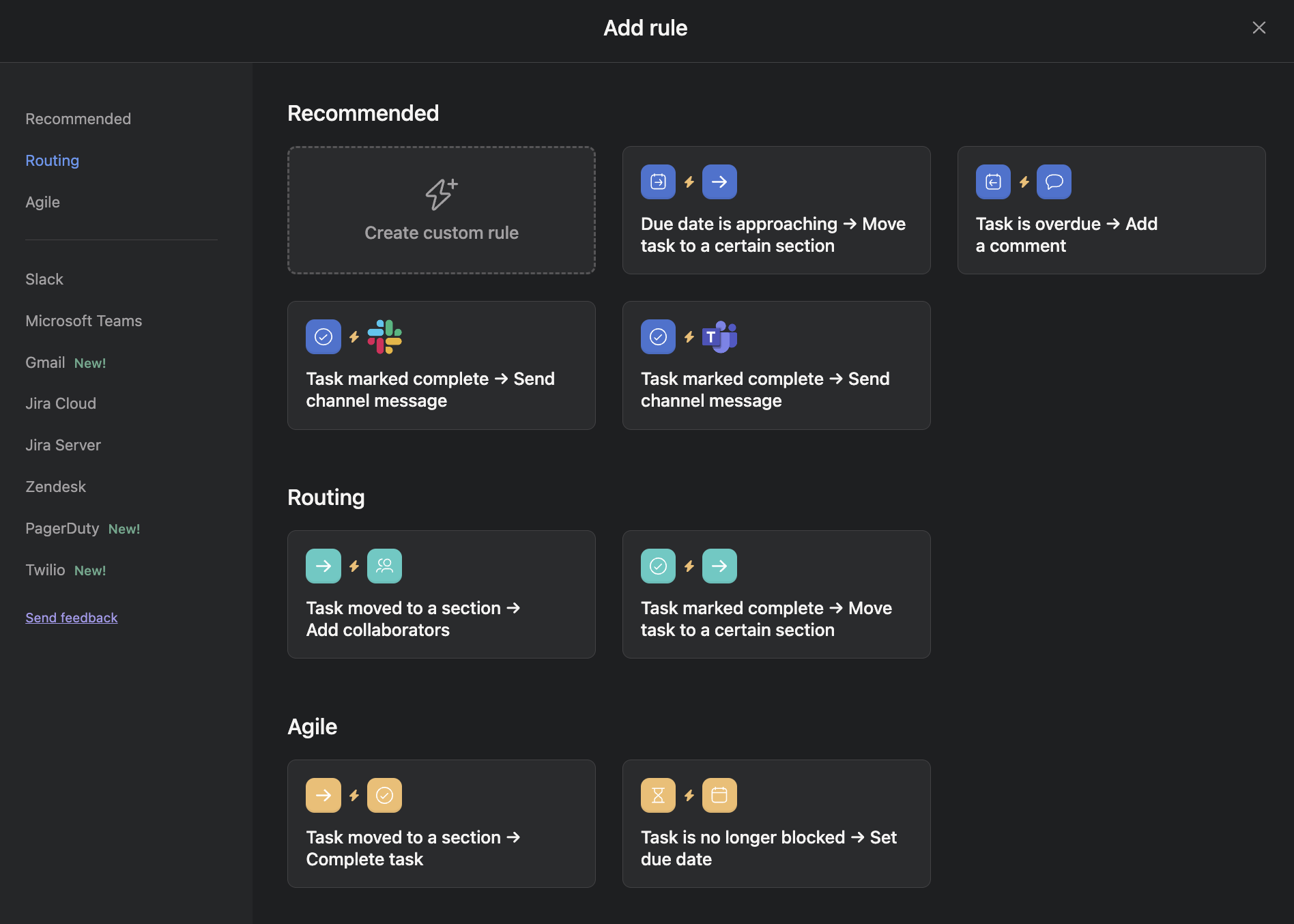 So simply put, rules automate your task-completion process. Think of it like an IFTTT that triggers when certain conditions are met. And fortunately, Asana has already created a bunch of rules read-to-be-used along with an option to create custom rules.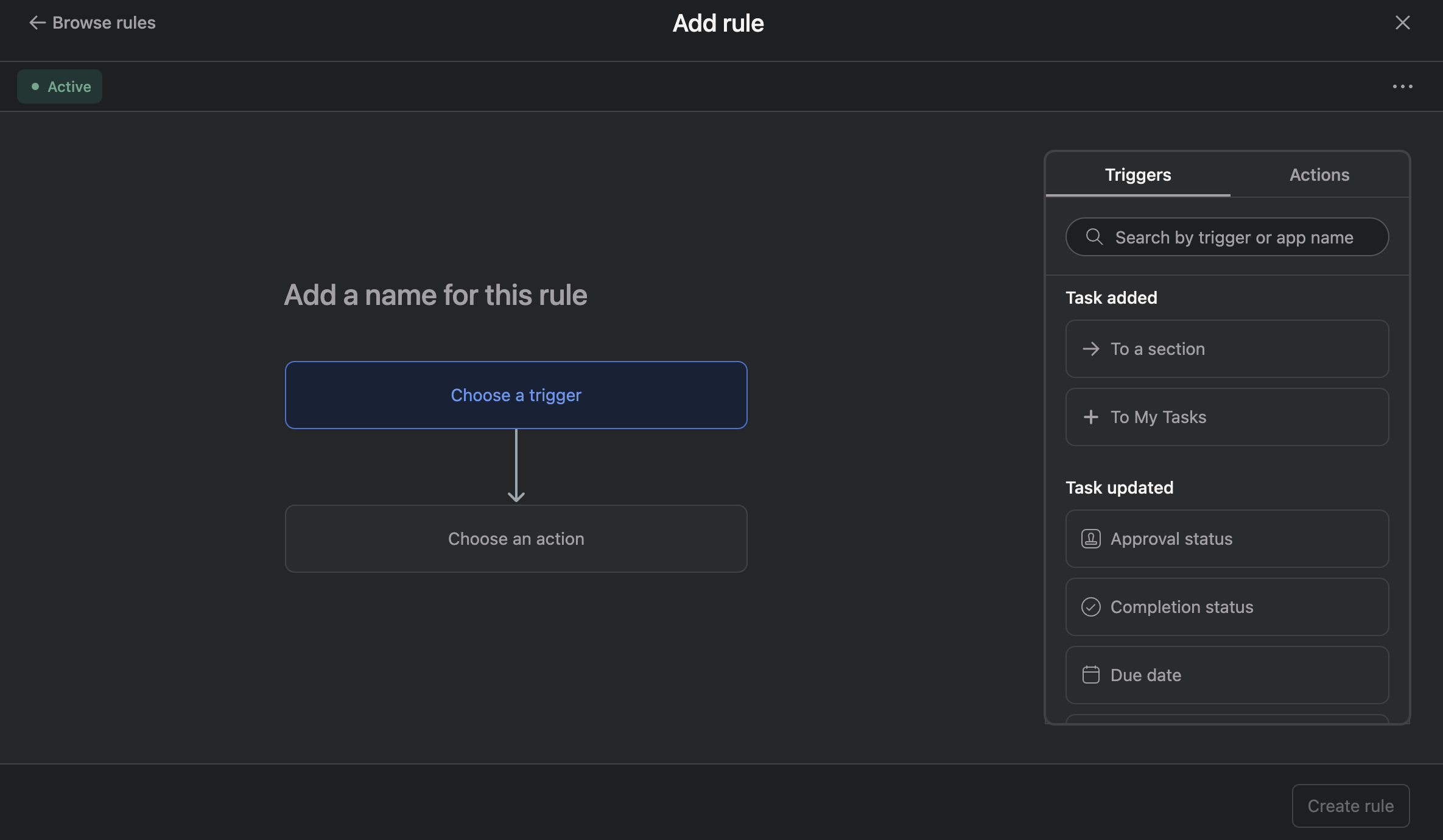 Communicating on tasks is very easy in Asana. All you need to do is invite your team member through their email address.
Then, all the members of the project will be able to contribute to the conversation from the task window itself.
We found out Asana has more post-task-creation options than Motion, while Motion offers more task-creation options in the first place.
3. Calendar management
Motion has a calendar view that allows you to easily see what tasks and projects you have due on which days.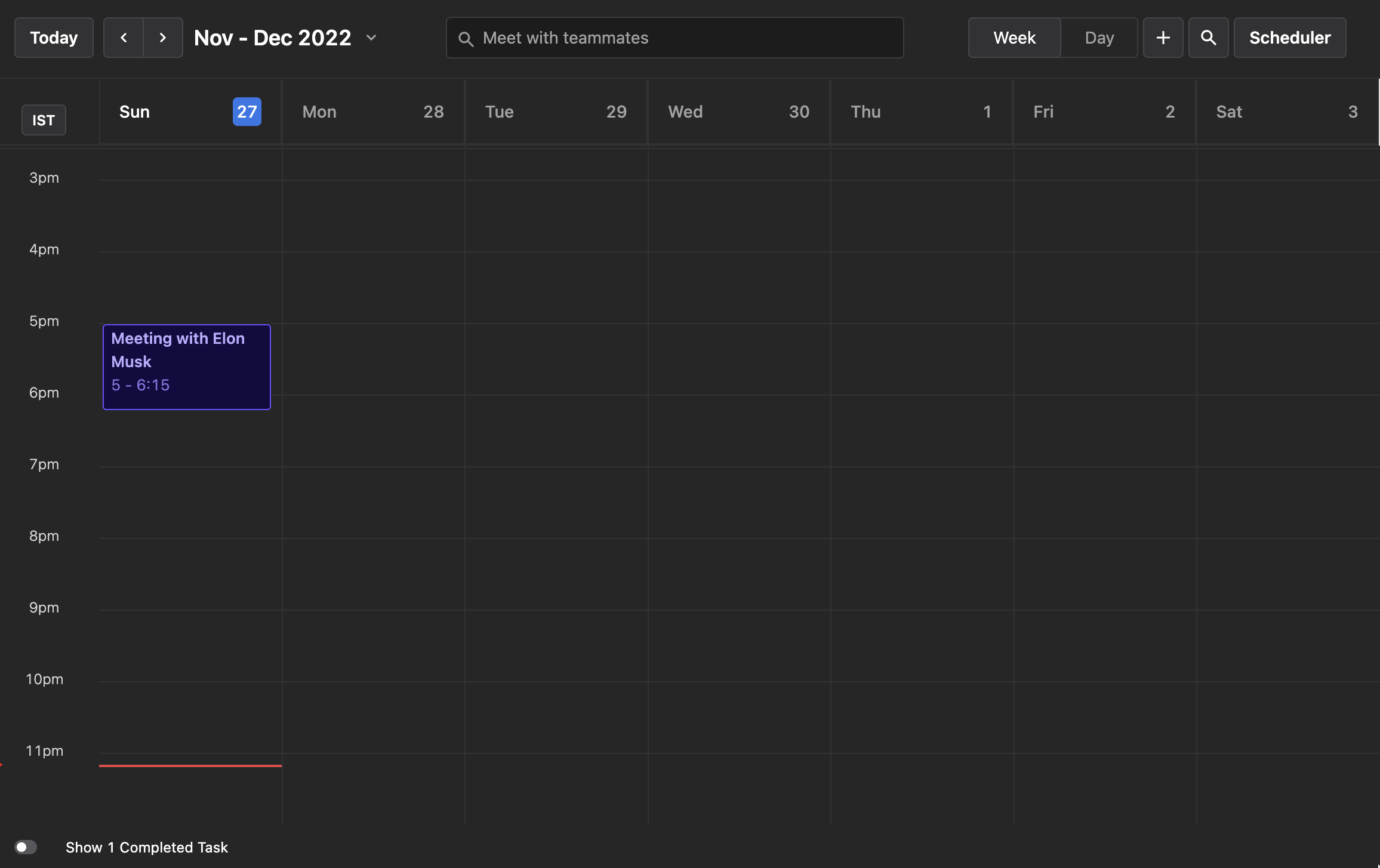 Motion also allows you to create reminders for upcoming meetings and tasks, as well as set recurring events.
But unlike Asana, you don't get to view your calendar tasks in different views. That can be improved.
However, if you're working with international clients, Motion has an amazing feature that lets you add as many time zones to your calendar as you want.
Asana also has a calendar view, but it's slightly different. You can see color-coded time lined tasks due in the coming week, assign yourself or team members to upcoming work, and track progress against deadlines.
4. Meetings
Without any skepticism, Motion is the better choice when it comes to meetings. Motion includes a built-in calendar with meeting scheduling capabilities, plus an audio/video conferencing feature.
Its Scheduler feature is a beauty in itself, not only because it almost replaces a third-party app like Calendly, but because of its integration with Motion's other features.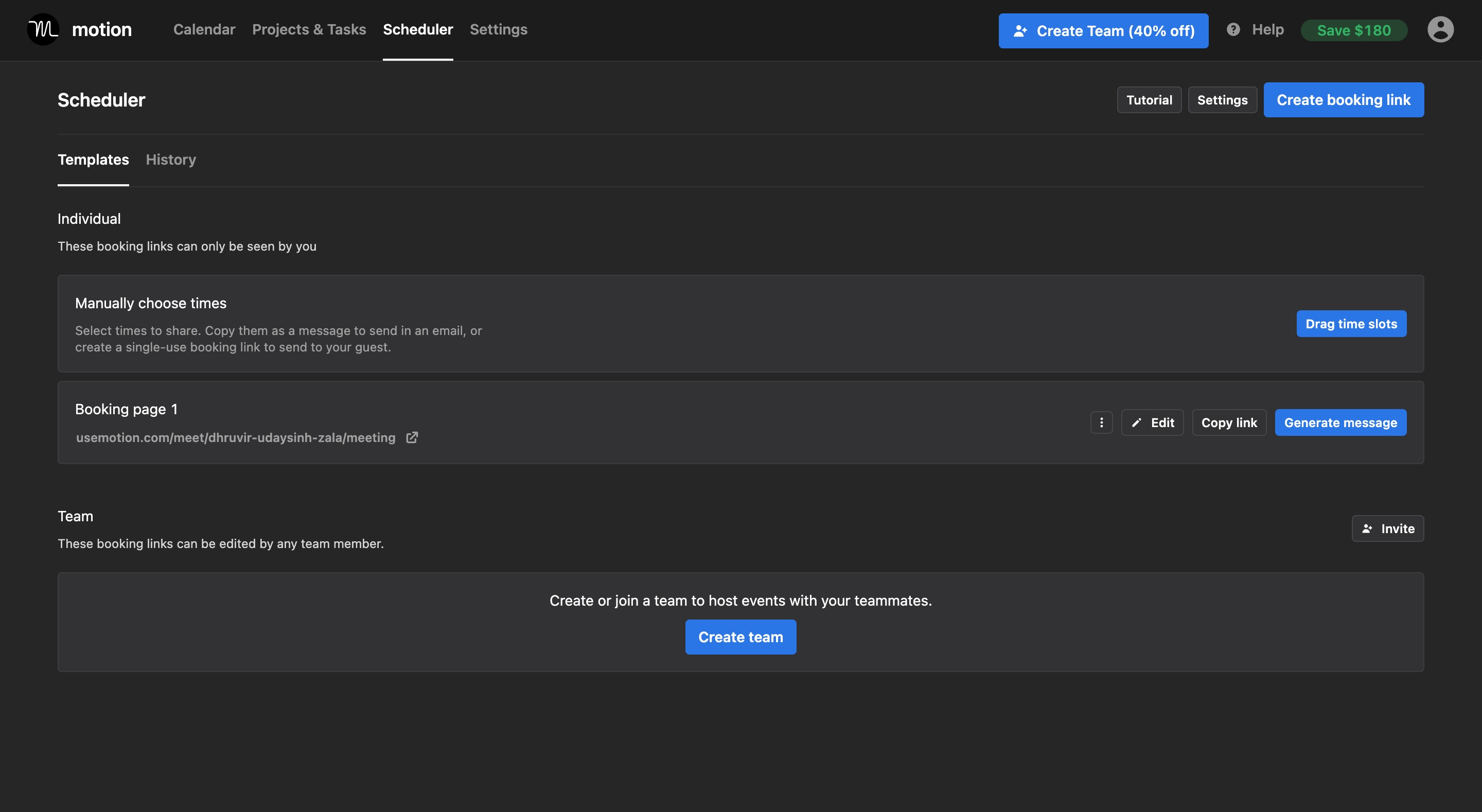 Each meeting you schedule automatically gets added to Motion's tasks list and comes with a set of calendar reminders.
Scheduler lets you quickly create a booking page and share your availability with the person you will be having a meeting with.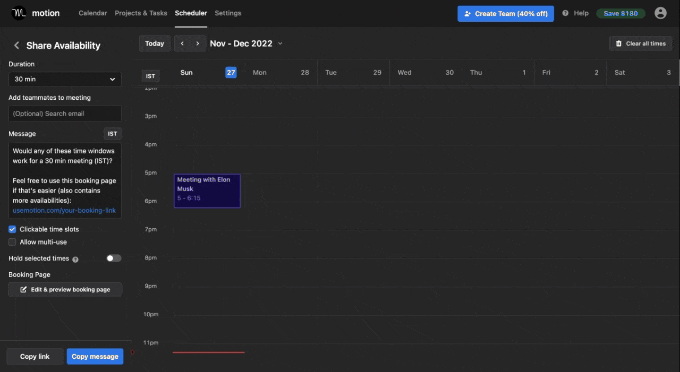 It looks something like this: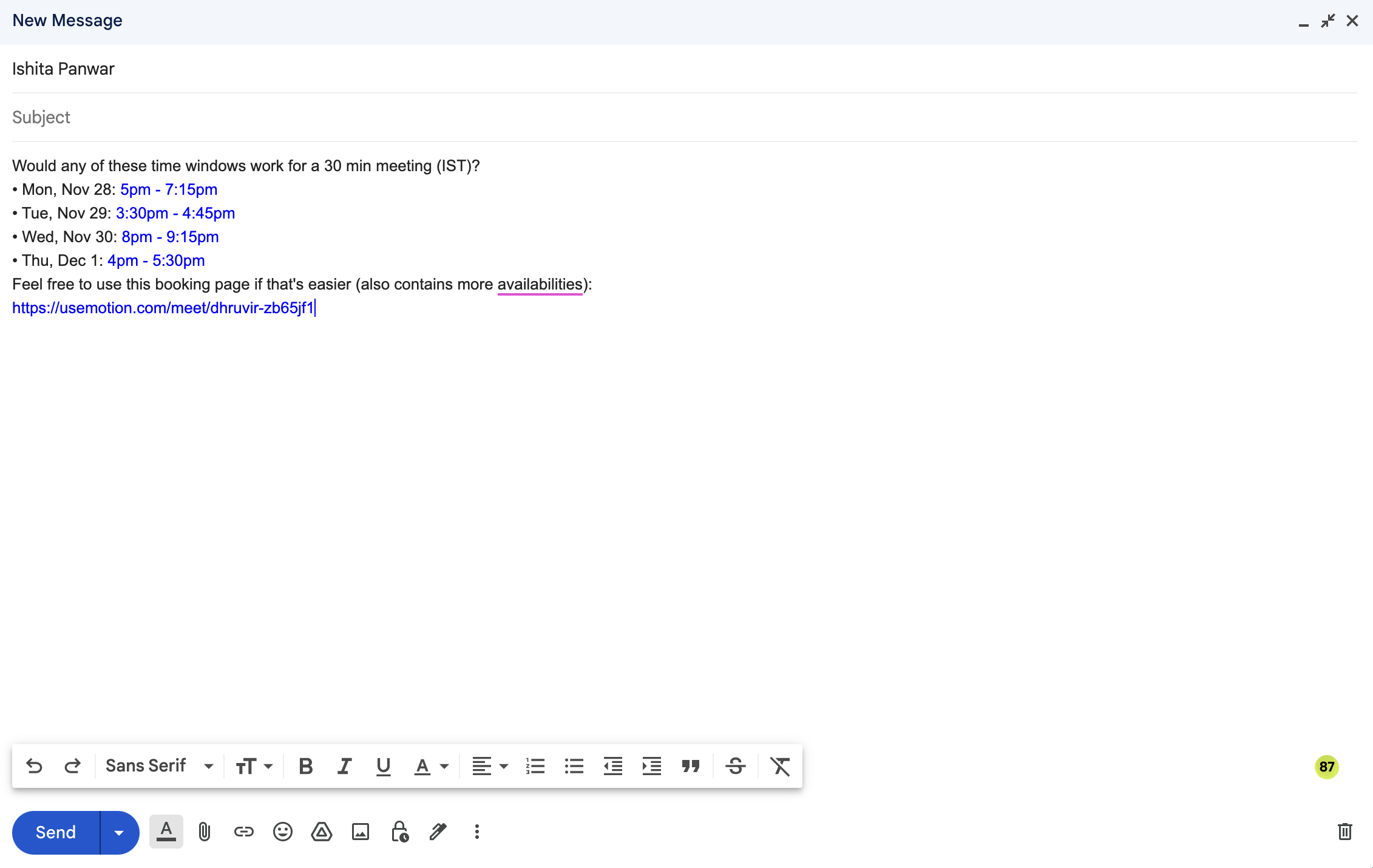 Asana, on the other hand, does not support scheduling meetings. So, if you choose to go with Asana as your task management tool, you will have to rely on third-party integration for meeting scheduling and availability sharing.
5. Reporting and analytics
When it comes to measuring personal and team performance, Asana simply wins. Motion doesn't offer any reporting or analytics features, while Asana provides a wide range of useful and detailed reports.
Asana's reporting and analytics features allow users to generate visually appealing charts and graphs that provide detailed information about task performance, workloads, user activity, project progress, and more.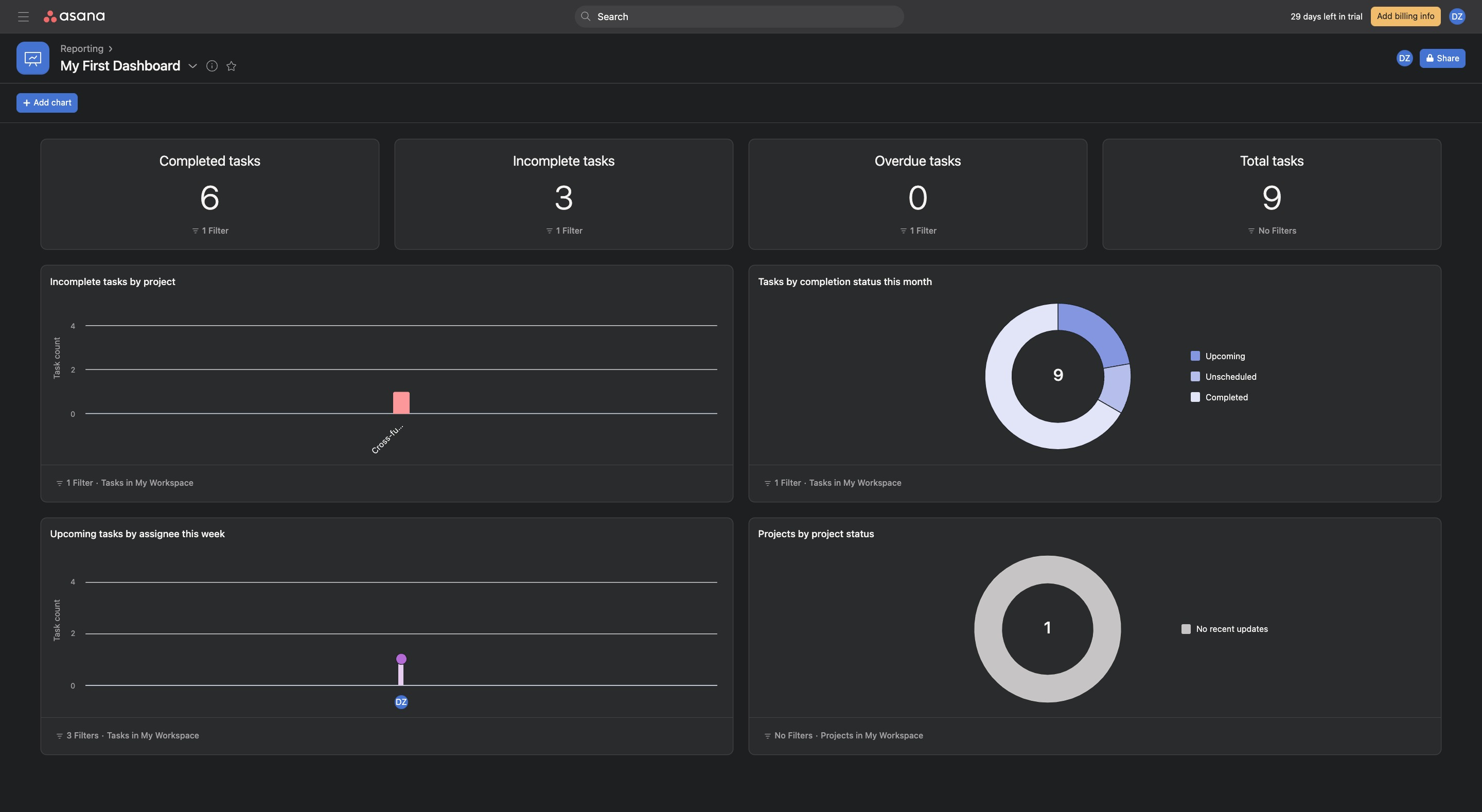 You can even add custom charts in your reports section to track the progress of specific projects you're working on.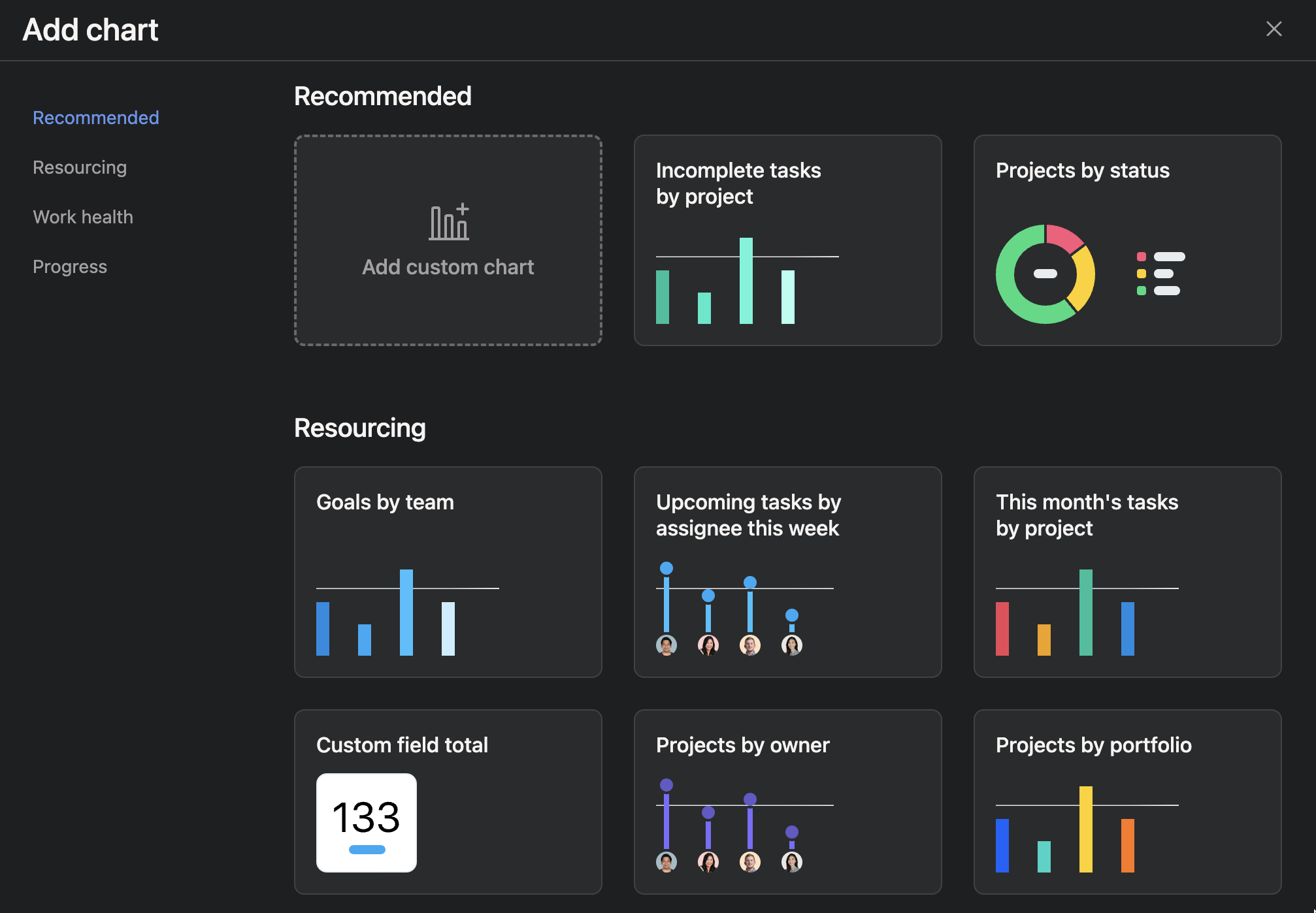 These features are great for managers who want to stay on top of how their team is performing and make sure everyone is productive.
6. Integrations
One of the things that makes Asana so powerful is its integration with other applications.
For example, you can connect their Asana account with Dropbox, Google Drive, or Trello, making it easy to access files and information from a single platform.
Additionally, Asana can be integrated with popular chat applications like Slack, making it easy to discuss tasks and assignments with team members.
Motion, on the other hand, does not offer as many integrations with third-party applications. As of now, Motion can only be connected to Google Calendar and Outlook.
This narrows Motion's options for collaboration and automation.
Pricing
Motion offers a 7-day free trial followed by two paid plan options:
Individual ($34/month)
Pro ($20/month/member)
Unfortunately, they do not offer a free plan.
Asana not only offers a forever free plan, but their paid plans are much less expensive than Motion.
Their Premium plan costs $13.49/month, while the Business plan costs $30.49/month.
Both Motion and Asana offer additional features at higher price points. Motion's Pro plan includes features such as automatic AI scheduling and meeting scheduling templates. Asana's Business Plan includes reporting capabilities and advanced automation.
Now it's your turn
So, which should you choose? Motion or Asana?
The answer to that question depends on your needs. If you need a powerful project management tool with lots of features, Asana is the better choice.
But if you're looking for something simpler that can handle task management and a few other minor features, Motion may be all you need.
Motion's minimalist design and straightforward user interface make it easier to use than Asana. While Motion is great for simple task management, Asana offers a much more powerful feature set.
I hope this review helps you make a more informed decision about whether Motion or Asana is the right tool for you.