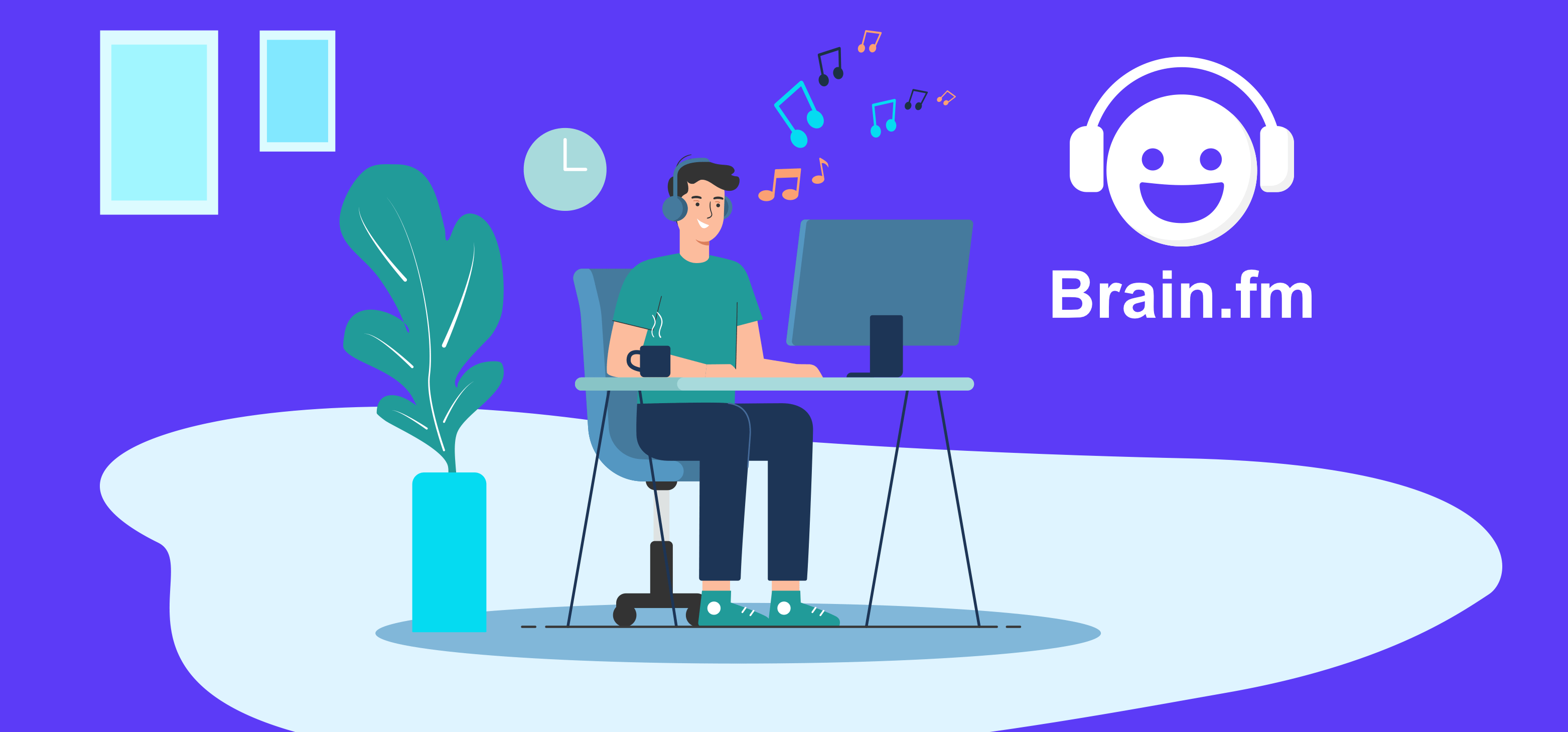 I get it.
Every so often, it's hard to sit down and start focusing on the task at hand.
You might be tired and unmotivated to work. That is especially true if you're working in a distracting environment.
And that's where Brain.fm comes in.
It helps you focus on the task by providing you with some music.
But what makes it so great, and does its job well?
Continue reading to find out!
Quick Summary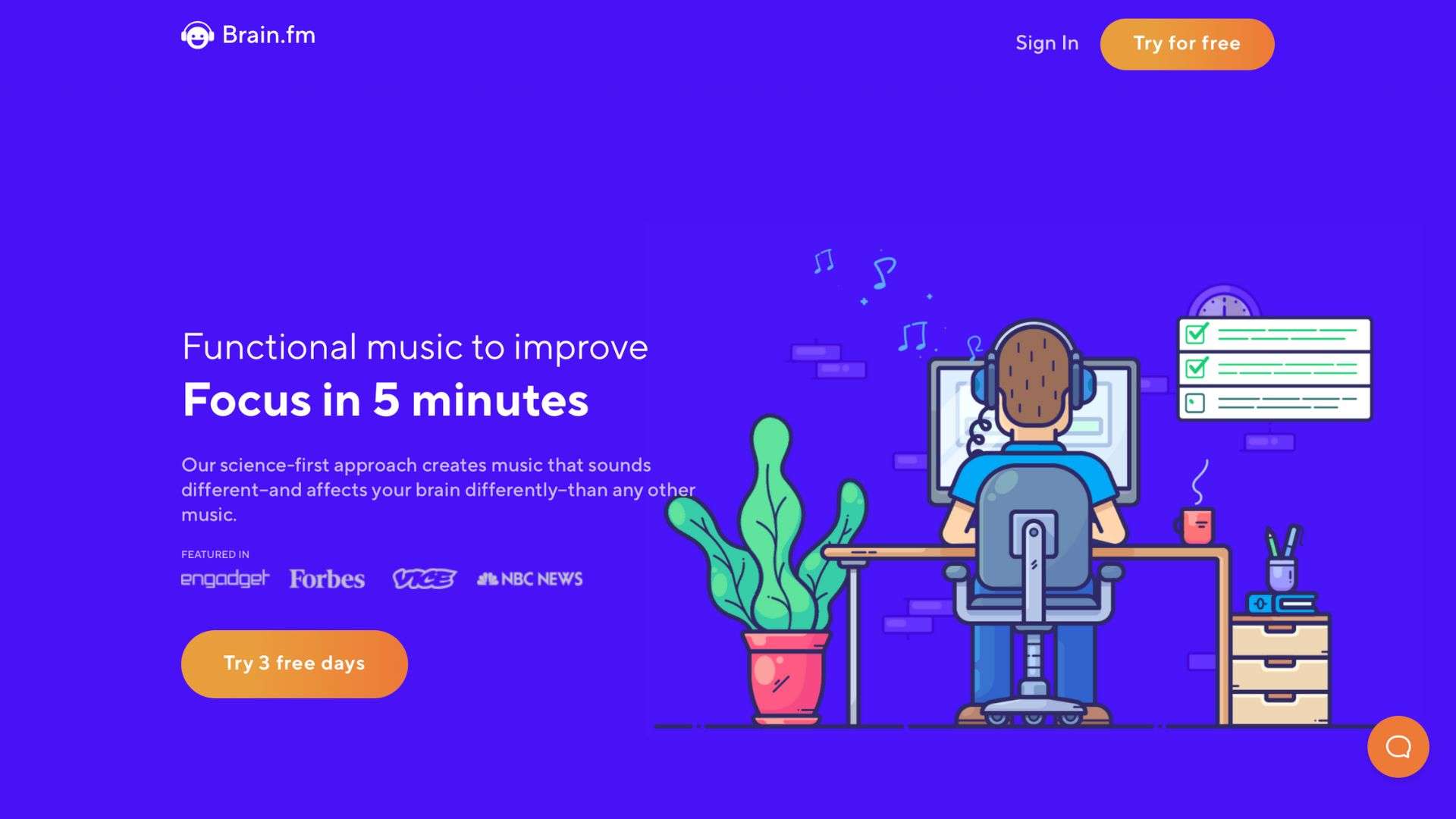 If you've got only a few minutes to read, then here's what I think about it. It's an excellent software as the music really helps you focus. That's because it's based upon science and doesn't grab your attention as others do.
It also offers some great customization, picking songs that fit the current activity, what genre you listen and so much more. It even has a Pomodoro timer!
So, it's worth a try.
Get started with Brain.fm for free →

What is Brain.fm Exactly?
Before we go into the unique features of Brain.fm, it's best to understand what brain.fm precisely is. 
Basically, it's a service that aims to provide you with music that helps you get into the mood of an activity you're trying to do. For example, it will pick the best music for studying, deep work, relaxing, and even sleep.
The Team Behind Brain.fm
Now that you've got an understanding of what Brain.fm is, I'd like to introduce the team. That's because the team is quite unique.
Brain. fm's team consists of five members. The CEO of this company is Dan Clark. And then, the four employees are all scientists:
Dr. Kevin J.P. Woods

is the director of science

Dr. Psyche Loui

is the academic collaborator

And

Dr. Benjamin Morillon

and

Dr. Keith Doelling

are Scientific Advisors.
And that's what makes them unique. Dan built a science team instead of hiring marketing specialists to promote the product to a broader audience. That's because Brain.fm is a science-first company.
With that, you'll almost be guaranteed that the music works for you.
The Science Behind Brain.fm's Music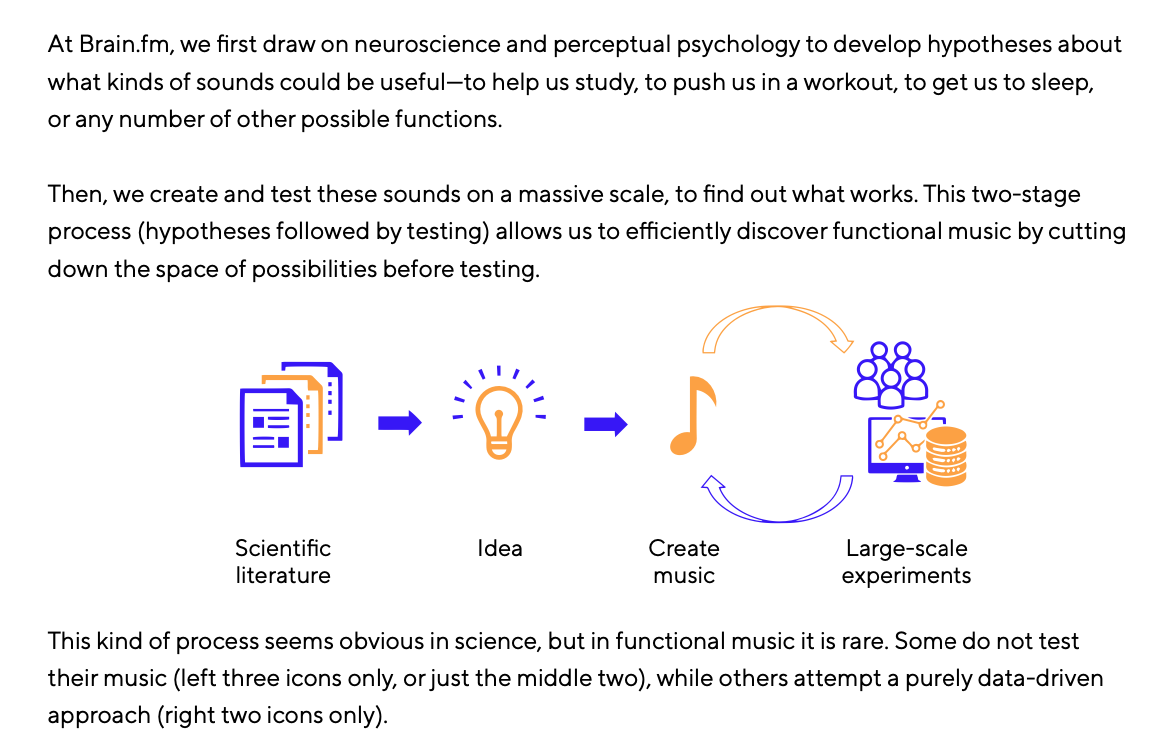 Now that you've been introduced to the team, you might be wondering if the scientists really helped create better music for focus. The short answer is yes, and here's why. 
What separates Brain.fm's music from others begins with their approach.
While most music in the world tries to grab your attention, brain.fm does the opposite. That means the music will perfectly blend in with the environment, helping you focus on the task at hand.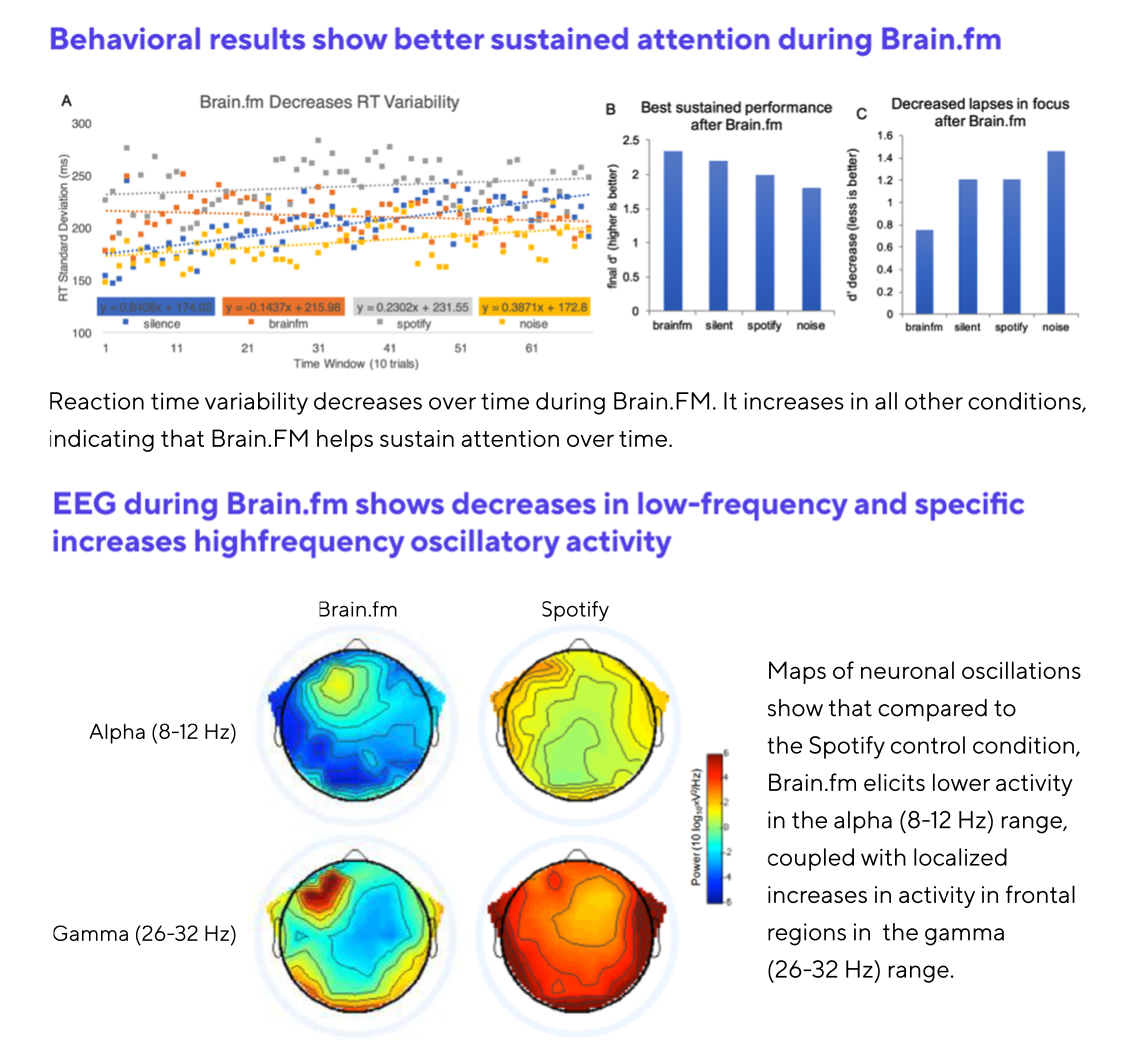 Secondly, Brain.fm doesn't create empty promises. They collaborate with academic institutions to run tests on their music. They use technology such as fMRI and EEG to monitor the effects on the brain when their songs are played.
And lastly, Brain.fm composes its music differently from the competition. Instead of using "muzak" systems to let AI create infinite quantities of music, the music is created by the science team and AI tools.
That helps them to create lots of music while keeping the human touch.
Who is Brain.fm for?
Brain.fm is made for everyone who gets easily distracted and finds it difficult to focus on tasks for a long time. That's because it lets you pick music that fits your intensity and genre.
4 Reasons Why Brain.fm is Unique
So by now, you know that Brain.fm isn't just a glorified YouTube or Spotify playlist that helps you focus. Instead, it's much more than that, as it offers some features that no other service can provide for you. 
Don't believe me?
Here are the four reasons why Brain.fm is so unique:
1. User Experience
For starters, I want to talk about the user experience.
All thanks to the well-designed interface of Brain.fm, it is super easy to use.
You can start using it (and get signs of improved focus/relaxation/meditation/speed, depending on what you choose) in less than a minute.
When you log on to your account, you're greeted with a page that only has four large buttons:
Focus

Relax

Sleep

Meditation
Then you press the one with the activity you're looking to do:
Once clicked, you're greeted with a music player page.
Then, you can just hit "play" and start doing your tasks.
It's that easy!
2. The Music
There's more to Brain. fm's music than only that it's science-based. What I like the most about it is how they approach customization.
Some people might find the music too intense and distracting.
Or they might not like it!
And that's what makes Brain.fm's music so great!
For starters, you can pick between three different neural effect levels.
So, for example, if you get easily distracted, it might be best to try out the high effect music.
But on the other hand, you might find them more distracting, so you can try out the low effect music, meaning that there is something for anybody.
Additionally, to that, you can also pick various genres.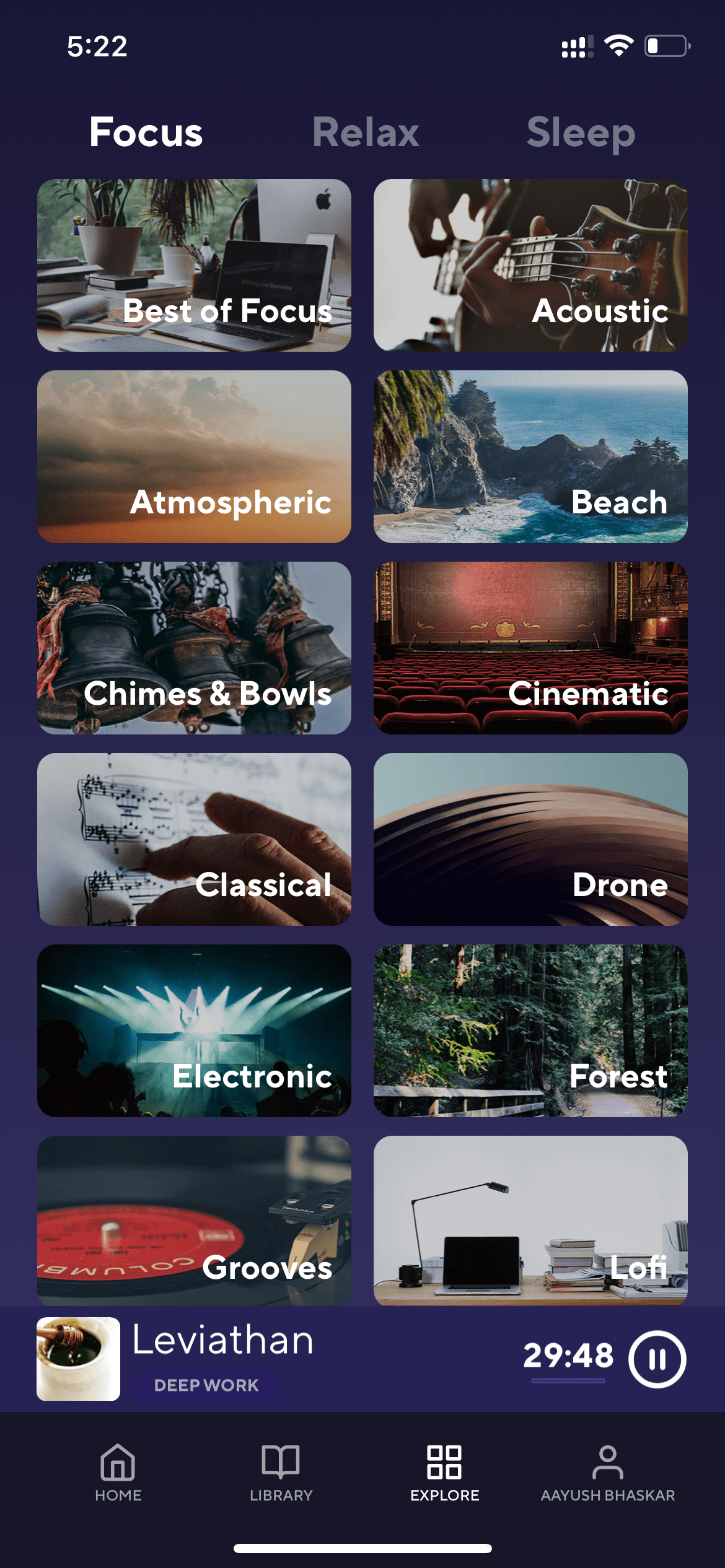 The genres include:
Atmospheric

Cinematic

Drone

Electronic

Grooves

Lo-Fi
And if you don't want any music, you can try out nature sounds like rain, night sounds, and more.
And to top it all off, you can go further by picking music that works for a specific activity. For example, you can choose between creative, learning, and deep work in the focus section. 
So as you can see, the music is highly customizable.
3. Multiple Timer Options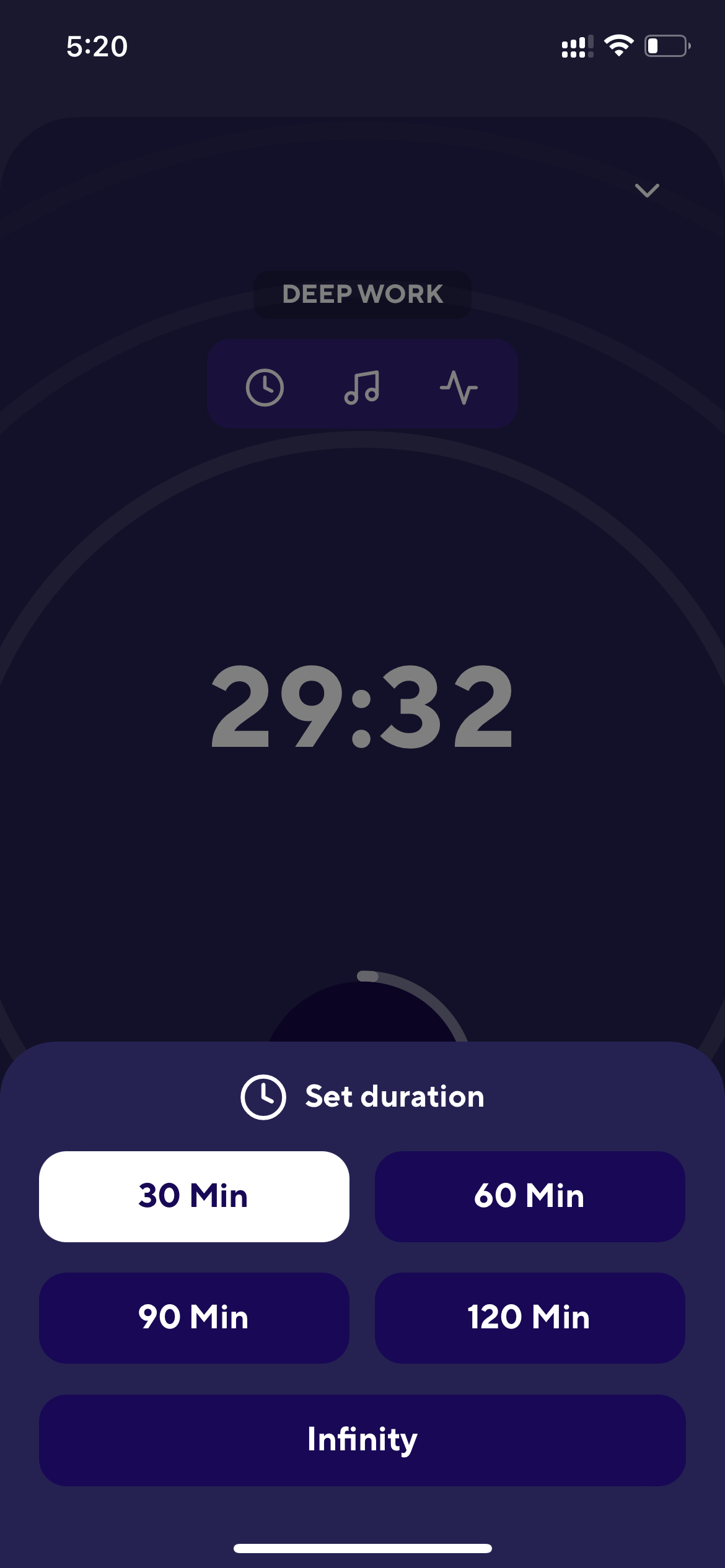 And another feature that sets Brain.fm apart from Spotify is that it also offers you timers. There are a total of four different timers, with their own benefits:
Infinite Timer – This

is a timer that is set as standard. It shows you exactly how long you've been focused on your tasks. That could help you be motivated to stay focused, as you want the timer to be as high as possible.

Pomodoro Timer – If

you struggle with procrastination, the Pomodoro timer is for you. With it, Brain.fm will play you music that helps you focus for 25 minutes. After that, you'll be given a five-minute break to do anything you want.

Custom Timer – With

the custom timer, you can set the amount of time you want the music to play. That can be anything from 5 minutes to over 10 hours. It's especially useful if you use Brain.fm for sleep, so it doesn't play the whole night.

Quotes – Instead

of showing you the time in focus, Brain.fm will show some inspirational quotes to keep you motivated on the things you're doing, giving you a more significant incentive to keep working on the task at hand.
4. Meditation
Apart from giving you to help you get better sleep or focus when completing tasks, Brain.fm also offers you some help for meditation. They do it in two ways:
Guided Meditation – In

there, you'll be guided by a person telling you what to do with relaxing music. However, since it's guided, you can only meditate for a certain amount of time.

Unguided Meditation – However

, if you find guided meditation distracting or just want meditation music, you can try out unguided meditation. With it, you'll get only the music.
So as you can see, there's more to Brain.fm than productivity music. If you're a beginner and want to get into meditation, I highly recommend you try out their guided meditation. Or, pick one of the apps listed from our list of the best meditation apps.

You can even try it out for free by listening to their 15-minute preview here.
My Experience With Brain.fm
By now, you've heard a lot about Brain.fm.
You know the best features of it, the science behind the music, and you've met the team as well.
Now, you might be asking yourself if it's as good as they say it?
To answer this question, I took the three-day trial to see it myself. At first, I had mixed feelings about it.
I loved how easy it was to navigate and start playing music.
But what I didn't expect was how the music sounded.
I first thought that it would sound similar to Spotify's Lo-Fi Beats playlist; however, to my surprise, it didn't. At first, I thought I wasn't going to like it, but as I kept it playing, I felt myself becoming more focused.
No thoughts were running through my head, and I didn't even have the desire to play a video game I had just purchased, Lego Star Wars: The Skywalker Saga.
So, I can safely say that the music works.
However, I had one disappointment.
While I was surprised that they had a Pomodoro timer, I was a bit disappointed that I couldn't edit the timer. You can only work 25 minutes and then get a 5-minute break!
But apart from that, I truly felt that this was a great product and could help me become more productive.
However, I didn't have time to experience everything.
For example, I didn't test out the sleep music. So, I decided to purchase the monthly subscription to test it out more and see how much it helped me improve.
So if you're still on the fence, come back to this Article in 30 days, as I'll be updating my experience with it!
Brain.fm Pricing
Brain.fm is a premium service. That means there is no free version available for it.
However, if you're looking to try it out, then you can register for the free 3-day trial. With it, you get full access to every feature, and you can use it as much as you want during the period.
And if you like it and find it beneficial, then you have two plans to choose from: 
The first one is a $6.99 monthly subscription. With it, you get full access to everything Brain.fm has to offer. 

You can also choose the yearly subscription. You'll get access to all features as well, but instead of paying $84 a year, you'll be paying $49.99. That means you'll be saving $34.
Get started with Brain.fm for free →
Conclusion
So as you can see, Brain.fm is a powerful arsenal for those who need help to focus on the tasks at hand. And even if you enjoy the YouTube playlist you currently use, you should give Brain.fm a try.
It's free to test it out for three days without having to fill in your credit card details. So test it out, see if you like it, and then decide.
But before we end this review, I want to give you a tip. If you plan to choose Brain.fm, then it works perfectly with a to-do list or a daily planner.
That way, you can both plan out your day and make sure you focus on the task at hand.
You can learn more about daily planners here.
Share this article on: