Debatable, yet, there are a few pieces of paper that truly shape your career and life; your resume is one (and most important) of them.
Laurent Lawrence, from the Public Relations Society of America, suggests thinking of your resume as a handshake.
Along with him, we can all agree that a resume is no less than an introduction; if anything, it is a detailed introduction that says a lot about you through its content and other factors (which we will discuss as we go ahead).
Given the importance of your resume, it is advisable to be very thoughtful while creating your resume. Also, while most of us believe that creating a resume is a one-time activity, corporate competition has been proving us wrong.
This creates the need for creating a resume that stands out in every crowd and shows your prospective recruiter why and how you are the best match for the job. This is just one of many benefits of a well-designed resume; below are the other advantages that come along with a good resume.
Importance of a Well-Designed Resume
In most cases, your prospective recruiter considers your resume as a bridge between them and the information about your professional life. When analyzed carefully, your prospective recruiter or interviewer can also get a hint of your personality through your resume.
To convey it all through your resume effectively, it is important to understand the power of your resume.
Most of the work we do requires a degree of salesmanship (be it talking to a client or bargaining with a vendor for better pricing). A good resume signifies that you can sell your services to your recruiter, and thus, you have salesmanship qualities.
Based on the elements of your resume (not only content, but also spacing, alignment, font style, and structure), you get a chance to step in with the best foot first and make a lasting impression.
Beyond current needs, a well-designed resume will also convey how you plan your career. This is important because every company you work with plays a role in your professional journey.
As we understand that your resume is important in many ways, we also realize that creating a resume is not an easy task. To get an idea of how a resume should be designed, let us explore the resumes which set the standard for us all.
Top 25 Resume Examples (with actionable tips)
According to a study conducted by Ladder, recruitment managers give your resume 7 seconds before they form an opinion regarding accepting or rejecting it.
In this short window of time, it would be difficult to create a resume that would stand out among the piles of resumes.
To help you create a perfect resume, we have handpicked 25 resume examples from which you can take inspiration. With each resume, we highlight what is done right and can work for your resume as well.
1. Developer Resume (Bastein Vide, Hired at Air France)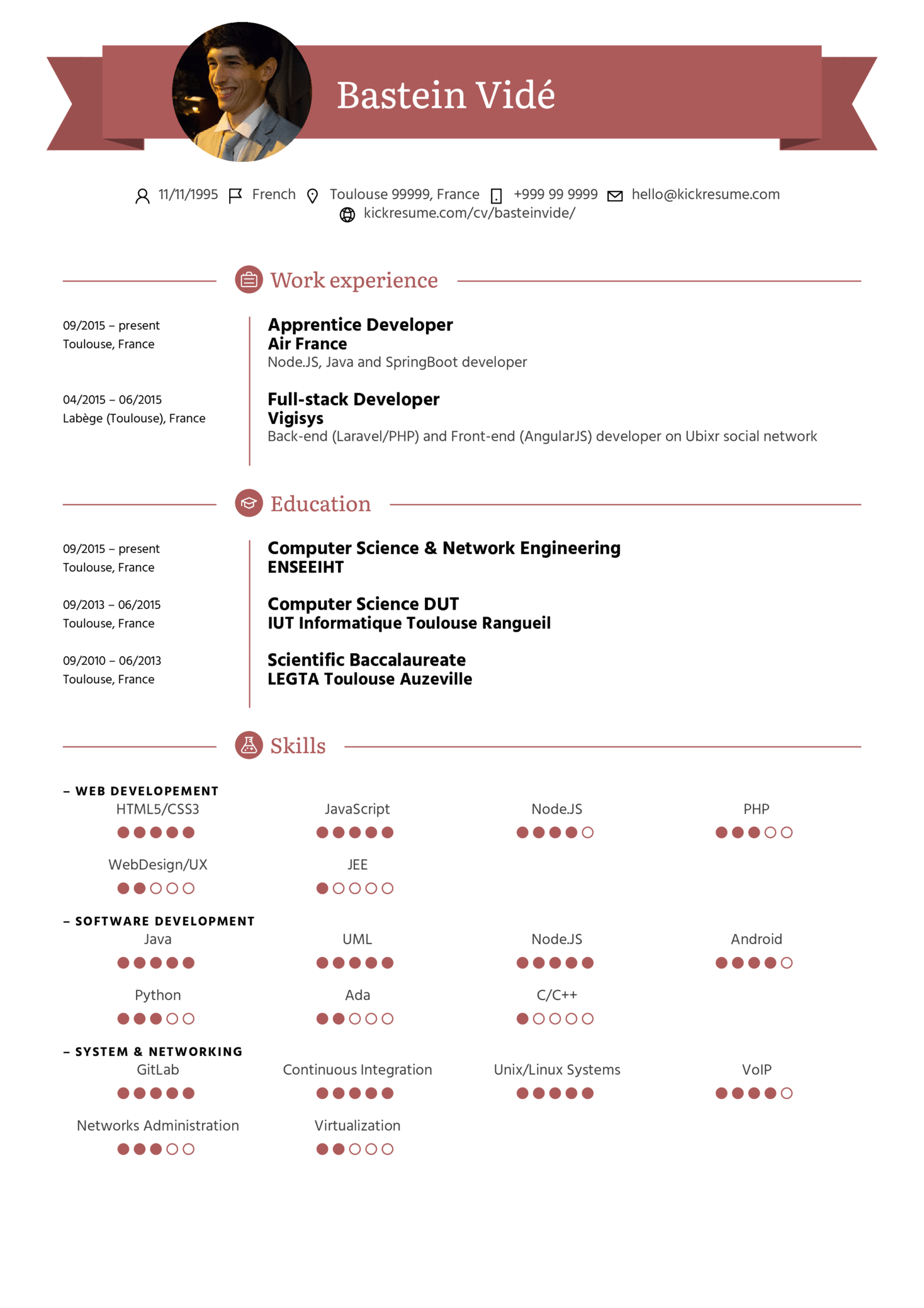 This resume is a perfect combination of leveraging white space and colors while creating your resume. Most people shy away from going bold, especially when their profile is not artistic.
Bastein's resume got him hired at Air France due to its precise yet sufficient information about his candidature.
What you can learn and use from this resume: Structure of work experience and its timeline.
2. Business Development Resume (Kevin Spacey, Hired at Amazon)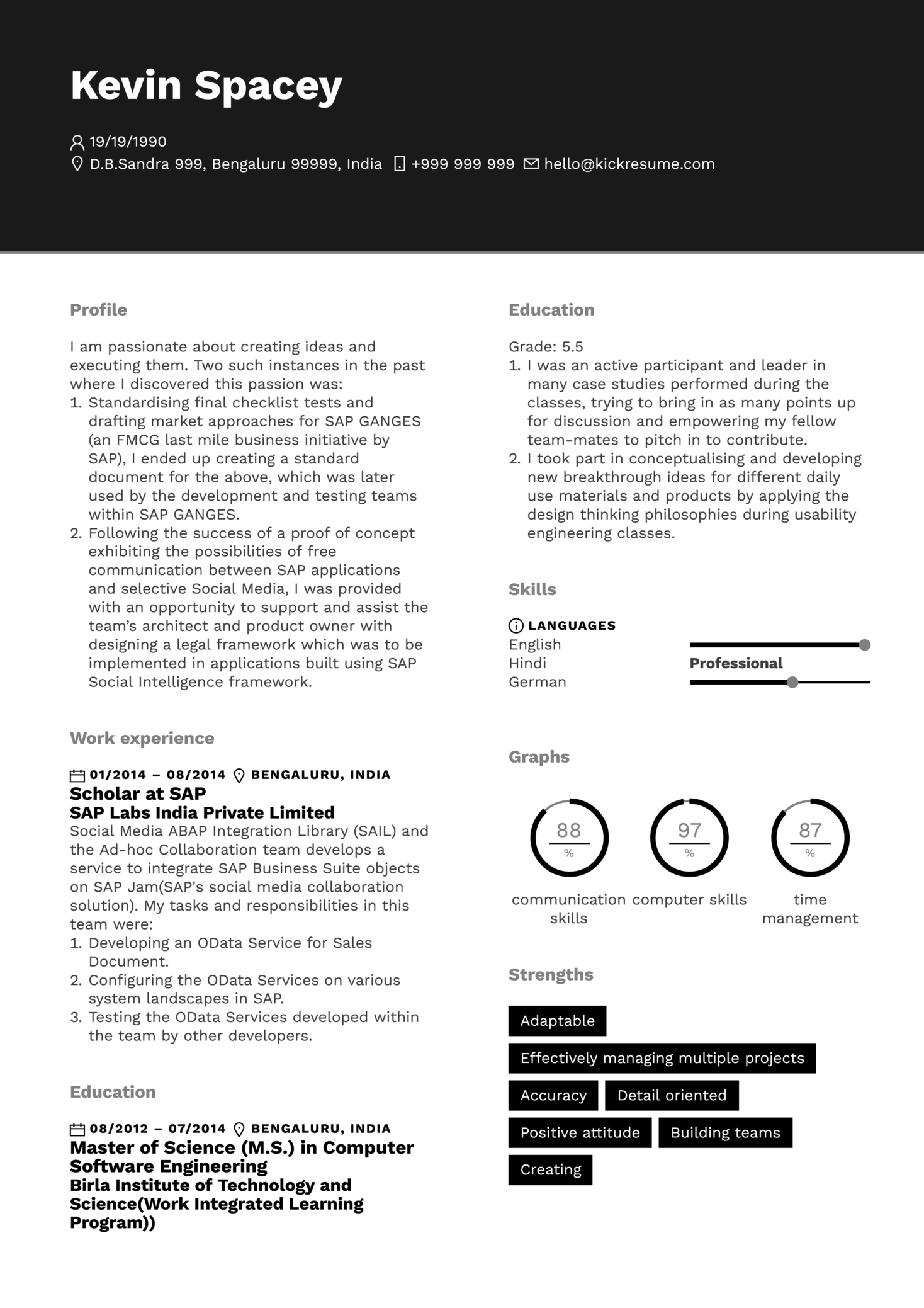 If you are new to your industry or do not have much to share in the 'work experience' section, this business development resume is perfect for you. Kevin did a great job by highlighting his strengths, which is not usual to do when creating a resume.
This resume goes against the 'keep it short' advice given by many resume experts. Yet, it works marvelously when it is divided like this.
What you can learn and use from this resume: Role of strengths (and even weaknesses) in your resume.
3. IT Infrastructure Security Specialist (Ahmed Wayne, Hired at Arab Monetary Fund)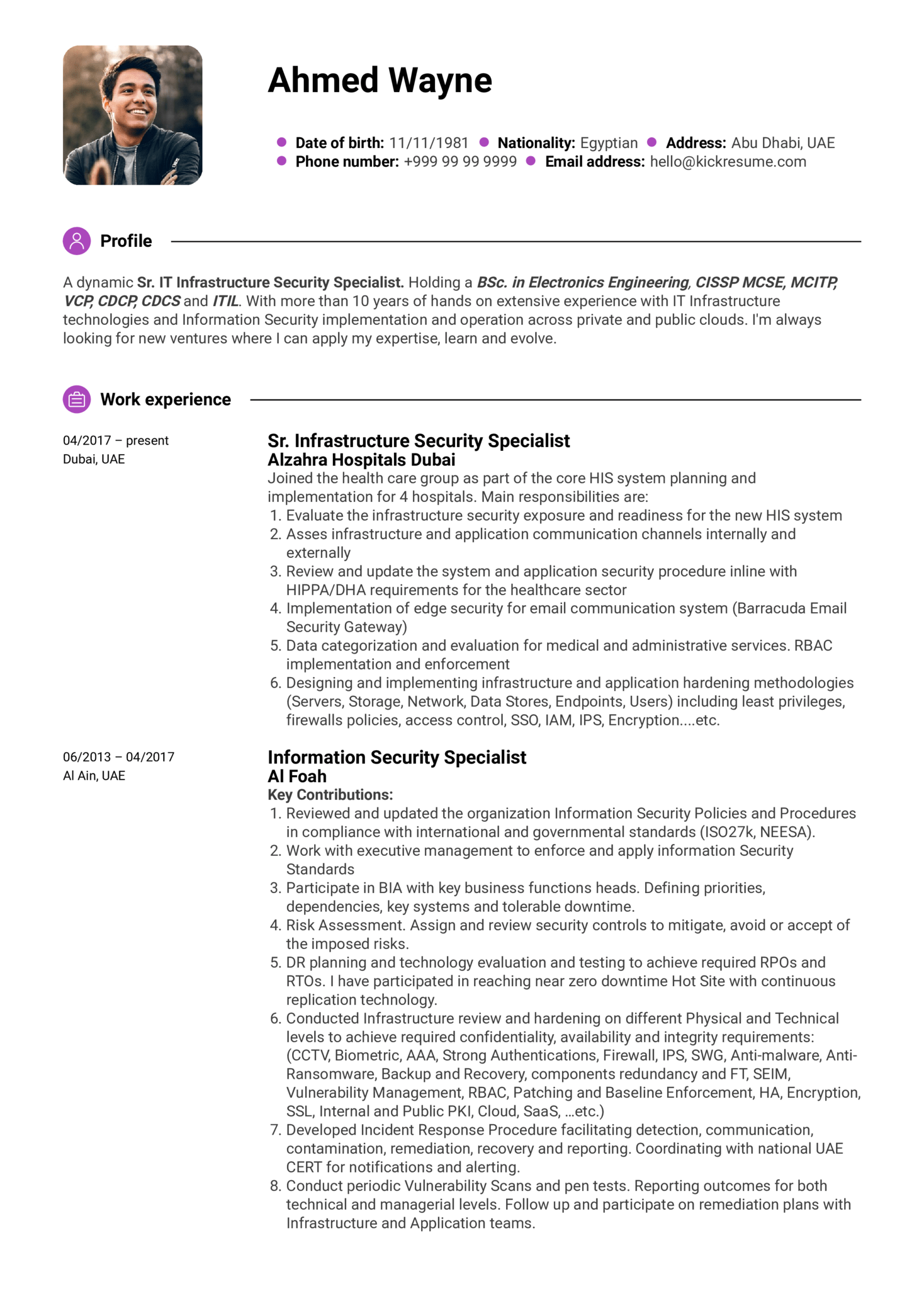 While this resume seems similar to formats we have been using over the years, it has pop-up elements that helped Ahmed land a job at the renowned Arab Monetary Fund. For experienced professionals, it becomes important to filter out what can and cannot be included in a resume.
This resume gives you space to discuss what truly matters at this phase of your career: your work experience.
What you can learn and use from this resume: An unusually large 'work experience' section cannot hurt.
4. Senior Project Manager Resume (Bruno Ganz, Hired at Asurion)
As we discussed, your resume represents who you are. Therefore, it is not set in stone that your resume tone should always be strictly formal. Bruno's resume shows us that our profile is who we are and that it can be politely creative.
Also, unlike the above-mentioned resume, this resume shows that even with a wide work experience, you can focus on other sections of your resume.
What you can learn and use from this resume: The 'education' section should be concise.
5. Executive Assistant Resume (Mr. John H. Patterson, Hired at BMI)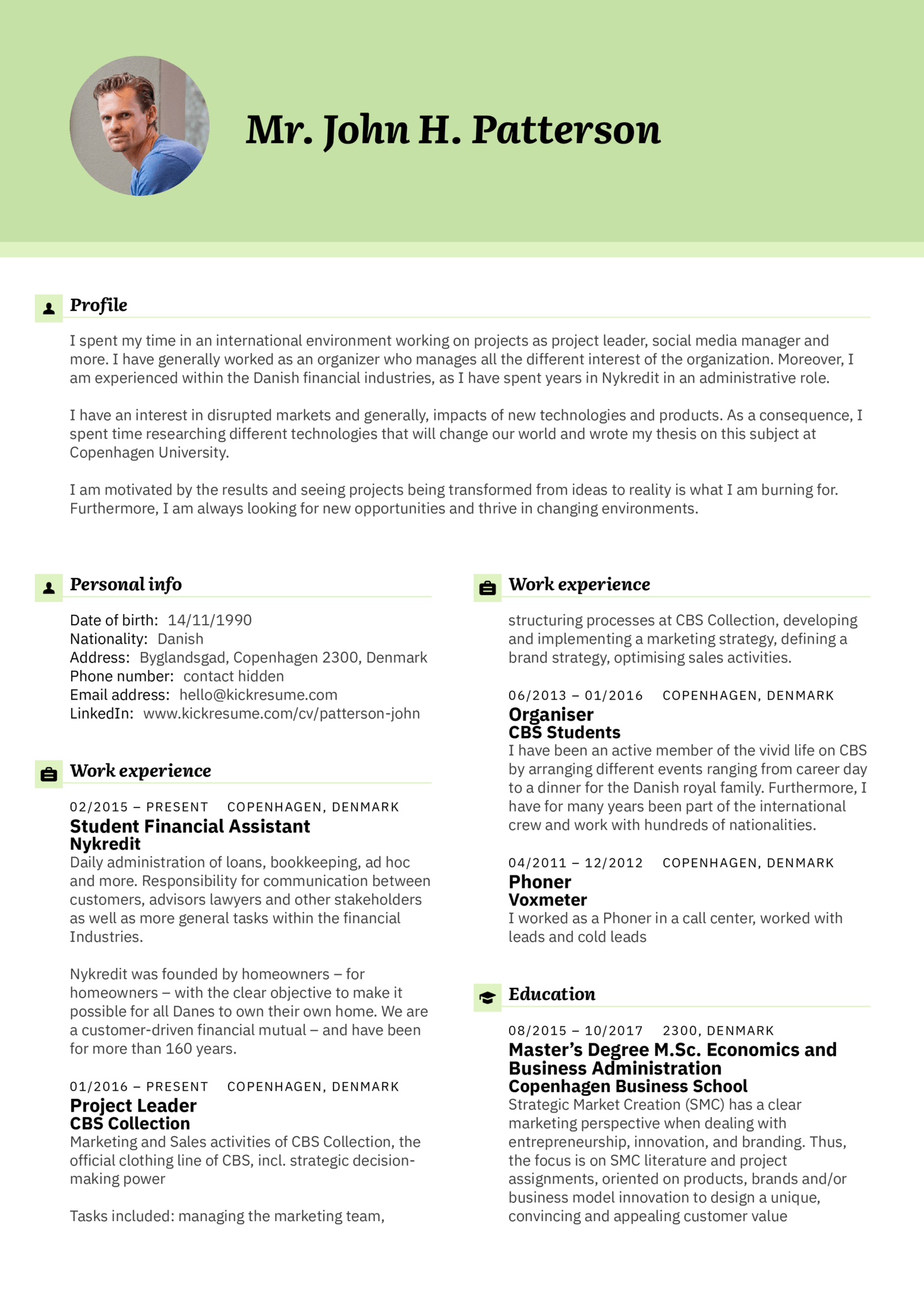 If your verbal communication style is stronger than your written communication style, then John's resume shows that you can begin your introduction like you are talking to the reader and get hired by top brands.
Also, your profile can be as long as you need it to be, but it should start in a way that holds the attention of your prospective recruiter.
What you can learn and use from this resume: Introduction can be professional and personal, and break the barriers of 2-4 lines.
6. Program Intern Resume (Naomi Edwards, Hired at BSA)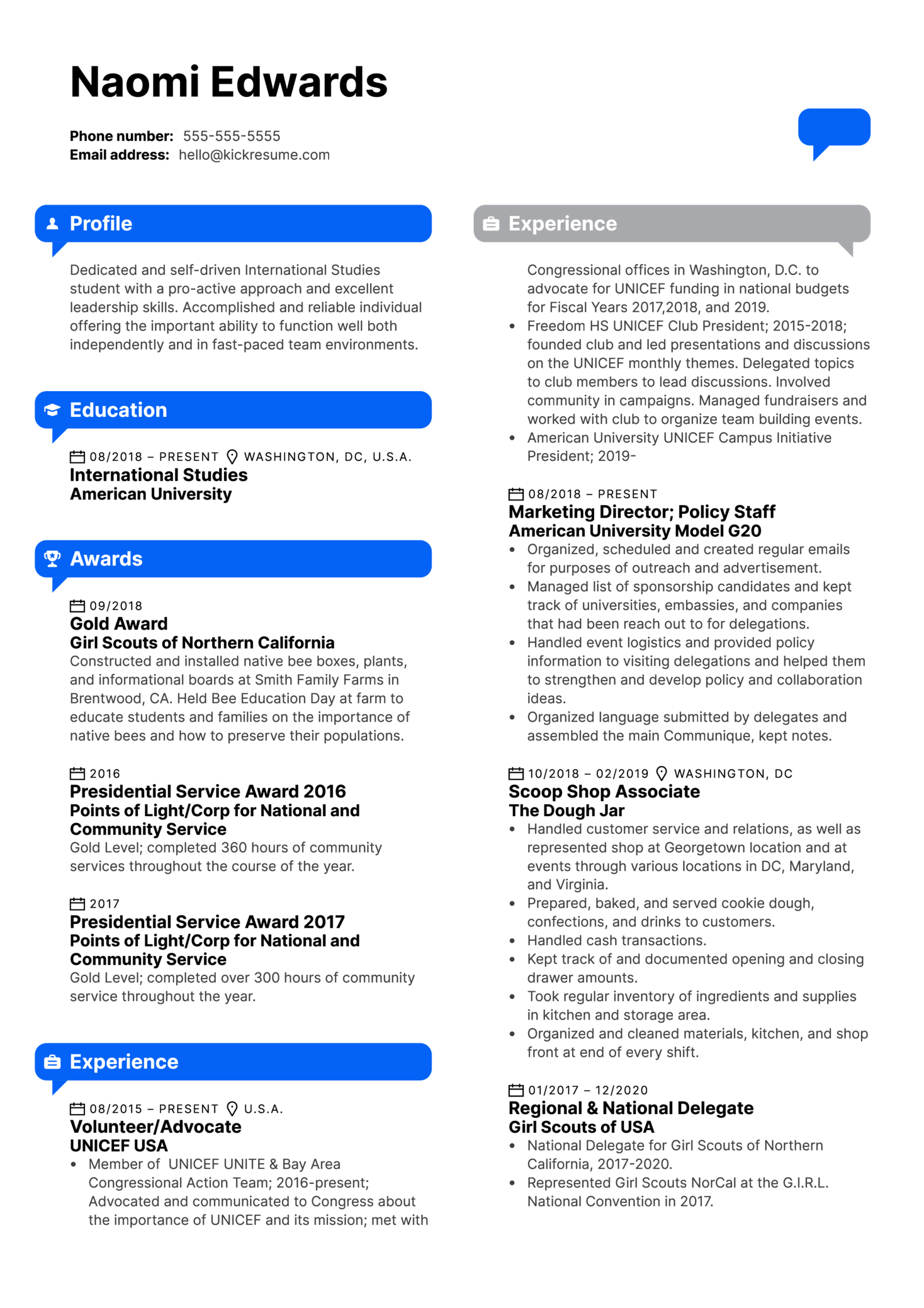 In this resume, Naomi has shown the perfect and appropriate use of icons in her resume. The message icon on the top right grabs the reader's attention and suggests its association with Naomi's contact details.
Similarly, the continuation of the 'experience' section does not leave any space for confusion.
What you can learn and use from this resume: Keep all of your basic information (contact details, origin, etc) in one section.
7. Network Analyst Resume (Corey Conners, Hired at Biomax)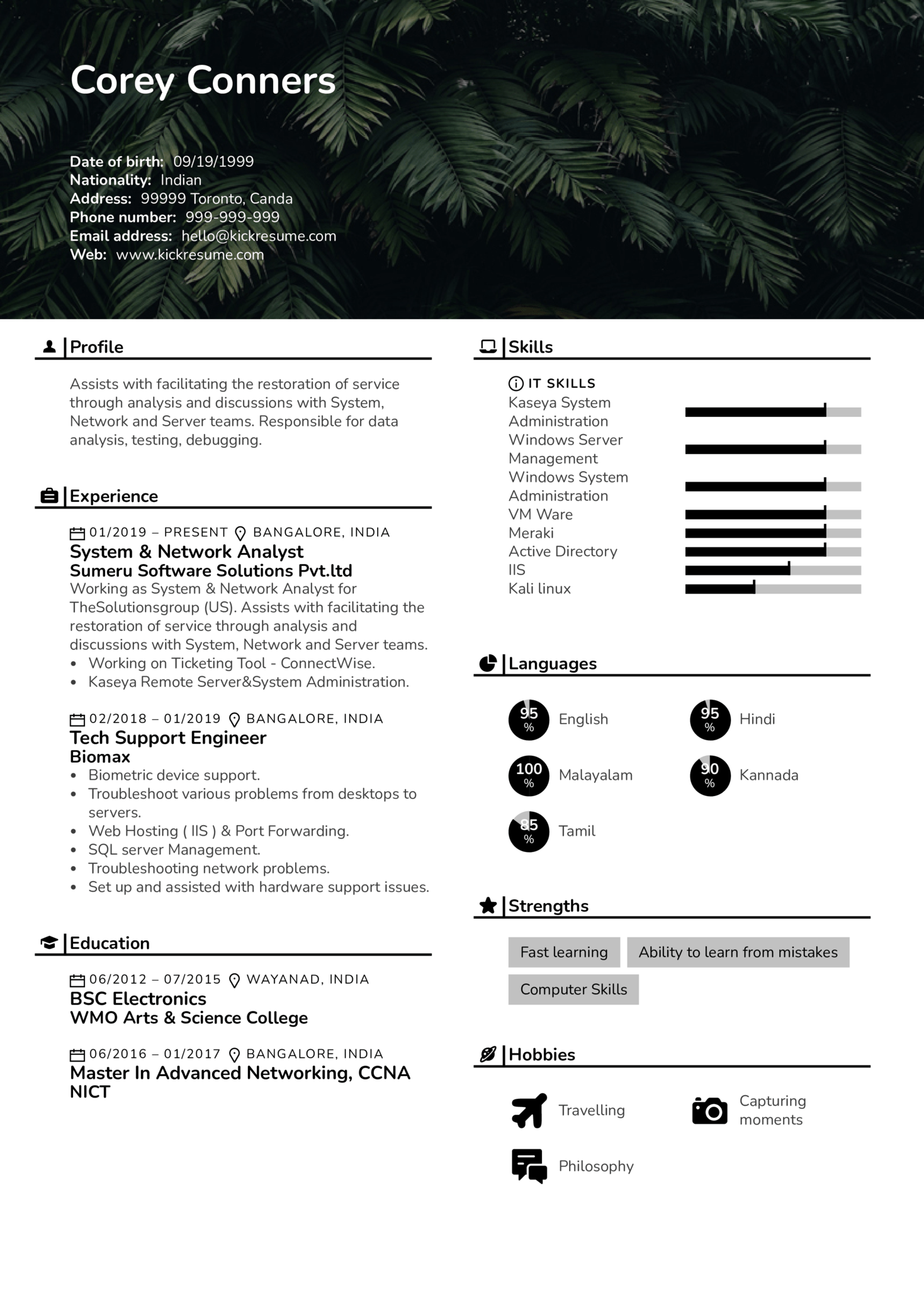 As a network analyst, you can use this resume as a template and standard for your resume. The first look at this resume seems intriguing to prospective recruiters. Also, the content in this resume is a perfect combination of formal and humane.
\For instance, her 'hobbies' section 'capturing moments' stands out as it does not say 'photography.'
What you can learn and use from this resume: Use graphs to show degrees of skills or languages.
8. Digital Marketing Professional Resume (Megi Pramseti, Hired at Big Cartel)
This digital marketing resume is quite wholesome for a one-page resume. Digital marketing is a vast subject, yet Megi has certainly done an impressive job at conveying all her career details to her prospective recruiters in an on-point manner.
T he use of the color blue gives the resume an uplift which is not found in other similar resumes.
What you can learn and use from this resume: You can showcase your skills through your work experience details and keep the skills section all technical.
9. Barista Manager Resume (Nicolle Rochelle, Hired at Barkultur)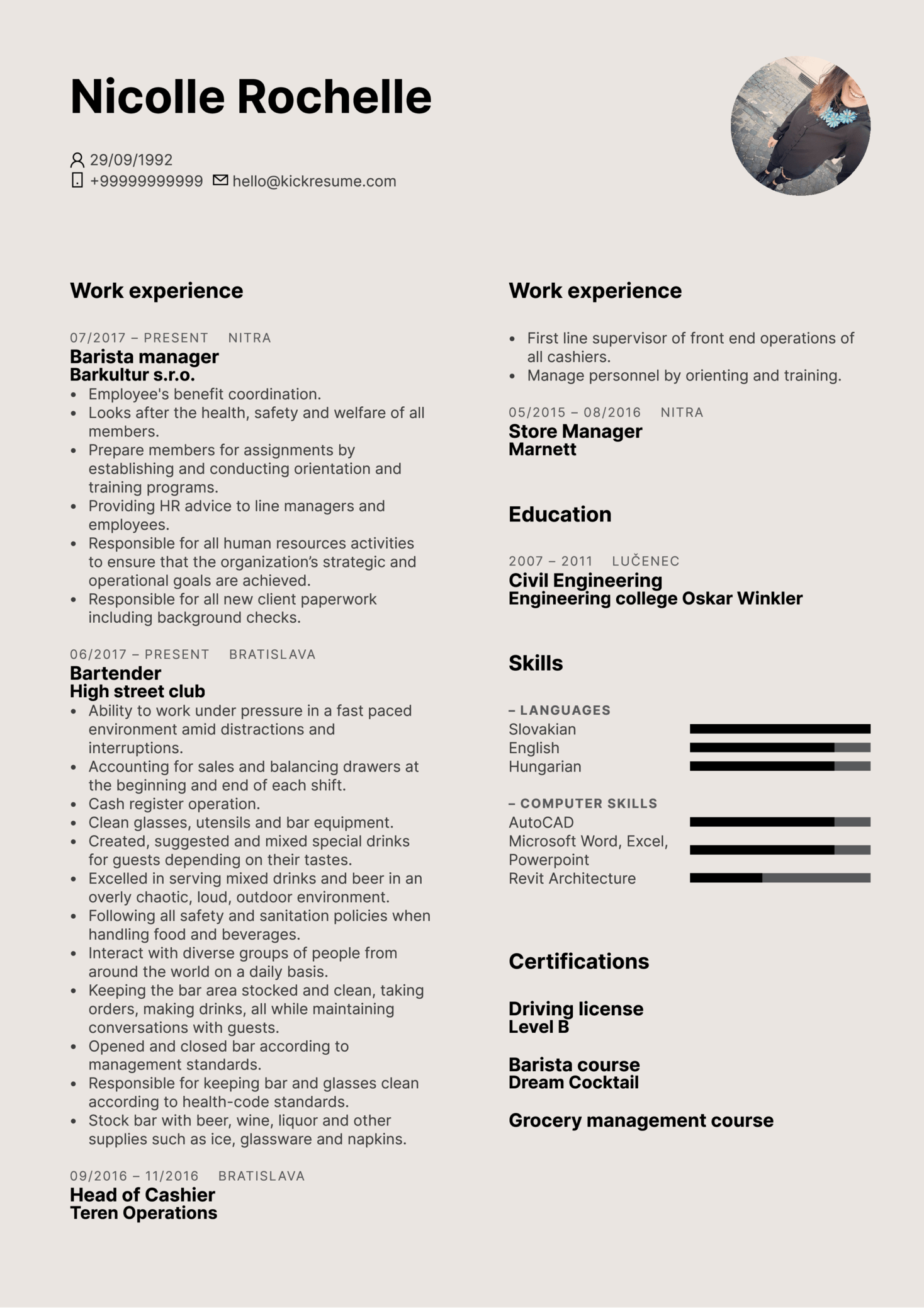 When discussing resume styles, we hardly focus on unconventional jobs. Shifting our attention from IT and marketing resumes, I appreciate the subtle pop of background color in this resume.
This resume has a picture of the candidate, which is important when you are applying for roles in which you expect to engage with people.
What you can learn and use from this resume: Skills segregation is important, and it is best when you categorize your skills.
10. Finance Intern Resume (Julius Malema, Hired at Charleston International Airport)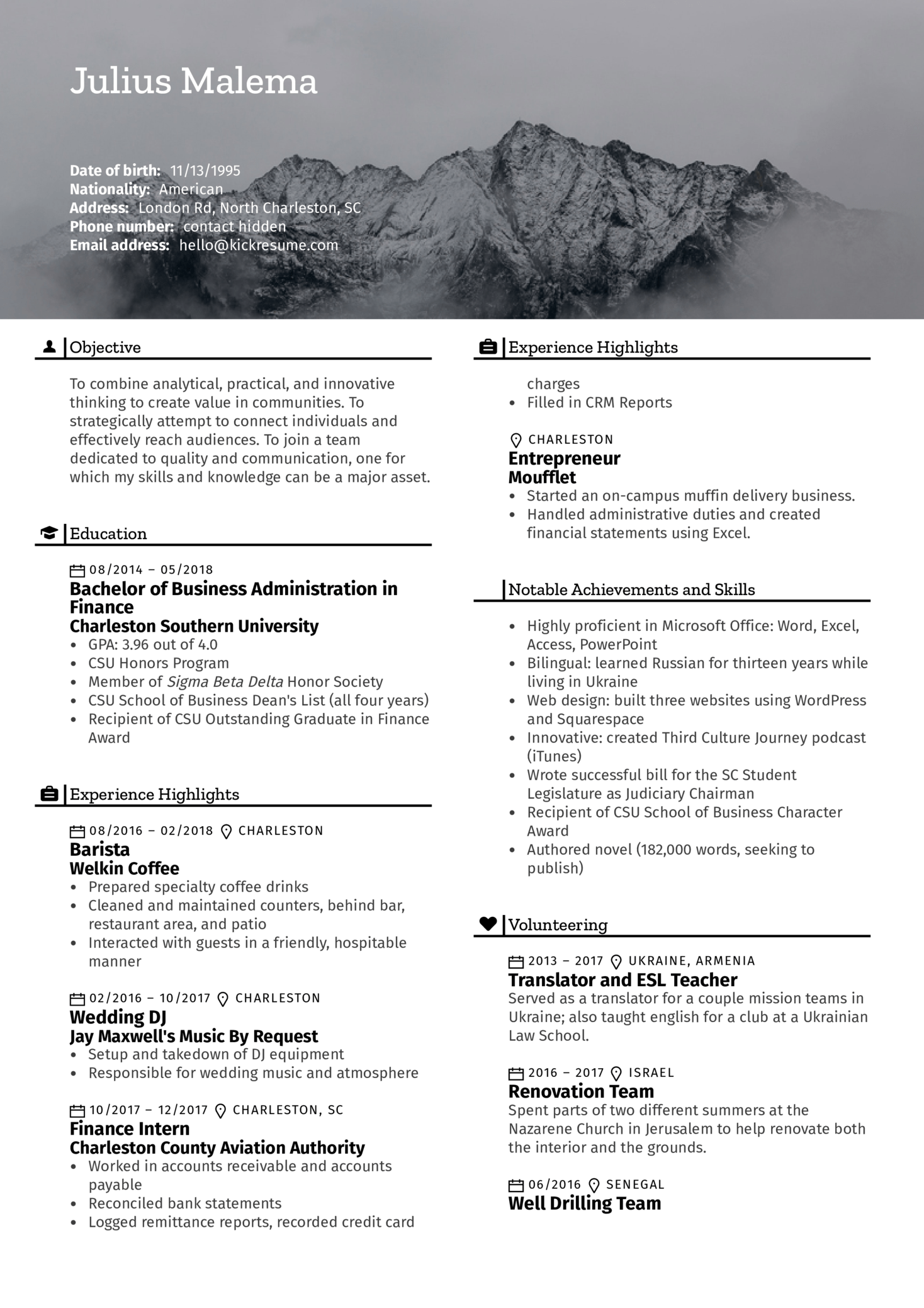 Julius has done a wonderful job at showing us that working on little elements in your resume can go a long way. For perspective, notice how she started with 'objective' and not 'summary' or such. This gives recruiters a fair idea of what their career looks like in the near future.
Also, icons associated with each section make the resume easy on the eyes.
What you can learn and use from this resume: The work experience hierarchy should be current to previous.
11. Engineering Consultant Resume (Mr. Jamie Watson, Hired at Cisco)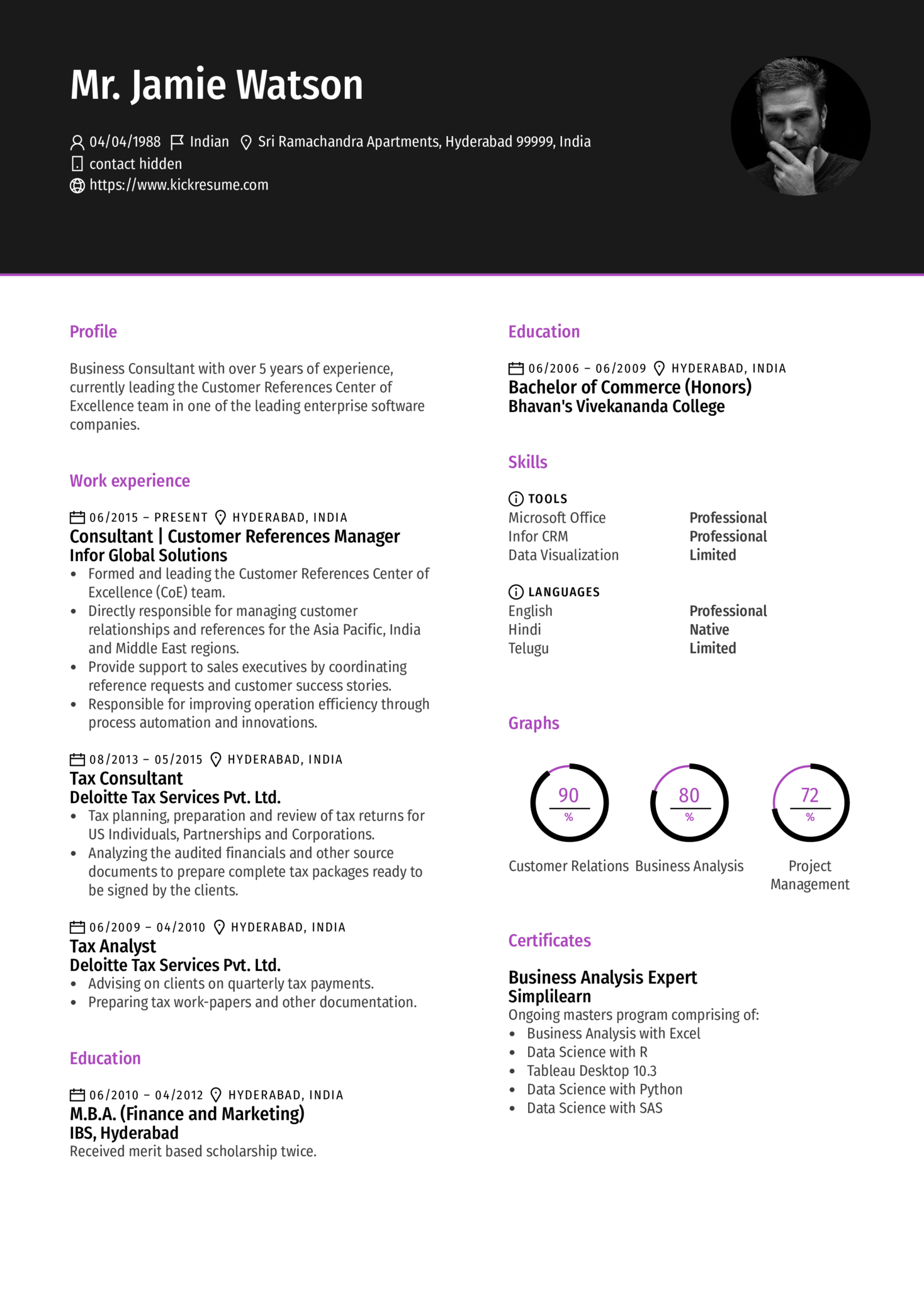 If you are someone who wants to keep your resume simple yet effective, this engineering consultant resume example can definitely give you some ideas on how to go ahead with your resume. Its color coordination is working perfectly and taking our attention where Mr. Jamie intended while designing this resume.
What you can learn and use from this resume: When applying for a tech job, include the tools and software with which you are familiar.
12. DevOps Expert Resume (Yevgen, Hired at Cloudbeds)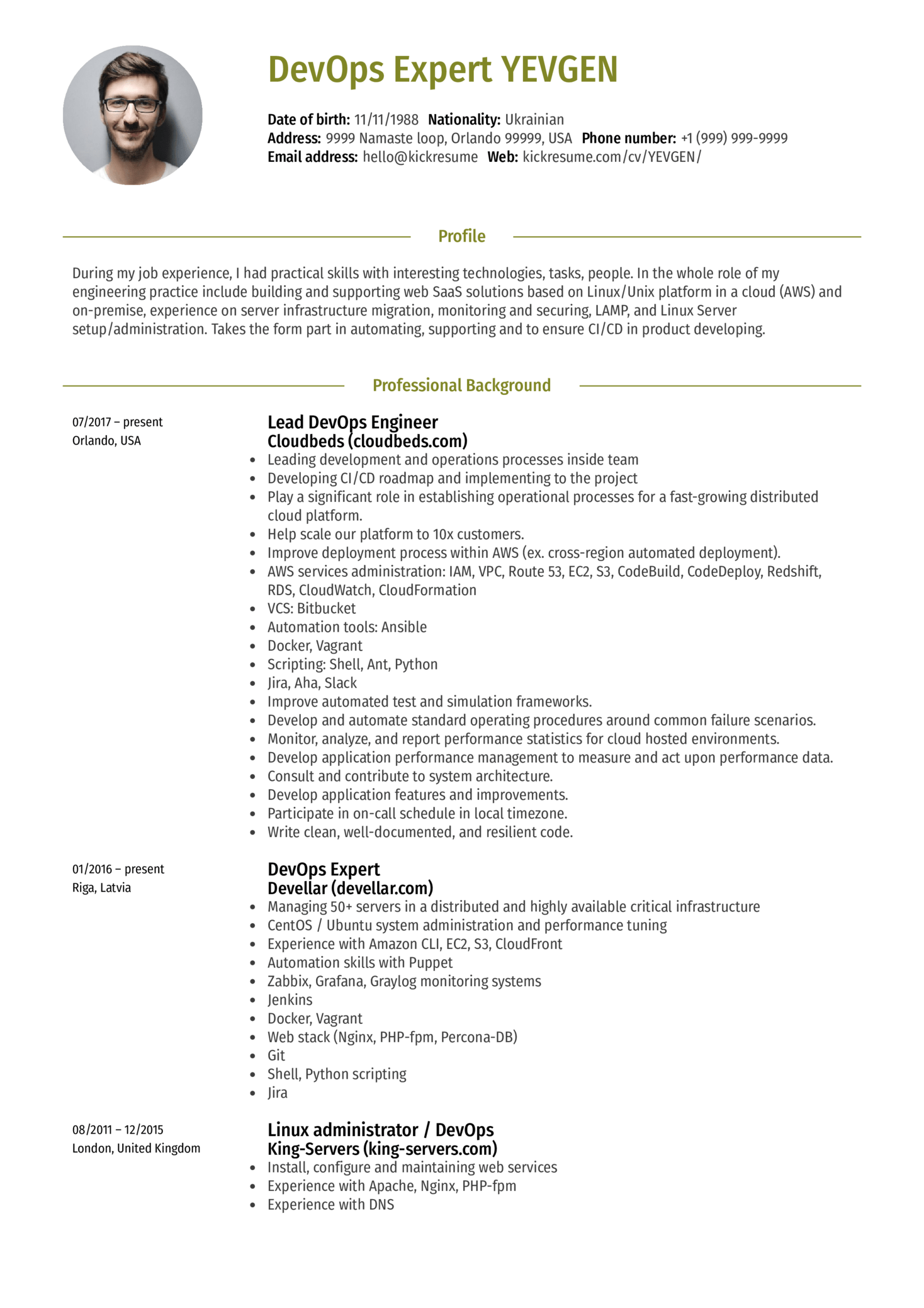 This resume is another great example of keeping it simple. After working for years as an employee, it can be difficult, to sum up, everything on your resume. Nonetheless, recruiters care the most about your most recent career journey.
Thus, you can only include your work experience and a basic introduction and can get hired by valuable companies such as Cloudbeds.
What you can learn and use from this resume: When deciding what to include and not to include in your resume, do not skip on your work experience details.
13. Beach Balance Assistant Resume (William Dee, Hired at UC Long Beach)
Many recruiters are not fans of partitioning when it comes to resumes; some consider it as a representation of an organized candidate, while others find it hard to read. William has done an excellent job at sectioning his resume where he made it easier for prospective recruiters to find information on the resume.
What you can learn and use from this resume: Inserting sections in your resume is not for aesthetics, but to make it scannable for recruiters.
14. Support Analyst Resume (Dakota McCarty, Hired at Com2us)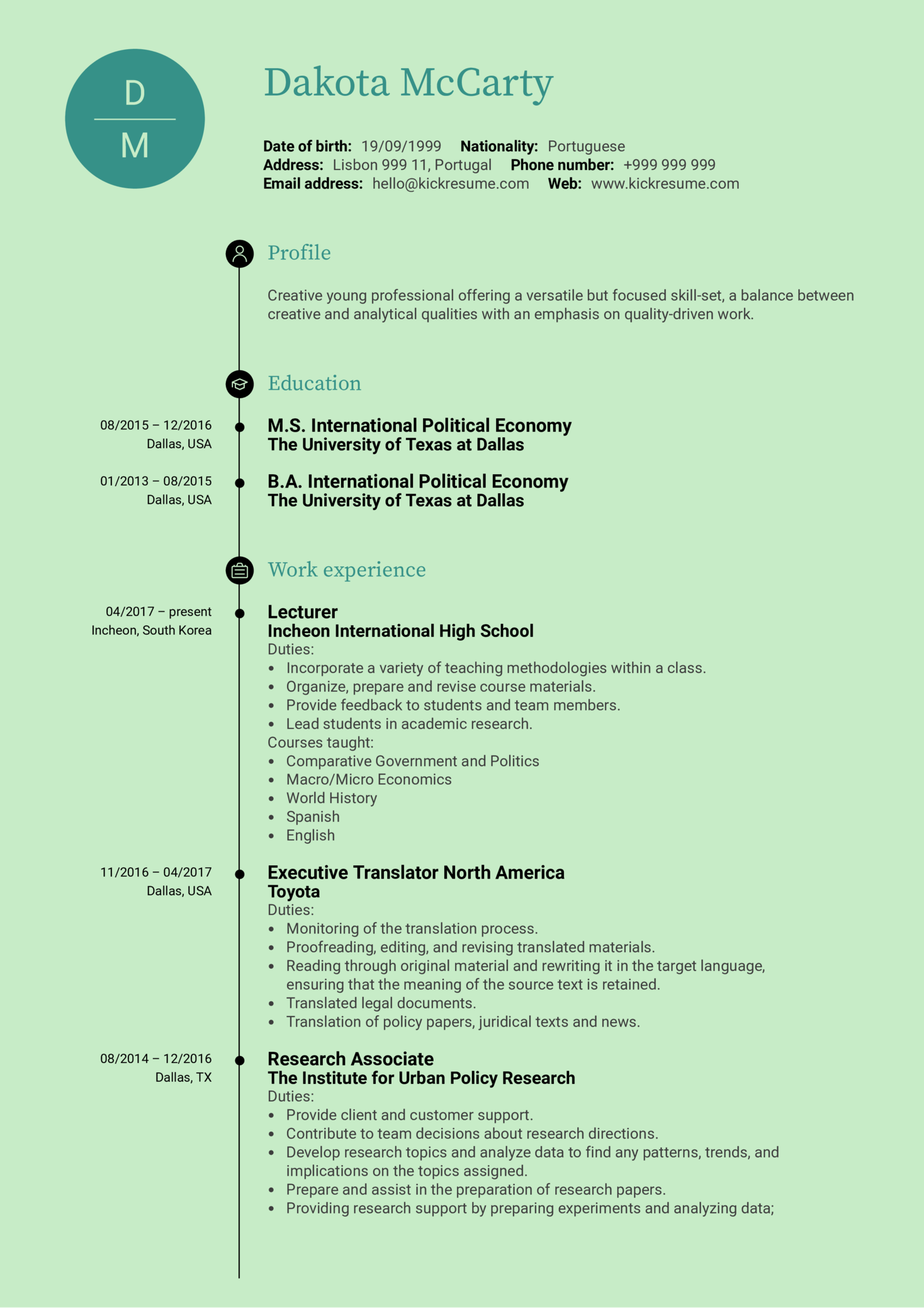 This is one of the most well-structured resumes in this list of best resume examples. The subtle green background color makes the resume appealing, and the icons at the beginning of every section make the entire resume easier to understand.
Also, the bullet dots do not meet the eye at first look but work as a subsection.
What you can learn and use from this resume: Include subsections in your resume to make it easier and more scannable in one go.
15. Accountant Resume (Emma Wall, Hired at DB Schenker)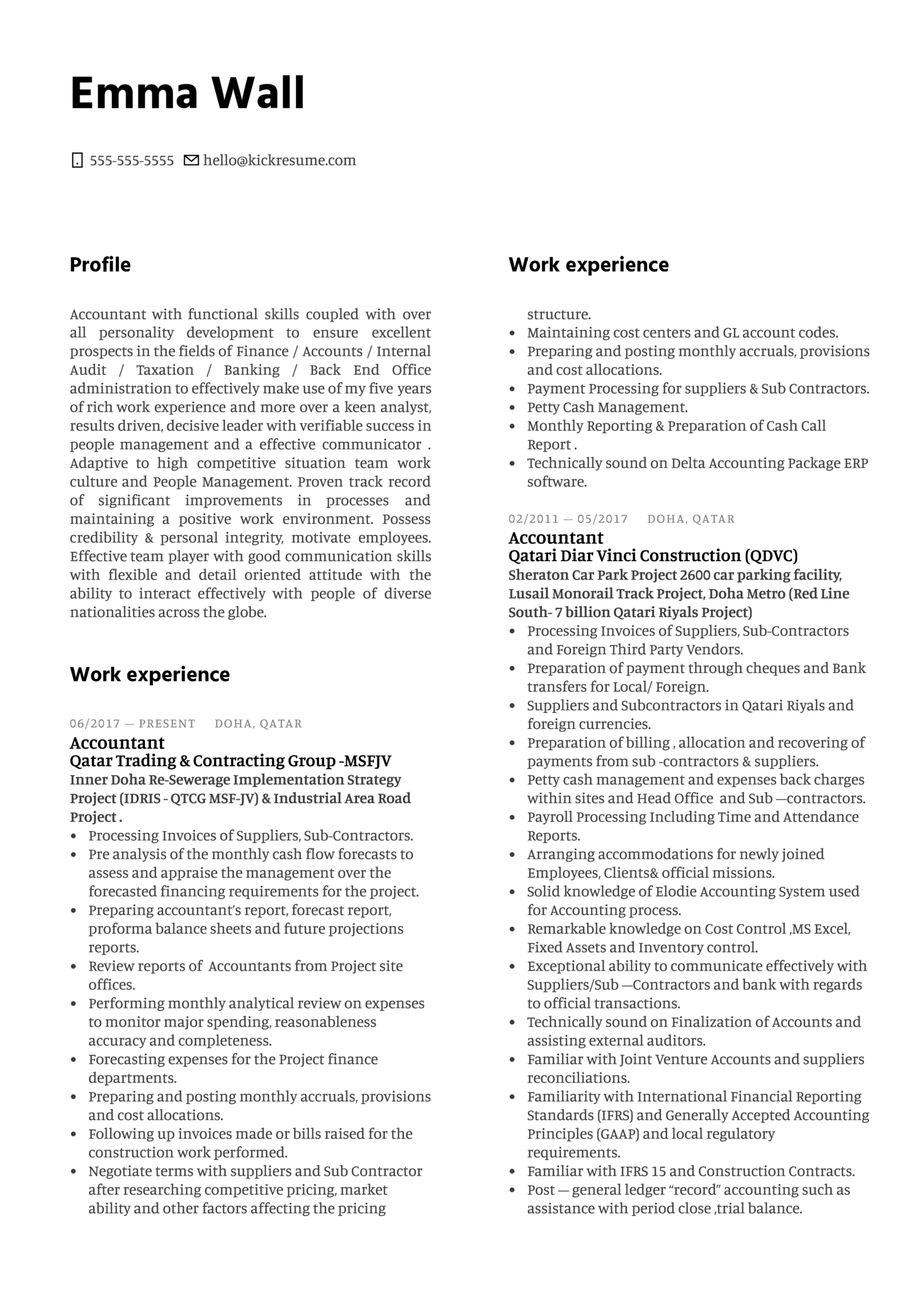 Emma has kept it very simple with this resume. As an accountant, your responsibilities can be quite vast, and she shares about as many of them as her prospective recruiter should know. The best aspect of this resume is the use of spacing.
Even in the 'profile' section, Emma has leveraged spacing to highlight the fields in which she has worked that catch recruiters' attention.
What you can learn and use from this resume: Use design elements such as spacing or changes in font to pull your prospective recruiters' attention towards exactly where you want.
16. Product Line Manager Resume (Ing. Peter Trenker, Hired at Dell)
Talking about design elements, this product line manager's resume is a perfect example of how design elements can make your resume stand out. The color coordination in this resume brings a sense of symmetry to the resume, which can be expected from the candidate as well.
Similarly, the calendar icon for the duration of work and the location icon for geographical details of the work experience shows the effort put into creating this resume.
What you can learn and use from this resume: Your efforts in the resume (from icons to including color to highlight information) show that you do not shy away from work.
17. Primary Teacher Resume (Line Malkin, Hired at Dale Christian School)
Line got a boost in his career at Dale Christian School through this wonderful resume. Many of us think that highlighting our names on the resume might seem braggy, but it is quite important to do so, as your resume is probably a part of a pile of similar resumes.
The basic details under the name are divided for quick grasp.
What you can learn and use from this resume: Highlight your name and strengths to stand out from the crowd.
18. Program Manager Resume (Jakob Ghostly, Hired at Dell)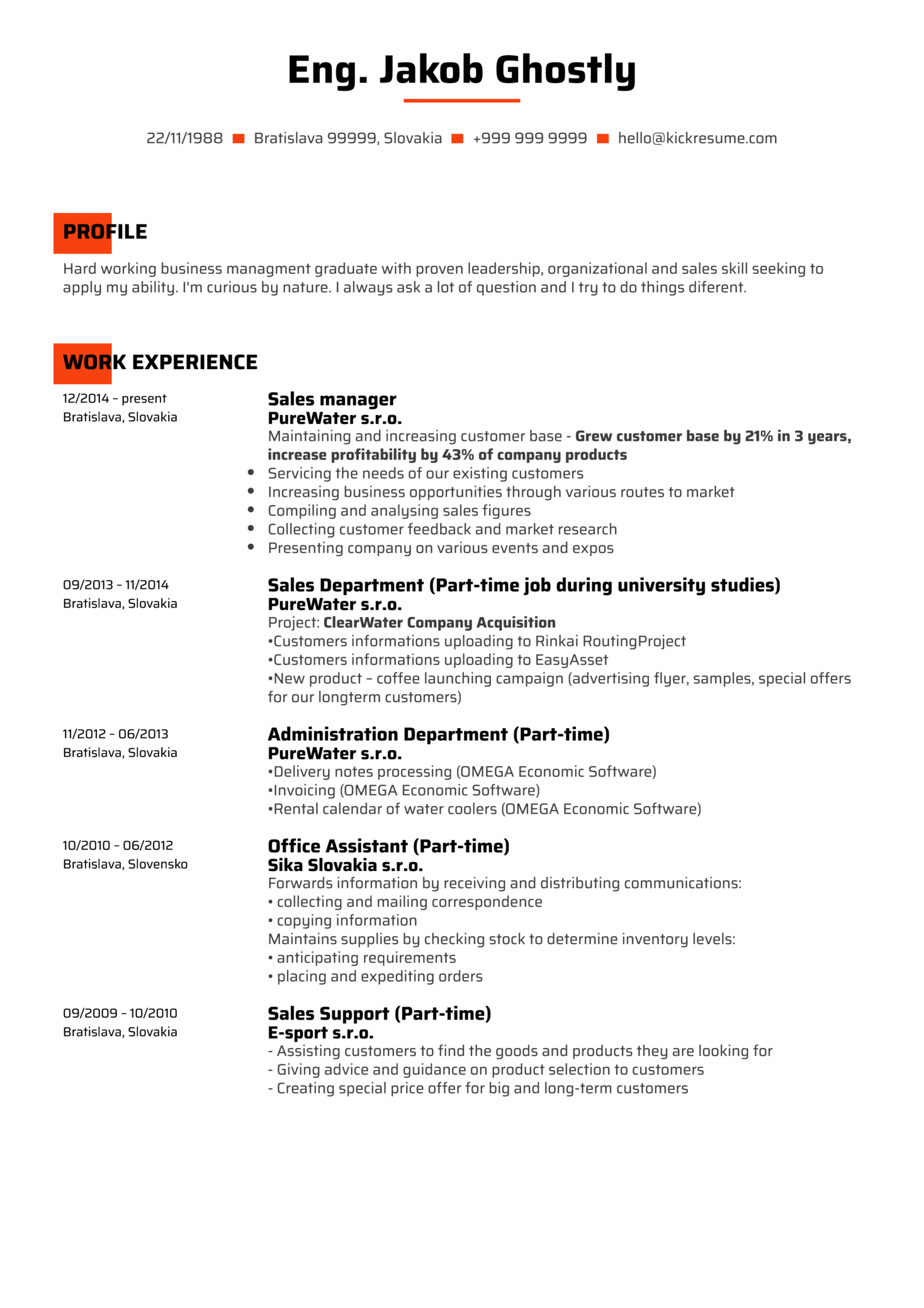 This resume is another example of how different sections and colors can play a role in enhancing your resume. As a program manager, there is a high chance that you must have come a long way in your career.
Thus, Jakob skips the 'education' section and conveys his skills and expertise through the 'work experience' section.
What you can learn and use from this resume: Bring personality to your monochrome resume by including a pop of color.
19. Quality Analyst Engineer Resume (Ken Thompson, Hired at eero)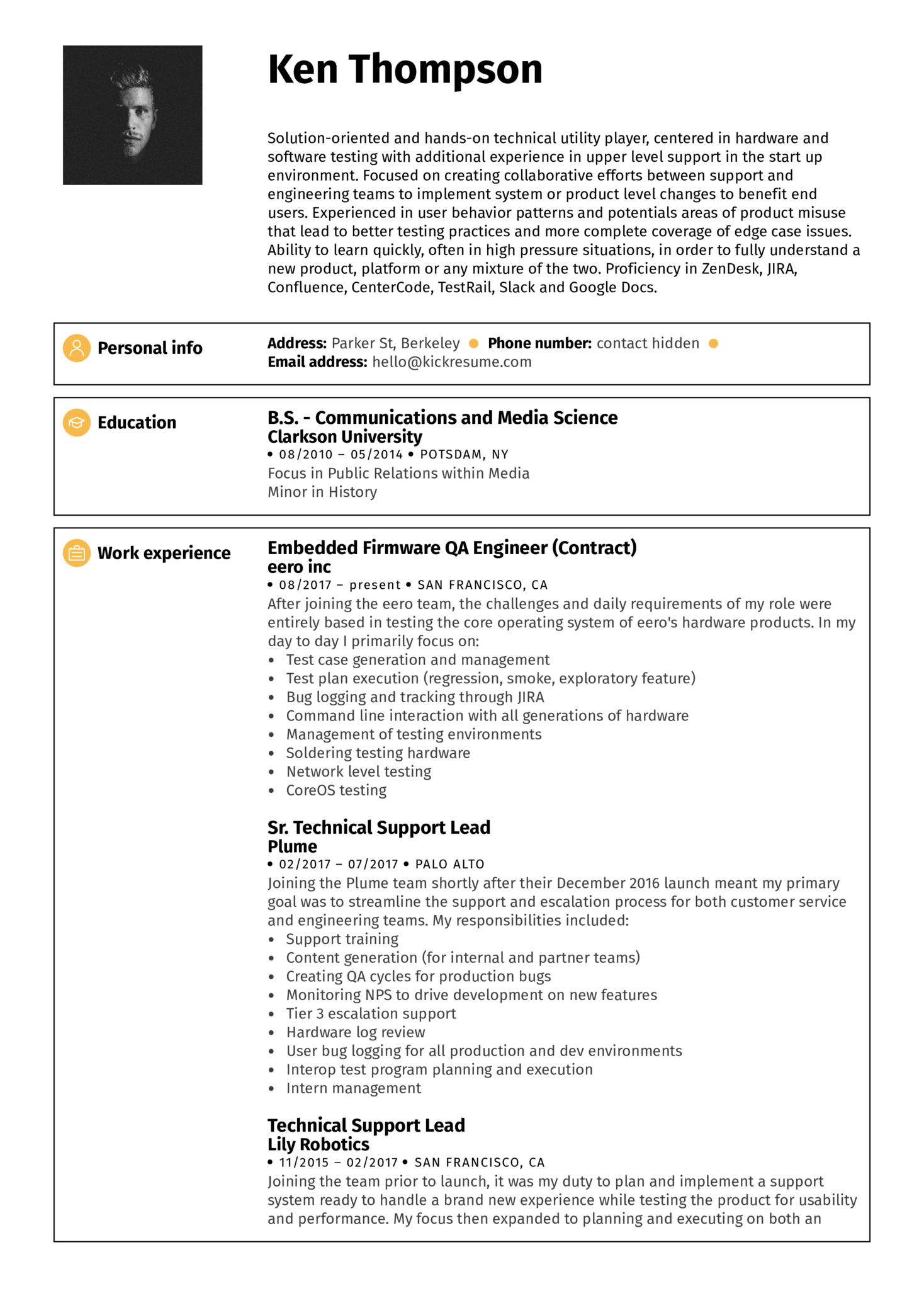 What seems like an orthodox resume structure, can be turned into an intriguing resume only by adding columns to it. Though this resume has a long summary of Ken's career, it is appropriate and written using excellent vocabulary.
As a QA engineer, you might have to meet with your clients to understand the problem and provide the solution, which is precisely what Ken conveys through the profile section.
What you can learn and use from this resume: Your profile is one of the few sections where you can be creative about telling yourself, use it wisely and according to the position for which you are applying.
20. Account Executive Resume (Michelle D'Aquino, Hired at Google)
Another way of creating your resume with a rock-solid 'profile' section is by introducing yourself through it. In this resume, Michelle has a clear and informative 'profile' section in which she tells prospective recruiters about her career span, strengths, her current role, and the role she is seeking.
What you can learn and use from this resume: Clarity in your resume will reflect clarity in your future career.
21. eCommerce Operations Manager Resume (Mary Parker, Hired at IKEA)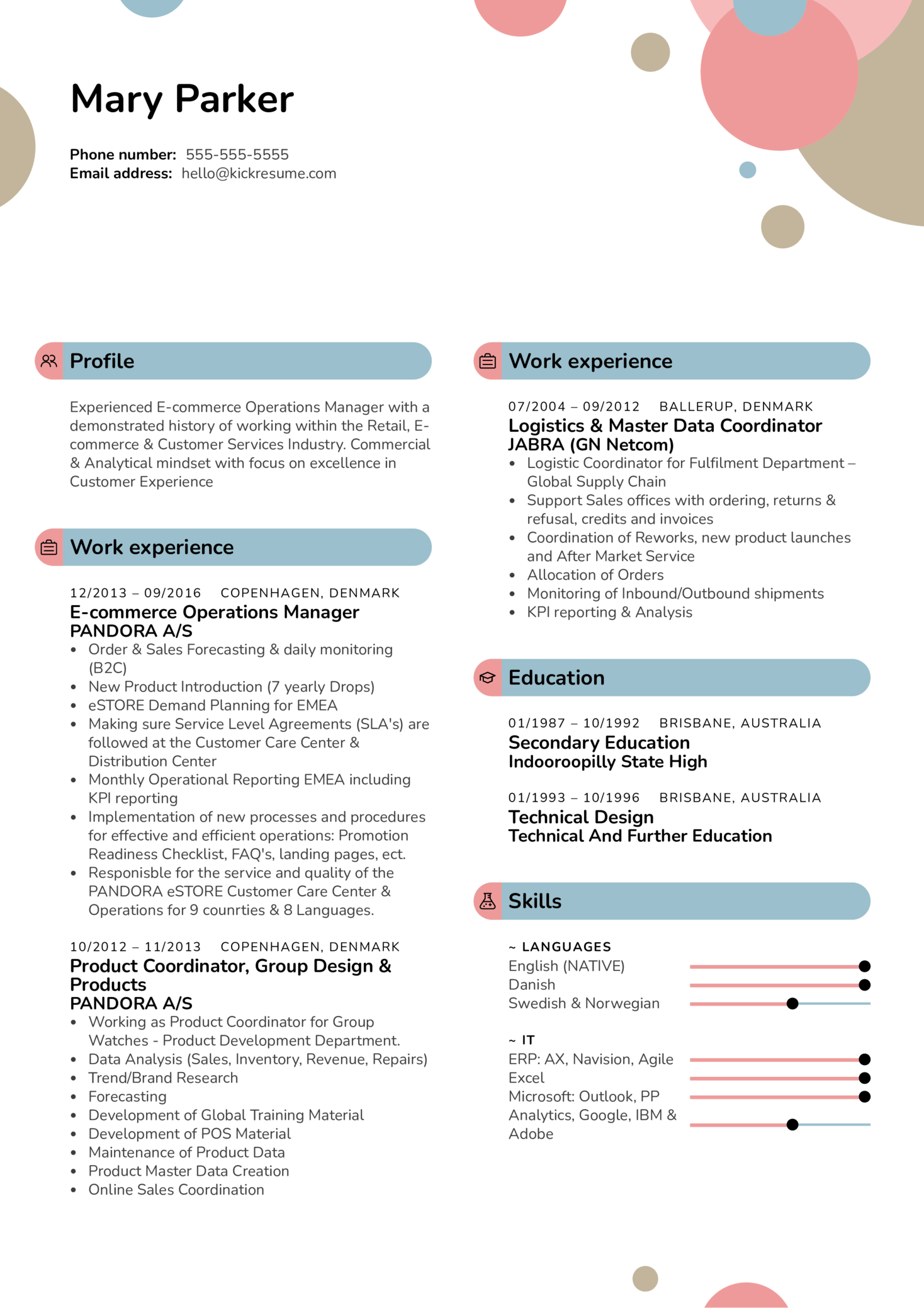 With a work history starting from the year 2004, Mary's resume is on-point with all the required details. As we discussed in previous resume examples, a pop of color or design element can make your resume not only aesthetically pleasing, but also convenient to understand.
On this resume, Mary added colors and shapes, which is unusual, but that got her a job at IKEA.
What you can learn and use from this resume: Going bold with your resume might seem scary, but your dream company will only be ideal long-term if they are open to your personality and changes from mundane elements (in this case, mundane resumes).
22. Marketing Analyst Resume (Clara Cracker Millet, Hired at Hummingbird Wholesale)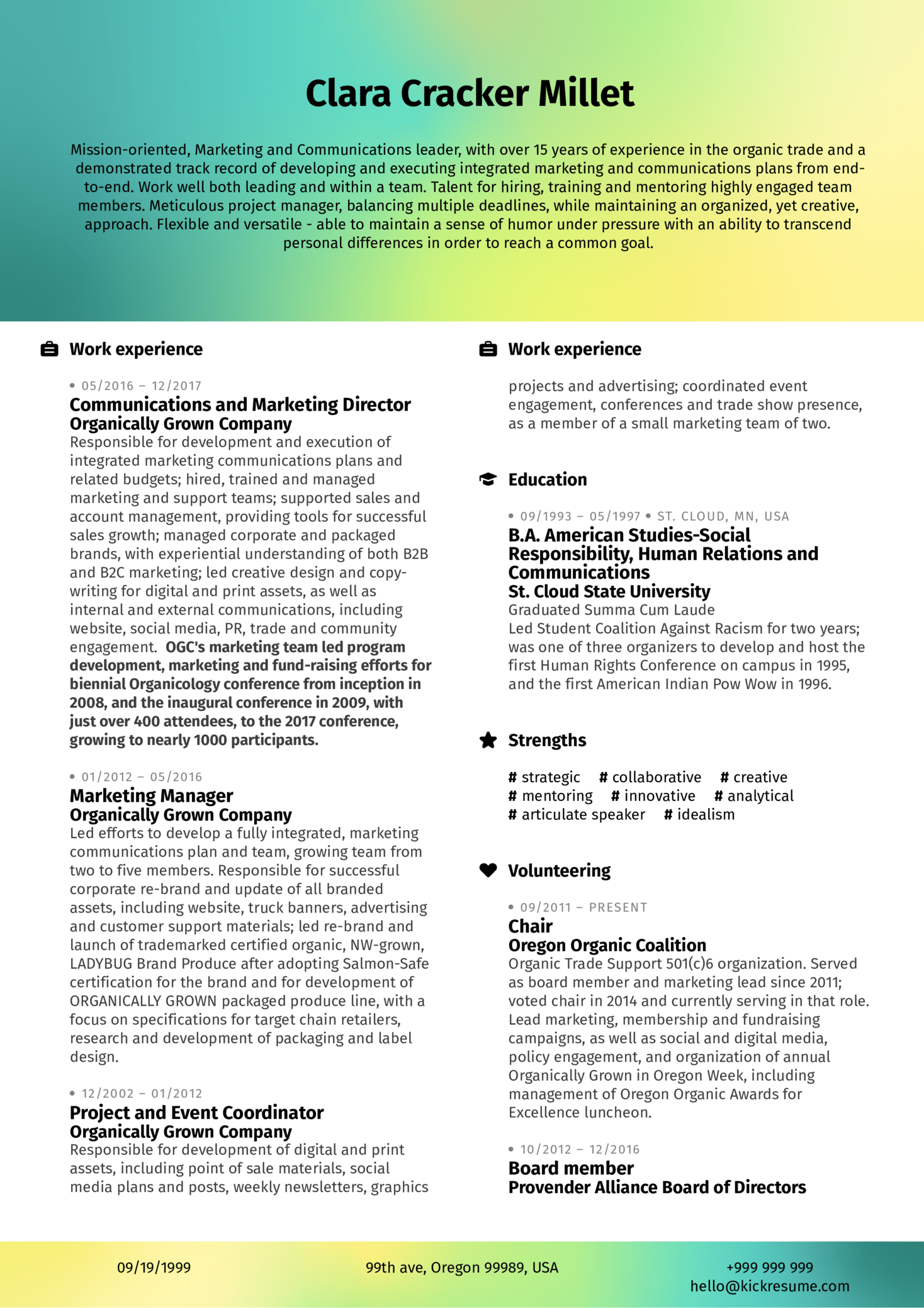 This marketing analyst's resume is pleasingly unconventional. Starting right away with a communicative summary, moving on to recent-to-past work experience, giving the gist of her educational background, highlighting her strengths, and ending it with contact details – this resume makes her prospective recruiters' job very easy.
What you can learn and use from this resume: A new structure where you start with relevant information about yourself and end it with basic information.
23. Software Engineer Resume (Mgr. Barbora Klembarovaࠥ, Hired at Kegg)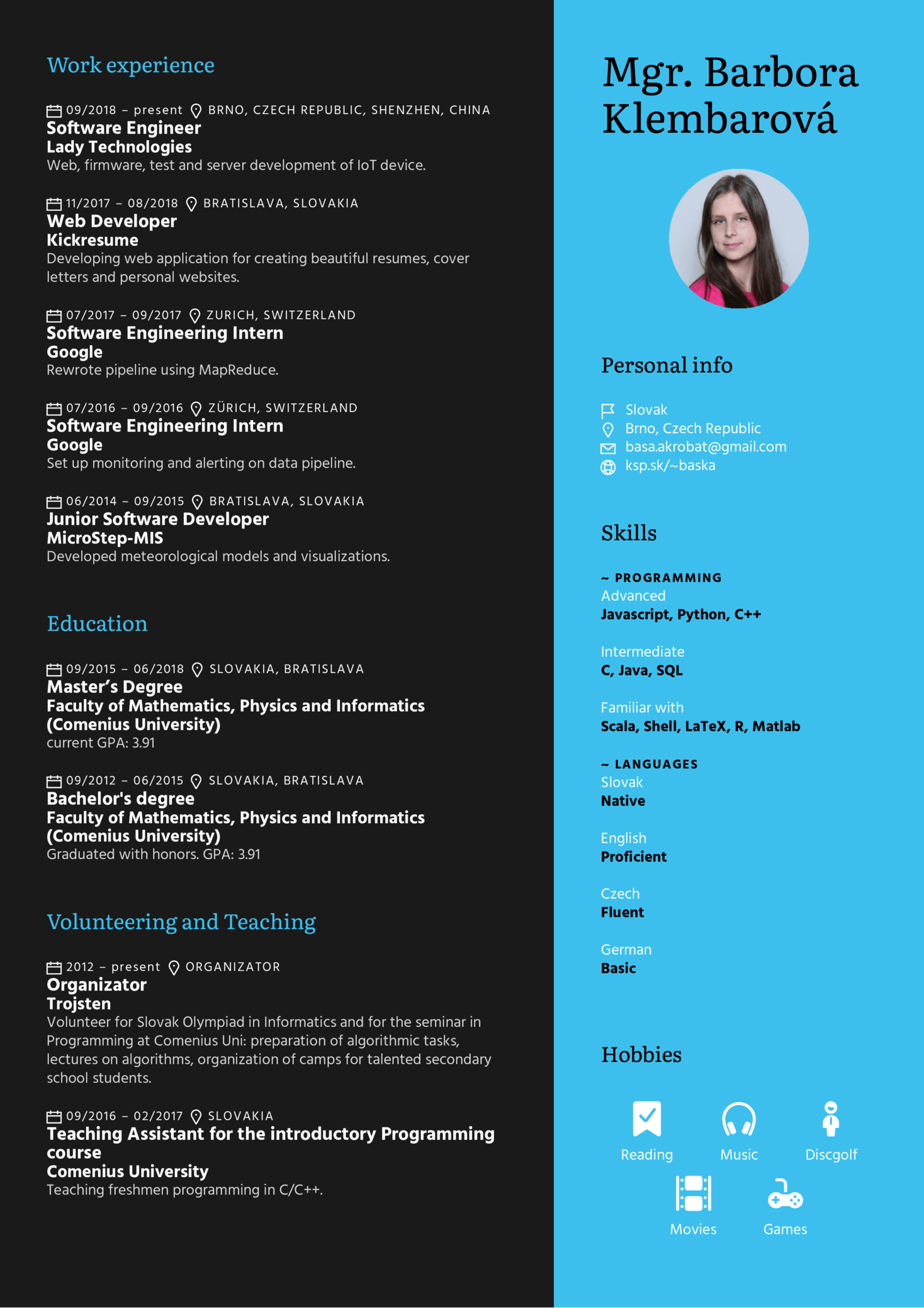 If you are open to exploring new structures but do not want to seem very out of the way, this resume can work wonders for you. By using colors to segregate personal information from professional information, you give a quick view to your prospective recruiters as to what they can expect from you as an employee.
What you can learn and use from this resume: Try to keep your basic personal information and professional information in separate sections.
24. Import and Logistics Manager Resume (Kevin Importskij, Hired at LitsLink)
This resume is another example that highlights the fact that there are some industries that require you to include your picture in your resume. As import and logistics require dealing with people, this industry is one of them.
Also, the structure of this resume is different in a very subtle manner where a pop of color is used to highlight contact details and location is at the bottom of the resume as it is needed but not as much.
What you can learn and use from this resume: You do not necessarily need to have a profile section; you can walk your prospective recruiters through your career journey via other sections as well.
25. Sales Representative Resume (Amy Sheppard, Hired at Red Label)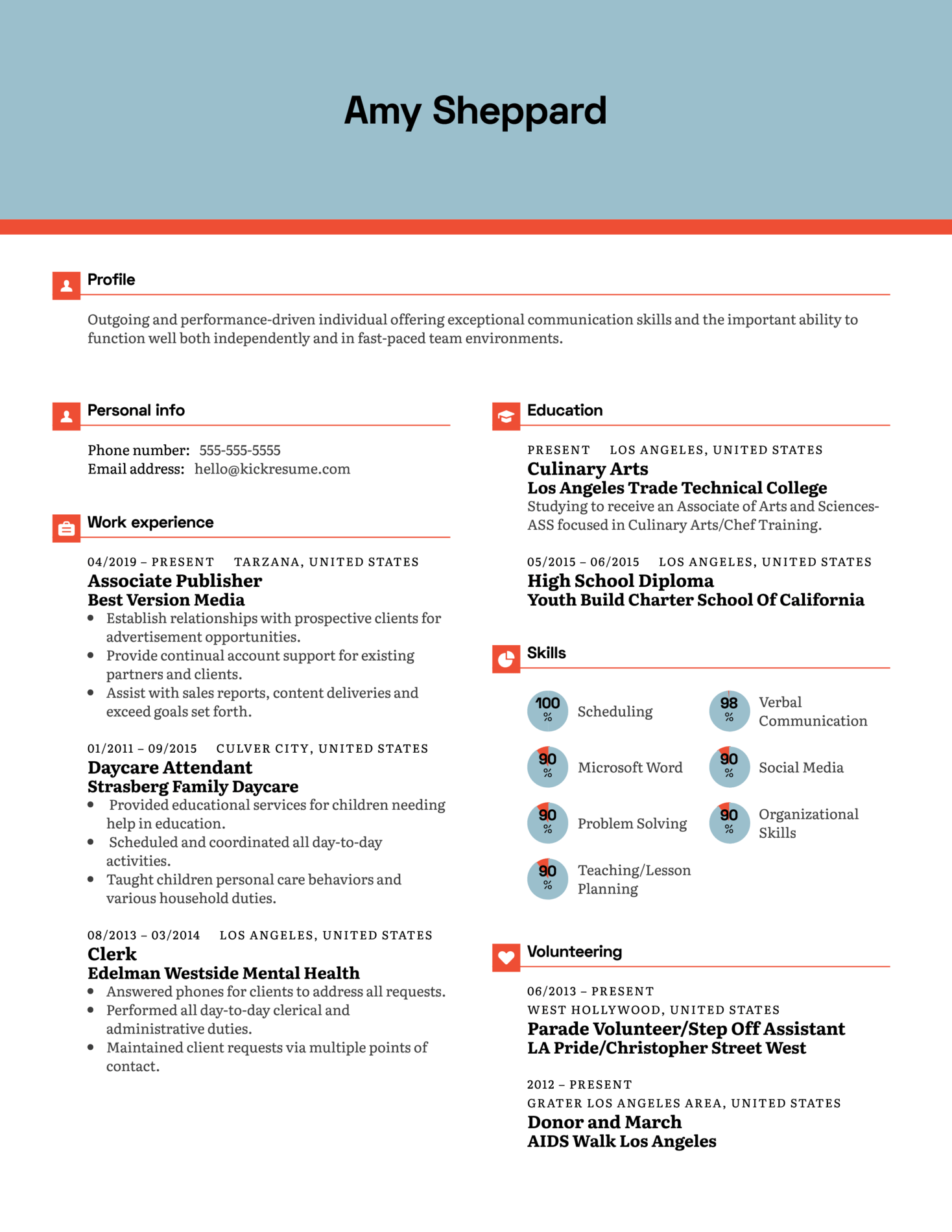 As every industry is different, sales is a space in which recruiters cannot tell much through the resume and need to assess you based on the practical application of your skills.
In this resume, Amy has kept it simple and provided all the information in different sections to leave no room for confusion.
What you can learn and use from this resume: Layout the information in different sections; this will make it easy to find for recruiters and authorities in different departments.
Conclusion
Your resume can be the first mark on which you can step to kick-start your career and grow endlessly.
As your resume has a purpose of finding new opportunities, it is important to realize that these opportunities are updated according to the current worldly circumstances;
The same applies to your resume; it should be updated, easy to read, honest, and informative. 
We hope you find a resume from our list that works best for you and that you grow inevitably in your career.