You publish new listings, tinker with titles, and still find yourself buried on page 5 of the search results.
Meanwhile, your competitors soak up the sales from the desired front page.
If this sounds familiar, I've got good news:
Optimizing your Amazon product listings doesn't have to be an endless guessing game.
The secret lies in researching keywords.
Choose the right keywords, and your listings can rapidly rise to the top.
In this guide, we'll explore the top 12 keyword tools for unlocking more traffic and sales on Amazon.
Straight to the good part!
Helium 10 has helpful keyword research tools for Amazon sellers to succeed in search results. Finding popular keywords with low competition is simple when using Helium 10. Just click a button.
It comes equipped with two robust keyword research tools: Cerebro and Magnet.
With Cerebro, you can figure out your competitors' keyword strategies by analyzing their product listings.
Magnet finds hidden keywords and creates related long-tail variations of your main keywords. This opens up avenues to rank for keyword combinations you may never have thought of.
Helium 10 also allows you to assess search volume data and optimize your listings. You can use the Keyword Tracker to monitor your rankings for targeted keywords.
The Keyword Magic Tool helps you match keywords to search intent. This ensures your listings appeal directly to customer needs.
Helium 10 Features
Cerebro to reverse engineer competitors' keywords
Magnet to automatically generate long-tail variations
Monitor keyword rankings over time
Optimize listings for search intent
ASIN Lookup to uncover competitors' keywords
Price
Helium 10 has a free plan with limited access to all its tools, including keyword research. You can then choose to go with either of their paid plans, depending on your needs:
Starter ($39/month or $39 on annual billing)
Platinum ($99/month or $79 on annual billing)
Diamond ($279/month or $229 on annual billing
SellerApp is a renowned app for Amazon sellers to increase their product's popularity and sales. It has a database of 200 million keywords, which helps you find popular keywords on Amazon.
The keyword research process is simple.
Just input a seed keyword relevant to your product and SellerApp will instantly generate hundreds of keyword suggestions along with monthly search volume data.
It even surfaces non-English keywords and common misspellings, helping you optimize for searches that competitors may be missing.
SellerApp also centralizes all the tools you need to execute successful keyword optimization and PPC campaigns in one platform.
You can even see how well a product is doing in search results and learn from competitors. Use successful keywords in your ads and keep track of your rankings.
One of the useful features is the Reverse ASIN lookup tool. You input a competitor's product ID and uncover the keywords driving their visibility.
SellerApp Features
Discover high-converting keywords
Database of over 200 million keywords
Track keyword rankings for all your products in one dashboard
Reverse engineer competitors' product listings to find their top keywords
Optimize international listings with support for 16+ marketplaces
Uncover product opportunities with reverse ASIN lookup
Price
SellerApp has a free plan and a 7-day free trial on paid plans, which starts at $49/month.
Jungle Scout is an essential tool for conducting in-depth keyword research and optimizing Amazon product listings.
One of Jungle Scout's standout features is the reverse ASIN search. You can enter an Amazon product ID and instantly see the past keywords for that listing.
You can even see the keywords that bring traffic to your competitors and use them in your listings.
Jungle Scout uses a big database of 500 million keywords to show you Amazon's keywords.
It not only shows competitor keywords but also provides accurate monthly search volume data for exact match and broad match keyword phrases.
The data is made even better by adding two years of search volume history. This gives important context for how keywords perform over time.
You can use its advanced filters to isolate and compare keywords based on different criteria. These criteria include average bids for sponsored ads, click-through rate, and search volume range.
Jungle Scout Features
Reverse ASIN search to uncover competitors' top keywords
500+ million keyword database for expansive research
Exact and broad monthly search volume data
Two years of historical keyword performance trends
Sophisticated filtering to isolate high-value keywords
Price
Jungle Scout offers a 7-day free trial. The Basic plan costs $49/month, the Suite plan costs $69/month and the Professional plan costs $129/month.
SEMrush is a powerful digital marketing toolkit. It helps businesses optimize their online presence and beat competitors.
With Semrush's keyword research, you can explore your niche, analyze SERP, find SEO opportunities, and create effective content strategies.
The keyword overview tool gives important information about search volume, keyword difficulty, CPC, and other metrics.
This helps you find the most profitable keywords.
You can even filter keywords by intent to laser-focus your targeting. With the organic research tool, you can spy on your main competitors and take their most successful keywords.
Semrush's keyword magic tool generates many relevant long-tail variations with one seed keyword.
Additionally, the keyword grouper tool eliminates duplicated efforts by automatically clustering and organizing keywords, so you can manage campaigns more efficiently.
Even better?
SEMrush connects your landing pages, keywords, and rankings by integrating with Google Analytics.
Semrush Features
Discover valuable keywords with search volume, difficulty, CPC, and more
Outsmart competitors by finding their most profitable keywords
Generate endless long-tail variations from a single seed keyword
Uncover SEO opportunities by benchmarking against competitors
Connect Google Analytics data to optimize keyword usage
Price
Semrush's free plan allows you to use Keyword Magic Tool at a limit of up to 10 results per search. The Pro plan costs $129.95/month, the Guru plan costs $249.95/month and the Business plan costs $499.95/month, all on a monthly billing.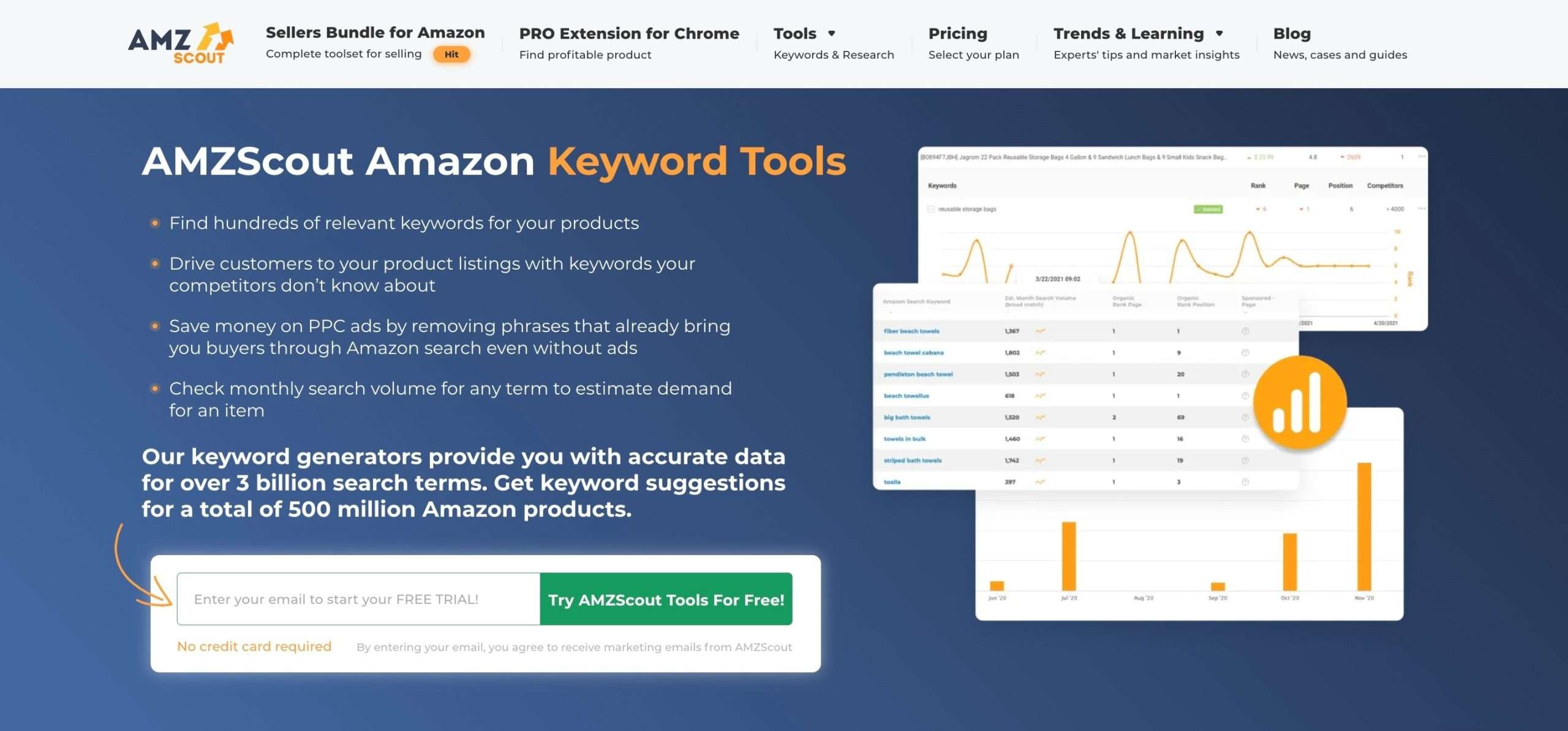 AMZScout's toolkit helps you research products and keywords to get more traffic and beat competitors.
One of the key benefits of AMZScout is its ability to help you discover high-demand keywords that competitors may be missing.
The powerful reverse ASIN lookup tool analyzes keywords your rivals are already ranking for. You can reach more buyers by targeting the same popular search terms and expanding your listings.
The keyword tracking capabilities are another standout feature.
With AMZScout, you can easily track your keyword rankings and compare them to paid ads.
The monthly search volume checker estimates search interest, helping you target valuable keywords. And with access to over 3 billion search queries, the keyword suggestion tools help uncover hidden gems you may have otherwise missed.
For researching product keywords specifically, AMZScout has you covered with the Amazon keyword search that generates related keywords based on search history data.
AMZScout Features
Reverse ASIN lookup to see competitors' keyword targeting
Monthly search volume checker for demand estimates
Access to 3 billion+ search queries in keyword databases
Amazon keyword search for related product terms
Keyword tracker to optimize listings and PPC campaigns
Price
AMZScout's complete seller bundle for Amazon starts at $49.99/month.
Keywords on Fire is the ultimate Amazon keyword research tool by ZonGuru for discovering high-potential keywords.
With Keywords on Fire, you gain access to 15 essential data points for each keyword, empowering you to make data-driven decisions.
It reveals monthly search volume from Amazon's own API, so you know which keywords have the most buyer demand.
You can see the dollars earned per month for each keyword in the top 25 product listings.
It also shows the current Pay Per Click bid prices, allowing you to plan profitable bids. And you can view where your competitors rank for every keyword, highlighting opportunities to outshine them on the first page.
One of the most useful features is the customizable data views.
You're in full control, able to filter and sort keywords based on the metrics you want to prioritize.
Search volume too low? Exclude those keywords.
Competitor bids too high? Remove them from the list.
And Keywords on Fire doesn't just help with research. It integrates directly with ZonGuru's Listing Optimizer, making keyword optimization easy.
Keywords on Fire Features
Reveals monthly search volume from Amazon's API
Shows revenue potential with dollars earned per keyword
Provides current Pay Per Click bid prices
View competitor rankings for every keyword
Customizable data filtering and sorting
One-click integration with Listing Optimizer
Price
ZonGuru comes with a 7-day free trial. To get the most out of Keywords on Fire, you can upgrade to the Researcher or Seller plans. These plans cost $49 or $79 per month (on monthly billing).
The Keyword Tool is an easy-to-use tool for Amazon keyword research. It uses Amazon's autocomplete to suggest relevant keywords.
As you type, Keyword Tool gives you keyword ideas from Amazon suggestions. The suggestions are in order of relevance, like what real Amazon shoppers see.
This makes it easy to identify high-performing keywords that real users are searching for on the site.
You can use Keyword Tool to optimize your listings on all Amazon sites and languages. It even creates popular keywords for product titles, bullets, and backend keywords.
While supporting all Amazon categories, Keyword Tool is also useful for researching keywords on Google, YouTube, Bing, and other major platforms.
Keyword Tool Features
Leverages Amazon's autocomplete for relevant keyword suggestions
Results provided in order of relevance on Amazon's platform
Estimated monthly search volume data (pro feature)
Supports all Amazon categories and sites worldwide
Optimizes listings for titles, bullets, and backend keywords
Price
Keyword Tool has a free plan. The paid plans for Amazon start at $89 per month ($69 per month for an annual billing) and provide at least two times more keywords than the free plan.
Seller Labs created Scope, a software that helps Amazon sellers research keywords and products to increase rankings and sales.
One of the key benefits of Scope is that it provides real Amazon data to inform keyword selection.
Scope goes beyond keyword volumes and shows estimated sales and revenue potential for seed keywords.
You can also track competitor rankings for keywords. You can use reverse ASIN lookup to optimize listings for popular search terms.
Features like the Amazon FBA calculator help you know about fees and profits for each product, so you can set prices better.
In addition, you can link Scope to your Amazon Seller Central account. This allows you to monitor keywords and products in real-time, without any limits on the number of items you can track.
Scope Features
Keyword research tools to find long-tail, PPC, and high-volume keywords
View estimated sales and revenue for seed keywords
Track competitor rankings and optimize listings
Reverse ASIN lookup to analyze competitors
Connect Scope to Seller Central for real-time tracking
Price
Seller Labs comes with a 30-day free trial. The paid (pay as you go) plan starts at $49 per month.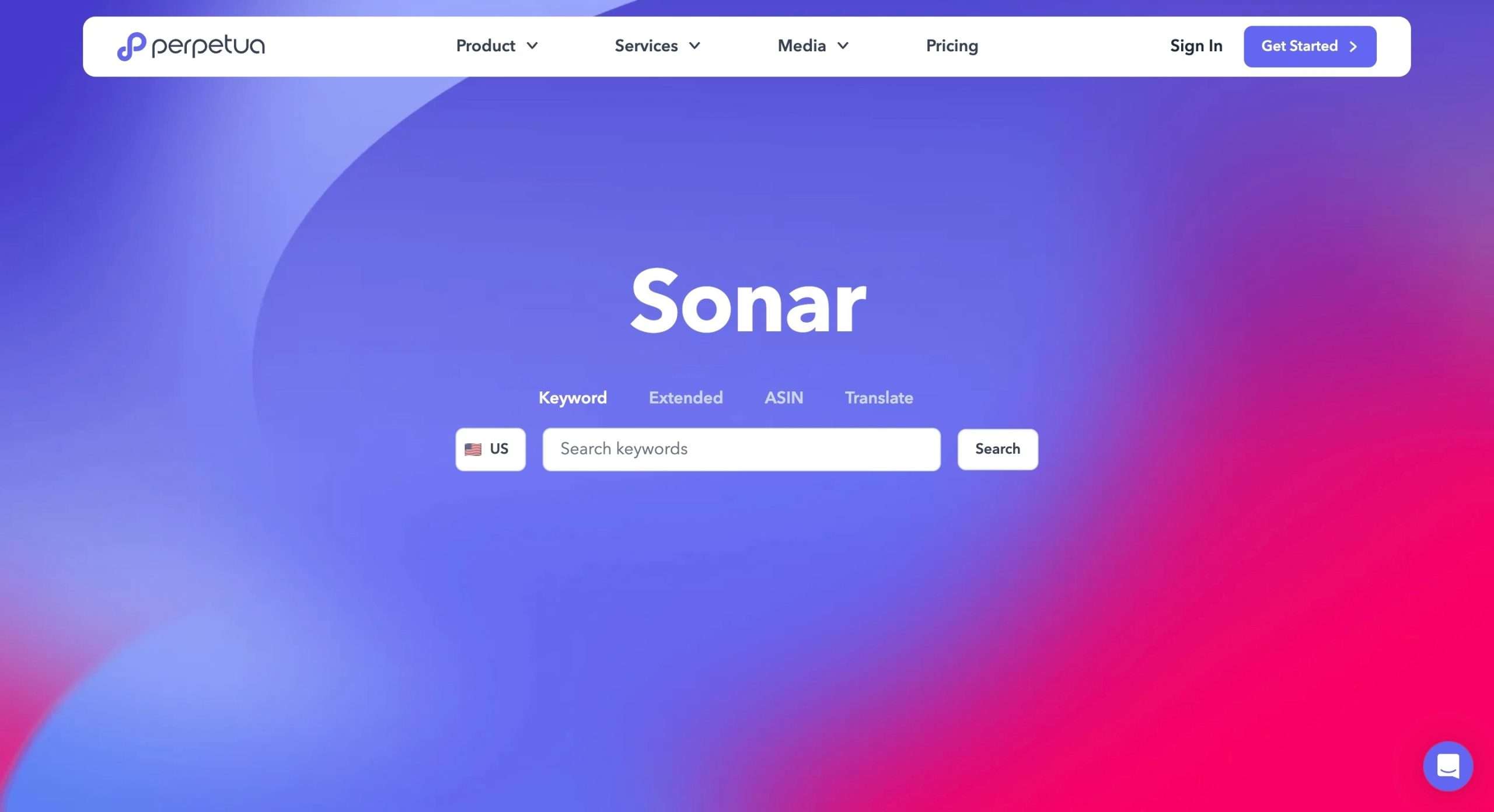 Sonar is a free Amazon keyword research tool by Perpetua. All you need to do is enter a competitor's ASIN and Sonar reverse engineers their keyword strategy, so you can replicate their success.
With a database of over 180 million Amazon keyword and ASIN combinations, Sonar gives you a new view into real search trends.
Spoiler alert: only keywords associated with first page rankings make the cut.
Sonar speaks the language of Amazon shoppers worldwide. It covers marketplaces in the US, UK, DE, FR, IT, ES—with more countries coming soon.
Sonar's machine learning algorithm studies keyword probability to predict volumes and difficulty scores.
Sonar even points you to other key areas like enticing content, stellar images, and holistic SEO.
Sonar Features
Reverse ASIN lookup to uncover competitors' winning keywords
Database of 180+ million Amazon keyword/ASIN combinations
Keyword suggestions powered by AI and machine learning
International marketplaces including US, UK, DE, FR, IT, ES
Optimization recommendations beyond just keywords
Price
Sonar is free to use.
Google Keyword Planner is an invaluable free tool for conducting in-depth keyword research with data directly extracted from Google's database.
With Google Keyword Planner, you can find popular keywords and phrases to improve your product pages and ads.
It gives lots of information to help choose keywords, like search volume, competition, and suggested bid.
Google Keyword Planner generates many related keywords when you enter a seed keyword. It also provides metrics to check their viability.
One of the things that set Google Keyword Planner apart is its ability to filter keywords by location and language.
You can use comprehensive filters to optimize your search by devices, categories, ad formats, and more.
Google Keyword Planner also estimates traffic potential to gauge possible clicks and conversions.
Google Keyword Planner Features
User-friendly interface ideal for beginners
Discovers high-performing keywords and phrases related to seed keywords
Provides monthly search volume and competition data for keywords
Estimates traffic potential and forecasts clicks and conversions
Enables filtering keywords by location, language, device, and more
Suggests bid prices for paid search campaigns
Price
Google Keyword Planner is free to use.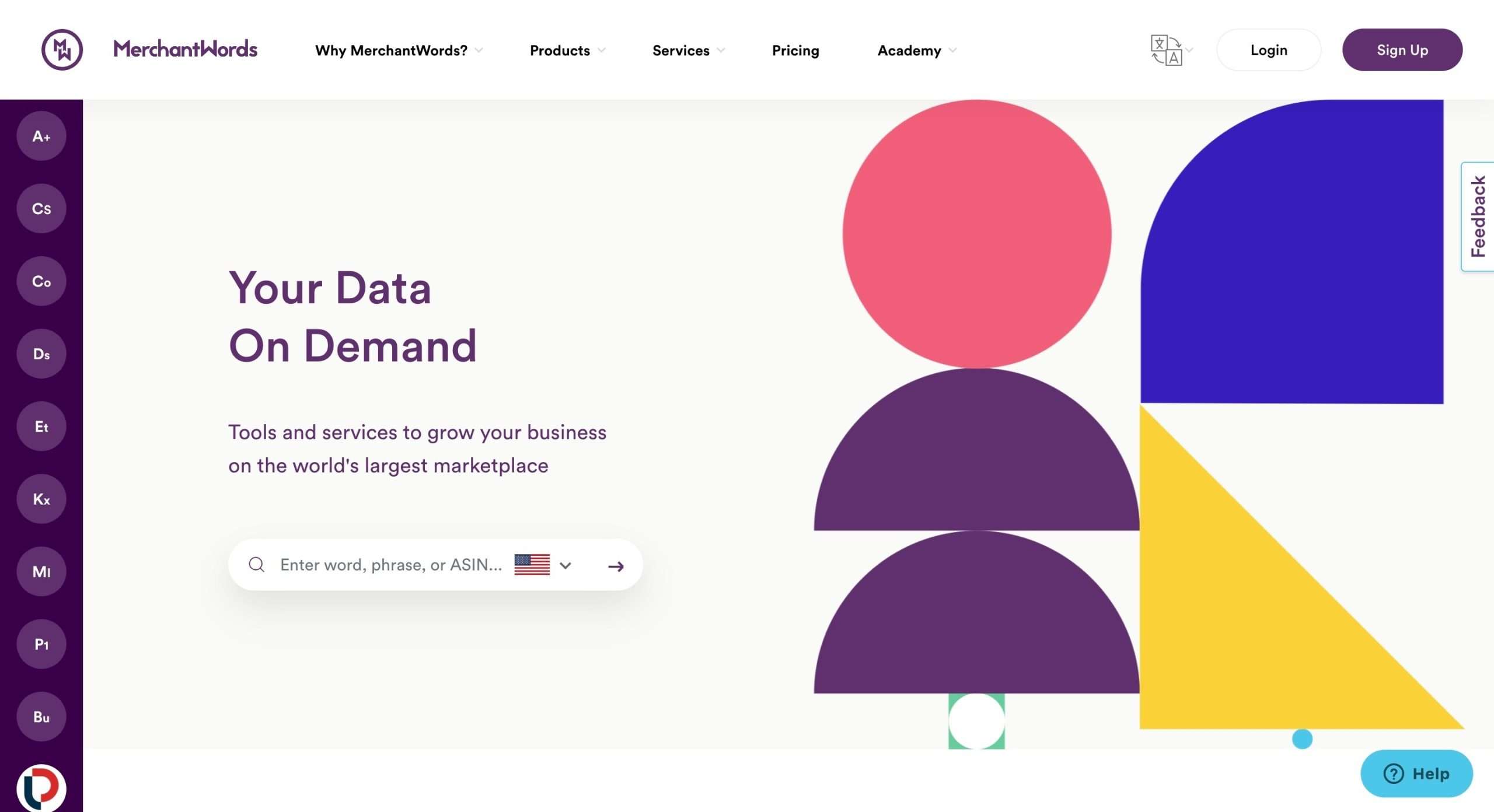 MerchantWords provides many products, services, and resources to help with Amazon marketing campaigns. They use a suite of tools to analyze Amazon data and find keywords, trends, products, and competitor information.
One major advantage is being able to find popular and successful keywords used by shoppers.
It examines real Amazon search data and shopper intent to find successful keywords and improve listings for better rankings.
You can track keyword performance over time and get alerts on new opportunities.
Competitive intelligence is another major feature.
With MerchantWords, you can research popular products in any category and find out what keywords your competitors are using. This will help you understand why their listings are successful.
MerchantWords Features
Access to over 2 billion keywords and 900 million analyzed products
Competitive intelligence to research top-ranking products and spy on competitors
Trends and niche discovery to identify new product opportunities
Historical and up-to-date keyword data with constant algorithm monitoring
Ability to track keyword performance over time
Alerts for new keyword opportunities
Price
MerchantWords does not offer any free trial. Their paid plan (they call it Silver) starts at $35 per month.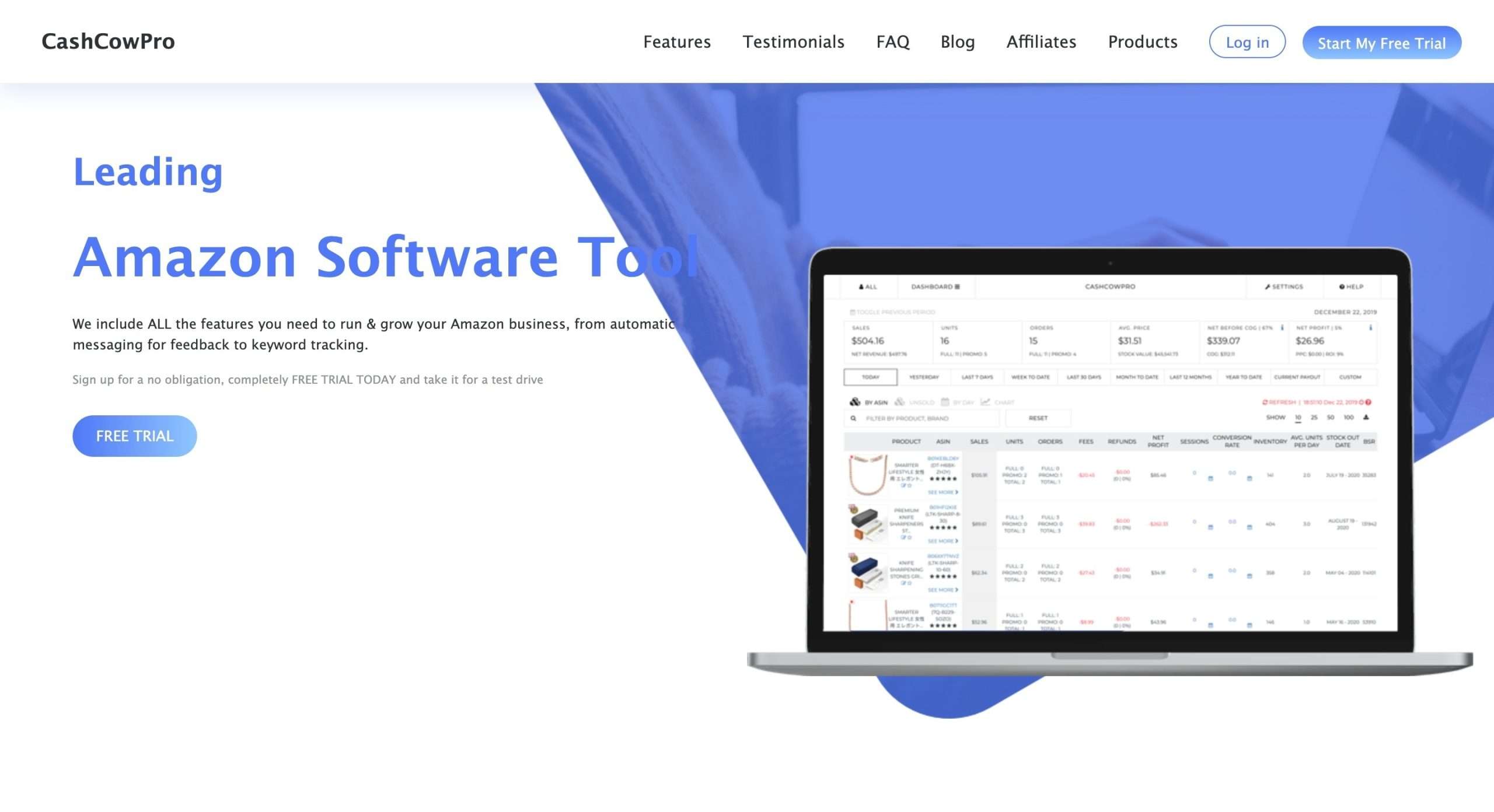 CashCowPro provides real-time sales insights, automated feedback collection, keyword tracking, inventory management, and advanced analytics.
One of the key features of CashCowPro is its sophisticated keyword tracking.
It allows you to watch up to 100 keywords per product to see how you rank for those high-value search terms.
CashCowPro also has a tool feature for researching products. It analyzes the top 20 million Amazon listings to find profitable niches and products.
CashCowPro makes feedback management easy with its automated email system for collecting reviews. Negative feedback can also be automatically addressed to mitigate damage.
This keeps your seller rating high.
You can use real-time data insights to make informed business decisions about sales, revenue, promotions, refunds, and more.
CashCowPro Features
Real-time sales insights and performance tracking
Keyword monitoring for up to 100 keywords per product
A/B testing for listings and pricing
Detailed analytics and competitor benchmarking
Chrome extension for product research
Pricing
CashCowPro has a 10-day free trial. The Pro plan costs $49.97 per month.
Up Your Amazon Keyword Research Game With These Tools!
You now have 12 strong options to find Amazon keywords, spy on competitors, and discover new search opportunities.
But remember, insights without action bear no fruit.
So here's your chance to gain an edge over your rivals:
Take 30 minutes TODAY to plug into one of these tools. Discover 3-5 fresh, high-potential keywords you've never targeted before.
Small steps create big lifts.
Begin keyword research NOW to maximize your Amazon presence!