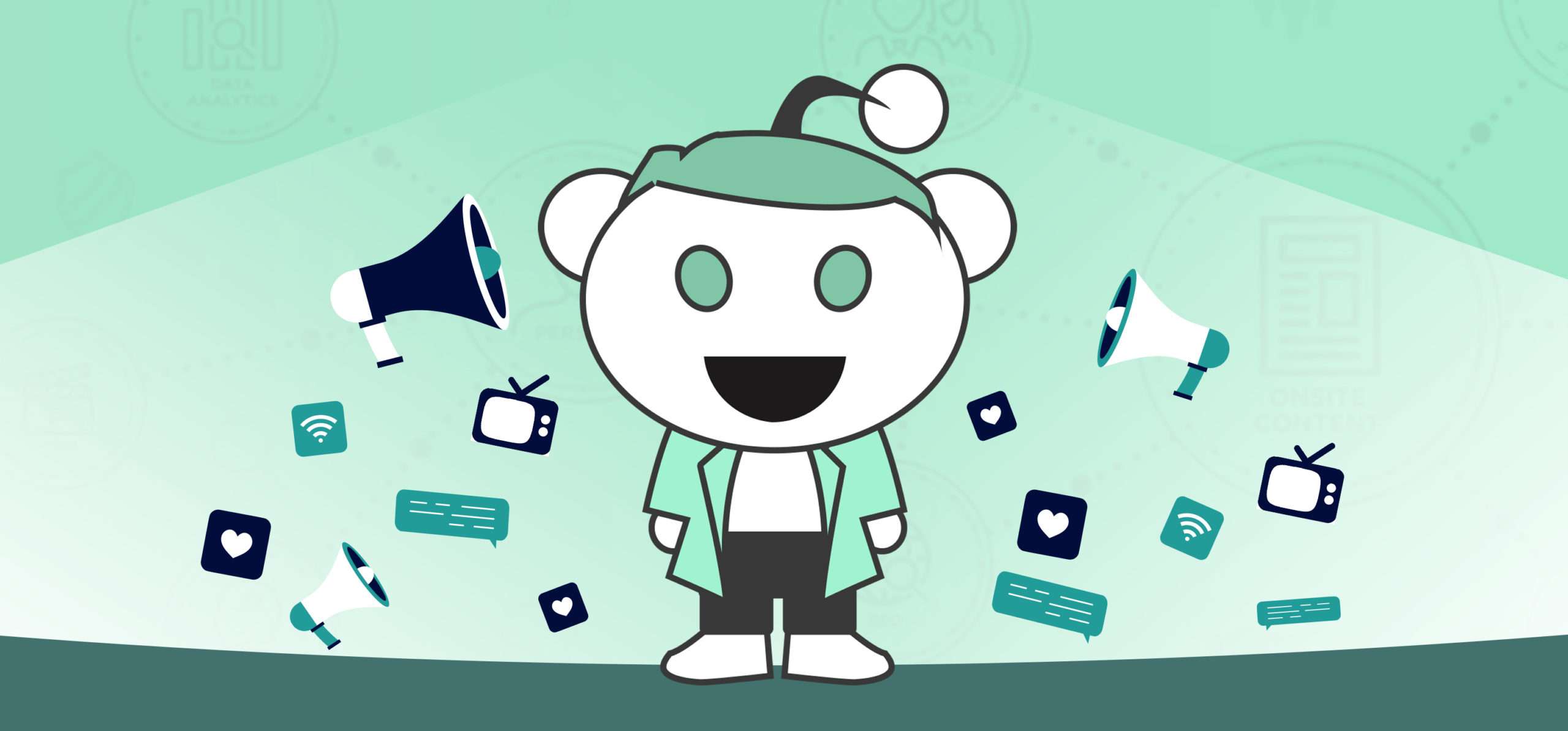 Reddit, in recent years, has quickly gained popularity and become a hotspot for marketers and top brands.
But if you're familiar with the site, you must have realized its culture bears a comparatively sizable challenge to any business.
Unlike other social sites, Reddit is a double-edged sword that has the potential to both soar and plunge your brand image.
On one side, you have an extremely active platform with 430 million daily users within your reach. Yet those same users have enough authority to hurt your reputation on a slight mishap.
Still, despite all that, successful companies have been cleverly maneuvering the Reddit site to promote their products and services.
For, once assimilated, you can drastically increase your brand visibility through this platform.
In this review, I have compiled ten smart Reddit marketing strategies that will help you leverage both the organic and paid options to generate traffic.
1. Discover Niche Communities
Reddit offers a diverse range of discussion threads consisting of everything from stock market news to DIY home improvement. But although the site is astoundingly resourceful, its generic nature makes it hard for brands to stand out.
There are currently over 130k active communities on Reddit. To find your ground in a highly saturated platform, you must target specific subreddits to create brand awareness. (Subreddits are groups, by the way, where users with common interests share posts and converse on discussion threads. In the new version, they've been renamed as communities.)
Select a community that meets your product criteria and explore the trending topics to understand your target market. It will allow you to gather data on which group to approach.
Let me share a useful tactic to find your niche community.
Are you aware of SEO optimization techniques? Ecommerce sites embed particular keywords in their content to bring in leads toward their site. Filtering subreddits follows a similar principle.
To discover communities manually, Reddit provides a search bar at the top of the page. Type your keyword inside the search bar, and the results will show both posts containing your keyword and communities. Review the list and join relevant groups.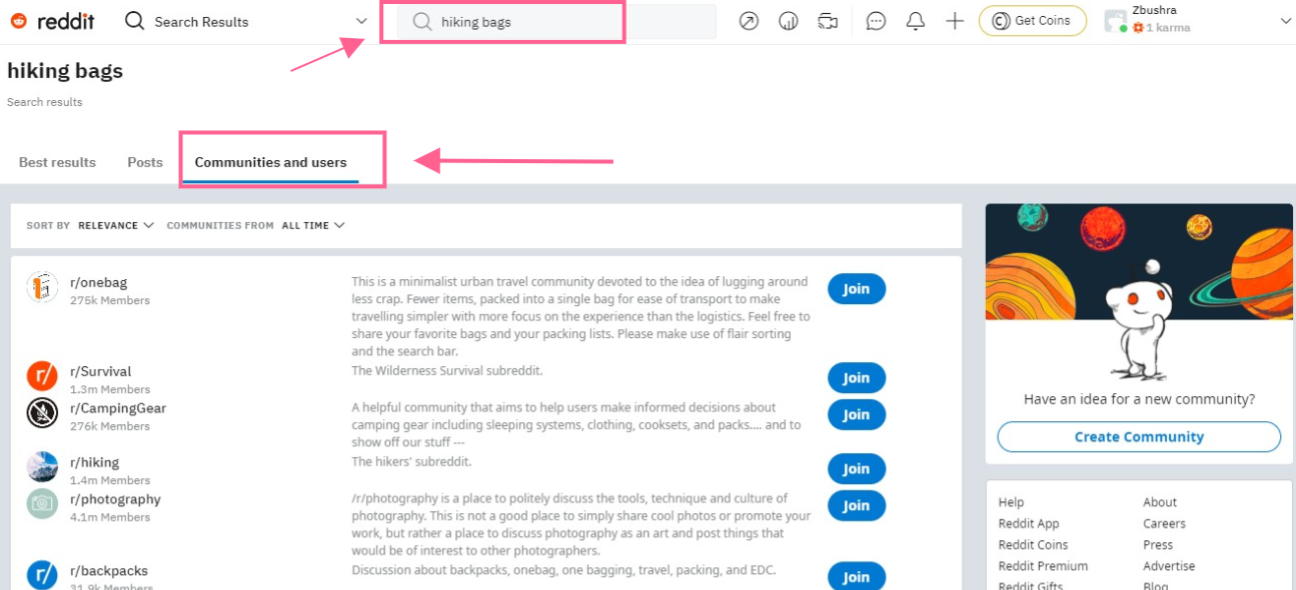 If you want to fine-tune your search further, try Reddit Enhancement Suite. It is a handy Chrome extension, offering additional features to narrow down your data.
2. Present Your Brand as The Best Solution
Whenever I encounter a certain problem, I often turn to Reddit to see how real people are dealing with it.
Most Reddit users visit the site for that very purpose. They seek real-time experience and largely respond to comments offering proven solutions.
Identify threads that may provide you the opportunity to take part in a discussion and resolve such queries presenting your product as the best possible solution.
Here's a perfect example.
This answer was given to the post "What's the best sunscreen/tinted moisturizer in one? Does this exist?" 
Coming to sunscreen, people are typically concerned about the SPF number and the coverage thickness. The lighter the coverage, the better. Since among the various comments, this one shared both points, it garnered the prospect's attention.
Avoid scripted sales pitches and use colloquial language to simplify your explanation. For example, customer reviews usually highlight one of two features, so limit your comment to a few sentences.
Study their candid structure and mimic it. You have a better chance of generating traffic using this tactic.
3. Create A Discussion Thread
Creating your post gives you free rein to shape it as you see fit. You can draft text around your business and share a link to your site, as well.
Keep in mind, Reddit users have an instant dislike for ads disguised as posts, and they wouldn't feel any qualms flagging your thread if annoyed. Therefore, your content should appear genuine.
Take GRR.
The owner of Gecko Rock Resort often creates promotional ads; however, its major traffic comes from indirect marketing.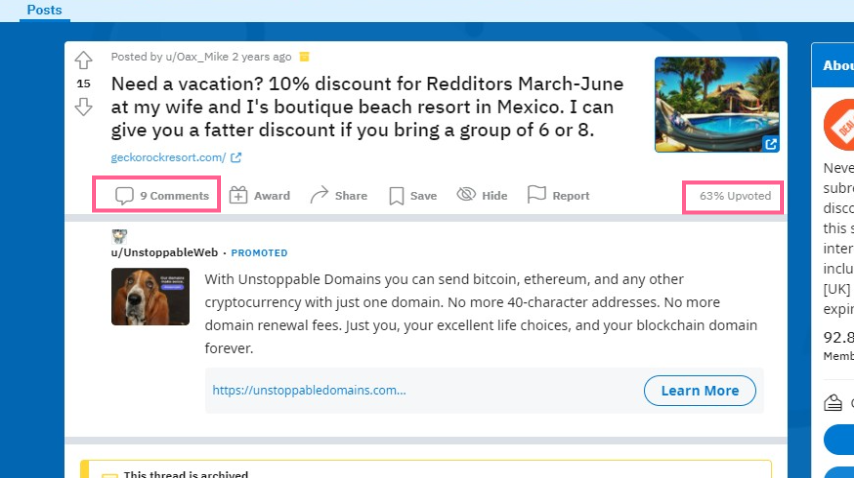 The above screenshot is of the Sales news he posted on a Discount and Deal subreddit, which unsurprisingly received inadequate engagement.
Granted, the community might not be overly active, but direct sales content scarcely earns attention—unless you sponsor your Ads, which I will discuss later.
Now check this one.
The second post is an amazing blend of story and advertisement. By sharing his experience, Mike attracted like-minded potential customers looking to enjoy an adult-only resort.
People are interested in stories. You can generate a significant reaction on Reddit using a narrative structure.
Another way of getting engagement without appearing Salesy, is to post your original story sans a direct link to your site. A lack of CTA will give a legitimate touch to your content. You can later share it after a prospect inquiries about your business location.
Brands often use this strategy to increase their reach.
4. Host an "Ask Me Anything" Session
Imagine, if you were given a chance to get in-person feedback from your customers, what particular answers would you've sought? Thanks to the AMA post, you don't have to envision it.
Ask Me Anything are question-and-answer discussion threads leaders host on Reddit to connect with their audience.
The idea initially emerged in 2009 when a subreddit named r/IAMA went viral for its innovative approach. Later, as more niche AMA communities formed, the idea became quite famous. Now, top leaders and influencers use AMA sessions to encourage engagement.
As an entrepreneur, AMA posts can help you achieve multiple goals. You can introduce a concept, promote your product, and build relationships with your existing customers. Really, you can pretty much establish your authority with a single thread!
That said, hosting an AMA thread differs slightly from your regular post as you must provide evidence of your company's existence to the moderators for approval. Don't worry. Should your information meet the criteria, you will have no trouble running the thread. Here's an example for inspiration.
To a cynic, Bill Gates's post might appear unreal and smacks of deception, as it did to me initially; however, this shows moderators take their job seriously.
Host AMA session. It is a remarkable marketing strategy to increase your brand visibility.
5. Build Your Karma Score
Karma is a reward system Reddit uses to represent your contribution to the platform.
It literally follows the popular cause-and-effect principle and grants a score based on your engagement level. The more upvotes you've received on your content, the higher your karma score would be—and vice versa.
From a technical point of view, your karma score gains you access to restricted Reddit communities and lifts post-limits, but it also reflects your profile authority.
For instance, if I were to create an introductory post about myself with hardly one karma to show, the only response I would probably receive would be utter ignorance.
Similarly, any product I promote, however subtly, will likely be met with suspicion, followed by suspension — if a Reddit moderator's notorious reputation is anything to consider.
By building your karma points, you can strengthen your brand authority and attract users to your profile.
Here're a few ways to increase your karma points.
Comment on trending and uprising posts. You'll have a higher probability of getting upvotes.
Reach out to large subreddits. Large communities are more active.
Make sure your posts are neutral to avoid downvotes.
6. Develop Your Network
Networking is one of the essential marketing strategies to build long-term relationships. It helps brands extend their reach, generate more leads, and avail new opportunities.
You can build your network on Reddit by following two paths.
Join relevant niche communities and promote your product there.
Create your subreddit and grow your audience.
The first route is undoubtedly a bit tedious task, but it's an effective method to gain quick results.
Besides, Reddit gives you the option to create multireddit to save time. It allows you to group a few communities into one feed, so you don't have to browse subreddits separately.
The second method though, may require uncountable sacrifices.
As you will be technically starting a subreddit from scratch, it will take time to generate traffic and even more to attract leads. Nevertheless, despite its challenging nature, the second route will reap long-term rewards.
Most brands on Reddit run their own communities.
7. Improve Your Prospect's Experience
When you think of lead nurturing, a helpful post or educational campaign comes to your mind. Right?
But on Reddit, where everything focuses on individual interaction, you may have to personalize your content to attract your prospects.
Study others and notice how they're connecting with their audience.
Top brands typically involve a third party to entertain their followers.
For example, Audi launched an AMA series where celebrities answered people's questions while driving the car.
The Economist lets its journalists engage with community members. Mid and small size business owners personally nurture their target market.
You can learn a lot by merely observing your competitors' marketing strategies. Find out what catches your audience's interest and implement it into your game plan.
8. Avail Reddit Paid AD Space
Reddit holds a massive market brimming with opportunities you don't want to miss out on.
Despite Reddit users' anti-advertisement sentiments, brands are increasingly using sponsored Ads to boost their reach and gain substantial traffic.
Given Reddit last year's revenues amounted to $170 billion, you can guess how quickly people are adopting this social network to their marketing strategies.
Take full advantage of this channel. Reddit provides separate space for two types of advertisements.
You can either display a banner on the sidebar or run promoted Ads on the feed. It's entirely up to you. I would recommend promoted Ads, though. They appear similar to the post and blend well in the feed.
The ad program is affordable and suits almost every business niche. Explore the Reddit Advertisement section to learn more.
9. Optimize Your Posts
It goes without saying your content should be positively interesting to get attention. Unfortunately, mere quality content may not necessarily guarantee you upvotes on Reddit.
The platform is incredibly competitive and requires smart strategies to scale.
One way of increasing your post visibility is to optimize the content. Understand the platform structure and customize your content accordingly.
For instance, major Reddit traffic comes from the U.S. domain. So, schedule your post with their general lifestyle in mind.
Your title length and content readability also play an essential role. Keep your titles under 120 characters to highlight your post.
Learn the ins and out of Reddit to gain the maximum outcome.
10. Keep A Competent PR Team
PR disaster is an inevitable byproduct of business success, and it happens far more than you can imagine.
Woody Harrelson, a few years back, posted an AMA to introduce his new movie Rampart. While the content was fairly harmless, the actor's bland response to personal questions backfired terribly, earning him immense negative publicity.
In another case, an outdoor essential brand's CEO faced a ruthless employee grievance on his innocuous Black Friday post.
My point is, social media might be one of the best marketing channels, but it is highly unpredictable. Anything from an offensive word to a callous comment could trigger a rampage you'd find difficult to curb.
Hire a competent PR team to be on the safe side.
Good luck with your reddit marketing campaign!