Engaging global talent is undoubtedly the best way to diversify your resource pool and optimize your HR costs. But the logistics of recruiting and managing overseas employees are incredibly challenging and often time-consuming.
You probably may need to establish a branch in multiple countries to legally recruit people, and work with local experts across different regions to handle compliance matters. 
This makes a simple hiring and payroll process overly complicated for some companies.
With platforms like Oyster and Deel, you can cut down cross-border barriers and easily recruit people from other countries. They give you an alternative and simple way to engage international talent.
In this article, I have made a feature comparison between Oysters and Deel to highlight their differences. Explore the review to discover which platform is well-suited for your business.
Oyster Overview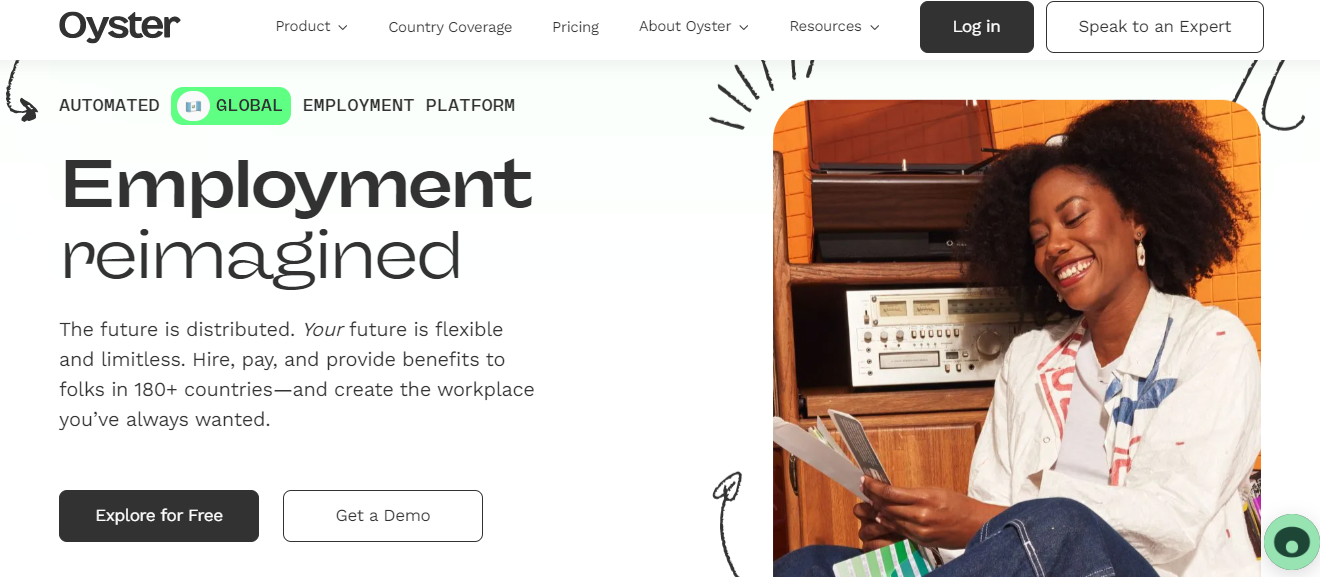 Oyster is an international employment platform that offers software and services to help you manage your global team. It provides you with the tools and resources to hire international staff without the hassle of establishing a legal entity.
The company was founded in 2020, and since then, it has expanded its reach to over 180 countries.
Some top features of Oysters are; recruitment, global payroll, benefits administration, and contract generation. You can engage its EOR (Employer of record) services to find international talent and use its SaaS platform to handle HR functions like onboarding and time off.
It is easy to operate and delivers guidance and compliance support to ensure you don't face any tech or legal complexities while signing contracts or running payroll.
Oyster's core functions are;
EOR services—Contractor and Employee hiring.
Global payroll.
Visa assistance. (Add-on)
Self-service platform.
Deel Overview 
Deel is Oyster's close competitor. Like Oyster, it's a global hiring platform that enables you to recruit overseas contractors and employees and run multi-country payroll.
Some of the things you can do with Deel's team include; international hiring, global payroll, direct employee onboarding, and compliance management.
You can hire people from 150+ countries and manage legal contracts, taxes, and benefits. Deel's in-house team takes care of most of the paperwork, while its SaaS app automates the HR processes.
Deel was launched in 2019 and has assisted over 15000 businesses with recruitment and payroll. Popular brands like Shopify, Nike, and Subway are currently using Deel to manage their distributed teams.
Deel's core functions are;
EOR services—Contractor and Employee hiring.
Multi-country payroll.
Visa and background check assistance. (Add on)
HIRS platform for direct employees.
Oyster vs Deel—Feature Comparison
Oyster and Deel are well-recognized platforms. Both enjoy good ratings, offer decent country coverage, and provide fair pricing, making them ideal for small, mid-size, and large organizations.
Here, I have shared Oyster and Deel's core features, prices, and integrations for comparison. Check out the review to see if it might help you find what you're looking for.
1. EOR Services
EOR is an Employer of Record service where Oyster and Deel serve as proxy employers to take legal responsibility for employee contracts, payroll, statutory benefits, and taxes.
This gives you the freedom to engage overseas professionals without getting entangled in compliance matters. 
Let's look at Oyster and Deel's EOR functions.  
Oyster EOR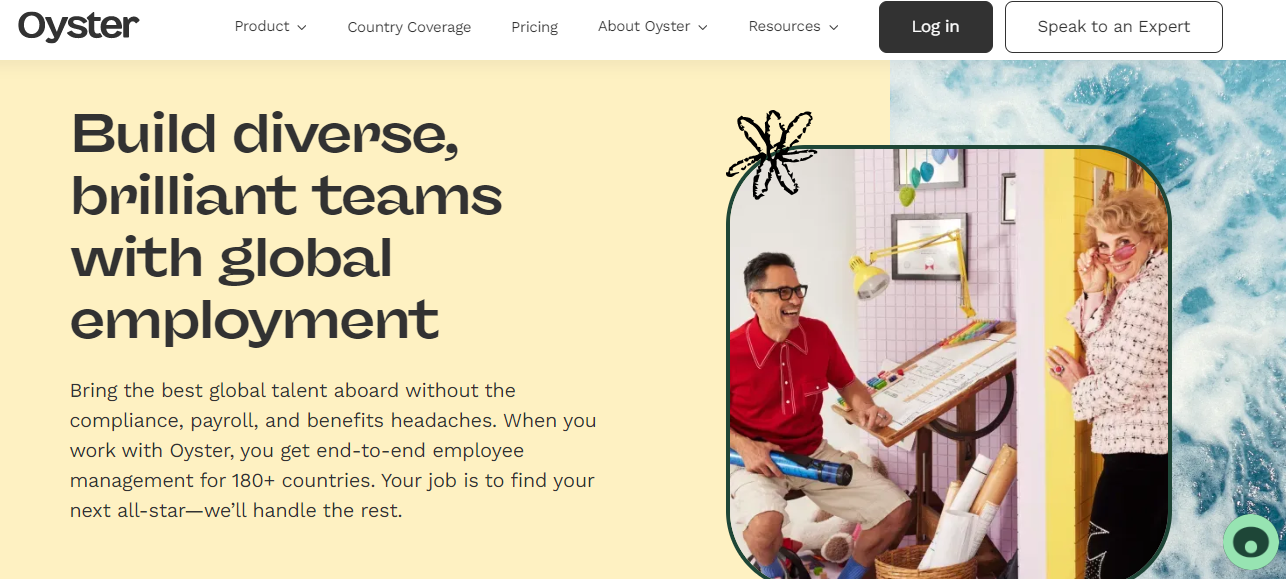 Oyster's EOR services comprise contractors and permanent employee recruitment. It has owned entities and partners in 180+ countries to handle the necessary paperwork and provides onboarding, payroll, and offboarding support. 
You can use its self-service platform for free and only need to pay when you plan to hire someone. Once you decide to onboard an employee, you'll get compliance and HR guidance on salary packages, contracts, and statutory benefits.
Via its digital platform, you can track onboarding and offboarding, record time off and expenses, and disburse salaries in bulk. Oyster covers tax calculations and individual transactions.
Oyster's EOR service rates are fixed for almost all countries save for a few, which includes Brazil, Romania, and Turkey. Look up this list to check its country coverage.
Deel EOR
Deel's EOR service involves employee hiring, contractor management, payroll, and paperwork. Its in-house team generally manages the legal contracts, document collection, and employee benefits. 
Via its SaaS platform, you can automate onboarding, disburse salaries, and generate custom reports. Your staff can submit documents, request time off and get payslips. The documents are stored in one place, making them secure and accessible.
If you want to terminate a contract, Deel takes care of the severance and offboarding as well. This information might not be visible on the platform, but you can get the details from the sales team.
Verdict
As an EOR, both Oyster and Deel offer legal, reliable, and secure services. Their self-service platforms are also user-friendly and easy to access.
The difference between them is apparently in the country coverage and SaaS features.
Oyster has comparatively better reach, but Deel provides more perks and plugins.
Oyster is straightforward and transparent when it comes to EOR service charges, but Deel's functions are versatile. Deel also own entities in 100+ countries, which gives it more control over the recruitment and payroll process.
2. Multi-country Payroll
Global payroll comprises generating timesheets and wiring money to contractors and employees worldwide.
Most employment platforms like Oyster and Deel provide payroll in the EOR package to make international payment easier.
Let's look at the facilities Oyster and Deel offer to its users.
Oyster Payroll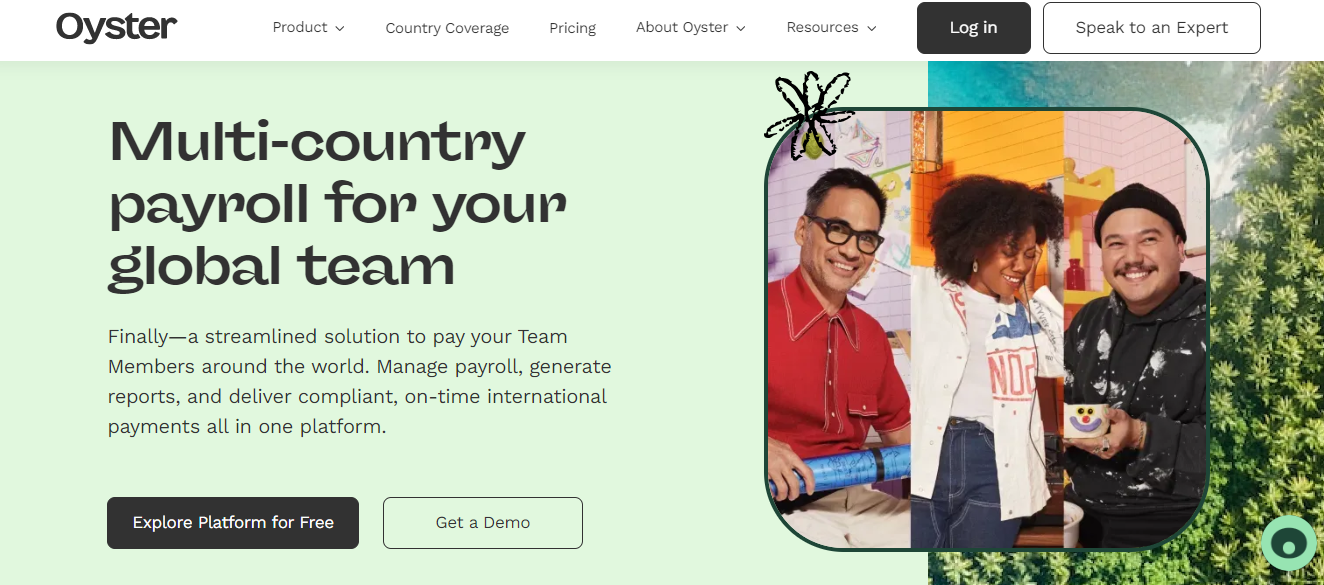 Oyster helps you run payroll in 130+ countries and pay contractors in 120+ currencies. It provides a one-click payment solution, enabling you to automate tax deductions and disburse salaries and payments in bulk.
You can manage expenses, bonuses, and reimbursement from its self-service portal and adjust them in your staff's monthly salaries. The software has built-in features specifically for unplanned expenses and time off.
With Oyster Payroll services, you will have the freedom to create attractive salary packages for your team and pay them on time.
Deel Payroll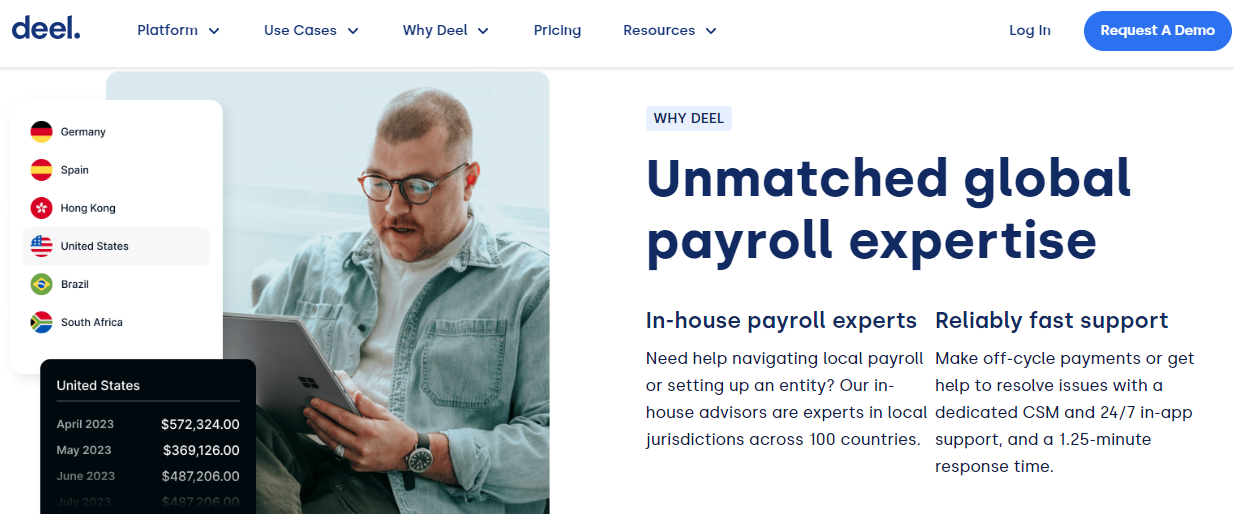 Deel provides payroll services in 90+ countries and allows you to pay your employees in 200+ currencies.
Via its self-service portal, you can set up payroll for each member, add ad hoc expenses and bonuses to the salaries, and disburse payments with one click. It has in-house experts in 100+ countries to help you with payroll.
For contractors, Deel has more flexible options. You can offer multiple payment methods to contractors and issue them virtual debit cards for expenses. Check out the type of transactions you can make with virtual cards, here.
Deel also delivers PEO services. If your business is in the US, you can let Deel manage the entire process for you. 
Verdict
Both Oyster and Deel share attractive payroll solutions. They facilitate multi-country payroll and provide more than 100 currency options.
Some of the visible differences that I noticed were in the contractor services and payment methods. 
Oyster's contractor plan is comparatively cheaper, making it an ideal option for those who entertain fewer contractors and looking for affordable platforms.
 On the other hand, Deel shares multiple payment gateways and perks, including a debit card. If your workforce comprises a distributed team of contractors, Deel may be a good option for you. 
3. Add-ons
Apart from hiring and payroll, global workforce management covers plenty of other things that you might want to be handled by third-party platforms.
It could be office supplies delivery, physical workspace facilities, or relocation services. It could also be equity incentives to attract top talent.
Oyster and Deel recognize the need and offer add-ons to help you with site functions.
Let's look at the extra services Oyster and Deel offer.
Oyster Add-ons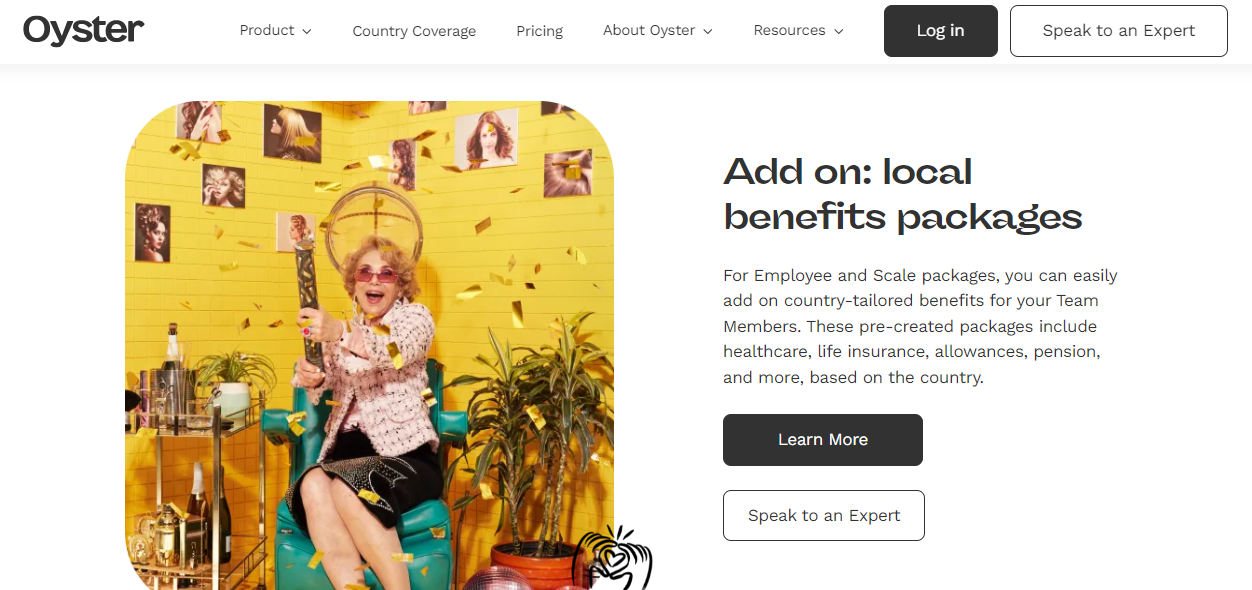 Oyster provides employee benefits as an add-on service for its EOR and Enterprise (Scale) plans.
The services include pre-built local and global packages personalized for 165+ countries.
It's designed for team members who frequently travel for work purposes and might want health coverage or allowances.
Another extra service Oyster delivers is employee relocation. You can receive sponsorship, immigration, accommodation, and essential assistance in Germany, Spain, Portugal, Estonia, and the Netherlands.
Check out its partner list to see what more you can get from Oyster.
Deel Add-ons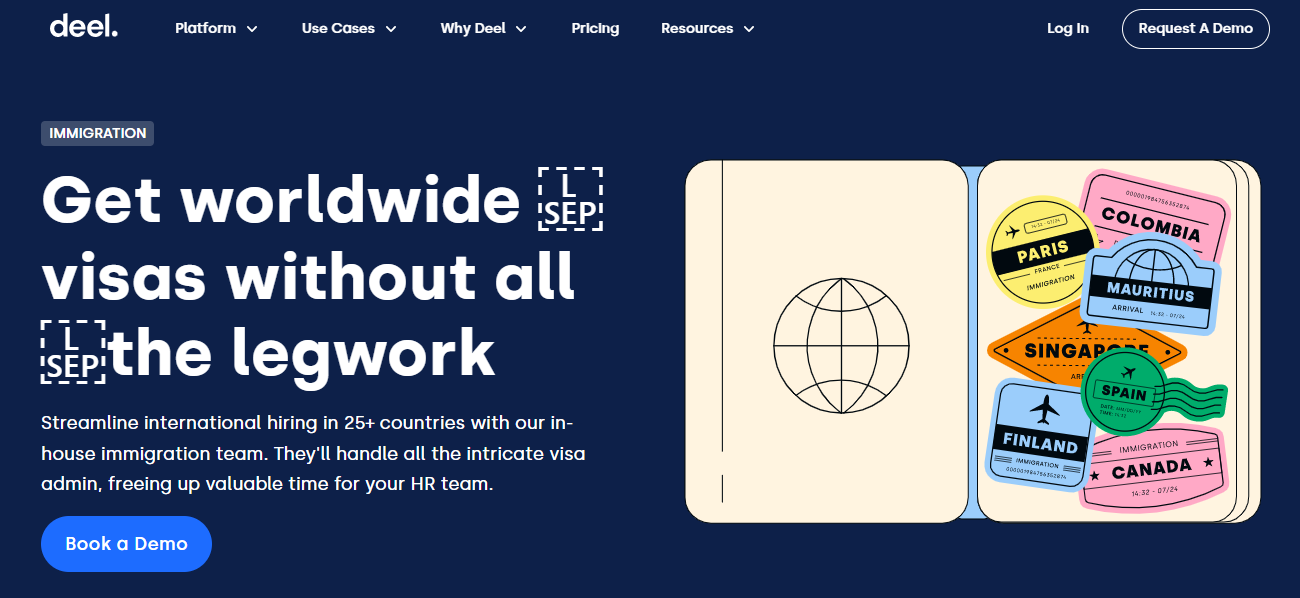 Deel offers several optional services.
You can get help with employee benefits, equipment shipment, and workspace renting. To relocate employees, you can purchase its mobility service. It involves work visas and renewal process assistance.
If you want secure hiring, you can buy its premium background-checking services. Deel enjoys a partnership with the Canada-based background check platform, Certn, to vet new employees.
Verdict
Oyster and Deel's add-on services are evenly matched. They deliver fully-compliant benefit packages, equity options, immigration assistance, and co-working spaces. They even share the same vendors for some of their additional services. 
Both platforms have teamed up with several companies to equip you with everything you need to manage your employees remotely. 
In my opinion, both are winners in this category.
Let's move on to the pricing plans.
Pricing
Oyster and Deel offer three subscription packages along with several add-ons and perks. You can try them for free and ask for custom quotes to build tailored plans.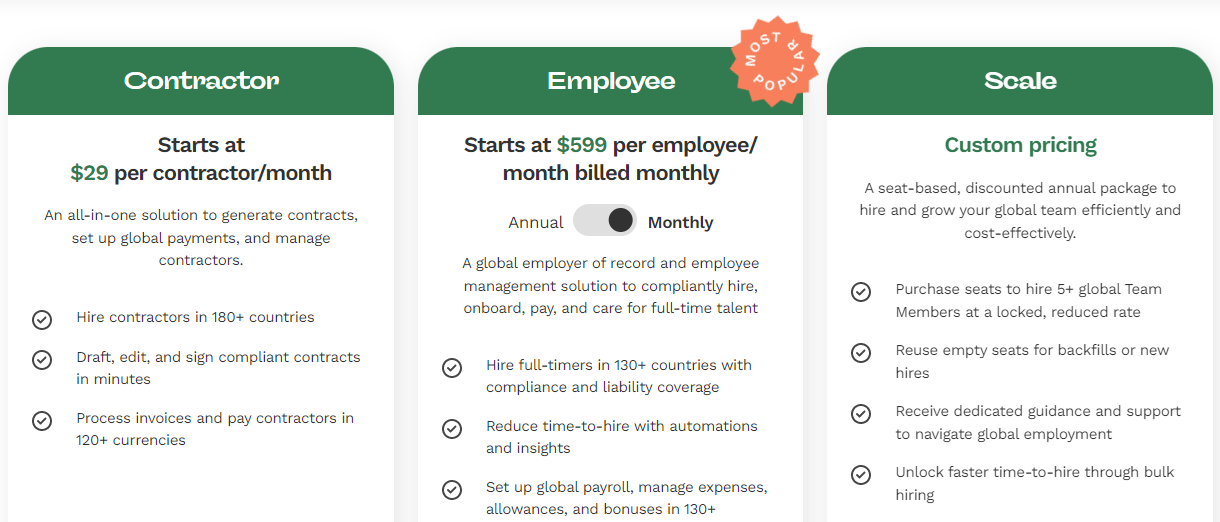 Oyster's basic plan starts at $29, while its per-employee recruitment rates begin from $599. It doesn't charge additional set-up fees but may ask for the initial deposit.
You can also get discounted rates if you represent a non-profit organization. Oyster offers special prices and free enrollment to its academy to support goal-driven companies. Additionally, it gives attractive rates to organizations that specifically hire refugees.
Below is the summary of Oyster's plans;
Contractor Plan: Starts from $29.
Employee Plan: Starts from $599.
Custom Plan: Prices are shared on request.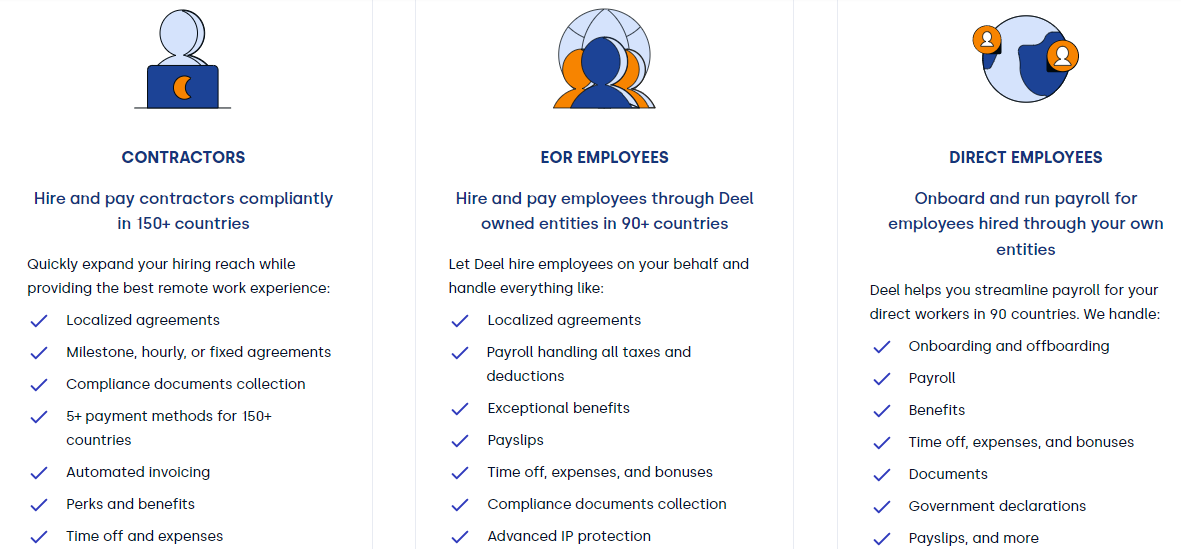 Deel charges a minimum of $29 per user for its contractor plan and $599 for permanent employees. It offers both fixed and Pay as You Go payment options to customers.
You can alternatively use Deel to onboard and pay employees you've hired through your own resources. Its HIRS platform is completely free, but some of its functions might be for premium users. I recommend reaching out to customer service for details.
Below is the summary of Deel's plans;
Contractor Plan: Starts from $49.
Employee Plan: Starts from $599.
Direct Employee platform: Free for up to 200 users.
Verdict
Oyster and Deel's subscriptions vary in price and features.
Deel's contractor plan is comparatively expensive, but the platform compensates for it with rich features. Oyster and Deel's employee plans share common features, but their third packages target different markets.
Despite the differences, both are good options for global hiring.
Integrations
We have, so far, pretty much covered their core functions. But there are still some areas you should consider exploring before making a purchase decision—like integrations and APIs.
Let me briefly compare Oyster and Deel's third-party app support.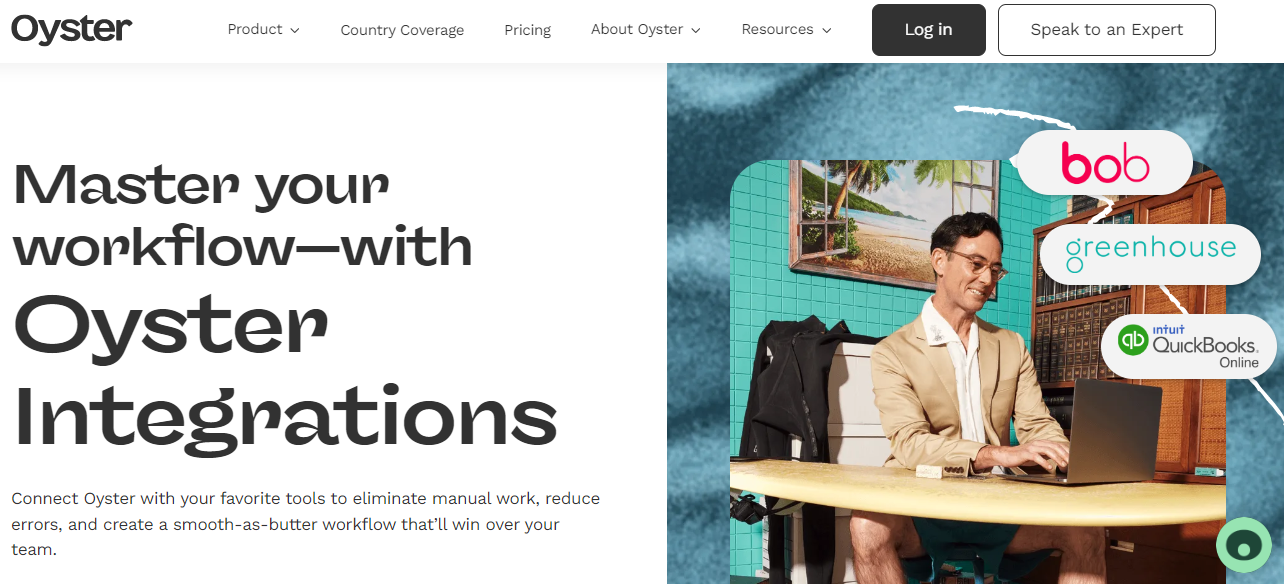 OysterHR works well with HIRS and ERP software.
Some of the applications it can integrate with are; Quickbooks, BambooHR, Workday, and Oracle.
It has recently launched its developer API to allow companies to integrate their favorite tools. The feature is still relatively new, so I advise exploring it further.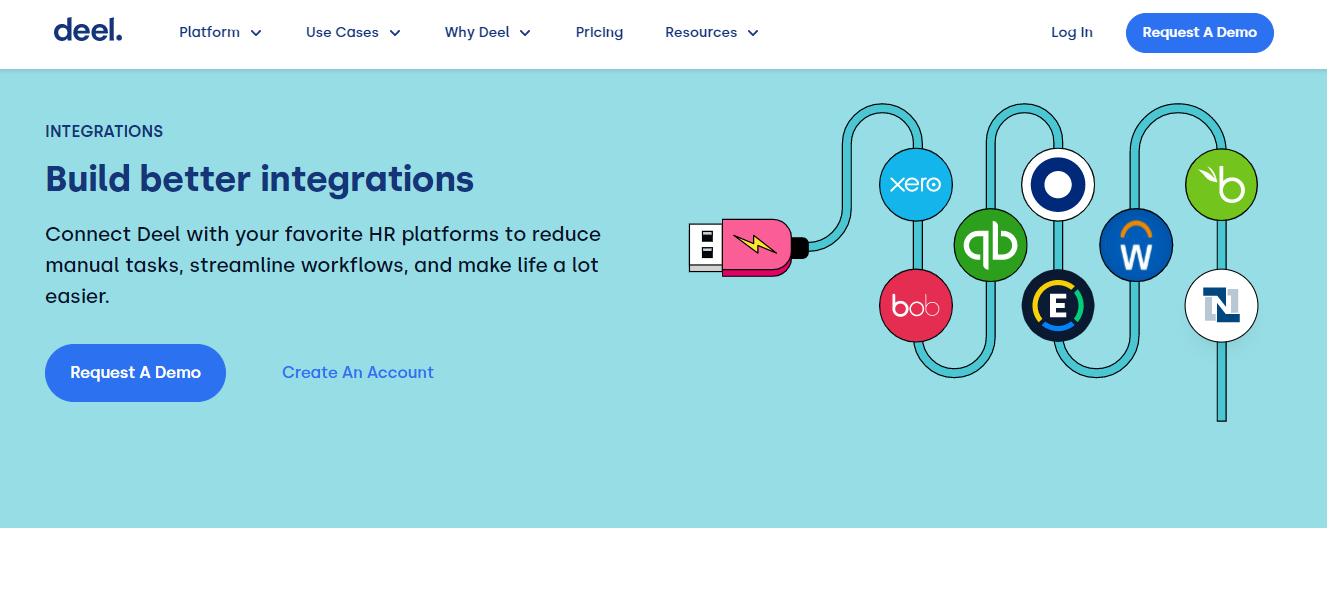 Deel can be connected to accounting, HR, and recruitment platforms.
Major third-party applications it supports are; Quickbooks, Xero, Netsuite, and BambooHR. With its API, you can expand Deel's functions.
What makes Deel stand out is its "Engage" feature. You can now integrate your Slack into its SaaS platform and perform several functions directly from Slack. I didn't find this option on Oyster.
Verdict
Oyster and Deel allow essential integrations and API access, but Deel seems to offer a little extra for employee engagement.
If you don't have any need for Slack integration, you can opt for any of them.
Conclusion (Which one is Better?)
Based on my research, I believe Oyster and Deel are equally good platforms.
Both simplify international recruitment and help you stay compliant. Both also offer a one-click payment solution, eliminating the need for manual calculation and individual salary disbursement.
Their customer support seems to be on par with other employment platforms as well—which is neither bad nor superb.
The usability and workflow speed may differ, though. Take their demo to test them before committing to any platform.
I am leaving you with a quick summary of their advantages and drawbacks to help you make a well-informed purchase decision.
Oyster Pros and Cons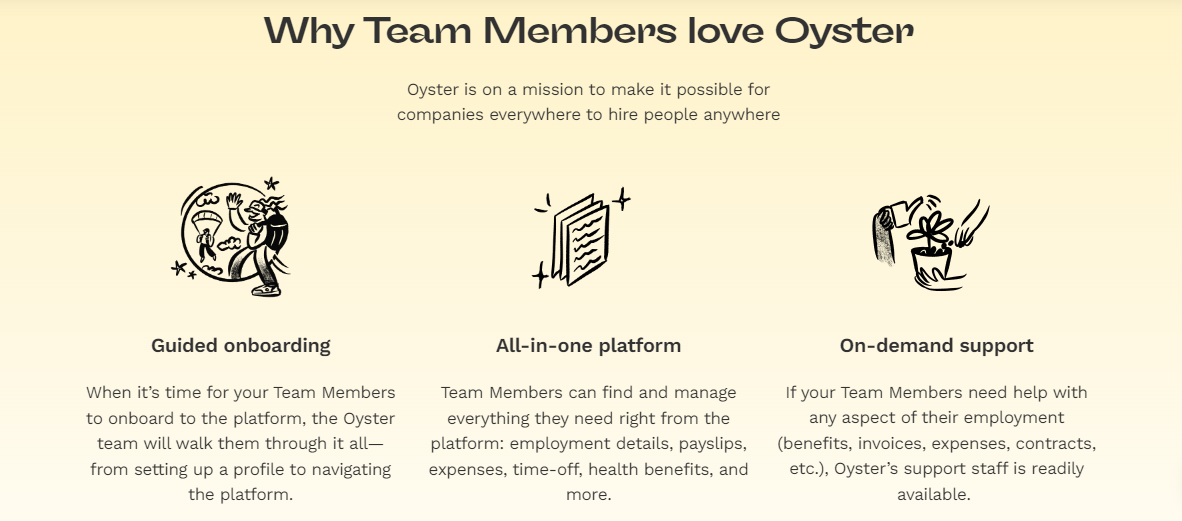 Pros 
Access to 180+ countries.
50+ global hiring guides and free tools.
Affordable packages.
Cons
Limited payment options for clients.
Slow response time.
Deel Pros and Cons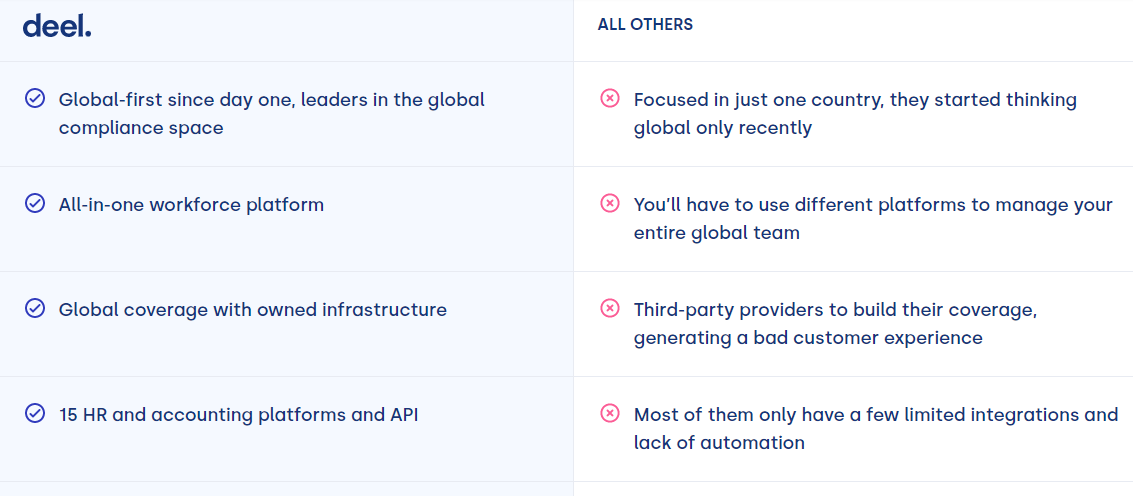 Pros
Robust features.
Several payment gateways and currency options for clients.
A free HIRS platform for direct employees.
Cons
Slightly complex UI in comparison.
Lack of transparency in pricing.
Want to explore Oyster and Deel further? Contact their sales team and request a free trial. Good luck!