People are important.
They (at least some of them) make your world a better place.
Paraphrasing Mark Manson, the most important life skill is to care for a selected few and show them that you do.
But it can be perplexing to keep track of all the people in your life, especially if you have a lot of them.
If that's the case, forgetting someone's birthday or missing an important anniversary is no stranger to you.
Maintaining meaningful relationships takes effort, but it doesn't have to be so hard and, manual. That's precisely where Clay.earth comes in.
Clay is a personal assistant for your network which brings all your connections together in one place, and more.
In this guide, I'll walk you through exactly how to use Clay's powerful features to deepen your real-world relationships virtually.
TL;DR Clay Summary
Clay.earth is a relationship management platform that connects your contacts and communications from across apps and social media.
It automatically builds a searchable contacts database.
Key features include:
Imports contacts from email, calendar, social media
Updates profiles continuously
Reminds you of important dates
Enables easy searching and sorting of contacts
Includes Nexus AI to provide insights on connections
Allows taking structured notes and setting reminders
And more.
Clay allows you to focus on connecting in real life. With Clay's help, you won't forget birthdays, anniversaries, or opportunities to catch up.
Sign up for Clay today to build deeper relationships, the easy way. It's Free!
What Is Clay.earth?
Clay.earth is a smart CRM platform that works on iPhone, Mac, and the web. To say the least, it helps you better manage your contacts.
And with its AI-powered navigator Nexus, Clay unlocks the power of relationships.
Clay connects multiple apps to help you manage your network and builds your personal Rolodex automatically by collecting contacts from your:
Email
Calendar
Twitter
LinkedIn
And iMessage.
It populates details like photos, bios, work histories, locations, and social profiles. And it continuously updates them over time without your active intervention.
Clay reminds you of important dates, so you can connect with the right people at the right times.
The serendipity feature recreates the feeling of unexpectedly running into someone. It introduces intentional coincidences into your network.
In addition, the Explore tab shows you updates like new jobs and mentions, so you stay informed.
Searching through your connections is easy with Clay's intelligent search capabilities. It finds people based on details in their profiles and notes.
Clay helps you take action by making it easy to create notes, add contacts, and connect with mutual connections.
And it connects to over 1000+ apps via Zapier.
With that said, it's time we dive straight into the good, the bad and the ugly of Clay.
What We Like About Clay.earth
Great memory refresher: We appreciate Clay's ability to help remind us about important events happening in the lives of people we care about.
Polished user interface: We are impressed by the level of polish in Clay's design and user interface. It's a visually appealing and well-crafted tool.
Integration with social media: We like how Clay connects to social media accounts quickly, making it easier to gather information about contacts.
Valuable for building relationships: Clay is valuable for building relationships, both personal and professional.
Where We Wish Clay.earth Did Better
AI integration: We experienced that the AI in Clay could be more seamless and less intrusive. We want it to work in the background without rewriting notes.
Bulk editing: We also suggest improvements in bulk editing, making it easier to manage many contacts at once.
Filtering and sorting: Sorting and filtering options can be improved to manage contacts more effectively.
Getting Starter With Clay.earth
Despite what many users have experienced (and mentioned on review sites like G2 and Product Hunt), I found Clay's onboarding to be easy and efficient.
Here's a simple three-step process for smooth onboarding:
Step 1:
Visit Clay.earth and create an account.
Once you've created an account and logged in, you'll need to connect your various third-party app accounts like email, calendar, Twitter, LinkedIn, and iMessage.
Connect wherever you have your people. If you have them stored locally on Contacts, you can import that data too.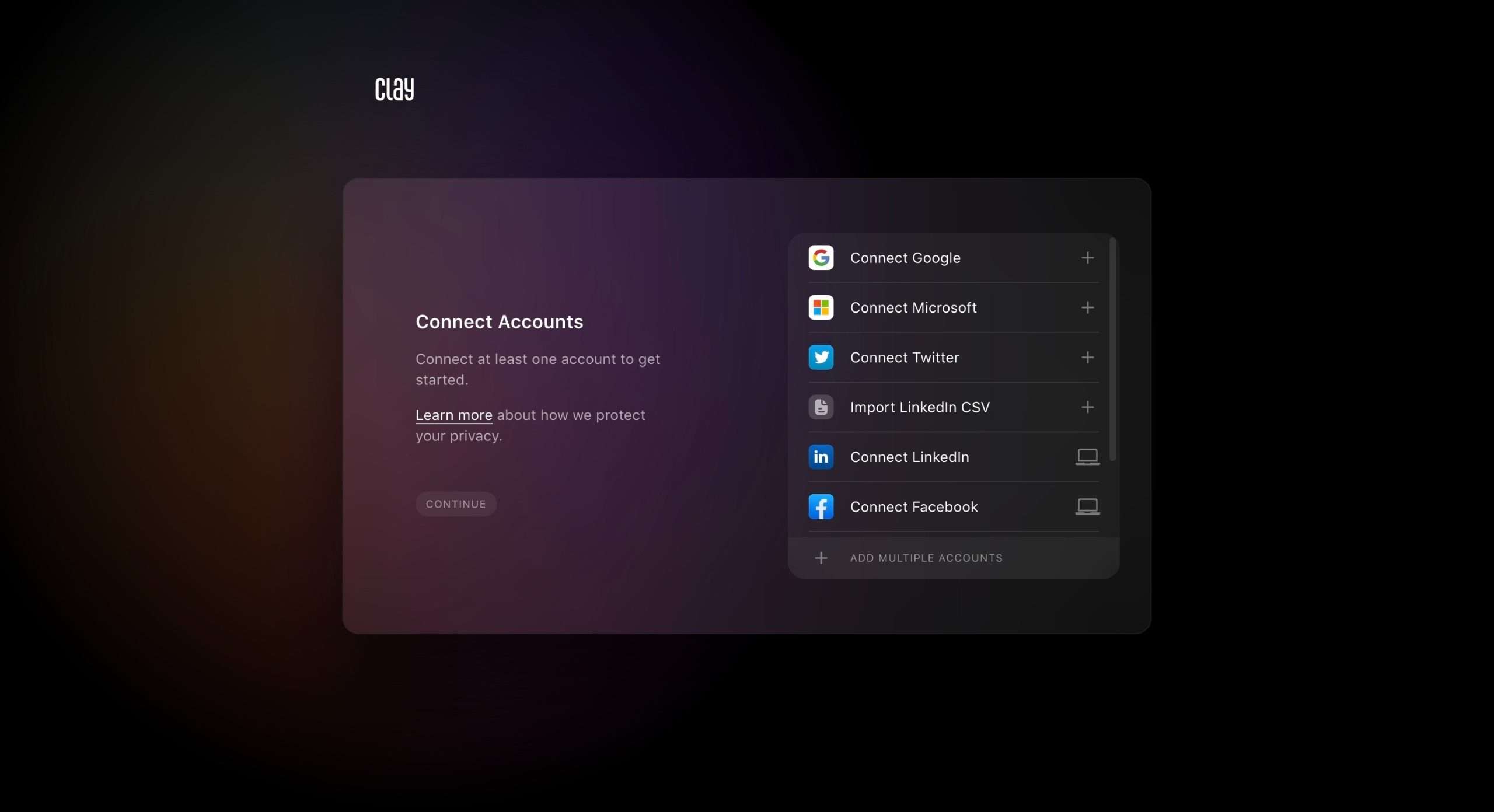 This step is crucial as it allows Clay to automatically gather information about your contacts, making your life much easier.
Step 2:
Once you've linked your third-party accounts, go to your profile and enter basic information like your name, email, and (if you want) your Twitter and LinkedIn handles.
Step 3:
After connecting your accounts and setting up your profile, you will be forwarded to Clay's main dashboard.
The home page will give you further instructions you can follow to set up the basics and get going.
Additionally, the home page is also where you get live updates whenever anyone from your contact list changes something on their social profile.
You will precisely know what was changed: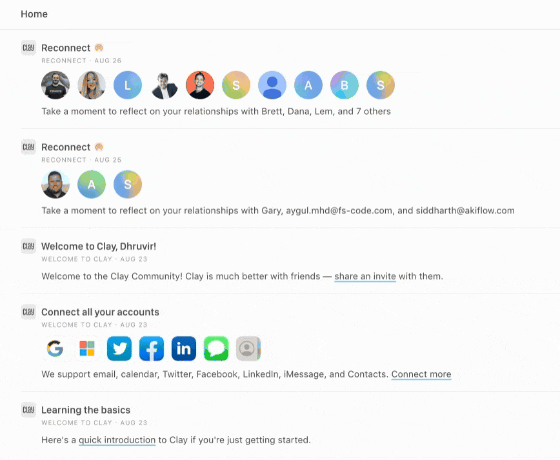 That's all you need to know about getting started.
You have now created an account and made yourself familiar with Clay. Now that you have seen things, let's make you friends with Clay's features and how to use them effectively:
Clay.earth Features & Using Them Effectively
1. Connecting and importing important stuff
Assuming that you already know about Clay's third-party integrations (as covered in the onboarding section), you will learn how to import specific things to Clay (specifically from LinkedIn).
To locate Integrations, head over to Settings, which can be accessed from the top-right corner of your screen.
Then, click on "Connect LinkedIn".
You will be asked to upload a CSV file. Click the button, and you will see this popup where you are required to drop your LinkedIn CSV file.
Next, click on "Request a data export from LinkedIn" and you will be redirected to this LinkedIn page:
Download all the data that you need to import into Clay. I recommend starting with connections. After a few minutes, you will get an email from LinkedIn saying that your export data is ready for download.
Download and unzip the file and then head over to Clay to import the data.
Once the import is completed, check out the right sidebar of Clay's homepage. You will be able to view the updated list of contacts and data about each one extracted from LinkedIn.
Similar to LinkedIn, you can pull data from wherever your people lie using the same simple steps.
You can even add a new contact to Clay manually. In the bottom-left corner, you will see a "New Person button". The keyboard shortcut for the same is "p" (ensure your caps lock is off).
Then type in either their:
Name
Email
LinkedIn profile
Twitter handle
Phone number
Etc.
Done! It all starts with adding the people you want to remember. And you now know how to do that.
2. Using powerful search capability
Clay's search feature is phenomenal. In fact, it is simply the best among all the CRM apps out there, no near competition.
So what makes it special?
For starters, it is NLP-friendly, meaning that you can search for any contact without exactly writing their name.
You can describe something you remember about that person (maybe age, location, hobbies, etc.), and the search feature will return with all the possible answers.
On the right, they have also provided you with tips and examples to search effectively. That's a good starting point.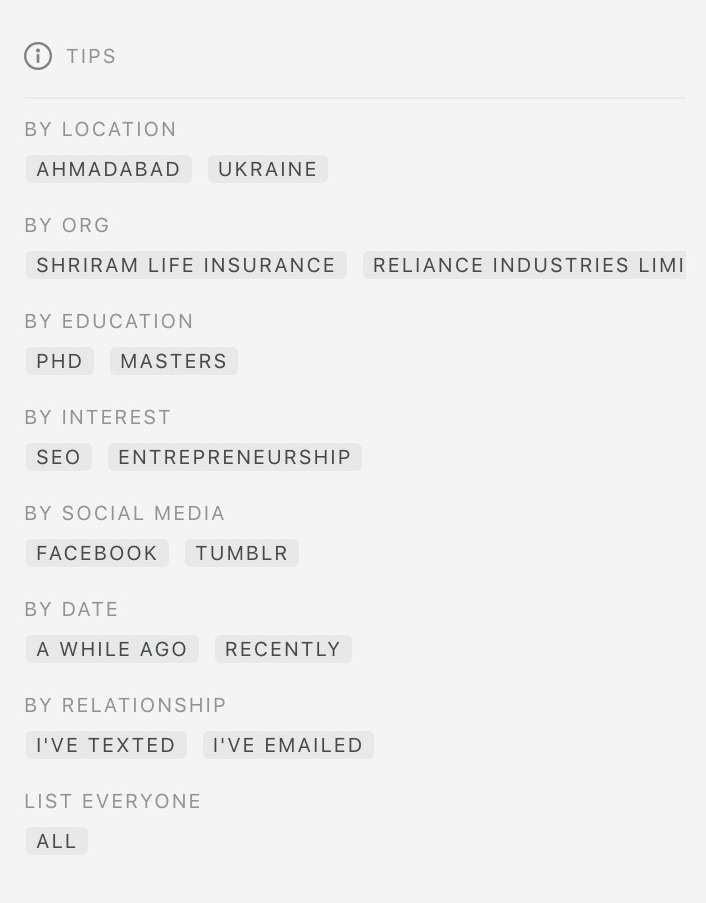 The best part?
To open the Search page, use the keyboard shortcut " / ". Then you can start typing whatever you want.
When you hover over a person's profile, you can see when you last communicated with them and where.
Since I linked Google Calendar and Gmail, Clay realized, for example, that I had 2 meetings with Aayush in the past 8 months. I also sent him 3 emails, with the most recent one being about two days ago.
And that will automatically change based on further interactions.
Pretty cool if you ask me!
Additionally, Clay has a fast command bar. You can use the keyboard shortcut Command/Ctrl + K to quickly jot down notes, search, add contacts, and ask Nexus.
This brings me to Nexus AI, your AI-powered companion that helps you better understand and communicate with your contacts.
3. How to use Nexus AI?
Nexus AI is like ChatGPT for CRM and with better prior context. It's a built-in search feature inside Clay. and I believe it is by far the best supplement to a CRM.
You can ask Nexus any question you want, and it will give you an answer using machine learning and NLP.
Here's a real-life example:
I recently wanted to get started with cooking, but I was clueless. Before this, Maggi and Tea were the only things I ever made myself.
It was time for a change.
I realized that I could use help from someone in my contacts who might already be into cooking. I opened up Nexus and asked: "Who do I know who is interested in Cooking?"
You can see that it found people who may have talked about cooking on LinkedIn or Twitter.
This is a really helpful and time-saving feature.
It was just one of the many use cases for Nexus.
Here's another important use case:
Let's say you have a meeting with someone for the first time, and you know nothing about that person. Now, if they are your LinkedIn connection or in your contact, you can search for that person inside Nexus:
As soon as you write their name, their profile will appear. Besides their profile, you will see the following text—"Show me some examples of what I can ask about [contact name]".
Click it, and it will provide you with some examples in which you can use Nexus.
Let's say, for instance, I have a meeting with Ishita and I want to summarize what she is into professionally. In this case, Nexus can quickly summarize her profile and give me everything important that I need to know about her.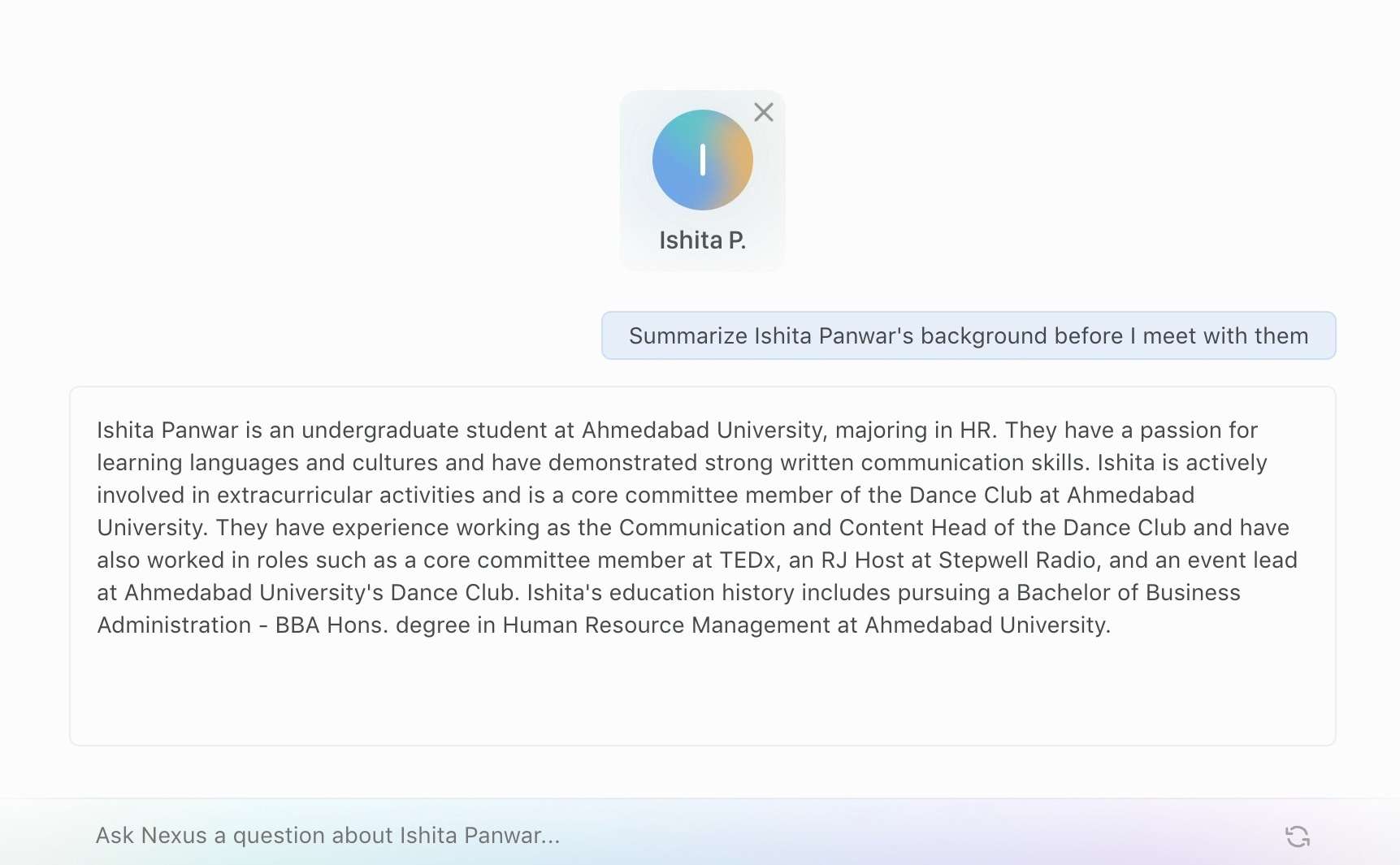 Lastly, Nexus also allows you to ask follow-up questions, which is a huge plus.
And because Nexus extracts data directly from LinkedIn and other connected accounts, you can rest assured that it is not making up data or hallucinating.
By the way, Nexus can be accessed from here: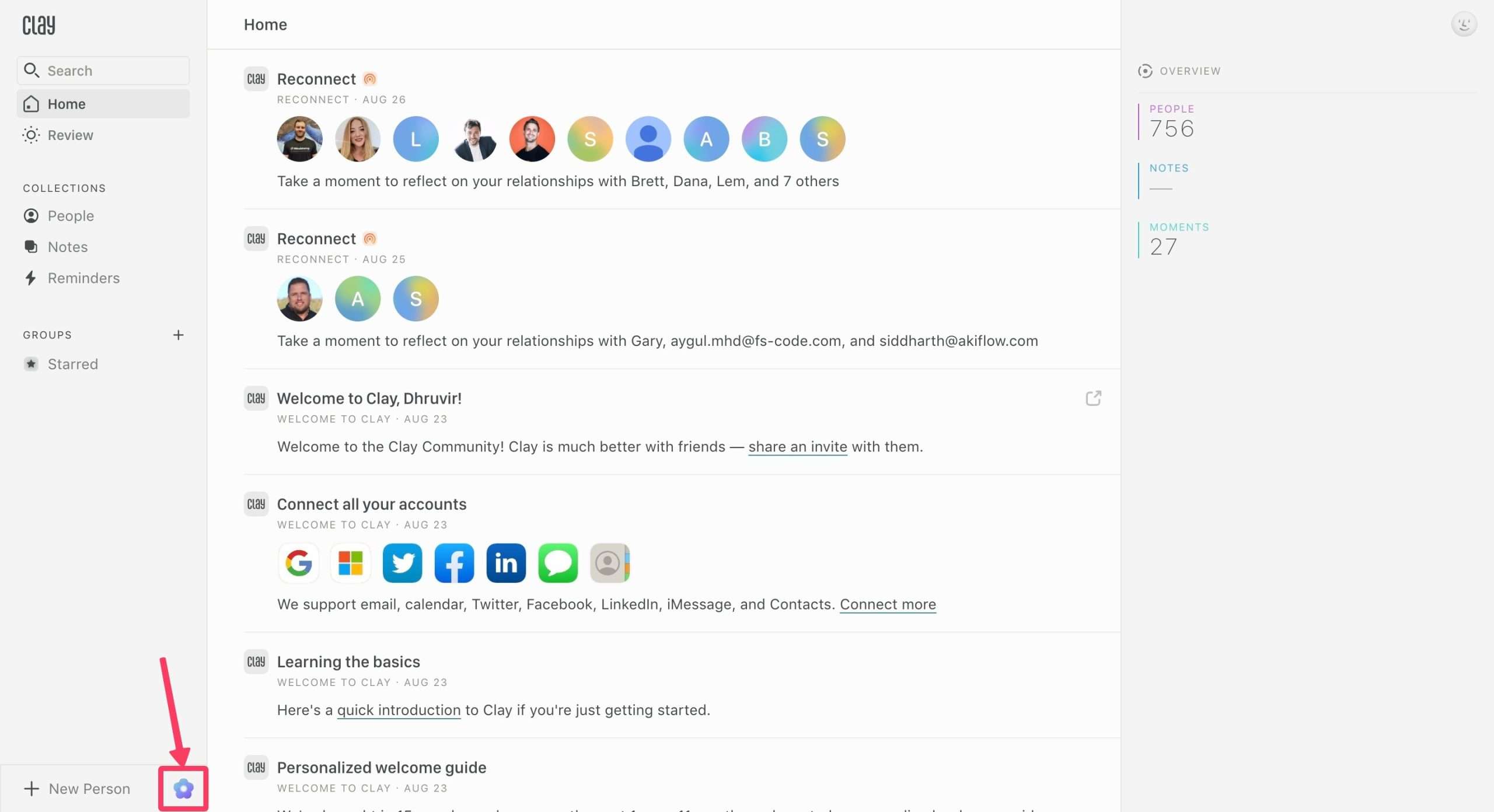 Or from the command bar:
4. Managing your contacts and building relationships
Clay's People section is a goldmine. It is home to every contact of yours. The interface looks like this: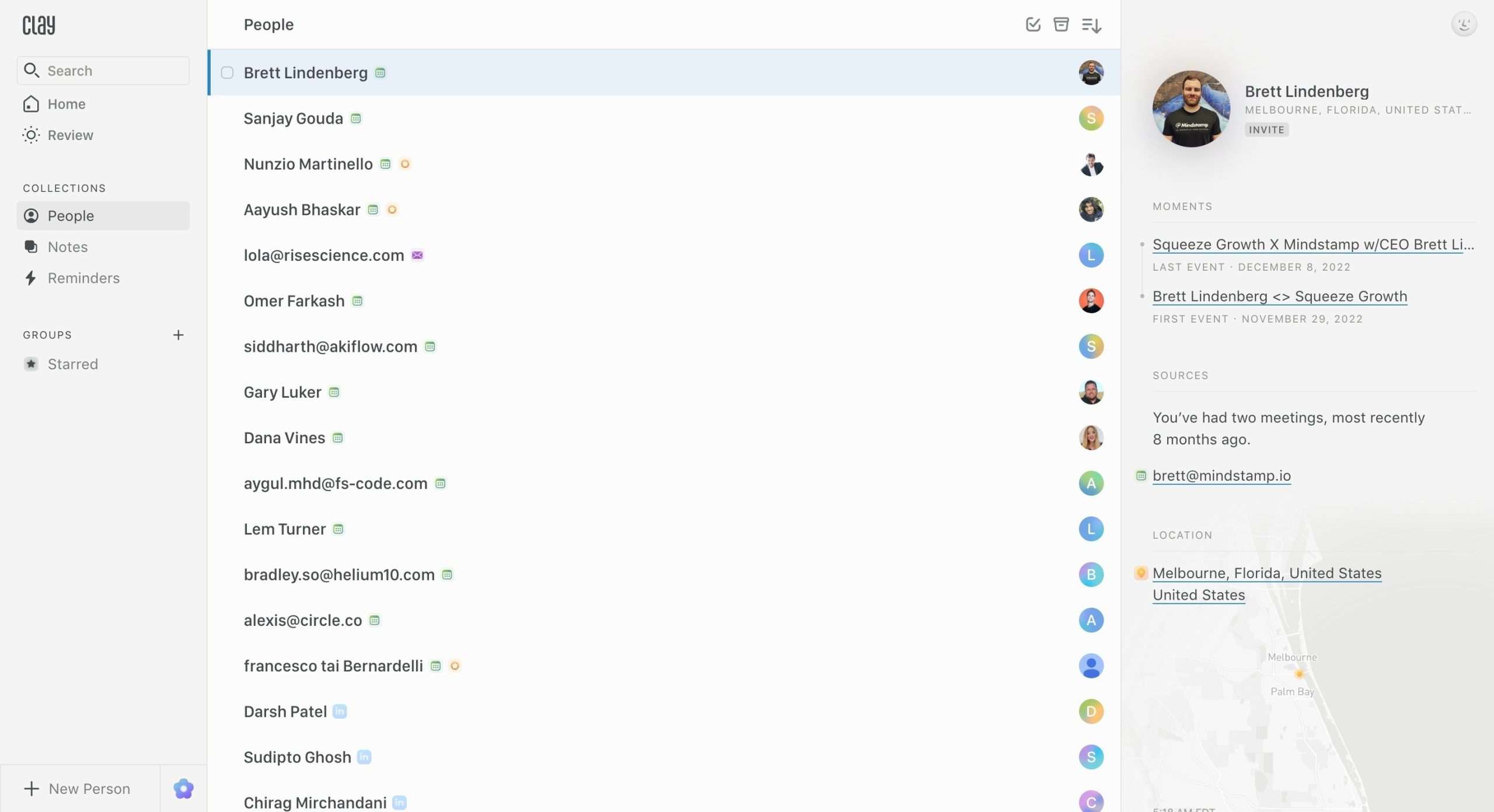 Is has never been easier to identify where each person's contact data is extracted from.
Near each contact's name, you will see a symbol that tells you where the contact came from:
When you click on someone's profile, a new page will open. It will show you all the details about that person, such as social profiles, descriptions, interests, education, and more.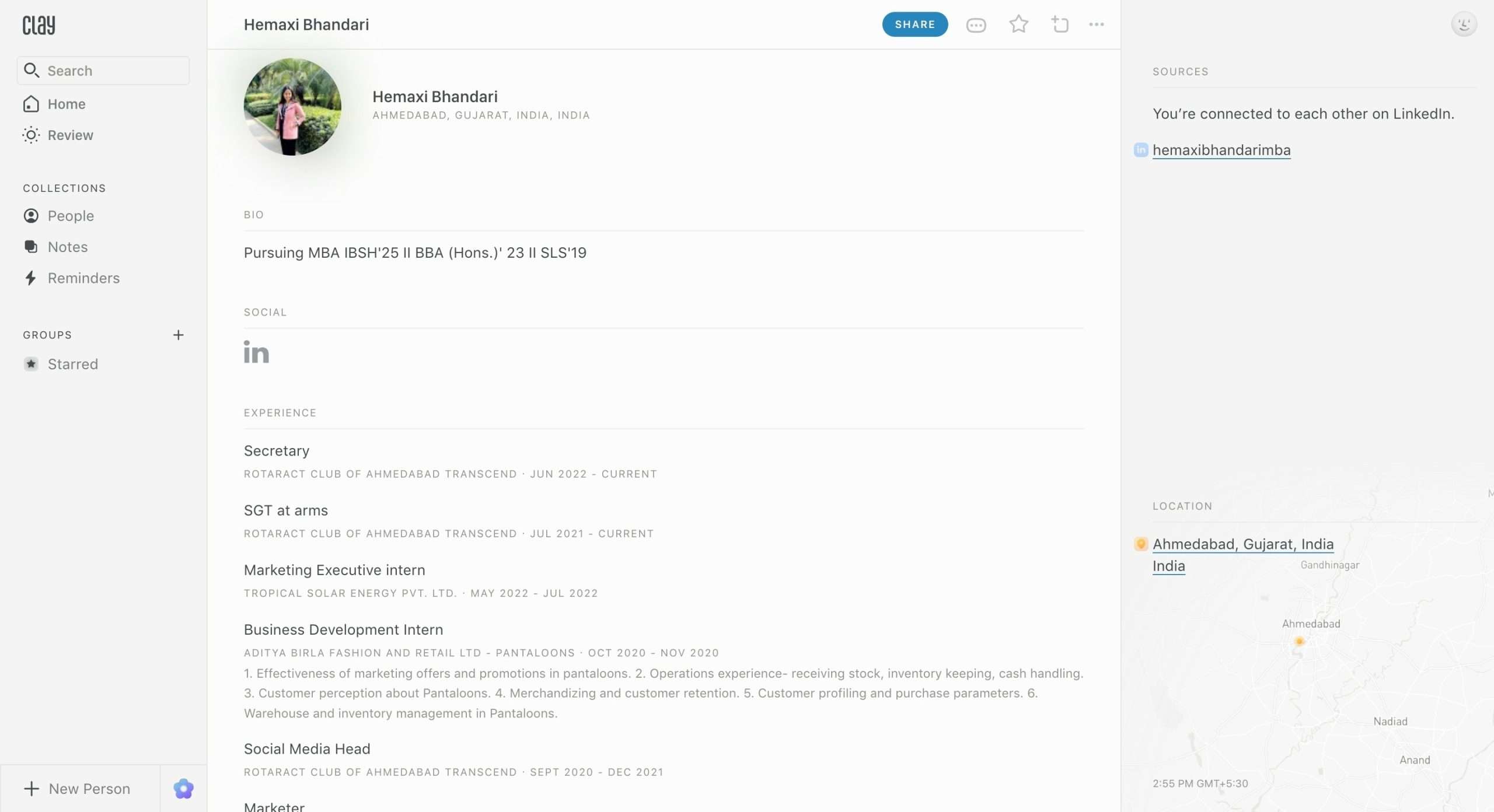 This is where it gets interesting.
Since this data comes from connected apps and is synced, you don't need to manually change it regularly because it will be done automatically.
However, you can choose to change and/or add specific things about someone. All you need to do is press "e" on your keyboard, and you will be able to edit contact details:
Additionally, there are other things you can do.
Inside a person's profile, click on the three dots located at the top right.
From here, You can ask Nexus directly about the individual.
Moreover, the Cadence feature helps you remember to reconnect with someone after a certain period of time.
Furthermore, you can even merge or archive a person and so on.
Finally, you can sort your complete contact list based on:
Relevance
Name
Recency
Created
Until now, you have successfully learned how to access and manage your connections. Now it's time to take it one step ahead and explore further possibilities revolving around note-taking and useful reminders.
5. Note-taking and reminders
As surprising as it may sound, Clay is also a profound note-taking and reminder app. Clay makes note-taking easier by turning it into a starting point for meaningful interactions.
Clay keeps it simple on purpose—an overly rigid system you won't actually use is pointless. Better to have notes with key details than none at all.
The amount of information depends on the relationship. Close friends and colleagues get more, while casual acquaintances get less.
But notes generally include basics like recent life updates, ideas discussed, and any follow-ups. Notes can be accessed by pressing "n" key.
You can jot these down during or right after meetings. If you prefer being fully present, take some time shortly after to recap.
You can treat your notes as the starting point for your next meeting, not just a post-meeting task.
Clay's insights can help you create a personalized system. It only takes minutes to capture what matters most about your connections.
What's interesting is that while taking notes, you can even set a reminder by simply typing the dates and times in natural language.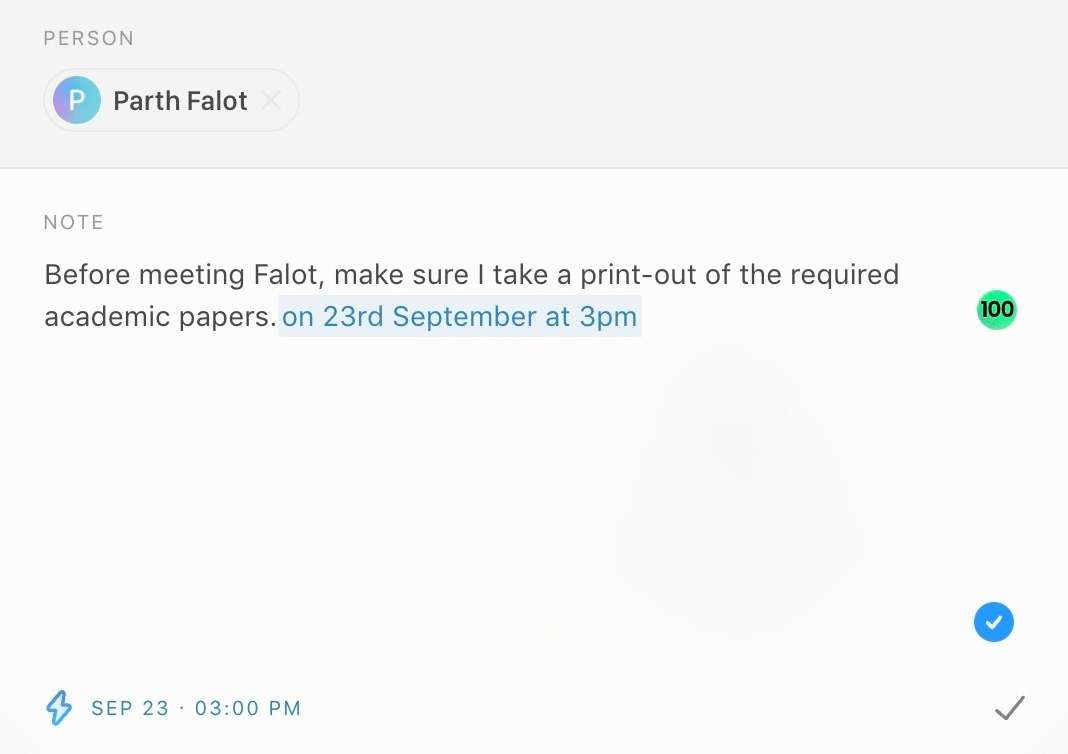 This is a useful combination as you can remind yourself of relevant notes on a specific date. This way, you won't ever have to worry about storing things in your head.
Pricing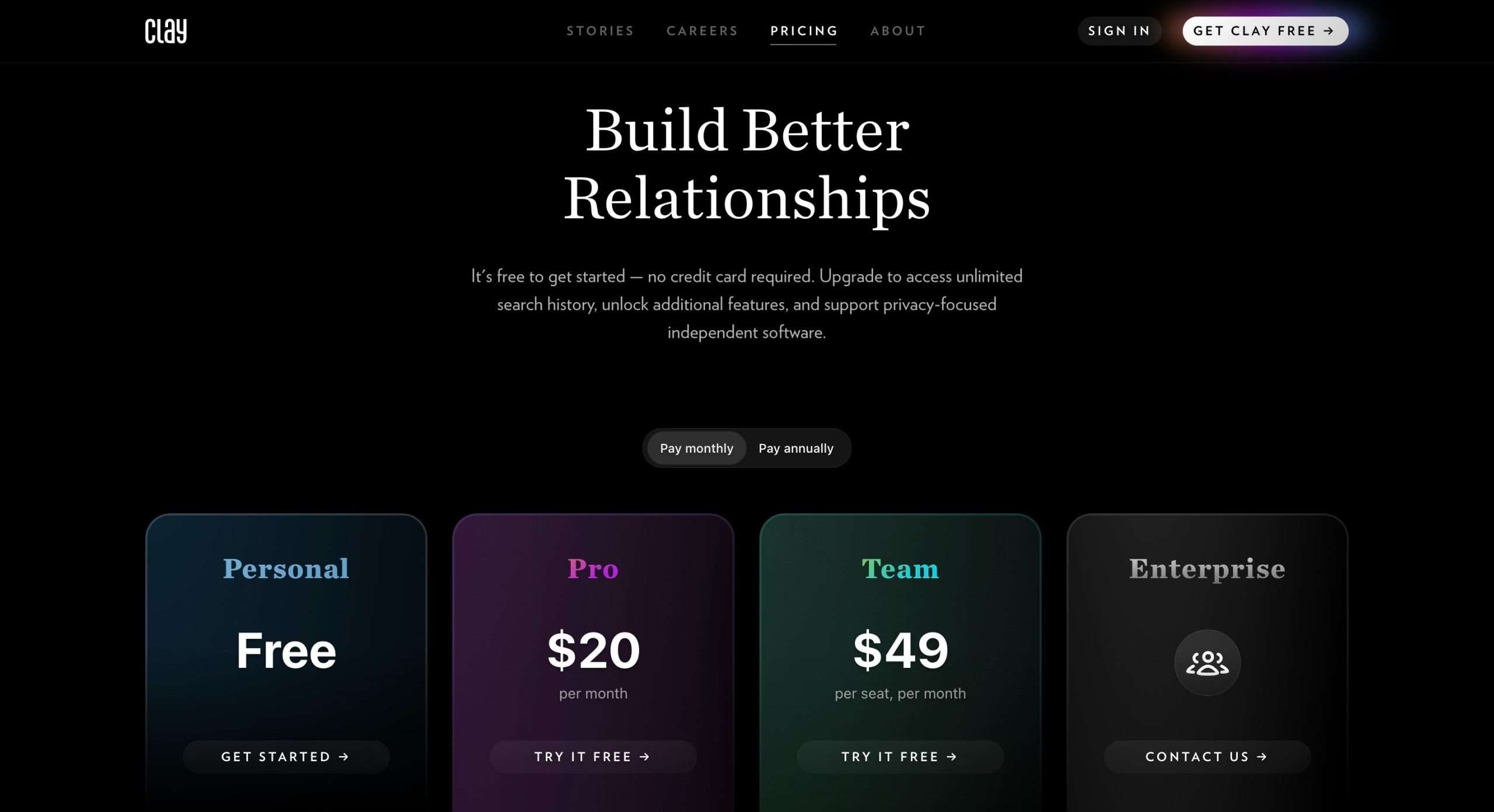 Clay offers a free version that allows you to try out the basic features and is limited to 1,000 contacts.
There are two paid tiers:
Pro ($20 per month)
Team ($49 per member per month)
Both the paid plans offer unlimited contacts along with some other exclusive features.
Networking Like A Pro With Clay
The bottom line—Clay is more than just another CRM. It's a relationship management platform designed to help you nurture real-world connections.
Simply put, Clay helps you focus on what matters most: strengthening your bonds with the people you care about.
It gives you a consolidated view of all communications, so you can pick up right where you left off.
Try Clay today to easily keep track of your contacts and stay motivated to reach out regularly.
Don't let another birthday or milestone slip by unnoticed.
Your network will thank you.