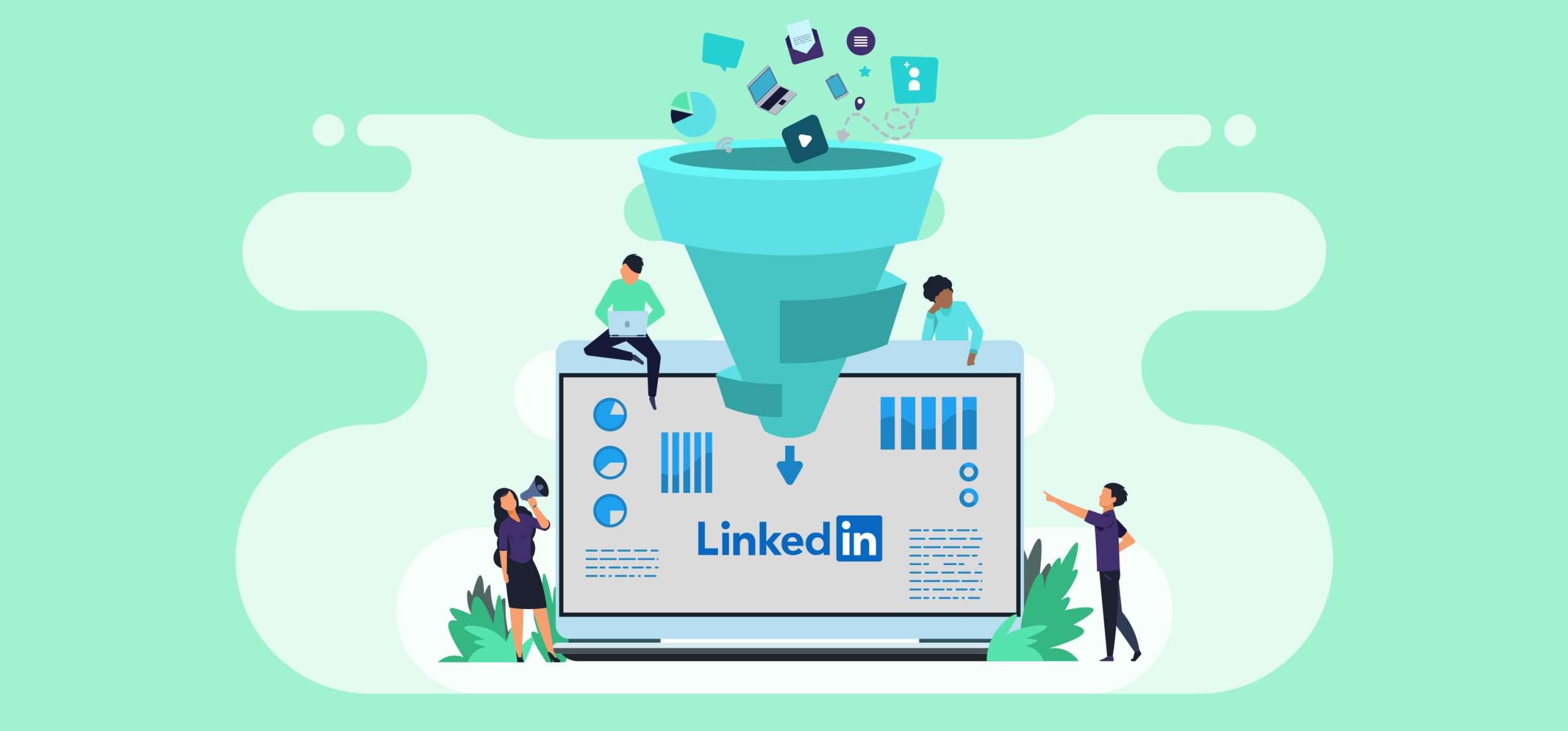 Unable to fill your calendar with meetings?
Something's not right with your LinkedIn lead generation efforts.
Let me guess!
Maybe you're blaming your connections for not turning up to you.
Or perhaps you're stuck in the same old manual prospecting habits.
But why?
Why are you putting your account at risk of receiving messages like this?
Rather, blame your LinkedIn marketing efforts!
LinkedIn is pretty strict in terms of reaching out to people.
In the premium and sales navigator accounts, your prospecting actions are always under the radar.
But then you spend tons of time searching for relevant profiles.
And then wonder why your leads are not converting.
Now how about a companion that can prospect 24/7 on your behalf?
Even when you're asleep.
That companion is none other than LinkedIn lead generation software. That uses the power of AI automation to drive your sales campaign.
Therefore, in this listicle, I'm going to show you 12 such LinkedIn automation tools.
So that you can decide which one could potentially make LinkedIn your number 1 sales channel.
What are the advantages of LinkedIn lead generation software?
It lets you select the touchpoints of your target leads based on their title, skill, industry, and location.
And in no time, it lays out the list of your prospects relevant to your business.
LinkedIn's automation tools can bypass the weekly outreach limit by fetching their presence in different channels.
Besides LinkedIn, you can reach out to your prospects via email, social media, or even phone numbers.
It helps you create a customizable sales funnel with automated LinkedIn actions, delays, and conditions.
While automating tasks in the most human way possible to ensure they adhere to LinkedIn safety protocols.
You can then launch your campaign and track results by daily stats like recent account activities and campaign conversion rates.
All you need to do then is manage conversations while keeping up with them throughout the sales funnel.
While working with a team, you can easily onboard members, assign roles, and track their LinkedIn performance.
It also comes with an option to integrate with tools like HubSpot, Zapier, Google Docs, and many more.
1. Dux-Soup – Feature-rich LinkedIn automation tool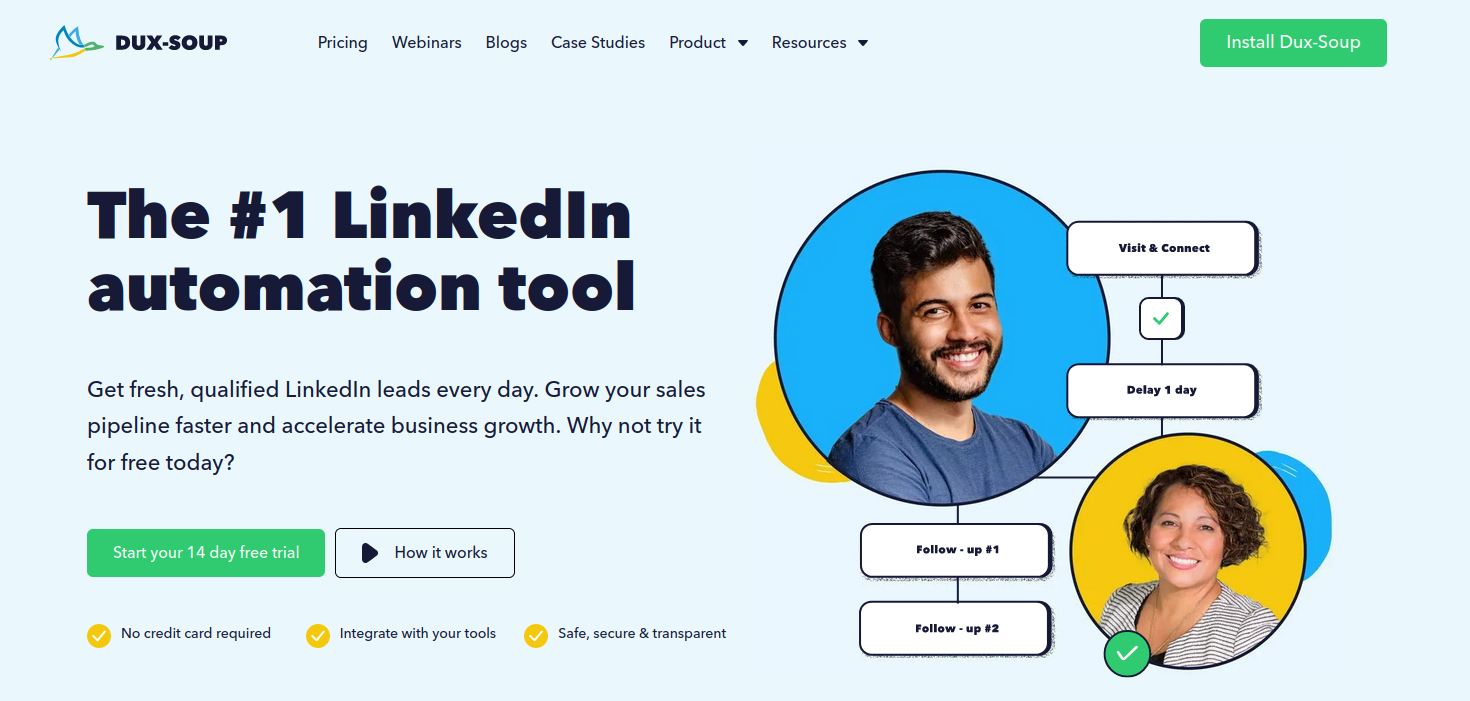 With SaaS startups flocking to the digital space, most of them have absolutely no idea of LinkedIn's B2B capabilities.
Or have connections that are irrelevant to their lead-generation goals.
But when you have the right automation tool like Dux-Soup, you've no better time to make things relevant.
Dux-Soup comes with a platter of features. More than you've asked for.
One of the best things about it is that it announces a new feature each month. Piling upon an already conversion-focused tech stack.
It's even great to keep up with the changing dynamics of LinkedIn.
Who is Dux-Soup the best lead generation software for?
Growth hackers, startups, and agencies who like to keep exploring new avenues in LinkedIn marketing.
Dux-Soup Key Features
For a team working on a sales funnel, Dux-Soup has a unique feature called Dux-Dash funnel management. It not only breaks down campaign activities but also helps administrators analyze the team's performance. However, it's only available to Turbo plan users.
Within Dux-Dash, you can access Funnel Flow which is one of the most useful prospecting features. It can help you track invitations, endorsements, and campaign follow-ups, as well as where the leads are in the funnel journey.
Although Dux-Soup lacks activity control, it lets you configure the throttling to regulate profile visits and connection requests.
Say, you're setting the robot speed to scan 3 pages per minute and 50 LinkedIn profiles each hour. While keeping 10 minutes of pause after a certain number of profile visits. Consequently, it doesn't send suspicious signals and keeps your account safe.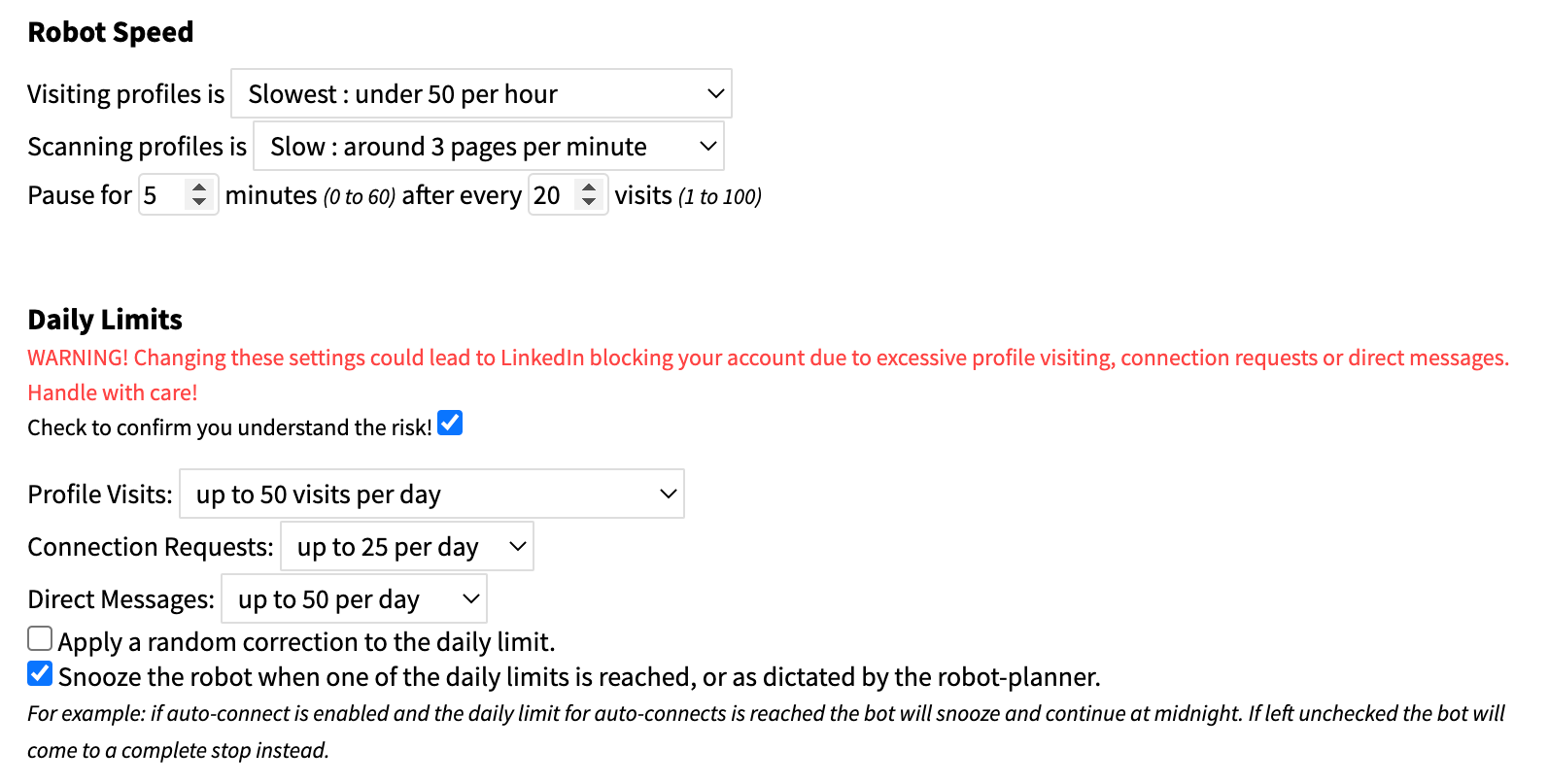 Dux-Soup comes with a free feature called the High Flyer program. It basically serves you with priority support, one-to-one training for team members, VIP customer service, and account management. But it's only accessible when you're on the Pro plan with 15+ members and the Turbo plan with 5+ members.
Dux-Soup Pros and Cons
Pros:
Rich automation features on Turbo Dux plan
Frequently releases new features
Custom pricing for different team sizes
High Flyer feature offers VIP support
Cons:
No campaign and lead management features on Pro Dux plan
Pricing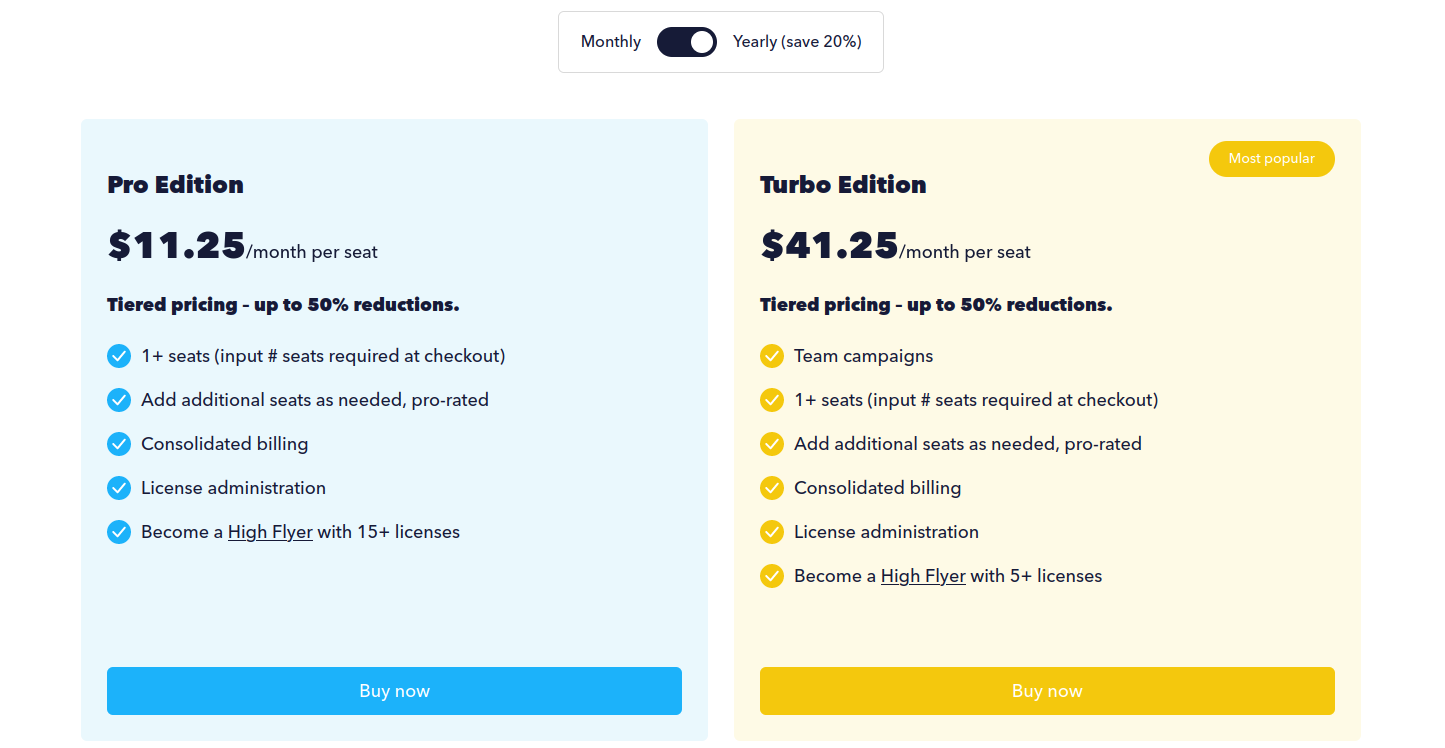 Note that the team plan is only available on the Turbo edition.
Dux-Soup offers a free plan. But only limited to basic profile visits and search features.
Dux-Soup also comes with a 2-week free trial where you can access all the features of Pro and Turbo editions.
2. Octopus CRM – Budget prospecting tool for teams
Why spend so much time and energy on manual prospecting when you could simply put it on autopilot?
And why prospect alone when you can automate your sales funnel as well?
In the age of AI, multitasking automation can help marketers stay at a competitive advantage.
Octopus CRM is that multitasking creature that may not have 8 creepy tentacles. But can keep you on the back seat while handling LinkedIn outreach, campaigning, follow-up response, and many such tasks.
Starter and Pro plans may leave you disappointed due to the lack of core marketing features. However, the Advance plan seems like a sweet spot where you can explore campaigning, sales funnel, and data enrichment.
But if you fear your outreach might cross the invite limit, the Unlimited plan should be your go-to choice.
Despite the higher plan, the pricing seems to be reasonable.
Who is Octopus CRM the best lead generation software for?
Brand owners and marketers can make the most out of the LinkedIn lead generation features on the Advanced plan. Also comes with a paid add-on feature specifically for small brands to boost recognition and acceptance rates.
Octopus CRM Key Features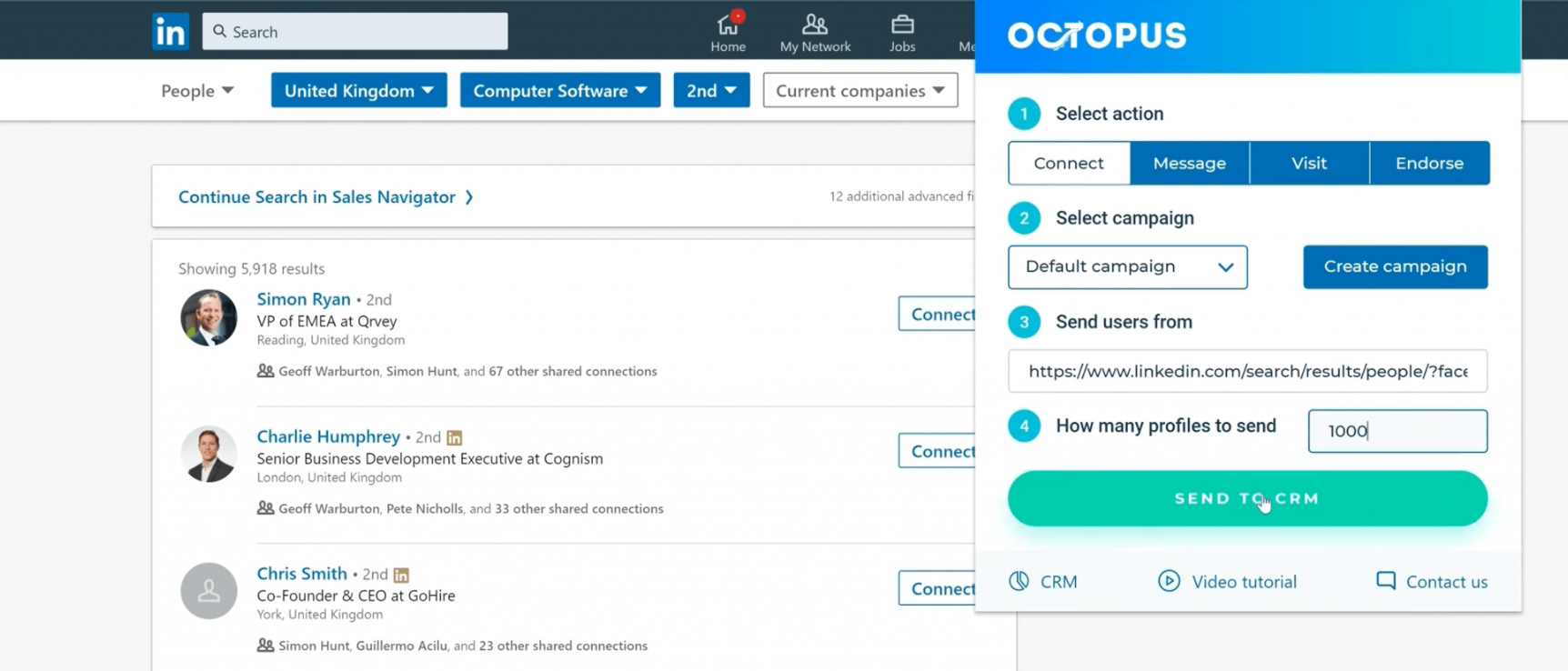 Octopus CRM uses an advanced email verification system that can bypass LinkedIn's outreach limit. It lets you send more than 500 connection requests every week. But only recommended when you have an active sales navigator and subscribed to the Unlimited plan.
Talking about the Unlimited plan, you'll also have the advantage of Activity Control. It keeps your account safe by regulating your LinkedIn activities. It triggers an alert once the system detects excessive connection requests.
You can create multiple campaigns with different lists of users you would like to connect. While campaigning, you can also auto-endorse skills of your 1st level connections. In return, you receive endorsements from them which eventually improves your credibility.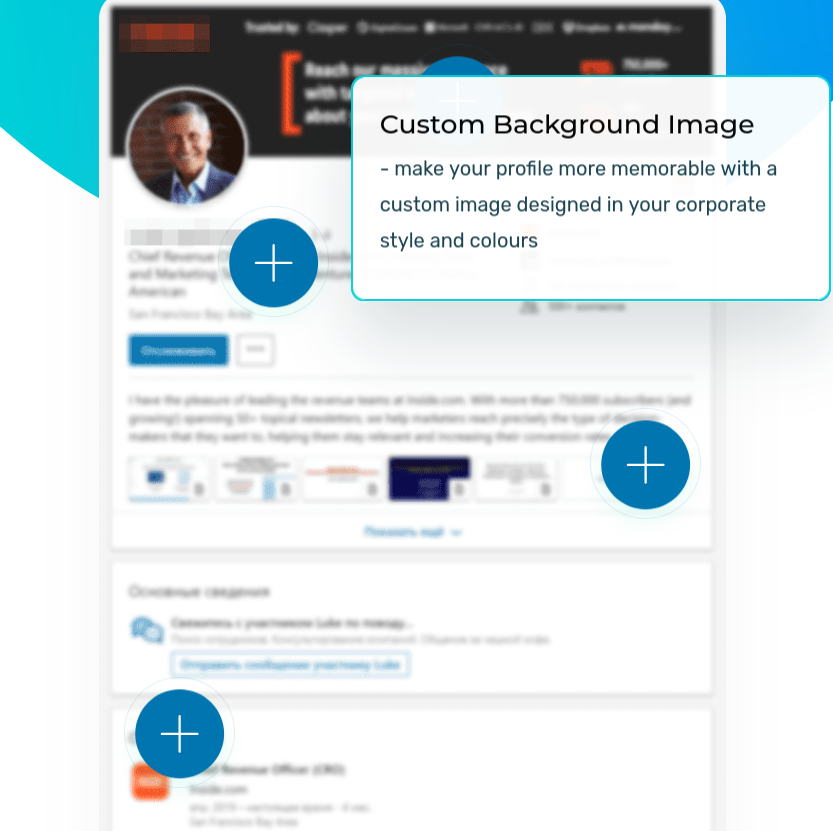 Octopus CRM also comes with a professional LinkedIn Profile Makeover. This feature can help you optimize the SEO while creating an attention-grabbing LinkedIn profile. Thus, increasing your reputation and chance of conversions. However, it costs you an extra $300.
Octopus CRM Pros and Cons
Pros:
Affordable pricing plans
Ability to create multiple campaigns and categorize leads accordingly
Robust automation and activity control features
Professional LinkedIn profile makeover is a useful add-on
Cons:
No lead generation funnel for Starter and Pro users
Pricing

For each plan, you can onboard up to 20 team members.
You can also try any plan for free for 7 days.
3. Waalaxy – Uses nex-gen prospecting techniques
New to B2B prospecting on LinkedIn?
Don't let your budget become a barrier while thinking of generating some leads.
Although it requires a considerable amount of investment, Waalaxy seems to understand the users pretty well.
Maybe that's why it comes with a free plan.
The paid plans are pretty expensive, though. They offer up to 800 invitations, team features, CRM sync, auto-imports, and cloud access.
But I really love how the free plan gives you access for 10 minutes a day along with 80 invitations per month.
In addition, a set of pre-filled in-house templates for your campaign is a great add-on feature.
However, due to the lack of cloud access, you'll need to download the software.
Waalaxy is relatively new in the market. But cleverly catching up with the big players in LinkedIn marketing.
Who is Waalaxy the best lead generation software for?
Serves as a good starting point for B2B marketers and startups who want to get familiar with LinkedIn marketing.
Waalaxy Key Features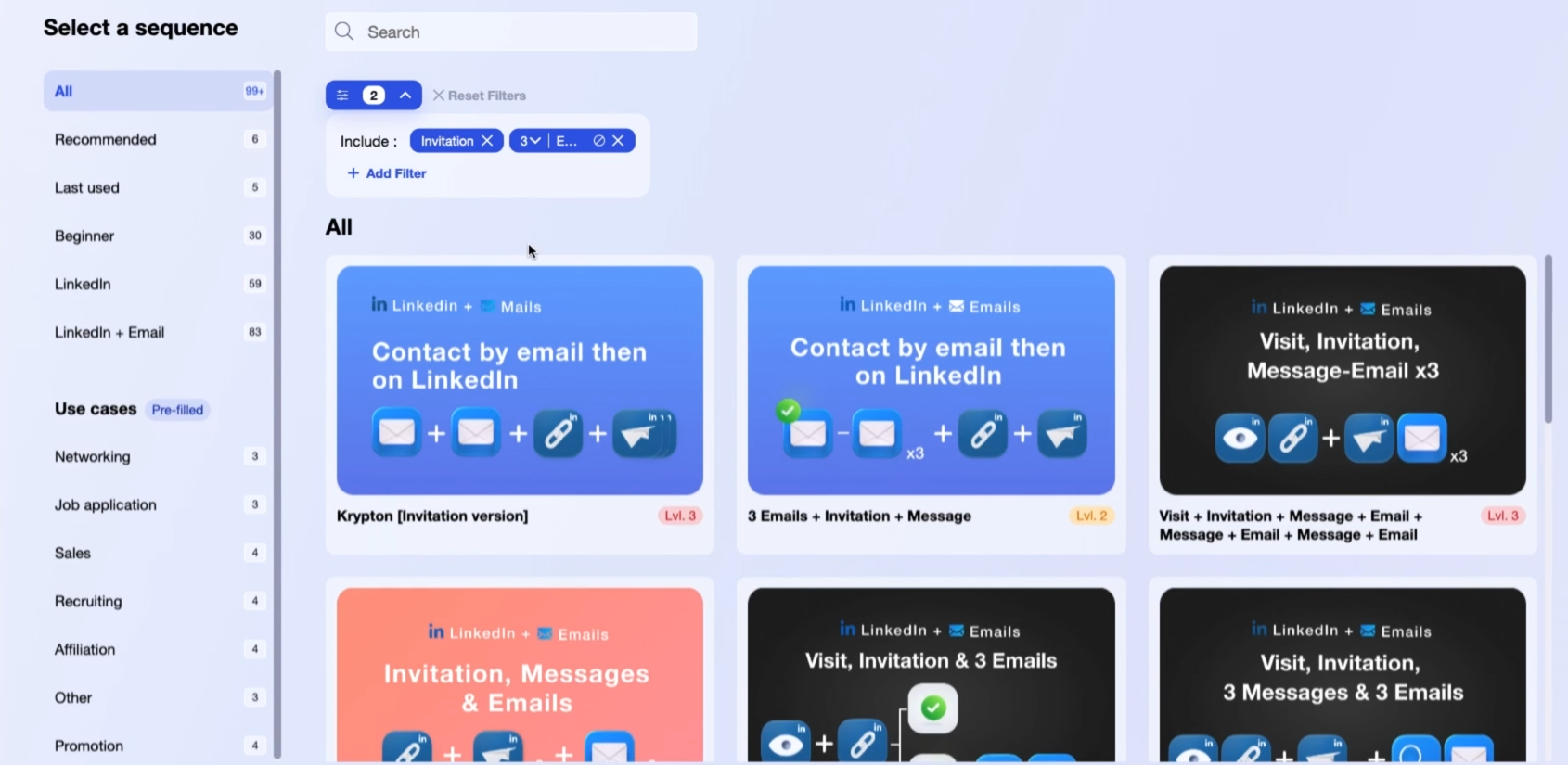 Waalaxy comes with several choices in the sequences, with no limit to setting up multiple campaigns. Although you can't set up a sequence from scratch, you'll not be disappointed with the options for multi-channel prospecting.
Waalaxy's advanced inbox feature is an intuitive messaging tool. You can pre-save responses, personalize messages, tag leads, schedule automated follow-ups, and easily export the data. However, it asks you for an extra subscription, which may be a dealbreaker for some.
AI prospect finder is currently in beta. Interestingly, this AI feature is inspired by Spotify. You'll be able to discover qualified people with specific keywords on their profiles. And even those you might not have found by other means.
With Waalaxy's ultra-personalization tool, you can not only use several custom variables for messaging. But also its proprietary voice cloning feature. It basically records your voice and lets you personalize audio messages for a more organic approach.
Waalaxy Pros and Cons
Pros:
Free version is a great deal for beginners
Multi-channel prospecting with the help of AI
Fast and user-friendly UI
Team option with permissions and detailed analytics
Cons:
Besides the monthly subscription, the Inbox messaging feature costs you an extra ~$22 per month
Pricing
Waalaxy comes with 2 paid plans. And both are enabled with a team management feature.
Advanced (billed annually): ~$60.5
Business(billed annually): ~$86.5
Interestingly, you can use the free version forever.
4. Phantombuster – Great for multi-channel campaigning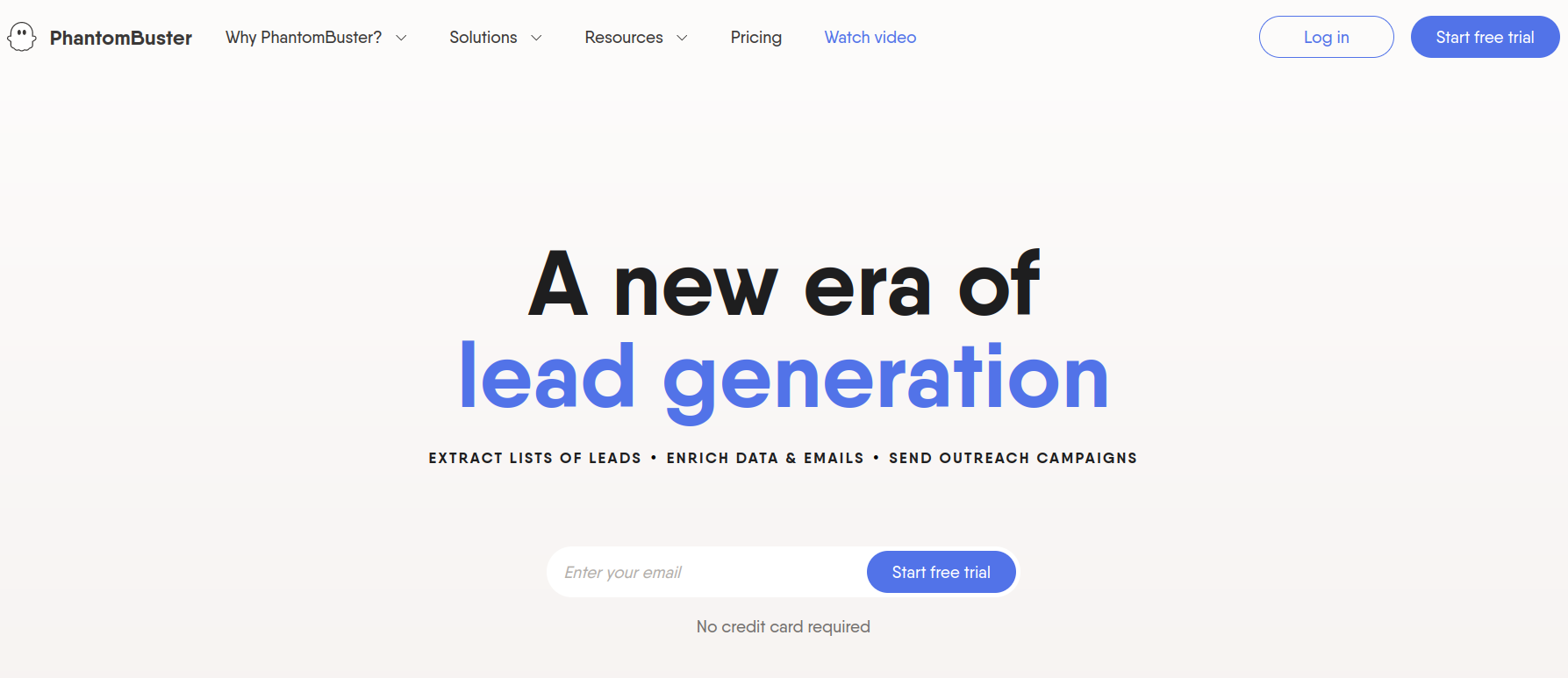 Not a Ghostbuster spin-off. Rather, an automation software designed for blockbuster lead generation.
On Phantombuster, phantoms or automated actions do the heavy lifting for you.
With a single-click setup, you can gather new leads, automate interactions on social media platforms, and enrich your CRMs.
What I really like is that it offers free monthly credits on each plan. This means your phantoms can use them to make email discovery attempts. Really helpful when you run out of your regular monthly credits.
But note that you may still use Phantombuster on the free account. But it poses the risk of getting blocked. So you should prefer upgrading to the sales navigator.
Who is Phantombuster the best lead generation software for?
With multi-channel prospecting capabilities, Phantombuster seems to be an ideal platform for growth hackers.
Phantombuster Key Features
Phantom is an automated feature that takes action on your behalf. It takes input such as your lead's information and sends them a message. It then gives you data containing a summary of actions. This entire process completes one action, which equals one phantom.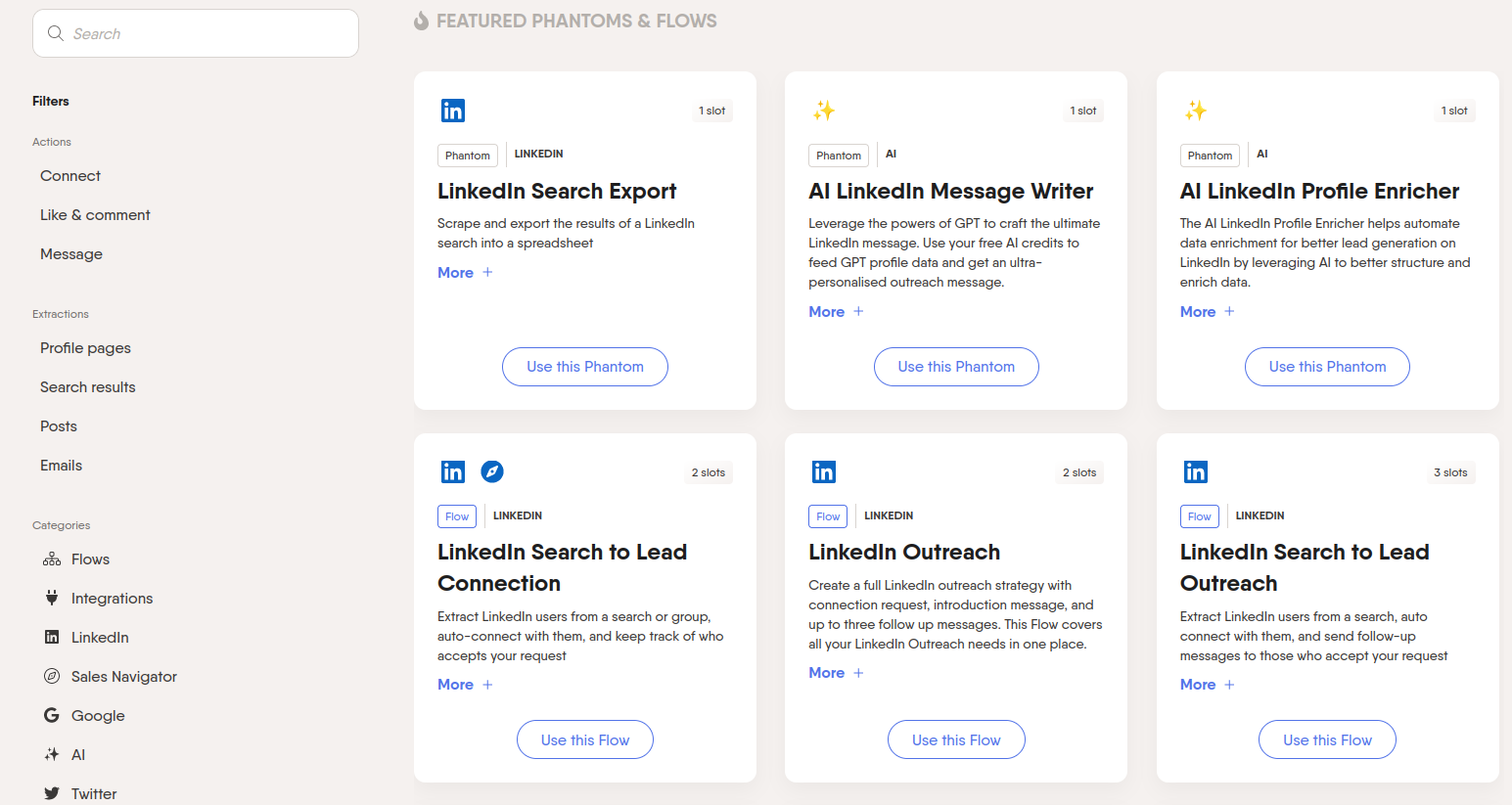 On each plan, you're credited with several Phantoms to use. And you can choose from over 130 phantoms or automated actions on the Phantom store to meet your lead generation goals.
Speeds up enriching public data from social media and websites like Reddit, Pinterest, and Quora. This multi-channel outreach helps when your prospects are not often active on LinkedIn. Or ignore the people they don't know.
The platform lets you duplicate and rename the phantom. And use them with different session cookies. It saves you time when you want to set up a similar campaign for multiple clients using the same automation.
Phantombuster Pros and Cons
Pros:
Automation and data enrichment on social media
Complimentary free credits on top of the current credits on each plan
Ability to use the same Phantom on multiple accounts
Priority support and community access on each plan
Cons:
The number of Phantoms is a bit less in the Starter plan
Pricing

Want to try Phantombuster for 14 days?
You'll get 2 hours of execution time, 1000 AI credits for lead enrichment, and 5 slots for Phantoms.
5. Dripify – Ace the drip campaigning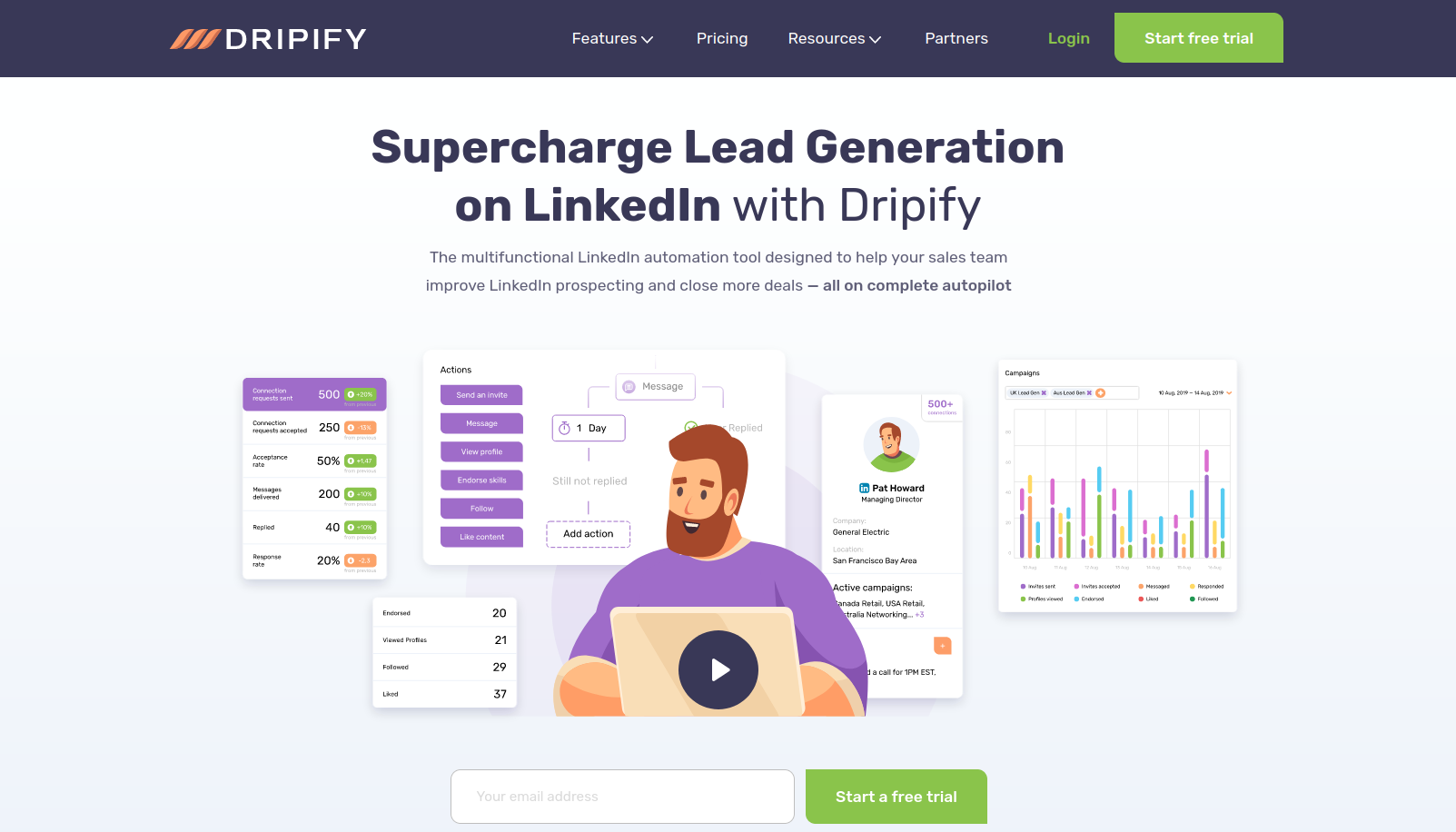 Prospecting tools may help you create sequences for campaigns. But not all of them nurture your leads the way Dripify does.
A drip campaign should ensure that you successfully drive your prospects toward the sales funnel.
But without compromising the safety of your LinkedIn account.
Dripify, therefore, takes safety measures where the campaign simulates human-like behavior. And so they use "Activity Control" to regulate such actions.
However, it's available only on the expensive plan.
On top of that, it gets you a unique IP address to make sure none of the automated actions seem suspicious to the LinkedIn algorithm.
Who is Dripify the best lead generation software for?
Great for businesses with any number of team sizes to keep the accountability of multiple drip campaigns.
Dripify Key Features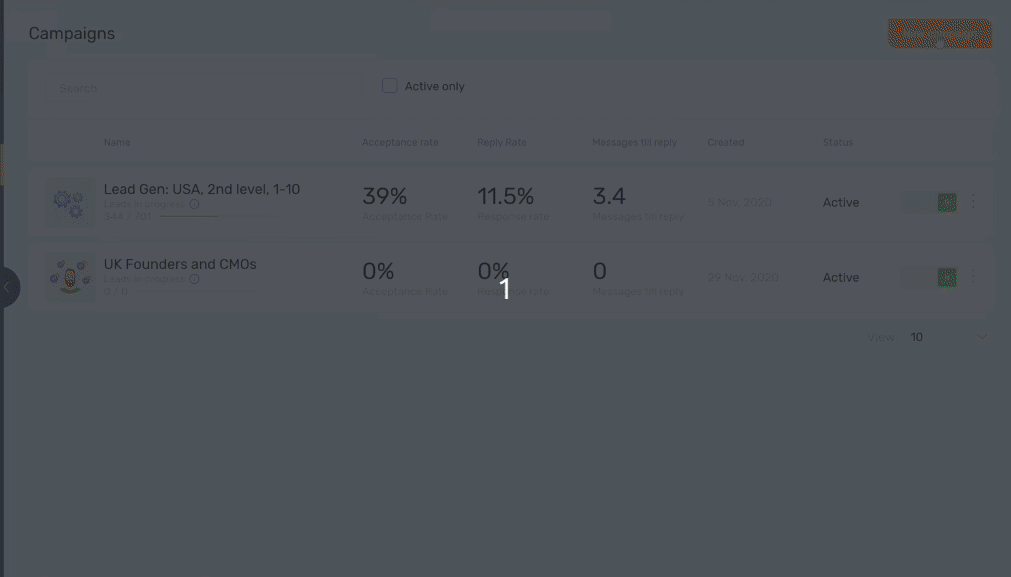 One of the coolest dashboards on a lead generation tool. It lets you deep dive into the stats of your campaign as well as your team members. You can even see the list of recent activities Dripify's automation has made on your behalf.
Smart Inbox is yet another cool feature that manages conversations with your leads. It also comes with a sidebar to show the basic details of your leads and the active campaigns they are part of. You may also add notes to their profiles for the accountability of your conversations.
Dripify comes with dozens of pre-designed templates. You can either choose to create your sales funnel from scratch. Or set automated actions with smart conditions and even A/B tests before launching your campaign.
Professional LinkedIn Profile Makeover is a unique feature that not every prospecting tool offers. It can help you curate your profile based on your business or the products you want to sell. As a result, it may increase engagement, boost your views, and stand out from other profiles.
Dripify Pros and Cons
Pros:
Ability to create custom sequences for campaign
Unlimited drip campaign on Pro and Advanced plans
Advanced safety features
Personalized auto-messaging with 15+ variables
Cons:
No team management on the Pro plan
Pricing
The team feature is only available on the Advanced plan.
You can even try all the Advanced plan features for free for 7 days.
6. LinkedIn Helper – Most budget-friendly platform
LinkedIn lead generation software generally costs you a lot. May sound unfair for small businesses in the prospecting venture.
But then there is LinkedIn Helper, which saves you from sacrificing a big chunk of your budget.
Just like the Standard plan that comes with a mouthwatering deal. Costs you just a large size pizza each month.
Also, don't overlook how pocket-friendly its pro pricing is.
Ever imagined features like smart campaign builder, hyper-personalization, and data enrichment barely costing you $25 each month?
In addition, the cross-platform compatibility makes it even more interesting for teams. Therefore, making LinkedIn Helper is downloadable on Windows, macOS, and even Ubuntu.
However, it misses out on the cloud data storage, which I think could have made it even better.
Who is LinkedIn Helper the best lead generation software for?
It's the most budget-friendly lead-generation tool for small businesses or solo marketers.
LinkedIn Helper Key Features
LinkedIn Helper comes with customizable campaigns. You can choose to create sequences entirely from scratch. Or maybe you prefer to save time by selecting from over a dozen templates that fit your needs.
While creating a campaign, it lets you personalize an unlimited number of messages. But only available for pro users.
You can easily switch between multiple campaigns. If you want to see and manage them on a single page, Multi-campaign Runner comes in handy. It's a native integration that you can get from the Plug-in store.

While managing multiple campaigns, you can enable and stop those campaigns in bulk using "Start campaign runner" on the page.
LinkedIn Helper makes managing several accounts under a single license easier. You can assign proxies for remote team accounts as well as switch them.
LinkedIn Helper Pros and Cons
Pros:
Flexible and affordable pricing
Complete campaigning feature on the cheaper plan
Fully customizable campaign features
Collect page followers from both personal and business accounts
Cons:
Limited integration with other tools and platforms
Pricing
Note that it asks for the lump sum payment when you're subscribing for 3, 6, or 12 months.
It also lets you try out the free version for 14 days.
7. Skylead – Comes with a single plan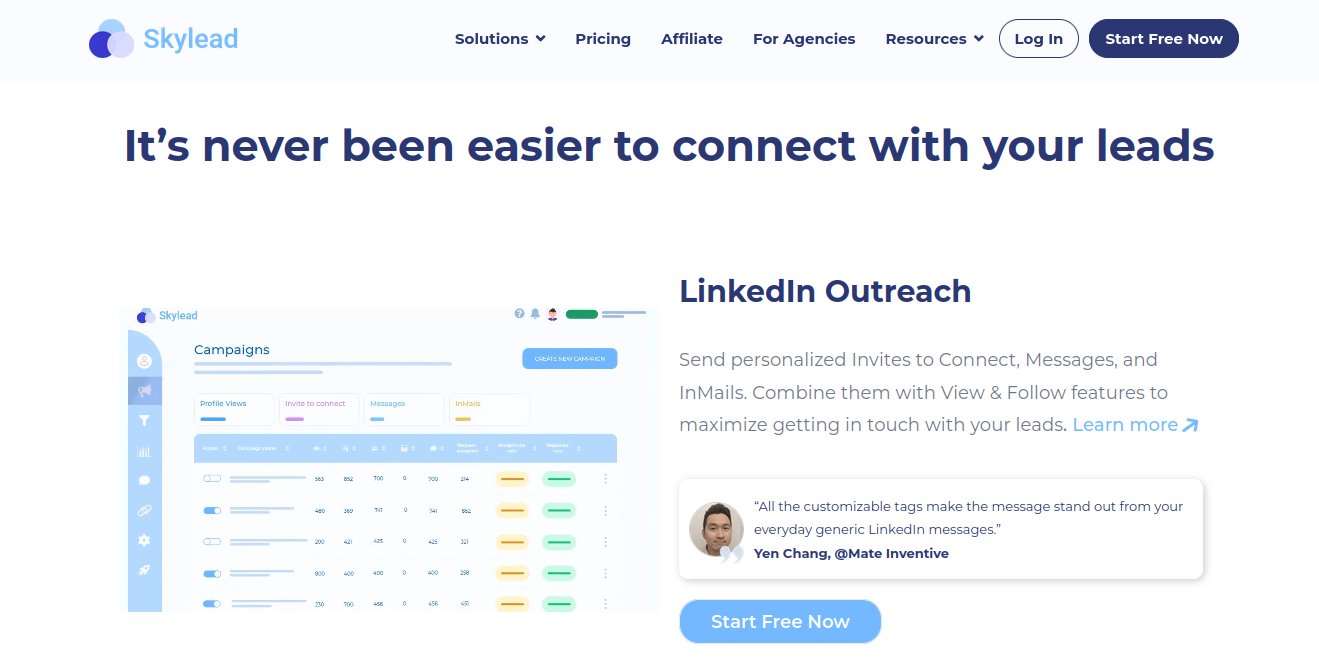 Why scratch your head around the range of plans that LinkedIn tools have to offer?
Agree, you need to plan out your LinkedIn outreach for the first good impression. But with a single $100 monthly plan, Skylead makes things easier for you.
It ensures you're more focused on prospecting. While not leaving you worried about LinkedIn marketing limitations that marketers often experience with tools around this price range.
Thankfully, Skylead is completely a web-based tool. Which makes it a capable collaboration tool for teams.
Who is Skylead the best lead generation software for?
Skylead is a great deal for sales and marketing teams along with attractive discounts for multiple users.
Skylead Key Features
Skylead features a "smart sequence" for campaign creation. It's based on simple drag-and-drop customization. You can simply choose actions and conditions and link them together to create different types of campaigns.
With Skylead's unique, hyper-personalized visuals, you can successfully draw your prospect's attention to your message. You can customize an image or GIF and send your personalized messages over LinkedIn standard messages, in-mails, and emails.
Skylead also comes with a "smart inbox" to help you organize your outreach in one place. It lets you keep track of your prospects with custom labels and priorities to focus on the right people. You can even add personal notes that can remind you of your chat with specific leads.
Warm-up mode comes in handy when you're getting started for the first time. It simply keeps interactions at a lower limit than recommended. As it avoids the risks of any potential red flags on your account.
Skylead Pros and Cons
Pros:
All-in-one lead generation features
Integration with LinkedIn Premium, Sales Navigator & Recruiter
Great for collaboration between sales and marketing teams
Offers live support 24/7
Cons:
Setting up multiple campaigns with teams could be confusing and hectic
Pricing
$100 per account per month.
Skylead also comes with a 7-day free trial with access to all the feature stacks.
8. Reply.io – Best for managing a high volume of prospects
Tools that offer AI-assisted outreach and engagement may sound sophisticated at first.
But their prospecting practices are rather skeptical.
Unless you come across software that uses proprietary AI that can help you prospect in the most human way possible. And that's too without posing any risk of account block.
Reply.io seems to have all such answers.
While providing you with a raft of automation features for seamless outreach and sales campaigns.
No wonder there is a large marketing community around this tool. Though, you may not find anything exciting on the free plan.
But it's not all bad when you have the advantage of creating sequences and basic credits for outreach at zero cost. Even though you've to manage them manually.
The starter plan doesn't look that promising, however. But on the Professional plan, you're going to get powerful automation which is a real deal for LinkedIn marketing.
Who is Reply.io the best lead generation software for?
Enterprises with potentially large prospects. They can harness the power of AI for multi-channel prospecting and multiple sales campaigns.
Reply.io Key Features
Reply.io features a Ramp-Up mode to improve outreach and follow-up emails. Not only it take care of deliverability but also pushes beyond your daily LinkedIn limit in a regulated way.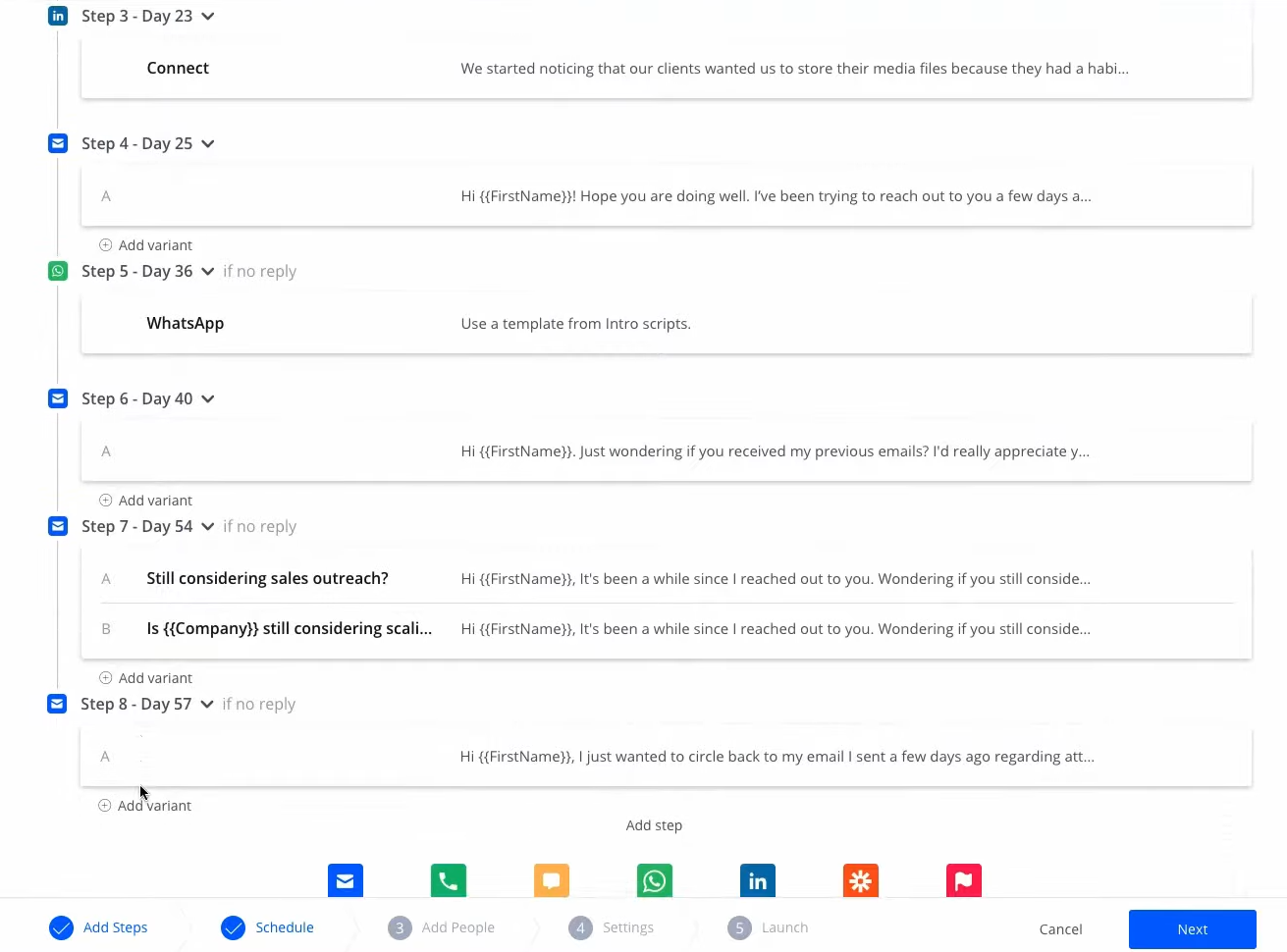 It comes with an unparalleled multi-channel sequence setup. Throughout the campaign, you can automate the process across email, call, Whatsapp, and SMS. While giving you the flexibility to follow any order that best suits your workflow.
For a risk-free outreach, it lets you warm up your email account with the help of "Mailtoaster". It's a native integration that interacts with your prospects in the most realistic way. While avoiding any risk of getting blocked.
Reply's "team performance" dashboard is one of the best collaboration features among many prospecting tools. Its comprehensive reporting panel helps you peek into the performance of individual members. While also letting you set up collaborative campaign sequences.
Reply.io Pros and Cons
Pros:
Advanced variables customization
Built-in AI conversational assistant
Comes with 200 data credits/month on the free version
Live chat support on all the plans
Cons:
Pricing

There is no team feature on the Starter plan. Whereas a professional plan comes with up to 20 team members.
Want to try a 14-day free trial on any plan?
9. Expandi – Pay as you go pricing
LinkedIn poses numerous outbound challenges.
It's even more challenging to choose from several lead generation tools with a stack of features and plans that barely fit your needs.
Expandi, therefore, cuts the small talk and brings you a single plan.
Just the one right plan that makes prospecting easy. With all the feature stack, you'll ever need for your lead generation goals.
But remember, you may need to have an active sales navigator to work with Expandi.
Who is Expandi the best lead generation software for?
Expandi's single monthly plan is a great pick for small teams. Offering the advantage of a robust cloud-based system that makes it great for team collaboration.
Expandi Key Features
Expandi's Smart Sequence lets you set conditions and create unique scenarios that trigger appropriate actions based on your prospect's behavior.
With the campaign builder, you can quickly set-up the automated actions using over a dozen templates. This saves you a lot of time from creating the campaign from scratch.
Hyper-personalization is yet another cool feature Expandi has to offer. Although the actions are automated, it humanizes those actions (without being pushy) that can keep your prospects interested in you.
For example, hyper personalization creates random interactions and maintains a unique time difference between your prospects. In addition, it also sets up smart limits while allocating a unique IP address for you without risking the account block.
Expandi Pros and Cons
Pros:
All-in-one lead generation features under a single plan
Extensive personalization features
Regular new feature updates from Expandi
24/7 live chat support
Cons:
Some users show concern over a few features that are unavailable in prominent locations
Pricing
Expandi comes with a single monthly plan of $99. There is also a discount for team members.
You can try Expandi for free for 7 days with all the feature stacks.
10. Uplead – For industry-specific prospecting
Data scraping may not necessarily provide high-converting prospects. This is one of the problems Uplead seems to be concerned about.
They hand-pick prospects – as they say. And not just scrape.
However, Uplead falls short when it comes to the annual credits, which is much less than many LinkedIn prospecting tools.
But folks, this is where they claim their scraping to be 95% accurate while capping the bounce rate under 5%.
Quite a bold claim!
Nevertheless, you can't go wrong with its immense reputation among LinkedIn marketers.
Who is Uplead the best lead generation software for?
Uplead isn't for everyone. But for those marketers looking for focused and industry-specific prospecting.
Uplead Key Features
Uplead's advanced search filter comes with 50+ search criteria, which makes prospecting accurate while providing high-quality B2B contacts.
While you can use advanced search filters to narrow down your contacts, prospecting using Technographic data digs deeper into it. Which means building a contact list with the common technology they use.
Say, you're a HubSpot CRM user. With a one-click search, you can have thousands of contacts that all use HubSpot CRM. It can track about, 16000 unique technologies.
With data enrichment, Uplead lets you gather detailed information about the businesses including phone numbers, revenue, sales volume, social links, and more. Which is rather a great way for multichannel outreach.
Uplead features a limited number of annual credits. But you also get credit rollover that adds up to your next month's credit balance.
Uplead Pros and Cons
Pros:
Advanced prospecting using Technographic data
Over a dozen native CRMs to integrate with
Unused credits rollover
Commitment to data accuracy
Cons:
Data enrichment may occasionally show outdated information
Pricing
On the Professional plan, you can create a team account for up to 5 users.
And each user will cost you an extra $60 per month.
11. Salesflow.io – Great for sales and marketing team collaboration
Some lead-generation tools offer great automation services to solo marketers. While some are geared toward sales teams offering multi-channel prospecting.
A few of them may look for advanced filters to focus on just the right leads.
There aren't a lot of tools that could keep up with such demanding functionalities, yet don't compromise efficiency.
Unless you come across Salesflow.
Although its features are no different from many such tools. It distinguishes itself by offering a balanced set of features.
From prospecting and managing multiple campaigns to nurturing leads throughout the funnel, Salesflow makes a considerable choice for ambitious marketers.
Who is Salesflow the best lead generation software for?
Salesflow is a robust lead prospecting machine that can address the needs of a sales team, agency, SaaS, and even solopreneur.
You can also get a rough estimate of your ROI based on a certain number of positive leads per month.
Salesflow Key Features
A focused inbox is a relatively new feature that can help you organize your prospect's messages. You can sort messages between "focussed" and "other" options based on priority and relevance. This makes it easier for you to filter out warm prospects based on positive responses.
It comes with over 100 message templates that are likely to convert. They are curated by LinkedIn experts to help you with your automated campaigns so that you can earn more responses.
With customized client access on Salesflow, you can let your clients access the messages and reports of private leads. You can even track their activities from Salesflow's global dashboard.
"Done for you" is a unique offering where you can use the platform as "LinkedIn-as-a-service". This means, the Salesflow's Dedicated Campaign Manager gets things done for you which include prospecting, campaign tracking, LinkedIn profile tracking, CRM integration, and advanced targeted searches.
Salesflow Pros and Cons
Pros:
Prospecting platform for multiple use cases
Advanced reporting and team management features
Customization and branding abilities
Done-for-you services are expensive but a great option for scaling businesses
Cons
No way to auto-schedule images and GIFs from the Salesflow inbox
Pricing
Done-for-you is priced at $499/month/user. This is basically like hiring a salesperson who can manage LinkedIn marketing on your behalf.
Try Salesflow's free trial for 7 days.
12. TexAu – Available as both cloud and desktop software
TexAu is yet another LinkedIn lead-generation software that can harness social media data.
Well, you guessed it right!
It's a direct competitor to Phantombuster.
But what makes it different is the flexibility to switch between cloud and desktop apps.
The experience is the same either way.
On the desktop app, however, any automation you set pauses automatically once you turn off your PC. And resumes when turned on.
But you'll never run out of space. You can always expand your physical storage on the desktop.
Who is TexAu the best lead generation software for?
Social media marketers can leverage TexAu better. It can help them manage complex automated prospecting across multiple platforms.
TexAu Key Features
TexAu uses over 200 automation scripts called "spices". Besides LinkedIn, you can use them across multiple channels including social media, Reddit, Medium, and Slack.
You can even use Spices for data enrichment and extracting your competitor's LinkedIn members. It then helps you set targeted invites and schedule automated campaigns for them.
TexAu also features pre-made workflows called "recipes" to save you time and effort. You can choose from 50 workflows and set up automated LinkedIn actions without spending much time setting up individual actions.
The platform comes with the Proxy option and is integrated with ProxyMesh and Luminato. So you can avoid some LinkedIn automation restrictions and perform lead generation by hiding your exact location.
TexAu Pros and Cons
Pros:
Set up complex automated sequences easily using Spices
Ability to fetch data from multiple platforms, including social media
Use Recipes to access all integrations on all plans
Can be used as a cloud or desktop app
Cons:
The starter plan lacks a team feature
Pricing

Note that data enrichment and email enrichment features are not included in any plan.
So it will cost you $0.9 per profile for data enrichment. While email enrichment is priced at $0.02 per email.
Want to start a free trial for 2 weeks?
Final Thoughts
12 LinkedIn lead generation software right at your disposal. And it's up to you to decide which tool is the right fit for your business.
So far, Sales Navigator has been a go-to internal tool for many marketing and sales teams.
However, the outreach limitations and manual approach paved the way for the automated prospecting tools we just saw.
So that you work less on prospecting. And think more about building relations.
However, such automation tools are likely to help you expand your outreach limits and acquire more leads.
It's better if you use them in moderation.
Because they're still automation software. And you don't want to set it and forget it only to learn that your LinkedIn account is banned.