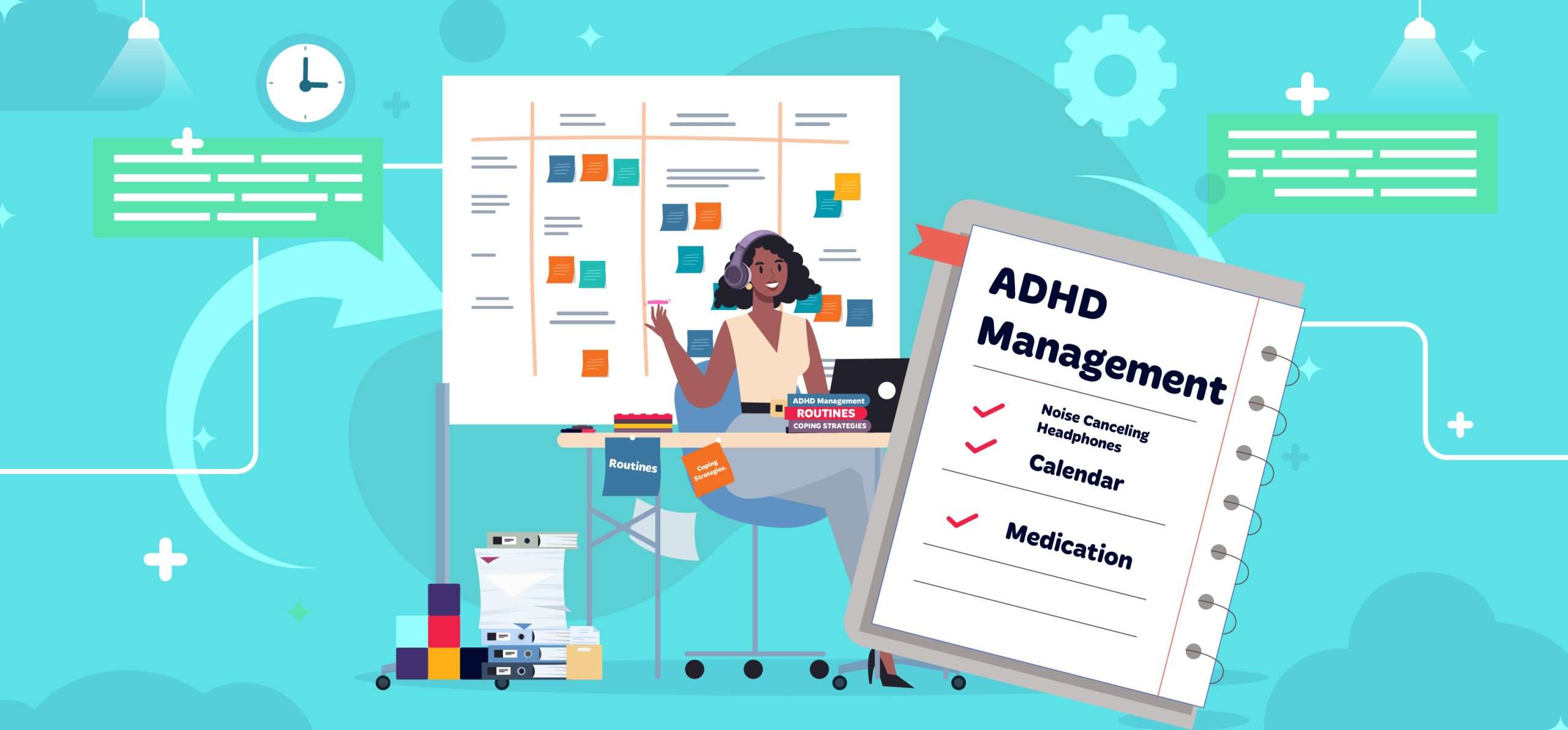 Does your mind race a million miles a minute?
Do you constantly misplace things and struggle with time blindness?
If these experiences resonate with you as an adult with ADHD, you're not alone.
According to the World Health Organization (WHO), ADHD affects around 2.5% of adults worldwide.
But it's not all gloomy and dark.
The symptoms of ADHD don't have to hold you back. The frustrations of disorganization, procrastination, and distractibility can be overcome.
This blog post will explore 12 of the best apps that will help you deal better with ADHD symptoms as an adult.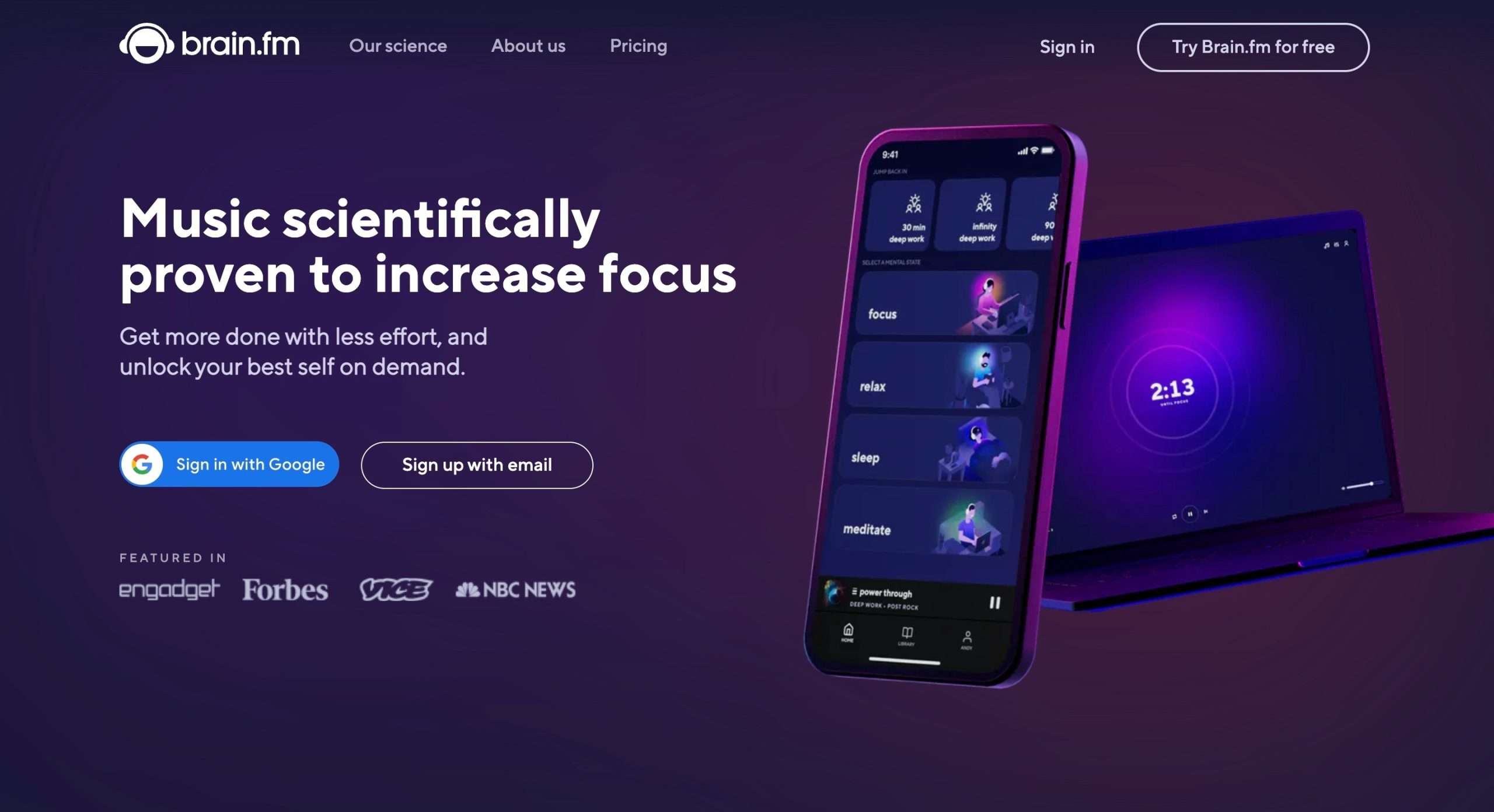 Brain.fm is a powerful neuroscience-backed tool that uses functional music for better focus, relaxation, and sleep.
The unique approach of Brain.fm sets it apart from regular music or sound. It uses AI to create immersive soundscapes that respond to biometrics and adjust in real-time.
Brain.fm collaborates with leading institutions like the MIT Media Lab and McGill University to conduct rigorous studies.
For adults with ADHD, Brain.fm is an invaluable tool for managing symptoms. The soft music blocks out noises, helping you focus better for longer.
The music can also provide a calming ambiance for relaxation when feeling overwhelmed. Brain.fm offers different soundscapes for focus, relaxation, or sleep states.
You can customize playlists based on your needs and switch seamlessly between musical environments.
With regular use, Brain.fm trains the mind to easily enter flow states.
Brain.fm Features
Scientifically engineered music
Controlled trials using EEG and fMRI prove music boosts productivity
Provides a calming ambiance to relax when feeling overwhelmed
Customizable playlists based on focus, relaxation, or sleep needs
Seamlessly switch between musical environments
Pricing
Brain.fm offers a 3-day free trial with the premium plan costing $6.99/month (or $49.99/year).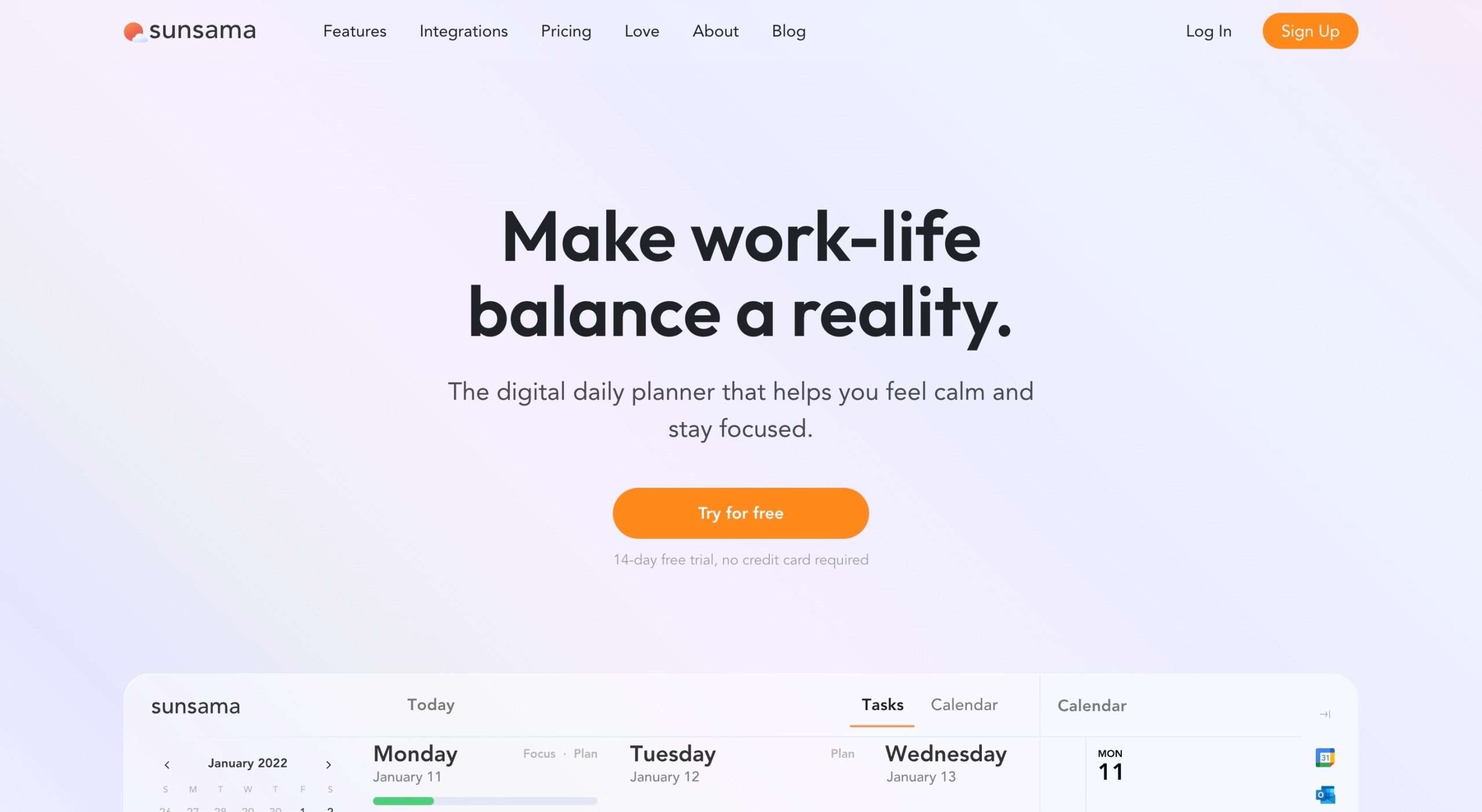 Sunsama is an invaluable digital daily planner to help adults with ADHD achieve work-life harmony. Sunsama helps you plan your days, set goals, and stay organized with a unified task view.
Sunsama guides you through personalized morning and evening routines to start and end each day well.
You then access a centralized dashboard that integrates tasks, emails, and calendar events into a unified daily view.
With Sunsama, you can set a specific time for each task and avoid working all day. It also utilizes timeboxing to schedule tasks into the calendar and ensure daily plans are completed.
Sunsama makes task management a child's play through seamless integration with popular tools like Asana, ClickUp, and Notion. You simply drag and drop tasks between platforms, with automatic syncing to maintain up-to-date access.
Moreover, you can convert emails into prioritized tasks and dedicate focused time blocks for powering through your inbox. Slack integration also transforms conversations into organized action items.
Sunsama Features
Guided daily planning with morning and evening routines
Unified dashboard integrating tasks, emails, calendar
Realistic daily goal setting with customized task times
Drag and drop task integration with Asana, ClickUp, Notion
Weekly reviews to define and track intentional goals
Analytics provide insights into time spent on tasks
Pricing
Sunsama offers a 14-day trial. Their monthly subscription costs $20 per month (or $16 per month on annual billing).
Twos is an easy and accessible platform where you can write, remember, and share your thoughts, lists, tasks, reminders, and calendar events.
Twos is accessible on many platforms like web, iOS, Android, Windows, Mac, Linux, and Chrome. You can use it anywhere.
It offers efficient information capture as the quickest way to organize and remember important pieces of information.
You can use the daily lists feature to create a new list every day. This helps you keep track of your tasks and ideas in a quick and organized way.
Twos helps you stay organized by giving you a daily list for a well-structured life. With integrated AI features, like calendar integration and AI-powered reminders, you'll never miss upcoming events.
You can even set reminders by typing in the time you want to be notified. The AI system helps you remember tasks by turning them into actionable to-dos.
Twos Features
Quickly organize and remember important information
Streamline tasks, manage schedules, boost efficiency
Generate fresh daily lists for tasks and ideas
Calendar integration, AI-powered reminders
Convert things into actionable to-dos
Create and share lists for tasks and information
Pricing
Twos is a free app available on iOS, Android, Windows, Mac, Linux, and Chrome. Optional in-app purchases start at $1.99.
Rize is the smart time tracker that helps you build better habits and stay focused. Thanks to Rize, you can elevate your productivity just by doing what you already do working on your computer.
Rize makes time tracking seamless by capturing your computer usage in real time.
One of Rize's key features is its intelligent categorization.
It automatically tracks how you spend your time on different activities, like coding or reading emails. It also keeps track of when you take breaks. This way, you can see a summary of your activity in reports.
Another important capability is Rize's focus analysis. It uses metrics to rate your daily focus, uncovering patterns about when you get distracted.
Rize also suggests timely breaks based on your work activity.
Some other essential features include custom categories, tracking based on schedule, project tagging, and calendar integration.
Rize works on Mac, Windows, and Linux through automated activity tracking.
Rize Features
Automatic time tracking
Intelligent categorization
Focus analysis
Break and overworking notifications
Calendar integration
Daily & weekly reports
Pricing
Rize has a free plan with access to a session timer and a day of data retention. The paid plan with all the features costs $14.99/month ($9.99/month on annual billing). The paid plan comes with a 7-day free trial.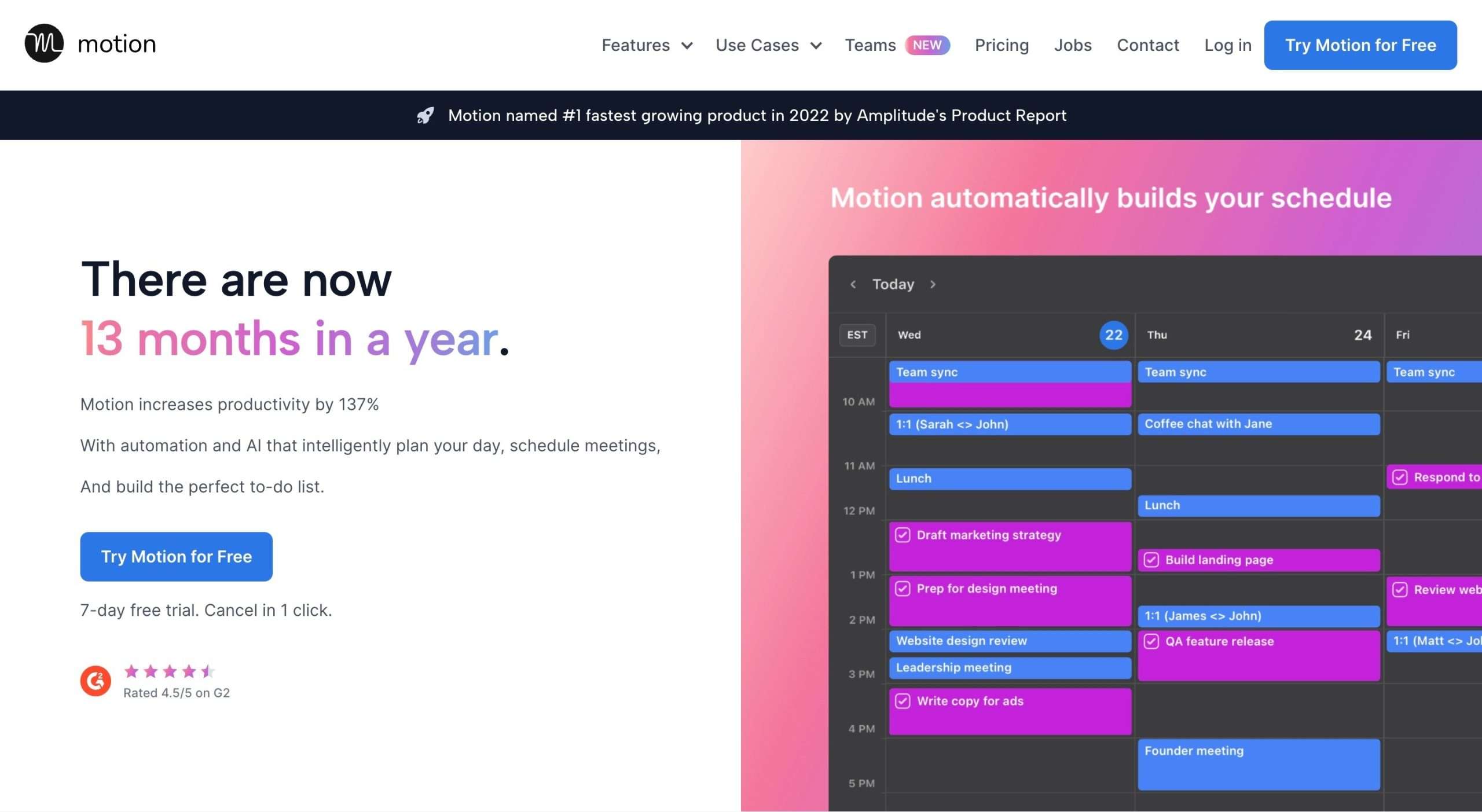 Motion is a productivity app with AI that helps professionals and business leaders manage time and tasks.
Motion's algorithm reviews your tasks and commitments, determining what's truly important, and helping you prioritize your work.
Motion also optimizes your meeting schedule. It limits and schedules meetings in the most productive way possible. This leaves you with more time for meaningful, focused work.
Motion takes your priorities, deadlines, and schedule into account to create daily task lists using AI. With Motion, your tailored list is created automatically, so you can simply dive in and be productive.
Motion makes work planning easier by using algorithms to streamline workflows.
This eliminates problems like unrealistic deadlines, forgotten tasks, long to-do lists, and feeling overwhelmed with information.
Motion makes it easy to set up in just 5 minutes. It syncs your calendar and events for a smooth transition.
Motion Features
An automated prioritization engine identifies your most important tasks
Limits and optimizes your meeting schedule for maximum productivity
AI-powered to-do lists based on priorities and deadlines
A meeting scheduler helps regain control of your calendar
Unique happiness algorithm maximizes productivity and satisfaction
Pricing
Motion offers a 7-day free trial. Its Individual plan starts at $34/month (or $19 on annual billing). The Team plan costs $20 per member per month ($12 when you bill it annually).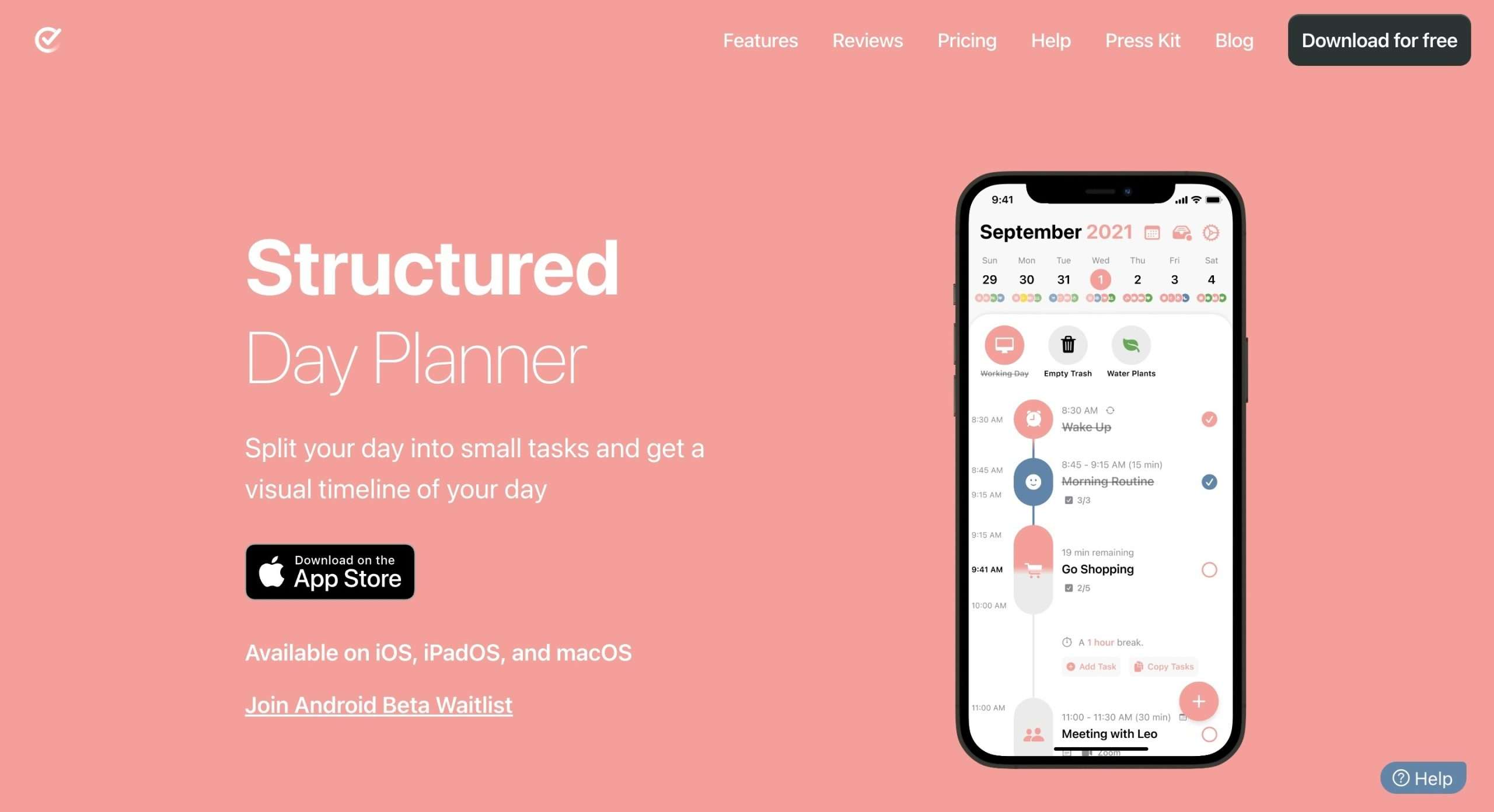 Structured is a digital planner made for adults with ADHD to improve their productivity. It combines calendars and tasks to give you a single view of your day.
Structured stands out because it lets you set exact timings for tasks, a huge help for those with time blindness.
The visual timeline provides an at-a-glance roadmap, so you can actually see your day laid out before your eyes.
It even helps carve out small breaks and pockets of free time into the schedule to allow for much-needed mental breathers.
Structured is available across platforms on iOS, iPadOS, and MacOS, with an Android beta coming soon.
You can easily import calendars, use colorful tools to manage tasks, and sync with iCloud.
The basic version of Structured is free. Structured Pro unlocks advanced features like customized alerts, recurring tasks, icon libraries, calendar event importing, reminders integration, and more.
Structured Features
Calendar and task integration
Precise task timings and durations
Visual timeline view of full day
Built-in breather breaks
Recurring tasks management
Available on all Apple devices
Pricing
Structured is a free app with in-app purchases starting at $2.99 per month.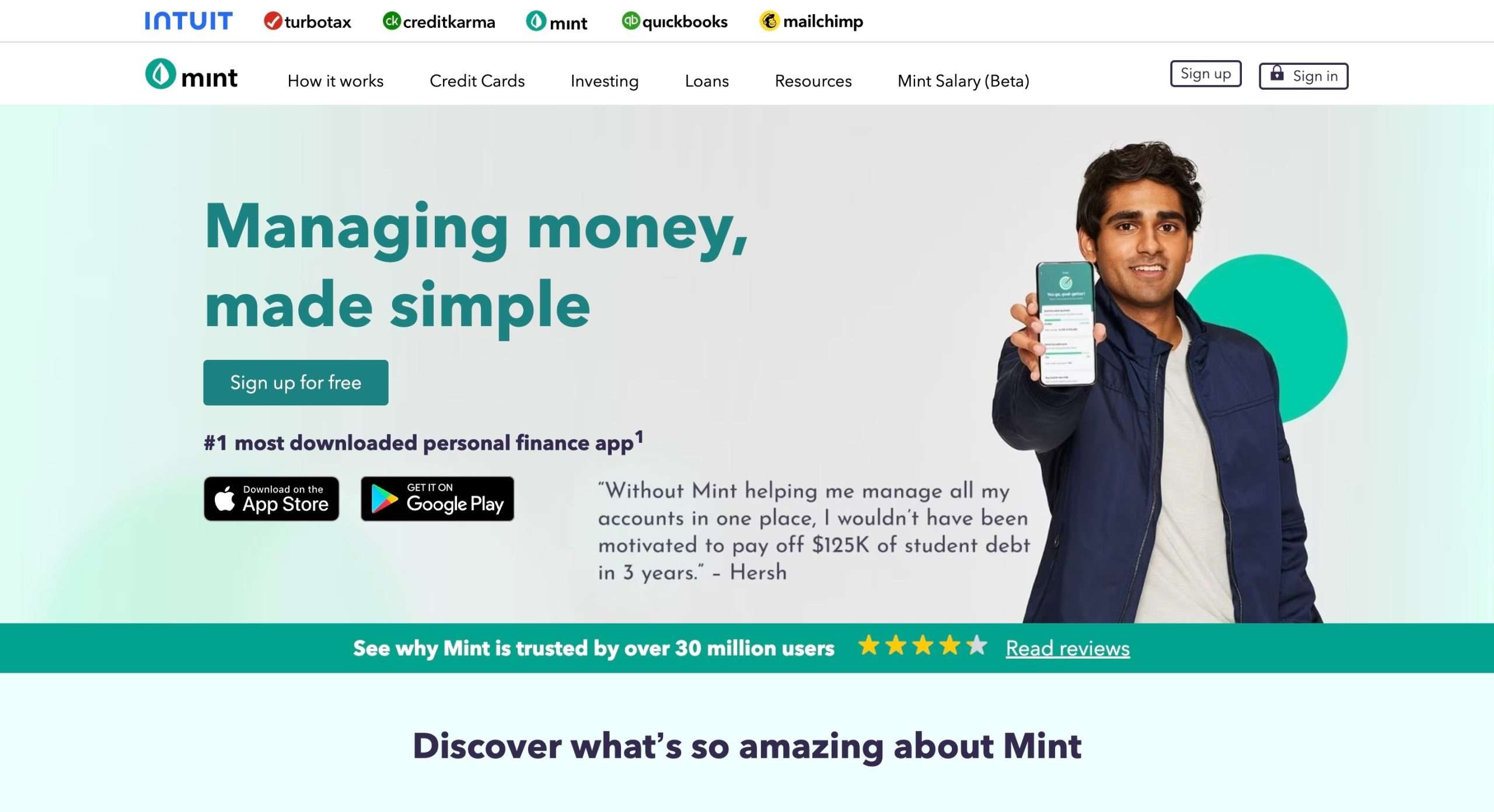 Mint is the ultimate personal finance app that equips you with the superpowers to take control of your money.
Mint brings together all your financial accounts for the full picture of your money. You can connect your cash, credit cards, loans, investments and more with Account Aggregation.
You can also see your financial net worth fluctuate and flow with Mint's Net Worth calculator.
With Mint, you gain complete mastery over your cash flow. Transaction Tracking allows you to monitor all financial transactions across accounts.
Additionally, intelligent budgets based on your unique spending patterns enable you to take control of where your money goes.
What's more, Billshark's bill negotiation feature can score discounts on monthly bills for effortless savings. Easily cancel unused subscriptions right from Mint to stop spending leaks.
Tax time is a breeze with Mint.
File your taxes directly through TurboTax and track your IRS refund right in the app. Get notified as soon as your refund hits your connected account.
Mint Features
Expenses tracking and management
Subscription Monitoring
Free credit score and report
Custom budgets
Integrates with Intuit products like Quickbooks
Pricing
Mint is a free-to-use app for Android and iOS. The in-app purchases cost $4.99.
Fantastical is a calendar and tasks app. It works on Mac, iPad, iPhone, and Apple Watch.
Fantastical comes with natural language input, allowing you to create events and reminders in a flash.
Whether typing or speaking, Fantastical understands requests like "Lunch with Joan next Thursday at noon" and automatically generates the event.
Fantastical also makes it easy to attach files and photos to meetings and tasks, so you have all the resources you need.
With Fantastical, you stay organized across platforms. It syncs with your existing calendars, so everything is in one place.
It offers Day, Week, Month, Quarter, and Year viewing options, so you can see your schedule just how you like.
Fantastical helps you focus on what's relevant. Features like Calendar Sets, Focus Filters, and automatic calendar adjustments based on your location streamline your view.
Conference call detection also makes joining meetings a breeze. Fantastical detects and integrates services like Microsoft Teams, Google Meet, Zoom, and Webex.
Fantastical Features
User-friendly interface
Quick event and task template creation
Project design and tracking
Conference call detection and integration
Time zone management
Pricing
Fantastical comes with a 14-day trial. The premium plan for individuals starts at $4.75/month.
Notion is an all-in-one workspace that brings your notes, tasks, wikis, and databases together in one powerful, flexible platform.
Notion centralizes your knowledge, enhances communication, streamlines project management, and even harnesses AI.
One of Notion's key features is its ability to merge your internal wikis and documentation into one unified workspace.
Teams can build a knowledge base across departments with linked pages, multimedia embeds, and granular permissions.
Notion also shines as a next-gen document creation and sharing tool. It removes the limitations of traditional docs with seamless real-time collaboration, nested task lists, universal links, and infinite scroll.
With customizable databases, kanban boards, reminders, and calendars, Notion works excellently as a project management solution.
Notion AI adds advanced intelligence, including natural language search, text summaries, and task suggestions.
With drag-and-drop blocks, filters, galleries, toggles, and timelines, you can visualize information exactly how your mind works.
Templates and integrations to further adapt Notion to your personal or team needs.
Notion Features
Centralized wikis and documentation
Project management with databases and boards
AI-powered features like natural language search
Flexible drag-and-drop blocks
Template library for customization
Selective permissions and access controls
Pricing
Notion has a free plan with the ability to create limited blocks and pages. The Plus plan costs $10/month ($8 when billed annually) and the Business plan starts at $18/month ($15 on annual billing).
Notion AI is an optional add-on that costs $10/month ($8 on annual billing).
Clean Email is an email management app that helps you manage your full inboxes better. Its main goal is to simplify email organization, so you can focus on the messages that matter most.
Clean Email tackles inbox overload through powerful automation and easy-to-use features. The cornerstone feature is the Effortless Inbox Clean Up. It helps you clear out thousands of emails easily.
It focuses on highlighting the emails you need while ensuring your personal data remains private.
Another great feature of Clean Email is that it can organize your inbox into Smart Folders using filters and rules.
Staying organized is a breeze with Auto Clean Rules that act on incoming mail without you lifting a finger. For example, it can automatically archive newsletters or mark notifications as read.
Clean Email also makes it simple to take control of unwelcome subscriptions. Its unsubscribe features submit requests on your behalf and block stubborn senders.
You can also customize preferences for mailing lists you wish to keep.
Clean Email Features
Effortless inbox clean up
Organized mailbox with smart folders
One-click bulk email actions
Auto-clean rules for incoming mail
Unsubscribe and block unwanted senders
Digest emails with regular clean-up insights
Pricing
Clean Email's monthly subscription costs $9.99 per member per month. It allows you to delete up to 1000 emails for free.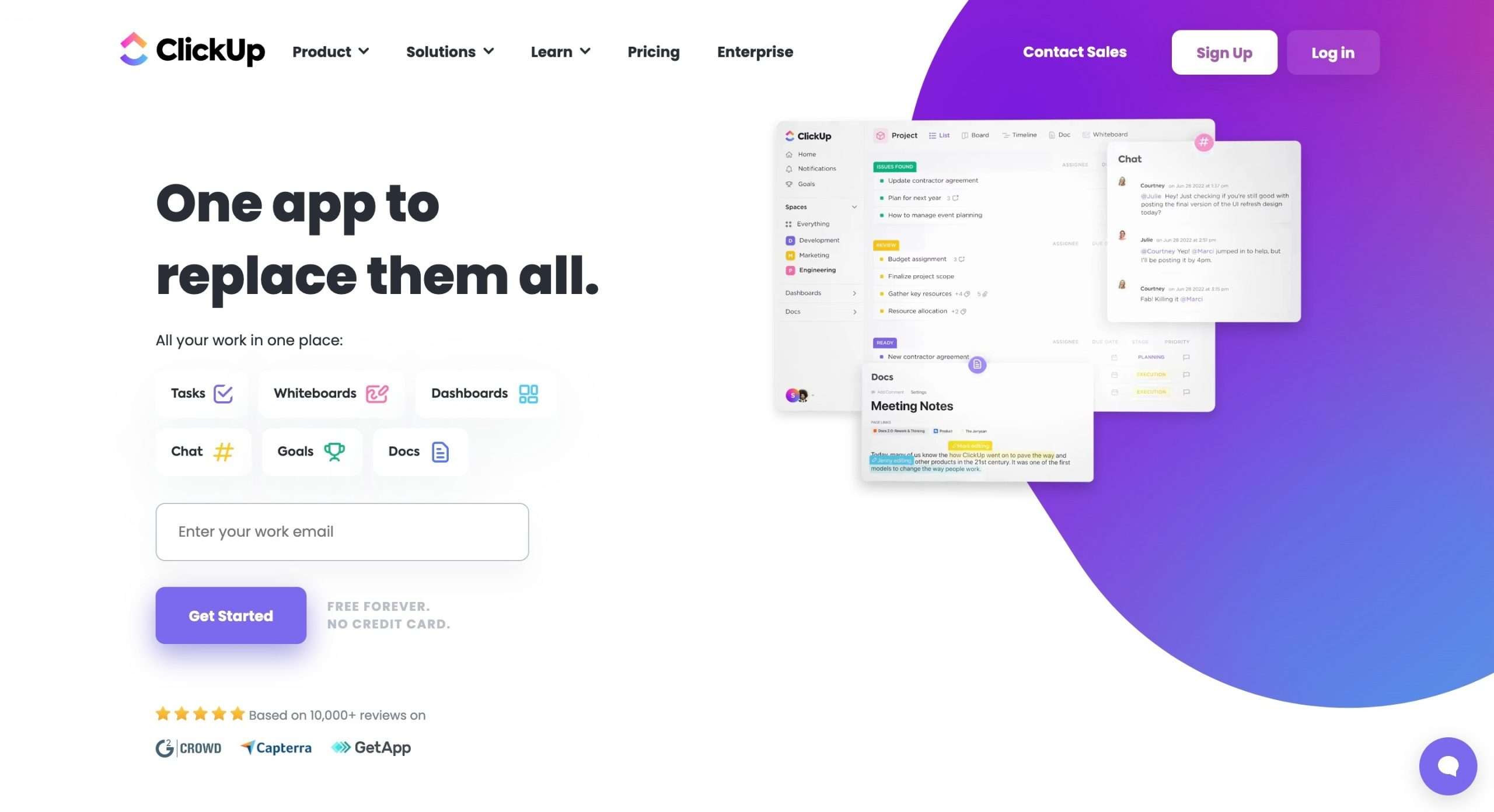 ClickUp is a powerful tool for managing tasks and projects, with customizable features.
One of the best things about ClickUp is the Hierarchy feature. It allows you to break down tasks and projects into many levels that make sense for your needs.
The "Everything View" shows all your tasks, giving you a complete look at your work. ClickUp makes it easy to find and save the information you need with powerful filters and sorting.
When it comes to task management, ClickUp has over 35 ClickApps that allow you to customize tasks to match your workflow.
You can add automation, Sprint Points, Custom Fields, and more to streamline your process. For complex projects, ClickUp enables you to break them down into manageable subtasks and checklists.
To match the ways you think and work, ClickUp offers over 15 views to approach your tasks from different angles.
ClickUp also automates routine tasks through its 50+ pre-configured actions, triggers, and filters. You can also create personalized automation for your specific tasks, saving time on repetitive work.
ClickUp Features
Spaces, Folders, Lists, and Tasks for visual organization
35+ ClickApps for customizable workflows
Automation to streamline repetitive tasks
15+ views to approach work differently
Real-time collaboration via Docs, Chat, Whiteboards
500+ integrations with other apps & services
Pricing
ClickUp has a free plan with 100 MB of storage and the ability to create unlimited tasks. If you want unlimited storage and unlimited access to all the features, check out the Unlimited and Business plans costing $10 per month and $19 per month, respectively.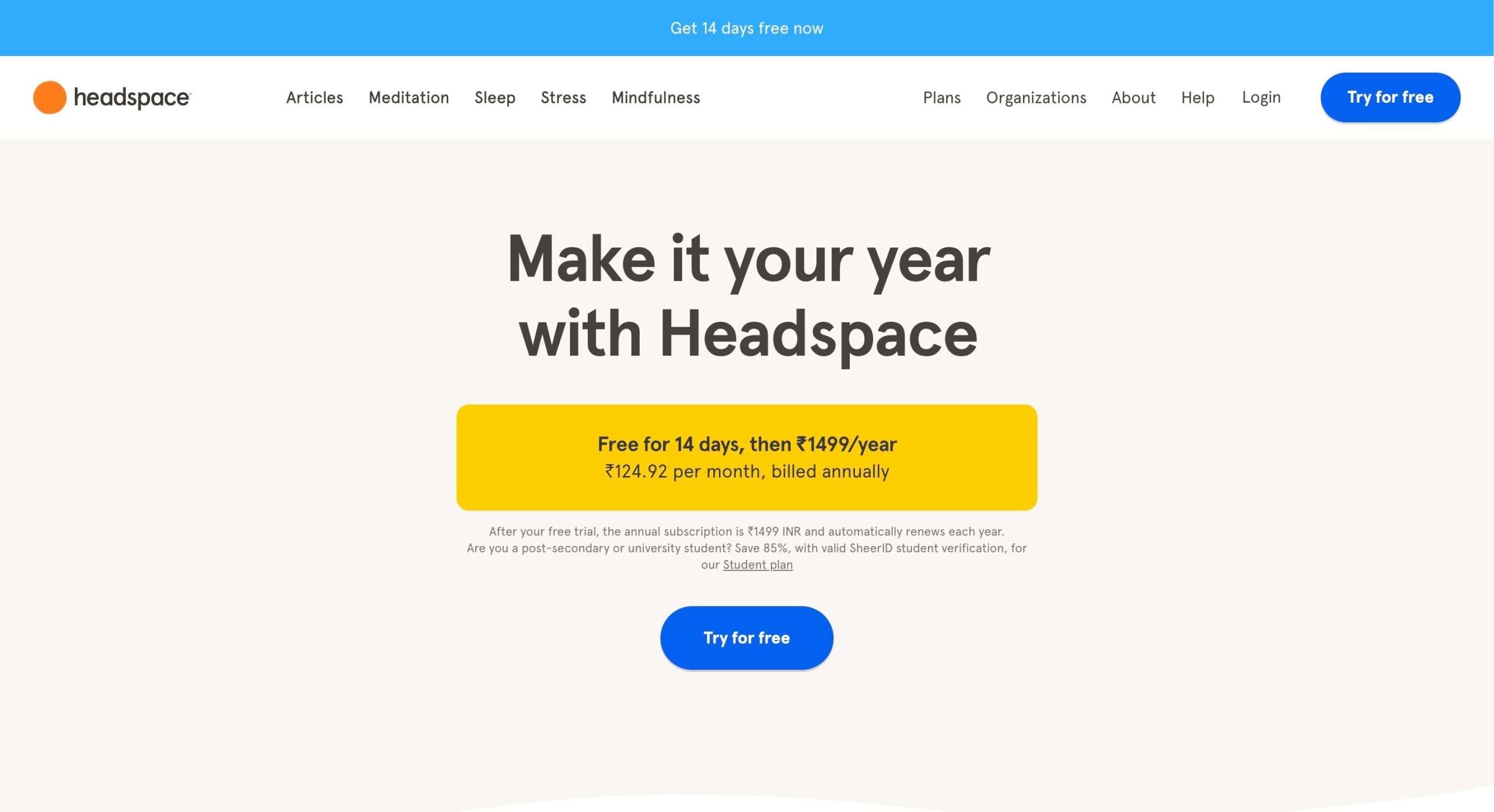 Headspace is a meditation and mindfulness app that provides you with a comprehensive toolkit to help enhance your mental health.
Headspace comes with a vast, searchable meditation library with over 1100 sessions covering everything from managing stress to improving relationships.
Each session provides audio guidance to teach techniques like body scans, noting, visualization, mantras, and more.
You can select sessions based on duration, from 1 to 30 minutes.
Headspace offers a clean, intuitive user interface that makes meditation accessible to everyone. It also has dedicated sections for kids and teens, with child-friendly illustrations.
Besides full sessions, Headspace offers bite-sized audio exercises you can do anywhere. Mini meditations provide quick relief throughout the day while driving, walking, waiting in line, etc.
Headspace also lets you track meditation streaks, view session history, and monitor progress with stats like total sessions completed and total time meditated.
Headspace Features
User-friendly interface and navigation
Extensive library of guided meditations
Themed meditation packs for progress
Soothing animations and nature videos
Progress tracking with stats
Dedicated kids and teens section
Pricing
Headspace provides a free 7-day trial for its monthly subscription plan, which costs $12.99 per month after the trial period ends. There is also a 14-day free trial available for the annual plan, which costs $69.99 total for the year, working out to $5.83 per month.
Now, To You!
Now it's your turn to take action.
Experiment, get curious, and don't be afraid to switch things up. Create a personalized toolkit that helps you be productive and calm.
The effort will be well worth it.
We challenge you to try one new app this week that speaks to your needs.
See how it feels after several days of use.
Did it move the needle for you?
You've got this!