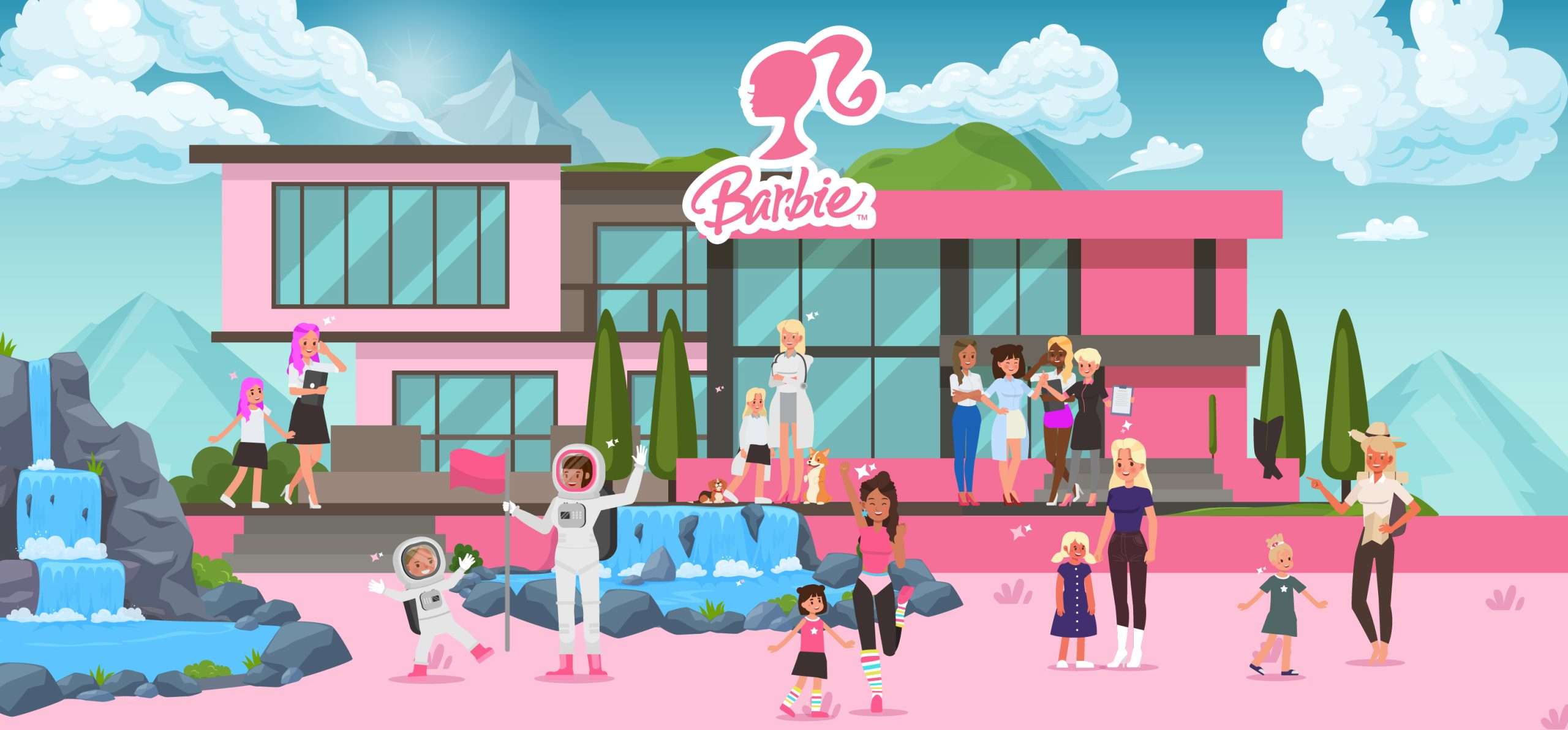 In less than a month, the Barbie movie hit over $1 billion at the global box office. Barbie is now the highest-grossing release by Warner Bros, beating the Dark Knight (Source).
While the improbable fame and massive popularity may look all instant on the surface, it sure as hell didn't happen by accident. It was the result of clever marketing strategies employed by Mattel and Warner Bros. over many years.
If you are a marketing student or entrepreneur, Barbie's journey to the big screen can teach you a lot.
No matter if you love Barbie or find her controversial, her journey teaches valuable marketing lessons.
This blog post reveals nine marketing strategies that made Barbie a successful movie, a global sensation, and culturally relevant again.
1. Leveraging Brand Partnerships
Warner Bros. created a pink movement by promoting Barbie alongside over 100 brands ranging from Crocs to Xbox.
The movie made adults feel nostalgic and helped Mattel better market their products. To attract more people, they worked with brands from the past that people feel nostalgia for.
FYI: In this context, "nostalgic brands" means the brands that the Barbie movie's intended audience (13 years old or older) grew up with.
Barbie has entered different markets, such as Pinkberry and Homestick, to become a part of people's lives.
Barbie has worked with these brands to create special promotions or products that match the themes or characters of the Barbie movie.
Barbie movies have also formed brand partnerships where the brand pays Mattel for the privilege of marketing the movie. Other brands work together with Barbie movies to advertise their products when the movie comes out.
These partnerships can include: joint marketing campaigns, co-branded merchandise or special events.
Key Takeaways
Leverage nostalgia through strategic brand partnerships. Teaming up with brands your audience loves or used to love can bring back good memories and attract more people.
Make your brand universally accessible. By partnering with brands of all kinds, from fashion to food and beyond, Barbie has become accessible and part of consumers' everyday lives and activities.
Co-brand and collaborate for reciprocally beneficial deals. Strategic partnerships that allow both brands to market to each other's audiences can be win-win. Offer value to partners.
2. Traditional & Targeted Promotion Tactics
The creators of the Barbie Movie used a combination of traditional and targeted promotional tactics to generate buzz and reach their audience. Here's how they implemented these strategies:
1. Eye-catching Posters and Billboards: They use attractive posters and billboards to catch attention and raise awareness. One prominent example is this billboard at Times Square: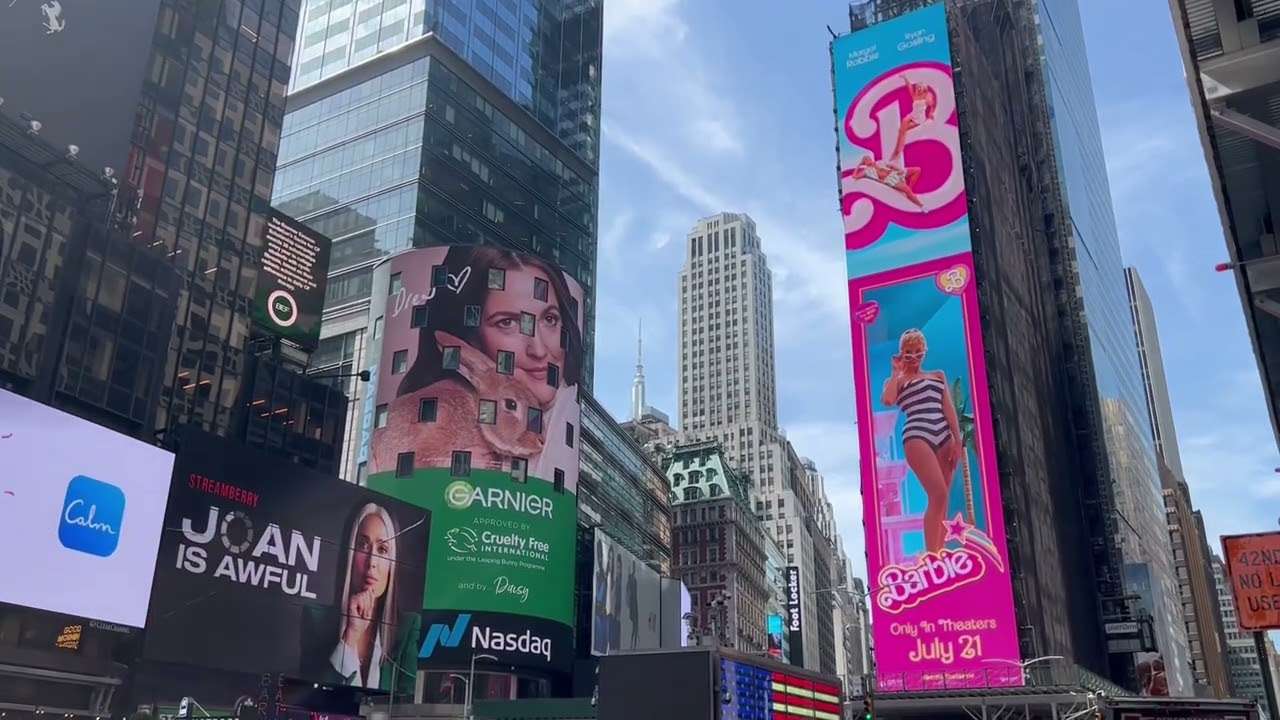 2. Life-size Barbie Malibu Dreamhouse Installation: To create a real-life experience for fans, a life-size Barbie Malibu Dreamhouse installation was created in partnership with Airbnb. People could step into Barbie's world, creating excitement and engagement.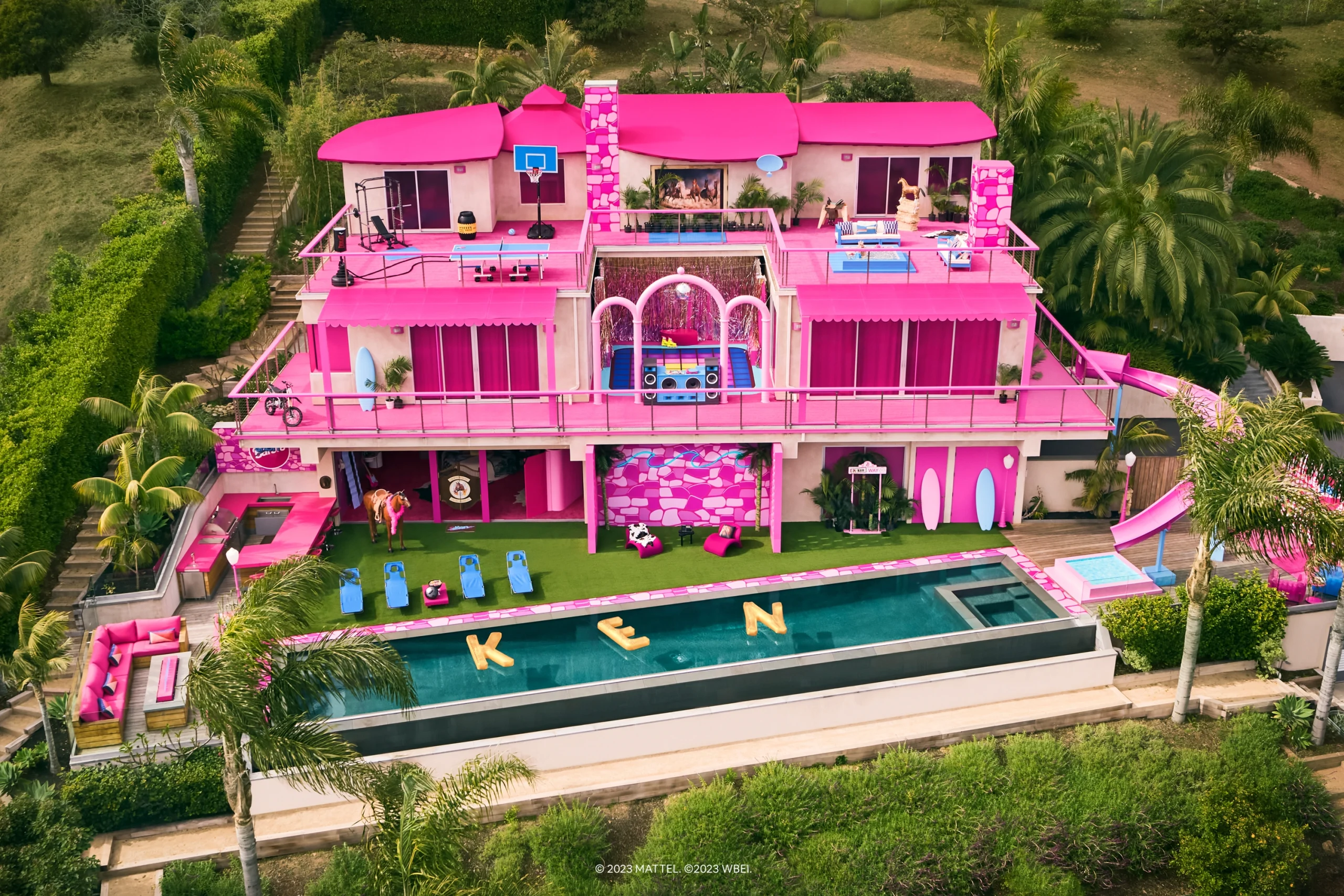 3. Comic Con Panel Appearance: Margot Robbie and Ryan Gosling, along with other creators of the Barbie Movie, appeared at Comic Con. Comic Con is a convention for fans of movies, TV shows, and comics. The panel appearances let them connect with the audience, create buzz, and build anticipation for the movie.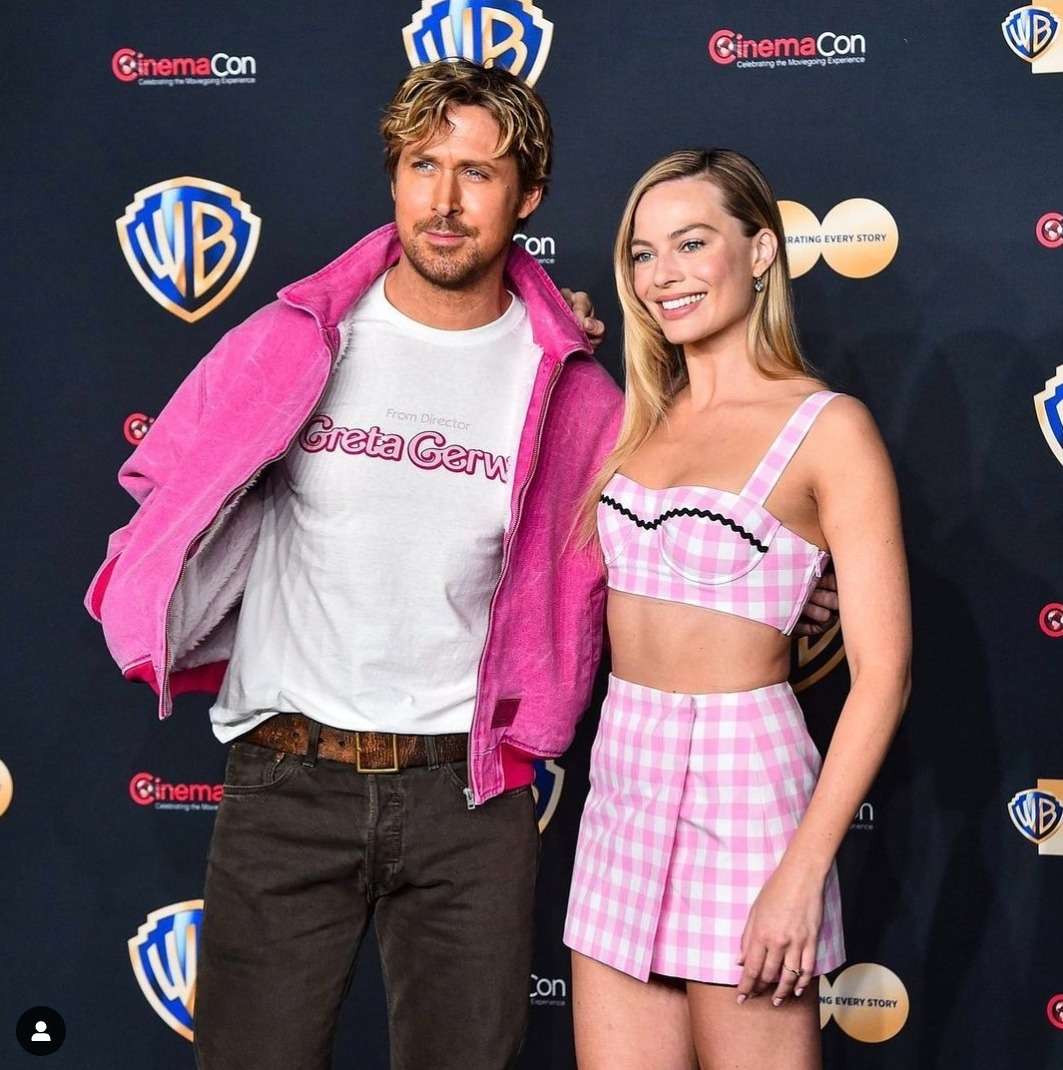 4. Targeted Advertising: To reach young girls, the movie was advertised on websites and apps they often use. These include Disney Channel and Cartoon Network.
5. AI Tool Creation: Warner Bros. Barbie Selfie Generator tool that allows social media users to create their own Barbie-style avatars.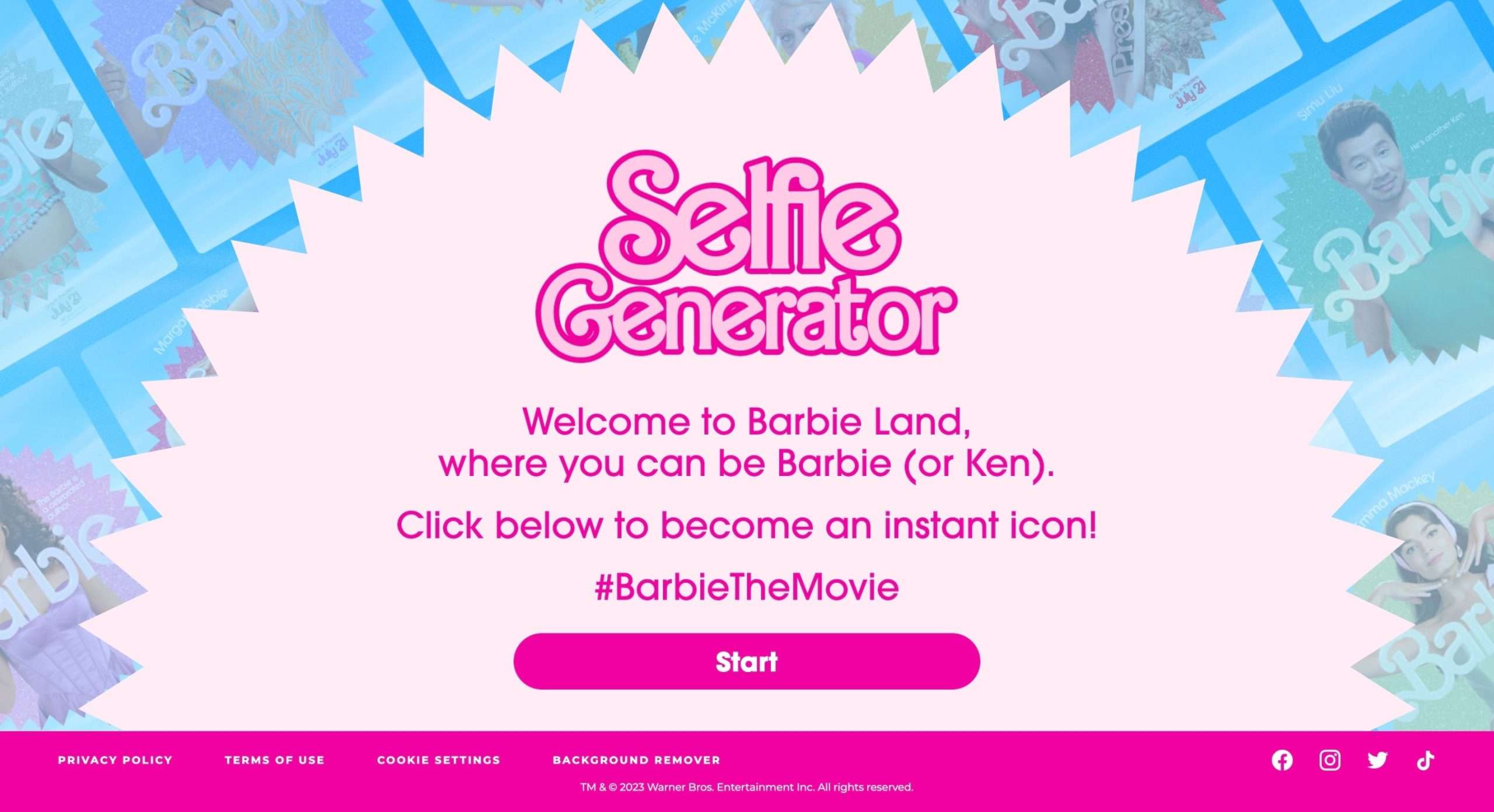 Key Takeaways
Use a mix of traditional and digital marketing channels to generate awareness and reach your target audience. Billboards, installations, and convention panels generated excitement. Targeted ads reach specific groups of people.
Create an experiential marketing campaign to immerse customers and build excitement. The life-size Barbie house brought her world to life for fans.
Develop innovative and interactive digital campaigns. The AI avatar creator boosted social interaction. Fans could make Barbie-like versions of themselves.
3. Generating Social Media Buzz
The marketing campaign for the Barbie movie was a huge success, driven by a massive budget and brilliant social media strategy.
While the total spend hasn't been confirmed, Barbie had a marketing budget of around $150 million. This likely contributed to widespread visibility and buzz for Barbie.
A key component was leveraging social media to engage the target audience. The team maintained a strong presence across platforms like Instagram, Twitter, and Facebook.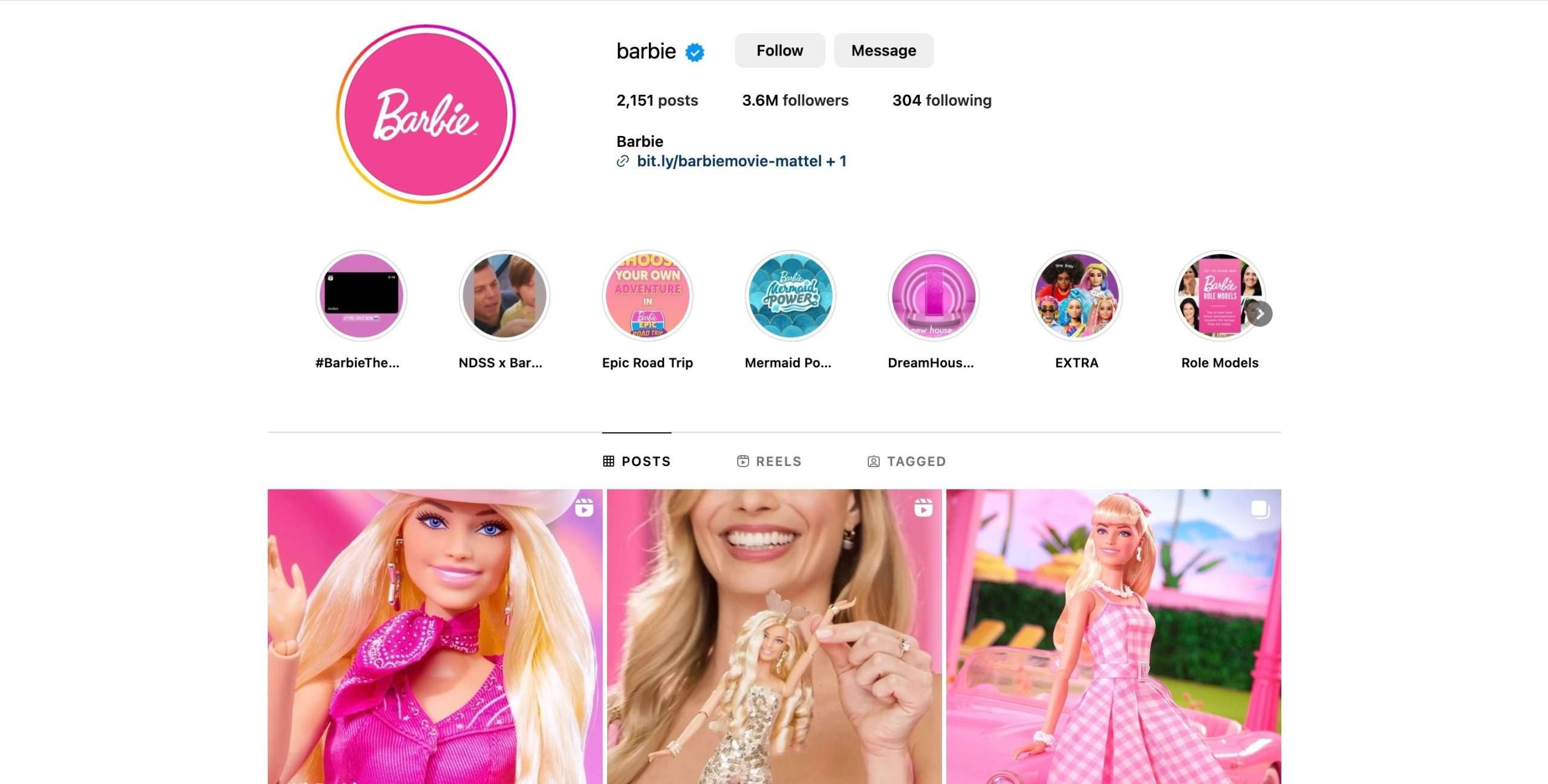 These accounts were used to share behind-the-scenes content, teasers, and trailers, and interact with fans. This built steady excitement and conversation leading up to the release.
Two particularly effective social strategies were:
User-generated content (UGC)
And influencer collaborations
An AI tool allowed people to create customized Barbie movie posters to share online. Influencers also posted Barbie content and encouraged engagement through the #BarbieMovie hashtag.
Contests, giveaways, and user submissions further expanded the movie's visibility. By putting social interaction at the forefront, the campaign created a highly engaging, creative lead-up to the film's launch.
The big-budget helped a lot, but the social media approach made the marketing really successful. It turned Barbie fans into enthusiastic brand ambassadors.
Key Takeaways
Put fans at the center. The marketing encouraged fans to create content and interact with each other, making them brand ambassadors. This level of engagement is powerful.
Start marketing early. The social media presence and activities began well before release, building steady momentum over time.
4. Capitalizing on Merchandising
The role of merchandising in the success of the Barbie movie is significant. The movie's success helped Mattel make money from selling toys and licensing deals.
Here are a few key ways that merchandising likely contributed to the success:
Tie-in toys and dolls: Mattel released new Barbie dolls, play sets and accessories timed with the movie's release. This allowed kids to recreate scenes from the movie and play with the characters, helping to keep Barbie top of mind.
Brand awareness: The Barbie brand got attention by showcasing and advertising Barbie toys during the movie launch. This built excitement not only for the movie but for Mattel's whole Barbie lineup.
Revenue stream: Merchandise sales brought in more money for the movie, aside from ticket sales. Mattel could generate profits from dolls, toys and other products sold to fans of the movie.
Expanded reach: Merchandise helped introduce Barbie to new, younger fans who may not have been old enough to see the movie in theaters. But they could still engage with the characters by playing with the toys.
This way, the careful use of merchandise before and during the movie's release increased awareness and sales for Barbie.
The merchandise and movie worked together to boost one another's success.
Key Takeaways
Start early. Barbie didn't wait until the movie's launch to roll out merchandise. They built excitement by releasing toys and products early, allowing fans to engage with the story and characters.
Strategic timing. Releasing key merchandise and toy lines right around the movie launch sustains the excitement.
Promote across channels. Barbie advertised the merchandise in trailers and other marketing. Cross-promoting products and storylines across channels creates awareness.
Leverage the existing community. Barbie already had an established fan base that was eager for merchandise even before the movie. Marketers should leverage existing communities.
5. Empowering Women Vs. A Feminist Icon
Barbie has been a controversial figure when it comes to feminism.
Some people criticize Barbie for promoting unrealistic beauty standards and reinforcing gender stereotypes (Source).
However, Barbie is also seen as a symbol of empowerment for girls. She can inspire them to pursue their dreams and break gender barriers.
Some people think Barbie is becoming more than just a perfect doll, but others disagree. They say the movie is just a long advertisement for Mattel.
It is clear that the role of Messaging Barbie as a feminist icon in the success of the Barbie movie is complex and open to interpretation.
This is one of the main reasons why Mattel, the company behind Barbie, has been trying to make the doll more inclusive and diverse.
Barbie dolls now come in various body types, skin tones, and hairstyles. They also include dolls inspired by real-life role models such as Frida Kahlo and Amelia Earhart.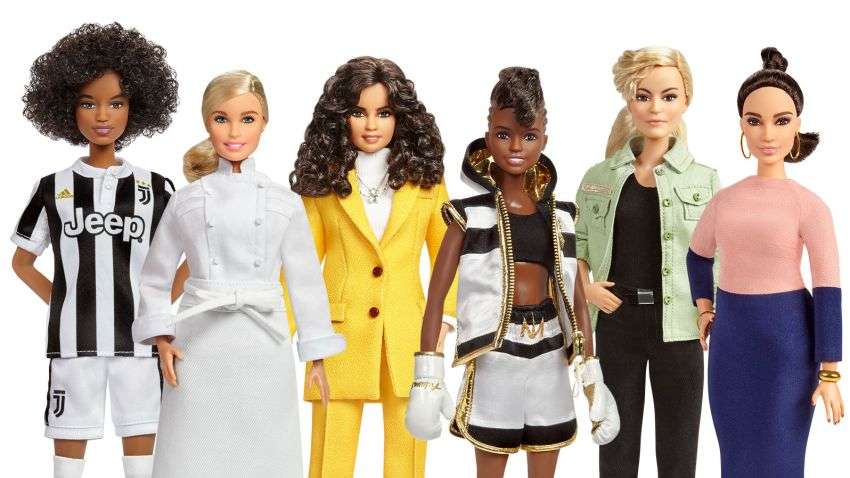 These actions are seen as a way to include everyone and challenge common ideas of beauty.
The movie opens an opportunity to showcase Barbie in different roles and careers. And it shows Barbie as a strong character who is more than just looks and shopping.
Key Takeaways
Focus on empowerment and inclusion. By making Barbie more diverse and inspiring for girls, the brand appears relevant and not outdated.
Leverage controversy. Don't shy away from backlash. Encourage meaningful discussion and show your brand/product as a force for good.
Evolving with the times is crucial. Barbie has adapted over the decades to reflect changing cultural norms and stay relevant. The movie depicts Barbie in diverse, aspirational roles that break stereotypes.
Authenticity is important. To make your brand more inclusive, it's crucial that efforts are genuine and not just empty words.
6. Music Integration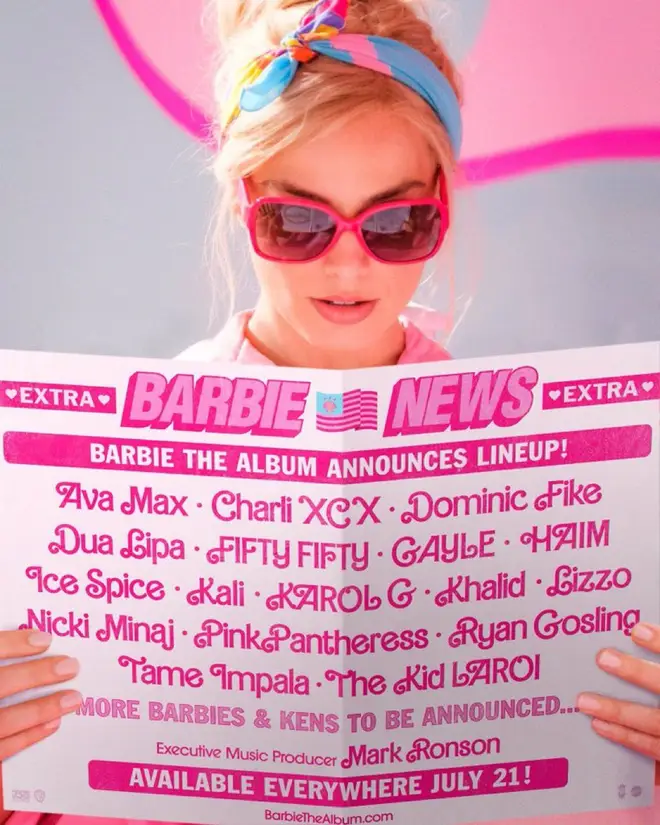 Believe it or not, music did play a critical role in the movie's immense success. The film emphasized the feminist message by featuring talented female singers and songwriters.
Additionally, the Barbie soundtrack became popular online and created excitement before the premiere.
Popular artists like Dua Lipa, Billie Eilish, and Sam Smith brought in more fans. It was no wonder fans of these musicians became invested in the movie's music success.
The whole album itself became a marketing boon, as the songs spread rapidly on social media and streaming platforms.
The diverse blend of musical genres kept the soundtrack fresh and appealing to all age groups:
Disco-inspired dance tracks catered to older generations looking for nostalgia.
Powerful vocals provided emotional depth.
Upbeat pop anthems resonated with kids.
The variety of styles created a well-rounded listening experience with multi-demographic appeal.
The songs were catchy. The female artists were famous. The music and visuals matched well. It was a captivating experience that exceeded expectations.
Key Takeaways
Leverage pop culture trends and celebrity artists to generate buzz and expand your audience.
Use music as a medium to enhance emotional engagement.
7. Anticipation Building Through Suspense
Giving away everything at once can steal from you the perpetual joy of unpacking a gift slowly. Barbie used suspense and teasing techniques to create excitement before the movie came out.
In trailers and images, they only showed a few plot details and glimpses of the Barbie world. The trailers showed the fun and colorful style of Barbie, but didn't reveal important parts of the story.
Brief clips introduced the characters without explaining their relationships or the central conflict. This selective glimpsing builds anticipation to see more.
In addition, Margot Robbie and Ryan Gosling's unexpected casting suggested a unique twist on Barbie and Ken. Yet, their comedic style remained a secret.
Furthermore, the story had a strong message of women's empowerment and surprised the audience. It was also kept very secret.
The way they talked about the movie got people excited without giving away too much.
Lastly, the announcement of new cast members, such as America Ferrera, was carefully timed.
Fans were curious about how each actor would fit into the Barbie world because new characters were introduced slowly.
Key Takeaways
Highlight specific features or benefits without showing how they fit into the whole picture. Leave people curious.
Consider unexpected or unusual partnerships, collaborations, or spokespeople to generate buzz and speculation.
Use phrases like "You won't believe…" or "Wait until you see…" to create anticipation without giving it all away upfront.
8. Meme Marketing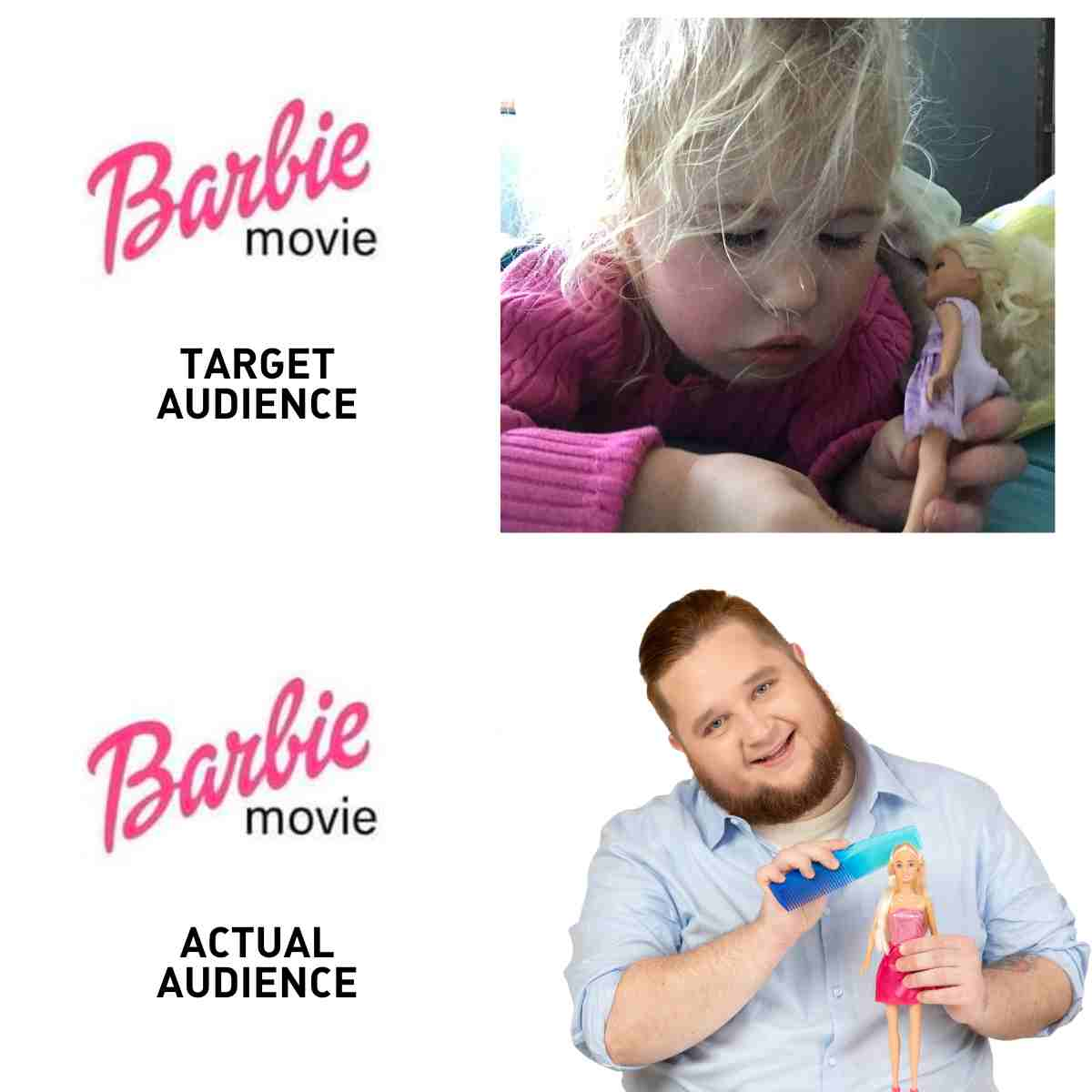 There is evidence that meme marketing played a role in the success of the Barbie movie.
Fans made memes comparing the film's marketing budget to "Oppenheimer." These memes generated hype for the movie.
Barbie and Oppenheimer were different genres, so they didn't compete but complemented each other. In fact, the internet phenomenon was given the name "Barbenheimer" by the fans.
Warner Pros released promotional images tailored for meme creation, like Barbie in hilarious new outfits and situations.
Fans responded enthusiastically, making and spreading memes across social media. Memes included everything from Barbie as an astronaut, rapping, and recreating scenes from various movies.
As memes were shared by influencers and everyday social media users, they exposed the movie to new demographics outside the core Barbie fandom.
Barbie's relatable humor made her seem modern and self-aware. This changed how millennials and Gen Z perceive the brand.
Memes also enabled organic hype to be built without obvious promotional messaging.
Key Takeaways
Create shareable and meme-bait content. Barbie's promotional images became popular memes because they were funny, relatable, and easy to remix.
Have a sense of humor. Memes thrive on funny, irreverent, and unusual content.
Monitor trends. Stay on top of the latest meme formats and humor to create timely, relevant content.
9. Search Engine Optimization
One of the marketing campaigns that contributed to the movie's success was Google's Barbie-themed commercial, which starred Meg Stalter.
The commercial served as Google's perspective on the influential impact of the Barbie movie.
Additionally, Google created an Easter egg that turned its results page pink when users searched for "Barbie," Greta Gerwig, Margot Robbie, or Ryan Gosling.
From the beginning, the creators knew it was important to be visible on Google and use SEO. New trailers, clips, or photos were released on various platforms to increase search visibility.
Before the film was released, Google Ads were used a lot. They targeted specific words and groups of people with interesting messages and pictures.
This omnichannel approach to SEO and Google-related marketing created consistent buzz and awareness, which translated into significant ticket sales.
Key Takeaways
Optimize website content to target keywords related to your product/service.
Create fresh, engaging content consistently. The marketing team regularly released new trailers, clips, and photos to increase visibility in searches.
Understand your target audience's search behavior and intent. Barbie marketers knew fans would be searching for the stars' names, character names, etc.
Learning Marketing From Barbie
Barbie's journey from a controversial doll to a $1 billion blockbuster film is nothing short of remarkable.
It took careful planning, partnerships, and creative marketing to make this plastic icon relevant again.
Barbie's evolution proves that listening to your audience and adapting your brand message is powerful.
Now it's your turn.
How can you use these lessons to improve your marketing and reach your target audience?
Ask yourself:
What partnerships could help expand your reach? Look beyond your direct competitors.
How can you spark meaningful social conversation and user engagement? Make it fun and interactive.
What's your brand's "Barbie Dreamhouse" experience? Build hype with immersive, share-worthy activities.
The possibilities are endless if you dare to dream big!
So go ahead, be bold, and bring your brand into the spotlight.