Netflix is the leading streaming service out there.
It's the business that bankrupted Blockbusters and, as of March 2022, had over 221 million users. From these facts alone, Netflix's success is quite impressive!
And do you know the best part? Success leaves clues.
So in this article, we're going to go in-depth about the marketing strategies used to get to where it is nowadays so that you can implement them in your own company.
If that sounds interesting, then keep on reading.
1. Netflix Uses Multi-Channel Marketing to Connect With Users Online and Offline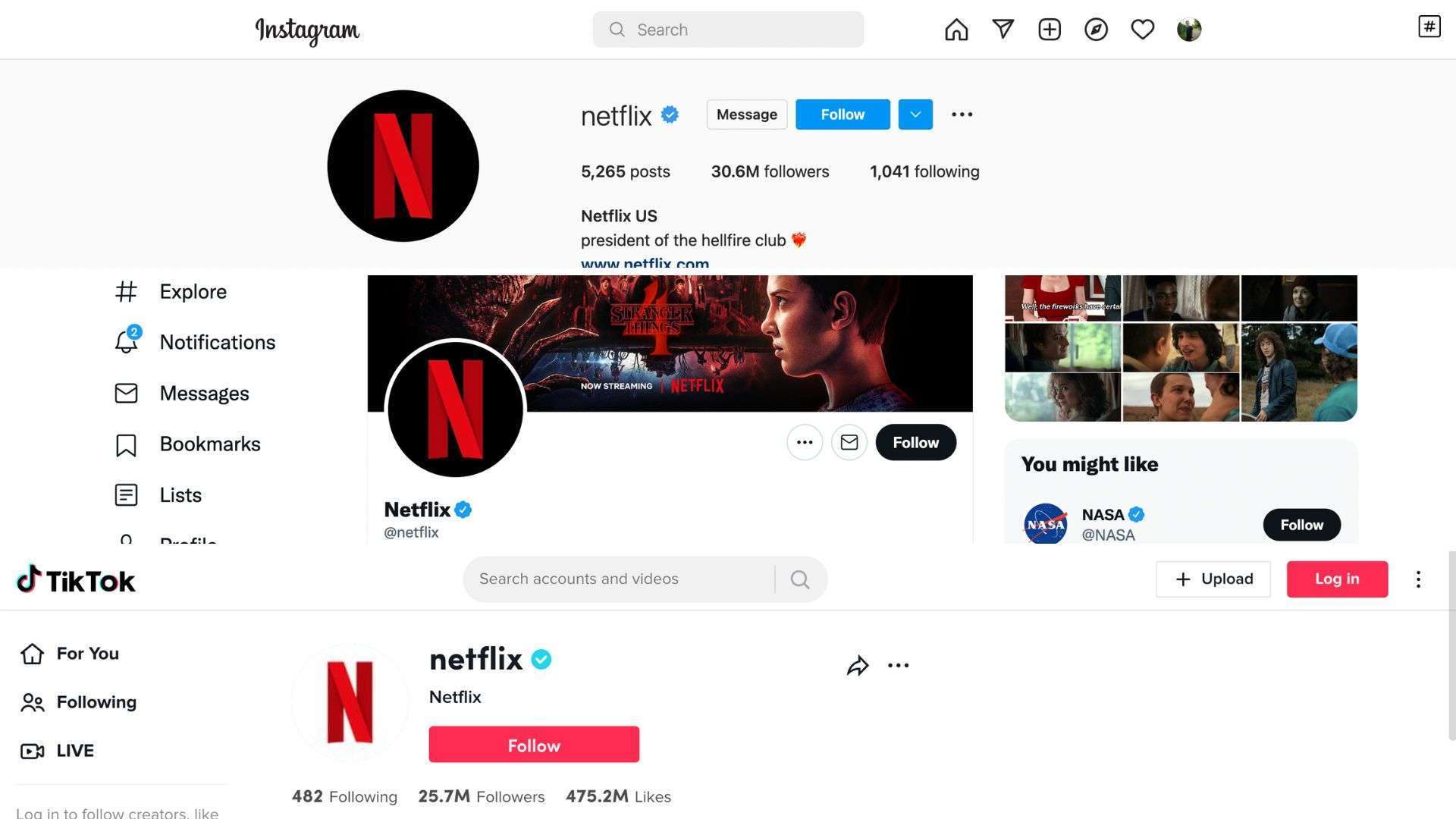 One of the most critical objectives of good marketing is to get sales to your company and stay connected with your customers and fans.
That way, they won't forget about your existence, which keeps them coming back to your business and potentially buying.
And Netflix is a fantastic example of it!
Netflix has ensured that they will stay in your mind, no matter where you are.
But how did they do it?
Well, for starters, they use multiple social media channels.
That lets them share content with their users, no matter which social platform they prefer. The platforms include:
Snapchat
Instagram
Facebook
Twitter
YouTube
TikTok
And more
From all of these social media platforms alone, they've accumulated a total of 180 million followers (excluding Snapchat). However, their reach doesn't end there.
Additionally, they've got a newsletter, billboard ads, and much more. So, whenever, you can try to reach as wide of an audience by being visible on various channels.
However, please don't overdo it, as you must follow the following strategy.
2. The Amazing Content They Share on Social Media
If you want to do well in social media, you need to give your audience new content to consume consistently.
That keeps them returning to your social media sites, which could turn your fans into your customers.
However, when it comes to content creation, quality should always be more important than quantity. In other ways, you get mediocre or worse engagement, which could hurt your business long-term.
So, how does Netflix keep its audiences engaged? Well, there are multiple strategies they use:
Use of Meme Marketing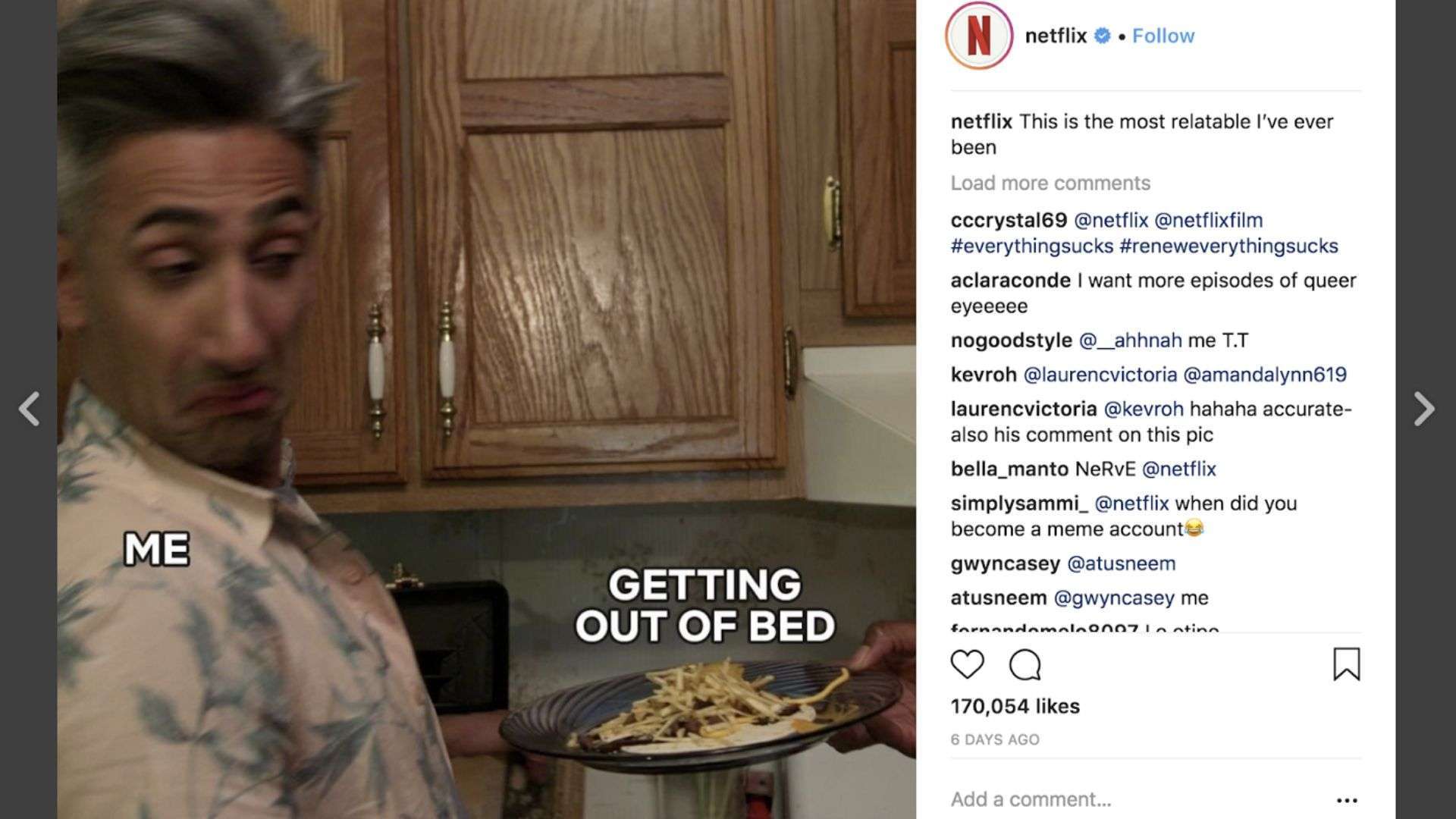 When you check out Netflix's Instagram accounts, you can see that one of their main content is Memes. At the time of this writing, 10 of the last 30 posts on the @netflix Instagram profile are memes.
But why are they sharing so many memes?
Well, all of it has to do with memes being one of the most engaging social media posts. According to Gurucoach, they get 10x more engagement.
Plus, they also convert 14% higher than email marketing.
There's a lot of power in Meme marketing.
Moment Marketing
Another thing they use on their social media sites is that they use something called moment marketing. With this, they share posts that are relevant and trendy at the time of posting.
So, how does Netflix use it?
Well, on June 20, 2021, they posted a post on Instagram that included some father figures in their movies wishing happy Father's Day to all fathers. That will get more engagement than a regular post.
Additionally, when "Friends reunion" was announced, Netflix used it as an opportunity to post an Instagram video that keeps people up to date about the show.
Use it whenever you see an opportunity to create a post that fits the moment.
Netflix doesn't take itself too seriously.
But regardless of what strategy you'll use, make sure that when creating content, you don't take your business too seriously. That only pushes away your fans as they won't feel a connection.
So, how does Netflix assure that?
Well, they do it by joking about themselves. For example, they've constantly shared memes about people sharing their Netflix passwords. They even made a video ad for it, which you can check here.
But before we end this article, I want to reemphasize the quality part of content creation and why Netflix can create so much content. That's all because they have a huge marketing team.
Instead of competing with the quantity side, you should pick only as many social platforms as you can produce content without sacrificing their quality.
3. Netflix Engages With Their Social Media Audiences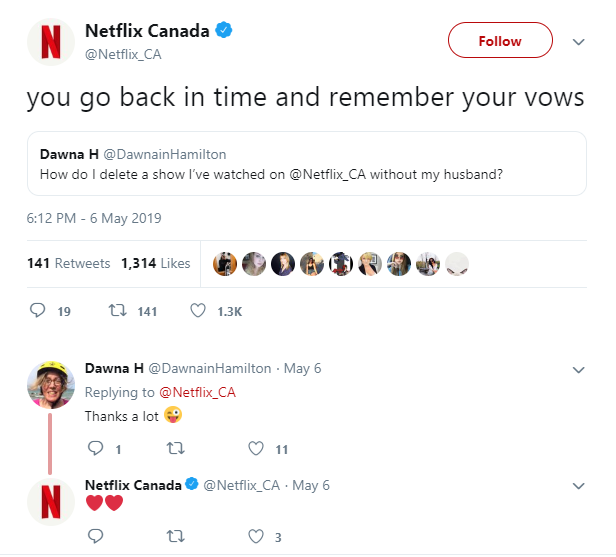 Before we end the social media part of Netflix's marketing strategies, we want to talk about one of the most important things they do to keep their audiences engaged.
And that is by engaging back with their audience.
They don't only post memes on their social media channels. Instead, they use a couple of ways to keep engaging with their audience:
Create Poll Posts – On Twitter, Netflix uses poll posts to get some feedback from their audience. The questions are usually simple, like if they should make new seasons of a Netflix Original show.
They Recommend New Movies/series to their audience members – Netflix has asked to create posts where the audience needs to comment on their posts. And when they do, Netflix will create a custom list of recommendations based on your answers.
Answer to Post comments – And lastly, whenever their posts get new comments, they make sure they react to them and create a conversation to build a connection with their audience.
Make sure that you engage with your audience in your social media marketing strategy. That will help you build connections with your fans, increasing their loyalty to your company.
4. Netflix's Genius Email Marketing
Apart from being an inspiration for social media marketing, Netflix also crushes it when it comes to its newsletters.
That's because instead of sending generic newsletters of new releases, they put in great effort to make them personalized to you.
For starters, they never start their emails with a generic "Hey there!" Instead, they use your first name where possible.
However, it doesn't end there.
Additionally, to reach out to you as an individual, Netflix makes sure that all the email content is relevant to you. They do it thanks to the power of machine learning, which we'll talk about in the following strategy.
That ensures all the recommendations are based upon your taste, which keeps them returning to using Netflix.
So, when you're sending your following newsletter, try to find ways to make your content more unique to the people you are sending, and you should see your CTR increase.
5. Netflix Has Mastered SEO
While the genius use of social media gets the most attention in Netflix's marketing strategies, one digital marketing strategy gets overlooked. And that is SEO!
And Netflix is a master at it. When we use "Keywords Everywhere" to analyze Netflix, we find a lot of interesting statistics about them:
Netflix's Domain Authority is 93 out of 100, which helps them rank higher on the search results.
They have generated over 51 million backlinks, which also helps them rank higher.
And all of that work pays them off. According to Ahrefs, they get over 267 million visitors per month!
But how do they do it?
Well, that's by creating content and adding relevant keywords. They tend to get the most traffic from keywords with movie titles, such as "queen's gambit" or "the Witcher."
Additionally, to that, they also focus on secondary keywords such as "comedic movies," "thrillers," "action movies," etc.
So while there's a lot to learn about social media marketing from Netflix, you should also put effort into SEO. That way, you start getting free traffic without lifting a finger.
6. They Use Hyper-Personalization
Netflix uses machine learning to personalize its emails. The more personalized the email is, the more engaged your audience will be, which keeps them returning to Netflix.
However, personalization goes much further than that.
That's because no Netflix dashboard will be identical to another user. Netflix learns what you like, and based upon that, it will start recommending shows.
But how does it know your taste?
Well, they do that by tracking various things:
What type of content do you watch, and for how long?
What time do you watch and on what days?
When do you pause, rewind, and resume content?
What type of ratings do you leave to the shows and movies
Your watching habits (do you binge-watch or one at a time)
Browsing and scrolling habits
And probably more.
So, when you're looking to get your engagement up, make sure you find ways to use machine learning. That way, you can personalize each person's experience, which increases your customer satisfaction.
7. Netflix Isn't Afraid to Experiment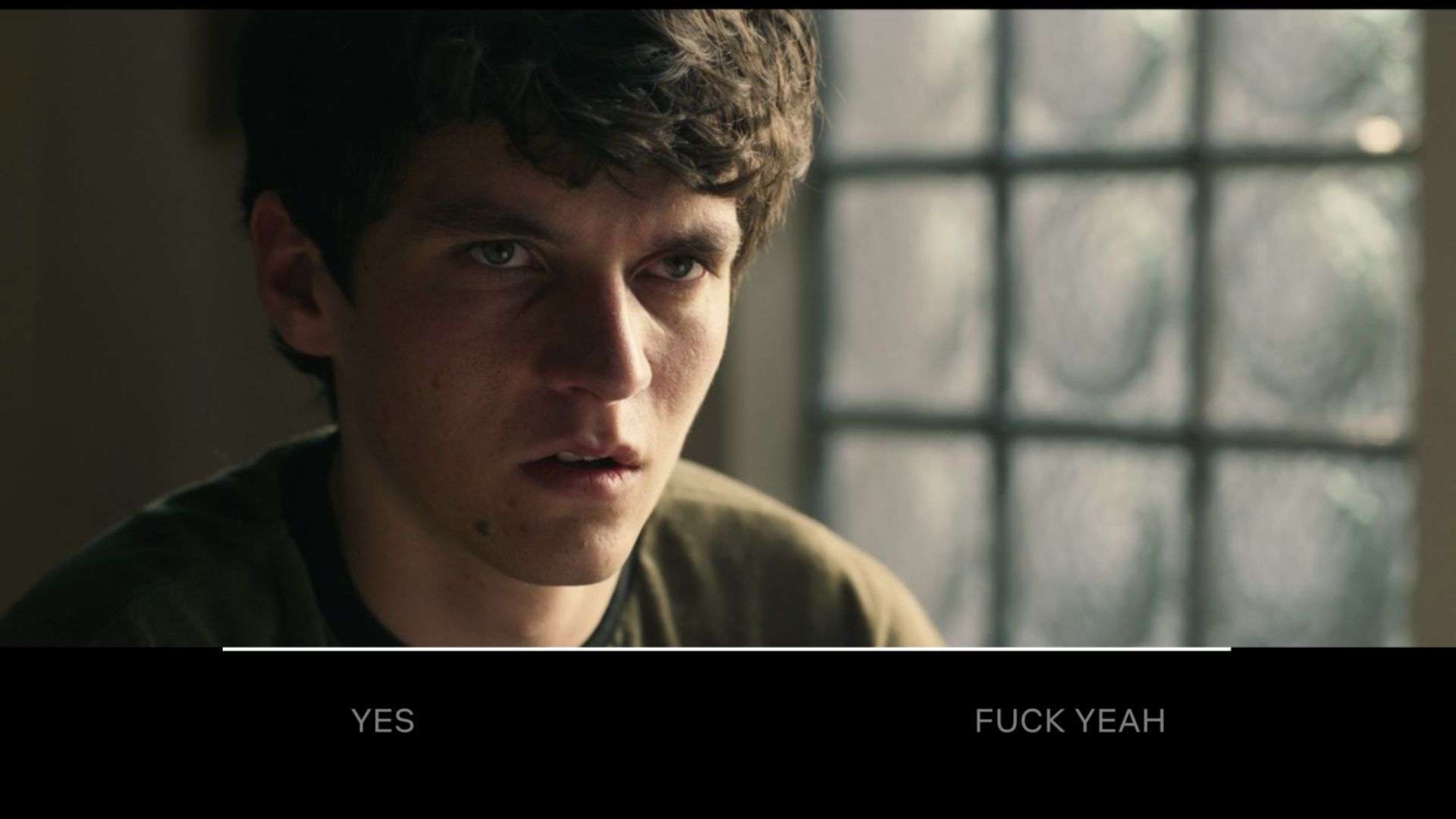 One of the key reasons why some businesses succeed and others don't is that the successful ones always stand out. And Netflix is no different.
What makes Netflix marketing, so good is that they aren't afraid to experiment. There are many examples of this.
For example, in 2018, Netflix created a movie named "Bandersnatch." But that was no ordinary movie. Instead, this one was an interactive movie where the viewer chose what the character would do.
Another way they experimented was with the advertising of their Narcos series. For this, they used a Guerilla marketing technique where they put stickers in nightclubs where the Cali Cartel drug scene happened.
And do you know why these two examples are so powerful?
It has all to do with one of the most powerful marketing techniques – word of mouth. People will want to share unique experiences with friends and family.
So, whenever you have a way you can experiment with your marketing campaigns, then don't be afraid to do it. The benefits will outweigh the negatives.
8. Intelligent Use of Influencer Marketing
Nowadays, people aren't as trusting regarding sales pitches and corporate talks. Instead, they'll be more likely to listen to the people they know recommending a product than salespeople, especially gen Z.
How can companies reach the people?
Easy, it's by influencer marketing! And Netflix has mastered the art of it.
For example, Netflix India collaborates with influencers frequently to create videos.
These include review videos like Behensplaining or other exciting videos. For instance, Netflix partnered up with Dhruv Rathee, where they made a video about decoding the famous show "Money Heist."
So, try to implement influencer marketing in your marketing strategy when there's a possibility. That way, you'll be reaching your audience more effectively!
9. Netflix Collaborates With Other Companies
And the last marketing strategy you should learn from Netflix is that they aren't afraid to collaborate with other companies. They've done it many times, and that has helped them increase their brand awareness tenfold.
For example, Netflix works with multiple banks, which has created a win-win situation for both companies. Users who make a bank account with the associated bank will get an exclusive offer from Netflix.
That has helped banks get more accounts, while Netflix has gained more users.
But the collaborations don't end there. Additionally, to that, Netflix continues to work with Snapchat. Whenever Netflix has a new show that they want to get as much attention as possible, they create custom camera effects for them.
Here's an example of one of them:
Whenever you've got an opportunity to work with another company, don't shy away.
Conclusion
And those are the seven marketing strategies you can learn from Netflix.
This once an ordinary streaming service company has brought its ace game regarding marketing.
Learn from them and try to implement them into your marketing strategy.
Even if you get a fraction of Netflix's success, you'll never regret implementing them!