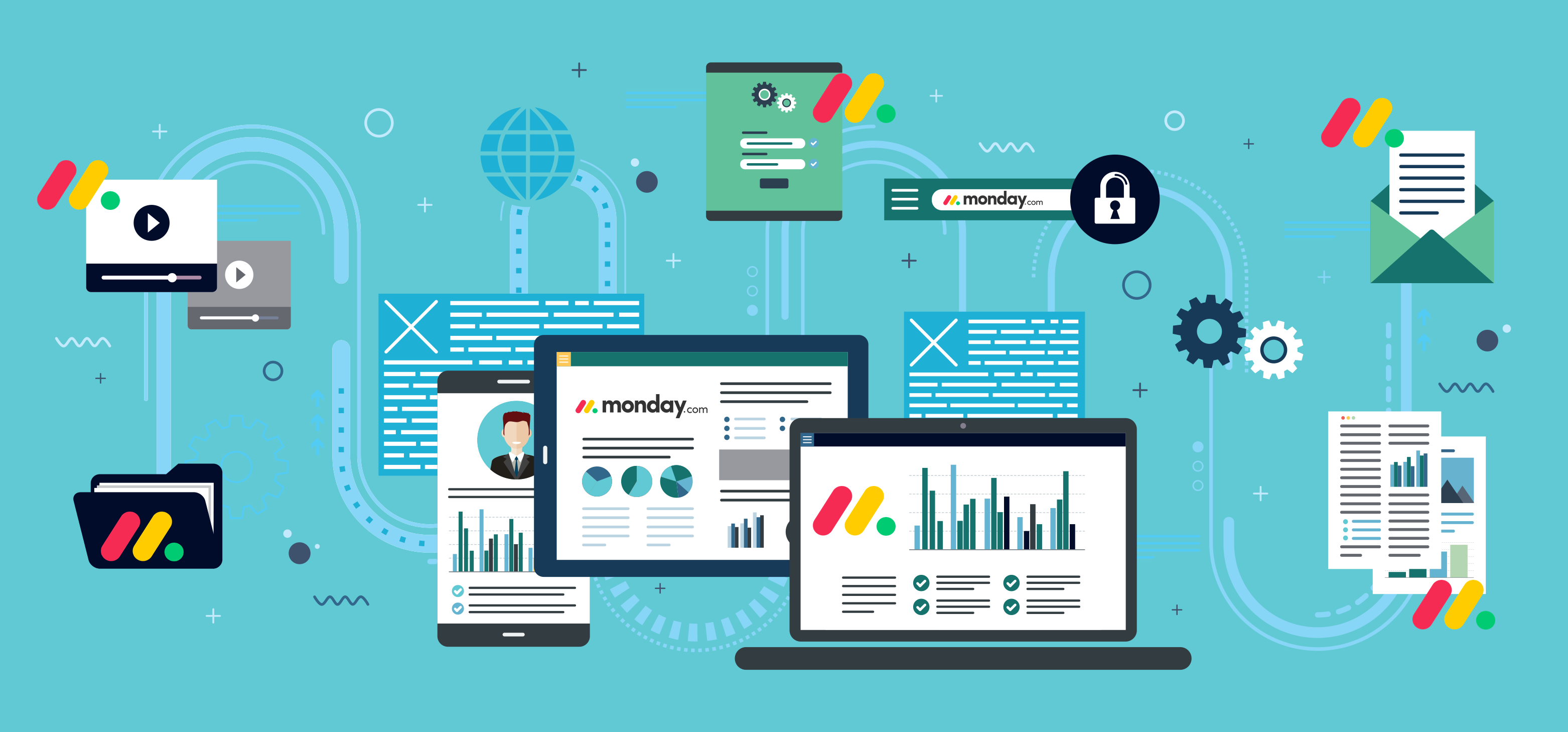 When it comes to project management, Monday.com is probably the best one out there!
It has many beneficial features that help many teams stay focused and finish projects on time.
However, Monday.com isn't made for everybody.
Some people look for a more feature-rich experience, while others look for something simpler. So in this blog post, I'm going to share the nine best Monday.com Alternatives with you.
So if that sounds interesting, then keep on reading.
First, we have Teamwork.
It's yet another excellent team collaboration and project management app, as it aims to make running your client's work easier! It does that by providing you with several unique features.
It has one thing that usually isn't seen in other project management software, accounting features!
With it, you can not only do your bookkeeping but also create beautiful invoices with lots of customization options.
What I love about Teamwork is how many integrations it comes with. These include your favorites like Zapier, Microsoft Teams, Quickbooks, Slack, etc.
And to top it all off, switching from your current project management software to Teamwork has never been easier. That's because Teamwork lets you import your previous data with just a few clicks.
Main Features:
All-in-One Package: task management, billing, time tracking, etc.
Easy import from other project management apps lets you easily switch to Teamwork.
Hundreds of Integrations for further Automation
Pros:
Accounting Features
A Lot of Customizability Options
Free Version Available
Cons: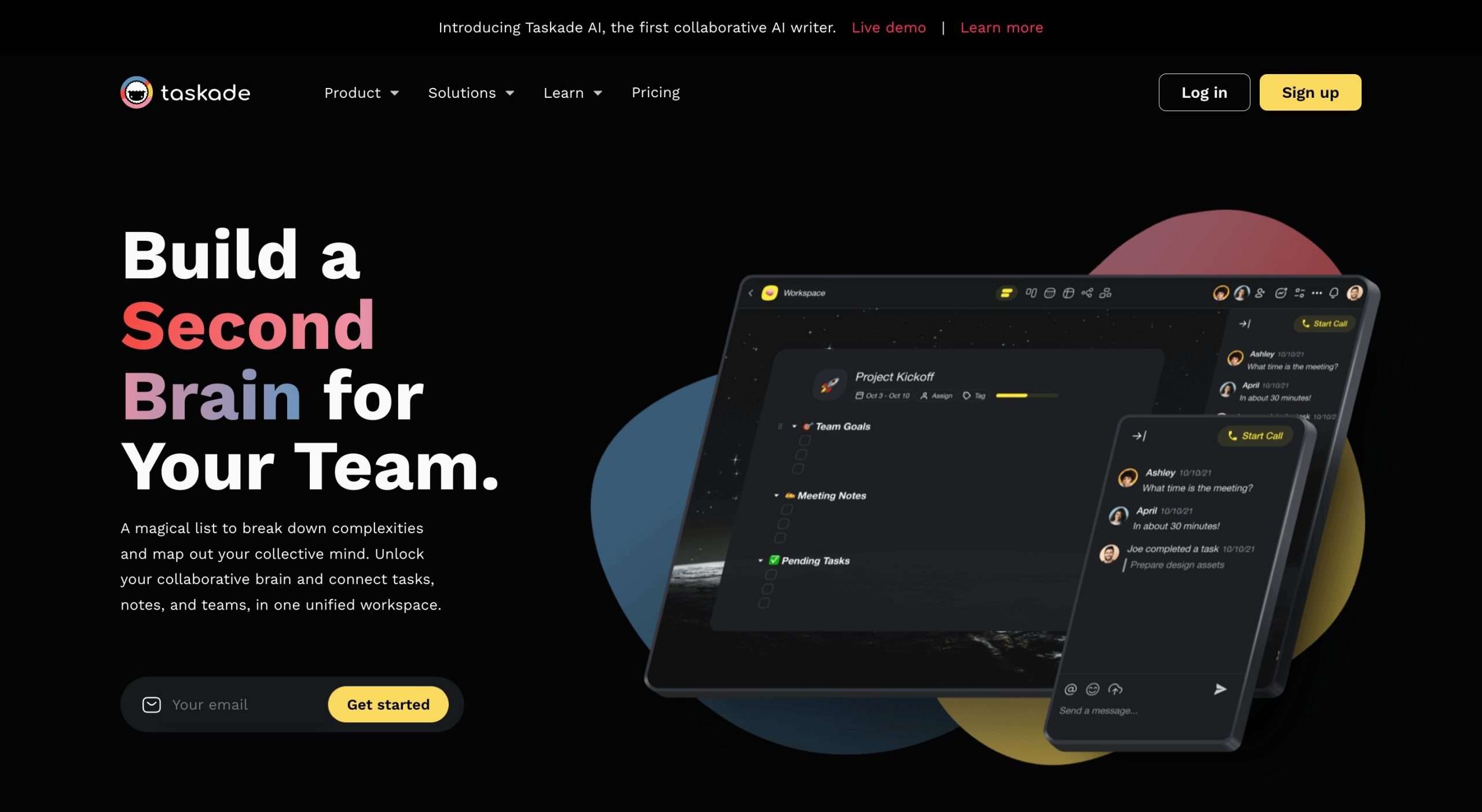 With Taskade, you can build a second brain for your team, unifying all of your tasks, notes, and team agenda in one place.
Easily plan, organize, and execute your projects with Taskade's dynamic views, calendar tracking, and built-in chat and video conferencing.
Say goodbye to the hassle of switching between apps and platforms – Taskade is available on any device, allowing you and your team to collaborate in real-time.
The truly phenomenal part comes where you know you can customize your workflow with Taskade's smart project view, changeable workflows, and customizable templates.
You can also keep track of your team's progress with the team roadmap, and sync your calendars with Apple, Outlook, and Google Calendar.
Taskade also offers a variety of additional features, such as time tracking, due dates, comments and file sharing, nested lists, and global search.
And with pricing options starting at free, there's a plan to fit every team's needs.
Main Features:
Plan, organize, and execute your projects
Brainstorm Ideas with dynamic views
Built-in chat, screen sharing, and video conferencing.
Smart Project View
Share Tasks Online
Plan & Sync Your Calendars
Automate tasks and workflows with customizable templates
Pros:
Highly user-friendly interface
Budget-friendly
Cons:
Robustness of project management still needs a lot of work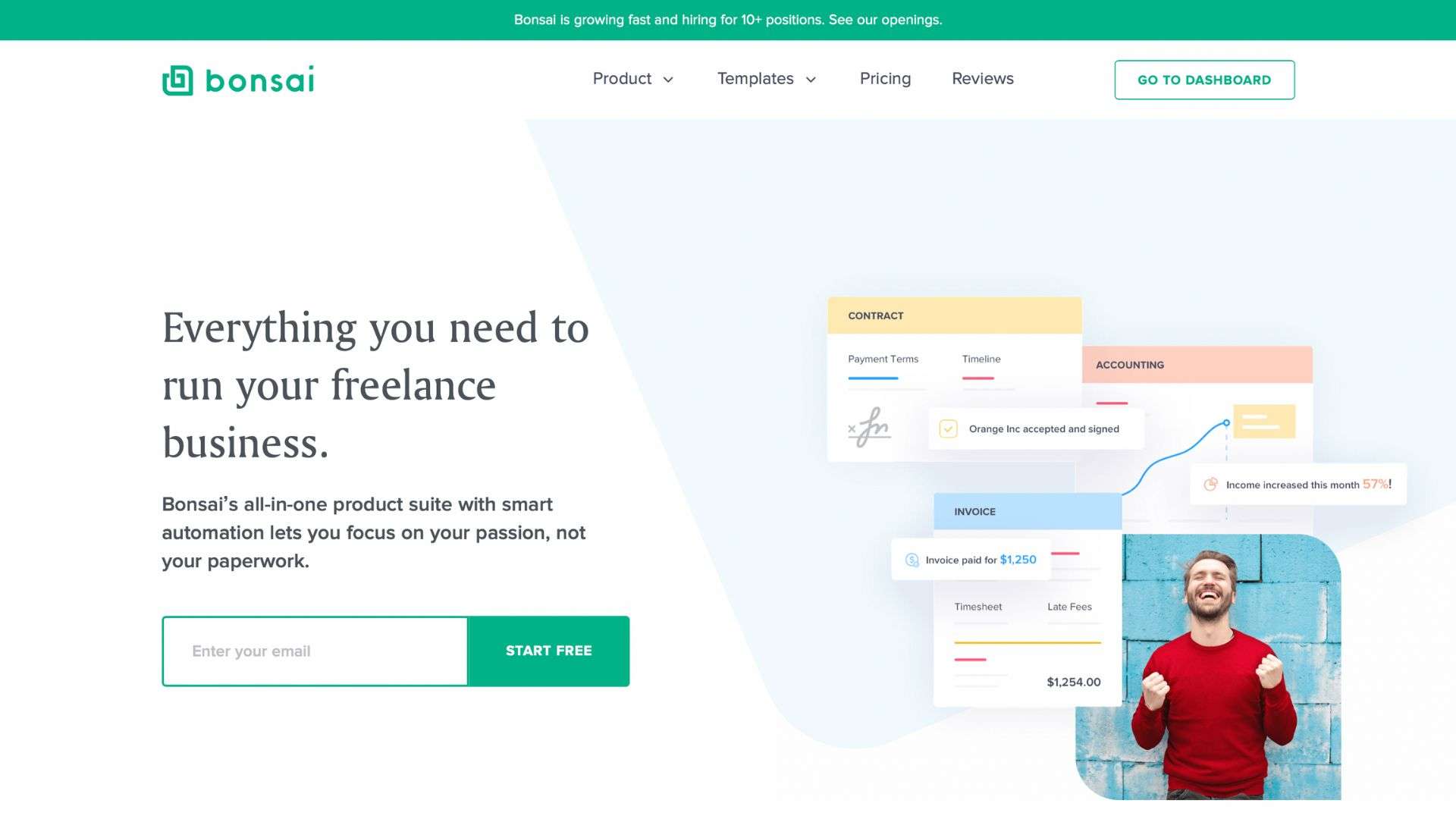 And at the third position on this list, we have Bonsai. It's a unique alternative to Monday.com as it is targeted at freelancers. And that helps them to stand out with unique features.
Firstly, what I love about Bonsai is the extensive set of tools you have. For example, you can create proposals, branded invoices, track your time, and more. That helps you to have a more streamlined experience.
Bonsai also has some great accounting features. For example, you can connect with your bank account, which will automatically add all your expenses to their accounting software.
And to top it all off, Bonsai is extremely easy to use. It should only take a few minutes to understand how you can use this software to your full advantage.
However, Bonsai comes with some flaws. The main drawback is that the project management part of this platform might be limiting. That means you can only create basic projects there.
Main Features:
Create custom branded invoices & automate your accounting.
Get work faster by creating  Bonsai Proposals & Showcase your work in Your Portfolio Page.
Track Your Time for productivity and charge your work.
Pros:
Great Set of Tools for Freelancers
Easy to Use Interface
Automated Accounting
Cons:
Limited Project Management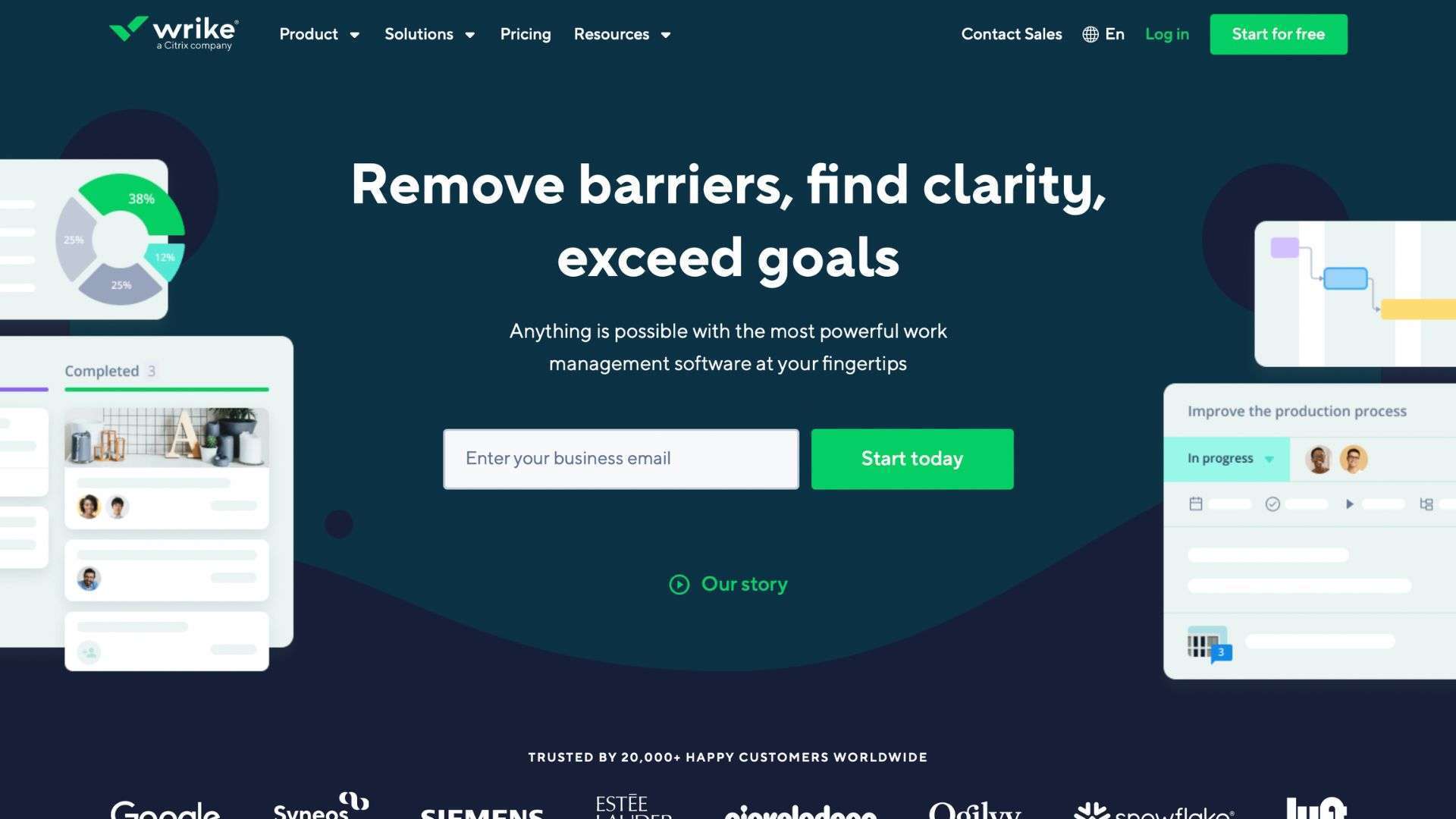 Next up, we have Wrike.
It's yet another excellent project management and team collaboration software. It aims to remove barriers, find clarity and help you reach your goals. It does that by offering you many features.
For example, Wrike has multiple account types. That means that each team member gets a custom-tailored experience that helps them improve their productivity and make their jobs easier.
Wrike also comes with a great statistics page. That's because it provides you with real-time statistics and has an AI called Work Intelligence. This AI will then tell you if your projects are on track or if there's a potential of slipping.
But what makes this one of the best Monday.com alternatives is that it's effortless to use. That's because of its well-designed interface, which should be familiar to you in seconds. Then you can use this solution to your full advantage.
Main Features:
Work Intelligence AI lets you know if a project is at risk of slipping and helps with automation.
Different views allow you to see your Project progress from various angles.
Custom Request Forms enable you to simplify your intake and auto-create and assign tasks to the right teams.
Pros:
Different Account Types
Easy-to-Use Interface
Great Statistics Page
Cons:
Limited Mobile Functionality
Higher-end pricing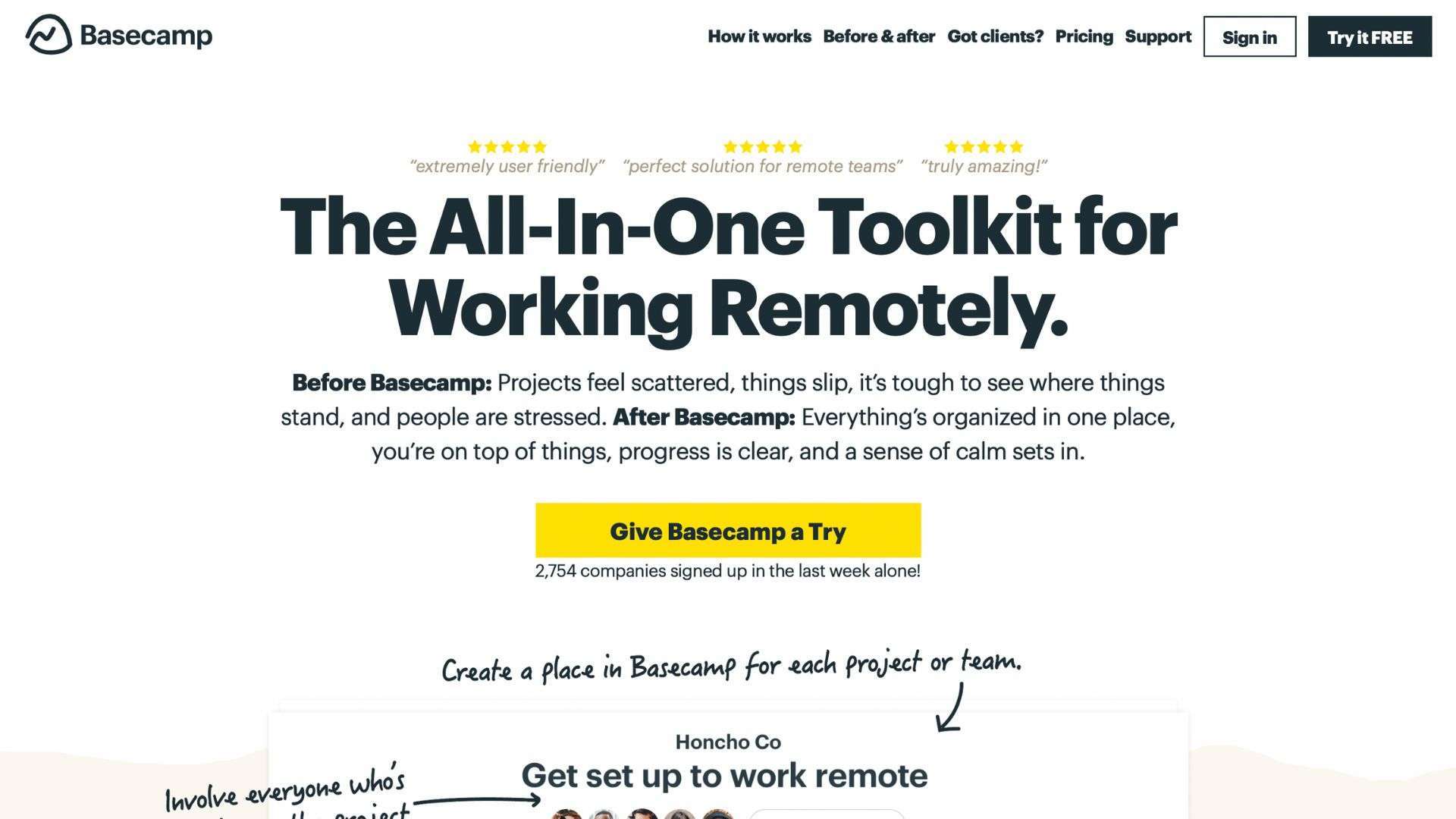 Basecamp is yet another all-in-one team collaboration app. That's because of the fantastic features it has.
First, I'd like to mention the ease of use. Upon your first entering, you should get familiar with it in minutes. That's because of how well it's designed, which helps you start collaborating faster than other alternatives.
Second, Basecamp has one trick up its sleeve!
And that is its chat feature. What makes it so great is that it has multiple different channels. That way, you can separate the casual banter from business chats.
And did I mention that you can try Basecamp for free? That will help you start using it, no matter how big or small your business is.
Main Features:
Use Automatic Check-ins to ask recurring questions to your team for progress updates.
Different Chat channels to separate work-related messages from casual chats.
Ability to set your work hours to receive notifications only during work time.
Pros:
Desktop
Chat Feature
Free Version
Cons:
Difficult to Use on Complex Projects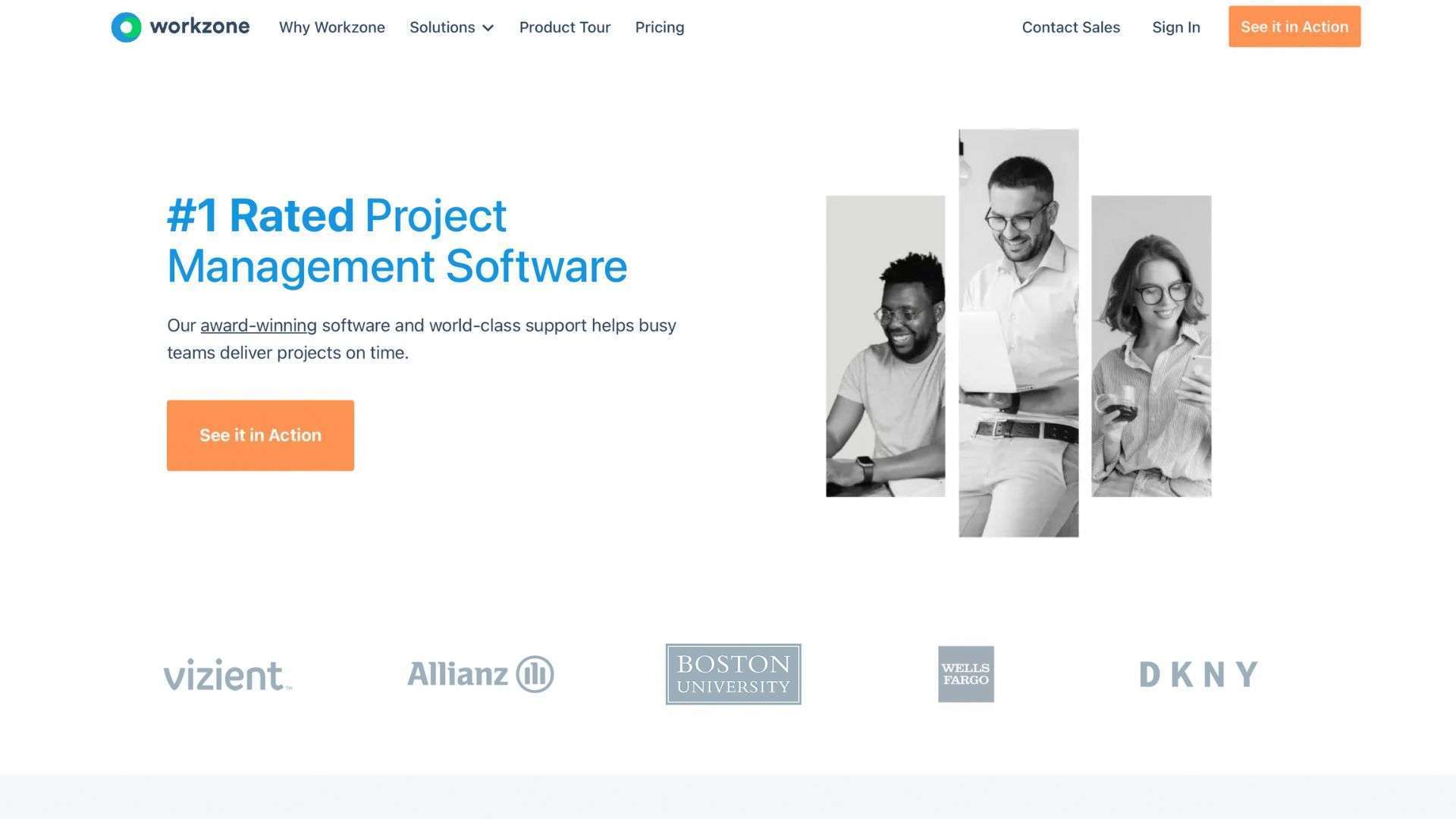 Continuing down the list, we have Workzone. It's yet another impressive alternative to Monday.com. That all has to do with the impressive feature list.
Workzone is highly versatile. That's because it offers different solutions to different teams. With it, you can tailor your employee experience to their profession. These include your marketing, IT, product development teams, and others.
Workzone also gives you the ability to add your branding to your dashboards. That's great as it makes your business look more professional for your clients and employees.
But what impresses me the most is their support. While others limit how you can get help, Workzone lets you contact them in every way, even in the cheapest plan!
Main Features:
See how all your teams & their members are doing at a glance!
Create Personal To-do Lists to Separate Your Tasks from others.
Get Automatic Reports to see the progress between your teams and how well they're doing.
Pros:
Versatility
Custom Branding
Unlimited Support
Cons:
High Learning Curve
Higher-End Pricing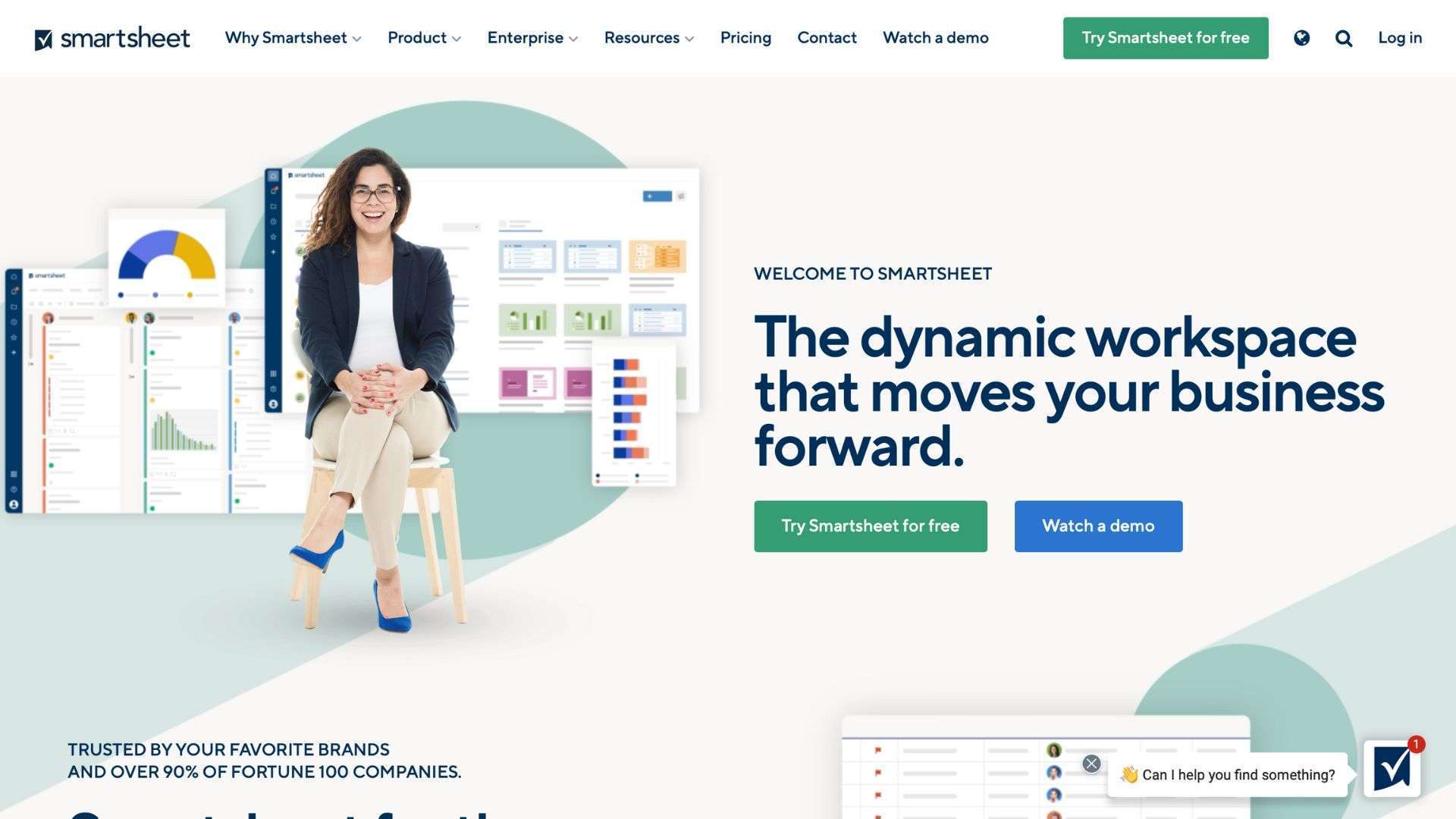 Smartsheet is yet another excellent team collaboration and project management tool for any business. That's because of its impressive feature list.
First, I'd like to mention that Smartsheet has excellent analytics tools. That's because you could turn all the most crucial pieces of information from multiple sheets into one with a few clicks. That makes it so much easier to make decisions!
Additionally, to the analytics tools, Smartsheets also has some great automation. For example, you can create intelligent workflows within minutes thanks to the drag-and-drop automation builder.
And lastly, we want to talk about its functionality.
The thing is, Smarsheet is a tool that you probably won't outgrow.
That's because, with every higher plan, you'll get some more advanced features. That could be resource management, project budgeting, forecasting tools, and much more.
Main Features:
Hundreds of Integrations
Workflow Automation lets you automate your repetitive tasks and processes quickly
Team collaboration enables you to chat with your team on one collaborative platform.
Pros:
Powerful Analytics Tools
Great Automation
Extended Functionality
Cons: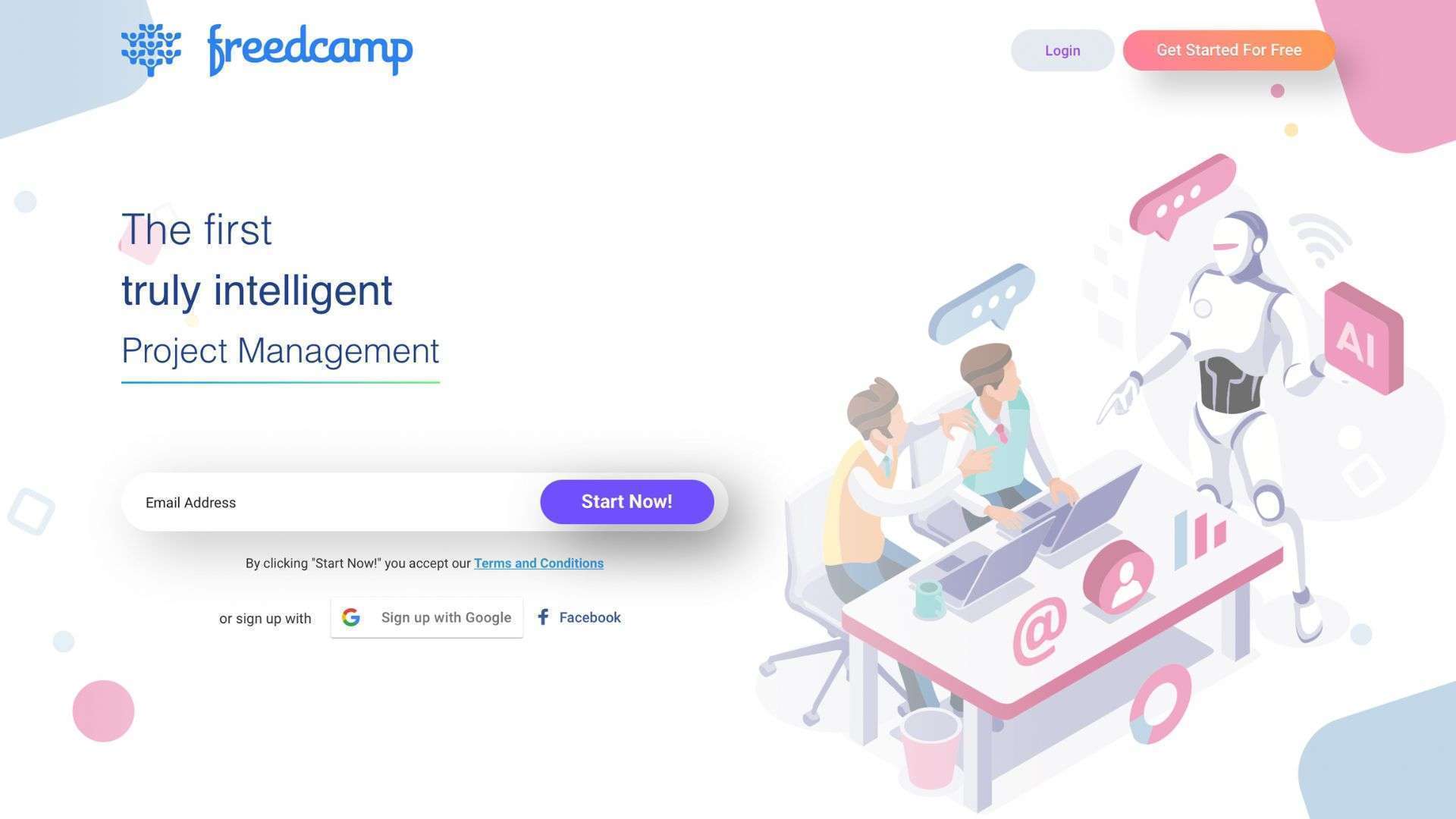 Continuing down the list, we have Freedcamp.
It's a project management tool that aims to be the first truly intelligent project management tool. It does that by giving you access to several exciting features!
It has some outstanding invoicing features. With it, you can create invoices that you want to do. That includes one-time invoices to recurring ones.
It also comes with multiple views to see your progress. For example, you can create Gantt Charts, Kanban boards, and task lists, both public or private. That means you'll have the right view for your project.
And did we mention that you can start using it with the low price of free? That means you can start using it without having to risk a dollar!
Main Features:
Wiki feature lets you document essential information to your team
Track your time to increase your productivity.
Mobile App enables you to manage projects on the go.
Pros:
Free Plan
Invoicing Features
Multiple Ways to View tasks
Cons: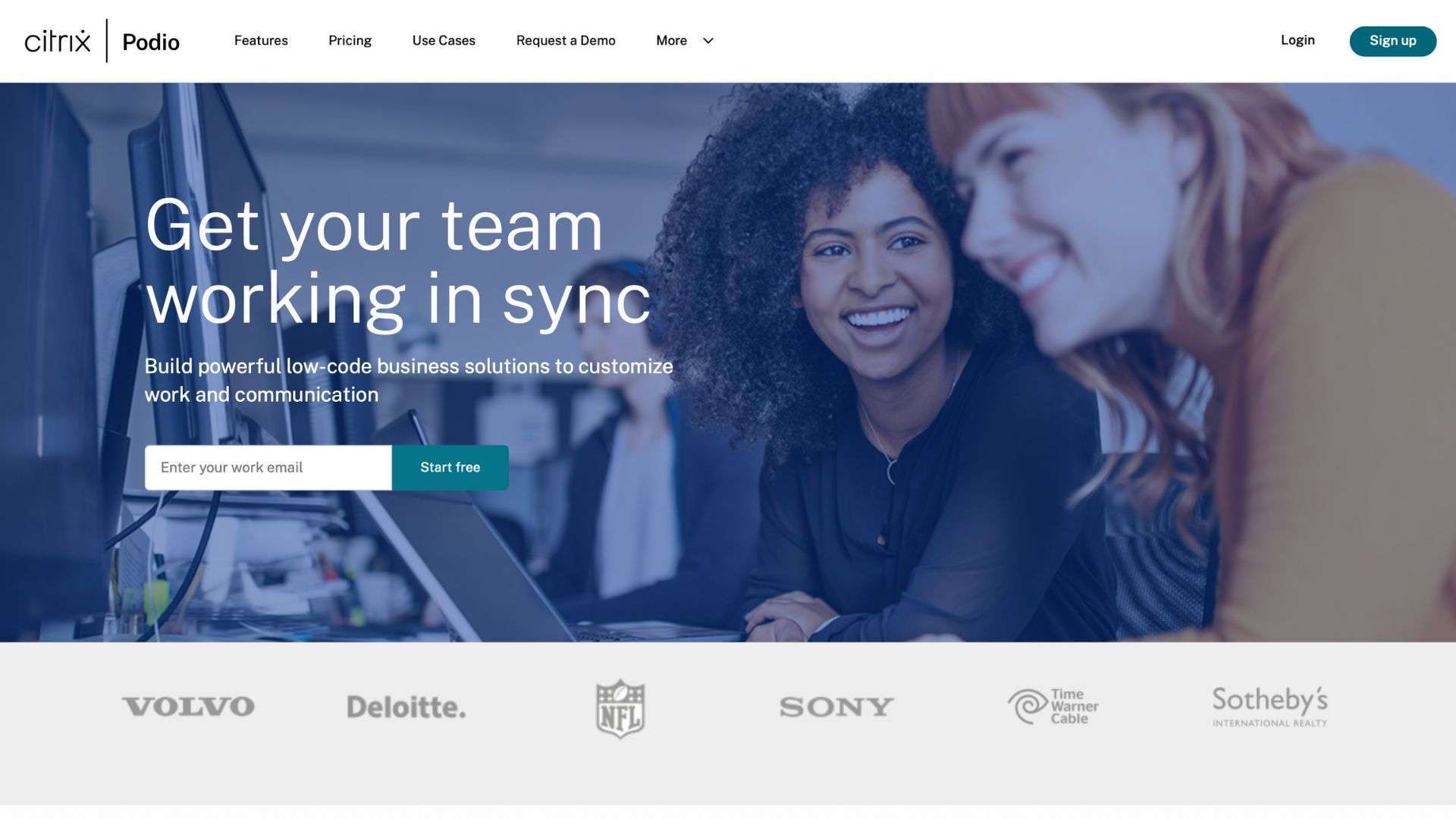 Lastly, we have Podio. It's yet another impressive product management for any team. That is, thanks to the impressive list of features.
First things first, Podio is exceptionally user-friendly. That's primarily thanks to the easy-to-use interface, which you should be familiar with within a couple of minutes. And then you and your team will be able to use it to its full advantage.
Podio has something called App Market. In there, you can find some pre-made apps that help you get additional functionality. And if you don't find any that you'd like to see, you can make them yourself.
And to top it all off, you can start using this for free. That means you can first get familiar and see how you like it before spending a single dollar.
Conclusion
And those were the nine best Monday.com alternatives.
Now that you know all of them, it's time to pick the one that works for you the best! So look through their feature lists and pricing and choose the one that gives you the best value per dollar.
That's the only way you and your team can become more productive and complete tasks.