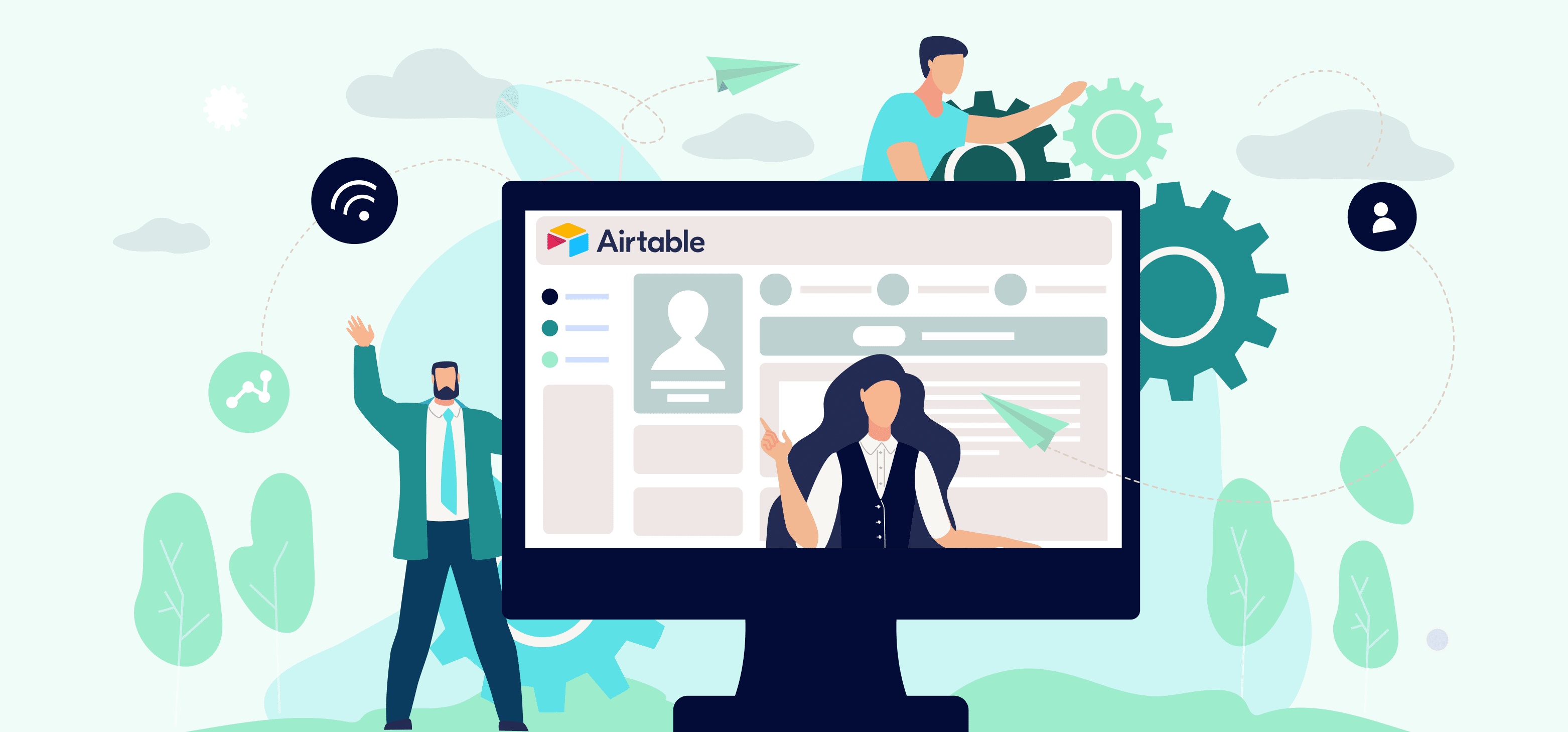 Are you tired of using Airtable for your project management or spreadsheet needs, but not sure where to turn?
Well, that would make the two of us.
Airtable is great, but sometimes you just need something a little…different.
Maybe you're looking for more features, a different price point, or just a change of scenery.
Whatever the reason, we've got you covered.
And don't worry, we didn't just throw a bunch of random names on a list and call it a day. No, we put in the hard work to bring you only the cream of the crop.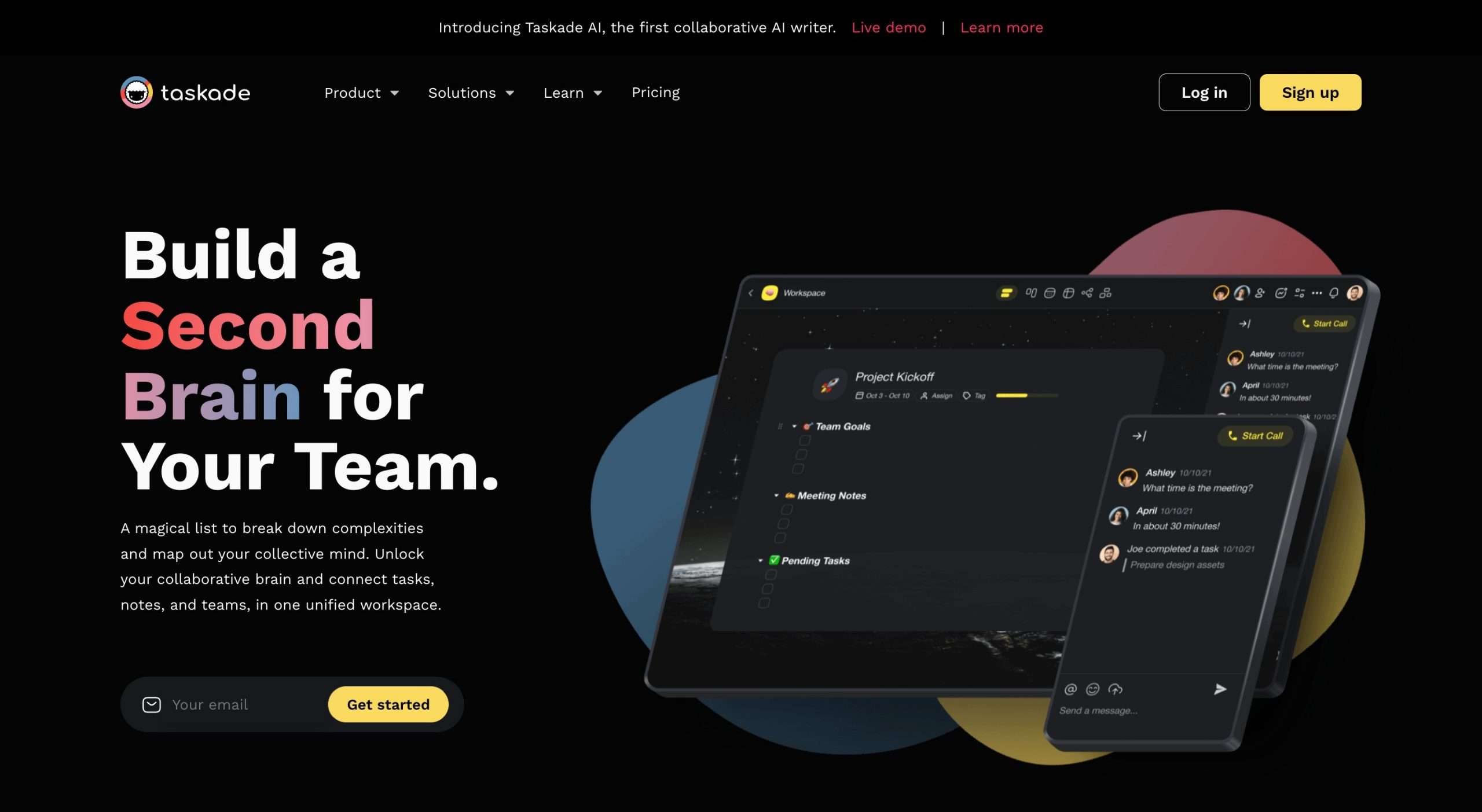 Taskade is a comprehensive work management and collaboration platform, that enables you to organize and plan projects, manage tasks, and much more.
Taskade makes it easy to manage all of your work in one place.
It's available on all leading operating systems, including Mac, Windows, Linux, Android, and iOS, and it also works in a web browser with the same features and powerful browser extensions.
Plus, it's super simple to use, meaning you and your team can jump into action with minimal onboarding.
The Projects feature in Taskade is like a page in a notebook, full of assorted notes and to-dos, or a highly organized collaboration hub where you can chat and collaborate with your team in real time.
Similarly, Workspaces are the top-level containers that store all of your Projects, tasks, and custom templates, while Folders can help you organize your work in a more granular way.
Overall, Taskade is a beginner-friendly, reliable platform for anyone looking to host their tasks and projects and get them done quickly.
Key Features of Taskade
Organize and plan projects

Manage tasks and track progress

Take notes and create outlines

Collaborate and chat in real-time

Build a knowledge base or a team wiki

Works on all leading operating systems

Powerful browser extensions
Pricing
Free plan

Pro plan: $19/month

Business plan: $49/month

Ultimate plan: $99/month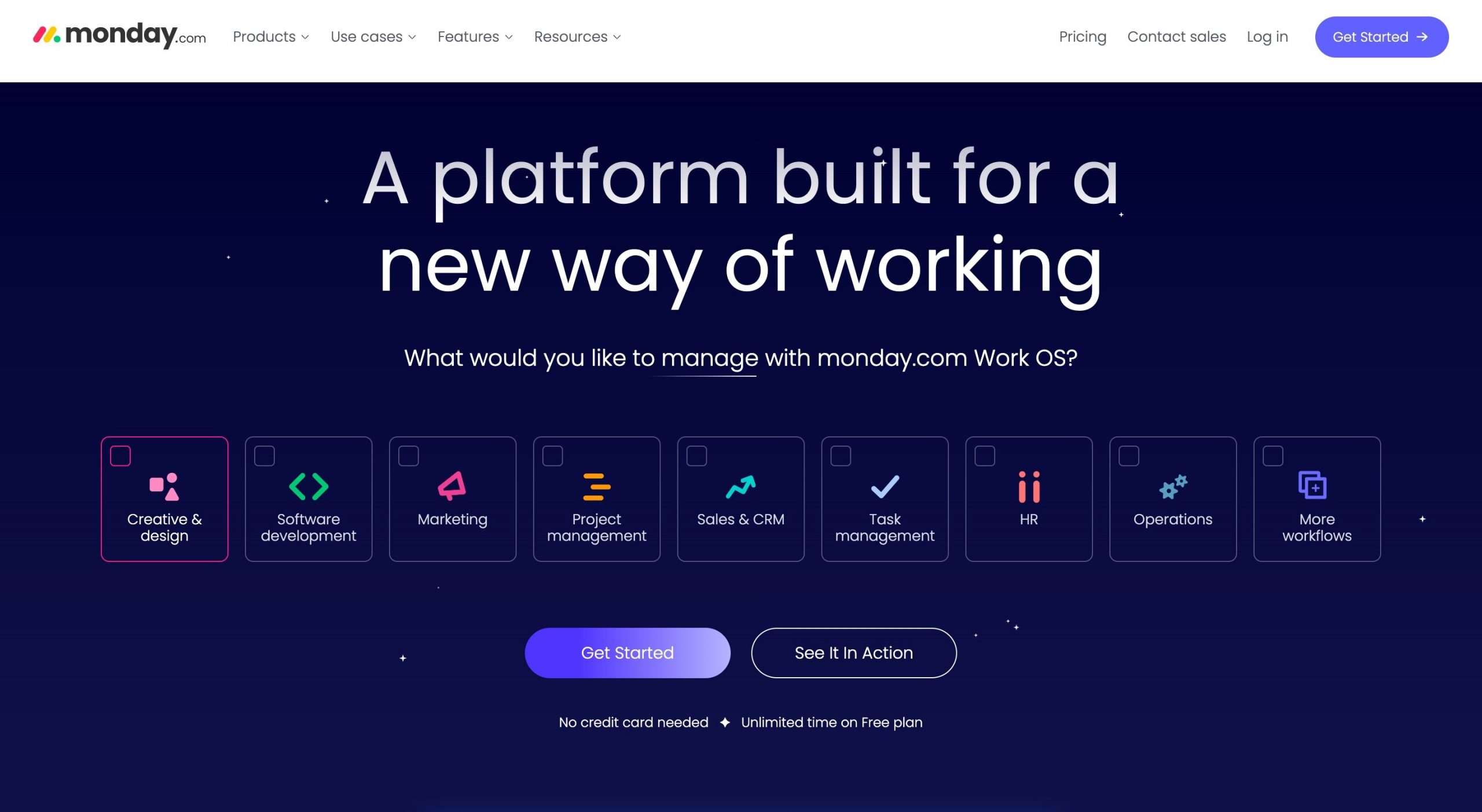 With Monday.com, you can easily stay connected in one shared workspace.
Monday.com helps you reach goals faster with 10+ unique ways to view work and move from idea to done. You can also enable anyone to get a real-time overview of where work stands with Monday.com's visibility tools.
It also helps you get more done with its productivity tools. You can use the tools you're already familiar with to streamline work and move quickly.
In addition to that, you can also make informed decisions with Monday.com's custom dashboards and reports. Easily create dashboards that reflect team performance, deal status, sales activities, and more in real-time.
Monday.com offers 15+ unique views to help you move from idea to execution faster. What's even better is that – you can choose from over 200 automation recipes to improve efficiency across your work and teams.
Key Features of Monday.com
Collaboration
Planning
Insights
Real-time visibility
Highly customizable automation
Pricing
Monday.com has four different pricing plans to pick from Individual (free), Basic ($10/month), Standard ($12/month), and Pro ($20/month).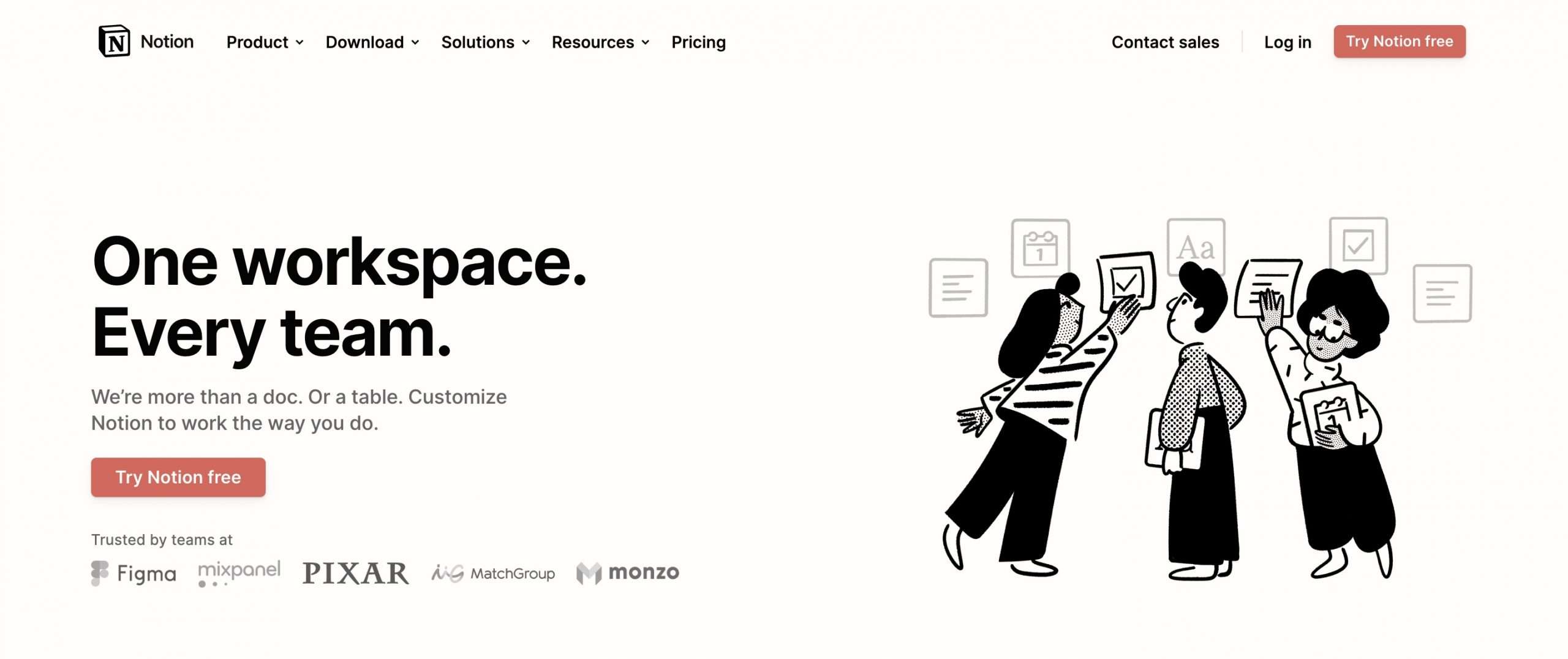 Notion is an all-in-one productivity and robust yet easy-to-use project management tool that helps teams and individuals stay organized and on track.
It's more than just a document or table – it's a flexible workspace where you can connect your teams, projects, and docs in a beautiful single webpage.
One of the great things about Notion is that it keeps everything in context.
No more orphan floating documents – your daily work and knowledge are all together, so you never have to wonder what the context is.
Plus, you can customize Notion to fit your workflow exactly. Just drag and drop to create the dashboard, website, doc, or system that you need.
I agree that there is a bit of a learning curve to using and mastering Notion as your go-to project management app.
And if you're not sure where to start, there are thousands of free, pre-built templates to choose from.
Moreover, it is insanely easy to create and manage projects on Notion, thanks to the toggling between different views and responsive drag-and-drop Kanban boards.
Key Features of Notion
Customizable workspace
Contextual knowledge
Drag and drop capabilities
Different views
Integrate countless productivity tools
Pre-built library of templates
Pricing
Notion has a completely free plan. The Plus plan for powered individuals and small teams costs $10/month, while the Business plan for large teams and companies costs $18/month.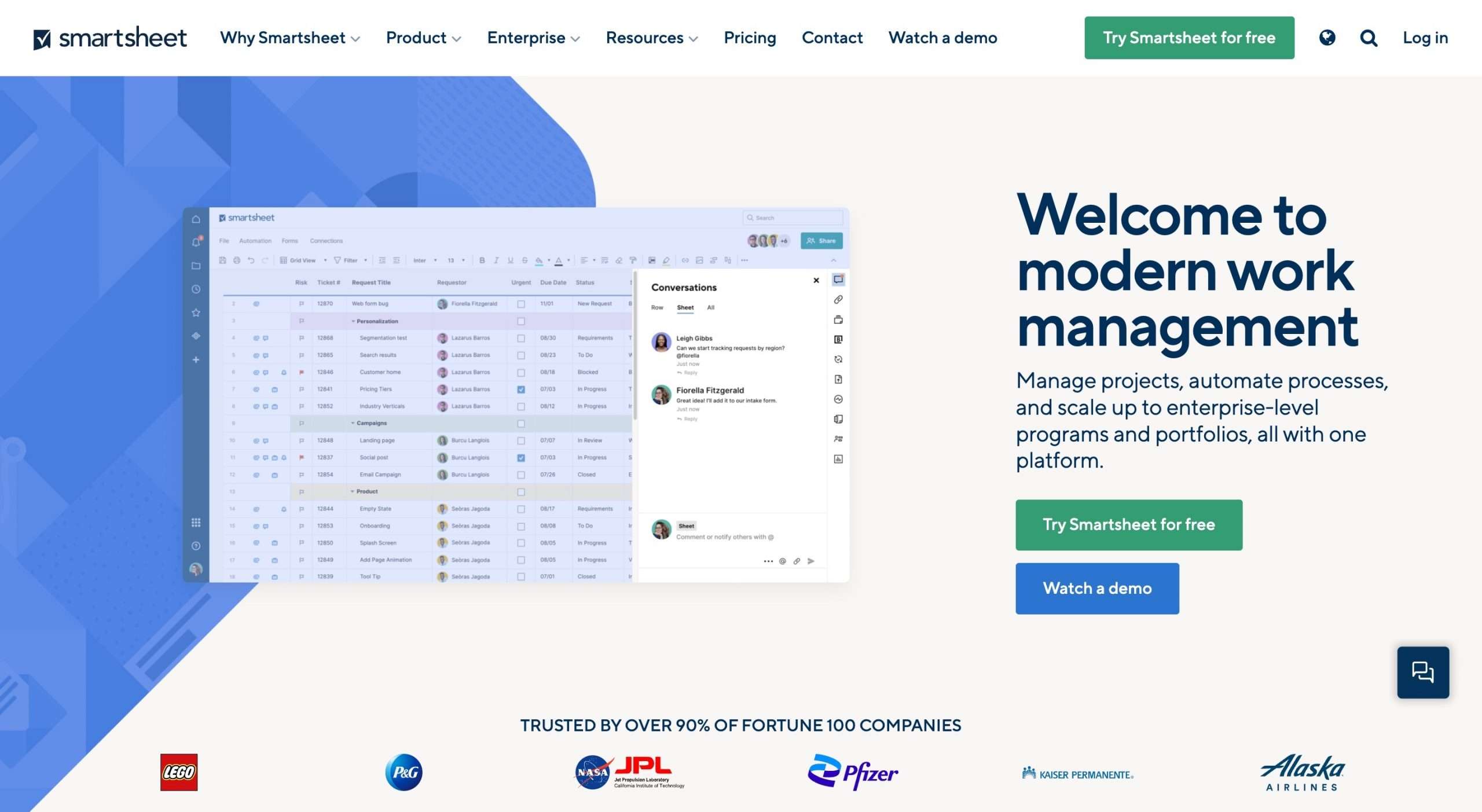 Smartsheet is a versatile project management and process automation tool. Available on all devices, Smartsheet is suited and accessible for everyone – from smaller businesses to medium-sized and larger enterprises.
No wonder, it is a go-to data assist project management tool for over 90% of Fortune 100 companies.
Their integration capabilities are also endless. You can connect third-party tools categorized under:
Content creation
Communication
Data visualization
Automation
And security
What's more?
The answer is – a lot. Smartsheet also comes with mobile apps for both Android and iOS.
You can now give your team the power to streamline and automate the workflows with their beginner-friendly no-code platform.
Besides automation, you also get calendar features where you can keep everything in sync and access different views (Gantt, Grid, etc.).
The Work Insights features assist individuals and the team not only measure their work performance but also give invaluable suggestions based on key trends, daily activities, and bottlenecks.
Lastly, with their Document Generation feature, you can quickly create custom PDFs with the help of their drag-and-drop document builder.
Key Features of Smartsheet
Project Automation
Content collaboration
E-signatures
Work insights
Resource management
Drag and drop document builder
Pricing
Smartsheet offers a completely free plan where you get access as a single user and 2 editors. They have a Pro plan that costs $9/month (with up to 10 users and unlimited viewers). Lastly, their Business plan costs $32/month, allowing a minimum of 3 users and unlimited editors.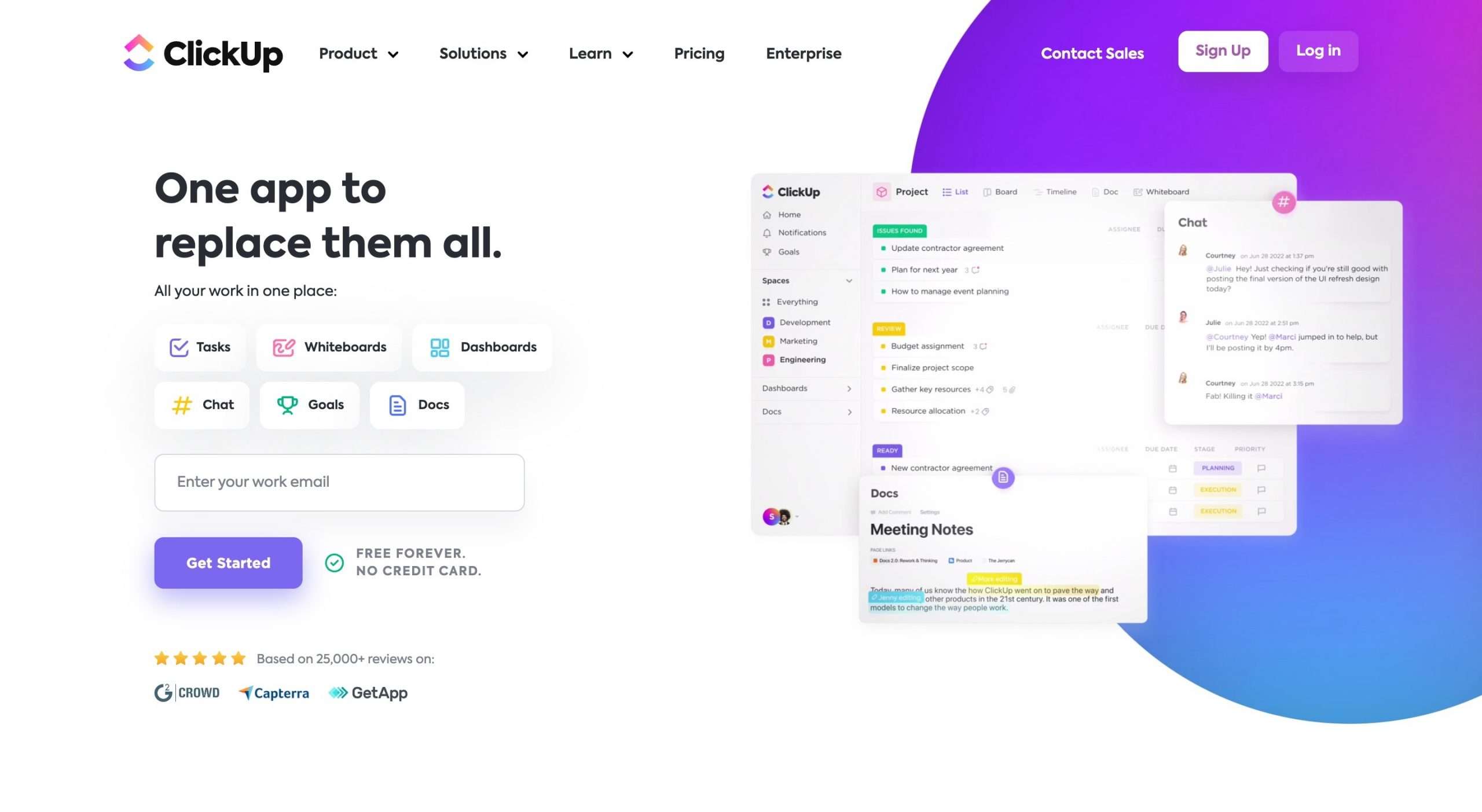 ClickUp is the perfect alternative to Airtable for managing any type of project. With hundreds of features that can be customized for any need, ClickUp can help you stay organized and on track.
It's easy to find what you're looking for with ClickUp's Everything view. You can filter, sort, and save anything from tasks to documents across every level of your organization.
You can also organize teams and departments into spaces, group big projects or initiatives into Folders, and break out tasks into lists for a clear visual hierarchy of all your work.
Plus, ClickUp is incredibly customizable with 35+ ClickApps. Automate routine work and processes with 50+ actions, triggers, and conditions.
Or save time with pre-built automation recipes and custom fields.
You can now, with ClickUp, collaborate on anything with powerful collaboration features like whiteboards, comments, proofing, email, and chat.
ClickUp also integrates with over 1,000 of your favorite tools so that you can sync your team calendars, messaging apps, cloud storage, and more.
Key Features of ClickUp
Everything view
Nested subtasks & checklists
Automation
Templates
Document & share anything
Real-time reporting
Pricing
You can choose from the free forever plan, Unlimited plan (for small teams – $9/month), Business plan (for mid-sized teams – $19/month), and Business Plus plan (for multiple teams – $29/month).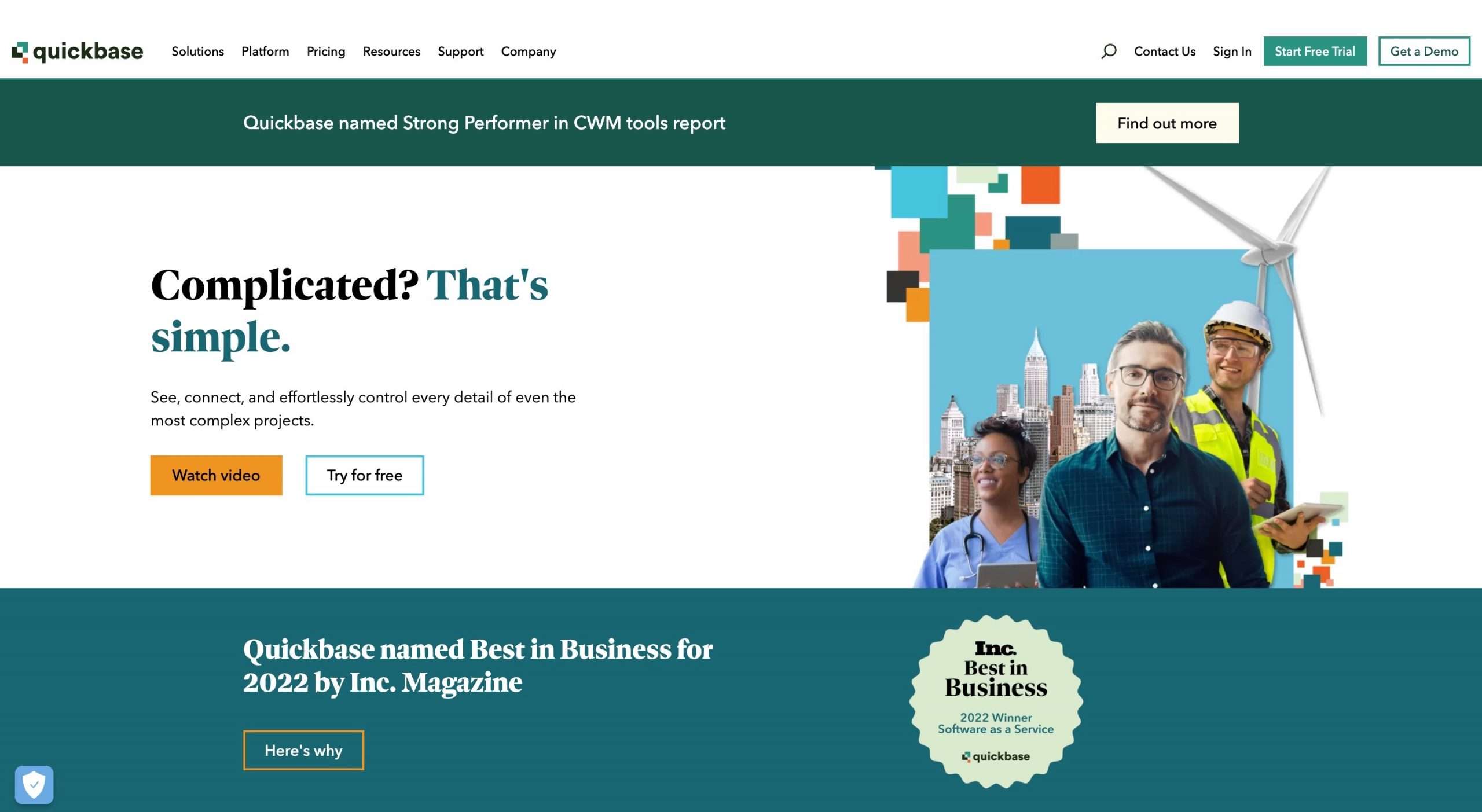 Quickbase is a no-code tool for teams who need to manage complex projects with ease.
With Quickbase, you can connect and control every detail of the project, from the beginning to the end, with automated workflows.
Quickbase enables you to gain end-to-end visibility, so you can anticipate roadblocks and keep your high-stakes initiatives on track.
It integrates with your existing platforms, so you can quickly connect existing data and avoid duplicating efforts across your teams.
In addition, Quickbase provides real-time insights, so you can make informed, real-time decisions.
It maximizes the effectiveness of every employee and provides personalized visibility across your operations, so everyone has the insights they need to improve the business every day.
Key Features of Quickbase
No-Code Development
Automated Workflows
Real-Time Insights
Mobile apps
Library of countless sample apps
Pricing
Quickbase offers a 30-day free trial. The team plan starts at $30/month/member and the business plan starts at $50/month/member.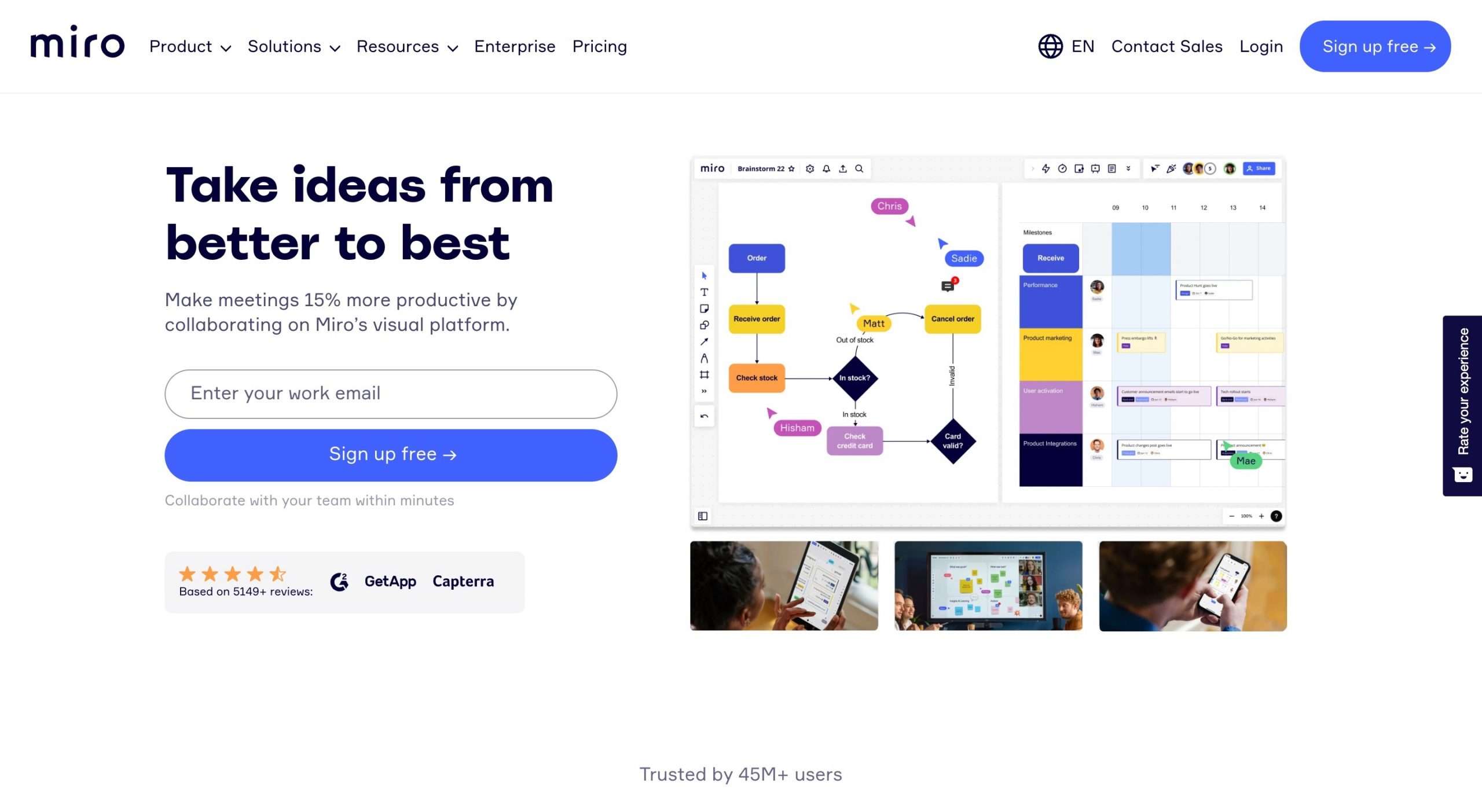 Miro lets you collaborate with your team remotely, in the office, or a combination of the two. It offers a range of integrations with the tools you already use and love – from Google Docs to Jira, Zoom, and more.
Brainstorming is made easy with Miro. Use sticky notes, images, mind maps, videos, and drawing capabilities to unleash your team's creative ideas.
You can also use Miro's many diagrams to plan projects, visualize information architecture, and build org charts in minutes.
Miro makes Meetings and workshops even better. Everyone can participate and interact with sticky notes, voting, live reactions, and fun icebreakers.
And agile teams can meet in Miro's virtual space, regardless of whether they're in the same room or miles apart – they can put ideas into action, visualize projects and dependencies, and get things done.
Miro is awesome for research and design, too. You can capture customer insights, structure them with diagrams and tables, and share them in one central spot.
Key Features of Miro
Visual collaboration platform for every team
100+ integrations with tools you already use and love
Sticky notes, images, mind maps, and videos for brainstorming
Diagrams for planning projects and creating org charts
Meetings and workshops with interactive features
Strategic planning tools
Pricing
Miro is made for all types of teams and can be used for free. There's also a starter plan for $10/month and a business plan for $20/month.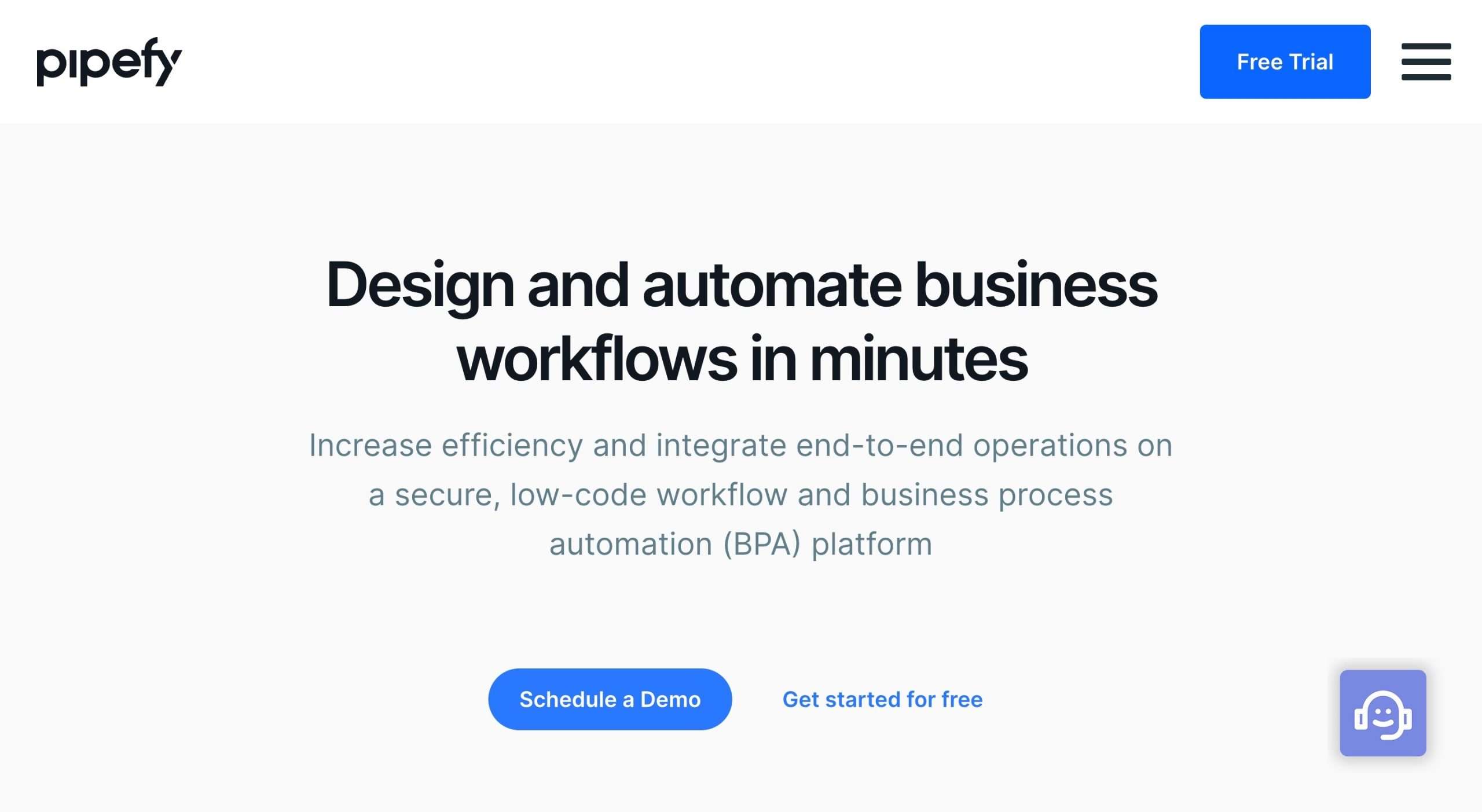 With Pipefy, you can easily track tasks, define workflows, and manage any project in one place.
No more wasting time on manual and repetitive tasks. Instead, you can set due dates for each phase of the project, automate tasks like sending emails and asking for approvals, receive requests for new projects, and much more.
You can also customize forms to collect mandatory and conditional information based on what was chosen in previous fields.
Pipefy also makes it easy to exchange emails and messages without leaving the platform, so all of your project information appears in one place.
You can even set up automation rules to create a seamless flow of information across projects and processes.
If you want to get started quickly, you can use a pre-built project template.
Key Features of Pipefy
Set due dates
Automate tasks
Use a Kanban or Calendar view
Use a customized form to define mandatory and conditional information
Build custom projects in minutes without technical help
Pricing
Pipefy offers a Starter plan (free), a Business plan ($23/month), and an Enterprise plan ($38/month).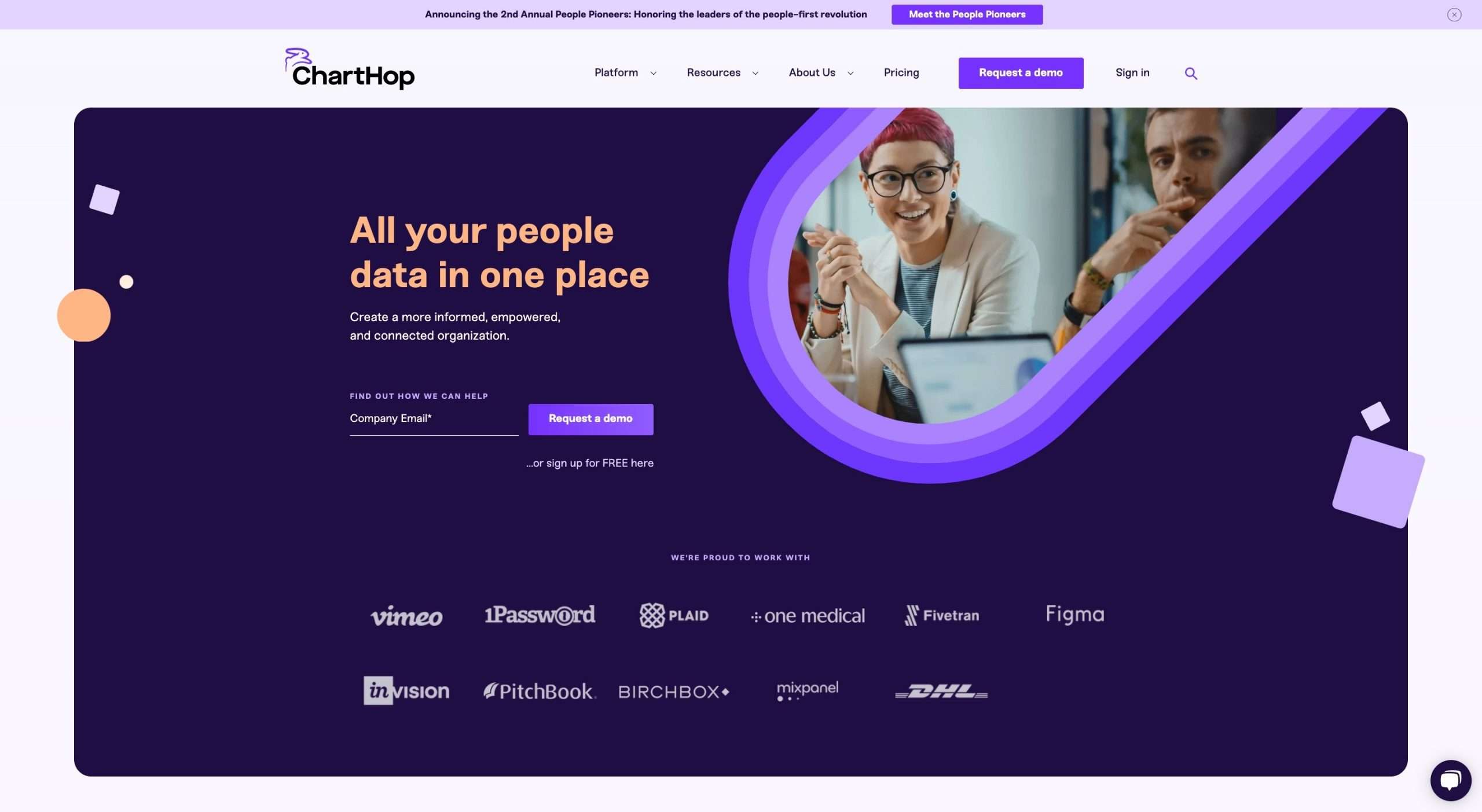 ChartHop is a comprehensive people data platform that helps you make better decisions and take your organization to the next level.
ChartHop pulls all your people's data into one place, creating a single, real-time picture that everyone can access.
With it, you can visualize your current situation, plan future scenarios, and act on your insights.
They offer a range of features to help you manage your organization better. You can use it to increase transparency and access to information with rich employee profiles and a dynamic org chart.
With ChartHop, you can ensure that pay equity and budget are handled effectively without having to master complicated spreadsheets.
Finally, ChartHop enables you to plan your company's future in a collaborative and visual way. This way, you can learn from the past and make the most informed decisions for your business's future.
Key Features of ChartHop
Performance management
Complete data aggregation
Compensation management
Employee Engagement
Organizational Planning
User-friendly data spreadsheets
Pricing
ChartHop Basic is free to use for up to 150 employees. The Standard plan costs $8/month/member and the Premium plan costs $6/month/member.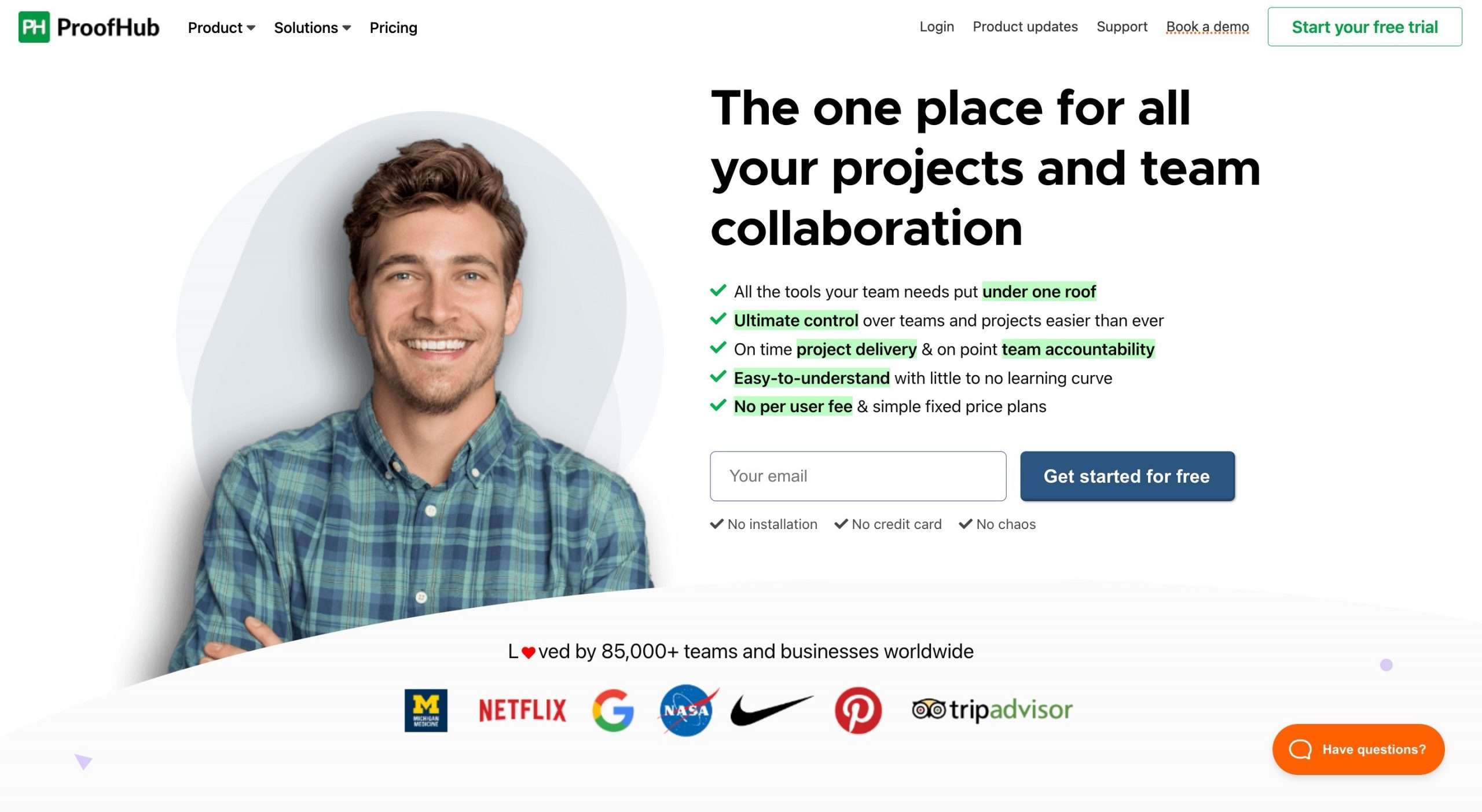 ProofHub is an all-in-one project management and team collaboration solution that will help you get your work done faster and more efficiently.
With ProofHub, you can easily plan and organize projects in the way that works best for your team.
Assign tasks, filter, and view data based on priority, and keep essential details front and center.
Plus, you can instantly see where your team's work stands, define each stage to see what's important, spot bottlenecks, and take quick actions to stay on the right track.
You can also make visual plans to see how every step of the project maps out over time, set dependencies, pinpoint roadblocks, and stay ahead of deadlines.
And with the shared team calendar, you can plan, manage, and visualize your work all in one place. You can even set automatic reminders to schedule work suitably.
Key Features of ProofHub
Plan and organize projects
See teamwork progress
Visual plans and project mapping
Shared team calendar
Tasks, subtasks, labels, workflows, milestones
Project manager, files and docs, attachments
Work-related reports
Pricing
ProofHub offers a 14-day free trial, with two plans available afterward. The Essential plan is just $50/month and comes with 40 projects, unlimited users, and 15 GB of storage.
The Ultimate Control plan (costing $99/month) is perfect for remote teams and clients, as it includes unlimited projects, unlimited users, and 100 GB storage, as well as custom access roles, so you can decide who gets to see what.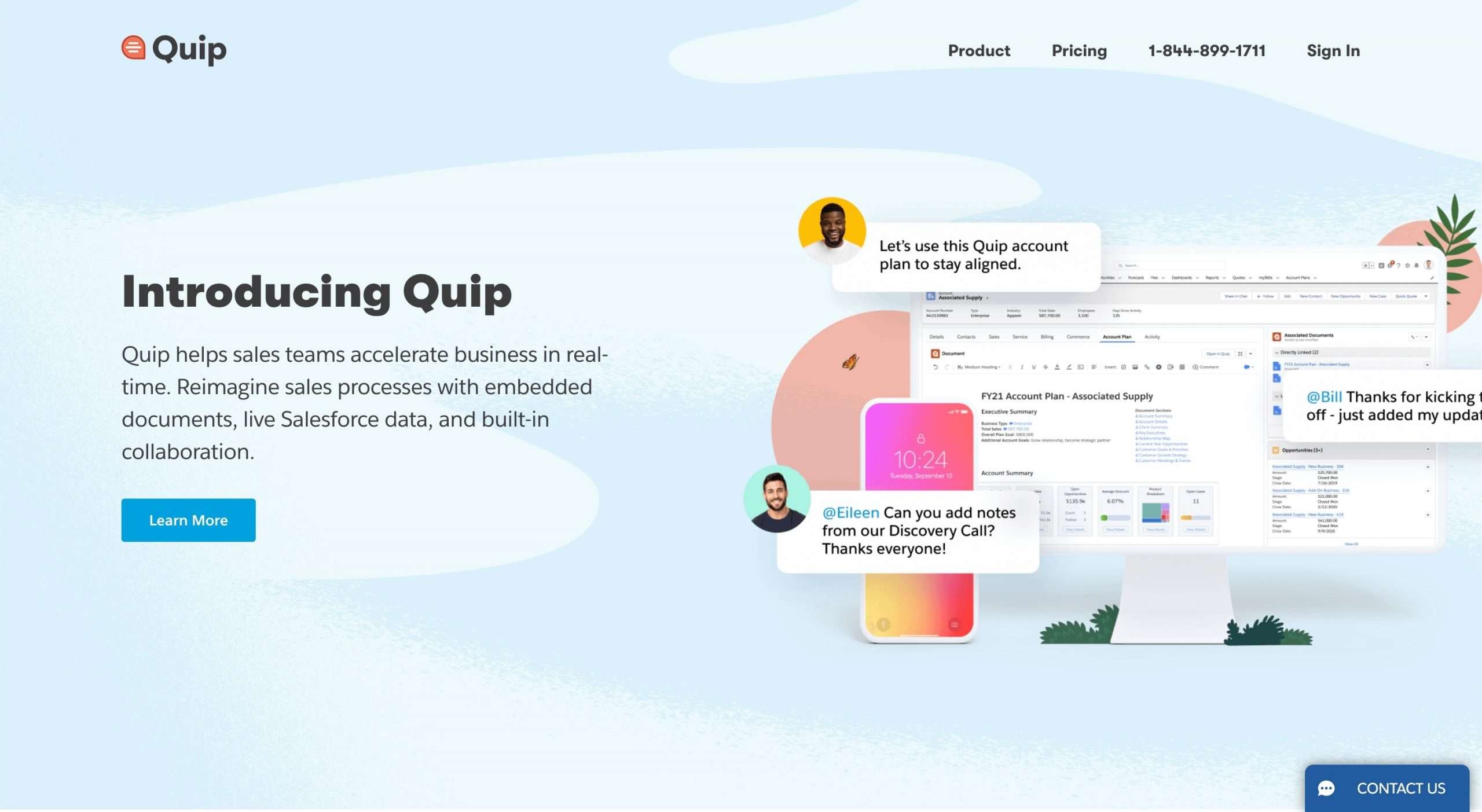 Quip is a powerful tool that helps sales teams accelerate in real-time.
It allows you to reimagine your sales processes with embedded documents, live Salesforce data, and built-in collaboration.
Quip documents unite your team's work and communication, so you can get everything done in one place.
With spreadsheets embedded in documents, you can give data the context your team needs to make critical decisions.
On top of that, Quip is mobile-friendly and allows for collaborative editing.
You can embed documents in other documents, comment on anything, and have 1-on-1 chats.
Key Features of Quip
Embedded documents
Live Salesforce data
Built-in collaboration
Spreadsheets embedded in documents
Comment on anything
Team chat rooms
Mobile ready
Pricing
Quip offers a free trial. If you decide to use Quip for your business, there are three plans available. The Quip Starter plan costs $10/month, the Quip Plus plan costs $25/month, and the Quip Advanced plan costs $100/month. Each plan has different features and benefits, so you can choose the best plan for your business needs.
Fusioo is like a spreadsheet on steroids – you can use it to organize anything, from projects and tasks to clients and more.
You can create charts, sorted lists, and key metrics from your data, which can help you go from insights to actions.
If you're working on a team or need to collaborate with clients, Fusioo makes it easy to stay organized and productive.
Fusioo also makes it easy to connect your data intelligently, so you can avoid data duplication and save time.
And if you need to create reports, you can do that too – either from scratch or by using one of the existing templates.
But it doesn't have to stop there – you can also use it to automate your workflows and take your team's productivity to the next level. And if you want to keep track of your schedule, the Fusioo calendar has you covered.
Key Features of Fusioo
Organize anything, just like a spreadsheet
Create charts, sorted lists, and key metrics from your data
Team and client collaboration tools
Create reports from scratch or use templates
Automate workflows to increase productivity
Calendar view for scheduling and availability
Advanced data filters
Pricing
Fusioo offers a 14-day free trial. Then, you can choose to upgrade to their paid plan, which costs €26/month.
Summary
There you have it! Our complete list of the best alternatives to Airtable, you can start using today.
The tool that you prefer may not suit other individuals' needs. The small team may choose something completely distinct from the large company.
That's why it is very important to first understand what features you truly need out of an app.
Hopefully, you will now be one step closer to deciding your Airtable alternative.