Searching for the best proxy provider that offers countless pool of IPs, seamless scraping performance, blazing fast response time with 99% success rate, and ethical web practices?
If these are the benefits you expect for your business, Bright Data is truly a reason to wonder.
Last year, it was rebranded from Luminati – a company that revolutionized residential proxy service.
And now as the Bright Data, the Israeli company is making the proxy networks simple with data collection and alternative proxies.
The internet is packed with public data – a gold mine for your business. Your competitor's inventory, competitive pricing, social media pages, forum discussions, and many other online marketplaces.
To access the sea of information, web scrapping process used to be a manual, time and money consuming deal. But not anymore!
Bright Data's automated web scraping system helps you collect data, obtain in the format you wish, and make informed business decisions in no time. On the other hand, its flagship proxy service gives you the benefit of accessing global IPs with an added layer of security.
In this review, we will begin with different types of web data, their features, and use cases. Additionally, we'll share an overview of different proxy products and test benchmarks for Residential proxies.
Web data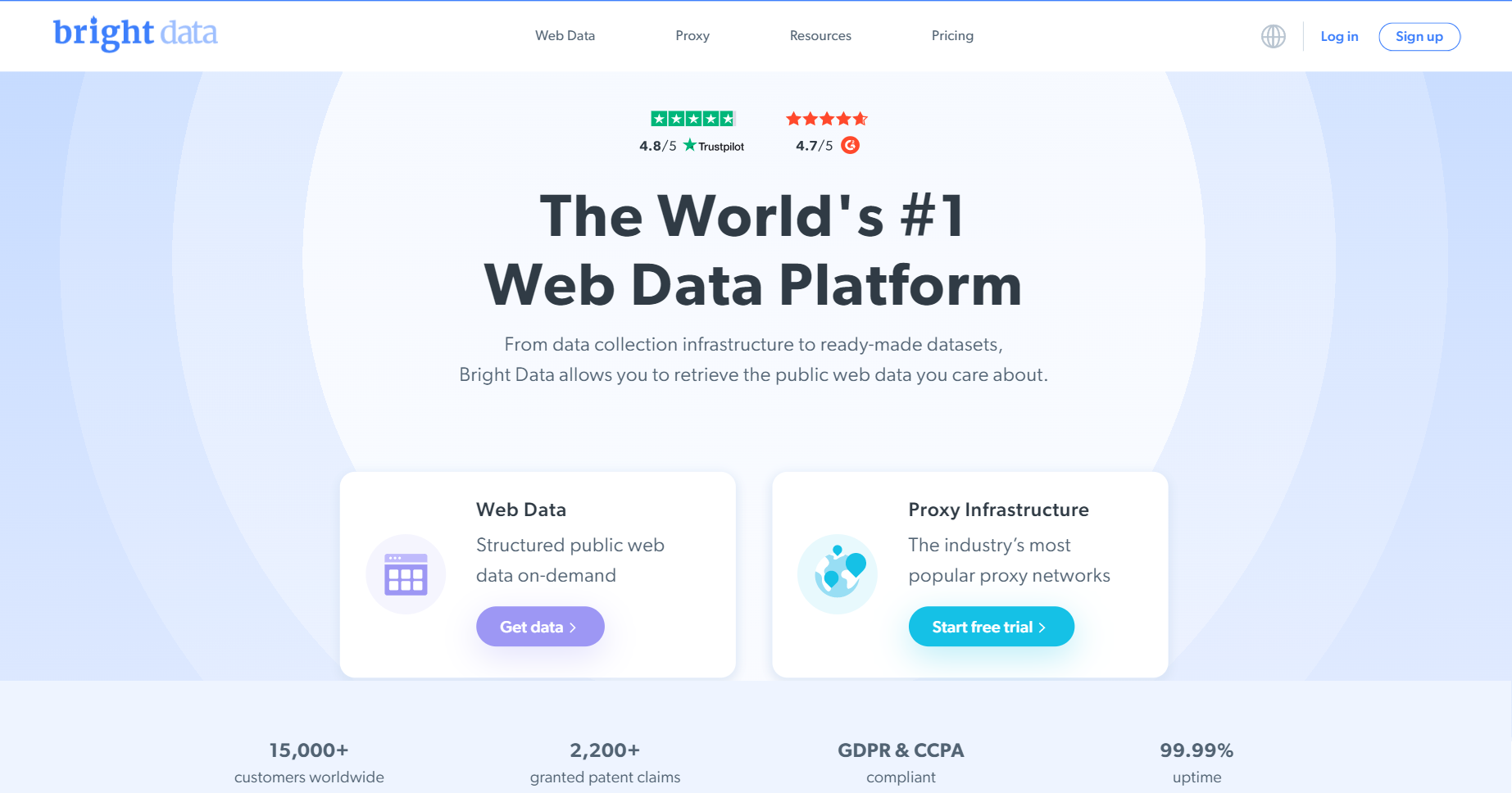 In the earlier days, companies used to hire mystery shoppers who went shop to shop and collected prices of products. That was a pretty mundane and slow task to obtain a competitive pricing goal.
Now back to the information age. Today, the challenge is not shops, but the sea of information. And scaling and response times play a huge role.
That's where Bright Data steps in as a modern mystery shopper that can ease your efforts in sourcing publicly available data from the internet.
It offers 3 Web Data tools namely Data Collector, Datasets and SERP API.
Each of them helps you collect, mainly:
Structured data like relational tables
Semi-structured data like HTML
Unstructured data like RSS feeds
Different commercial data
1. Data collector
With Data Collector, you can collect a massive amount of any public web data without having you invest in software or hardware infrastructure.
It basically starts with web scraping that extracts data from the web and exports them in your desired format. The process once used to be manual, costly, and time consuming.
But with the no-code solution, you can collect accurate data with a few clicks.
Say, you want to collect data of best selling electronic products from Amazon. You'll need to collect the product titles, pricing, images, ratings, and the reviews.
So on the dashboard, you'll go to "Collectors" on the Data Collection Platform. It shows you 2 options:
Develop a self-managed collector and Request a managed collector.
The first option is for a team of developers in order to build the template from scratch. They can also choose from different formats to use its code.
In the second case, you can request the support team to provide a managed collector that saves time. You just need to enter your details like project name, data type, use cases, etc.
Once done with that, you'll head over to set preferences like file type (formats like excel, CSV, JSON), delivery method (email, API, cloud storage), and which pages to collect the data from.
The output in CSV format looks something like this.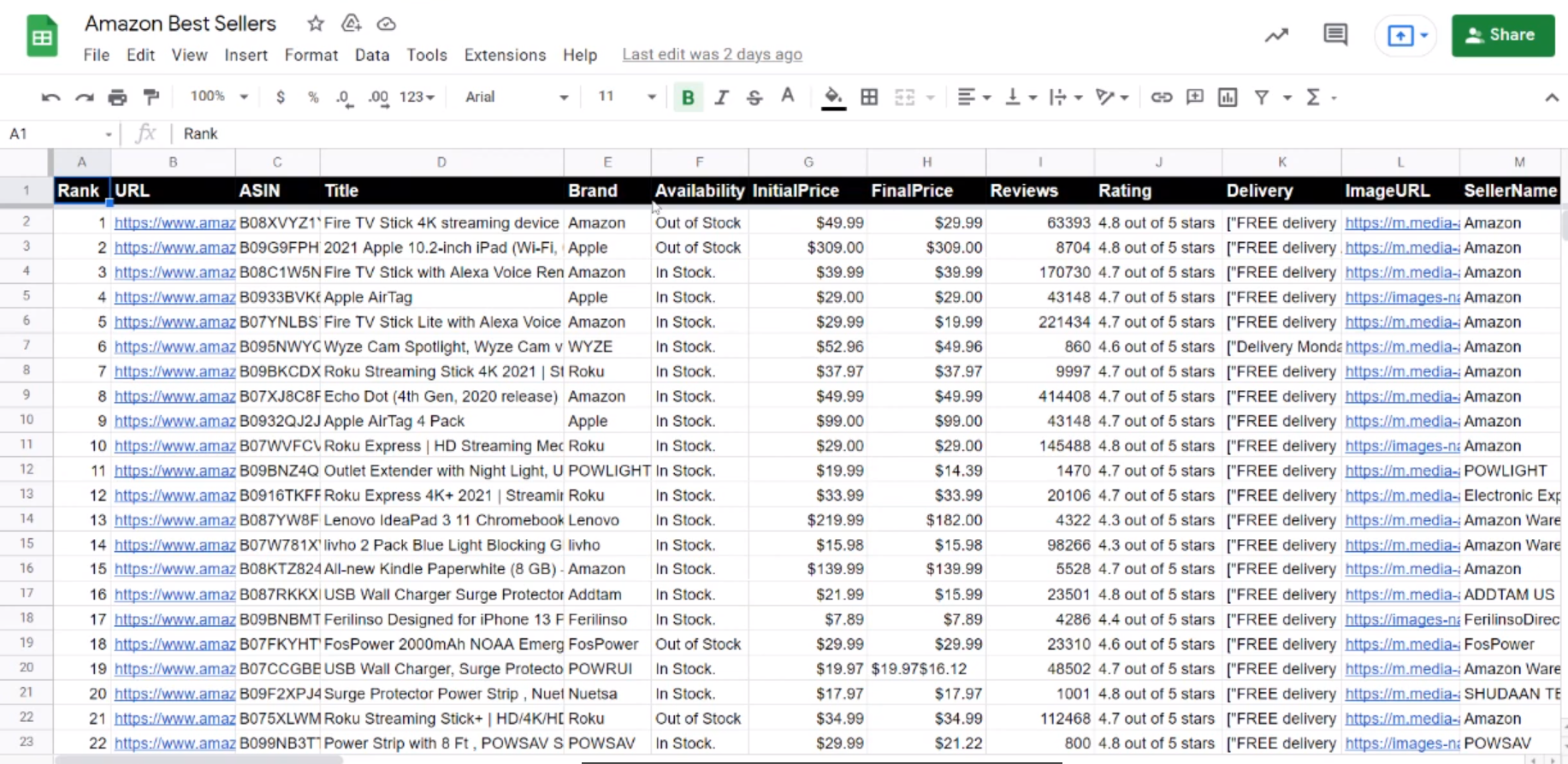 Scraping data on products from ecommerce websites for competitor analysis is just one use-case. Moreover, you can also scrape data from:
Stock prices to make better investing decisions
Yellow pages to generate leads
Store locator to create a list of business locations
Sports stats for purposes like betting or fantasy leagues.
2. Datasets
Bright Data's Datasets help you enrich your collected data by converting unstructured data into structured data.
On the Datasets page, you'll find 2 ways to achieve this:
Request for a custom dataset
Build your own dataset using Bright Data's IDE
Next, you mention requirements like websites, brand name while you request ready made datasets.
You'll also be asked for delivery methods like Google Drive, AWS and formats such as CSV, excel, and JSON.
Concerned about the updates?
No worries! Bright Data ensures your datasets are updated on a monthly basis. You can also check the timestamp field, which indicates when the records were collected.
Now if we talk about pricing, it completely depends upon the complexity of your requested data, customization or enrichment of records.
There have also been talks about including API to the datasets in the near future.
3. SERP API
Google brings frequent changes to its algorithm and SERP layout for an improved user experience.
It's basically the same for other search engineers too. So in case you're scraping search results via sources that are working for you now might not be working in the near future.
You may also get blocked when your requests reach a certain search engine limit. That's worse, isn't it?
So in order to avoid outdated and risky ways of scrapping, Bright Data's SERP API offers a dynamic solution.
The activation process is somewhat similar to the Data Collector. In the Zone details, you need to select your IP type, set permissions, your country per request, and ads mode on/off.
Then, you'll be provided with an estimated cost as per your entered request.
With the platform's search engine crawler API, you can fetch a high volume of results in a structured format like HTML or JSON.
It's a data collection beast. In addition, it also lets you search by images, videos, maps and many more ways.
With the insightful search results, you can fulfill your challenges like market research, price comparisons, copyright or brand security, etc.
One of the best things is that the tool is compatible with almost all popular search engines. You can even customize it to gather data from targeted cities.
After multiple testing, the response time is found to be around 5 seconds. But at the end, you'll only pay for the successful requests.
So in a nutshell, you'll enjoy the benefits like:
Fast response and dynamic results
Ease from heavy traffic during peak hours
Pay structure only upon successful requests
High-volume search results for any type of structured data
Supports around 195 countries
Bright Data's Proxy products
With Bright Data's proxies, you can literally feel the world in the palm of your hand.
Bright Data provides one of the largest proxy IP networks for customers including ecommerce brands, ad agencies, travel sites and many Fortune 500 companies.
When a company tries to access any company's site, chances are they'll be provided with misleading content or even blocked.
This is where you need anonymity. You need to reroute connection requests that hide your IP address and location.
Bright Data offers a first-of-its-kind web-transparency solution called data collection automation (DCA). A solution that redefines digital marketing.
So, no matter where you're in the competition, it gives you the ability to tackle the reverse proxies that may restrict you accessing websites by using different points in the global network.
So to extend the frontiers of digital marketing, Bright Data comes with 4 different types of proxy services, each with a unique set of features:
Residential
Datacenter
Mobile
ISP
Residential proxy
Bright Data's key highlight is its residential proxy, or rotating residential proxy. It lets you choose from 72 million IPs per month spread across 190 countries, thousands of cities and countless regions.
With unlimited concurrency and scaling, you can achieve fast response times while being untraceable.
When you use different IPs, it ensures the code is hidden into the apps so that your data collection efforts won't be blocked or slowed down by the target websites.
That means each of your requests are rotated by picking a different IP. Hence, the name. Mainly, you'll find its use cases in SEO, AdTech, Travel, and Web Testing.
We've tried to run a test on different IP locations and the results are impressive. The websites that we used to test with different IP locations are: Instagram, YouTube, Amazon, Google, and Walmart.
Test Result of Rotating Residential Proxy for multiples IPs:
| | | | | |
| --- | --- | --- | --- | --- |
| IP Address | Download | Upload | Ping | Working sites |
| 50.234.125.98 | 98.86 | 28.74 | 19 | Instagram, YouTube, Amazon, Google |
| 74.248.245.67 | 134.964 | 90.39 | 20 | Instagram, Amazon, Walmart |
| 45.19.35.224 | 124.95 | 59.65 | 10 | Instagram, Amazon, Google, Walmart |
| 108.238.96.17 | 211.23 | 204.14 | 22 | Instagram, YouTube, Amazon, Walmart |
| 72.225.15.16 | 139.67 | 61.82 | 43 | Instagram, YouTube, Amazon, Google, Walmart |
| 73.5.189.106 | 65.73 | 79.84 | 10 | Instagram, YouTube, Amazon, Google, Walmart |
| 46.208.210.16 | 111.49 | 28.16 | 88 | Instagram, Amazon, Google, Walmart |
| 86.160.174.18 | 72.61 | 35.54 | 89 | Instagram, YouTube, Amazon, Google, Walmart |
Datacenter proxy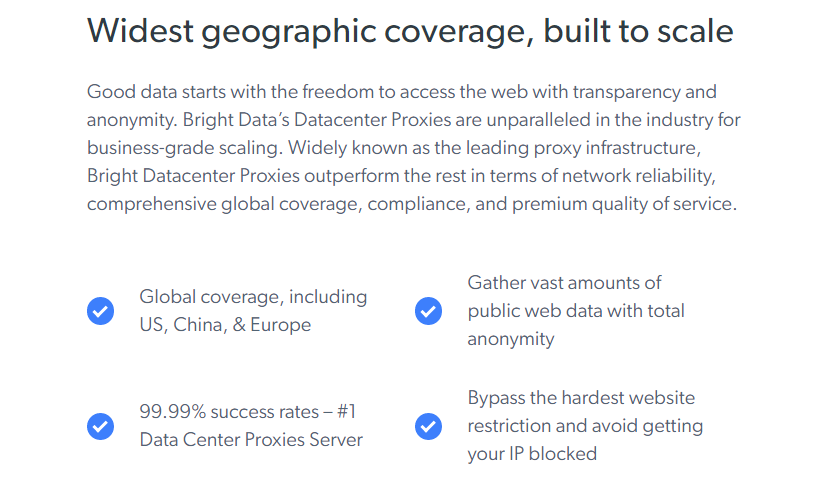 In Datacenter proxy, you can access both shared and dedicated 770,000 IPs across 3,000 subnets. Similar to residential, they're spread across multiple countries and cities.
Datacenter lets you pick from three types of IPs: Pay per IP, Shared IP, and Exclusive IP.
For example, for personal use-cases, Pay per IP is an affordable option. However, if you're targeting particular domains, you should go with Exclusive IPs.
They have unlimited concurrency, bandwidth and fast response times in a stable internet. Datacenters are highly effective when you need to keep working with the same IP or static IP as long as it needs to be rotated.
This proxy is good for accessing sites that don't use sophisticated blocking systems. It may not be on par with Residential proxy but scales well in consistency of the information requests.
The general use cases of Datacenter proxies are digital asset security, scanning public databases, and marketing intelligence.
Benchmarks for Success rate (%) and Average response time (sec):
AliExpress: 99.87 % and 1.94 secs
Amazon: 70.36% and 2.86 secs
Walmart: 99.87 % and 1.94 secs
Mobile proxy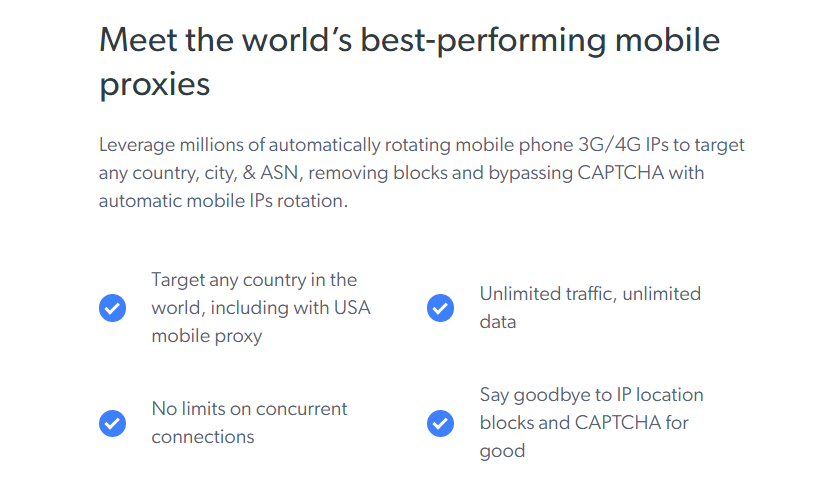 Mobile proxy is specifically designed for hard targets. It comes with the flexibility of over 7 million mobile proxies that not just target countries but also handles Autonomous System Number (ASN) and carrier targeting.
A large cellular network where you can select from a variety of carriers – real 4G connections assigned to users by their mobile career.
It's sort of residential IP, but without the landline ISP.
But the data collection accuracy, speed and relevance is quite better than any of the proxy providers. However, it also costs more.
The main applications of mobile proxy are quality assurance, verifying cellular ads, app promotions, tracking billing campaigns, etc.
Benchmarks for Success rate (%) and Average response time (sec):
AliExpress: 97.46 % and 4.14 secs
Amazon: 95.15 % and 4.55 secs
Walmart: 98 % and 4.05 secs
ISP proxy
As the name suggests, an ISP proxy is basically the datacenter IPs registered with your network providers. They offer over 600,000 IPs. An ISP proxy is nothing but a combination of Datacenter and Residential proxies.
Because, you can use the same set of IPs for eternity, as long as they're needed.
Your requests are treated as if it appears as the real source. That means, you enjoy the benefits like the high-speed response of Datacenter IP and no complexity of IP rotation.
Alternatively, it's also known as Static Residential proxy. They're mostly used for general web data extraction, social media marketing, Ad tech, web testing, and SEO.
Web data applications in the global market
Wondering how market leaders can make the most out of Bright Data's services?
Its use-cases are almost limitless. But in a nutshell, these are some of the key areas where companies can find themselves in a competitive advantage.
1. E-Commerce
To monitor and compare product pricing
To analyze and track latest trends and product demands
Product reviews for customer-centric decision-making
Keyword research for web page ranking and search marketing
2. Reselling
To analyze the product sourcing from different suppliers in order to sell to their customers
To search for in-demand products and potential target market
To figure out values that can be added to the customer experiences
3. Digital marketing
Technical SEO audits, keyword research, link building, Local SEO, etc.
For ad testing and gain insights about its effectiveness on search engines
For ad verification to ensure the ads are not misplaced or wrongly redirected.
4. Social media
To find trending topics or pages on social sites, active influencers
Sentiment analysis to check emotional opinions about certain products
Social media marketing companies to manage several accounts in order to increase the outreach.
5. Travel and hospitality
To check the popularity of travel locations, hotels, flights
To analyze the tourism activity, specially during festive occasions or holidays
To track price changes of bookings throughout the year
6. Brand protection
To track the unlicensed use of intellectual properties or counterfeits across social media and websites
7. Cybersecurity
To scan email, accounts to detect potentially fraudulent attempts
To collect data and monitor on phishing websites
8. HR
To verify background of employers and employees or reviews
To track listing on multiple job searching platforms
9. Web testing
For developers to test the load capabilities of websites, broken links, UI, security and many more.
For localization testing to make sure the content is relevant or language-specific to the target locations
10. Fintech
To figure out different investment opportunities and predictive insights
To gather latest events in financial market from blogs, forums, and social media
To keep track of changes in policies and regulations to ensure 100% compliance with data
Key Features of Bright Data:
Provides relevant data, fast response time and up to 99% uptime.
Compatibility with different languages, integration tools, and data formats.
Software gets frequently updated with new features.
Flexibility of using different web data and proxy products.
Intuitive dashboard with real-time stats and customization.
Supports web protocols like HTTP(S) and SOCKS5.
Uses web scrapers like SERP API, proxy-based API, and no-code data collector.
Allows unlimited concurrent sessions with no performance impact.
24/7 global support with dedicated account managers.
Secured log in and authentication process along with creating up to 50 sub-users.
Pay as you go, subscription for all proxies
Fully compliant with GDPR with 100% transparency and secured use of the platform.
Bright Data Pros and Cons
What makes Bright Data an exceptional proxy provider?
Coverage of IP across the world
Fast response time
Over 99% uptime
Integration with third-party tools
Minimum latency on different proxies
Provides multi-login feature
100% compliant with regulatory bodies
Dedicated account managers and 24/7 support
Pay per use on all proxies
Unlimited concurrency and bandwidth
Few downsides of Bright Data:
Requires a learning curve
API integration is a bit tricky
KYC and account activation process are strict
Expensive pricing of proxies for monthly users
Get started with Bright Data →
Bright Data's Proxy Networks Yearly Pricing
In the custom pricing category, the cost per GB for all four proxy types is defined as such:
For 5 GB: $15.00 per GB
For 50 GB: $12.50 per GB
For 100 GB: $11.25 per GB
For 250 GB: $10.50 per GB
Note that, "Pay per use plan" doesn't offer a dedicated account manager. Also, it will charge you extra for city-level targeting and a dedicated IP address.
Data Collector: Self-serve collectors: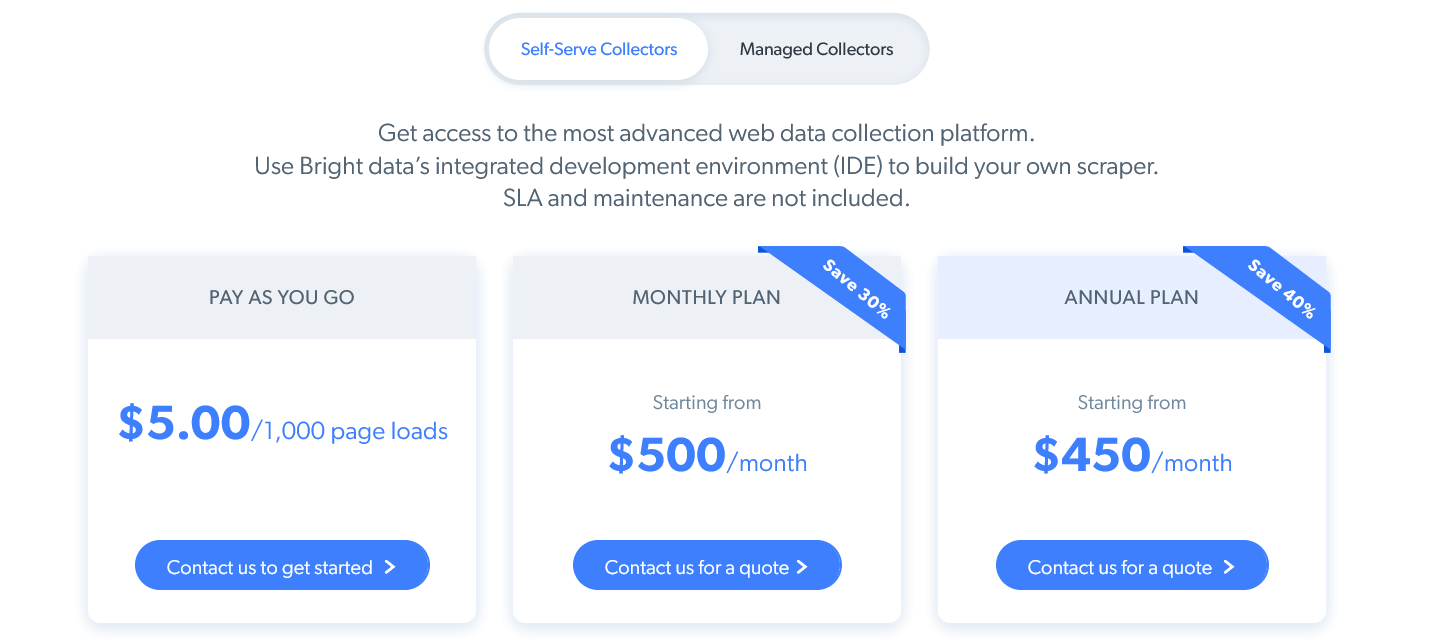 Here, you'll have access to:
Bright Data's JavaScript IDE for further modification to your data collection process
Monitor success rates and get important alerts
Website unblocker technology
Fastest data collection ability
Data Collector: Managed collectors
Including the features of self-serve collectors, you'll additionally get:
Dedicated account manager
24/7 technical support
Personalized data structuring solution
SERP API yearly pricing:
Where CPM stands for "cost per mile" for the unit of 1000 requests.
The pricing structure is similar to proxy networks. Here also, you won't have access to a dedicated account manager under "Pay per use plan".
Now, Datasets has no such pricing plans. Because it completely depends upon your quote, type of your request, target websites, or ready-made datasets.
Get started with Bright Data →
Final Thoughts on Bright Data
The performance speaks volumes. And Bright Data has truly stood up to the expectations.
Yes, we admit performance like this comes at a cost. But the factors like scalability, unlimited concurrency, global compliance, high success rate, and support services highlight a full-fledged enterprise experience that promises the competitive advantage.
Moreover, its pay per use pricing gives it an edge over other proxy providers. Something an individual marketer or a small-sized business would cherish.
After digging into reviews after reviews, we found out that Residential and Datacenter are the most preferred proxy types. No wonder, the last year saw the growth in residential proxy usage by 70% and that of the datacenter proxy by 60%.
And for the most part, businesses used them for e-commerce, travel and search engine goals.
Although, some proxy competitors are seemingly catching up with Bright Data. But the consistency and control over the data makes it one of the most desirable proxy providers among digital marketers.
The test results and countless compelling reviews speaks for itself.