Tired of getting blocked by the sites while gathering data online?
Don't blame your proxy. Blame your choices. That's why we're here to give you an overview of the best proxy server services.
Data is a new oil. And web scraping is one of the key activities to use data for business intelligence, competitor analysis, and digital marketing.
There are no problems in web scraping. However, the problem lies in large-scale web scraping using your limited set of IPs repeatedly.
Geoblocking has been a major concern for data companies.
Due to rising issues of DDOS attacks and other malicious cyber activities, target companies are adding security layers to fence off data from general or repeated requests.
This poses an immense challenge for data companies to extract useful customer-centric data.
With traditional scraping methods, they either face IP bans or are provided with misleading information.
This is where proxy servers bring competitive advantage to your business.
When you're on a proxy network, each request is made using a different IP address. Therefore, no particular IP gets the attention of target sites which makes each request immune to bans.
So go ahead and see for yourself which proxy server can lead your business towards online freedom.
1. Bright Data (Overall market-leading proxy server)
Bright Data is a rebranded name for Luminati. They're probably one of the top proxy providers with a complete web scraping and flexible IP solution.
Under Luminati, they offered scalable web data tools for getting massive amounts of public data without having you invest in separate marketing tools.
And now with Bright Data, you can access 4 different types of proxy services with complete control over your IPs and geo-targeting abilities.
They offer:
Over 72 million residential proxies
770k dedicated datacenter proxies
7 million mobile proxies
Over 600k ISPs
Probably the largest pool of IP addresses in all four segments. They also offer a first-of-its-kind web-transparency solution called data collection automation (DCA) – that redefines digital marketing practices.
However, considering the wealth of features and capabilities, Bright Data is strictly for large and medium-scale businesses.
Bright Data Key Features
Flexible usage of different types of proxies and web scraping tools.
All proxies support HTTP, HTTPS, and SOCKS5 protocol for seamless performance.
Ability to create up to 50 sub-users with secured log-in and authentication process.
Excellent customer support and dedicated account managers for all the plans except pay-per-use plan.
The platform gets frequently updated with new web data and proxy features.
Bright Data Pros and Cons
What do we like about Bright Data?
Global coverage of IPs
Fast response time with 99% uptime
Dedicated account managers and 24/7 support
Pay per use on all proxies
Drawbacks:
Steep learning curve
KYC and account activation process are strict
Expensive plans for monthly user
Pricing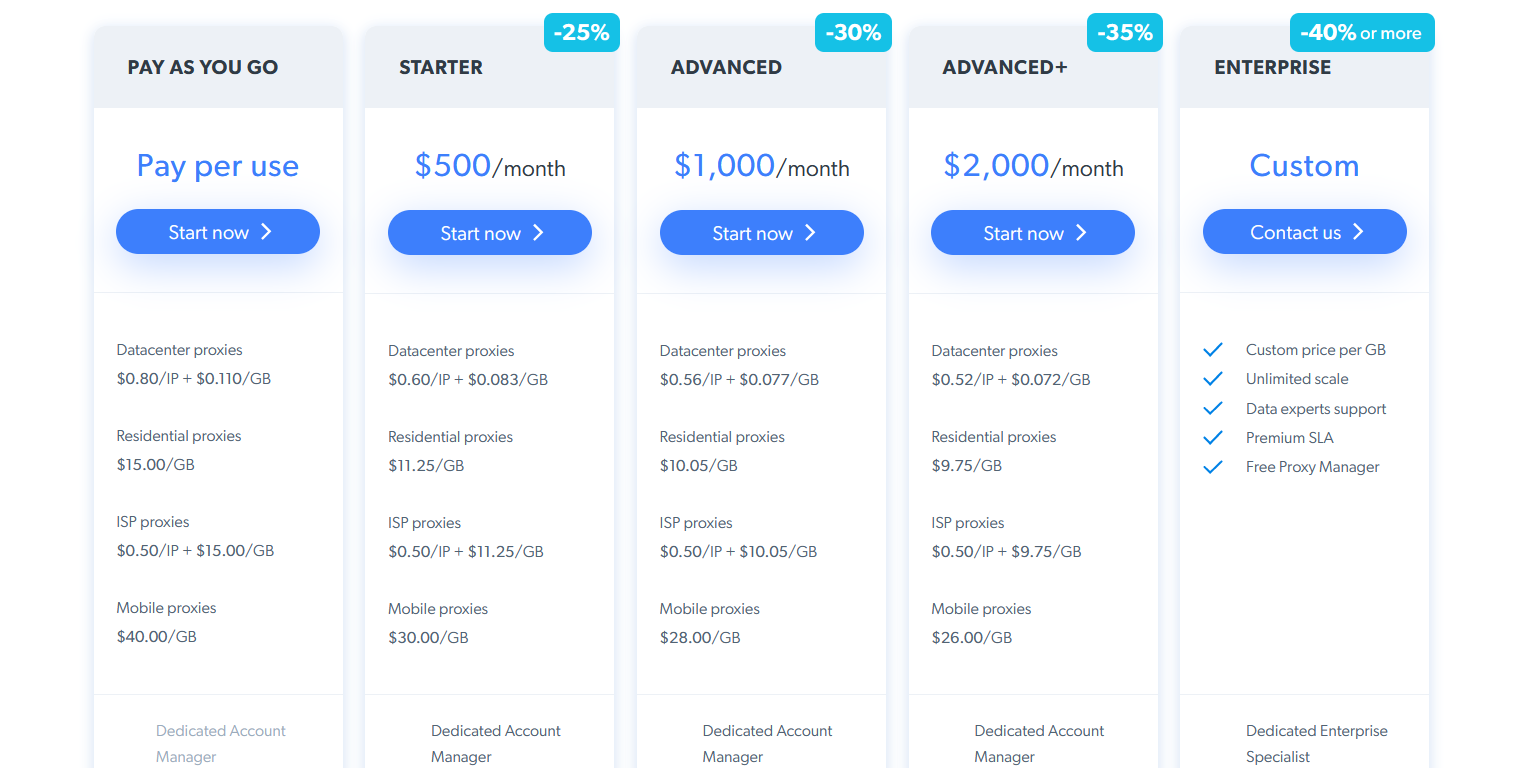 Dedicated account manager under each plan except Pay per use plan.
2. IP Royal Proxy (Proxy server with great earning opportunity)
IP Royal has been in the business for over 10 years. Basically, they were a domain name registration portal. Proxies were not really their forte.
However, they decided to turn the tables when they launched a range of proxy products in 2020.
Well, technically a new company in the proxy market. But don't take them lightly!
The proxy services, pricing, and customer service go hand in hand with their domain registration solution.
They are now offering four standard proxy solutions: dedicated datacenter, residential, ISP, and mobile proxies. In addition, they provide Google scraping API, which is currently in beta stage.
The pricing is relatively lower than the leading proxy providers. And so is their global coverage. However, considering the age of proxy services, 3 million IPs across the world is a pretty decent number.
IP Royal Key Features
IP Royal lets you choose between sticky and rotating proxies. Sticky proxy lets you use the IP for 24 hours. In the case of rotation proxy, you can set the time frame that suits you best between 1 sec and 24 hours.
They feature pawns.app which lets you share the amount of traffic (in GB) from your network in exchange for money. The earnings also depend on how long you keep the app running, as well as the number of surveys you took.
There is no KYC process during registration. However, you may need to do so if you're found visiting suspicious or non-compliant sites.
It supports both HTTPS and SOCKS5 protocol, as well as multiple authentication processes for secure access.
IP Royal Pros and cons
What do we like about IP Royal?
Quick registration and secured authentication
HTTP, HTTPS, and SOCKS protocol compatibility
Cheaper proxy subscriptions and bulk discounts
Excellent customer services
Drawbacks:
Not built for large-scale web scrapping
Residential pool size is comparatively smaller
Pricing
3. Nimble (The Hassle-Free Web Data Collection Solution)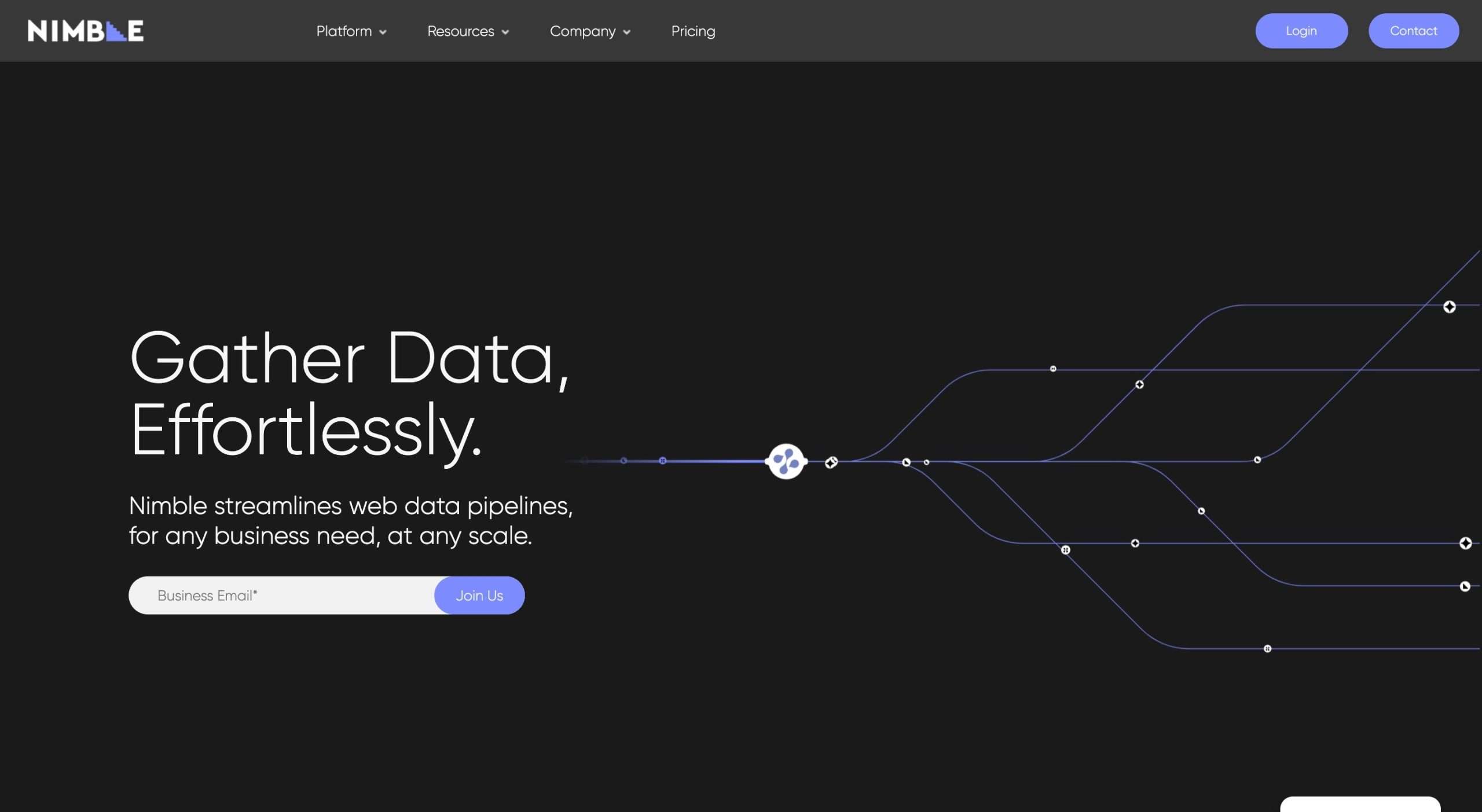 Nimble makes it effortless to collect web data by streamlining web data pipelines for any business need, at any scale.
With Nimble, you can easily set up new web data pipelines in minutes instead of days, without requiring technical expertise.
Nimble API streamlines accurate data to your cloud storage with zero engineering complexity. Collect data from any public web source with zero effort using their simple API interface.
Nimble Browser goes beyond the limits of Selenium and Puppeteer's automated browsers, offering unlimited access to any public website.
What's more, Nimble IP is engineered to deliver consistently high performance over time, allowing you to utilize endless premium IPs from any geolocation in the world.
Nimble offers insane performance, advanced analytics, and hassle-free integration, making it an ideal solution for you if you desire to access unlimited data at any scale.
Nimble Key Features
Reliable and clean data delivery

Simple API interface

Revolutionary browser technology

Nimble lightweight browser

Nimble IP (premium proxy infrastructure)
Nimble Pros And Cons
What Do We Like About Nimble?
Quick and easy setup

Reliable and accurate data

Unlimited data access

Premium proxies

Hassle-free integration
Drawbacks:
Limited documentation

Bounded customizability

Relatively expensive
Pricing
4. MarsProxies (Optimized sneaker proxies with expansive IP pool)
MarsProxies is a top-notch private proxy service. It works well with sneaker bots and lets you access the web freely. There are more than 100 million IP addresses for homes, making them useful for many online activities.
MarsProxies specializes in improved sneaker proxies.
They have premium data centers designed for sneaker websites. This gateway helps you succeed with sneaker bots by optimizing them better than regular proxies.
A key benefit is the sheer variety and number of IP addresses. You can collect data or scrape websites by using over 100 million residential IPs. Each request will have a different random IP.
In addition to sneaker botting, you can use the proxies for SEO research, streaming, gaming, web scraping, and other purposes.
The network is designed to handle a lot of people and works well for any online activity.
MarsProxies Key Features
Enhanced sneaker proxies optimized for sneaker websites and bots

Unrestricted web access without blacklists or captchas

Over 100 million residential IP addresses are available

Optimized proxies specifically for EU and US locations

Speeds ranging from 6ms to 120ms
MarsProxies Pros And Cons
What Do We Like About MarsProxies?
MarsProxies stands out for its enhanced proxies, finely tuned for sneaker websites and bots.

Their optimization delivers exceptional performance for sneaker copping.

With over 100 million residential IPs, MarsProxies offers tremendous variety and flexibility for changing IP addresses.
Drawbacks:
The residential proxies are the main highlight. The data center proxies have more limited use cases.

The variety of proxy plans can be confusing initially. You may need time to determine the optimal plan.
Pricing
MarsProxies provide different types of proxies for specific purposes.
Ultra Residential Proxies are priced at €3.00/GB and are designed for sneaker sites.
Mars ISP Proxies (Residential) cost €2.00 per proxy and offer a speed of 10Gbps.
Mars Obsidian Proxies (Datacenter) have two pricing options: €0.80 per proxy for daily plans and €1.40 per proxy for monthly plans.
5. Smartproxy (Proxy for enterprises at a competitive price)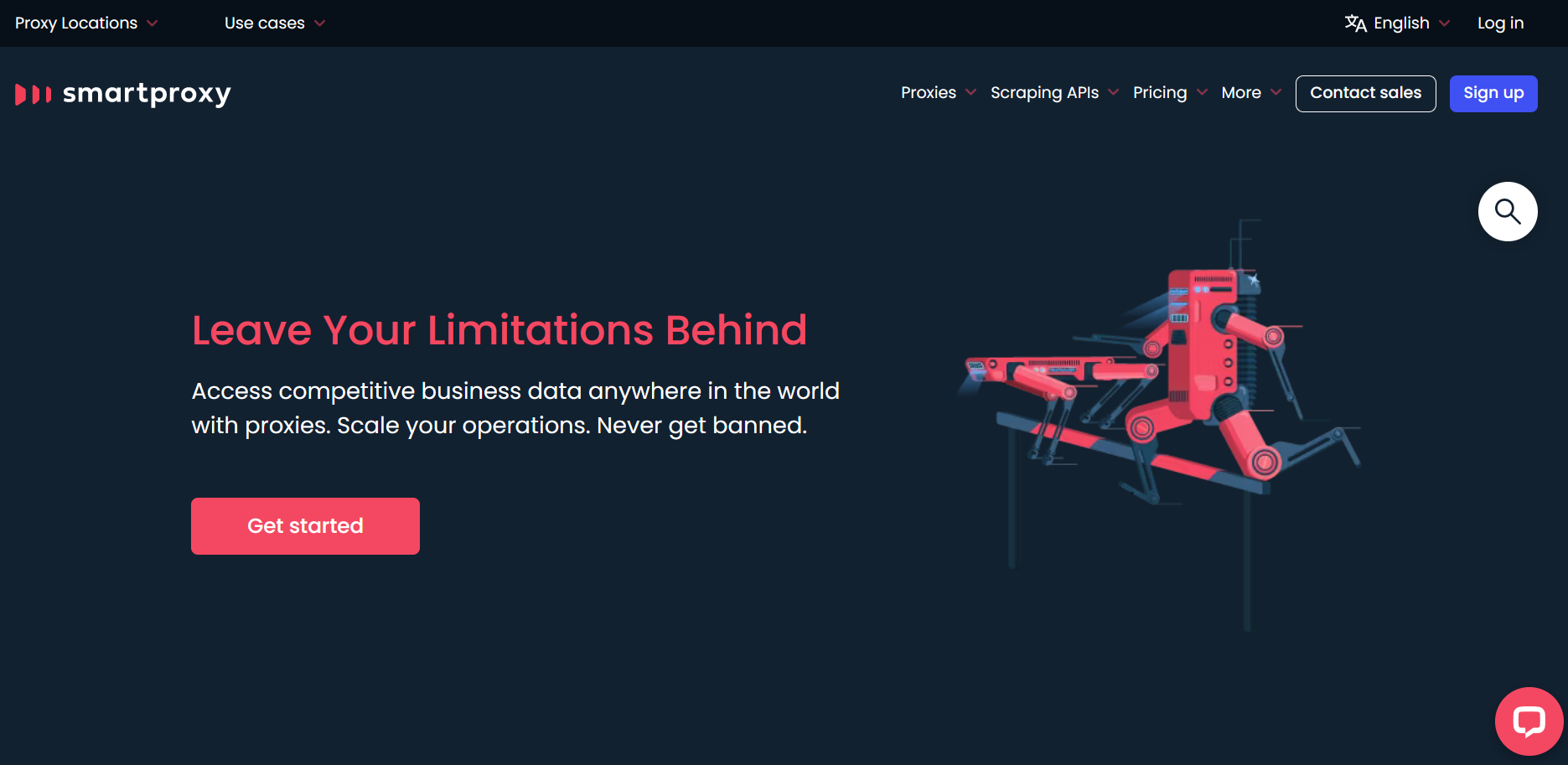 Smartproxy is one of the staple names in the proxy world. Not only does it provide a high quality proxy network, but evenly provides access to over 195 countries.
Smartproxy's key highlight is the residential proxy. They have over 40 million residential IPs globally and 100k datacenter IPs across the US and Europe. However, they fall short when it comes to targeting cities.
Besides that, you can have access to both rotating and sticky IPs. You can rotate the IP address upon each connection request, or choose to stick with the same IP for 30 minutes.
They provide you with a complete API documentation and a rich set of tutorials. Pretty useful for newbies. On top of that, you'll have control over country targeting, traffic usage, and sub-users.
Smartproxy lacks mobile and ISP proxies. Yet, a great choice for medium and large-scale scrapers.
Smartproxy Key Features
Residential IP features autorotation and sticky IPs for up to 30 minutes.
Datacenter proxy gives you full control over IPs with predictable usage history.
Over 40 million residential IPs and 100k dedicated datacenter IPs.
Support for HTTP and HTTPS protocols for seamless data transfer.
Smartproxy Pros and cons
What do we like about Smartproxy?
Massive residential IP coverage
Pay as you go option
Excellent customer support
Competitive monthly pricing
Drawbacks:
Fewer locations available for datacenter proxies
Limited city targeting
SOCKS5 only for dedicated datacenter proxy
Pricing
6. Rayobyte Proxy (Proxy server with excellent connectivity)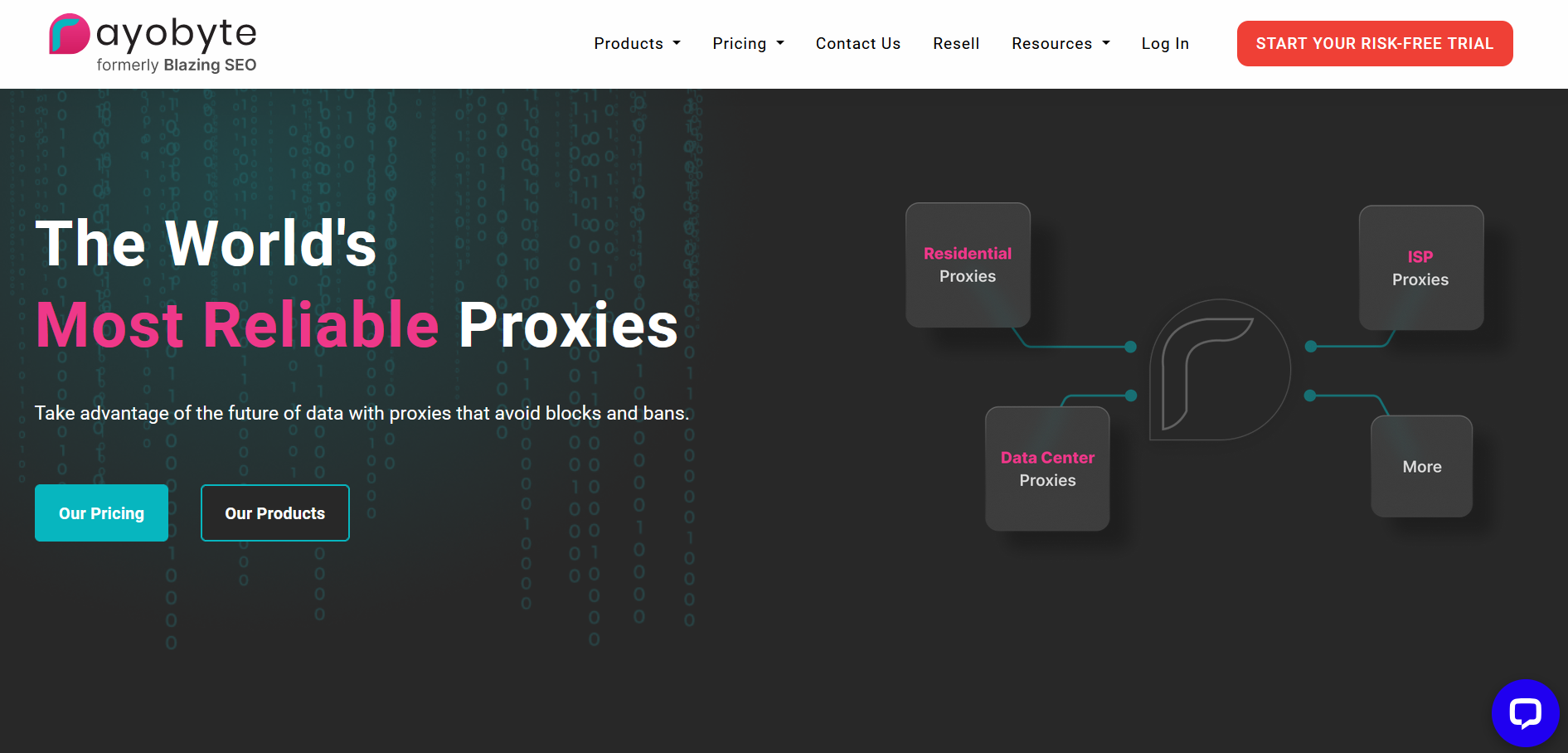 Even if you've the faintest idea about the proxy marketplace, you might have come across the name Blazing SEO. The company is now rebranded as Rayobyte.
They started off with dedicated datacenter proxies with over 330k IPs. Probably the most number of IPs under dedicated datacenter network. And now, they're also known for residential proxy services, with over 10 million IPs across the world.
They even introduced mobile and ISP proxies last year, but are yet to make a cut like the residential proxy.
No matter what you choose, Rayobyte ensures you enjoy unlimited bandwidth with up to 1 Gbps connection speed.
Talking about success rates?
It's not amazing, it's blazing. Rayobyte has great end-to-end control over its networks. On top of that, they've an excellent support team who are ready to help you when things go down.
Rayobyte Key Features
Features over 10 million residential proxies and 330k datacenter proxies across 150 countries.
Rayobyte works on a trial-and-error approach. The system randomly allocates you the IPs. However, in the case of issues, they readily replace them with different IPs.
Compatible with HTTPS and SOCKS5 protocols, which lets you send all types of requests.
Access to the entire API documentation in case you want to buy, replace or cancel your proxies. You can even get the entire list of working IPs.
Rayobyte Pros and cons
What do we like about Rayobyte?
HTTP, HTTPS, and SOCKS protocol
Responsive support services
Custom pricing packages
One free proxy replacement monthly
Drawbacks:
Lacks city targeting
Lengthy registration and authentication process
Rotating, semi-dedicated and ISP proxies limited to few countries
Pricing

7. Oxylabs  (Proxy server with a huge pool of global IPs)
A proxy provider can single-handedly impress you when it has a network of 100 million IPs worldwide. That's a staggering number for any proxy provider out there.
Oxylabs barely misses out on geographical coverage. They offer both static and rotating residential proxies. A static residential proxy is a great way to keep your identity consistent for a long time.
Moreover, with rotational proxy, you can choose to set the IP rotation request within the span of 30 minutes.
But the key highlight of Oxylabs is the Next-Gen Residential Proxy. Powered with AI and ML models, you can run complex web scraping and gather tons of data with a 100% success rate.
Now, ever heard of cyber insurance?
This is a new kind of proxy solution that can help companies from technology errors and omissions. Oxylabs key clients are some of the Fortune 500 brands that specifically use the services for business intelligence, digital marketing, and brand protection.
Oxylabs Key Features
Oxylabs has the most number of global IPs and covers almost all regions of the 6 continents.
Oxylabs features Next-Gen Residential Proxy that uses AI/ML technology to encounter the most challenging publicly available data without any risks.
Next-gen AI comes with  an auto-retry feature that minimizes effort and errors that may otherwise cost you time and money.
Each plan and proxy products are covered by technology error and omission and ensure complete cyber insurance. Thanks to the partnership with Lloyds.
Oxylabs Pros and cons
What do we like about Oxylabs?
Large number of global IP locations
Premium level customer service
AI/ML-based residential proxy
Robust web scrapping performance and speed
Cyber insurance partnership with Lloyds
Drawbacks:
Pricing and features suitable for enterprises only
Quite a high entry threshold
No pay-per-use option
Pricing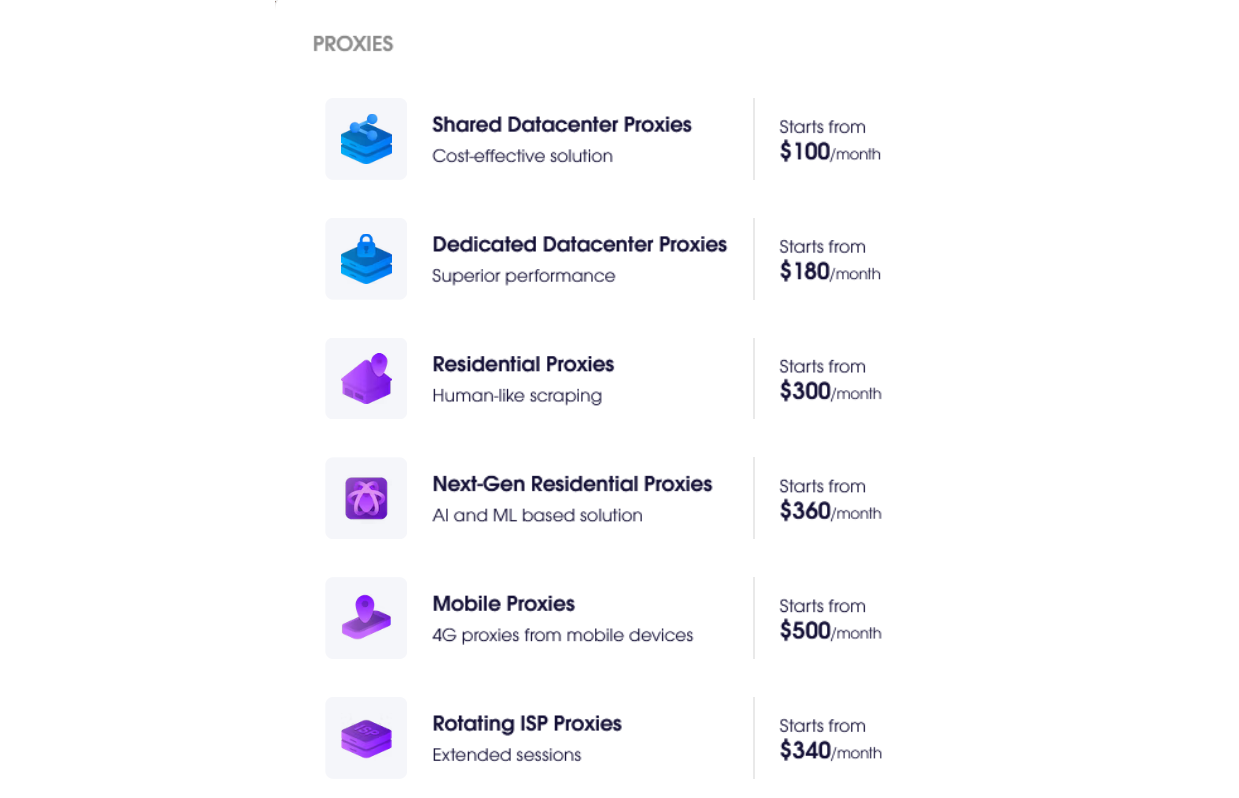 8. Infatica Proxy (New proxy server with enterprise use-cases)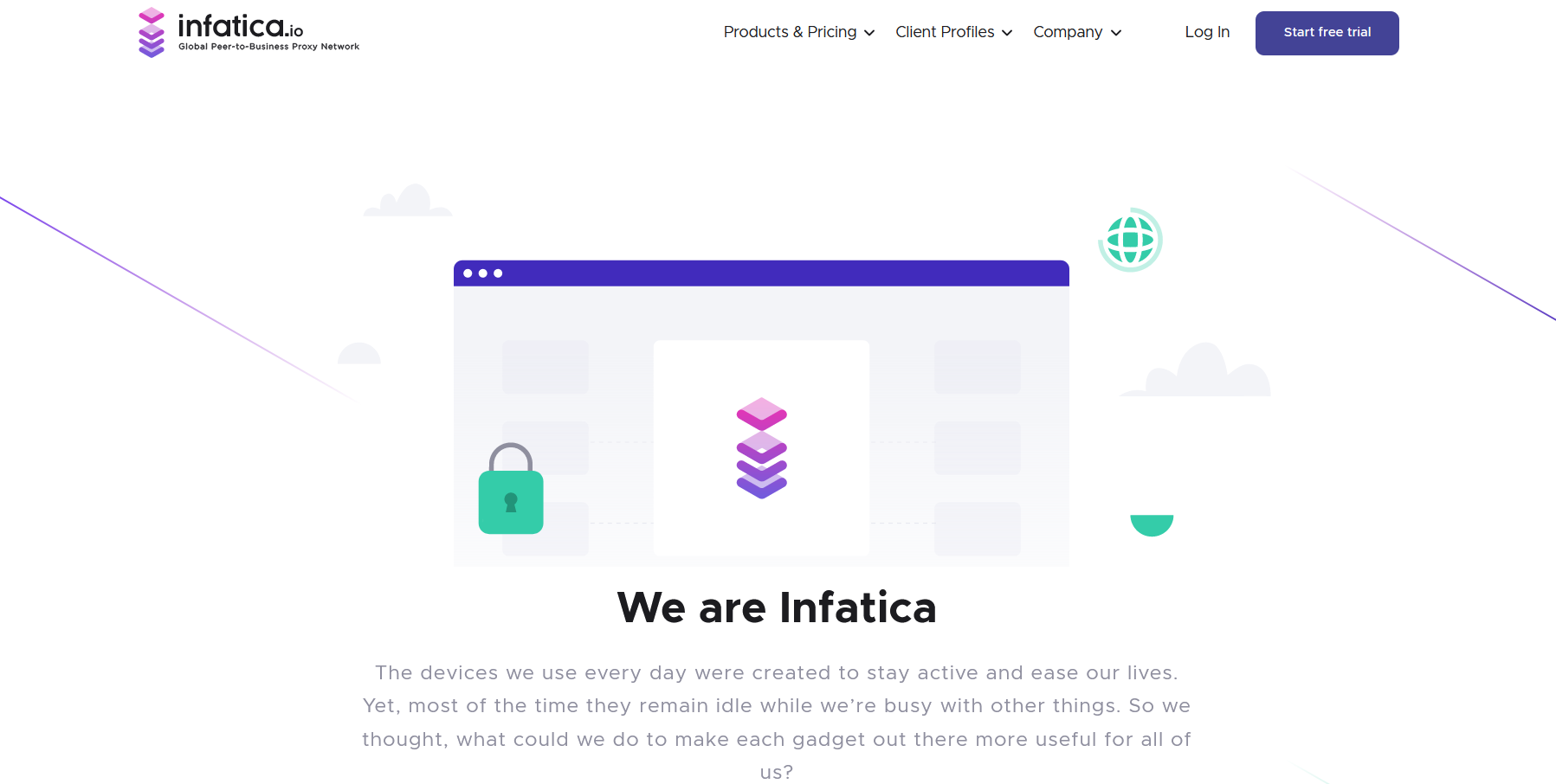 Infatica is barely a three-year-old proxy provider. But the way it gained recognition is surreal.
Their services are specifically geared towards enterprise clients. Basically, they started off with residential proxy services. And now they offer over 10 million IPs across the world.
Later, they also added dedicated datacenters and mobile proxies as well.
Infatica's rotating residential proxy delivers excellent response and success rates. However, by default, they have a one-hour-long rotation time, which you can't customize anyway.
You can manually rotate the IP addresses when required. But it's not recommended to rotate quite often.
Talking about the price, Infatica seems to cost around 20% less than the big players. Yet, it's not quite a favorable deal for small businesses. Good thing is that, you'll get the refund for unused portion of the traffic within 24 hours.
Infatica Key Features
Most of the Infatica's IPs are from mobile or landline devices. The connection is stable and can withstand multiple requests, even in demanding situations.
Besides residential IPs, Infatica features a powerful dedicated mobile proxy with a broader country and city targeting.
They feature a one-hour rotation time by default. However, it's not advisable to manually rotate the IPs frequently.
Infatica features SDK, which is a software library that offers earning opportunities for developers.
Infatica Pros and cons
What do we like about Infatica?
Manual IP rotation feature
Huge IP pool size
Pricing plans are flexible
Excellent customer services
Drawbacks:
Success rates are fine, but speed is often inconsistent
City level targeting is available, but only for custom plans
Lacks ISP proxy
Pricing
9. Geosurf Proxy (Best Proxy server for city-targeting)
Geosurf is one of the old players in the proxy marketplace. Performance wise, Geosurf is on par with Bright Data. However, the range of proxy servers is significantly less.
The arch-rivalry with Bright Data even led to patent disputes quite recently. But soon they mutually resolved the legal disputes and opened the doors for partnerships.
Keeping competition aside, they offer a decent 3.7 million IPs in more than 130 countries. Not a large number, but the addresses have been tested to provide good success and response rates.
They offer residential, datacenter and ISP proxies. And quite recently they introduced a mobile VPN with over 120 cellular locations.
But unlike Bright Data, they don't offer a pay-per-use option.
Moreover, the service is specifically geared towards premium customers, both in subscription and business use cases.
Geosurf Proxy Key Features
Geosurf features both sticky and rotating sessions. In sticky sessions, you can set to reconnect every 1, 10, or 30 minutes. In rotating sessions, you'll get virgin IPs upon every new request.
It features a search function and competitor analysis that gives you a 360-degree view of marketing strategies used by others.
It comes with a browser extension, which is something like a localized VPN that you can run on your browser. Particularly for Chrome and Firefox browsers.
It comes with an intuitive interface that makes onboarding and authentication easy for new users.
Geosurf Pros and Cons
What do we like about Geosurf?
Excellent geo-targeting capability
Over 1700 city-targeting IPs
Quality IP addresses
Decent connectivity and response time
 Drawbacks:
No socks5 protocol
No pay per use option
Customer support needs to be improved
Pricing

10. Zyte (Proxy server with per-request pricing model)
Zyte is a rebranded name for Crawlera. If you're looking for unparalleled proxy management features with an excellent success rate, Zyte is one of the proxies to consider.
As per countless customer reviews, datacenter proxies are capable of handling heavy web scraping and crawling tasks. However, we are also skeptical about its product offerings and not sure how many IPs they actually host across the world.
Location coverage is quite limited. However, you can access other locations on demand. Zyte is also said to rent IP addresses from other providers.
But the good thing about it is its per-request pricing model instead of bandwidth. It gives you control over IPs, the ability to auto-rotate, control cookies, throttle requests, and detect bans.
Zyte Proxy Key Features
Smart proxy manager is capable of detecting banned IPs, estimates website load, and uses a throttling algorithm for excellent success rates.
Zyte's proxy manager also keeps an account of types of IP bans and automates the IP switching in case it detects the ban.
You can configure the proxy to store cookies instead of discarding them. However, the feature is available only on expensive plans.
Residential proxy isn't a standalone feature in Zyte. Instead, you can use it as an add-on to your standard subscription.
Zyte Proxy Pros and cons
What do we like about Zyte?
Smart proxy management
Excellent success rate and response time
You can create sub users
No costs for failed requests
 Drawbacks:
Significantly low IP coverage globally
Residential proxy only available on-demand
Lacks SOCKS5 protocol
Customer support favorable for enterprise clients only
Pricing
11. NetNut Proxy (Good for stable dedicated and residential connectivity)
Netnut is relatively a new proxy provider. But its range of services are seemingly catching up with Bright Data or Oxylabs.
Many standard proxy providers utilize P2P networks of other computer users for residential IPs. However, this is not the way Netnut functions. Instead, they make use of internet service providers with the help of Divi Networks.
Because of the partnership with Divi Networks, you no longer have to depend on the online status of IPs. They operate with over 100 ISPs worldwide that can give you more stable residential proxies. That means, no more IP outages or unstable connections.
On paper, Netnut also claims to have zero fail rates with much less latency than other providers.
Overall, it may not be as popular as standard proxies, but definitely a good contender if you're looking for heavy web scraping tasks.
NetNut Proxy Key Features
Netnut lets you authenticate up to 10 unique IP addresses, which is the highest among proxy providers.
Packs in all three important proxy types: Datacenter, Rotating residential, and ISP proxies. About 20 million Residential IPs, 110k Datacenter IPs and 1 million+ ISP proxy.
They make use of backconnect servers, where you can access the provider's IP address while it gets rotated in the back end.
NetNut's reseller program lets you create sub-users and manage use cases seamlessly.
NetNut Pros and cons
What do we like about NetNut?
Excellent connectivity and stability
Partnership with DiviNetworks
Impressive number of residential proxies
Responsive customer
Drawbacks:
Quite expensive for new users
No mobile proxy available
Not compatible with SOCKS5 protocol
Pricing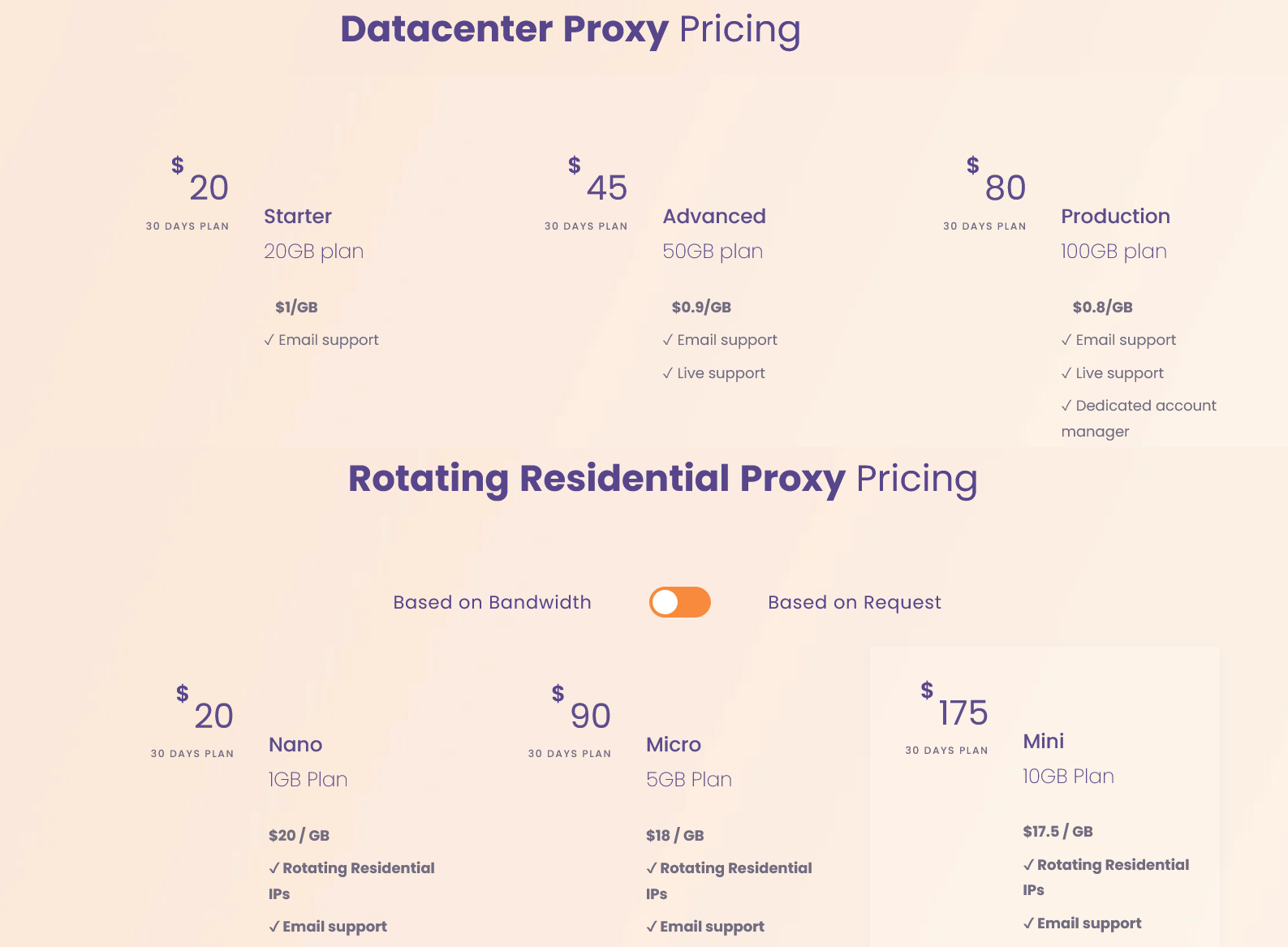 12. SOAX Proxy (New proxy with a competitive residential proxy service )
There are some proxy providers that don't over-promise you with so-so one-liner. SOAX is one of the new entrants in the proxy pool that brings you a limited yet fair deal of its products.
They aren't the fastest ones. But with over 8.5 million IPs worldwide, their residential and mobile proxies are capable of making the cut.
One of the key highlights is its control over IP rotation. You can enable autorotation or set the duration from 90 sec to 600 sec. You'll also have the advantage of node access, where you can keep the same IP address even when your system is offline.
On top of that, you can even keep the same IP for as long as possible. They're also planning to offer a private datacenter proxy. However, there is no clear details about that.
SOAX Proxy Key Features
SOAX offers over 5 million residential proxies and over 3.5 million mobile proxies worldwide, along with city targeting.
By default, their IP rotation is 1 hour but you can also set a custom duration from 90 to 600 seconds. You may even keep the IP address as long as it is usable.
With node access, you can select a specific IP address. Even though the IP address is offline, you can keep it and use it when it's available online.
SOAX interface is quite attentive to new users as they walk you through each step in the onboarding and authentication process.
SOAX Proxy Pros and cons
What do we like about SOAX proxy?
Solid control over IP rotation
Supports both HTTPS and SOCKS5 protocols
Targeting options are pretty accurate
Fair onboarding and support services
Drawbacks:
Response time not often on par with big providers
Limited proxy products
Low cost but limitations on cheaper plans
Pricing
Final Verdict
Still skeptical about the proxies?
Why not dip your toe in the water and see what works best for your business use cases.
Overall, we see Bright Data as one of the leading proxy providers. It not only offers different proxy services, but has a pay-as-you-go plan for new users.
There is no better time to go invincible on the internet. So see for yourself which proxy server is ideal for you!