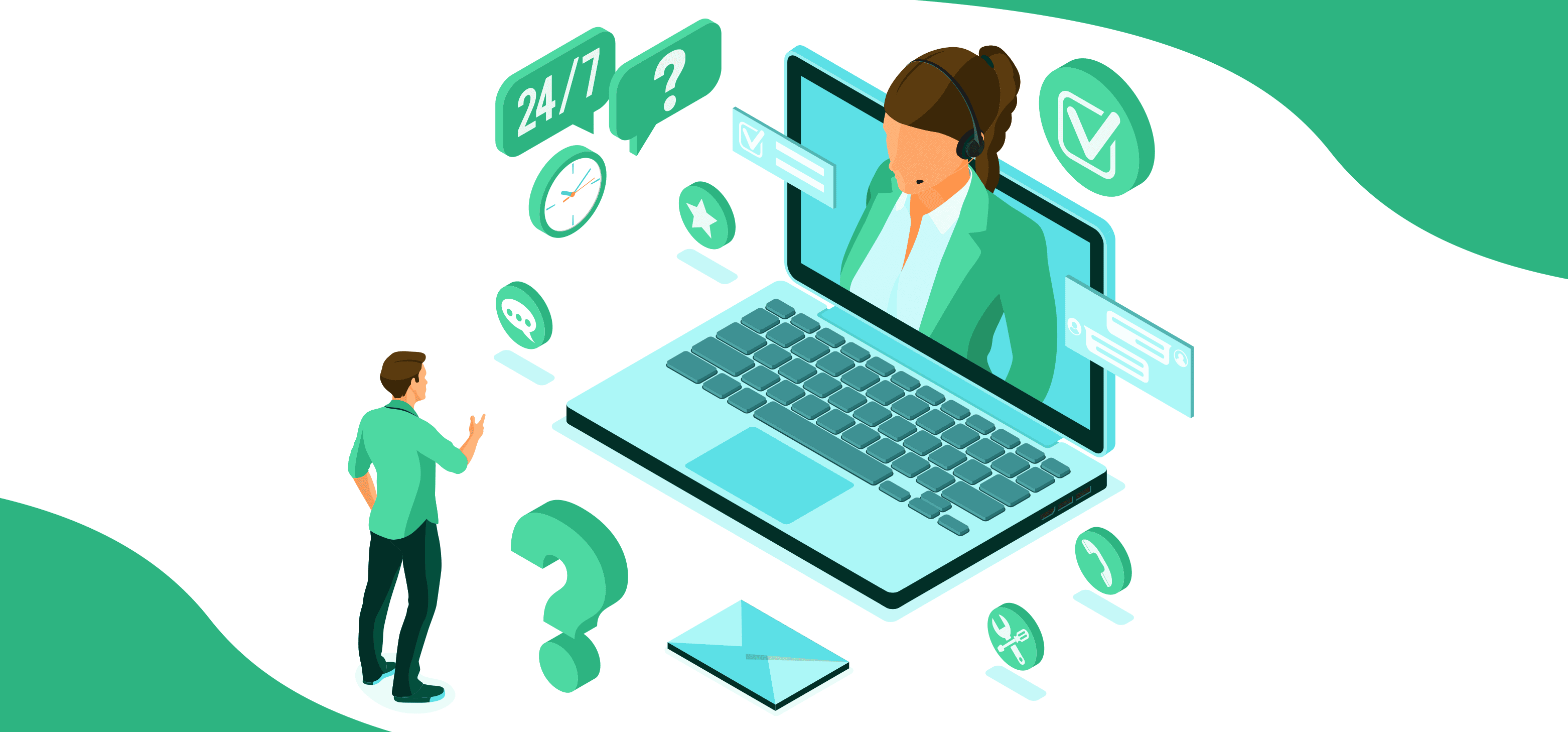 The advent of new technology brings with it a host of products and services. These entail that a lot of processes get automated, reducing the time it takes to get things done and efficiency with the elimination of human error.
Virtual Receptionists function the same way that a human being does, only that they are faster and more efficient. When a lot of tasks conventionally performed by a human being are automated, they free up a lot of resources.
The organization can then focus on its strategic goals, such as increasing sales or net profit.
These virtual assistants bring about state-of-the-art customer services, ensuring that your customer touchpoints are strong and available at all times.
In this article, we will discuss the 12 best virtual receptionists services, software, and platforms: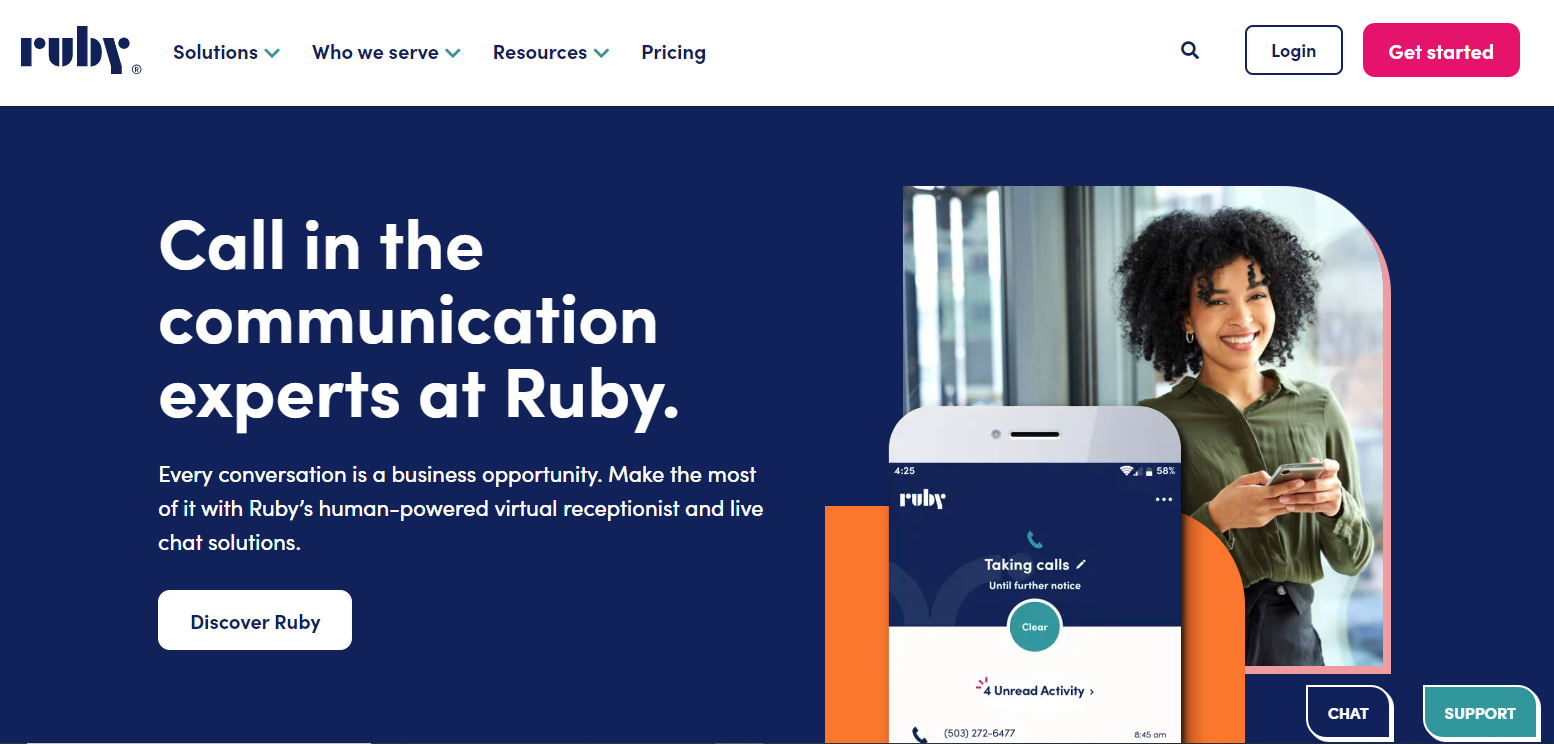 Ruby is a virtual receptionist that aims to create meaningful connections over the phone and live chat. It offers flexible and customized communication which is tailored according to your business needs. This includes anything from part-time backup to full-service support.
The virtual receptionists offer their services 24/7 and speak to callers or interact with website visitors. This allows you to focus on what the business needs rather than getting bogged down with wasteful operations and processes.
Ruby helps increase customer loyalty. Calls and chats aid in creating connections of value for your business. Highly-skilled experts having the ability to convert brief interactions into big business wins are at your disposal.
In addition, Ruby helps your business to grow. The team provides personalized insights, helps capitalize on opportunities, and makes you stand out from competitors.
Features
24/7 live call answering. Virtual assistants who are well-integrated into your company's team work round the clock to help you compete with other companies and satisfy callers.
Multichannel experience. Due to rising customer expectations, Ruby allows you to maintain a presence on various platforms and provide them with solutions wherever they may be.
Integrated live website chat. Online customers can be engaged, and website visitors can be transferred to real live chat specialists.
Custom voice mail. You can check recordings and transcripts when you have unlimited voicemail boxes and customized greetings.
Mobile app. This allows you to stay connected, handle calling and texting instructions and provide you with information at your fingertips.
Appointment scheduling. Ruby ensures that you are never overbooked by choosing your preferred calendar to book appointments in.
Bilingual receptionists. This helps you reach out to more customers, put them at ease, and offer a personalized touch to your communication.
Flexible call forwarding. You can only answer the calls that you want to get back to.
Lead capture. Ruby screens callers and identifies leads, which are then transferred to you.
Robocall filtering. These are automatically routed to your voice mailbox with no additional charges.
Number porting and hosting. You can use enhanced features to host your business number.
Outbound calling. Ruby can handle calls pertaining to confirming appointments and gathering details from clients.
HIPPA. HIPPA compliance provides you security on-site to protect your and your customers' information.
Pricing
The first of the reception plans is the Call Ruby 50. It allows up to 50 receptionist minutes and is $219 per month.
The Call Ruby 100 allows up to 100 receptionist minutes and is for $349 per month.
The Call Ruby 200 allows up to 200 receptionist minutes and is for $629 per month.
The Call Ruby 500 has up to 500 receptionist minutes and is for $1499 per month.
All Call Ruby plans offer professional receptionists, robust mobile apps, expansive capabilities, customized experiences, quality customer care and efficient integrations.
Grasshopper is a virtual phone system that helps your business stay organized with innumerable calls coming in. It adds a business number and a virtual phone system to your personal phone so that you always stay connected to the customer and can handle queries, complaints and concerns on an instant and timely basis.
When customers call, Grasshopper gives out automated greetings and instantly routes the calls to different departments so as to create the impression that the customer is interacting with a large company. These greetings are as professional as possible.
The Grasshopper number will be visible to customers on their caller ID. It will do away with the hassle of giving out your personal number. You can utilize VoIP or Wi-Fi if your cell phone signals are weak.
Clients can engage with you by responding at your business number. Missed calls are answered by an automated business response. Important information can hence be collected in the form of writing.
Your Grasshopper voice mailbox can be accessed online and via the app. These messages are in the form of MP3 or text transcriptions so that they can be prioritized quickly. Faxes sent by customers arrive in the form of PDFs in your inbox.
Features
Desktop and mobile apps. You can stay connected on your desktop, iPhone or Android device.
Business texting. Quick updates and replies are provided on your business number.
Call forwarding. Business calls are routed to your personal phone or another team member.
Voicemail transcription. You can read your messages without having to listen to them.
VoIP/Wi-Fi calling. You can use your internet connection to respond to calls when cell phone connectivity is poor.
Voice mail. This can be set up for business calls and messages can be stored in the form of MP3.
Simultaneous calling. You can engage with multiple calls at the same time.
Virtual Fax. These are delivered as PDFs to your inbox.
Extensions. Employees and departments can have extensions with their own forwarding rules.
Custom greetings. Specific and tailored greetings can be recorded for customers when they call in.
Incoming call control. Callers can be screened or blocked. You can set up custom schedules for your business hours.
Call transfers. Customers can be put on hold and their calls can be transferred to other people if needed.
Reporting. Detailed call reports are provided.
Business Phone Number. Vanity, local or toll-free numbers are provided, or you can post your own.
Instant Response. This automatically sends a text to new callers when you are unable to respond.
Ruby receptionists. Live US-based receptionists can help answer your calls
Pricing
The solo plan is for $28/month and is billed annually. It has one phone number and three extensions. It is ideal for entrepreneurs with a side gig.
The partner plan is for $46/month and is billed annually. It has three phone numbers and six extensions and suits businesses with 1-3 employees.
The small business plan is for $80/month, billed annually. It has five phone numbers and unlimited extensions and is for people wanting call routing options.
Answer Connect is a round-the-clock call answering service that is manned by a number of friendly and professional customer care experts.
It allows the automation of several tasks so that the customer care representatives can take and resolve queries quickly and efficiently, so as to provide the best quality service.
This software uses a three-pronged approach to dealing with customers. It starts off with customers telling the staff about their business.
These experts procure information regarding what are the common reasons why people call or want to communicate with the company.
The people who contact the customers may be potential leads, current customers, or other contacts. Answer Connect works to build a profile for each, based on the needs and requirements of all stakeholders. After that, they start forwarding your calls, and interacting with the people who contact the company.
They then send out instant notifications via the app, SMS, or email.
Features
Selling. The call center agents do not simply function as sales agents, but they also cross-sell and upsell to help drive revenue. For seamless order management and processing of sales functions, Answer Connect plugs directly into e-commerce platforms.
CRM integration. This is a customer management tool that call center agents work with when it comes to updating information about the customer, such as the reason for contacting the company and noting down the time that the customer called.
Lead generation and qualification. The call center agents are involved in these inbound calls. The agents taking calls to gauge the customer's needs and requirements and determine where they are along the sales funnel.
Customer care and retention. The call center agents aim to provide a holistic customer care and management center that aims to resolve queries as well as ensure that the customer stays with the company.
Surveys. The call center agents indulge in market research, hence making your company a data-driven organization.
Live Answering. This is done politely and professionally, with customer care experts taking in every detail possible.
Message taking. This involves taking in your information, saving it in your preferred form and system, and allowing you to retrieve it.
Order taking. This facilitates digital sales in the business.
Appointment setting. Experts do so by setting up appointments in your chosen software platform and providing relevant and timely alerts.
Answering FAQs. A database of common queries is maintained.
Web Chat. Customer service is preferred over live chat with no extra cost.
Toll-free number. You can avail of this or port your existing number over to the service.
Pricing
The small plan is for $149/month and includes only 100 minutes. Additional minutes are charged at the rate of $1.49/minute.
The medium-sized plan is for $269/month and offers 200 minutes per month. Additional minutes are charged at the same rate as in the small plan.
The large plan is for $289/month and gives you 290 minutes a month. Extra minutes are charged at a lower price of $1.39/minute.
Ooma is a state-of-the-art phone service provider for businesses at home, plus smart security systems. The Virtual Receptionist is one of its most versatile tools.
It allows companies to transfer incoming calls and facilitate the flow of information for the business.
Virtual Receptionists benefit businesses belonging to various industries and of different sizes. It makes things clear and simple for your customers.
The information is offered in a clear and concise manner that can be comprehended easily. Callers no longer need to hold and wait for a long period of time before someone picks up the call. If the caller needs to get in touch with someone, the call is immediately routed to the concerned department or user.
It also does wonders for your business image by projecting yourself as professional and polished.
Features
Custom messages. These can be created using general information about your business and curating it to include hours of operations and locations.
Call routing. Calls are transferred to extensions or ring loops.
Menu options. These can be made in different languages.
Different modes. These can be different during office hours and after business hours.
Personalized calling. Customers can dial by name.
Pricing
The essentials service plan is $19.95 per user per month. This has 50+ standard features and includes the Virtual Receptionist tool.
The pro plan is $24.95 per user per month. It further includes options such as dynamic caller ID and analytics.
The pro plus is $29.95 per user per month. In addition to everything in the pro plan, it allows call queuing, sales force integration, and hot desking.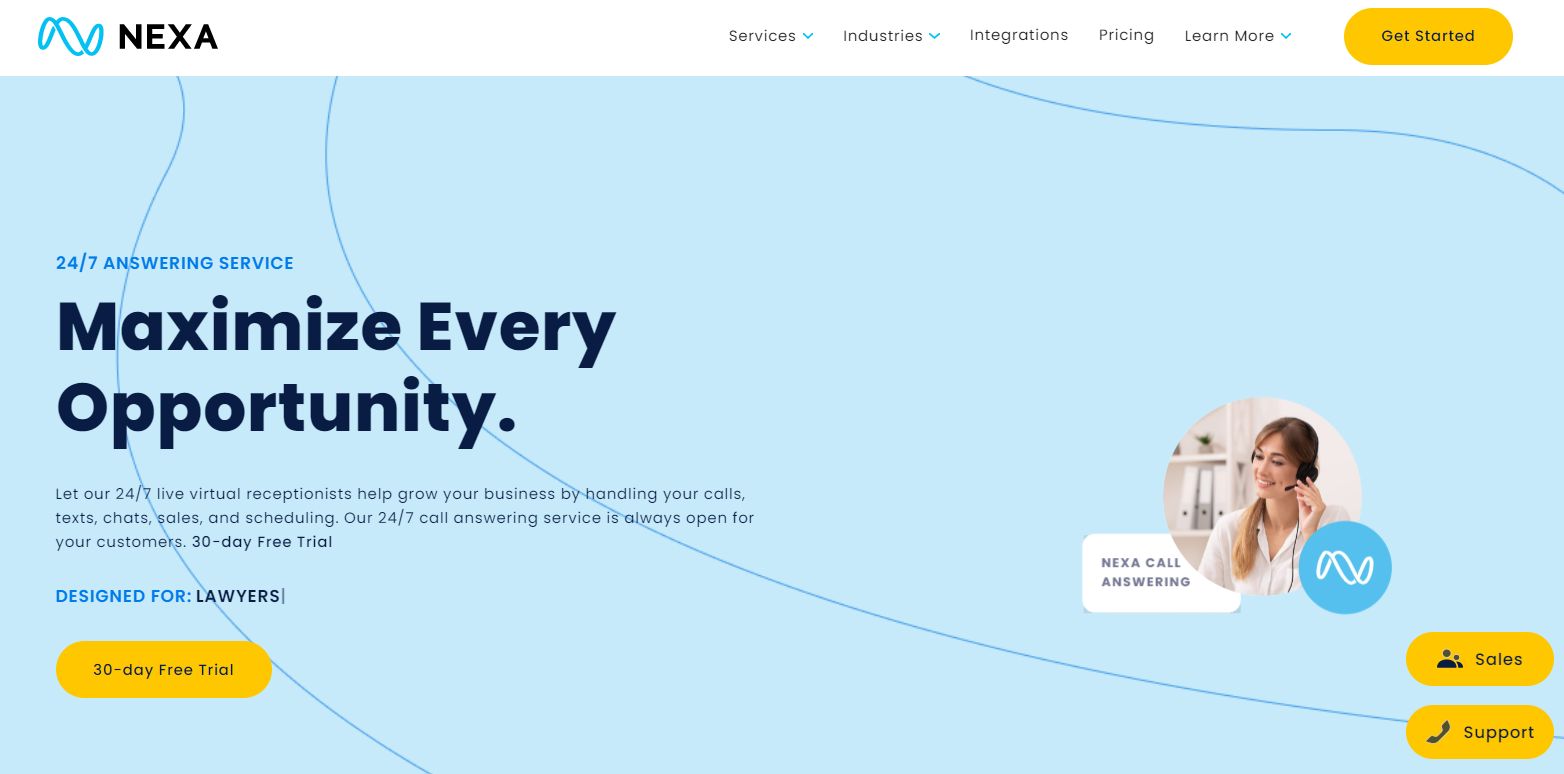 Nexa is a specialty answering service provider tailored to your business needs. These communication experts handle calls, texts, chats, sales and scheduling to help you grow your business.
This software allows you to integrate with apps and tools that you already use. Unlike common robotic automated answering services, Nexa helps you by delivering a premium customer experience for all types of businesses. As an extension of your business, it also offers bilingual services from expert receptionists.
Calls and appointments are booked while you are at work. Every live receptionist is trained according to industry and handles calls to make customers feel that they are speaking to someone from within the office.
Live receptionists qualify incoming leads, reach out to prospects, schedule appointments, answer calls with professionalism and build brand loyalty. Website visitors and digital traffic are converted into paying customers.
Features
Lead qualification and client intake. This feeds the customer pipeline on your behalf.
Appointment scheduling. This is done on the back end with an assurance that you won't be overbooked.
Integration with popular CRMs. Entering, obtaining and retrieving customer data has never been easier.
Bilingual receptionists. These cater to a variety of audiences and provide quality customer service.
North-America-based receptionists. This gives the feeling that customers are speaking to someone within the company.
Custom call handling procedures. Calls are taken, managed, handled and replied to in a professional manner.
24/7 live answering services. This assures customers that their concerns shall be catered to at any time.
Pricing
The Nexa Free has 50 voice minutes and does not require you to use your credit card. It includes a 24/7 answering service and lives virtual receptionists.
The Nexa 100 has 100 voice minutes. Additional features include customer scripting, lead qualifications and business analytics.
The Nexa 300 has 300 voice minutes. It also includes the handling of inbound and outbound sales.
The Nexa 500 has 500 voice minutes. It further includes CRM integration.
My Receptionist is a virtual receptionist tool that becomes a service location for your clients. It ensures that your clients are satisfied by handling calls smoothly and efficiently.
With My Receptionist, you can access your scheduling site. You can log in to your cloud-based computing software to keep up to date with your appointments and make new additions and notes.
The business phone answering service tackles calls even when you are not available. Due to the extensive virtual receptionist appointment booking, reminders, and small and medium business answering services, your customers will no longer have to wait or listen to a cold answering machine.
The 24/7 answering service ensures that customers are catered to round the clock. The software also facilitates you in accessing potential customers and propelling them forward into the sales funnel so that they can convert into revenue for the company.
Features
Online scheduling. You will receive a reduced rate on the tools for which you will be able to seamlessly integrate your virtual receptionist service and online booking process.
Appointment reminders. Once provided with the appointment schedule, My Receptionist can call your clients and remind them of appointments.
Secure mobile messaging. You can protect your customers and organization by using secure and encrypted messages. This service works well with Android, Apple or Windows devices.
Pricing
The starter pricing option is $110 per billing period and has 70 minutes included.
The cruising price option is $195 per billing period and has 150 minutes included.
The express pricing option is $275 per billing period and has 235 minutes included.
All plans include minutes, voice mail, call screening and 24/7 support.
Reception HQ is a professional phone and virtual answering assistant in the USA. They offer friendly and experienced receptionists that take calls when you are not available.
A wide array of services is offered to suit your business needs, and the best part is that there are no lock-in contracts. The company caters to businesses of all sizes – be they small businesses, large corporations, or government departments. High-volume or high-complexity accounts are also handled by providing custom solutions under various packages.
Features
24/7 live call answering. If you turn on after-hours clock answering, their team will function as they operate round the clock.
US receptionists. These will provide a true representation of your business.
Bilingual service. The receptionists can handle calls in both Spanish and English with proficiency.
Customized greetings. Such calls and scripted responses provide a seamless caller experience.
No lock-in contract. No monthly subscriptions need to be purchased and there is no cancellation fee either.
7- day free trial. This will help you assess the quality of service offered.
Pricing
The bilingual virtual reception and call answering solution offers packages ranging from $15 to $49 per month.
The call routing and phone numbers solution have packages ranging from $5 to $20 per month.
Other solutions offered have customized pricing.
Abby Connect is a top-rated US-based virtual receptionist team. You can impress callers, save time and grow your business with this team of experts with phone calls and live chats.
Using Abby Connect, you can achieve a number of goals for your business. These include increasing your ROI through phone calls and live chat. The provision of a good customer experience will lead to better customer retention, satisfaction, and revenue.
You save time on repetitive tasks by having them outsourced to us, freeing up time and resources for working on crucial ones. Moreover, you can be available whenever needed. Callers and visitors can be impressed with meaningful first-time interactions. Also, you can employ highly trained specialists with a professional, reliable, and personal receptionist team.
Features
24/7 live answering. Round-the-clock support caters to customers even after official business hours.
Bilingual answering. This allows you to cater to a wider audience.
Call history reports. These provide you with details of each customer interaction.
Outbound calls.
Lead generation and intake form completion.
North America-based virtual receptionists. These provide an authentic and professional experience.
Call forwarding
Warm call transfers
Pricing
There are three receptionist plans. The 100 reception minutes plan is $299 per month. The 200 reception minutes plan is $549 per month. The 500 reception minutes plan is for $1199 per month.
There are three live chat plans. The 10-engaged chats plan is $129 per month. The 30 engaged chats plan is $299 per month. The 50 engaged chats plan is $469 per month.
There are three bundled plans. The Abby 10 bundled plan has your receptionist plan plus 10 live chats for $99 per month. The Abby 30 bundled plan has your receptionist plan and 30 live chats for $249 per month. The Abby 50 bundled plan has your receptionist plan plus 50 live chats for $399 per month.

DaVinci Virtual is a global provider of virtual office spaces, live answering services, coworking and business addresses. It is trusted by thousands of customers all across the globe. It helps elevate your brand by providing you with an office location on a major street in a major city, even if you are working remotely elsewhere.
It is easy to create a virtual office with this software. After picking one out of thousands of locations around the world, select additional services that you want to avail of, log into your DaVinci account and finalize your payment.
After processing of your payment, a customer service representative will reach out to you and assist you in completing your remaining forms. In two business days, you will have access to your address after receiving your notarized documents.
Features
Professional business address. You can use an impressive business address for business licensing or registration, and market it on search engines and internet directories.
Mail receipt and forwarding. Staff members will be available to receive business mail, sort it and secure it properly.
Lobby Directory Listing. You can post your company's name in the official lobby directory.
Incorporation and Registered Agent. DaVinci Virtual offers an automated, digital Registered Agent (RA) platform that streamlines the entire experience by tracking and storing official SOPs, official notifications, and compliance headlines.
Lobby Greeter. He or she will welcome your clients and offer assistance.
Internet and Presentation Tools. This platform provides outstanding meeting room technology.
Business Support Center. This includes allowing you to copy, print in color, fax, mail, ship, receive and deal with office supplies.
Meeting Catering. You can arrange for food to be provided to your customers.
Pricing
DaVinci Virtual offers customized pricing for as low as $49 per month.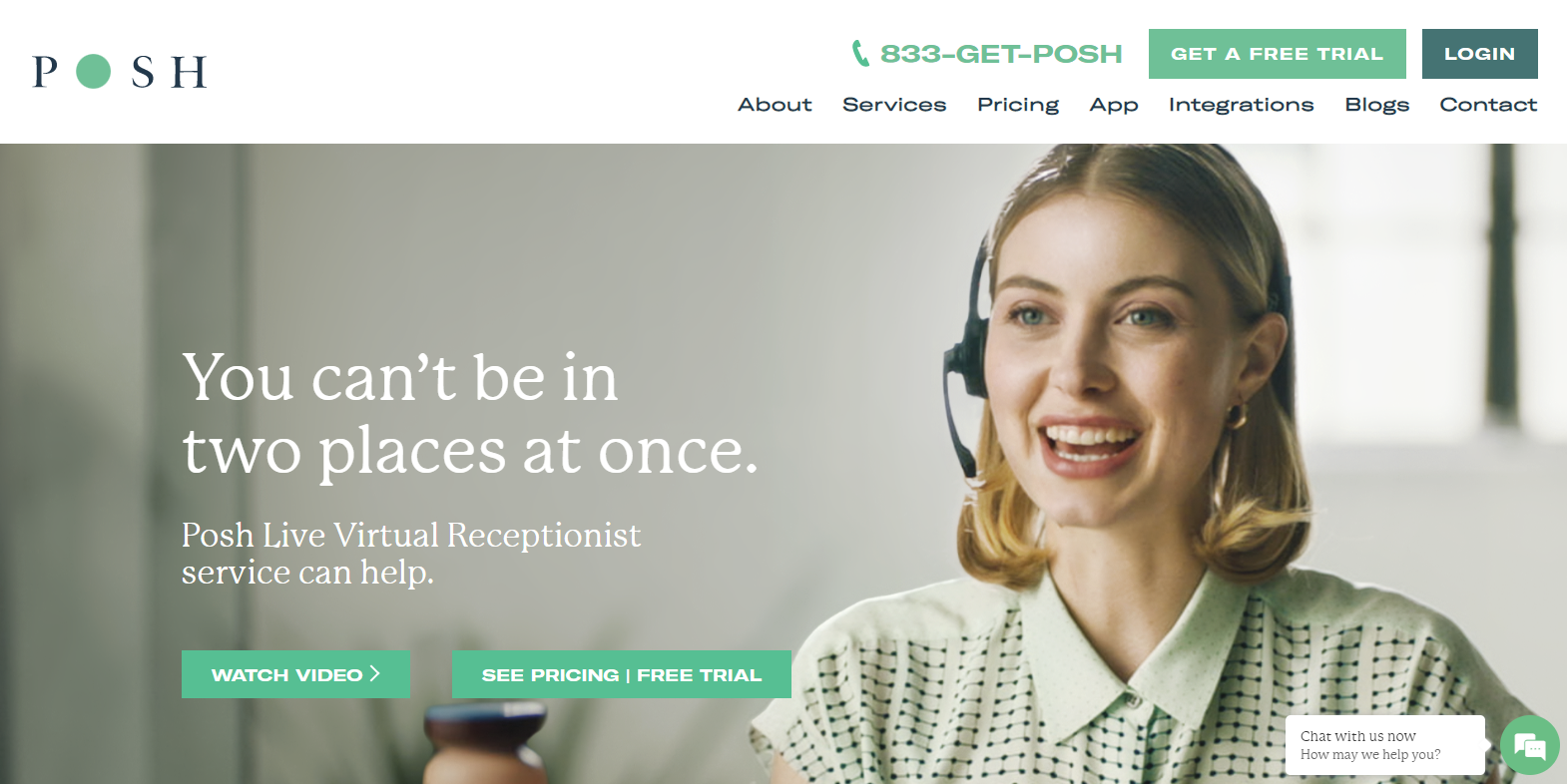 POSH is a 100% employee-owned virtual receptionist business that caters to clients with professional caller interactions.
It offers a modern solution to an old problem—divert resources away from repetitive tasks such as answering phones and allocating scarce resources towards driving business. Their software and app provide high-end yet affordable live receptionist services.
Clients save an average of 10 hours per month by allowing Posh Virtual Receptionists to handle their calls. Posh's mission is to help you get back to doing what you love. It allows you to tap into your broad caller base and leverage it in order to generate leads and hence grow your business.
Features
Knowledgeable Posh receptionist. You just need to tell them about your business and the service you provide, and they will take it from there.
100% Live Answering. The receptionists are friendly, professional and engaging, and trained to make great first impressions.
Keep your business number. You can simply forward your lines and the experts at Posh will handle it from there.
Customized call handling. The receptionists will screen calls or forward important callers via the Posh mobile app and portal.
Switchboard solutions. Meaningful and measurable results are provided with a customized switchboard solution.
Time Saving. You can save valuable business hours each day and focus on revenue-generating activities for your business.
Pricing
The chic pricing plan has 0 receptionist minutes and is for $54 per month.
The vogue pricing plan has 50 receptionist minutes and is $ 94 per month.
The elegant pricing plan has 100 receptionist minutes and is for $154 per month.
The luxurious pricing plan has 200 receptionist minutes and is for $284 per month.
The lavish pricing plan has 500 receptionist minutes and is for $684 per month.
PATLive provides friendly call-answering services which are a trusted solution for thousands of growing businesses. You can customize how calls are answered. Also, you will experience fast answer times at an average speed of 8 seconds. Callers are facilitated in the same way in-office employees would.
The live receptionists are there to provide a seamless customer experience. The proprietary call delivery platform provides customized and high-technology solutions. Extensive training, monitoring and coaching ensure that top-notch service is provided.
The apps allow you to change your status to instantly reflect how the receptionists are handling your calls. You will receive real-time notifications of new calls, messages, leads, and appointments. Moreover, you can visualize trends and patterns with built-in reports. The extensive suite of integrations will further amplify the level of service provided.
Features
Receptionist Service. This is similar to having an in-office receptionist handle calls day in and day out.
Call Transfers. Callers will be patched as soon as you are available.
Message taking. This is done if you are busy so that you can revert later.
Appointment Scheduling. All scheduling needs are handled.
Lead Collection. This entails form-based lead capture and pre-qualification.
Order processing. New orders, payments and billing support are handled.
Event registrations. This entails providing FAQs and attendee registrations for events.
Integrations. These provided customized solutions to a variety of problems.
Pricing
The basic offer is $59 per month and includes low per-minute charges, 24/7 service, 1 phone number 1 voice mailbox, Spanish language facilities, and a web app in addition to message taking.
The starter plan is for $199 per month. It further includes the mobile app, call transfers, and lead collection.
The standard plan is $349 per month and also includes appointment scheduling, order processing, event registrations, and integrations.
The pro plan is for $799 per month and also offers API.
The pro plus plan is for $1279 per month and offers more customization in all the above-mentioned features.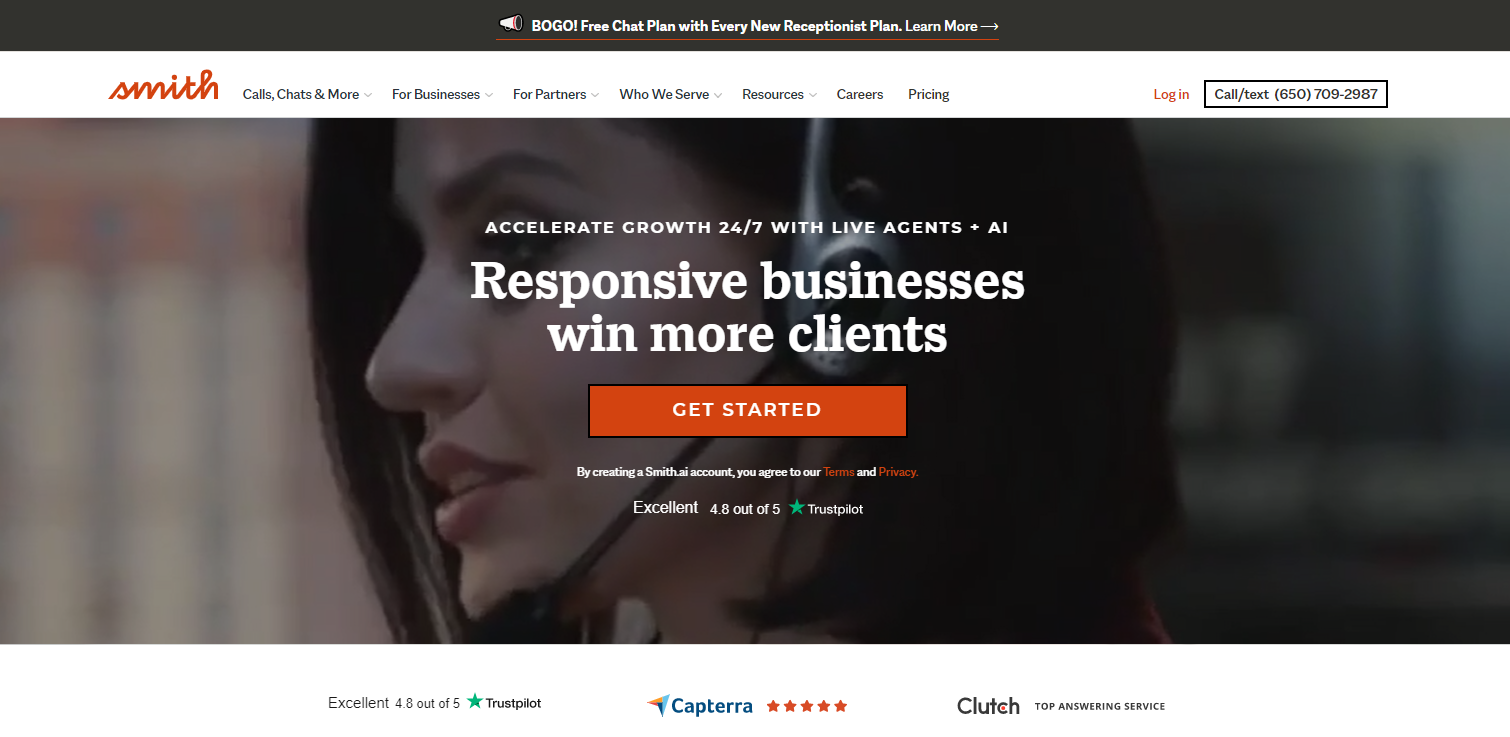 Smith.aip provides 24/7 support in the form of virtual receptionists that capture and convert leads by phone, websites, chat, texts and Facebook. You can get coverage for calls and chats, and a free chat plan with every receptionist plan.
This platform already works with every phone system and website. Using AI, it helps their staff conduct natural conversations which are not stilted or scripted.
The process to be onboarded is very simple. You can start by customizing your instructions. Smith.ai will get to know your business, budget and growth goals. They will then build a business plan that suits you.
You then send your calls and chats to them, by adding them to any phone system or website. It is then that you will be able to avail the full experience of the phone and chat services based on your customized communication plan.
Features
24/7 live receptionists. These provide round-the-clock support.
Customized greetings. These can be specified by you.
Transfer destinations. Calls can be transferred by pre-qualifying which callers get to you.
Multiple live transfer numbers. You can have multiple phone numbers for multiple people.
Email summary of calls.
Callback on client calls. In the case of cell connection issues and incomplete voice mails, the receptionists immediately return calls.
Call notifications via text messages. The contact's name, phone number and email is relayed over text after every phone call.
Answering texts to your number. Receptionists will text back when prospective clients text back to your smith.ai phone number.
Daily call summary via email.
Call disposition. Calls are marked according to type and urgency. This metadata is passed to you on call summaries.
Outbound calls. These can be made on a one-time or recurring basis.
Recommended business referral. The receptionists can capitalize on bad leads by referring them to someone on your custom list of services.
Appointment reminders. Clients with upcoming appointments will be called to reduce no-shows and cancellations.
Pricing
The virtual receptionist starter plan is $240 per month. It is for small and solo teams.
The basic plan is $420 per month and is for growing teams where systems are needed.
The pro plan is for $900 per month and is for mature organizations ready to scale efficiently.
The custom plan is there to suit your high-volume needs.
In all, these 12 platforms and software provide a wide array of services that suit your business needs. Having a virtual receptionist will hence boost your profitability by doing away with time-consuming and repetitive processes, and allow you to grow further.