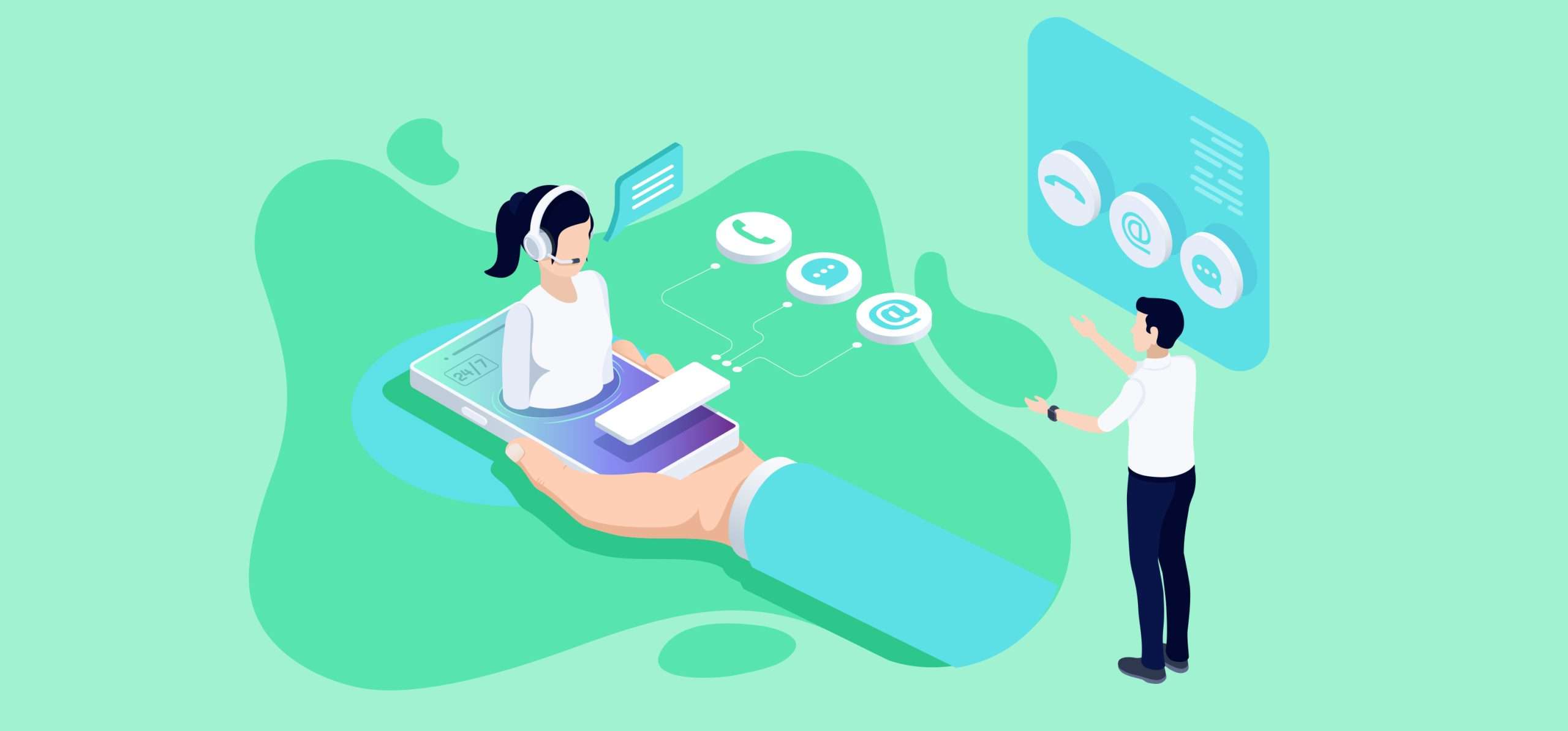 Virtual Phone is a cost-effective and convenient communication system for solopreneurs and small business owners.
It offers you the same benefits you receive from any traditional landline but at a relatively lower cost and allows you to connect with clients and your team from anywhere.
If you're exploring VoIP systems, I have compiled a list of the best Virtual Phone providers that are ideal for small business owners like you.
Let's take a look at VF's common features and check out the reviews.
What is a Virtual Phone System and What Features are Best for Small Businesses?
A virtual phone system is an internet-based call service that uses cloud tech called VoIP to receive and send calls. With it, you can dial any landline and mobile number online and get inbound calls on your desktop, tablet, and your cellphone.
The system typically comes with calling, forwarding, and voicemail services, but you generally receive several other related features in the package—like an e-fax and SMS.
Some platforms also sell analog phones and headsets that are specifically built for the VoIP system. You can use these sets like any landline phone as long as you have a reliable internet connection.
Top features to look for in a VoIP;
Local or international virtual numbers.
Call recording and forwarding option.
Voicemail and SMS service.
Extensions for teams.
Desktop and mobile support.
If possible, productivity tools like auto-attendant and call routing workflows.
In the below list, you'll find the 12 best VoIP providers. These platforms might have some geographic limitations given the nature of the product, but almost all deliver core virtual phone functions.
Let's explore them.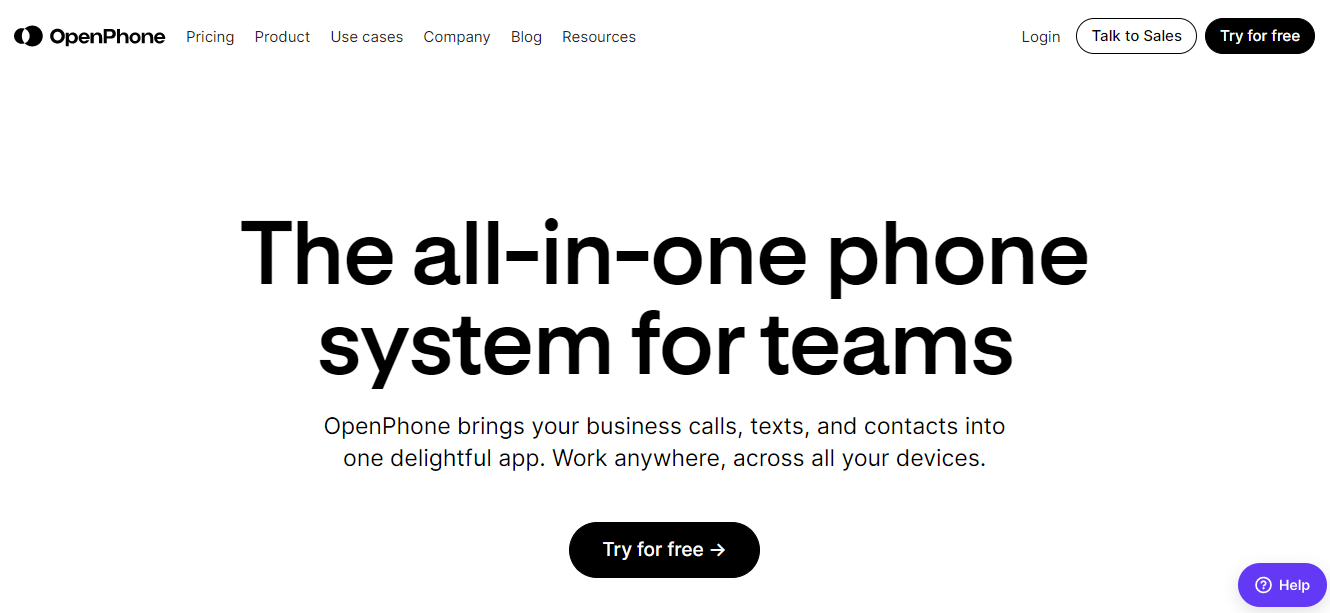 OpenPhone gives you everything a small business owner needs to develop a cost-effective team and client communication system.
It offers budget-friendly packages, works on multiple devices, supports international calls, and delivers messaging and voice mail services.
You can purchase more than one business number, create a phone menu, set up auto-replies, and allow team collaboration to speed up the response time.
With a centralized dashboard, address book, and call logging, you and your team can view contacts, assign calls, and see conversation trails.
OpenPhone is a great phone system for both solopreneurs and small teams.
Core Features
Local numbers.
International calls add-on.
Existing number porting.
SMS, voicemail, shared phones.
Auto-attendant and auto-replies.
Group calls and messaging.
Call recording.
Third-party integrations.
Price
OpenPhone's prices range between $17 and $25. To enable international calls or add another business number, you might have to pay extra charges.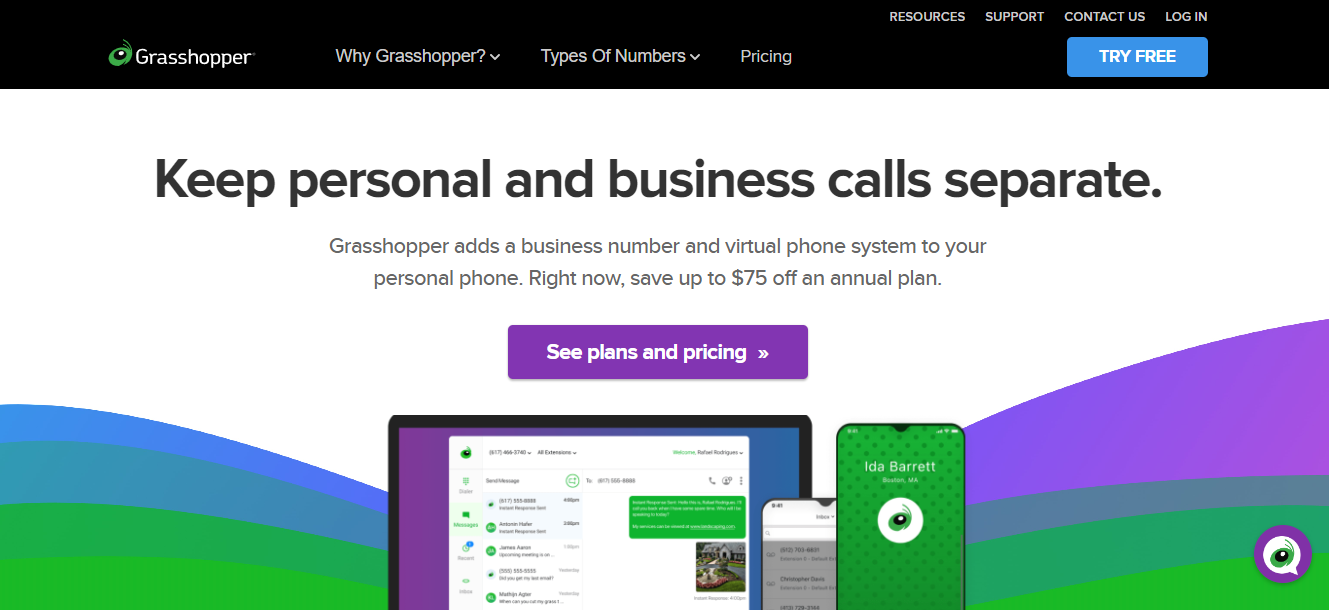 Grasshopper provides virtual numbers and a softphone to help you manage business calls from your smartphone.
You can port your existing number or buy a new one, send texts to clients, forward calls to your phone, and send unanswered calls to voicemail. With a virtual receptionist and multiple extensions, you can optimize inter-departmental communication and deliver excellent service to your customers.
Other features available in the package are; call screening, custom greeting message upload, and call reports.
You can install Grasshopper on both desktop and mobile. Although, the desktop application currently works on Windows only.
Core Features
VoIP.
Toll-free numbers
Business messages, fax, and voicemail.
Extensions.
Custom greetings.
Desktop and mobile app.
Reporting.
Price
Grasshopper charges $29 for one number and $89 for multiple numbers and unlimited extensions.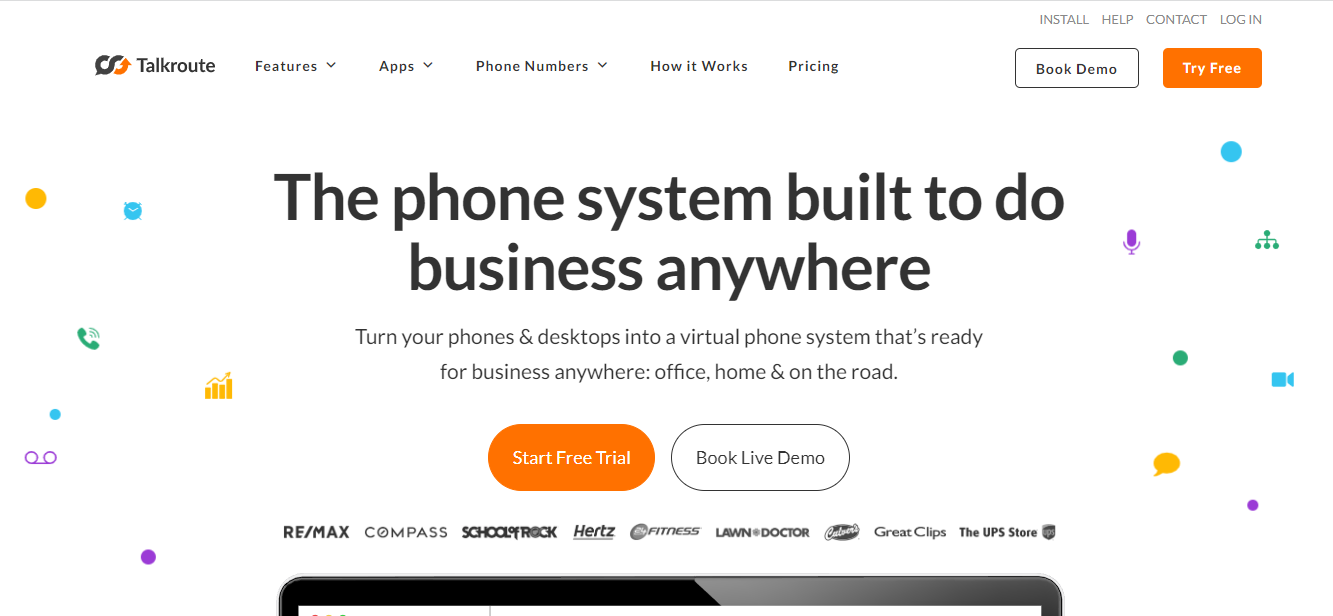 Talkroute is ideal for local business calls. It delivers up to 10 virtual numbers, mailboxes for voicemails, extensions for the team, and a video conference option.
You can set up an auto-attendant to route calls, dial numbers from your desktop or mobile, and record both inbound and outbound conversations.
Other things you can do include; creating a staff directory, fixing business hours, uploading custom greetings, and setting a limit on call hold.
For your team, you'll receive video meeting tools, an internal massager, and a file-sharing option.
Core Features
Local, toll-free numbers.
Unlimited calls, texting, voicemail, and video.
Existing number porting.
Auto-attendant, extensions, and custom greetings.
Call routing, forwarding, and live transfer.
Company directory.
Reporting.
Desktop and mobile app.
Integrations.
Price
Talkroute prices start from $19.
You can try it for free.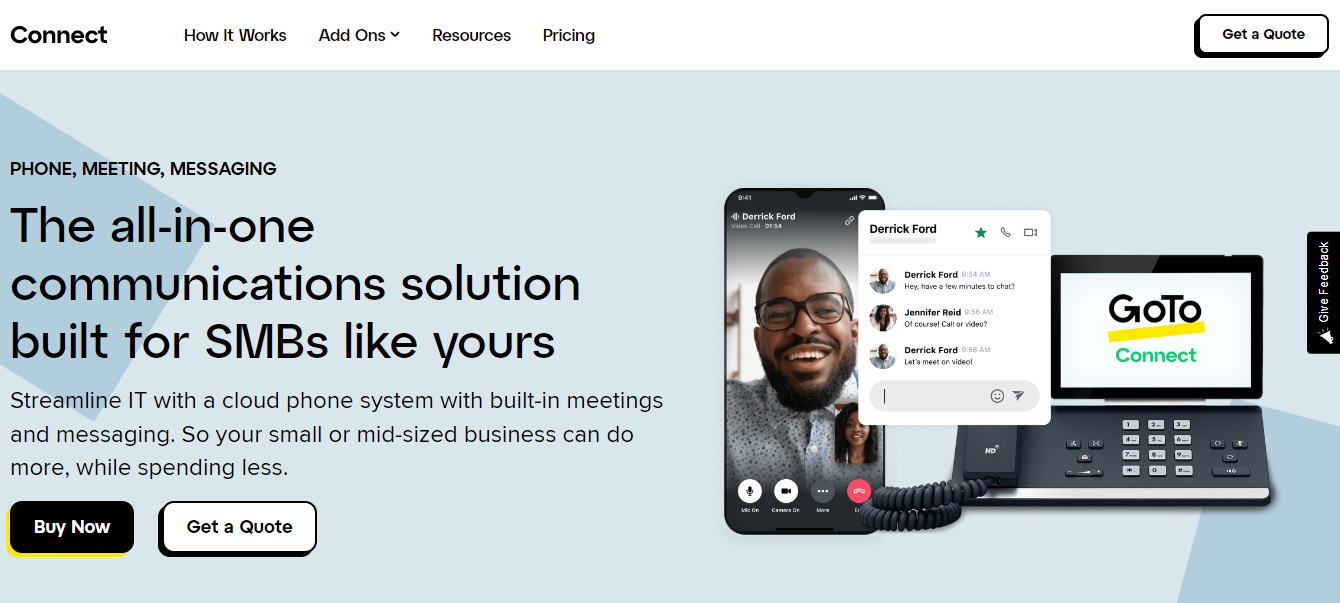 Goto Connect caters to small and mid-size companies.
You can buy a business number and make local and international calls from any device, send SMS to clients, and conduct audio conferences with your team.
If your business has a contact center, you can also incorporate Goto Connect in your customer care department. The platform provides over 100 features, including number porting, team meetings, and CRM integration.
One of the most interesting features of Goto Connect is its plan editor. Via this drag-and-drop tool, you can create visual call-routing workflows and automate repetitive tasks.
Core Features
Calls, SMS, fax, voicemail, video conference.
Toll-free, local, vanity numbers, extensions.
Existing number porting.
Call forwarding, routing, queues, recording.
Paging and intercom option.
Visual plan editor.
Integration with CRM and Slack.
Analytics.
Price
Goto Connect charges $27 for its basic plan and $32 for the standard package. You may have to purchase contact center features separately. Reach out to sales for quotes.
VoIP.ms is a Canadian-based VoIP provider that lets you install a virtual phone system on your own hardware.
Through its self-serving portal, you can quickly register your account and receive the business number for inbound and outbound calls.
You can port your current number to its VoIP network, get SMS and fax add-ons, buy extensions for the team, and create sub-accounts for multiple devices. With 50+ phone features, you can build a smooth communication workflow for both clients and your team.
You may have to download a softphone to use the number, though. VoIP.ms doesn't provide its own hardware or software.
Core Features
Local and international calls.
Number portability.
Sub-accounts for multiple devices.
Call recording and forwarding.
Digital receptionist and extensions.
On-hold music.
Conference tool.
Voicemail, SMS, fax.
Phone directory.
Caller ID.
Price
VoIP.ms is a prepaid service. The minimum account you need to use the service is $15.
RingCentral offers a cloud phone system for both business calls and customer care.
Its business package covers unlimited domestic calls, SMS services, video conferences, and in-app chat. If you have a distributed team, you can buy international virtual numbers and get internet fax services.
For a virtual contact center, you can buy toll-free numbers in 200+ US area codes and create an omnichannel communication system.
You can connect 30+ digital channels to boost your reach, activate call routing to optimize your customer service, and record calls to analyze conversations. With its AI-powered tools and third-party integration, you can comfortably manage multiple channels.
Core Features
Business phone numbers.
SMS, Fax, voicemail, and video meetings.
Auto-attendant.
Extensions and shared lines.
Call recording and routing.
Omnichannel workflows.
Team collaboration.
Integrations and add-ons.
Phones and headsets.
Price
RingCentral prices start from $30.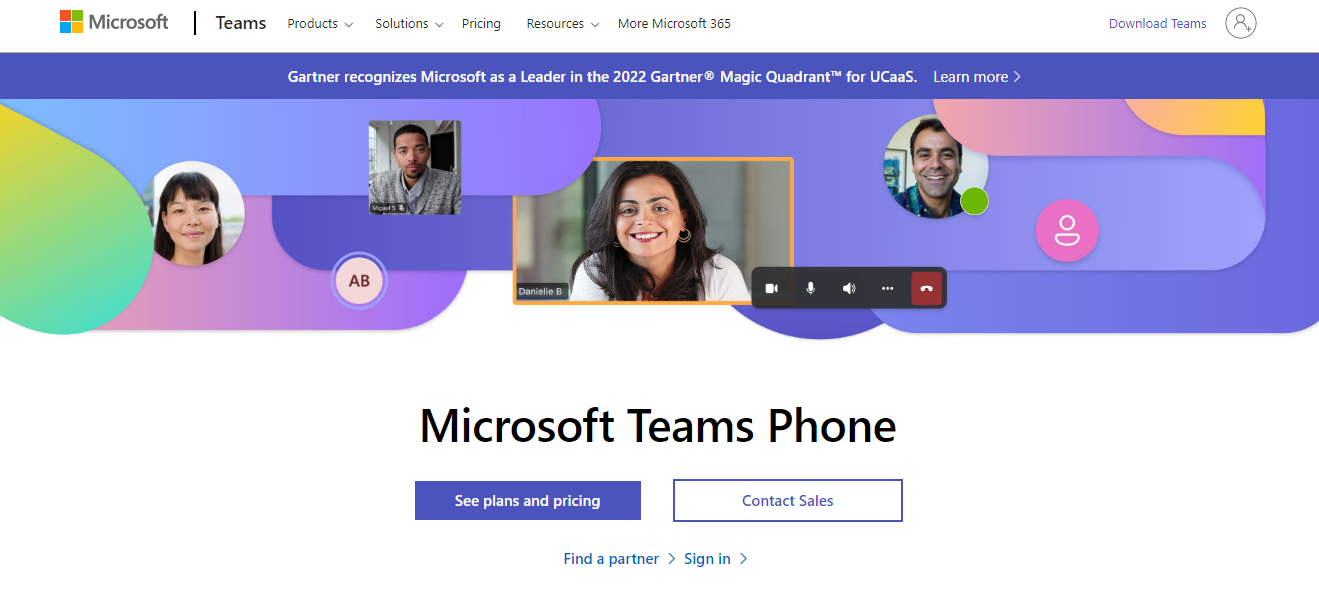 Teams Phone is a cloud-based phone system provided by Microsoft to help companies create a unified communication platform.
With it, you can make audio and video calls to anyone with the Teams App installed. In addition to that, you'll receive essential telephony features, including PSTN calling, auto-attendant, and a contact center platform.
You can add Teams Phones to your desktop or headset and integrate it with multiple digital channels. Using advanced controls, you can semi-automate your workflows and centralizes your communication.
It's a perfect tool for small businesses with remote teams or clients.
Core Features
VoIP
Business phone number.
Contact Center platform.
Voicemail and transcription.
Auto-attendant.
Call queues and routing.
Desktop phones and headsets.
Price
Teams Phone has three pricing plans. For a simple cloud-based phone, Microsoft charges $8 per month. To get the virtual number, you may have to buy its calling plan. It costs $15 per month.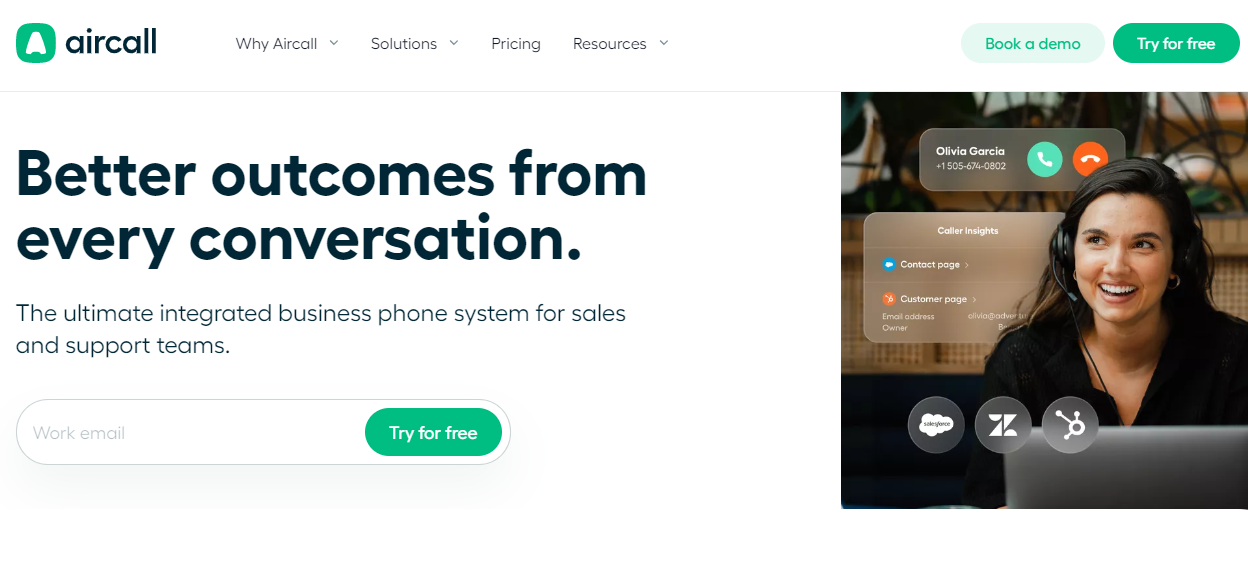 Aircall delivers virtual customer service center features.
You will receive local and international numbers in the package, a softphone for desktop and mobile, extensions for agents, and a digital receptionist.
You can set up business hours, create time-based routing, add custom music, and enable call queuing. To improve your customer service, you can forward after-hours calls to your phone.
For team communication, Aircall provides several collaborating tools, such as conference calls, monitoring, shared inbox, and call assigning. You can integrate your CRM and Slack with Aircall to streamline your workflows.
Core Features
Local and international numbers.
Text messages.
Call center features.
Team collaboration.
Analytics.
Integration with 100+ third-party platforms.
API.
Multi-device support.
Price
Aircall.io charges $30 to $50 per month.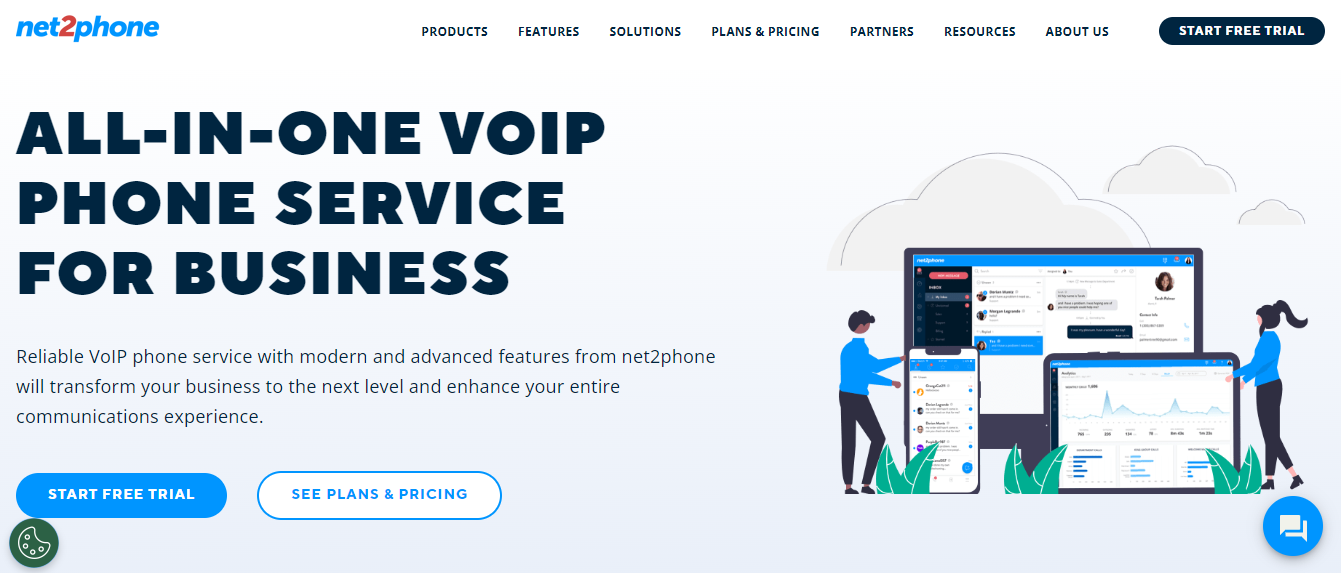 Net2Phone provides calls, messaging, and video conference tools.
You can buy toll-free numbers for local customers, call in 40 countries, connect with your team or clients via your mobile phone, and keep a record of your conversations.
Using the receptionist console and extensions, you can automatically transfer calls to designated departments and improve your response time. You can also filter spam and cut down your call volume.
Net2Phone shares plenty of other features to help you optimize your business communication. For instance, you can page any employee for a quick meeting and send incoming calls to voicemail when you're busy.
Core Features
Unlimited local and international calls.
SMS/MMS, voicemail, fax, video.
Auto-attendant and extensions.
Call routing, forwarding, queues, recording.
Ring group and paging.
Auto-messages.
Analytics.
CRM integrations.
Price
Net2Phone charges $25 to $30 per month.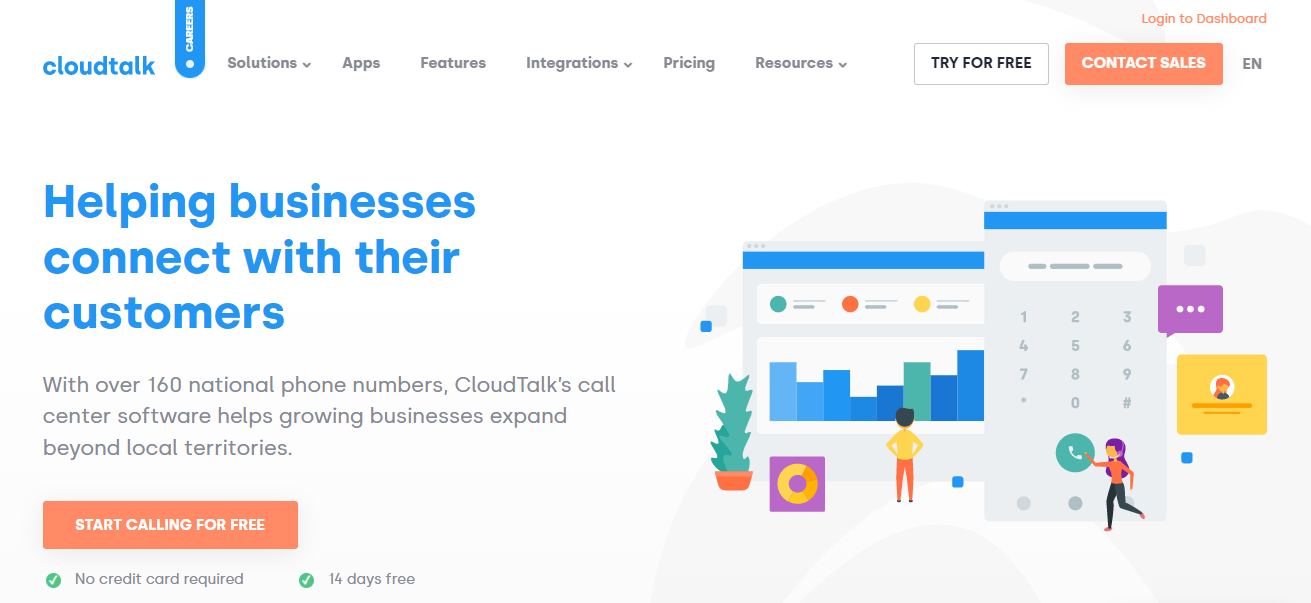 Cloudtalk provides virtual contact center features. Via this platform, you can create a cloud phone system for local and international customer calls.
Here, you can design a smart call routing workflow, include VIP queues, forward calls to your phone, and integrate WhatsApp for instant messaging.
To optimize your customer service and team efficiency, you can set a few of your repetitive tasks on autopilot. For example. You can add an auto-answer for general queries and route VIP calls to selected agents.
Overall, Cloudtalk is a good VoIP provider for small businesses.
Core Features
local and international numbers.
Text, voice, fax, video.
Auto-attendant and extensions.
Workflow automation.
Call routing, recording, and forwarding.
Personalization.
Productivity tools.
Integrations and API.
Multi-language support.
Price
Cloudtalk's prices start from $25. You can take a 14-day free trial to test its features.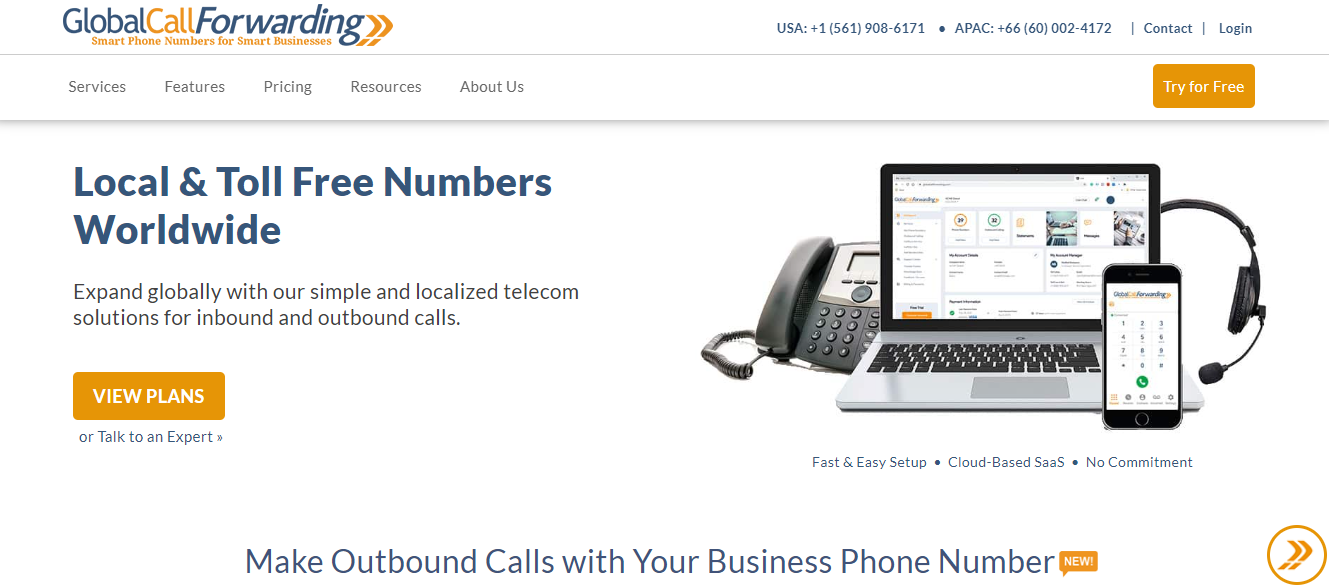 GCF helps you get local and international virtual numbers for your business.
For as low as $13, you will receive a toll-free number and around 12 to 15 standard phone features, including call forwarding, fax, SMS, and IVR.
You can download its softphone to any device and call in-network users for free. Via auto-attendant, you can upload a custom greeting for customers, set up location-based routing workflows, place VIP callers on priority, and block suspicious numbers.
GCF works well on desktop, mobile, and other third-party PBX systems.
Core Features
Domestic and international virtual numbers.
Call and SMS forwarding.
Auto Attendant.
Caller ID and custom routing.
Ring groups.
Call blocking.
Text, voicemail, and fax.
Compatibility with other PBX systems.
Price
GCF's monthly subscriptions range between $13 and $250. You can purchase from 300 to 12k minutes per month.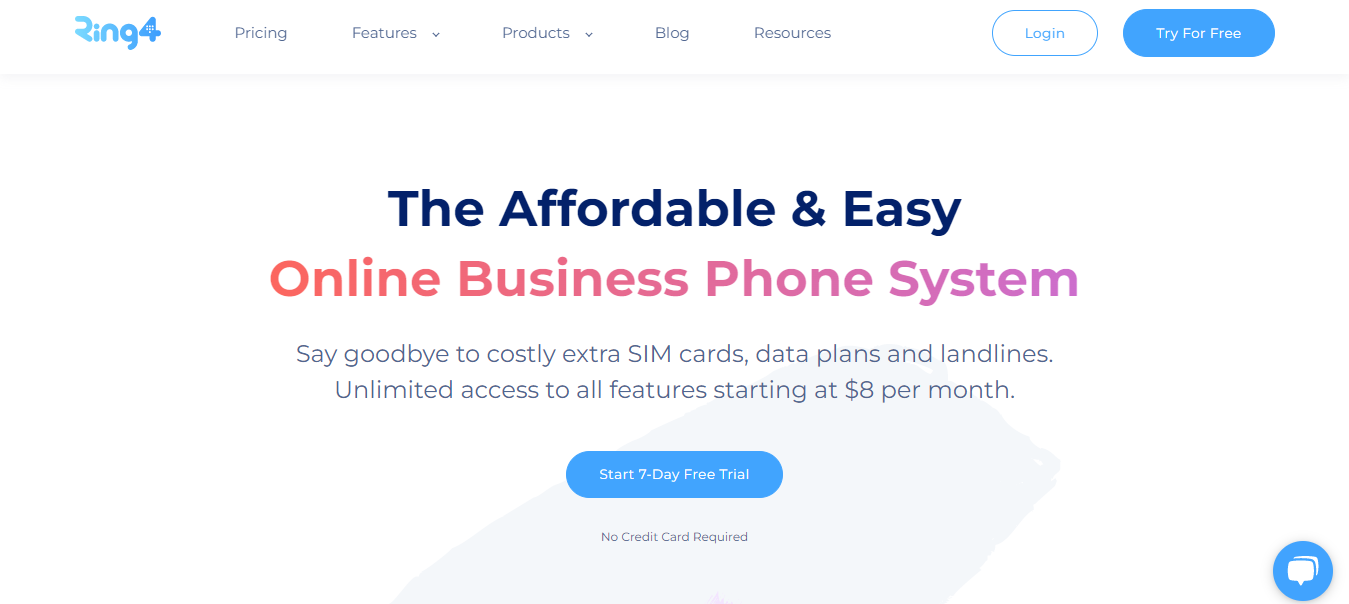 Ring4 is best for solopreneurs. It offers you a business phone number, so you can keep your personal and business calls separate.
Some top features that come with the number include; international calling, texting, voicemail, and video conferencing. You can also record all your business calls and add a custom greeting to voicemails.
If you have a remote team, you can set up an auto-attendant and manage them via the admin console. You can buy multiple numbers for your teams and integrate Slack for messaging.
The app, overall, is easy to use and works well on Android and iOS systems.
Core Features
Domestic and international numbers.
Number porting.
Call recording.
Auto-attendant.
Text, voicemail, and video conference.
Android and iOS apps.
Third-party integrations.
Price
Ring4 charges $10 per month. You'll get a 7-day free trial to explore its features.
Final Word
VoIP offers small business owners the flexibility and scalability they might not get from traditional phones. These systems deliver easy accessibility at lower rates, allowing entrepreneurs to enjoy worldwide connectivity within budget.
Before shifting to a VoIP system, please keep in mind that every platform has different features and limitations. And not all might be visible on the product page.
Make sure to get all relevant details from the sales representative before purchasing any product. Good luck!