Company registration in Singapore is generally pretty straightforward. But foreigners may find the process complex and challenging due to unfamiliar regulatory requirements and Government restrictions.
Through Incorporation services, you can simplify the registration processes and can make things a lot easier. They give you all the assistance you need to set up your business in Singapore with success.
In this article, you'll discover the list of the best incorporation services in Singapore for foreigners. I have also given a brief introduction of the platform and summarized core services under each review for clarification.
What is an Incorporation Service and What Platforms Are Best for Foreigners?
Company Incorporation services are typically registering and accounting firms that offer multiple corporate services to entrepreneurs who aim to establish their businesses in Singapore.
These agents provide consultation and assistance to help you set up your company there legally and even assist you with relocation if needed.
Top Services Delivered by Registration Firms in Singapore;
Company formation and govt fees submission.
Secretarial services and local director appointment as per regulation.
Consultation on perquisites, with assistance.
Bookkeeping and taxation for at least one year.
Immigration.
Most platforms provide plenty of side support as well to make the incorporation process hassle-free. For instance, some of the companies listed below deliver business valuation and grant assistance to SMEs.
Surmise to say, the registration company's packages are designed to cover all the initial processes.
Let's check out the 12 best Incorporation services in Singapore for foreigners.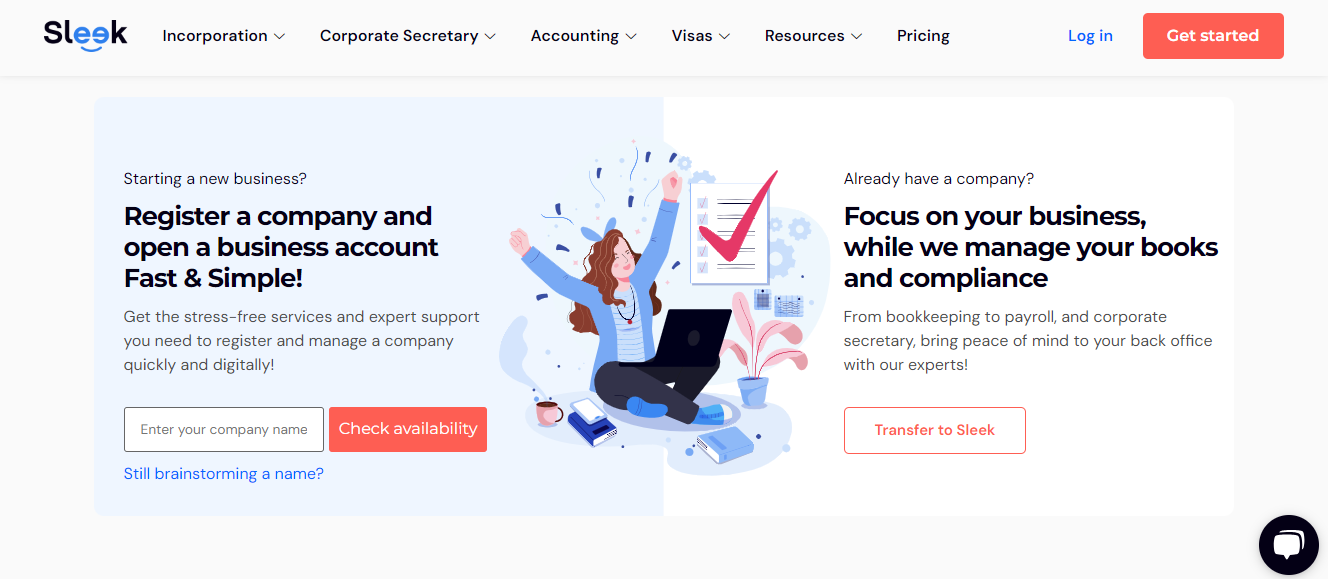 Sleek offers online incorporation, accounting, and taxes services to foreigners. Founded in 2017, it has helped over 400,000 savvy entrepreneurs kick-start their businesses in Singapore with success.
The company delivers three packages for foreigners, which include a registration address, corporate secretary, business account, and accounting. Their prices typically range between $2450 and $3026.
If you or your business partner plan to oversee your business directly from Singapore, you can ask for visa assistance as well. The visa package costs $3306 and covers full incorporation, accounting, and immigration. 
Sleek also provides add-on services for other legal and accounting matters. Every extended feature may cost you extra, but you don't have to purchase them if they aren't needed.
Check out the pricing to get the details. The packages come with a 30-day money-back guarantee.
Core Services of Sleek
Company incorporation, documentation, and govt fees submission.

Appointment of director and auditors.

Registered address and virtual mail.

Business account, record keeping, and filing.

Visa.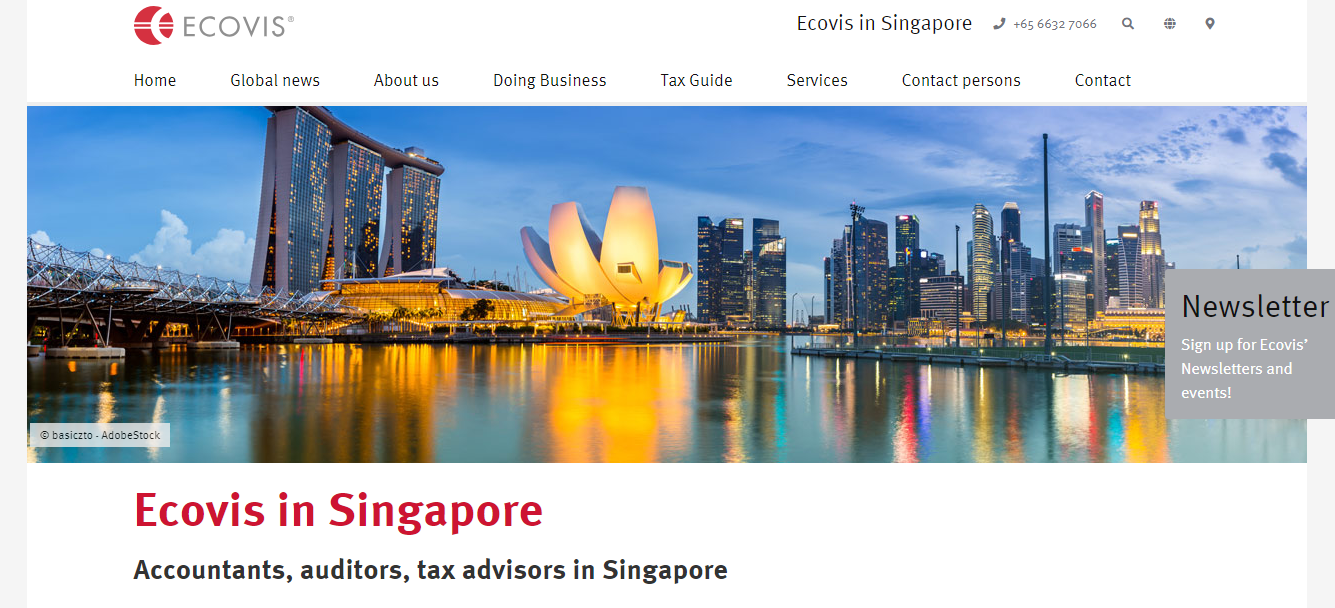 Ecovis is a Europe-based consulting company that delivers legal and accounting services worldwide. It operates in 80 countries and hosts local experts to provide legal support to business owners.
For Singapore, Ecovis offers around seven core services. Foreigners can engage it for incorporation, secretarial work, accounting and transaction assistance, and compliance. Whether you are starting a completely new company or planning to open a branch office, you can do it via Ecovis.
You can also get business evaluation and financial assistance later if you decide to sell your company. 
The packages and prices aren't mentioned on the website, but contact details are listed for corporate and advisory services. Check out the official link to know more.
Core Services of Ecovis
Business valuation and corporate financing.

Initial setup, registered address, and director appointment.

Company secretary for regulatory and compliance management.

Tailored accounting, payroll, and tax services.

External and internal Audits.
CSC is one of the oldest global corporate services providers. It was established in 1899 and has been operating in the US and overseas with success.
This platform is ideal for those who have an established business in their resident country and plan to expand it to Singapore. CSC has an active office in Bugis Junction Towers to provide incorporation and support services in Asia.
You can purchase all the essential products, including registration, business account, accounting, and human resource. 
If you want to keep the finances of your Singapore company separate from the parent corporation, you can get assistance for an additional fee. CSC shares SPV services as an add-on product.  
Here are the contact details.
Core Services of CSC Global
Global Incorporation services.

Compliance administration for account opening and trademark registration.

Director appointment.

Accounting, payroll, and audit management.

Human resource and payroll outsourcing.

Visa application processing for relocation.

Trade documentation.

SPV administrations add-on.
3E Accounting offers a wide range of corporate services.
Entrepreneurs can use this platform to start a business in Singapore, set up virtual offices with registered business addresses, outsource accounting and payroll, and relocate to the country. 3E Accounting takes care of all the legal and compliance matters on your behalf, including the director's appointment, secretarial tasks, staff outsourcing, and visa assistance.
Another notable product offered by 3E Accounting is advisory. You can purchase expert consultation on a number of areas such as market research and valuation. 
One feature you'll find most interesting is tech support. You can let 3E manage branding, software setup, and digital marketing for you. 
Contact the salesperson for more details here.
Core Services of

3E Accounting
Company registration and virtual office setup.

Corporate Secretary.

Stamp and seal making.

Immigration assistance.

Business and financial advisory services.

Human resource and accounting outsourcing.

Software implementation and IT support.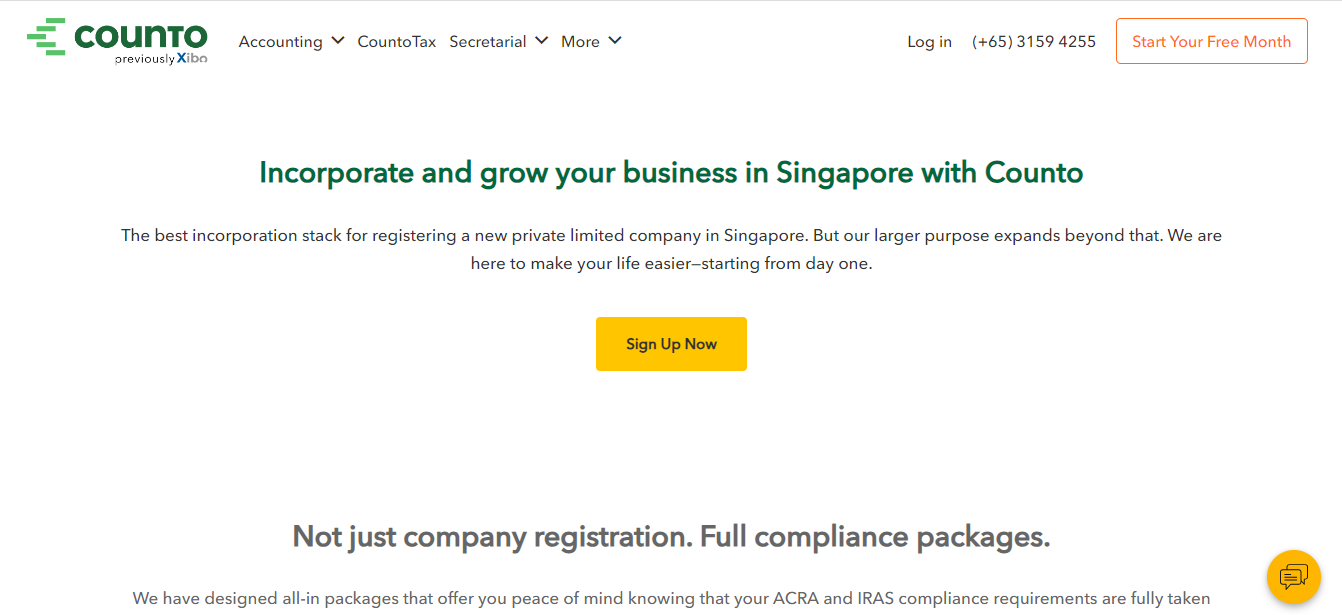 Counto delivers accounting and company registration services as separate products. Its registration product has three plans, one of which is designed for foreigners.
The package costs $2700, containing everything you need to start your business in Singapore. You'll be able to register your company, submit the appropriate fees, appoint directors as per regulations, and open a business account.
The plan also includes corporate secretary services for one shareholder that can be scaled as needed.
For bookkeeping and financial operations, Counto delivers accounting services and AI-powered software. But please keep in mind the accounting fee mentioned on the package is for a specific revenue amount. The price may change as your company grows.
All things considered, it's still an affordable package for startups.
Core Services of Counto
Company registration and govt fee submission.
Corporate sectary.
Accounting and annual returns.
AI-powered software product.
Finance reviews by experts.
Administration assistance.
Custom services.
HeySara offers hassle-free modern business setup solutions to both locals and foreigners.
For $2,500, it helps you establish a full-fledged company in Singapore legally and provides one-year bookkeeping services.
If you plan to relocate, HeySara can get you an employment pass for an additional fee. The firm offers tailored packages to entrepreneurs who want to oversee their company virtually, and also those who prefer to relocate and run operations themselves.
One of HeySara's bestselling features is its digital secretary app. It enables you to sign any document electronically and stay updated on the documentation status.
The corporate secretary service is available for the first 12 months, and the duties also cover one year of return filing.
Core Services of HeySara
Company registration and account opening.
Digital corporate secretary app.
Compliance management.
Director appointment.
Relocation services.
Bookkeeping and annual return filing.
Corppass for transaction handling.
Rikvin provides corporate services to over fifteen thousand clients worldwide. The company has 30 years of experience in the field and offers tailored products to foreigners.
You can engage Rikvin to establish a private limited company or a subsidiary brand in Singapore and get work visas for your team. You don't have to worry about legal and compliance matters; Rikvin provides a corporate secretary team for assistance.
For any support, Rikvin delivers a diverse range of business advisory products. The suite contains basic essentials and added services like corporate financing, recruitment, and tech support.
Accounting, payroll, and tax filing are also included in the pricing package. 
Contact customer service here for pricing and details.
Core Services of Rikvin
Company registration and virtual office.

Corporate secretary services.

Director appointment and staff recruitment.

Work and dependent visa.

Accounting, payroll, tax, and auditing.

Financial advisory.

Digital presence.
Intuit Management Consultancy (IMC) is a multinational corporate firm with headquarters in India, UAE, and Singapore. It offers company formation and a range of other HR and accounting services to foreigners who plan to establish offshore companies.
The firm has a presence in 170 countries and serves businesses of all sizes. Whether you are an SME or represent a large organization, you can get a company formation consultation from IMC.
While IMC's core products are mainly formation, relocation, and accounting, it delivers plenty of tech and expert support. For instance, if your business niche is industrial, IMC consultants can help you take the right steps to reduce the chances of rejection.
Core Services of IMC
Company registration.
 Secretarial services.
Accounting and payroll.
Business advisory.
Cloud software for paperwork.
Global trading programme.
Immigration.
AccPro is a tech consultancy firm. It delivers corporate services along with tech support and expert advisory to make business setup or expansion as smooth as possible.
Its core product is accounting, but it shares several value-added services for both locals and foreigners. It also offers consultation on Government grants to advise on the best funding options.
Every corporate service is broken down into small packages and add-on products with clear prices to let you pick services that best suits your budget.
For instance, you can outsource HR services but keep Payroll workflows in-house. The transparent pricing also allows you to calculate the cost of incorporation, corporate secretary, and virtual office setup to make a well-informed purchase decision. 
Packages and prices of AccPro are listed here.
Core Services of AccPro
Company registration, including all the paperwork.

Director appointment.

Virtual office setup.

Tech integration for operations.

Government grant advisory.

Work permits.

Accounting, payroll, and HR administration.
WLP Group's core products are incorporation, accounting, and immigration. Via WLP, foreigners can set up a private limited company in Singapore and outsource several corporate services, including bookkeeping and auditing.
Its incorporation plan typically costs $800, covering govt fees, company name reservation, document preparation, and registration application process. For compliance and annual returns, you'll get secretarial service in the package.
Other notable products of WLP are; IT and payroll outsourcing. The company has teamed up with major SaaS brands to help clients establish a proper digital presence to simplify their marketing, accounting, and payroll workflows.
You can submit the pricing query at this link to get the quotes.
Core Services of WLP Group
Company registration.

Secretarial services.

Accounting, tax, and payroll.

IT support.

Visa and work permit assistance.

Meeting room rentals for entrepreneurs with virtual offices.
SBS is a Singapore-based company registration firm. It has been in the business for over ten years, providing a wide range of value-added services to clients, such as company incorporation, accounting, software development, and administration.
The firm's pricing structure is transparent and straightforward. It charges around $700 for registration and provides free secretarial services for the first year.
For accounting and payroll, SBS charges between $300 and $900, depending on your transaction volume. You can also apply for an employment pass for $1,250.
You can customize your package and exclude any product from the list. SBS will adjust your package based on your requirements.
Here's the link to SBS's pricing page.
Core Services of WLP Group
Company formation, govt fee submission, secretarial service.

Bank account and registered address.

Advisory on registration.

Employment pass.

Accounting, payroll, and tax filing.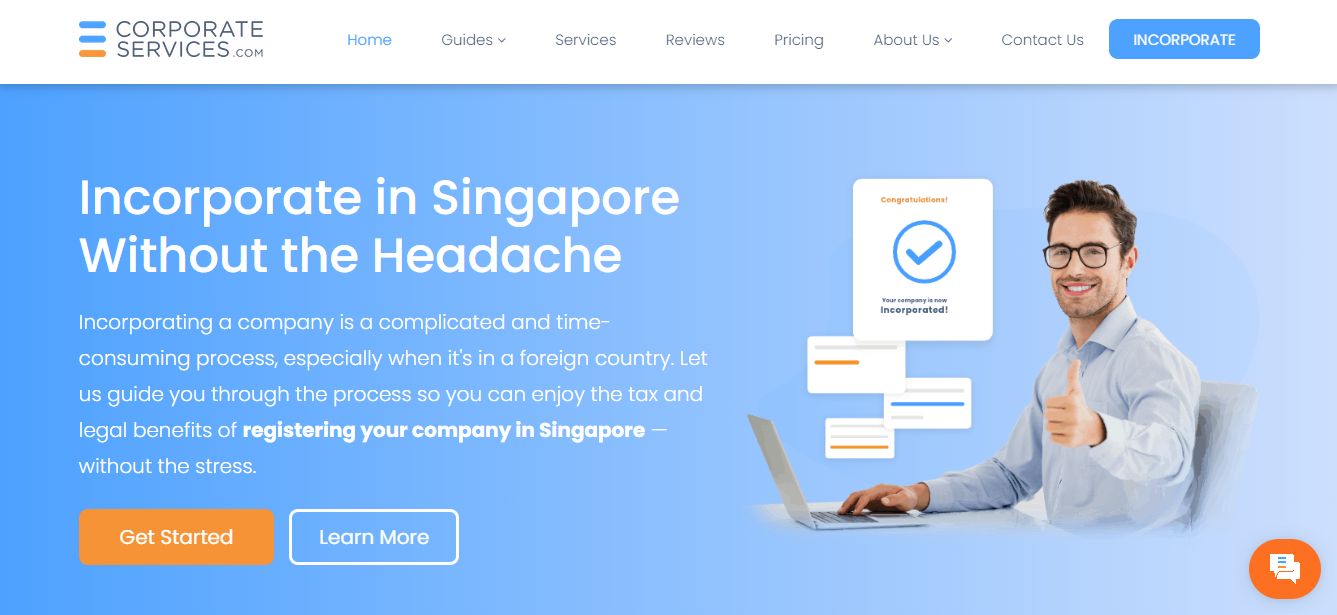 Corporate Services delivers software and services to help you incorporate your company in Singapore online.
Its foreigner package mainly contains company registration, secretarial services, and director appointment, but CS also assists you with bank accounting opening and annual return filing.
If you want visa processing, CS can help you obtain employment and a dependent pass. The fee structure for registration and immigration is listed here.
CS's most notable feature is its cloud software. Using its online platform, you can easily connect with experts, digitalize the paperwork, and get information and compliance alerts. The software is easy to use and works well on both desktops and smartphones.
Overall, CS is a good option for tech-savvy entrepreneurs. 
Core Services of WLP Group
Company registration, and secretarial services.

Director appointment for one year.

Bank account opening.

Registered address.

Annual return filing.

Immigration.

Accounting and payroll.

Administrative work.
Conclusion
Incorporation services providers are both local and global platforms. Both are easily accessible and generally conduct the process online.
Pick the agent that's easy to approach and deliver exactly what you're looking for.
While all the above are best for company formation, consider their side support and pricing to make the final purchase decision. Good luck!