Reclaim is an AI-powered scheduling automation app that supports your productivity and efficiency by optimizing time management and task scheduling.
It offers a range of features designed to automate and streamline the scheduling of tasks, habits, meetings, and breaks, ultimately enabling you to focus on what truly matters to you.
However, it's important to note that its free plan comes with certain limitations.
Besides, there are other apps out there that may offer specific features that are spot on for your productivity needs.
Therefore, it might be worthwhile to explore other options available.
This blog post introduces you to the 12 best Reclaim.ai alternatives to help you choose your suitable productivity partner.
Let's jump right in.
Best Reclaim Alternatives
TL;DR:

Motion: Intelligent calendar that prioritizes tasks and auto-generates to-dos. Great for meeting scheduling.

Sunsama: Daily planner that integrates tasks, calendar, and Slack. Timeboxes tasks into your calendar.

Akiflow: Unified inbox to view tasks from multiple apps. Block time in the calendar for focused work.

Clockwise: Optimizes calendars by finding the best times for meetings and creating focus time.

Vimcal: Super fast calendar with AI scheduling assistant. Multi-platform compatibility.

Calendar: Shareable scheduling pages and analytics. Team scheduling with round-robin.

Morgen: Unified calendar, scheduler, and task manager. Hassle-free meeting scheduling.

Structured: Visual timeline to divide the day into tasks. Sync across iOS, iPadOS, macOS.

Routine: Natural language console to capture tasks. Allocate time slots for essential tasks.

Planzer: Syncs tasks from Outlook, Trello, and Notion into the calendar. Time-blocking functionality.

OneCal: Privacy-focused calendar sync. Intuitive booking links for easy scheduling.

Fellow: Meeting management software. Tracks action items, meeting notes, and agenda templates.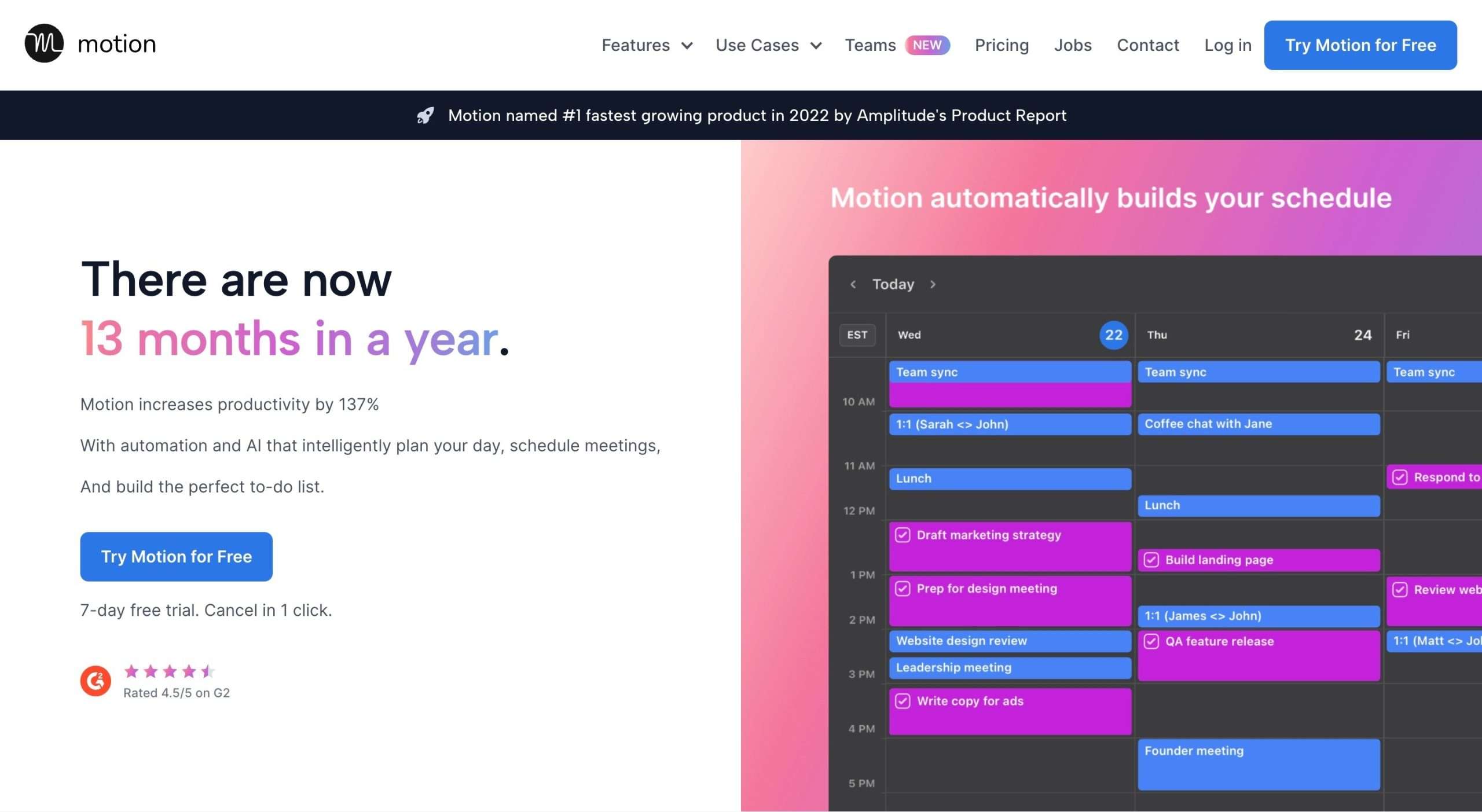 Motion is the all-in-one productivity tool designed to revolutionize the way you tackle your daily obstacles.
Motion's intelligent calendar isn't your ordinary calendar. Motion's calendar experience goes beyond mere scheduling by taking a proactive approach.
It prioritizes tasks based on their importance, so you never miss a deadline or get bogged down by less critical to-dos.
With Motion, creating tasks takes 10 seconds of your time. It then takes charge, building a to-do list for you, and even handling recurring tasks.
Motion presents a crystal-clear overview of all tasks and projects, empowering you with the flexibility to choose between Kanban or list view for optimal project organization.
Motion's Meeting Scheduler is a godsend for anyone who's tired of going back and forth to find a suitable time for everyone involved.
With a custom website to share your availability and preferences for specific meeting templates, scheduling meetings becomes an absolute breeze.
Key Features
Intelligent calendar with proactive task prioritization
Quick task creation and management
Automated to-do list generation
Handling of recurring tasks
Flexibility to choose between Kanban or list view for project organization
Meeting Scheduler with a custom website for easy scheduling
Pricing
Motion offers a 7-day free trial. The Individual plan costs $34/month (or $19/month on annual billing). And the Team plan costs $20/month/member (or $12/month/member on annual billing).
Sunsama is the daily planner for ambitious professionals who want to be intentional about how they spend their time.
The cornerstone of Sunsama is its guided daily planning flow that allows you to realistically schedule your day.
Input all your to-dos from task apps like Asana or Trello, pull in meetings and events from your calendar and turn Slack conversations into action items.
Sunsama helps you identify your top priorities and schedule a time to focus on them by timeboxing tasks into your calendar.
It automatically updates connected apps so your tasks are marked as complete across platforms.
The unified view and intuitive interface make it easy to re-prioritize.
Sunsama also offers productivity-enhancing features to help you focus, including Dark Mode, Focus Mode to zone in on important projects, and keyboard shortcuts for speedy navigation.
Analytics provides visibility into how you spend your days so you can continually improve.
Key Features
Guided daily planning flow
Integration with task apps like Asana and Trello
Integration with a calendar for meetings and events
Slack integration for turning conversations into action items
Timeboxing tasks into the calendar
Pricing
Sunsama offers a 14-day free trial. Their monthly subscription costs $20/month or $16/month when billed annually.
Akiflow is the productivity platform that will change how you manage your day. With Akiflow, you will have a single, unified place to view your schedule, tasks, and work.
The first thing you will love about Akiflow is the Universal Inbox.
Instead of having to check multiple inboxes, you can see tasks from Asana, Trello, email, Slack, and more all in one place.
Just drag and drop tasks right into your calendar to block off time.
It's brilliant!
You can use the time-blocking feature daily to allocate specific hours for creative work, deep thinking, meetings, and more.
I also love how easy Akiflow makes task management.
With keyboard shortcuts, you can quickly prioritize tasks, set due dates, and add notes – all without ever leaving your calendar.
And the recurrent tasks feature is so useful for automating things like daily check-ins or weekly planning.
Available as a web app as well as a desktop app, Akiflow is not only easy to use but also enables seamless connection to your favorite tools including, but not limited to,—Slack, Superhuman, Todoist, Trello, etc.
Key Features
Universal centralized Inbox
Block off time in calendar for focused work
Share availability with others easily
View multiple time zones in calendar
Search for events, tasks, people, emails
Use keyboard to quickly create tasks (Command Bar)
Pricing
Akiflow offers a 7-day free trial with a paid plan starting at $24.99/month ($14.99/month on annual billing). They also recently launched a Believer plan, costing $500/5 years ($8.33/month).
Morgen is a unified calendar, scheduler, and task manager platform to help you manage your calendars, to-do lists, and scheduling in one place.
One time-saving feature of Morgen is its ability to schedule to-dos directly in the calendar.
It allows you to allocate dedicated time slots for important tasks, ensuring that nothing slips through the abyss.
Morgen is also good at hassle-free meeting scheduling, customizable booking pages, and scheduling links.
Plus, with the easy sharing of availability, arranging meetings and calls across different time zones is a lot easier.
Its smart algorithms identify and delete duplicate events, leaving you with a clean and organized calendar.
Morgen intuitive and easy to navigate, even for those who aren't tech-savvy.
And the integration with popular productivity tools like Google Calendar, Office 365, Todoist, Google Tasks, and Microsoft To-Do is one more plus point.
Key Features
Intuitive and uncluttered interface
Ability to schedule to-dos directly in the calendar
Hassle-free meeting scheduling and customizable booking pages
Smart algorithms for identifying and deleting duplicate events
Facilitates day-by-day scheduling and productivity tracking
Pricing
Morgen's Basic plan is free to use. The Plus plan starts at $6/month (allowing you to connect unlimited calendar accounts) and the Pro plan costs $14/month with additional features like unlimited recurrent scheduling links. Both the paid plans come with a 14-day free trial.
Structured is a daily planner that not only combines calendars and tasks but also presents them in a visually captivating timeline.
With Structured, you can divide your day into bite-sized tasks, making organization your second nature.
Thanks to Structured's Visual Timeline feature, it lays out your day in a visually appealing timeline, giving you a clear and concise overview of what lies ahead.
With its Cross-Platform Availability. You can sync your planner across iOS, iPadOS, and macOS, ensuring that your schedule is always at your fingertips.
When it comes to customization, you can create tasks for different activities or events, and then personalize them with colors to add visual cues and make them recognizable.
Structured also provides a Calendar Import feature where you can connect your existing calendars.
If you want to be reminded of something without active efforts, Structured will send you timely reminders and alerts (notifications), keeping you on track throughout your day.
Key Features
Visual Timeline for a clear overview of the day
Cross-Platform Availability (iOS, iPadOS, and macOS)
Task creation and color customization
Calendar Import to integrate existing calendars
Notifications for timely reminders and alerts
Pricing
As of writing this, Structured is available on iOS, iPadOS, and macOS as a free app. The in-app purchases start at $2.99/month.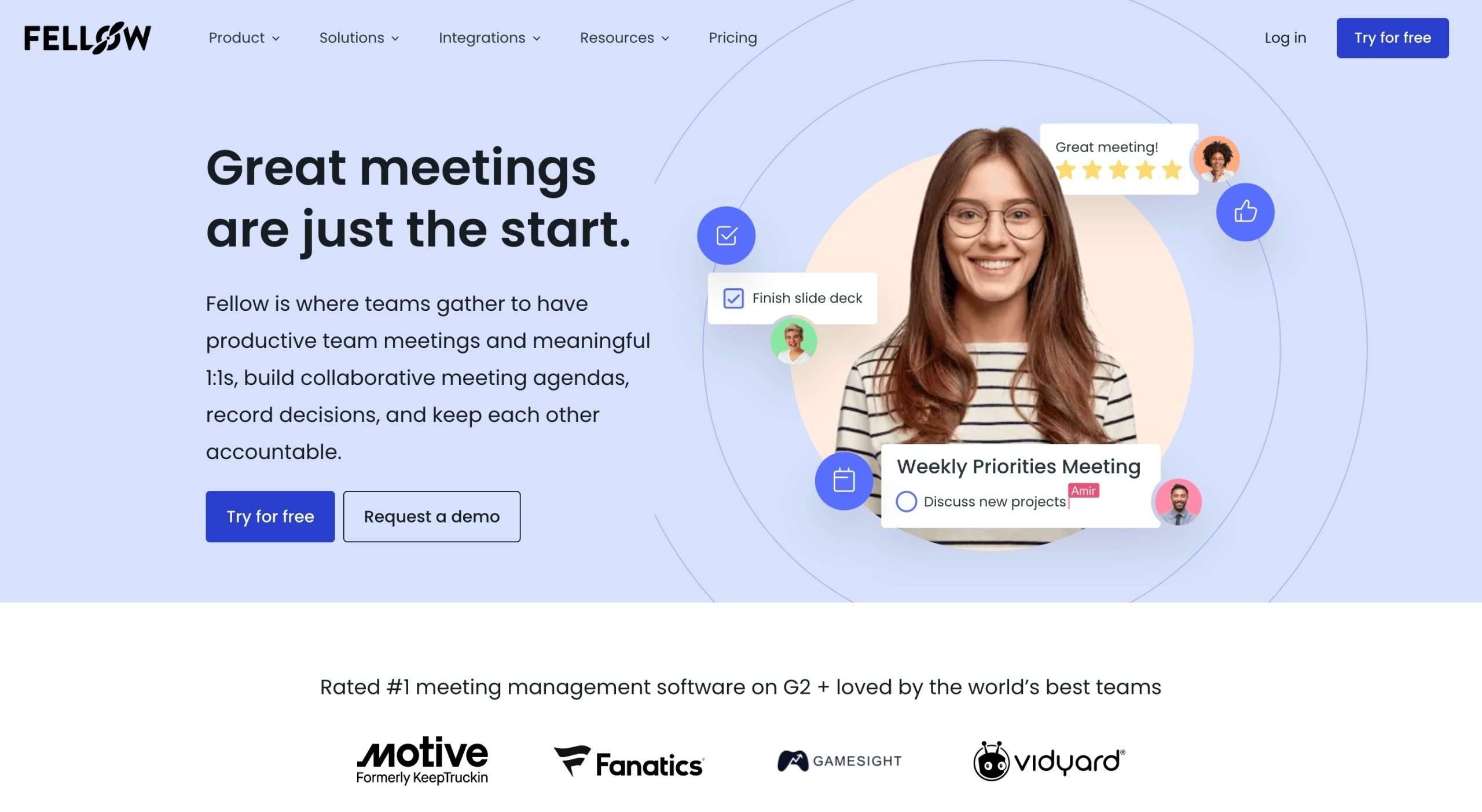 Fellow is a meeting management software that helps teams conduct productive and efficient meetings.
With Fellow, you can build comprehensive meeting agendas and seamlessly record meeting notes, all within a single platform.
Teams can easily track action items, keeping everyone in sync and ensuring that tasks are completed on time.
One standout feature of Fellow is the "Guest Users" functionality, which allows external collaborators like vendors, clients, agencies, and mentors to participate in meetings productively.
Admins have access to "Guidance," a powerful tool that suggests talking points for managers and their teams during 1-on-1 meetings.
What's more, Fellow's gallery of ready-to-use meeting agenda templates offers a solution for every type of meeting you can imagine.
It seamlessly integrates with popular tools like Google Meet, Zoom, Slack, Asana, Jira, and Zapier.
Key Features
Personal meeting assistant for guiding through team meetings
Real-time note-taking to capture important details
Guest Users functionality for external collaborators
Guidance tool for suggested talking points in 1-on-1 meetings
Gallery of ready-to-use meeting agenda templates
Integrations with tools like Google Meet, Zoom, Slack, Asana, Jira, and Zapier
Pricing
Fellow has a free plan and a free trial for paid plans. The Pro plan starts at $9/month ($6/month on annual billing).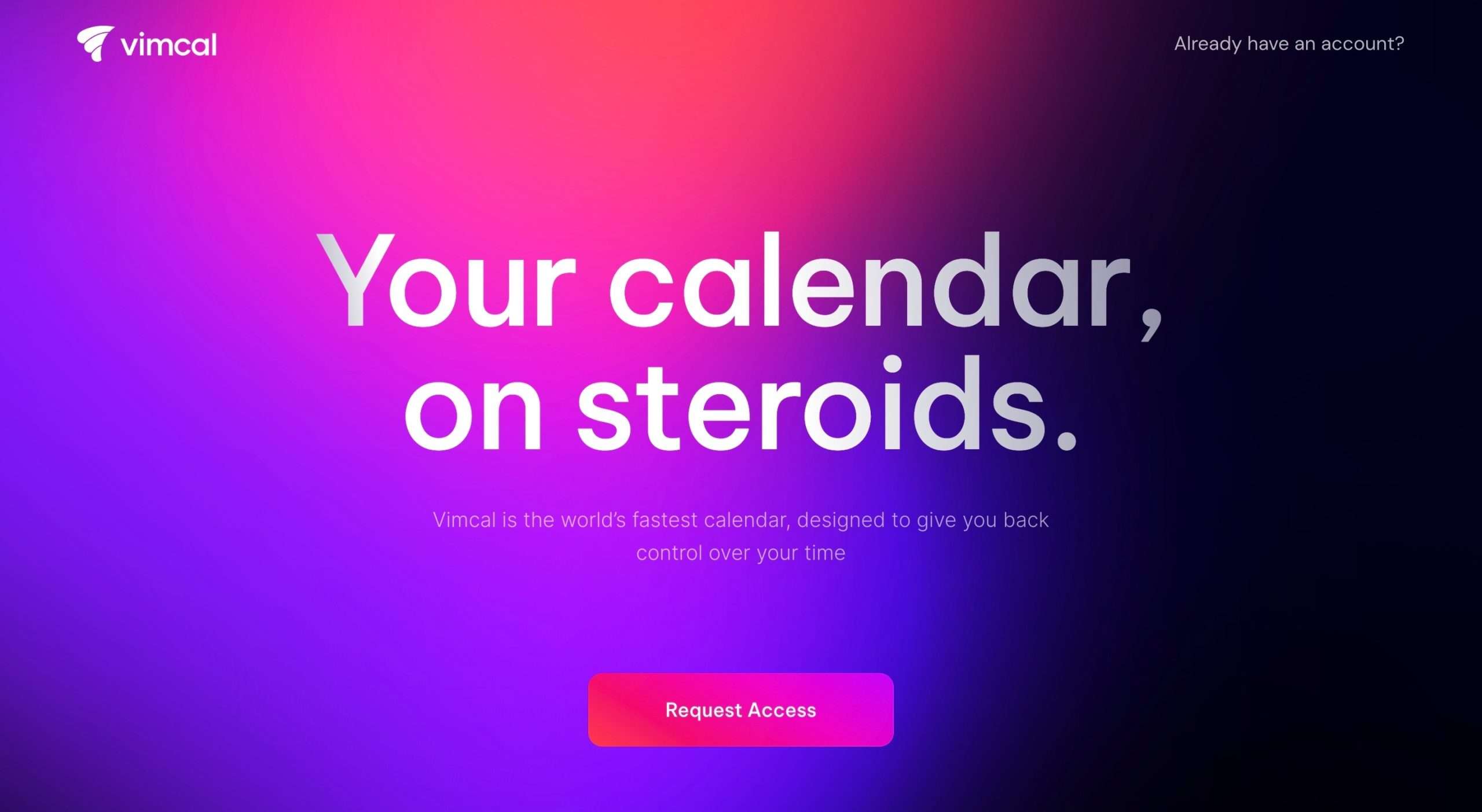 Vimcal is a powerful calendar application that prides itself on being the world's fastest calendar.
With lightning-fast operations and intuitive hotkeys, you'll find yourself navigating through your calendar effortlessly.
One of Vimcal's standout features is its AI Scheduling Assistant. It suggests the best options for your appointments and can handle up to 99% of the scheduling process for you.
Its multi-platform compatibility means you can access it on your desktop, iOS devices, and even as a Chrome Extension.
Seamlessly integrating with Google and Outlook/Exchange accounts ensures that your calendar is always up-to-date, no matter where you are.
The Time Zone Management feature is also great. Typing the name of any city pulls up its time zone, making it incredibly convenient to schedule across different time zones.
Lastly, the Do Not Disturb Mode lets you cover your calendar with a beautiful backdrop, set a Pomodoro timer, and immerse yourself in your work while ambient sounds keep distractions at bay.
Key Features
Natural language commands for quick appointment scheduling
Multi-platform compatibility (desktop, iOS, Chrome extension)
Integration with Google and Outlook/Exchange accounts
Time Zone Management feature for easy scheduling
Do Not Disturb mode
Ambient sounds for focused work
Pricing
Vimcal comes with a free plan (only for iOS). Their Desktop plus iOS plan costs $15/month (or $12.5/month on annual billing). The paid plan offers a 7-day free trial.
Calendar is an online calendar and team scheduling app designed for individuals and businesses, with features to make scheduling appointments and meetings easier and faster.
With Calendar, you can create your customized time slots and scheduling pages, tailored to your availability.
You share your scheduling page, and others can book appointments that fit your agenda.
One of the cornerstone features of Calendar is its AI-powered smarts.
As you continue to use the platform, it learns your preferences and behaviors, providing a personalized scheduling experience that evolves with you.
And with Calendar Analytics, analyzes your scheduling patterns and habits and helps you identify areas where you can be more efficient and intentional with your time.
The Team Scheduling feature, with its Round Robin capability, eliminates the tedious email ping-pong among team members when scheduling meetings.
You can also check the availability of various calendar users and create events based on everyone's free slots.
Key Features
Easy appointment and meeting scheduling
Shareable scheduling page for others to book appointments
Calendar Analytics for analyzing scheduling patterns and habits
Team Scheduling with Round Robin capability
Availability check for multiple calendar users
Pricing
Calendar's basic plan is free to use. It allows you to connect one calendar. The Standard plan costs $25/month (connect 3 calendar accounts in total) and the Pro plan costs $30/month (you can connect 10 calendar accounts).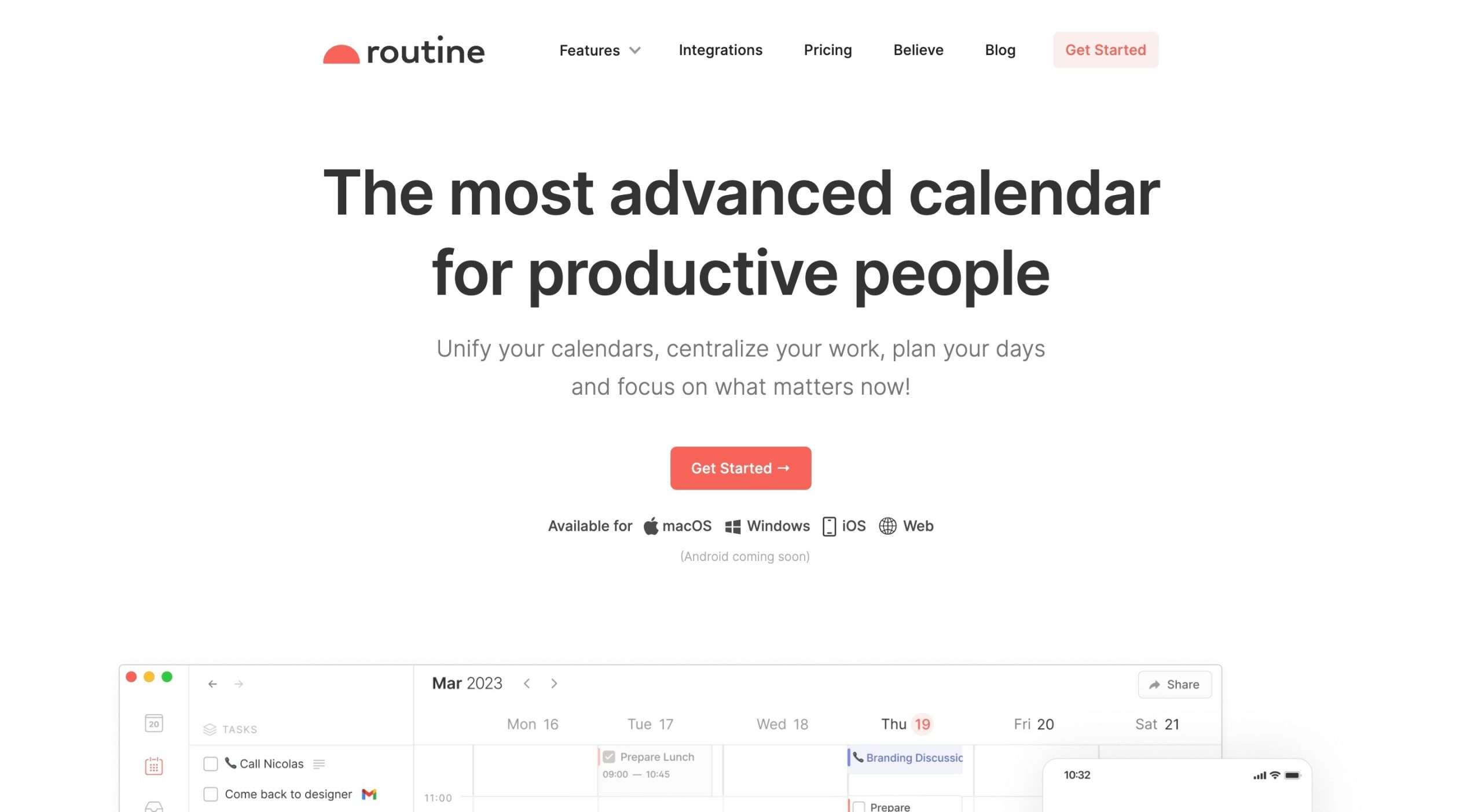 Routine is an advanced calendar app to centralize your work, plan your days, and stay focused on what matters.
With Routine's powerful natural-language-based console, capturing your thoughts and to-dos is as easy as breathing. Type or speak your tasks in plain English, and Routine will organize them for you.
Routine integrates with essential services like email, chat, and project management tools, providing you with a comprehensive overview of all your work-related activities in a single place.
Routine goes beyond task management.
It enables you to save non-actionable information as notes, and to make things more engaging, embed media like photos and videos directly into your notes and tasks.
Not only does it protect your agenda, but it also optimizes your time with smart scheduling.
You can allocate specific time slots for essential tasks, schedule specific activities for particular days, and postpone less critical ones for later weeks.
Key Features
Natural-language-based console for easy task capture
Comprehensive overview of all work-related activities in one place
Note-taking capabilities
Smart scheduling for optimizing time allocation to tasks
Specific time slot allocation for essential tasks (time blocking)
Pricing
As of writing this, Routine offers a completely free plan available on Web, Android, iOS, Windows and MacOS. The paid plan will roll out soon.
Planzer.io is a task planning app that helps you plan your day and week effectively by collecting all tasks from different tools and sync them in your calendar.
With its native integrations with platforms like Outlook, Trello, and Notion, you can pull in emails, boards, cards, databases, and tasks for a more streamlined planning experience.
Say no to switching!
One of the standout features of Planzer.io is its time blocking functionality.
It allows you to allocate specific time slots for tasks in your calendar, ensuring you don't over commit and have a clear overview of your day.
With Planzer.io's estimation module, you can accurately assess how much time a task will take, avoiding the common pitfall of underestimating and overloading your schedule.
The planning module, on the other hand, ensures you don't bite off more than you can chew.
Key Features
Native integrations with platforms like Outlook, Trello, and Notion
Time blocking functionality
Estimation module for accurately assessing the time required for tasks
Planning module to manage workload
Goal setting and progress tracking features
Pricing
Planzer has a Free plan with an access to 100 tasks and storage limit of 10MB per file. The Pro plan is priced at $3/month with an unlimited use of all the features.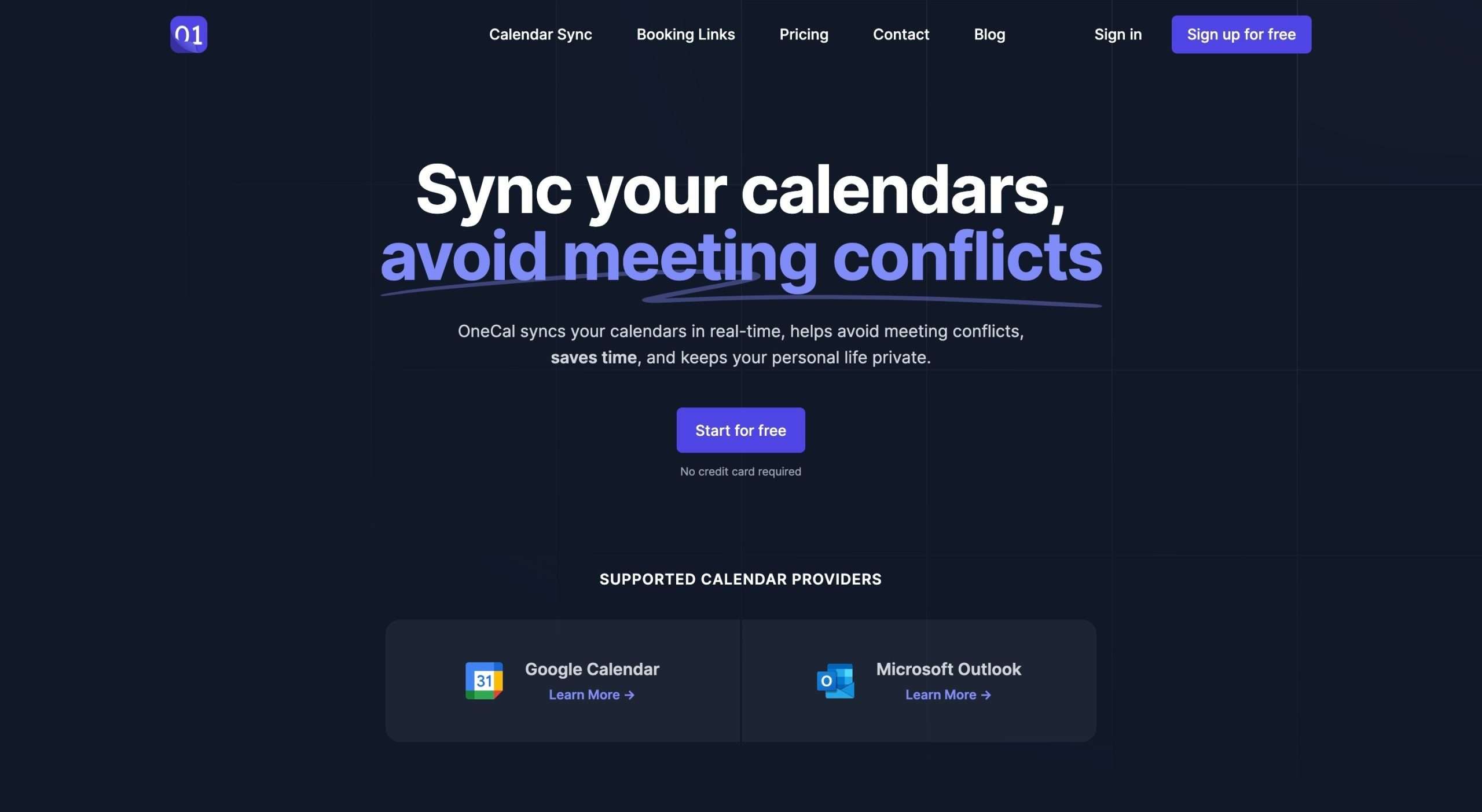 OneCal is the privacy-focused, efficient, and intuitive calendar synchronization tool to sync Google Calendar and Microsoft Outlook in real-time.
You can customize event details to your liking, exclude titles, or display specific information—whatever suits your preferences.
The process couldn't be easier: OneCal allows you to sync many calendars all at once and takes care of the tedious tasks.
With OneCal, you can also create booking links and share your availability with others. The booking links are designed to make scheduling appointments and events simple and intuitive.
You can set custom availability for each day of the week and add date exceptions when you are available for specific dates.
You can even configure buffer times before and after events are booked and set custom notice periods or limits for how far in the future they can be booked.
Key Features
Sleek design and user-friendly navigation
Seamless synchronization of Google Calendar and Microsoft Outlook
Intuitive booking links for easy appointment and meeting management
No storage of calendar event data for enhanced privacy
Complete customization of calendar sync preferences
Pricing
OneCal comes with a 14-day free trial and three paid plan options:
Starter ($5/month/member) – 2 calendars
Essential ($10/month/member) – 5 calendars
Premium ($30/month/member) – unlimited calendars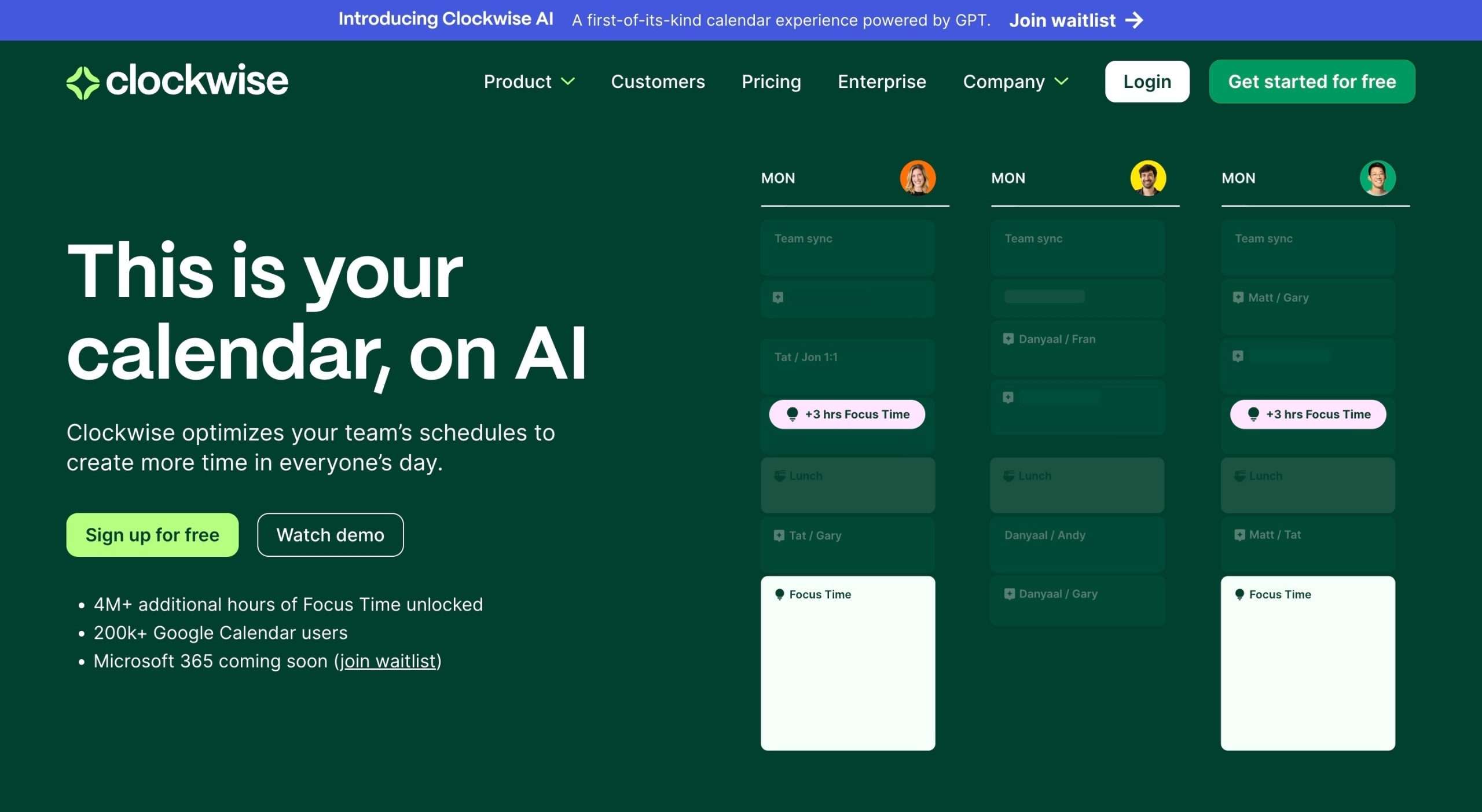 Clockwise is a calendar management and scheduling assistant tool to optimize your work life and make the most of your time between meetings.
By leveraging advanced AI algorithms, Clockwise synchronizes team schedules, finding optimal meeting times that work for everyone while ensuring enough uninterrupted Focus Time.
The flexibility Clockwise offers is also phenomenal.
It lets you identify which meetings can be moved around and by how much.
With a simple tap, Clockwise takes these flexible meetings and performs daily optimizations, rescheduling them to the best suitable times.
Clockwise Links, another brilliant feature, makes scheduling external meetings a breeze. With one link, you can share your availability preferences, and Clockwise takes care of the rest.
It finds the most suitable time slots for all participants, saving you time and effort in the process.
Key Features
Optimal meeting time suggestions for all participants
Creation of uninterrupted Focus Time
Clockwise Links for easy scheduling of external meetings
Team Analytics for insights into team availability and productivity
Real-time data for informed decision-making
Pricing
Clockwise comes with a completely free plan. The Teams plan starts at $6.75/month and the Business plan costs $11.5/month.
Wrapping Up 
This post covered 12 powerful alternatives to Reclaim.ai, highlighting the standout features of each.
Here's the deal: when it comes to productivity and time management, there is no one-size-fits-all solution.
So assess your priorities and give the ones that fit your requirements a try to find the ideal productivity partner.
With the right tools automating and optimizing your schedule, you can focus your time and energy on the work and activities that matter most.