Besides biographies, podcasts or songs, movies and documentaries can be a great source of inspiration.
And as an entrepreneur, they give you a vivid picture of how a business operates as a team, how conflicts are handled, and other invaluable business lessons to spark your creativity.
And the best part is – they are not some form of fiction, at least not most of them, but rather based on a life story of prodigies who struggled and persevered to become what they are today.
In this post, I uncover the 15 best entrepreneur documentaries, shows, and movies that will guide you towards your entrepreneurial journey and help you pursue the road less taken.
1. Jobs
"Your time is limited, so don't waste it living someone else's life."
Jobs is a 2013 drama film based on a Silicon Valley pirate who revolutionized the world of personal computers, internet communication, media, and music.
The movie is a biography of Steve Jobs and revolves around how he received his inspiration to start Apple in his dad's garage at the age of 21, which would later turn out to be the most valuable company in the world.
Upon watching the movie, you will get to know the ethics, values, and character of Jobs and his love for technology, hippie culture, and humanity, although he was not an engineer.
You will also get to know a rare side of Jobs where he has shown his affection toward Zen philosophy and deep meditations.
Jobs proved, from his actions, that one does not need to be great at everything to become successful. 
For example, he didn't know about any technicalities regarding computers (like programming). But, he was a great communicator and visionary which in turn helped him find phenomenal people to work with, raise funding, promote his products in an epic way, etc.
Key Lessons
Do what you love and love what you do
Get through the hard times with perseverance
Delegate tasks that you can't accomplish alone
Listen to your heart and intuition
Be ruthless about your priorities
2. Ford Versus Ferrari
This story is about two legendary race car drivers of the mid-1990s who won countless championships at Le Mans and took the racing world by storm.
This life event portrays how Carroll Shelby (farmer turned race car driver turned race car manufacturer) and Ken Miles (race car driver) unite as a team and build sports cars with Ford that would beat Ferrari cars in the championships.
You will get to know about the hardships that both of them faced while uplifting their careers as race car drivers.
One more important lesson that this movie teaches us is about pivoting. You should always be ready to pivot your career when it's time.
Key Lessons
Helps clear your WHY
Teaches the importance of collaboration
Helps you embrace change
3. Billions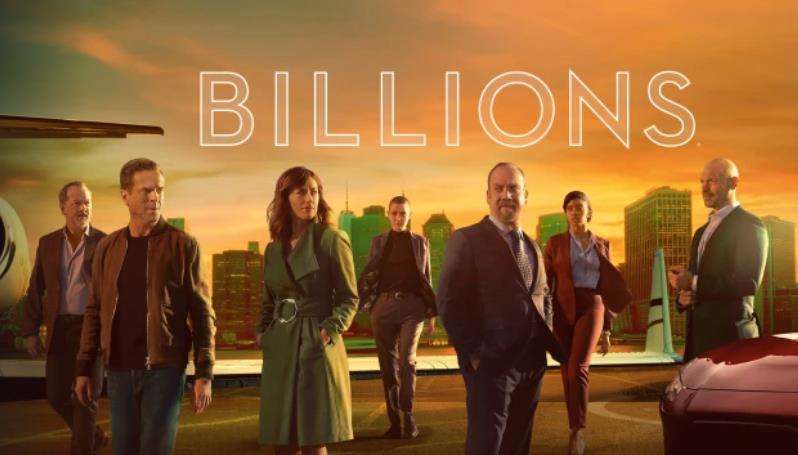 Billions is an American TV series depicting a formal war between a ruthless U.S. lawyer and a hedge fund manager resulting from outperforming each other in the financial markets.
One of the most significant lessons to be learned from Billions is about the ego. How the ego can lead to unnecessary battles and tensions in the air and destroy your mental health within no time.
The cast has done a fantastic job of explaining complicated topics in a fairly easy and comical manner, too.
Again, you will learn that be it things or people, change is inevitable, and no matter how long you have known some people, they will always change, hopefully for the better in most cases.
Key Lessons
Dreams do come true if you don't abandon them
Ego is the enemy
Change is the only constant
4. Mars: Inside SpaceX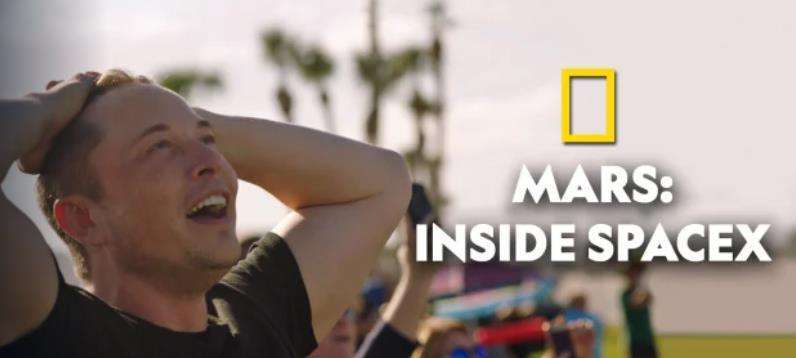 This film documents what goes inside one of Elon Musk's space companies. SpaceX, being the second most valuable private company in the world, has changed the way we used to look at making commercial spacecraft.
Their mission is to make space travel accessible to ordinary men. The eccentric billionaire's plan to humanize Mars will leave you wondering for hours.
You will learn how the super-complex machines are operated by top-class engineers and how Elon Musk hires candidates for SpaceX.
SpaceX's attempt to continue even after 2 failed blasts is a perfect example of using grit to succeed.
Key Lessons
The art of hiring skillful people
Focusing on a problem first and product second
Listen to your employees' ideas
Never stop trying
5. Succession
Succession is a satirical TV series about a family that owns the biggest media and entertainment company.
It is woven with countless leadership and business lessons that every entrepreneur who runs a family business should learn and understand.
The ability to listen for hours, avoid fear, and be in complete authenticity are some of the major elements portrayed in the series.
It also teaches us how life can be quite a roller coaster despite acquiring all the wealth and fame, and how your family members affect the business (both positively and negatively).
You'd love to read our article on lessons you can learn from watching Succession.
Key Lessons
Business and family can go together
Transparency among members is everything
And many other leadership values
6. The Social Network
'We lived on farms, and then we lived in cities, and now we are going to live on the internet."
The social network is based on creating a platform named Facebook (currently Meta) that would be one of the most highly populated social networking sites in the world.
The movie shows how Mark Zuckerberg, with his best friend Eduardo Saverin, started Facebook while studying at Harvard.
You will also get to know how they learned to approach great people (investors, marketers, coders); how Mark hired initial employees for Facebook, and how he resolved legal conflicts arising from starting Facebook.
If you are a programmer or at least have some grounding idea about it, you will get to know how you can create wonders from scratch without ever leaving your desk.
Key Lessons
Solving internal decision-making conflicts efficiently
School is not just for learning what is provided
A great community is power
Building a great product is crucial; marketing comes next
7. The Pursuit of Happyness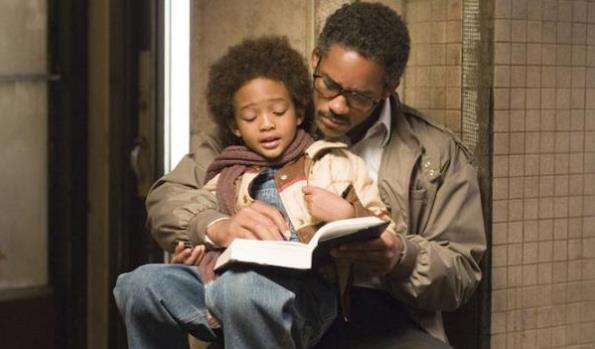 With an intentionally misspelled title, this is one of the classic motivational movies for all entrepreneurs.
It shows how the protagonist and his family suffer due to a timely financial crisis and unemployment. 
The struggle of how they have to shift between different places to stay, roam and convince a variety of people to buy their machine, take care of their family and keep looking for a decent job.
He lost everything, including his wife. But due to his hunger to continue to play, success chooses him amid the roller coaster adventure that he goes through.
Key Lessons
Don't give up until you are forced to
Motivate yourself and your loved ones
The definition of happiness is different for everyone
Ups and downs are normal and give meaning to life
Keep upgrading yourself
8. Becoming Warren Buffett 
"In the business world, the rearview mirror is always clearer than the windshield."
This documentary deep dives into one of the richest and most influential investors, billionaire Warren Buffett.
It consists of highly substantial business lessons from his personal life that anyone can absorb and carve their way towards a better tomorrow.
You will also get to know about his value investing method and the art of consistently picking great businesses to invest in.
If you are impatient and feel a need to take unnecessary action all the time, then this documentary is for you.
You will learn how Warren invested in some of the businesses and patiently held them to date, and even after becoming one of the richest persons in the world, he still lives a modest lifestyle.
He also uncovers the fact that he could never be the man he is without his family, especially his wife, the late Susan.
Key Lessons
Patience is the superpower
Compounding can do magic if followed right
The best investment is investing in yourself
Build connections with people you trust
9. The Inventor: Out for Blood in Silicon Valley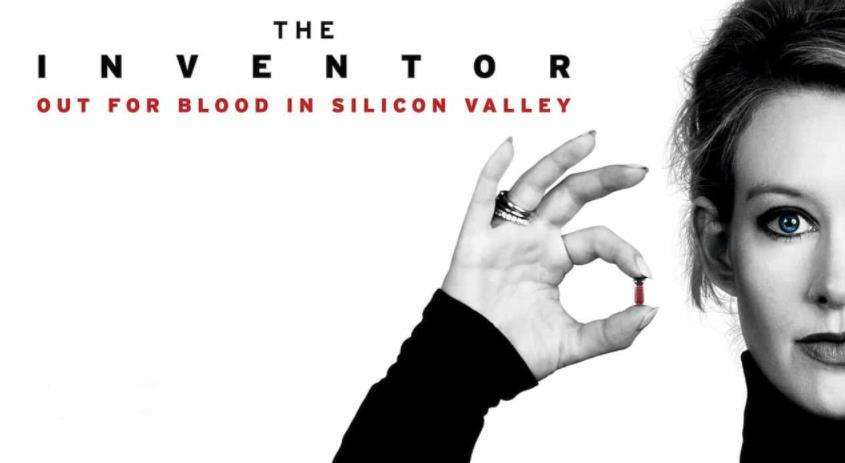 Besides giving a positive outlook on the startup world, The Inventor is an eye-opener as it shows the dark side of growing a business.
This is a real story of how an American company raised billions of dollars with a false promise of revolutionizing blood tests and then went bankrupt within years.
It gives a clear picture of how false trust can be used and how peer power is misused to manipulate the behavior of countless people.
The documentary highlights the core business mistakes to avoid and how to not compromise on the ethos of the organization.
Key Lessons
Never trust anyone without researching thoroughly
Money is not everything in business
The culture of a company determines its authenticity
Ego, selfishness, and lying are the worst values to develop as an entrepreneur
Customers love transparency and honesty
10. Inside Bill's Brain – Decoding Bill Gates
"Success is a lousy teacher. It seduces smart people into thinking they can't lose."
This documentary sneak peeks into Bill Gates' approach to building a great company.
Through this documentary, he tries to teach everything he learned from great people, experiences, and from books.
According to Bill, every person seeking to be successful should value and prioritize time, read a lot, should be compassionate about his/her work, and should work harder.
His life decisions also clarify how timing and luck have a great role to play in becoming a successful person in any field.
His decision to change from pursuing mathematics to computer programming at the right time made all the difference.
Key Lessons
Provide value by solving a real-world problem
Reading makes you smart and aware
Be friends with passionate problem solvers
Show humility and compassion and be grounded
11. Pirates of Silicon Valley 
The Pirates of Silicon Valley is a 1999 real story-based docudrama about some of the greatest visionaries who shaped the 21st century.
It is loaded with some highly useful entrepreneurship lessons from business magnates such as Steve Jobs, Bill Gates, Paul Allen, and Steve Wozniak.
After going through the life of some of these ruthless self-made billionaires, you will get to know that it was rags to riches for them too, just like anyone else.
Even with the rise and fall of their companies, they kept their cool and led a profound path for young and emerging entrepreneurs.
Besides friendship, this is about one of the biggest, heated business wars between the two tycoons of Silicon Valley.
Key Lessons
A great team makes extraordinary things possible
Your team should share the same vision as yours
Nothing is original, steal like an artist
Follow your passion and put all your energy towards it
12. The Big Short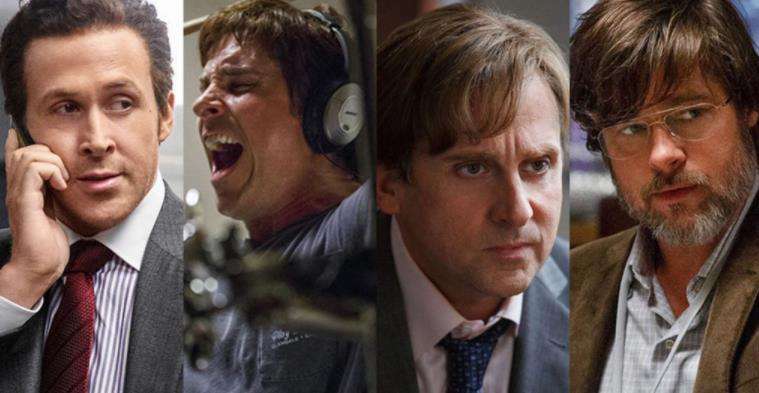 "What gets us into trouble is not what we don't know. It's what we know for sure that just ain't so"
The Big Short is an Oscar-nominated film in which a few financial experts, researching, find utter corruption and instability in the market.
It uncovers the story of many professional Americans who made and lost substantial money in predicting the market and turning towards the economic crisis of 2008.
There is a lot to learn from the mindsets of different people and how they reacted during the bubble blast.
The fear, pain, and uncertainty in the market and the similar concepts explained beautifully in the movie in a humorous manner make it even more thrilling to watch.
Key Lessons
Believe in facts, not sayings
Good research makes the process seamless
Always prepare for the worst in advance
Protect your brand name all the time
Greed invites quick failures
13. Mad Men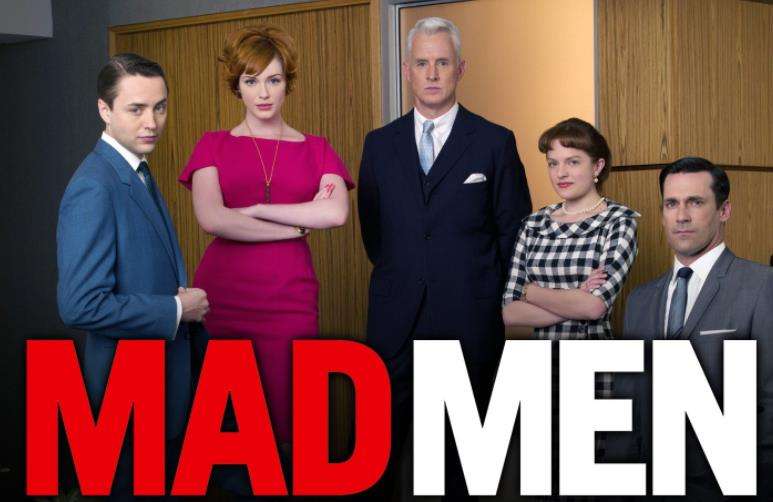 This story is about an exceptional director of an advertising agency in New York who tries hard to find a balance between his highly successful professional career and his personal life.
It depicts how the protagonist faces various mental health problems like narcissistic personality disorder and antisocial personality disorder, which create errors in various stages of his life.
But one of the most important things highlighted in this series is detaching oneself from unwanted things.
And one of the hardest truths that you will come across while watching it is that – sometimes you need to quit something when it is time. It's time for a change.
Key Lessons
Be at least decent with numbers
Don't overthink, just start
Prepare yourself for a lot of sacrifices
Make the right use of technology
14. The Founder 
The Founder is a movie every business-oriented person should watch.
It's about how a guy named Ray Kroc purchased the idea of a fast-food chain restaurant from two ideal owners, which would turn out to be the biggest and most successful fast-food corporation in the world.
The movie pushes on how an idea can change your life if you act toward it. 
And how you don't always need a unique idea from scratch to come up with something similar to McDonald's.
'There is no perfect age to start a business, which is what Ray proves to us through his breathtaking story of struggles and gaiety.
Key Lessons
Age is just a number, honestly
Persistency increases the odds of succeeding
Never compromise on quality
Storytelling brings the charm
15. Jiro Dreams of Sushi 
This film is about a chef who is in love with sushi and is a perfectionist when it comes to preparing sushi.
His great attention to detail, yet a never-satisfied soul and a constant craving for betterment, relate to most of our lives.
His passion and hard work towards making the finest sushi and guiding his son towards becoming the best is what makes it a great one to watch.
Along the way, there are many businesses as well as personal life lessons that you can take with you.
Key Lessons
No work is minuscule
Passion for your work makes hard times easy
Having a good partner is a bonus
Never underestimate the customer experience
Have an accountability buddy or a timely feedback loop
Wrapping It Up
There you have the list of 15 great movies, TV series, and docudramas that will guide you in your personal and professional life and help you inherit wise business lessons taken in the past.
Irrespective of which movie you choose to watch, take one thing before leaving. More than the successes and riches of a person/business, you will learn more from their failures and mistakes. Make every second count.
With that said, stay tuned to our blog for valuable lessons from inspiring entrepreneurs.