Besides many other things, there is this one thing that I have a problem with and am not very good at – focus.
As a result, I tend to get sidetracked and my productivity suffers terribly. If you can relate, don't worry, you're not alone.
In fact, if you are someone juggling creative pursuits or just a busy lifestyle, you need to find ways to stay focused and on task.
As Cal Newport has rightly quoted in his book "Deep Work":
"The ability to perform deep work is becoming increasingly rare at exactly the same time it is becoming increasingly valuable in our economy. As a consequence, the few who cultivate this skill, and then make it the core of their working life, will thrive."
The good news is that there are tools to help you engage in deep work. And if you're reading this, chances are you already know about one such app known as Brain.fm.
But backed with some good reason, you decided to search for its alternatives, and that's exactly what you'll find in this article – the 9 top Brain.fm alternatives.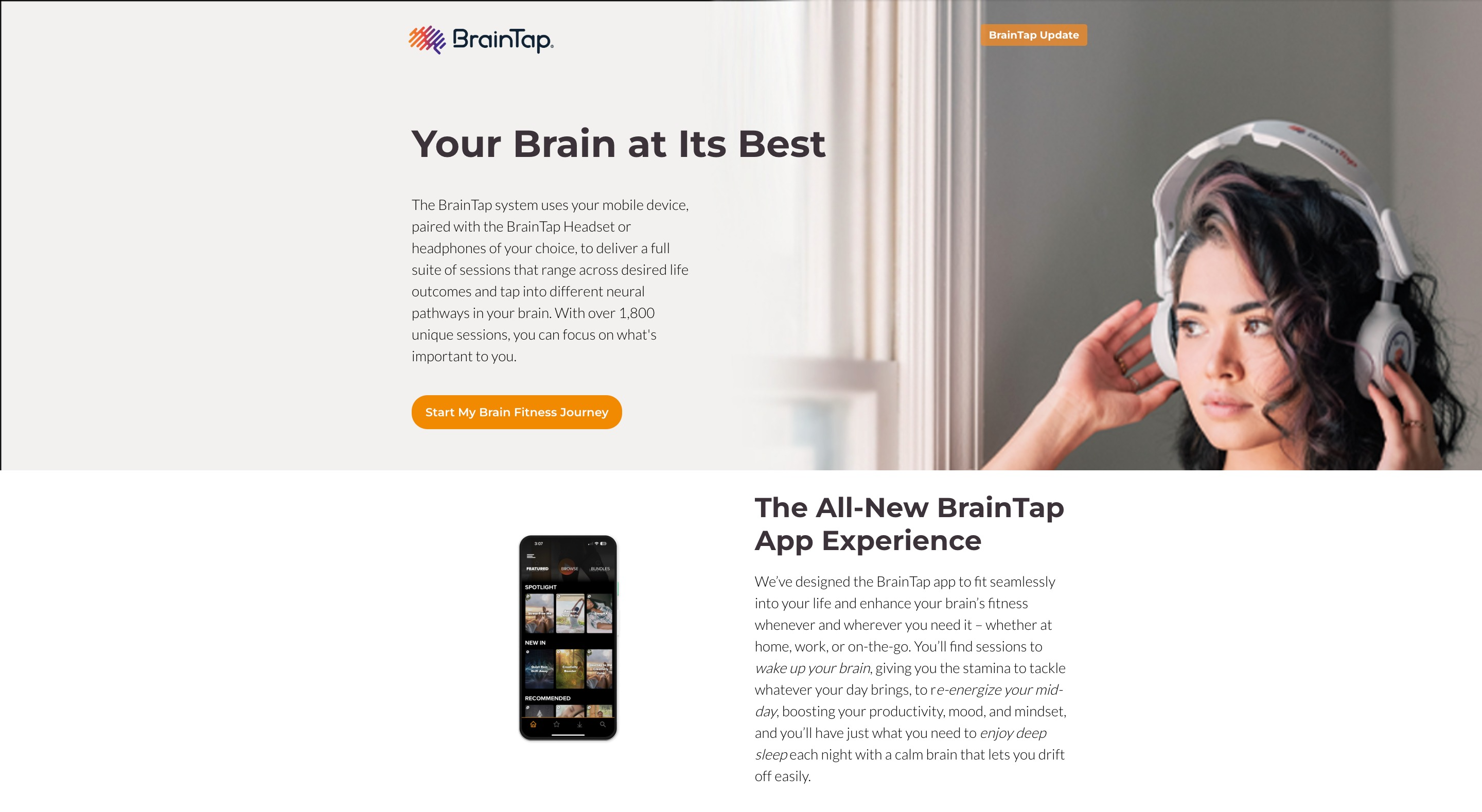 BrainTap is one of the very few apps out there that combines the complete relaxation process by combining both software and hardware to create a wholesome experience.
Unlike other focus or relaxation music apps, BrainTap also builds its own scientifically proven and evidence-based headsets that help you reach the utmost level of highness passively.
Meaning, even if you don't engage in active participation like deep breathing or focusing on one thing, the headsets are designed in such a way that they will shift your brain's focus from fight-or-flight to a serene state.
With over 1800 different sessions ranging from categories including focus and clarity to overcoming PTSD and plenty more, BrainTap is a better choice.
Notable Features
1800+ unique sessions
Countless session categories covered
Works on Android and iOS
Scientifically proven methods that works
Uniquely made headsets for an effortless experience
Pricing
BrainTap offers a 14-day free trial. Its monthly subscription costs $29/month (with monthly billing) and costs $15/month (with annual billing). They also offer a power bundle at $797 where you not only get their annual subscription but also the powerful headsets we earlier mentioned.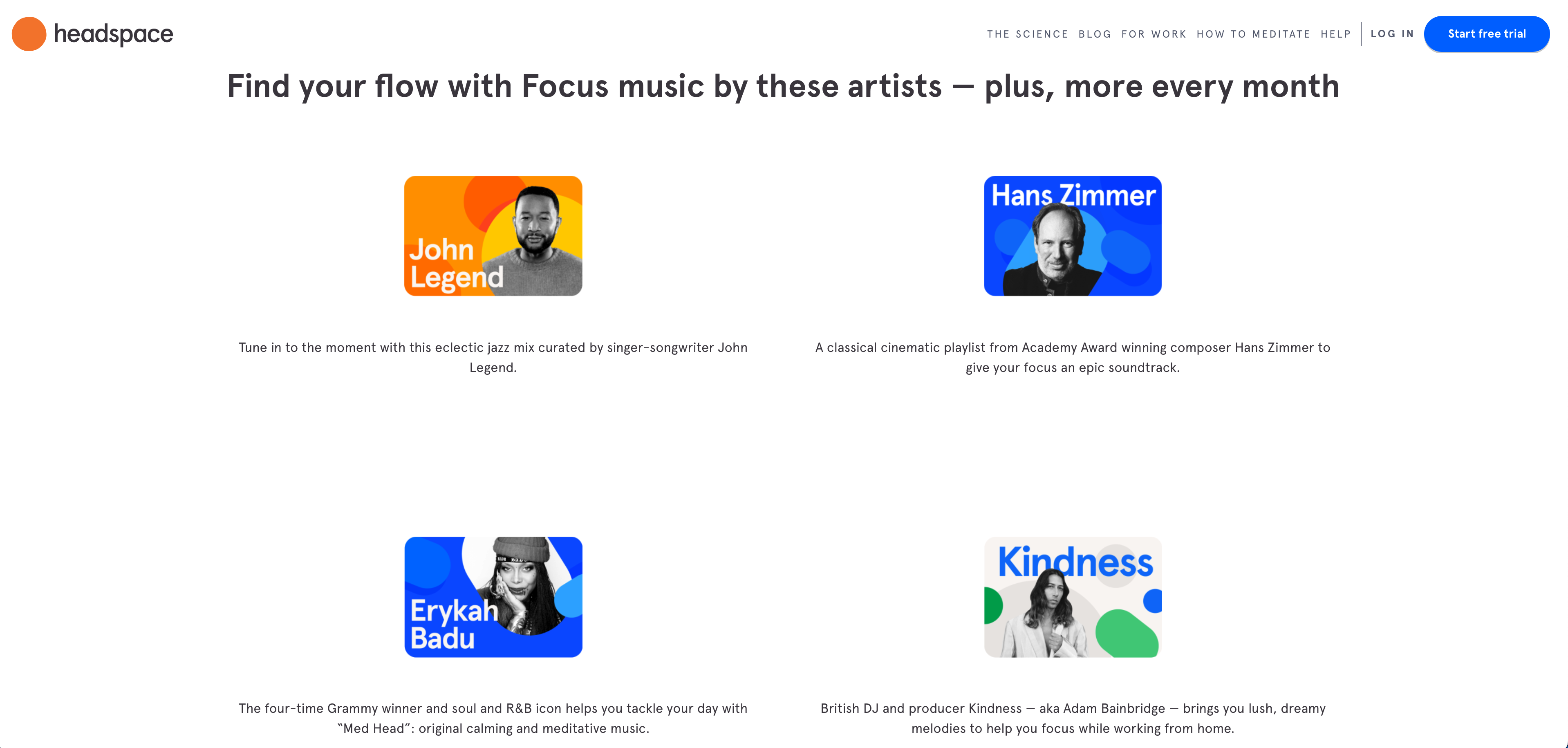 Headspace is a popular meditation app that has been designed to help users achieve a sense of calm and focus.
The app offers a wide range of guided meditation exercises, as well as a variety of tools and resources to help users get the most out of their practice.
Headspace is an excellent choice for those looking for an alternative to Brain.fm not only because it is easy to use and effective, but also because it has a large community of users who can offer support and advice.
Be it dealing with everyday stress, and anxiety, or improving focus and concentration, Headspace has sessions for everything you may be looking for.
They also do an epic job of writing articles and blog posts (with embedded audio and video versions) on their website, which makes for excellent further reading if you're interested in learning more about meditation and its benefits.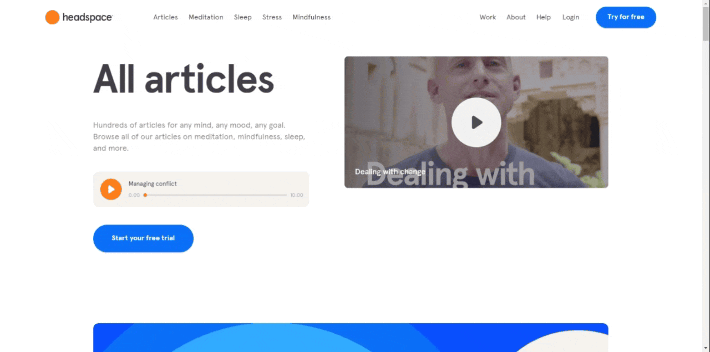 Notable Features
Self-care gamified
Guided and unguided meditation exercises
vast category of topics
User-friendly interface
Supportive community
Pricing
Headspace offers a 14-day free trial and then their premium plan starts at around $1.54/month.

This app is designed to help you achieve peak productivity by optimizing your brain waves.
It's like a personal trainer for your brain, helping you to achieve laser-like focus and stay in the zone for longer periods.
Whether you're working on a complex project or just trying to get through your email inbox, focus@will can help you to get the job done quickly and efficiently.
Some of the focus sounds focus@will specializes in include:
Organica
NatureBeat
The Drop
Symphonica
Cinematic
And a lot more!
The best part?
All these soundtracks are created by verified music producers after careful research was done by top-class neuroscientists.
focus@will works on all devices including iOS, Android, Mac, and Windows, and even has a web player.
So if your co-worker or a crazy neighbor is blasting music from their speakers, and it's distracting you, you have now got a good reason to put on your headphones and get into the zone.
Notable Features
Scientifically backed
Personalized for optimal focus
Over 1000 hours of unique sound content
Over 12 distinct sound categories
Listen to music from any device
Pricing
focus@will offers a week's free trial, and then you can choose to try their monthly premium plan that costs $7.49/month.

Noisli is an amazing app that lets you create your soundtrack to boost productivity and focus.
The app features a wide range of sounds, from white noise to nature sounds, that you can mix and match to create the perfect environment for concentration.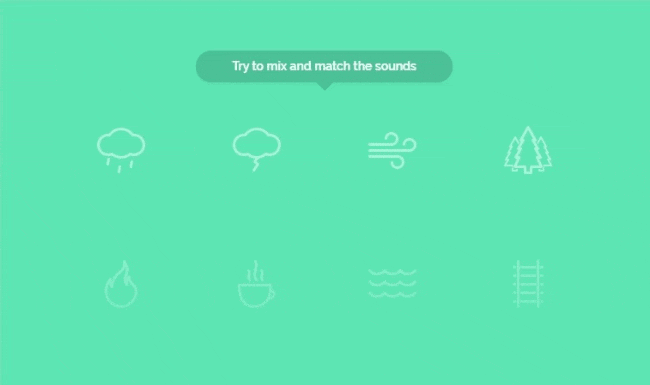 Whether you're looking for some motivation, sleep, studying, or just want to block some noise out, Noisli has you covered.
The ultra-high flexibility to mix and match over 28 awesome sounds with the adjustment of volume in your total control is what makes Noisli stand out.
And if by god's grace, you create some combo that is better than what they have to offer, you can mark it a favorite to keep playing it in the future with a single click.
Their Oscillation feature is also very powerful, it creates a sense of movement and makes the sound more pleasant to the ear.
What's more, Noisli also has a built-in Pomodoro timer and to-do list feature to make it an all-in-one productivity boost tool.
And lastly, if you are a writer, you will also be glad to know that Noisli has a "distraction-free text editor" which makes the interface very minimal, so you can focus on your writing.
Noisli is available as a Google Chrome extension, for iOS, and Android.
Notable Features
28+ high-quality sounds
Smart sound mixing
Oscillation and sound shuffling
Pomodoro timer
Text editor
Pricing
Noisli has a completely free plan with 16/28 sounds enabled. Their Pro plan (for individuals) costs $12/month and the Business plan (for team members) costs $28/month.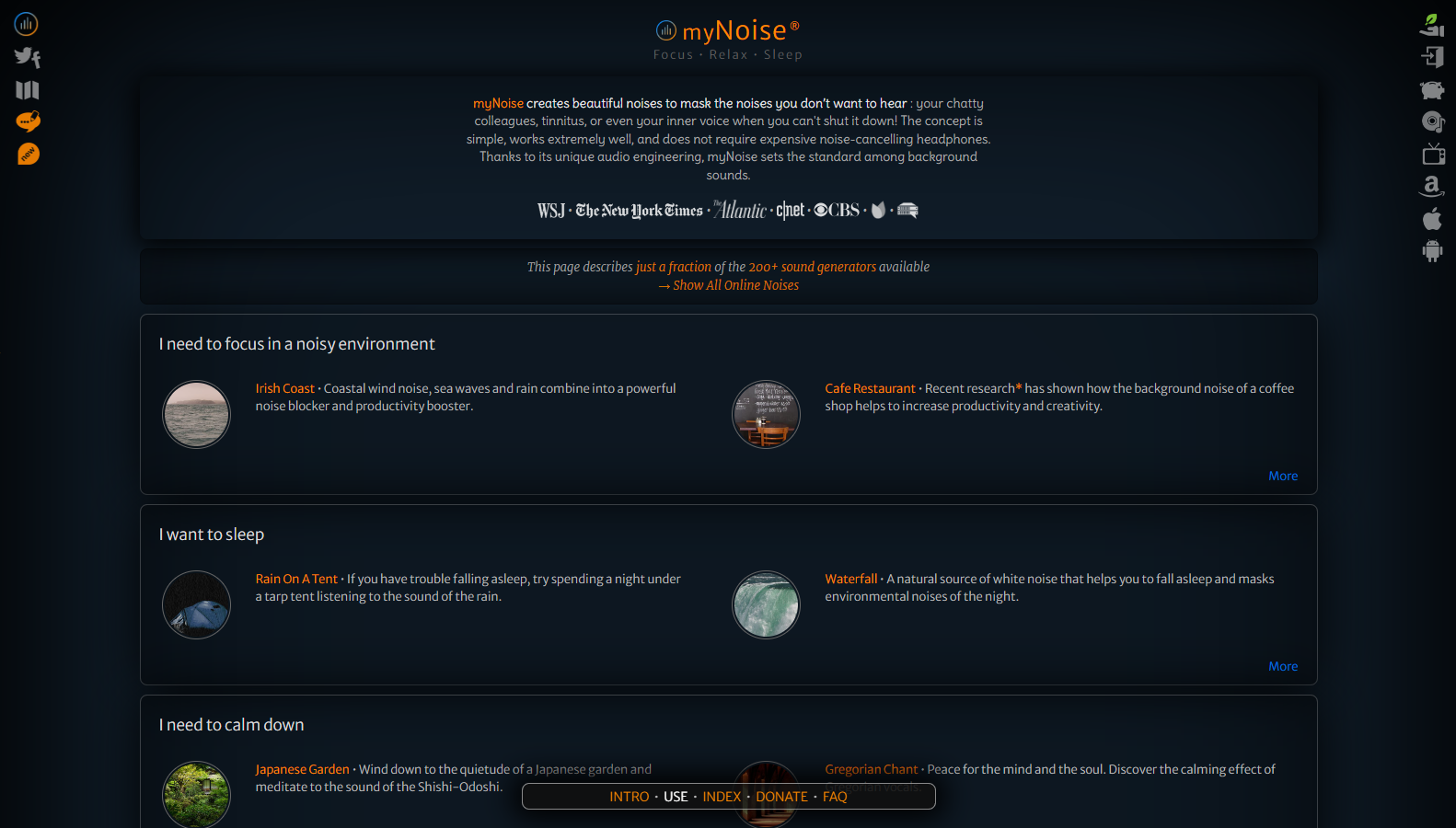 myNoise is an online noise generator that can be used to help block out distractions and improve focus.
The site features a variety of different sounds, from white noise to more specific ones like rain or ocean waves. Users can mix and match different sounds to create their perfect environment, and they can also adjust the volume and pitch to find the perfect level for them.
myNoise also has a timer function, so users can set it for a certain amount of time and then have it automatically turn off.
myNoise also comes with 20 FREE SOUNDS, including White Noise, Rain Noise, Ocean Noise, Binaural Beats, Spring Walk, Temple Bells, and more.
They also offer calibrated noise generators that cover the entire audible frequency range, from 20 Hz to 20 kHz, over 10 color-coded options.
With its 10 color-coded sliders, myNoise introduces the concept of frequency-shaped noises, focusing on the frequencies one wants to effectively block.
With the power to customize the focus music to the fullest, you can now let the healing sounds work for you rather than the other way around.
Notable Features
Variety of different sound options
Reliable sound therapy in your pockets
Adjust volume and pitch
20 free sounds included
Multiple use cases
Pricing
myNoise is a free application with some optional in-app purchases.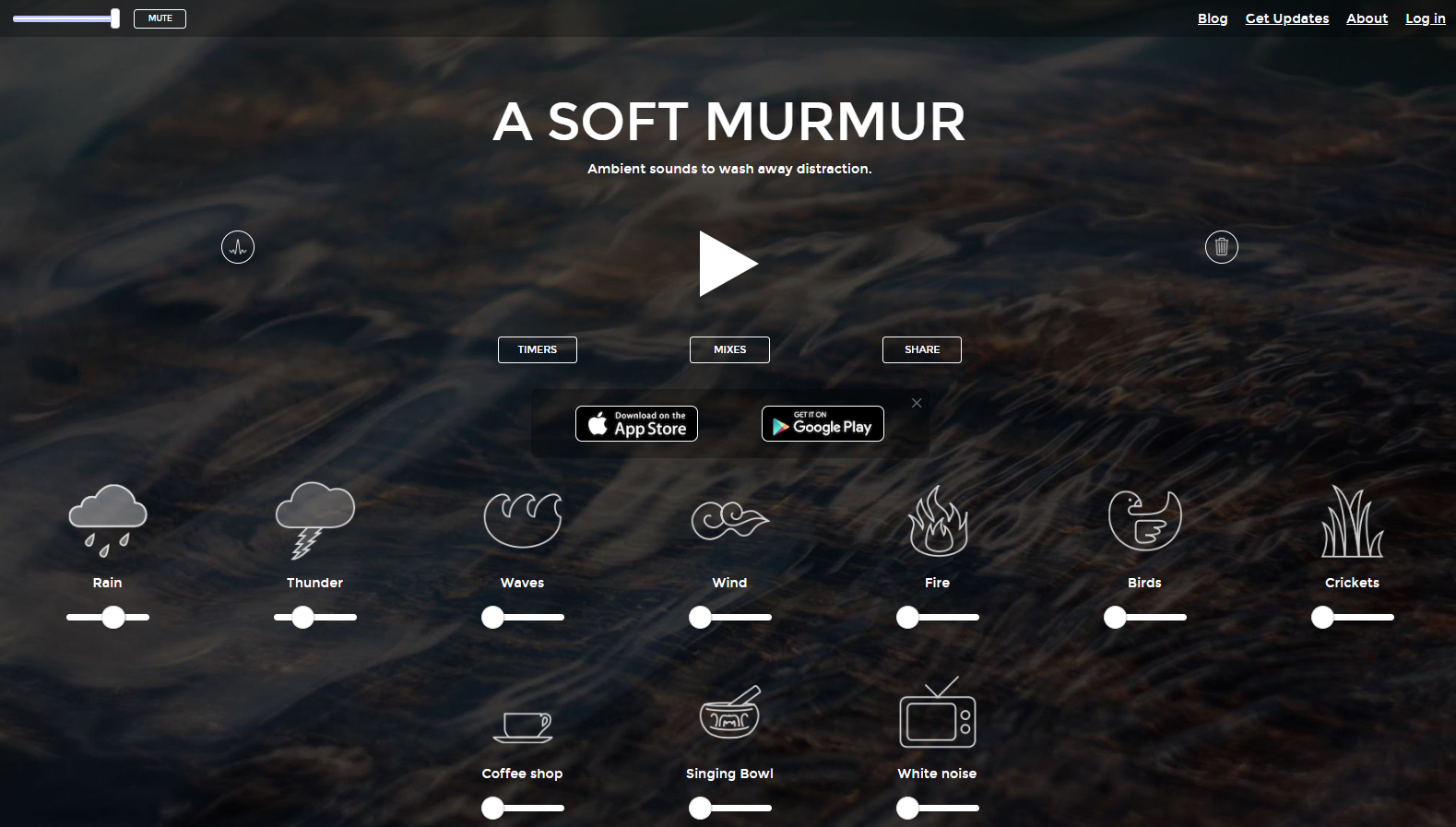 A Soft Murmur is a free and easy-to-use ambient sounds app that offers a variety of different sounds to help you focus, relax, or fall asleep.
There are both natural and artificial sounds available, and you can mix them to create your perfect soundscape.
One of their cool features is Meander. This smartly-coded function, when enabled, allows you to automatically increase or decrease the pitch and tone of different sounds.
It's like having your sound engineer, and it's a great way to keep yourself from getting bored with the same old sounds.
You can also create your mixes or let AI create random mixes for you that you can save and come back to.
Notable Features
A wide variety of sounds, both natural and artificial
Meander function for automated pitch and tone changes
Create your own mixes with AI
Share your sounds with others, easily
Pricing
A Soft Murmur is free to use, with a premium in-app purchase of just $1.99 that unlocks all the default sounds.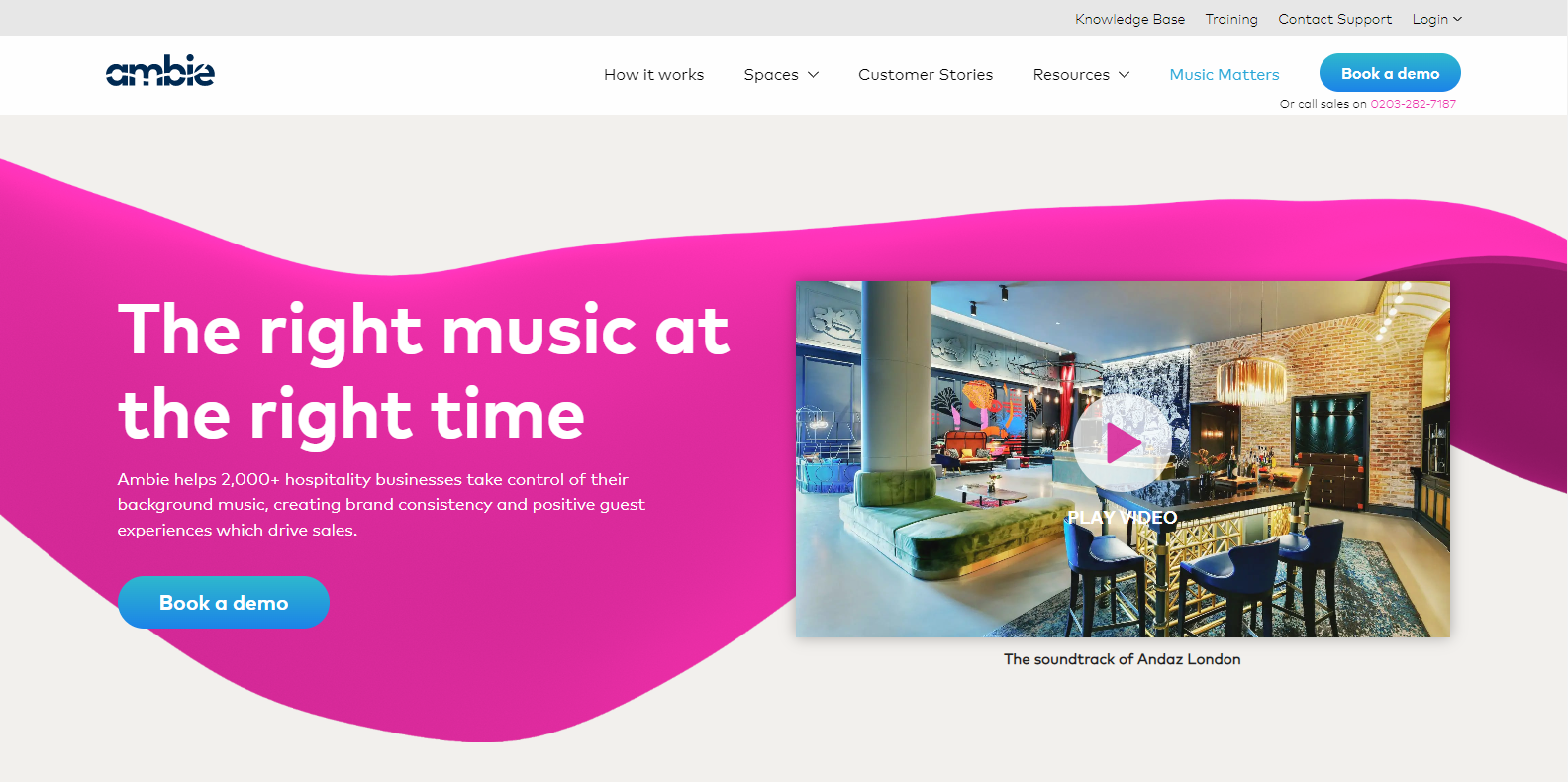 ambie.fm offers a wide variety of calm and relaxing sounds that you can listen to, from the sound of rain falling to the sound of waves crashing on the shore.
There are also tons of different nature sounds to choose from, as well as white noise options and even some calming music selections.
You can create a custom playlist of your favorite sounds, or simply let the site play through a random selection.
And if you ever need a break from the relaxing ambiance, there's an option to switch to a variety of different radio stations.
According to them, their music helps grow your business and businesses specifically under these industries:
Hotels & restaurants
Bars & Pubs
Co-working spaces
Etc.
So if you run a business that could use some help from some good background music, ambie.fm may be a good option for you.
They provide Ambie's plug-and-play device to set up the ambiance in your space and play and manage music effortlessly (like offline playing).
Notable Features
A wide variety of sounds to choose from
The ability to create custom playlists
Option to switch to different radio stations
Helps businesses grow through background music
Ambie's plug-and-play device for easy setup and management
Pricing
Ambie has two types of pricing:
a small setup fee
and a subscription that is based on how many sites you have.
You only need to pay once for the subscription, and it includes everything. You can choose to pay monthly or annually. You get to book a demo before doing anything else.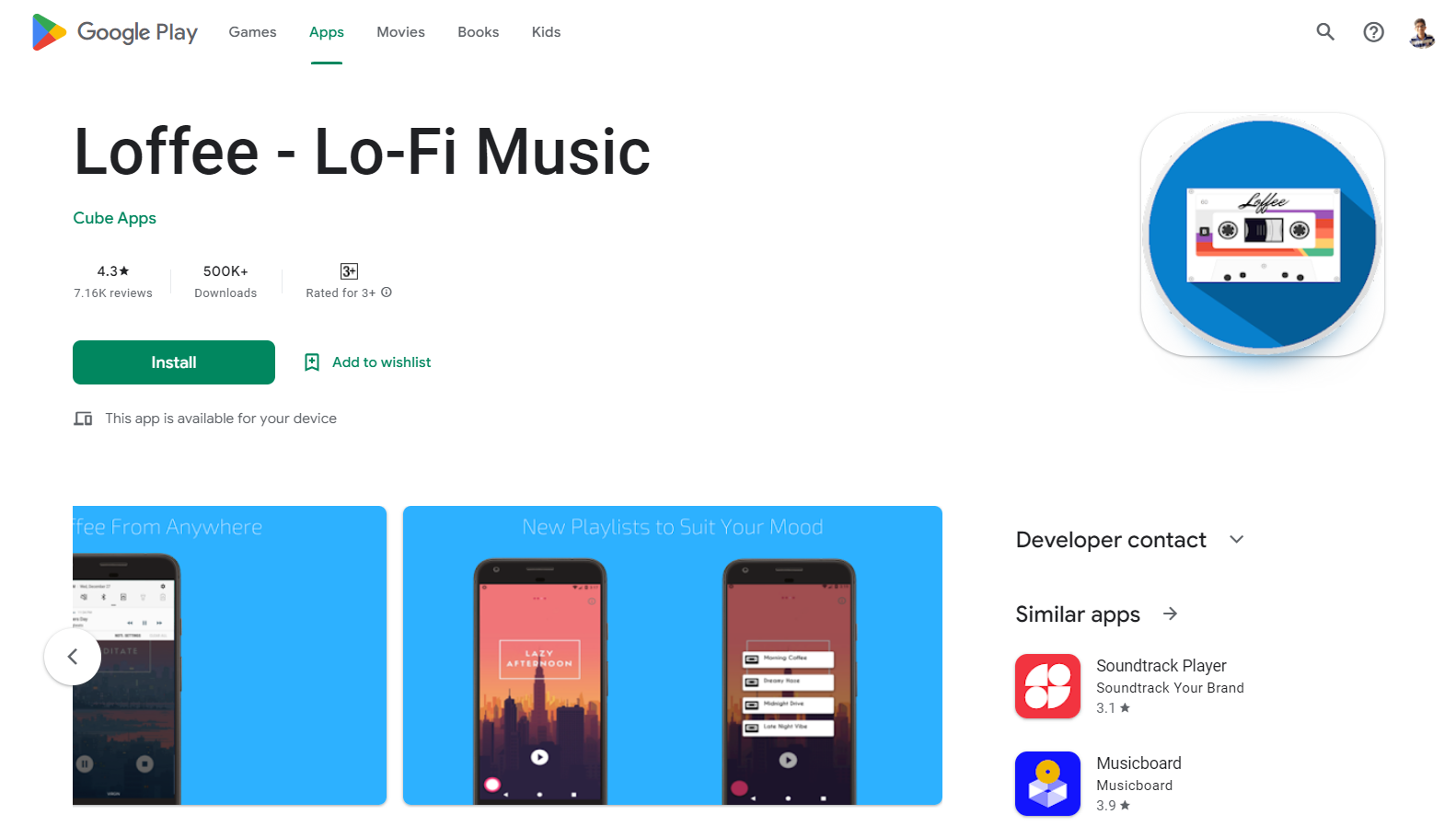 Loffee is a lo-fi music app exclusively for android users, it's available on Google Play.
It has a beautiful and elegant user interface and offers a variety of different music options to suit your needs.
Loffee is also dedicated to promoting and recognizing talent from all over the world, making it a great choice for music lovers.
The moment you install and open the app, you will be able to see a simple screen with a play button and a list of available tracks.
You can either hit the play button to start listening to the default playlist or you can choose from the other available options.
You also get the timer option to stop the music whenever you want it to.
Notable Features
Offers different music options
Dedicated to promoting talent
Simple and easy to use
Stop timer
Pricing
Loffee is a completely free-to-use app.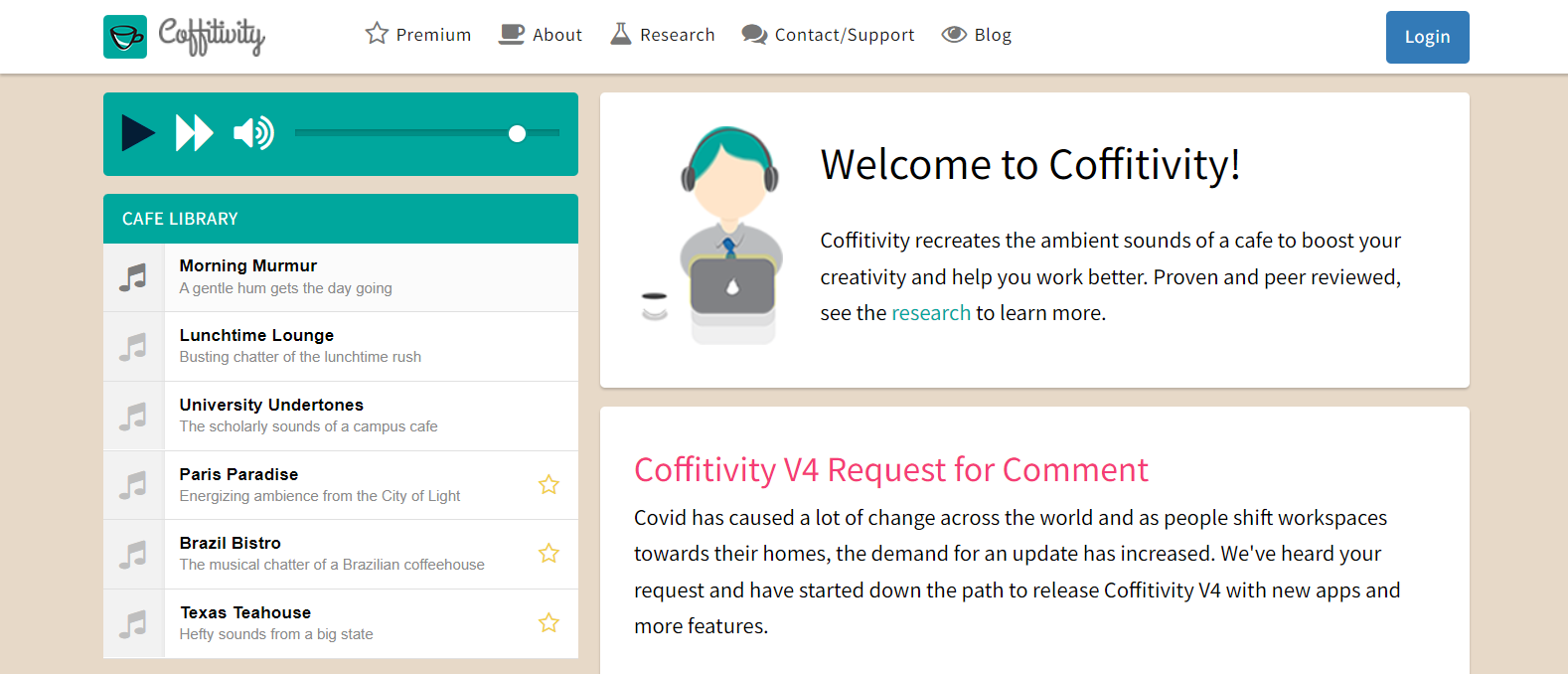 Coffitivity is a website that plays the sound of a coffee shop, to help people focus while they work.
The idea is that the background noise of a busy café can help to boost productivity and creativity.
Upon researching, they have proved one thing – if you want to be highly productive while working, you need at least some specific disturbances around you. The right level of background noise can help to keep you focused and alert, while also providing a sense of comfort.
Coffitivity offers a range of different sounds, from the gentle murmur of a small café to the bustle of a busy train station.
Users can also customize the volume and duration of the sound, to find the perfect level of distraction for their needs.
Whether you're working on a project at home or trying to concentrate in an open-plan office, Coffitivity can help you to get in the zone and get things done.
Notable Features
A variety of different sounds to choose from
Customizable volume and duration
Helps you to focus and be productive
Use without login
Pricing
Coffitivity is free to use but they do have a premium plan that costs $9/year.
Final Wave
We all know how important focus is.
It can be the difference between getting things done and not being able to get anything done, to say the least.
There are a lot of things that can help you to focus, but listening to the right kind of music is one of the best. The right music can help to block out distractions, increase productivity, and boost your mood.
Hopefully, this article has helped you to find the perfect brain.fm alternative for your needs.