Have you ever wondered how some people make it big?
Despite having allotted the same 24 hours in a day, they always seem to have their act together, don't they?
They're always on top of their work, meeting deadlines with ease, and leaving room for a social life as well!
How do they do it?
The answer is simple – they've mastered the art of time management!
And if you have stumbled upon this article, then it's safe to say that you're looking for ways to manage your time better too. If not, you're at least curious about choosing a time management tool that will work best for you.
Right now, you're perhaps stuck between Akiflow and Motion, which are two of the most celebrated options out there.
Keep reading this ultimate comparison guide to see which app comes out on top in terms of features, usability, price, and more.
Akiflow Vs Motion: A Quick Overview
First things first.
Pricing is not the only reason to choose Akiflow. Although it is lower compared to that of Motion.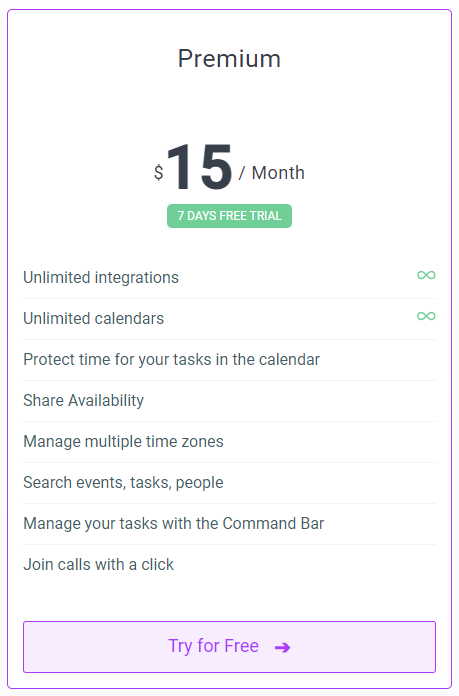 On the other hand, the minimal user interface is also not the only reason to choose Motion.
There's a lot more that goes into the debate.
While Motion is perfected towards efficient calendar and projects/task handling, Akiflow is more inclined towards saving your time through scheduling and automating various workflows.
Also, just to make things clearer – both tools have recently launched their mobile apps. However, Motion is also available as a web app while Akiflow requires you to download their software for desktop to be used on your pc.
That being said, both Akiflow and Motion have their own unique set of features that make them great time management tools.
And as they say, the devil is in the details. So let's dig deeper and see how Akiflow and Motion compare with each other on various fronts.
How Akiflow And Motion Work
Although both tools have the similar goal of saving time through the respective features that they provide, the features and the process may differ. While Akiflow is more task-oriented, while Motion is calendar and meeting-focused.
Here's how both of them function:
Akiflow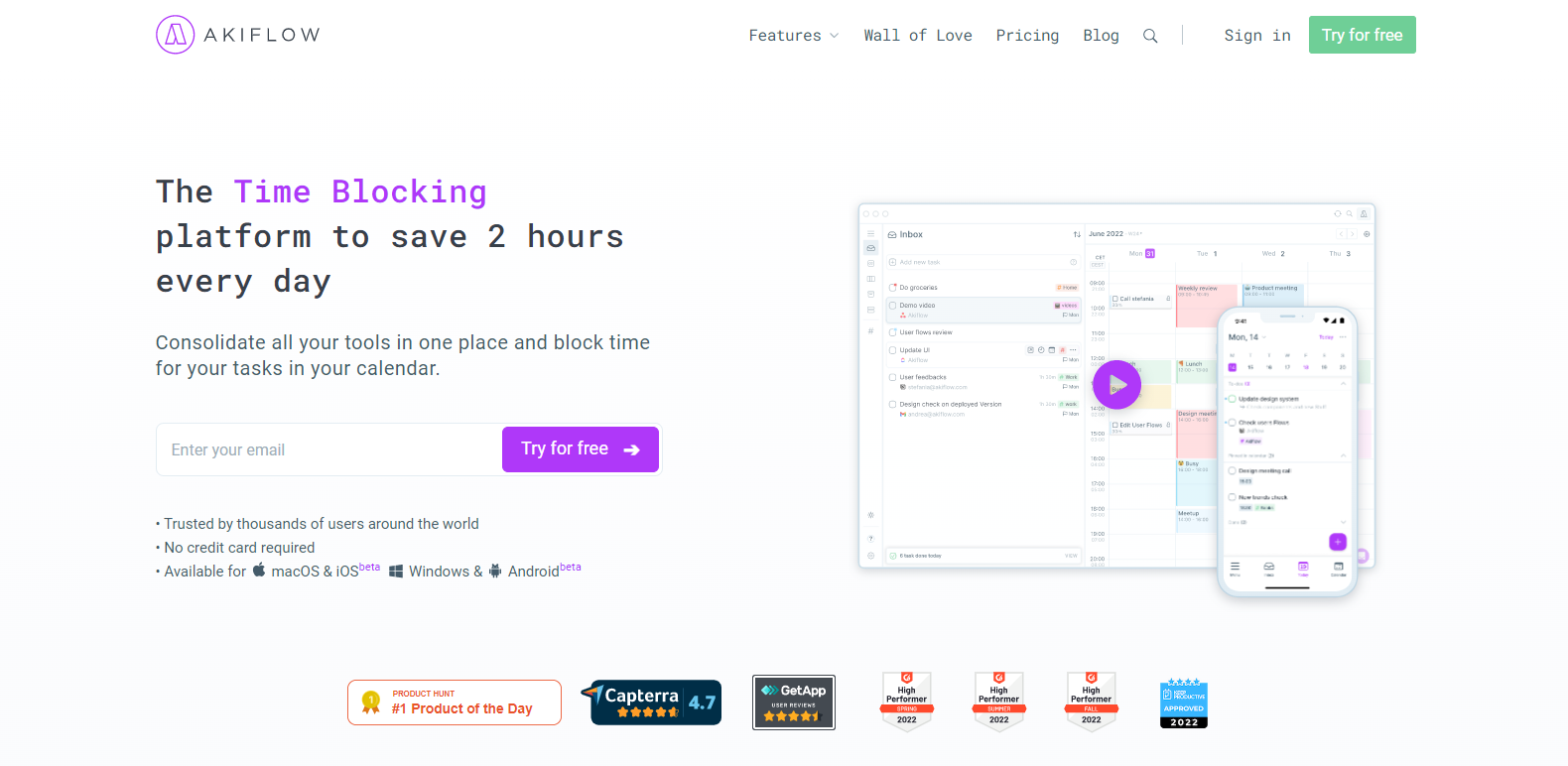 Akiflow is a super-efficient time-blocking tool that uses the power of task management and integrations to help you get things done faster.
It's designed to help you focus on the most important tasks, block out distractions, and get more done in less time.
At a very basic level, Akiflow's dashboard is divided into three main categories – one for accessing the menu, one for creating new tasks, and another for accessing your connected Google Calendar (and benefitting from its drag-and-drop feature).
When it comes to integration, Akiflow is the real hero as it not only helps you connect to various productivity tools but also helps connect different accounts (email IDs) of the same tool.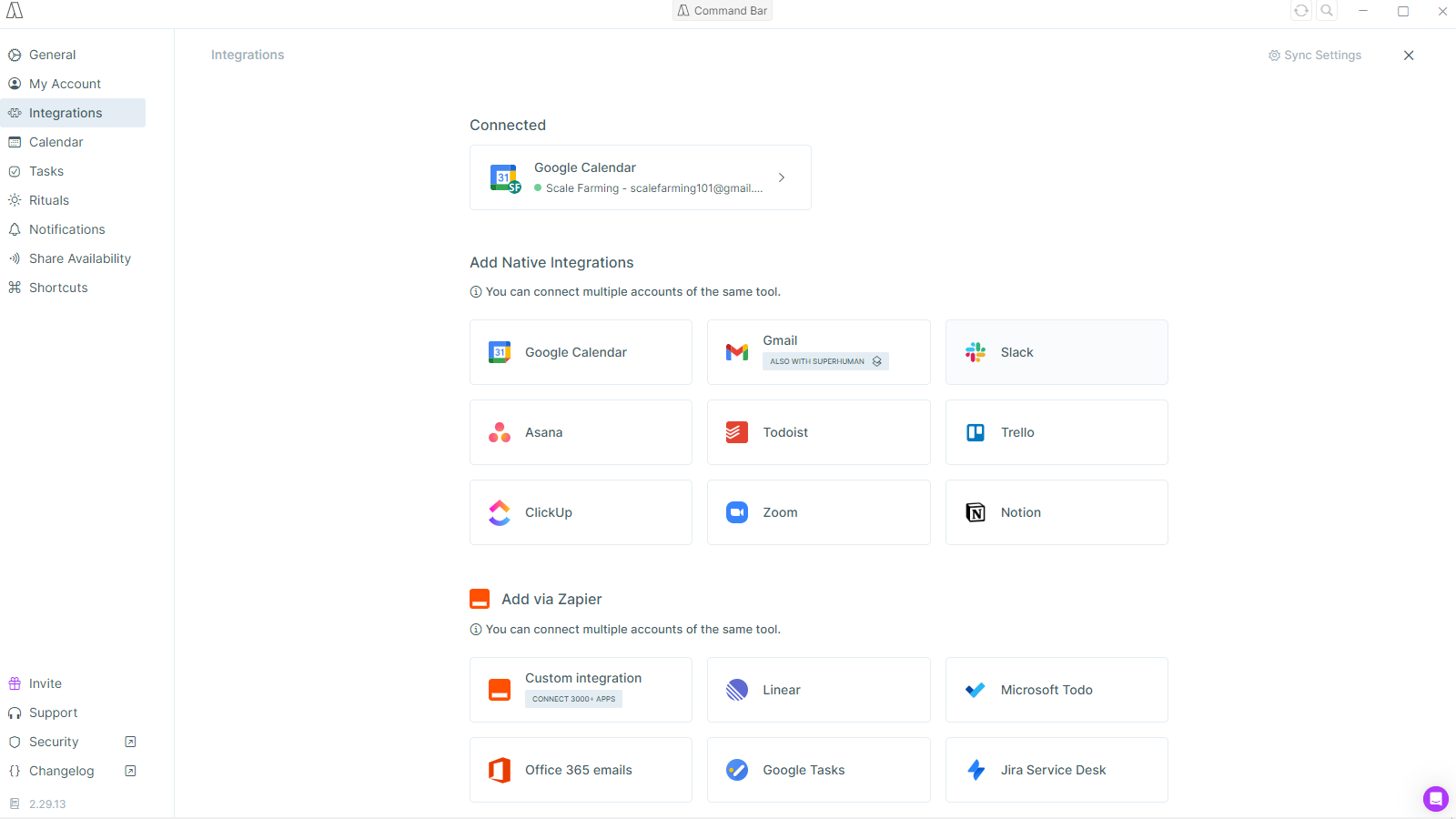 Akiflow brings all the tools you use together in a single screen and lets you work with them side by side. This way, you can easily track your progress and see what still needs to be done.
One of the things that separate Akiflow from Motion is its Daily Planning and Shutdown feature. It helps you take a step back and plan your day in a more structured way, just like Sunsama.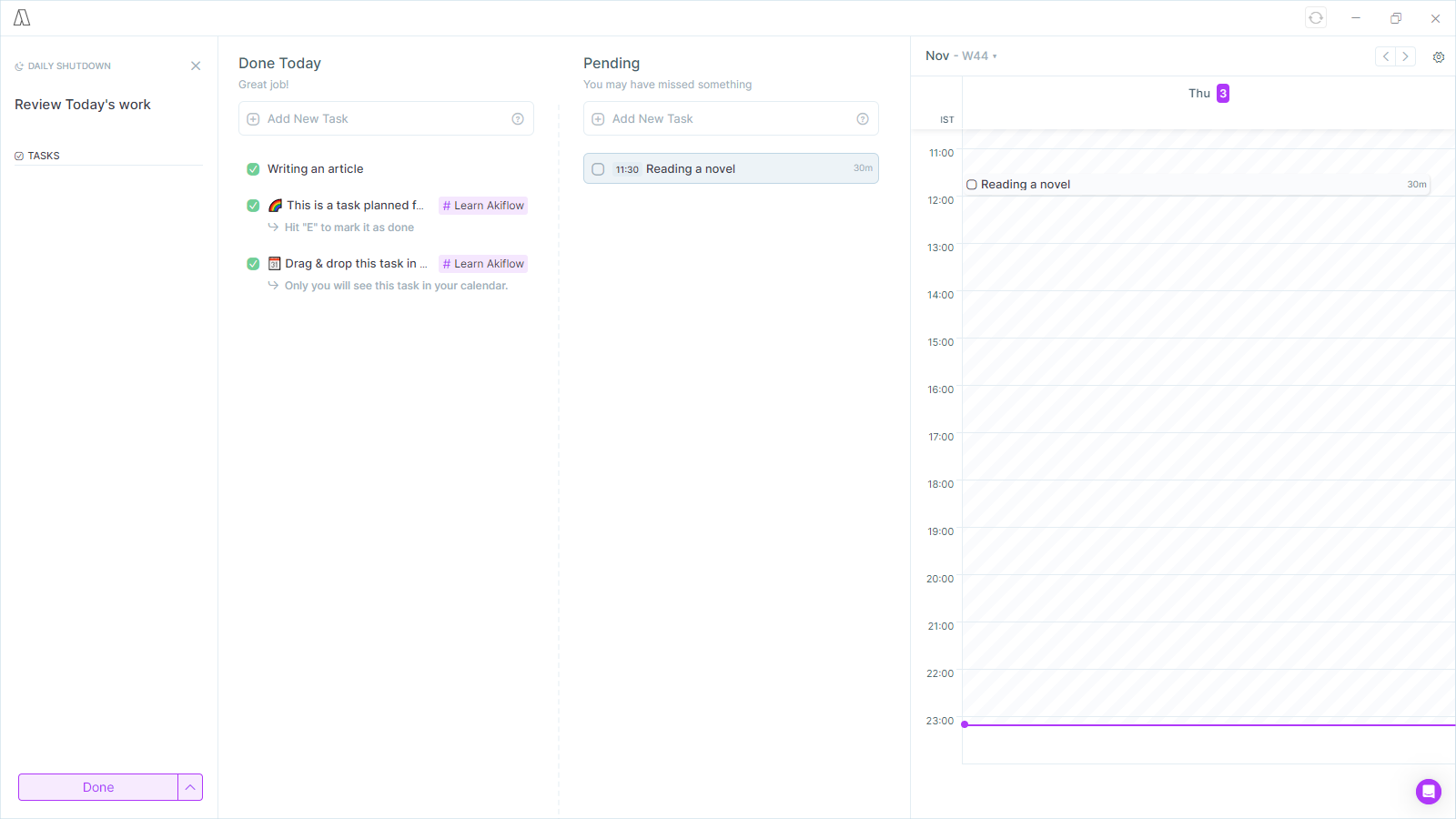 For meetings, you can also easily share your availability with Akiflow and it'll show up in your calendar (more on that later).
Lastly, Akiflow also offers a command bar that lets you quickly access the features and options (through keyboard shortcuts) that you need without having to go through the menu.
Pros
Efficient task management.
User-friendly interface.
Great integrations.
Productivity tracking.
Meeting scheduling.
Cons
Motion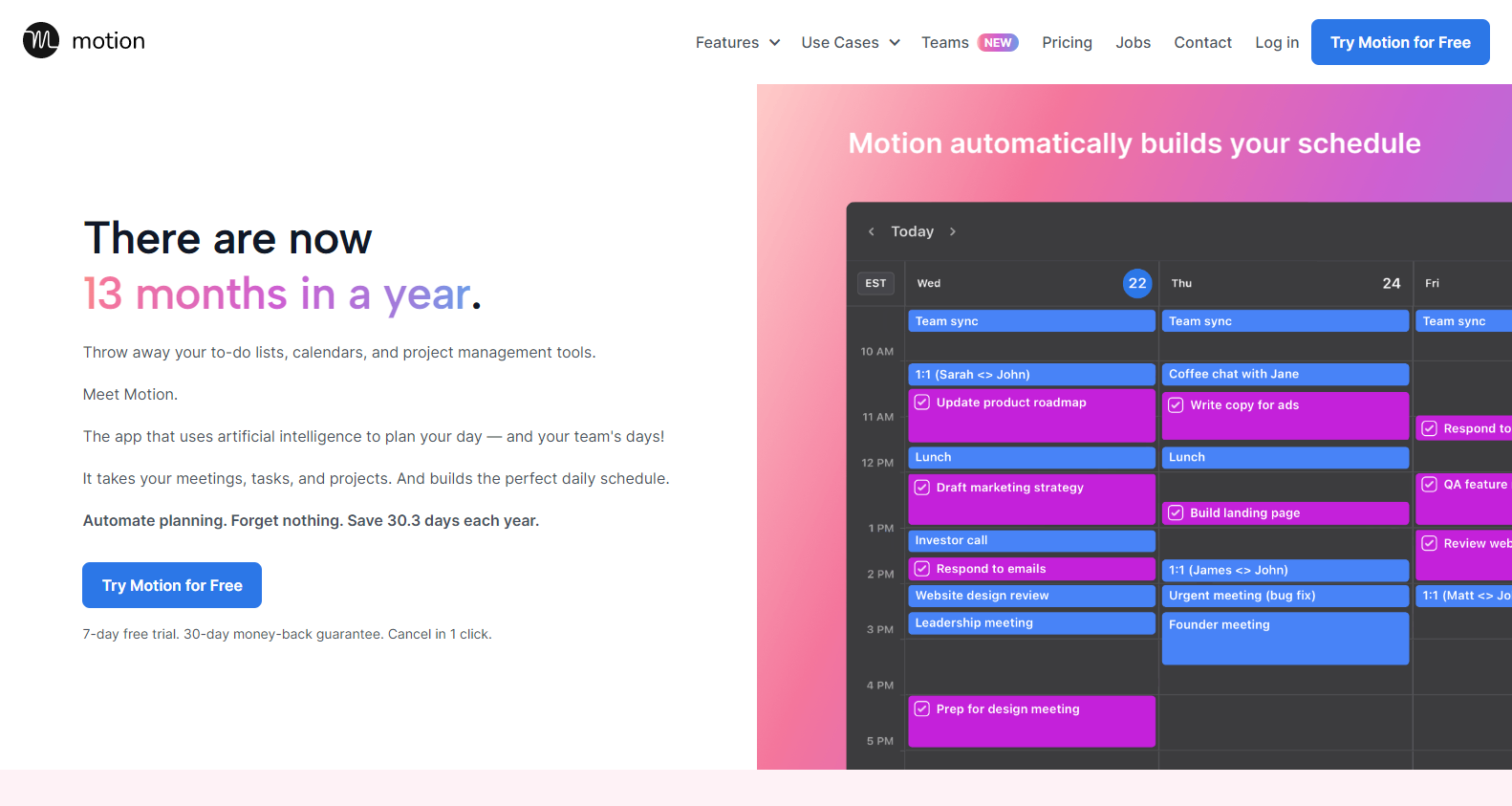 Motion is a beautiful and simple but not limited to to-do list app that helps you get your life in order and makes sure you never forget an important task again.
It consists of 3 main features – Calendar, Projects & Tasks & Meeting Scheduler.
The Calendar feature is a great way to get an overview of your tasks and events. The Projects & Tasks feature allows you to keep track of your progress on various projects. The Meeting Scheduler is a great way to schedule and manage meetings.
And trust me when I say that is a smart scheduler. It not only schedules the meeting for you, but also sends out invitations to the attendees and reminds them about the meeting.
With a click of a button, you can copy your availability message (with a booking link) and share it on an email, slack, or any other platform.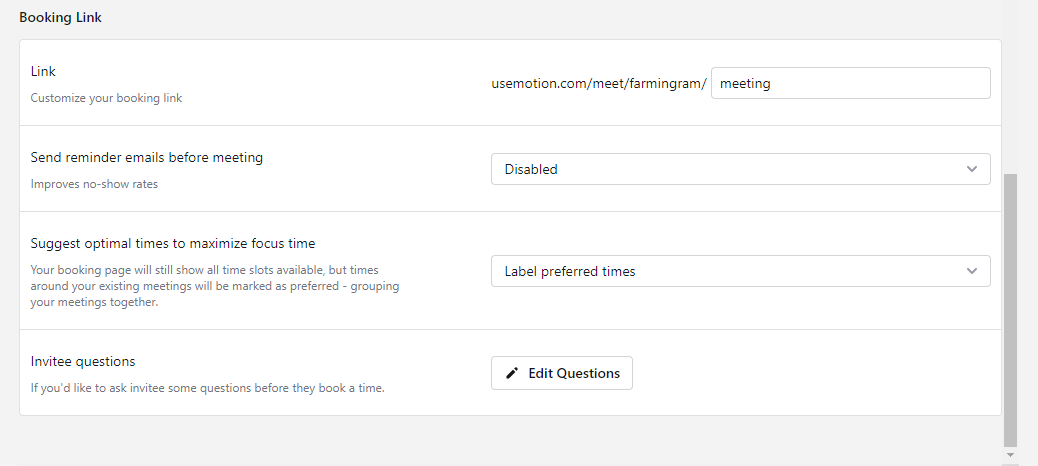 When it comes to task and project creation, Motion offers several templates to make your work easier and faster. It also allows you to create your own.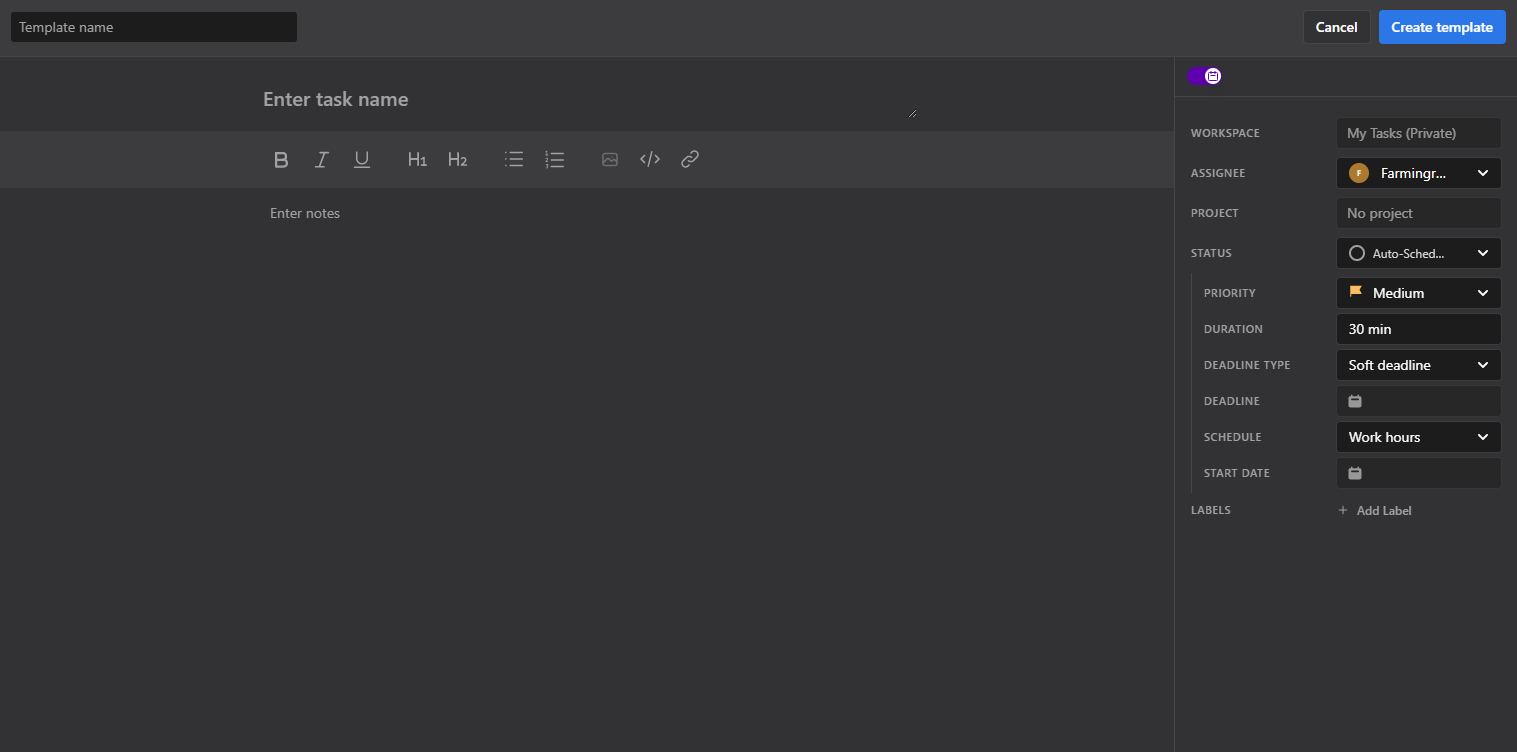 If you want to add recurring tasks, Motion makes it easy to do so. You can create recurring tasks on a daily, weekly, monthly, or yearly basis.
Pros
Great for team collaboration.
Highly customizable.
Efficient meeting scheduler.
Offers a variety of templates.
Cons
Akiflow is a better option for those who want more with creating an arsenal of all the tools at their disposal in one place.
Getting Started With Akiflow and Motion
For Motion:
> Step 1: Once you log in to Motion, you will be shown a video tutorial to help you learn the basics about using Motion. You can either watch or skip and move directly to their clean dashboard with an aesthetic background image (that keeps changing). This page is the hub that displays all the tasks and events you create.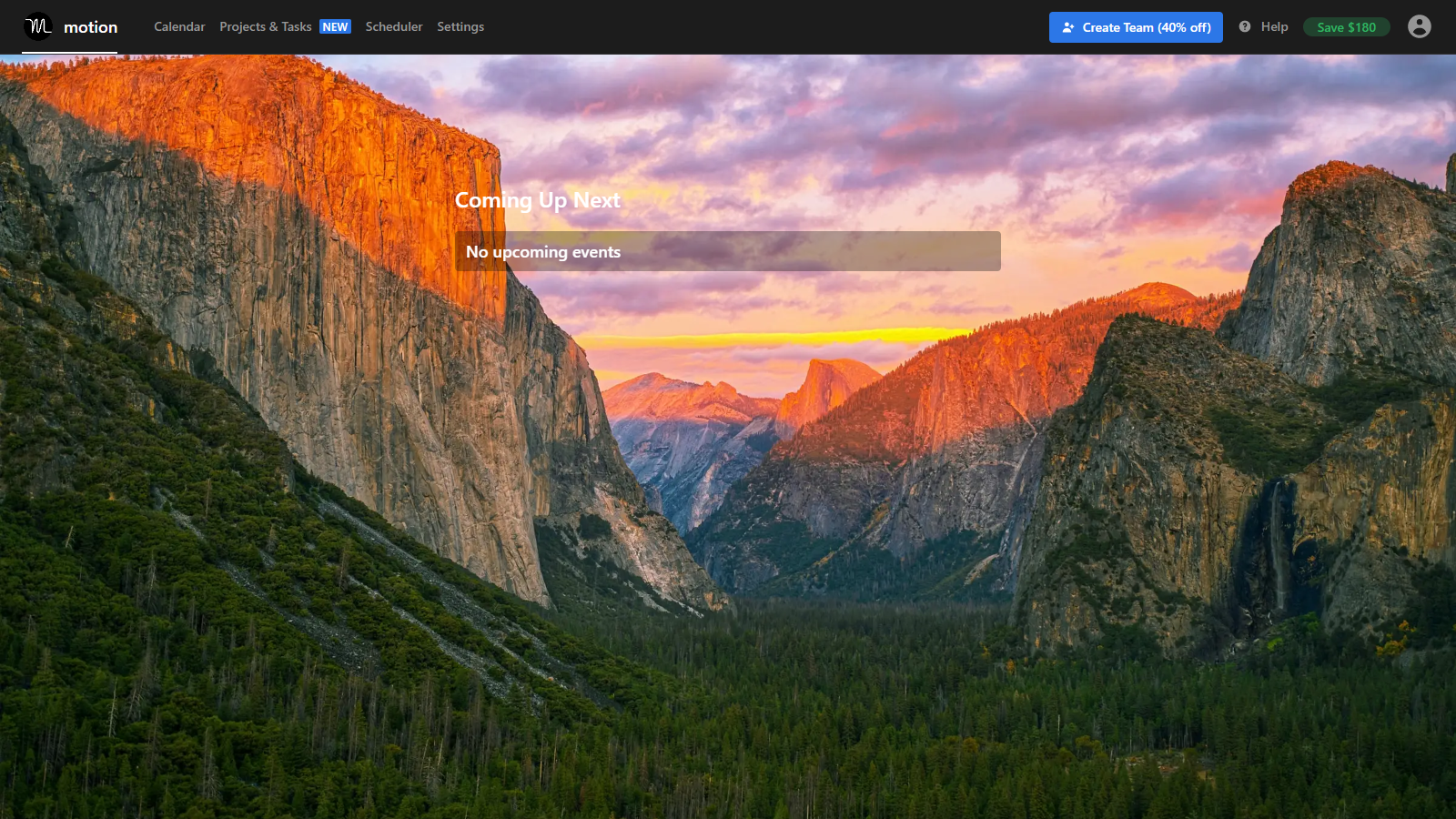 > Step 2: The header navigation bar helps you access their most important features i.e., calendar, tasks, project, and meeting scheduler.

> Step 3: Now all there is left is to learn how to use those features to your advantage and get the most out of the tool.
For Akiflow:
> Step 1: After logging in with Akiflow and after having installed their desktop app, you will immediately be asked to connect your Google Calendar with Akiflow.
> Step 2: Once that is done, you will be asked to create a keyboard that will enable you to open a command bar.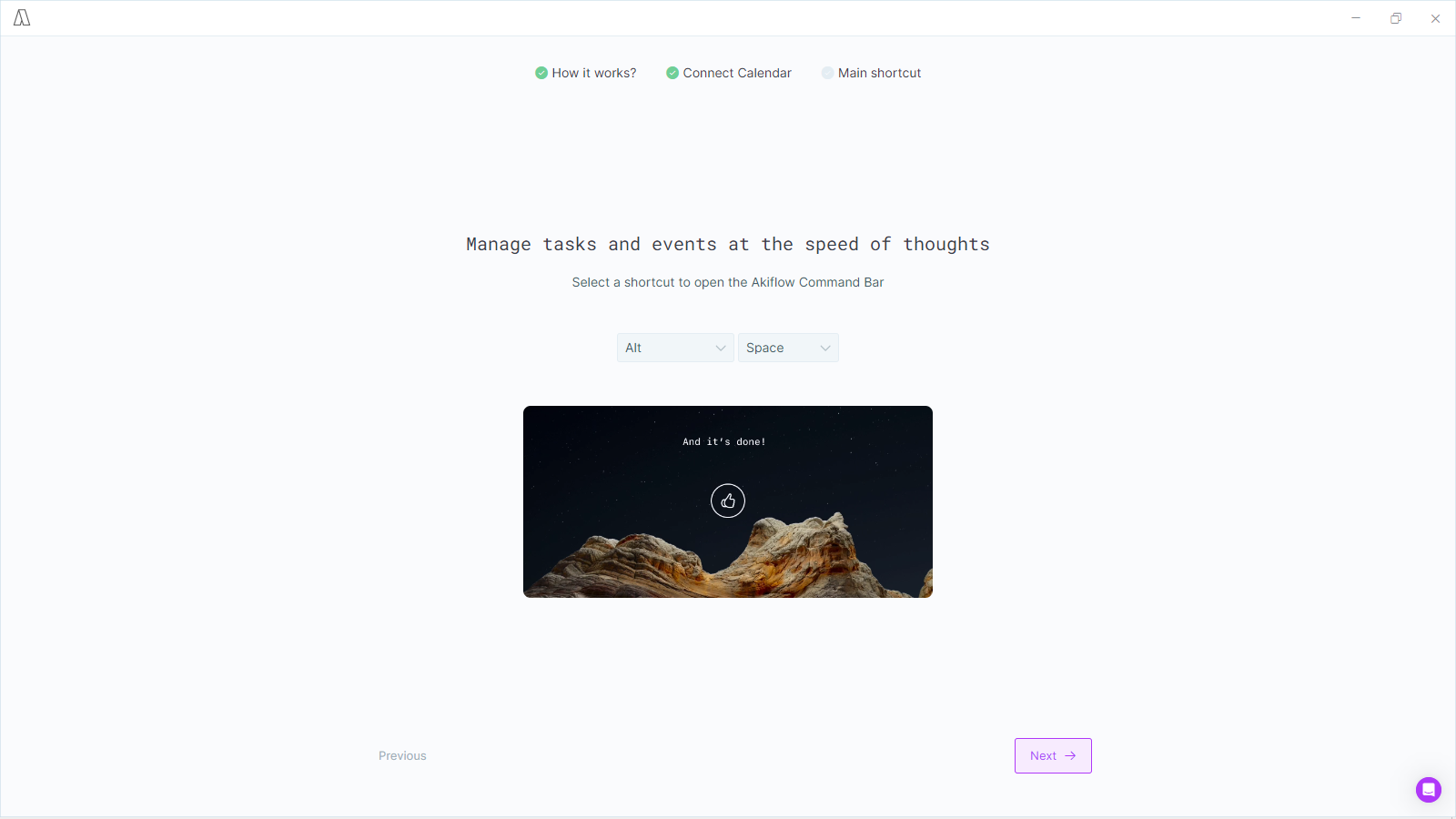 > Step 3: Akiflow's interface is pretty straightforward. The main Akiflow window is divided into three sections: Akiflow's left sidebar where there is the menu (that includes your Akiflow Inbox, Akiflow Keyboards, Akiflow's scheduled tasks, Akiflow's today view, labels, and more), the middle pane from where you can create tasks, and the right sidebar that displays the connected Google calendar.
That is pretty much it for the Akiflow interface. Now that we know how Akiflow and Motion look, let's compare the features they offer:
Akiflow Vs Motion: Which One Has Better Calendar Features?
When it comes to choosing a calendar app, there are a few things to consider. One is whether you want an app that is focused on productivity, like Akiflow, or one that is more general-purpose, like Motion.
Another is whether you need an app that works offline, or if you're okay with an app that requires an internet connection.
And finally, you'll want to think about which features are most important to you. For example, do you need an app that can sync with your Google Calendar or one that offers a more robust set of features?
If you're trying to decide between Akiflow and Motion, here's a look at their respective calendar features to help you choose the right app for your needs.
Motion has a separate section for Calendar (here, the calendar refers to linking Motion to the Google Calendar).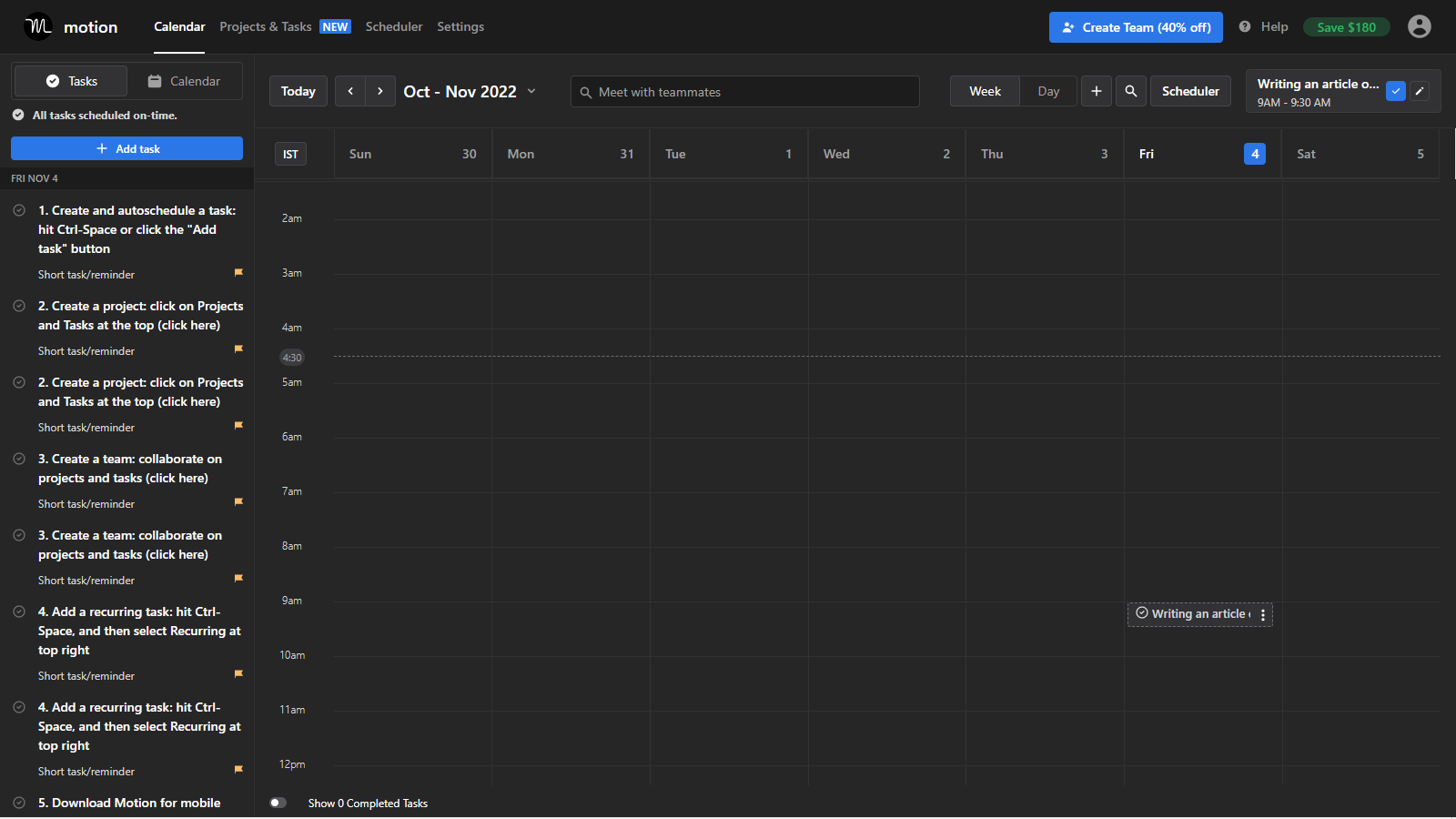 Here, you can see your upcoming events, as well as create new ones. You can also invite other people to events, and see who has RSVP'd.
The left sidebar can be used to create new tasks (be they one-time or recurring), which can be assigned to people and given deadlines. You can also use the sidebar to see your task list, which is grouped by project.
You also get to choose from almost every timezone possible (very helpful in terms of overseas clients).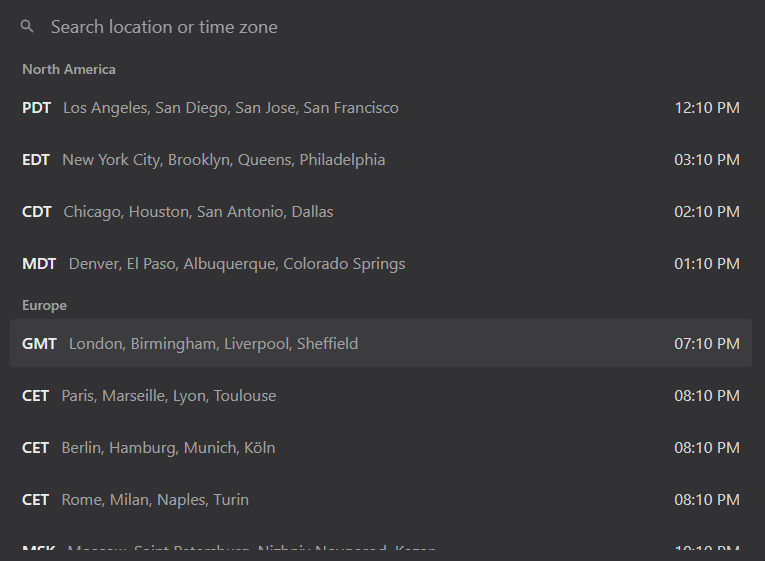 Most importantly, there is this scheduler feature in the top right corner.
It not only allows you to share your empty/free time slots in the calendar, but also helps others book meetings with you, based on your availability. It's an amazing feature.
Akiflow, on the other hand, also offers awesome calendar features. However, they are not as extensive as Motion.
In Akiflow, the calendar is found on the right window pane.
And if you closely observe the top-right corner of the interface, you will see an option called Calendar settings.

The settings include the ability to change the view of the calendar, show more than one timezone in your calendar, and other settings.
Akiflow also offers a great way to share your calendar availability with others.
You get the option to create either availability through a manual slot or a recurrent slot. Akiflow also allows you to share your calendar with Akiflow groups or other Akiflow users.
Akiflow vs Motion: Which One Has Better Automation Capabilities?
Akiflow being an extensive workflow automation solution is the clear winner when it comes to automating your production workflows. One of the biggest advantages of Akiflow is its flexibility; it can be easily customized to fit the specific needs of your organization.
Akiflow integrates with a variety of third-party applications, making it easy to get started with automation. However, one downside of Akiflow is its cost; it can be expensive to purchase and implement.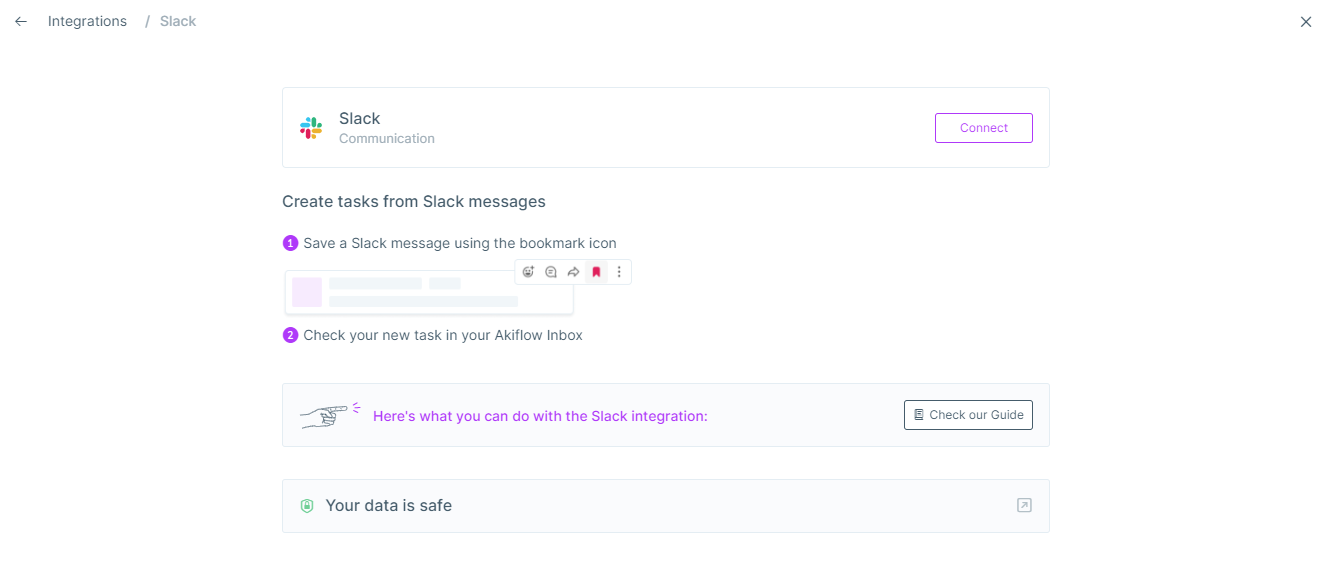 Conversely, Motion can only be integrated with the calendar apps that you use, ultimately making it less versatile. Akiflow also offers users the ability to create custom fields, making it more adaptable to specific needs.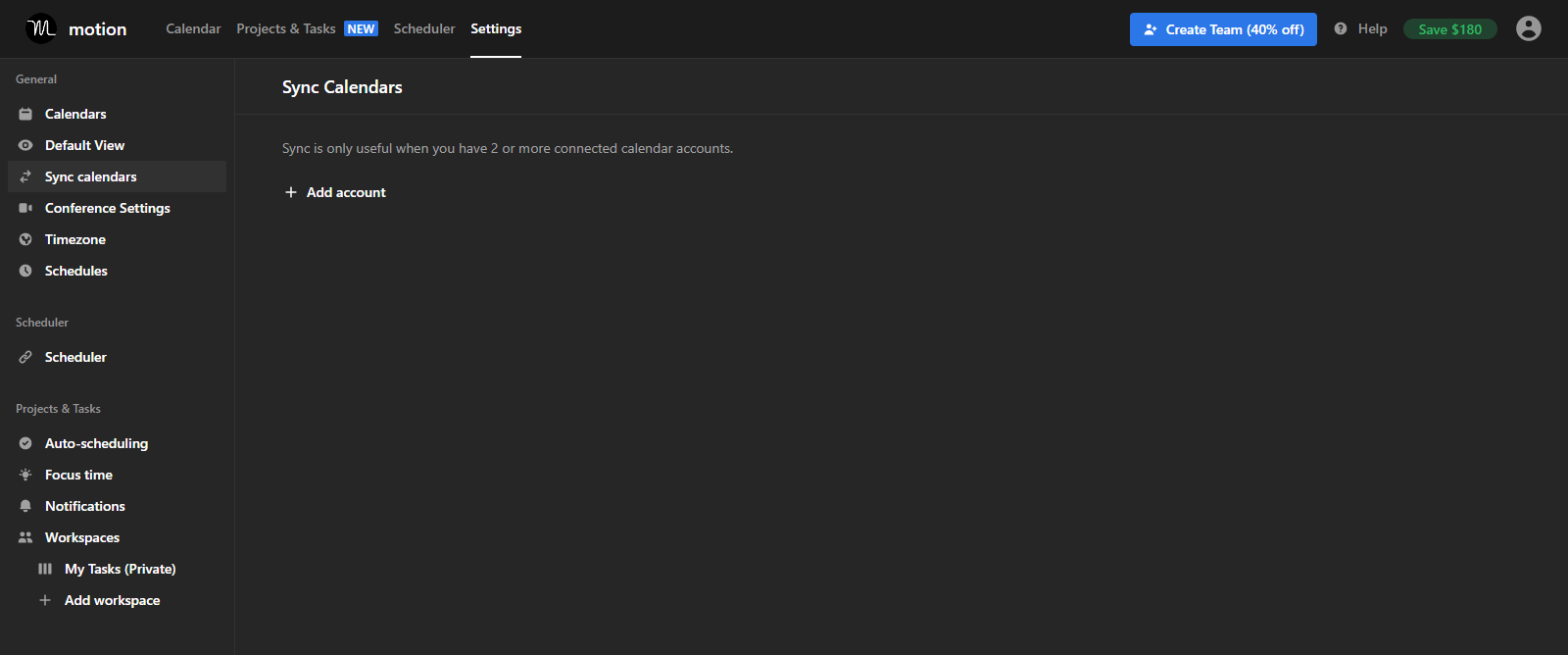 Task and Project Management
Motion has a dedicated space for tasks and projects that looks something like this:
You can either view your tasks in a list or a Kanban format.
Besides, there are separate buttons on the top right corner for creating new tasks, and projects and even sorting or filtering them by specific order.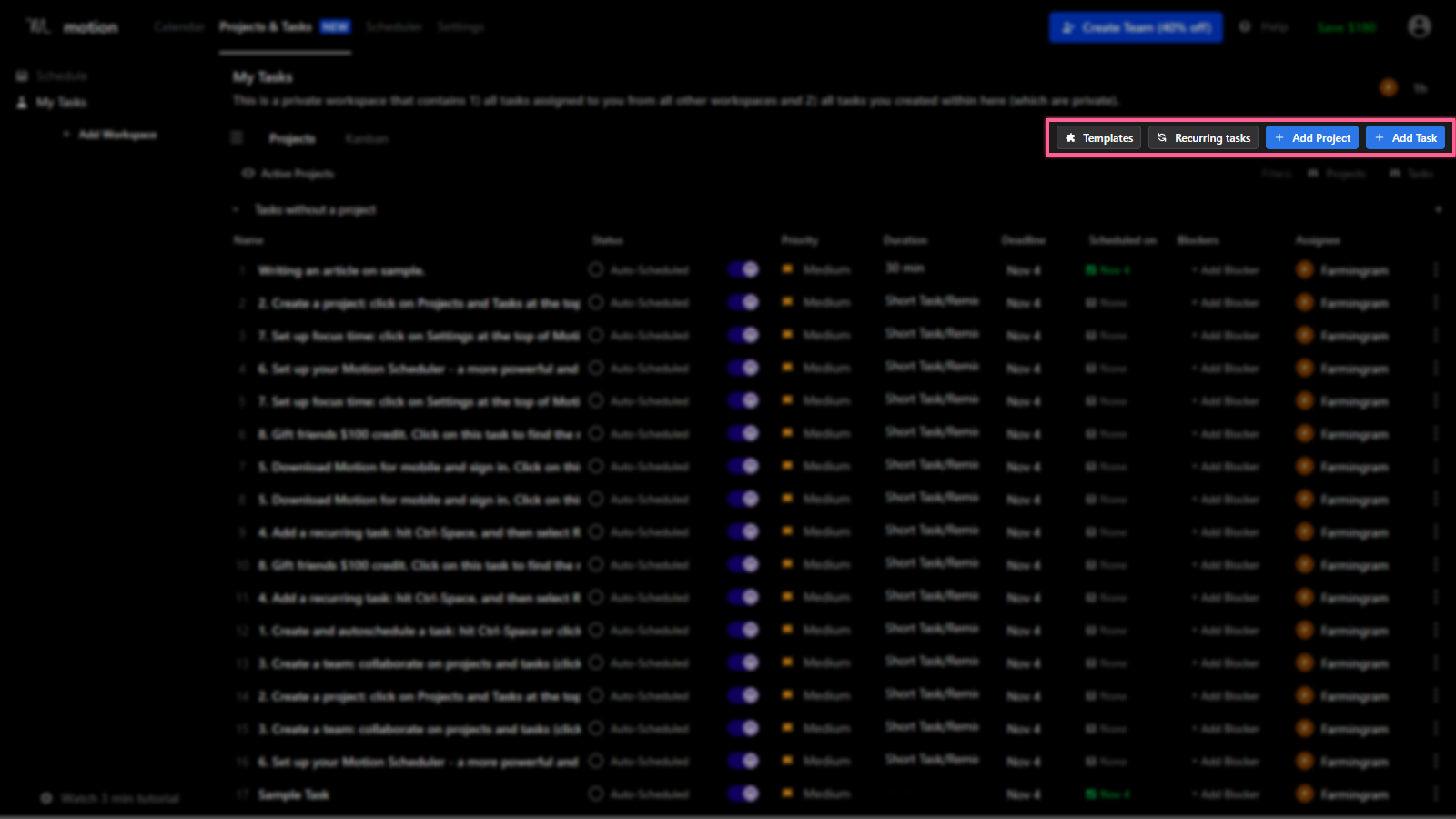 A task creation panel consists of:
Workspace name
Project name
Assignee
Start and due date
Estimated time
Description
Priority
And more!
Akiflow has a relatively very simpler approach when it comes to creating tasks.
This was all about task and project management in Akiflow vs Motion.
What's Next?
Other Features
I believe settings also play an important role when choosing task management software. Let's see how Akiflow and Motion fare in this department.
First things first. Motion has this one feature in settings called Focus time that you can enable to block out time for yourself where and when you'll be able to perform deep work without being bothered to join an unnecessary meeting.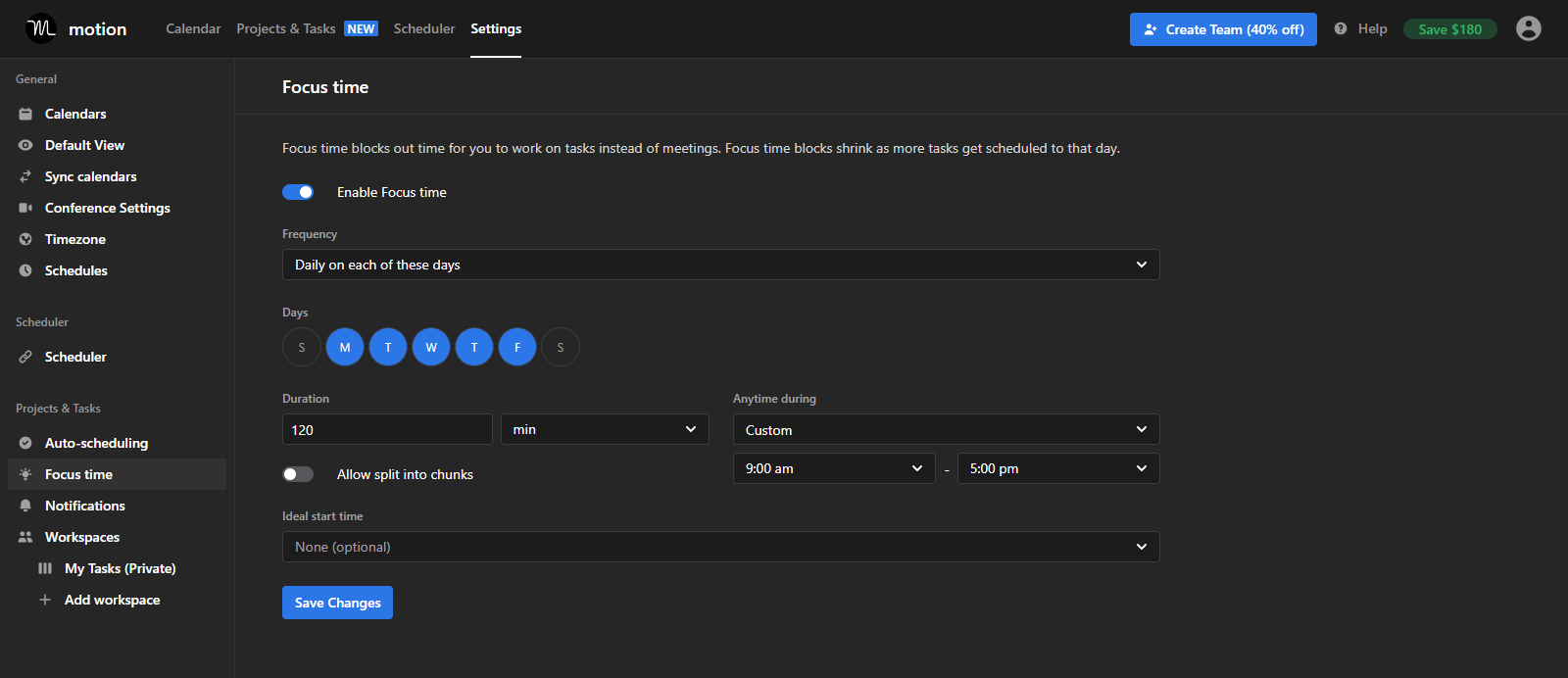 Besides, there is a setting to set a default and a secondary timezone for your tasks and calendar.
Additionally, here are some honorable mentions you can play with – Conference settings (for joining a meeting), notifications, auto-scheduling, and more.
Akiflow has some quite interesting hidden features in its settings.
Firstly, the Rituals section allows you to set the ritual behavior for each day i.e. when to open a daily planning page, whether to open it automatically, and so on.
Similarly, the Shortcuts section lets you enable/disable shortcuts for Akiflow's various features.
Additionally, the general settings include – a web theme, Akiflow signature and more.
Pricing
Akiflow offers a 7-day free trial and then costs $15/month. Military, students or healthcare workers can get additional discounts by contacting Akiflow support.
Motion also offers a week's free trial. You can then choose to upgrade to its Individual plan which costs $34/month or the Team plan which costs $20/month.
Conclusion: Akiflow or Motion? 
Well, as always, it depends.
If you're looking for a tool to manage your tasks and calendar, and automate the boring stuff, Akiflow is a great option. It's easy to use and has a lot of features that can save you time. If you want to bring together all of your productivity tools into one place, Akiflow it is!
However, if you're looking for a tool that is specifically designed for productivity, then Motion is the better choice.
It has more features and options that can help you be more productive, especially the meeting scheduler that effortlessly blocks time for uninterrupted meetings and shares your availability so that your clients can book the free slots, smoothly.
Akiflow also has this feature, but it is not as streamlined as Motion.
Akiflow's interface can also be a little overwhelming at first, but you'll get used to it eventually.
So, there you have it.
Akiflow and Motion both have their pros and cons, but at the end of the day, it really depends on your needs and preferences. Hopefully, this article has helped you decide which tool is right for you.