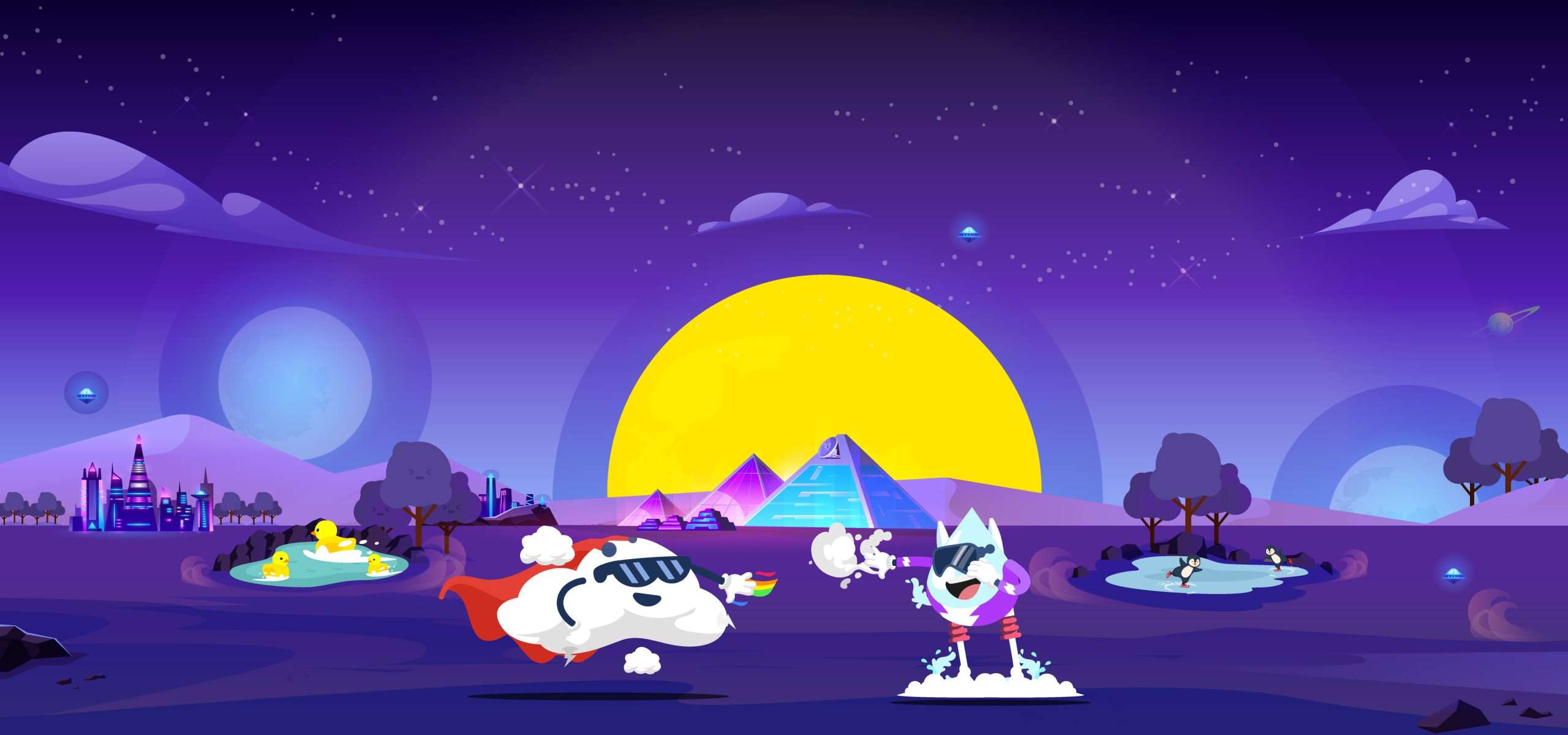 Akiflow and Morgen are two productivity tools that offer a host of calendar, task, and meeting management features.
While both tools help increase productivity, it's important to understand their differences.
Akiflow, for instance, consolidates all your tools in one place, whereas Morgen focuses on providing a unified calendar.
This article provides an in-depth comparison of Akiflow and Morgen, aiming to help you select the app that best suits your needs.
Our TL;DR Verdict
If you prioritize third-party integrations and seek a unified interface for all your tasks, Akiflow would be an excellent choice.
On the other hand, Morgen is ideal if you require seamless meeting scheduling functionality and a platform to consolidate all your various calendars.
Akiflow Vs Morgen: Ratings
| | | |
| --- | --- | --- |
| Review Aggregator | Akiflow | Morgen |
| GetApp | 4.8/5 | – |
| G2 | 5/5 | – |
| Product Hunt | 4.9/5 | 4.9/5 |
| Capterra | 4.8/5 | – |
| TrustPilot | – | 4.7/5 |
Akiflow Overview
Akiflow is a productivity platform that centralizes and streamlines your schedule and tasks.
It offers a combination of a solid to-do list and calendaring capabilities, allowing you to block out time for tasks and avoid over-committing.
Akiflow also integrates with various project management tools, enabling seamless collaboration with your team.
Akiflow allows you to import tasks from your favorite tools into a single inbox, eliminating the need to switch between multiple apps to organize your work.
You can easily drag and drop tasks into your calendar to block dedicated time slots for focused work.
With Akiflow, you can easily share your availability with others, allowing them to book meetings or appointments that work for both parties.
Akiflow also offers a convenient feature to display different time zones alongside your local time.
In addition to these features, Akiflow offers an Upcoming View to help you plan and organize your schedule over time.
Finally, they also have a Command Bar that enables you to create tasks efficiently without relying on your mouse, enabling quick scheduling with date, time, duration, labels, and priority.
As of writing this, Akiflow is available as a desktop app and on the web.
Things I Like About Akiflow
We find it valuable that Akiflow integrates with the tools our teams use for project management.
The universal inbox feature is very useful because it allows you to import tasks from multiple tools into a single inbox.
Akiflow's time-blocking capability allows you to easily block dedicated time slots for tasks.
We also appreciate the availability of keyboard shortcuts that enable quick task actions such as prioritizing, planning, and snoozing.
Akiflow simplifies the process of sharing availability with others.
Things That Can Be Improved Akiflow
It would be beneficial for Akiflow to offer a mobile app (not a beta).
While Akiflow already integrates with popular tools like Slack, Superhuman, Todoist, Trello, and ClickUp, expanding its integration options with other niche productivity tools would be great.
Adding more robust collaboration features, team workflows, and real-time collaboration on tasks and projects, would be valuable for people working in team settings.
There is also a need for advanced reporting and analytics features.
Morgen Overview
Morgen is a unified calendar, scheduler, and task manager app that helps you consolidate and manage your calendars, to-do lists, and scheduling in one place.
It integrates with various calendar and to-do apps, allowing you to streamline your work and personal schedules.
With Morgen, you can sync and manage your calendars from different platforms, such as Google Calendar, Office 365, Exchange, Apple Calendar, and more.
Morgen also offers features to schedule tasks directly in the calendar, allowing you to allocate time for their most important activities.
You can, additionally, integrate your existing to-do lists or create new ones within Morgen.
It provides hassle-free meeting scheduling by allowing you to share your availability through customizable booking pages and scheduling links.
Morgen works on various platforms, including Windows, Mac, Linux, Android, and iOS.
Things I Like About Morgen
The fact that you can connect all the third-party calendars in one place is time-saving.
Morgen offers customizable booking pages and scheduling links, making it easy for you to share your availability and schedule meetings.
We appreciate the clean design, which makes it easy to navigate and view the schedules and tasks at a glance.
You can personalize your booking pages and customize your workflows in Morgen.
Things That Can Be Improved by Morgen
We would appreciate further expansion of integrations with other platforms such as Notion, Asana, Obsidian, and more.
We would like further improvements to the mobile app's user interface and performance.
While Morgen is primarily focused on individual productivity, the inclusion of collaboration and team features can be valuable.
We also expect to integrate more automation and AI-powered features, such as smart suggestions for scheduling tasks, natural language processing for inputting tasks, etc.
Akiflow Vs Morgen: Features Comparison
| | | |
| --- | --- | --- |
| Features | Akiflow | Morgen |
| Calendar Management | ☑️ | ☑️ ☑️ |
| Meeting Management | ☑️ | ☑️ |
| Focus Mode | ☑️ | ⛌ |
| Task Management | ☑️ ☑️ | ☑️ |
| Command Bar | ☑️ ☑️ | ☑️ |
| Integration Capabilities | ☑️ ☑️ | ☑️ |
| Day Planner | ☑️ | ⛌ |
| Free Plan/ Free Trial? | 14-day free trial, no free plan. | Free plan + 14-day free trial on paid plans. |
This section compares Akiflow and Morgen based on their shared features as well as their unique attributes, highlighting both their similarities and differences.
1. Ease Of Use
User experience is one of the most crucial aspects of using any productivity app.
There is a reason why we adore tools like Todoist and Notion—their simplicity and ease of use, combined with comprehensive functionality, make them highly desirable.
Akiflow's Ease of Use
First things first – Akiflow is not easy to use when you are just starting out. It comes with a bit of a learning curve.
They understand this better than anyone else, which is why they offer sample tasks.
They also provide helpful guides to setting up, learning, and mastering using Akiflow.
On the other hand, despite offering everything on a single page, the user interface is minimal, intuitive, and easily accessible: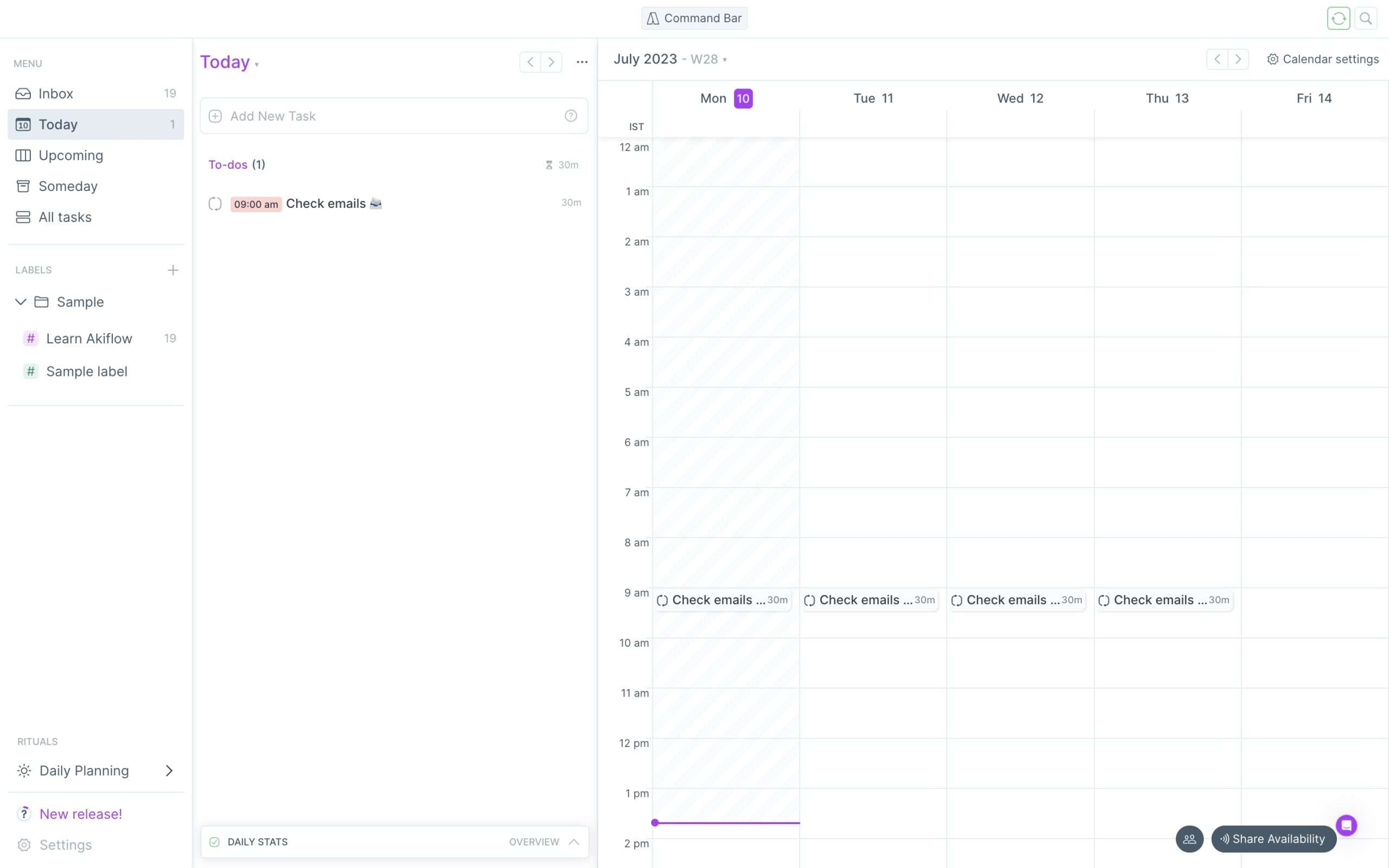 You save time by not having to navigate back and forth between different pages to perform slightly different tasks. Akiflow allows you to do everything on the same page.
And let's not forget their Command Bar. If you use Akiflow as a desktop app (like I do), you can use the command bar anywhere.
Simply press option + space on your keyboard, and you're good to go:
Akiflow's main user dashboard is divided into three sections:
1. The left sidebar: It is the collapsible menu bar that includes the ability to view all current and upcoming tasks, create task tags and labels (task folders), and access the Rituals feature (Akiflow's daily planner).
2. The middle pane: It allows you to quickly add new tasks for any date, which can then be dragged into your calendar.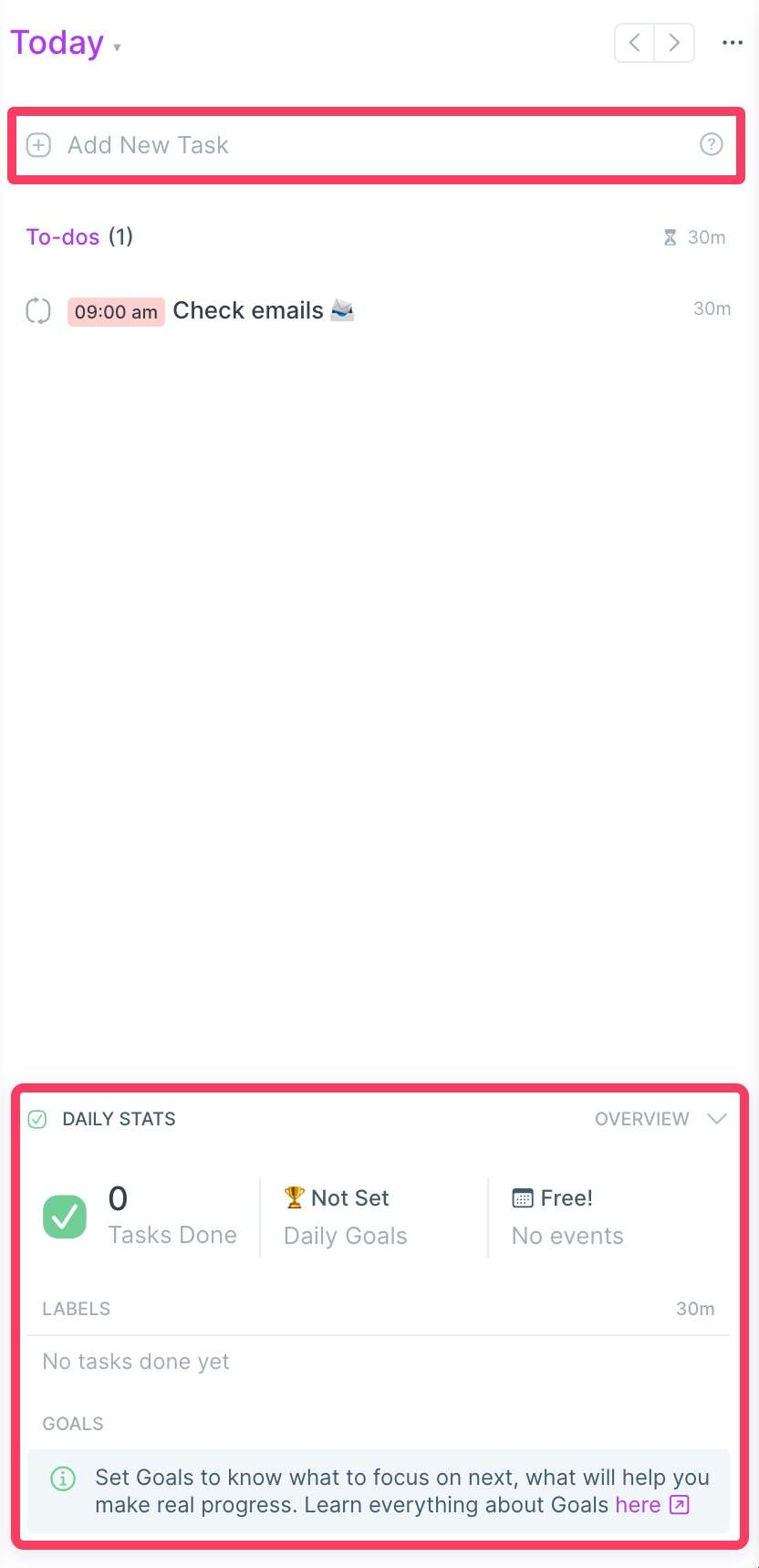 3. The right pane: This section occupies the largest space on your screen. It is your calendar, which you have complete control over in terms of what you want to view from your third-party calendar connections. You can also drag and drop tasks from the task pane to the calendar.
Overall, once you get the hang of it, Akiflow's user interface and its one-page access to all features is a huge time-saver.
Morgen's Ease of Use
Morgen is comparatively easy to use and has nearly no learning curve.
Similar to Akiflow, Morgen features a command bar, although it is not as versatile as Akiflow's. You can open it by pressing Command + K (or CTRL + K) on your keyboard.
The main interface of Morgen is a large calendar that consolidates all your connected calendar apps.
The left pane, which can be toggled on and off, allows you to create and manage your tasks.
You can also manage your scheduling links and booking page using the left pane.
The calendar view can be customized by clicking here:
In a nutshell, both Morgen and Akiflow are easy to use. However, while Akiflow requires you to go through a get-started primer, Morgen is an entirely beginner-friendly app.
2. Task Management
When it comes to comprehensive task management, Akiflow is the clear winner. It allows you to effortlessly add tasks to your preferred time in your calendar through drag and drop.
But that's just the tip of the iceberg!
Akiflow's Task Management Capabilities
Akiflow brings together tasks from all the places you visit most frequently, including your productivity to-do list and calendar apps.
Whether you want to create tasks from your emails or Slack messages, Akiflow allows you to do that and more.
For each integration, Akiflow provides a complete guide on how to connect and use specific third-party apps.
Creating a task in Akiflow is a breeze. Simply enter a task in the task creation pane and hit enter.
You can then click on the task again to add more details.
Press the F key and you will enter Focus Mode and work without distractions.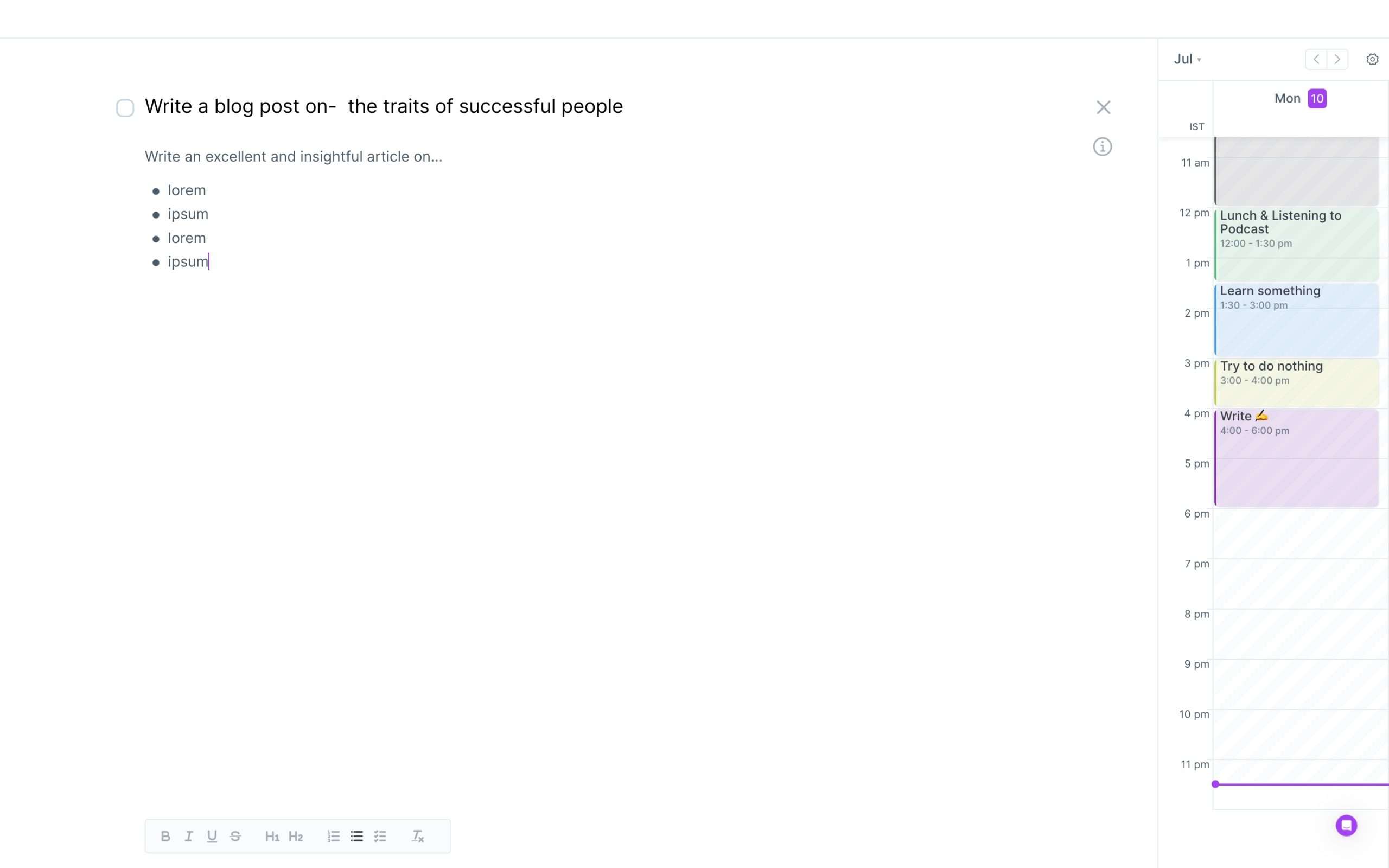 Morgen's Task Management Capabilities
Morgen allows you to connect to and import tasks from Todoist, Google Tasks, Microsoft To Do, and Outlook Email.
As discussed earlier, Morgen provides a separate task creation panel on the left. Similar to Akiflow, after creating a task, simply click on it to reveal more details.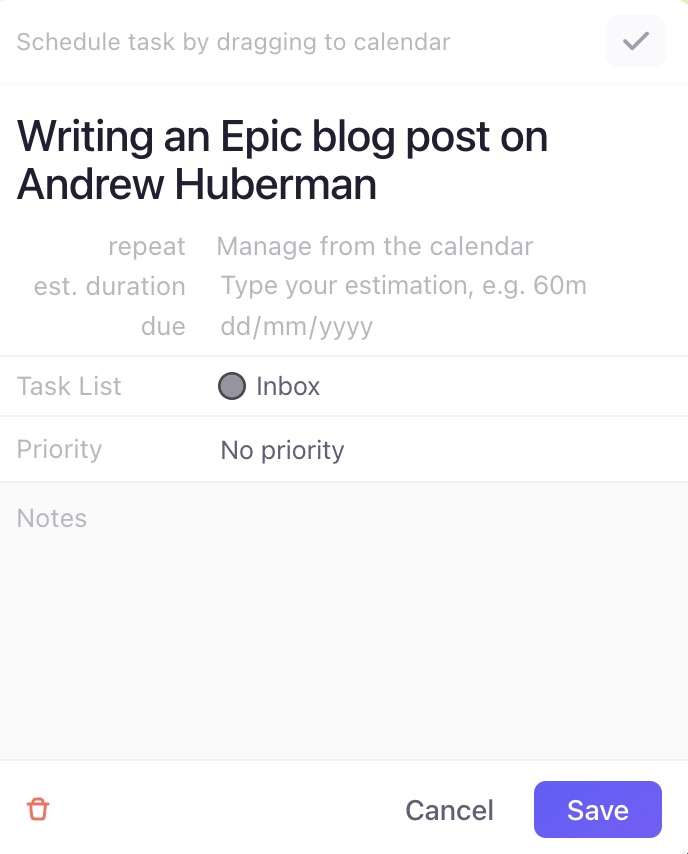 Here, you can set and modify everything from task recurrence to priority and additional notes if needed.
You can also sort tasks based on metrics like priority, due date, etc.
Additionally, you have the option to create separate color-coded task lists and group tasks under relevant categories.
In summary, Morgen's task management capabilities are relatively simple and limited.
3. Calendar Management
Morgen offers more robust calendar management features by allowing you to easily connect with a variety of third-party calendar apps without any hassle.
Calendar Management in Akiflow
Akiflow only allows you to connect to a Google Calendar. However, you have the option to choose which sub-calendars you want to enable or disable within Google Calendar.
Akiflow's calendar settings are straightforward. You can change the view (daily, weekly, monthly, etc.), add new calendars, and access various other options.
Calendar Management in Morgen
Morgen provides the ability to connect to a wide range of calendars, including Google Calendar, CalDAV, Office 365, Outlook or Exchange, iCloud, and more.
Similar to Akiflow, Morgen allows you to enable or disable specific sub-calendars.
From the top-right corner, you can access a variety of calendar-related options. For example, you can add or change time zones by clicking here: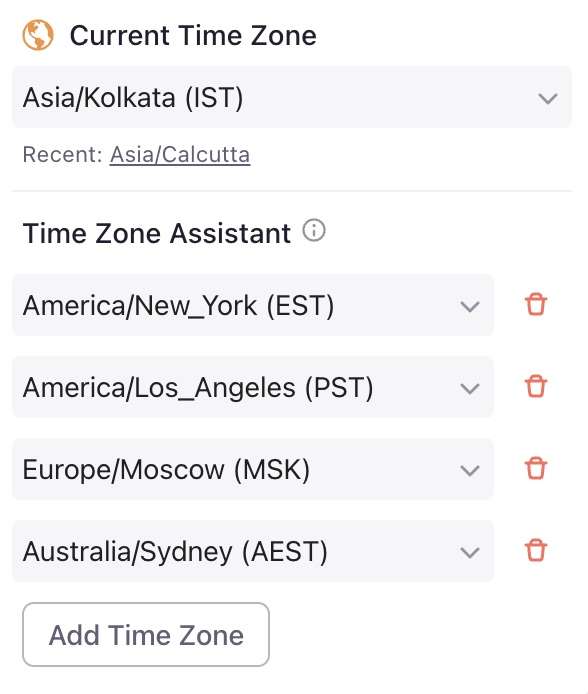 Morgen allows you to add and display multiple time zones on your calendar.
Similarly, Morgen offers numerous options in their settings that you can explore and customize.
4. Meeting Scheduling
Both Akiflow and Morgen offer powerful meeting booking and meeting link scheduling capabilities. Here's an overview of both:
Meeting Scheduling in Akiflow
Your Akiflow booking page will look something like this:
To share your availability, locate the button in the bottom-right corner.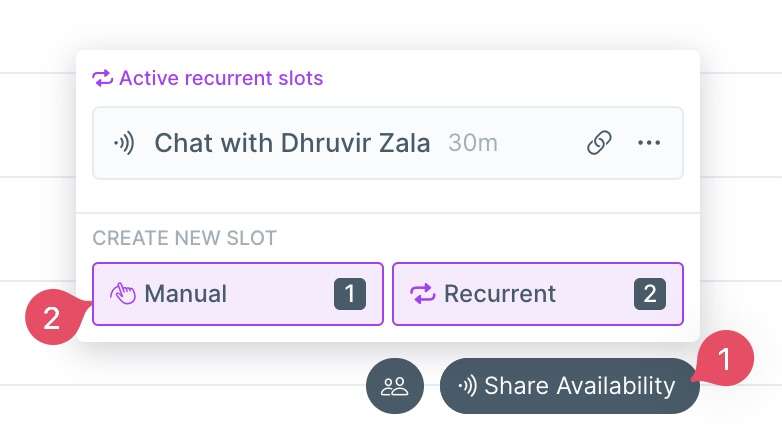 I'll go with the manual slot option.
This option allows you to drag calendar timing slots when you are available to meet. Once you have finished selecting the timings, click on "save and copy."
You can now paste these timings along with booking links anywhere you want, such as when sending an email with the link.
In the "Share Availability" settings, you can also define scheduling conditions for both manual and recurring slots.
Meeting Scheduling in Morgen
In Morgen, you can access scheduling through the left panel, as discussed earlier. Click on "Create Scheduling Link."
You will be prompted to choose one of the two options:
Recurrent Morgen Link
One-Time Morgen Link
After selecting your preferred option, drag the timings onto the calendar, give it a title, and then save and copy the link (similar to Akiflow).
Your Morgen booking page will appear as a preview, like this:
Both options serve the required purpose effectively, so there's no significant comparison to be made.
Pricing
Akiflow offers a simple pricing plan. They provide a 14-day free trial and charge $24.99 per month (or $14.99 per month with annual billing).
Morgen offers a forever free plan that allows you to connect one calendar account. Their Plus plan costs $6 per month ($4 per month with annual billing), and the Pro plan costs $14 per month ($9 per month with annual billing).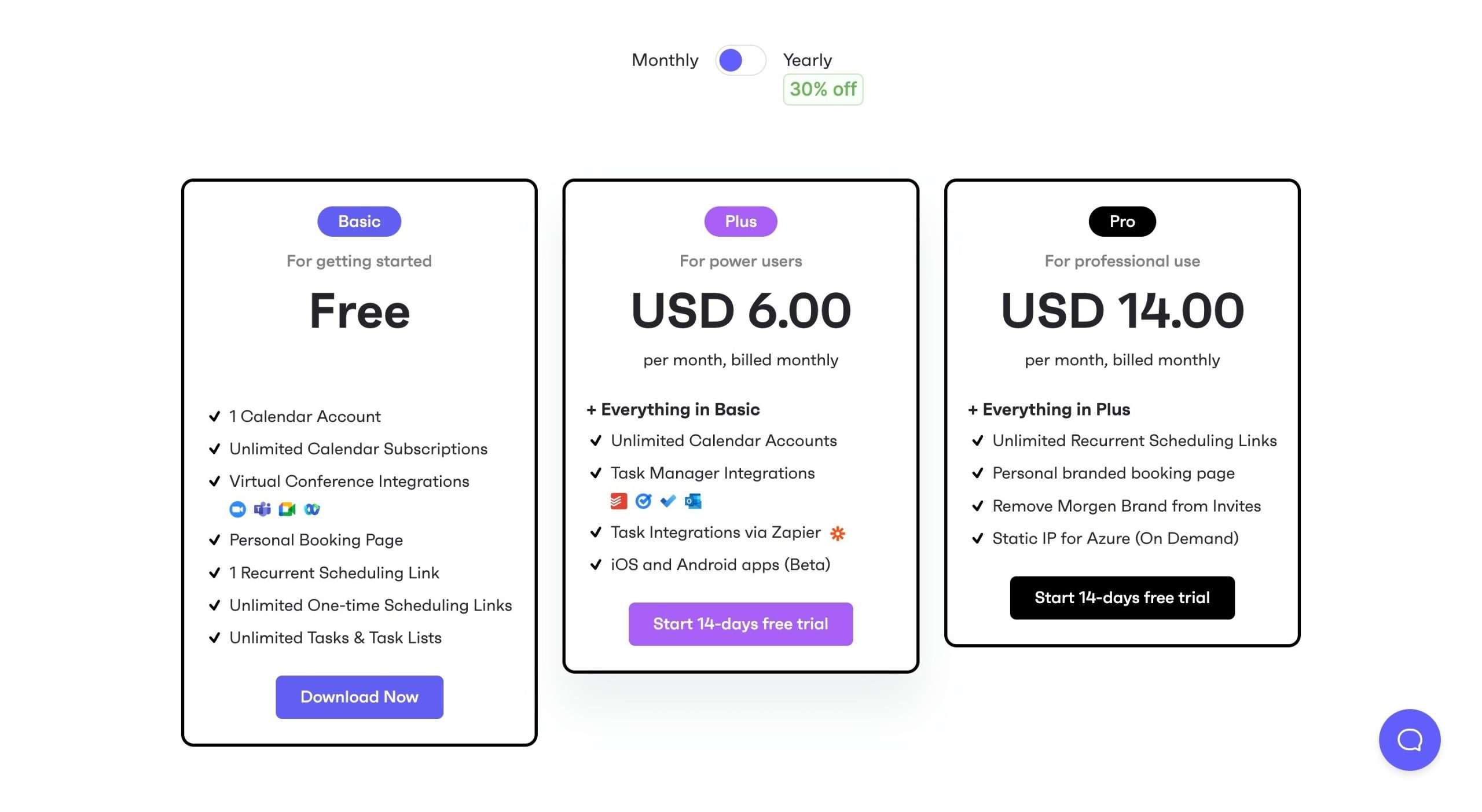 Conclusion
Both Akiflow and Morgen offer valuable productivity features, but they have distinct differences that cater to different needs.
Akiflow excels in providing a unified interface and third-party integrations, making it an excellent choice for users who prioritize consolidating their tools and tasks in one place.
On the other hand, Morgen focuses on seamless meeting scheduling and consolidating multiple calendars, making it ideal for individuals who require efficient scheduling functionality.
If you prioritize a unified interface and third-party integrations, Akiflow is a strong choice.
However, if seamless meeting scheduling and consolidating multiple calendars are your priorities, Morgen would be a suitable option.
Either way, keep it legendary!