If you are looking to build a membership site, it's essential to determine which membership platform is good for you according to your needs to manage all your membership functions online. 
Both MemberPress and Kartra are considered as two of the best options for creating memberships on your website to monetize it and earn reliable revenue out of it. 
However, since every coin has two sides, MemberPress and Kartra also have their share of benefits and drawbacks, which we will discuss in this article.
Let's dive in:
An overview of MemberPress
MemberPress, noted for its fast setup and various integrations, is known as the all-in-one membership plugins on WordPress. MemberPress is a great joy to use as it makes it easy to charge your users to get access to your content or digital products like software, e-books or online courses you offer.
Also, the design of MemberPress is easy and intuitive to deal with, and you can work with it as a part of the WordPress admin panel.
This plugin delivers all you want in a package that is simple to use. There are several methods for you to determine who may view your information up to the very last detail. For instance, accessibility to specific tags may be restricted, or visibility to a particular page or post may be limited.
It also enables you to grant or cancel access to posts, pages, categories, communities or digital files based on products your users have subscribed to for a membership website that you might consider. You may add it to several additional plugins, which are often automatically incorporated in during your purchase so that a genuinely unique membership site may be created which functions just as well as you like.
You may obtain the highest level plan if you are a programmer, and then you can implement this on any number of sites, including the WebPages of your customers.
Yet, remember that if your customers require assistance, they should contact you and then forward their inquiry to the development team if you need more expertise. If your customers have their very own license, they may contact MemberPress for assistance individually.
An overview of Kartra

Kartra is an amazing membership platform that allows business owners to deal with various tasks such as building comprehensive checkout systems, operating affiliate programs, creating automated campaigns, and providing complete payment setups.
The platform comes with an intuitive drag-and-drop builder that contains lots of elements and pre-built templates that make it easier to design your sales pages, thank you pages, and upsell pages. You can smoothly create a branded, highly converting membership site with Kartra and its conversion-led templates.
Kartra analytics and tracking reports are another outstanding aspect of the platform. For example, you can sort the report by date, by membership, by access level, or analyze the subscription level and subscription rates with the help of Kartra.
Launching an online website to provide classes or even other instructional materials involves more than simply having a website containing your items. Kartra is an internet promotional platform, completely integrated and cloud-based to make even big websites flourish.
It provides you with all you need: a competent marketplace, appealing WebPages, and subscription talents geared to enhance consumer conversions.
MemberPress vs. Kartra: Comparison of Features
Ease of Use
One of the must-have features of the best membership plugin is that it feels easy and intuitive to use so that you can set up things quickly without having extensive professional knowledge. 
MemberPress believes in this approach and thus provides utmost convenience and ease in usage and setup. All you have to do is pay for the plugin, install and activate it, and your job is done. After this, you have to configure your membership levels and configure the pages to set the membership portion of your site.

Like MemberPress, Kartra also aims to provide ease of use to its customers who are not tech-savvy. When you download and activate the plugin, it comes with a video tutorial that guides you through everything you can do with the tool.
Next, you can check its initial steps checklist that covers every function that Kartra offers. 
Landing Page Builder 
The first obvious step in creating a site to offer courses online is to build an interactive existence with the page builder using drag & drop. 
MemberPress helps you design an intuitive and user-friendly WordPress website within a few clicks. Adding MemberPress to your website can help you save time, effort, create better and more appealing content, and convert leads with pre-built page templates and themes. 
Similarly, with Kartra, you can easily make your website feel and look the way you want with more than 500 pages and themes to select from. The procedure is pretty flexible and straightforward after you have picked a style. Drag & drop the various templates such as banners, pictures, trademarks, browsing keys, social networking buttons, etc.
You may always build with a blank canvas and incorporate your brand identity features, for example, your domains, symbols, typefaces, and color palette if you have a unique view for your sites. You may also personalize your sites to HTML, CSS, and JavaScript if you are a developer or even a team member.
Video Marketing 
Videos have become an indispensable part of today's online marketing world. Therefore, it is essential to have a high-quality tool to help you with video marketing while promoting your business online. 
With MemberPress, you can smoothly publish highly professional videos that help in promoting your membership site and drive many visitors to it.
It also gives you a flexible add-on option to protect and secure the video content on your site, i.e., MemberPress AWS. The AWS add-on gives you the chance to host your videos with Amazon's cloud service and display them in your membership area. 
Kartra, like MemberPress, also makes it hassle-free to upload and edit high-resolution brand new videos on different pages of your membership site. So whether you want to include a new CTA to your video while playing the video or want to see how many people are watching your video, all this is possible with Kartra. 
Email Marketing 
Most internet business tools incorporate email marketing through external integration, meaning that a separate email platform provides email marketing services. 
Connecting to MemberPress gives you access to some of the most popular and robust email marketing services like Aweber, MailChimp, ConvertKit, etc. 
Talking about Kartra, it has its own Karta Mail system with good usability. Kartra Mail offers the labeling, segmentation and automation of emails based on your specified criteria and divisive tests and customizable templates that match your branding, as you might hope, from an advanced email platform. 
It seems to can SMS too. Kartra Mail is also closely connected with the marketing funnel and lead management tools, giving you an understanding of how clients use emails to transform them into buyers and what revenues certain email campaigns create. 
Marketing Analytics 
This is one of the prominent areas where MemberPress has lost its value. All they have done in their analytics program is add Google Analytics, where you can access your site information and no membership-related information. 
This is why MemberPress gives a three month trial of MonsterInsights so that users can obtain more site-specific insights instead of just traffic-based information pulled out by Analytics.
No doubt, MonsterInsights is an excellent third-party application, but it alone costs you $399.50 per year for a discounted price. So in short, you are paying more than you will pay for MemberPress . 
On the other side, Kartra has a lucrative analytics reporting feature that helps you track all the essential data from your website and your online marketing campaigns, including traffic, conversions, subscribers, sales, CTR and open rates. Also, it helps marketers understand the behavior and preferences of their target audience and optimize their content and marketing strategies according to that. 
Affiliate Marketing 
If you wish to integrate an affiliate program for your members, MemberPress allows you to do so. MemberPress is wholly compatible with Affiliate Royale, and it comes free with the MemberPress pro plan. However, if you have subscribed to any other plan, then you have to pay for it. 
Integration with Affiliate Royale will give you access to real-time information about your affiliates, commissions, clicks, transactions, joining date and if they have a referrer or not.
Kartra has its integrated affiliate management software that makes sure that affiliates are paid on time through trusted platforms like Stripe and PayPal.
You can integrate the affiliate portal for every product you design to enable your customers to become your affiliates. Kartra also allows you to screen and pick your affiliates based on tailored questionnaires and binding terms and conditions. 
Affiliates integrated with Kartra will be given a unique custom URL to share featuring a tracking code. It allows you to provide a percentage or fixed rate of the sale whenever the code is applied.  
Integrations and Add-ons 
MemberPress has more than 40 third-party services and software integrations.
These include email marketing services, namely Drip, MailChimp, or ConvertKit, and other integrations like payment gateways, WordPress themes and builders, communities, forums and more.
With these third-party integrations, the plugin altogether becomes more powerful and highly useful for your membership site. 
In addition to this, you can find more than 20 add-ons in the add-ons tab of MemberPress to activate for your site. All you have to do is click the add-on you want to activate as they are ready to install and keep your dashboard clean. 
Kartra also offers a lengthy list of third-party integrations, including payment gateways, email providers and membership networks in various categories, not all of which are confined to payment methods.
More than 2000 Zapier integrations are pre-built, and you may use them.
Furthermore, Kartra has a powerful core department – Apis, IPN and a native mobile app framework – which allows users to use almost any method that you can envision working the platform.
Of course, such possibilities demand a coding capacity, as it is on other platforms.
MemberPress vs. Kartra: Pricing
MemberPress Pricing
MemberPress provides three different plans. Each level offers all the core features, but certain add-ons and integrations are only accessible to certain tiers.
It currently has special introductory pricing. MemberPress happily refunds the amount with no questions asked if the customers are unhappy with the service within 14 days of purchase.
Basic:

 $179/year for use on one site with certain core MemberPress features.

Plus:

 $299/year for use on two sites and all the above plan features. You can have access to additional integrations and accept payments from memberships via authorize .net  

Pro:

 $499/year for use upon five sites with all the components of the lower-tier plan, along with some add-ons. You can also get access to Affiliate Royale while using the pro plan.
Get Started with MemberPress →
Kartra Pricing
I think the cost of Kartra is much more than affordable regarding its effectiveness and excellence as compared to MemberPress. Besides, it has a very flexible 4-tier price plan. So you're not going to end up paying for much more than you need. The plans are as follows:
Starter Plan:

Up to 2500 leads with one custom domain. You can build two membership sites for just $99/month.

Silver Plan:

Up to 12,500 leads with three custom domains. You can create unlimited membership sites for $199/month.

Gold Plan: Up to

 25,000 leads with five custom domains for $299/month.

Platinum Plan:

Up to 50,000 leads with ten custom domains for about $499/month.
MemberPress vs. Kartra: Customer Support
MemberPress comes with exceptional customer support. You can get in touch with their customer support team via the support ticket system during regular business days. Their staff and representatives are well qualified to solve users' queries within a turnaround time of 1-2 days. 
There is an extensive knowledge base for users to get started with the most basic questions about MemberPress. 
Another thing you can do for support is to hire a MemberPress expert from Codeable, which MemberPress members themselves recommend.
Being a new company, Kartra's customer support is quite impressive and responsive. Like other platforms, they have a ticket system that responds within 24 hours and a detailed FAQ section covering almost all the general questions that people often look for. 
Their representatives and customer support staff are highly knowledgeable and trained in several aspects to resolve the user's queries within no time.
Pros and Cons of MemberPress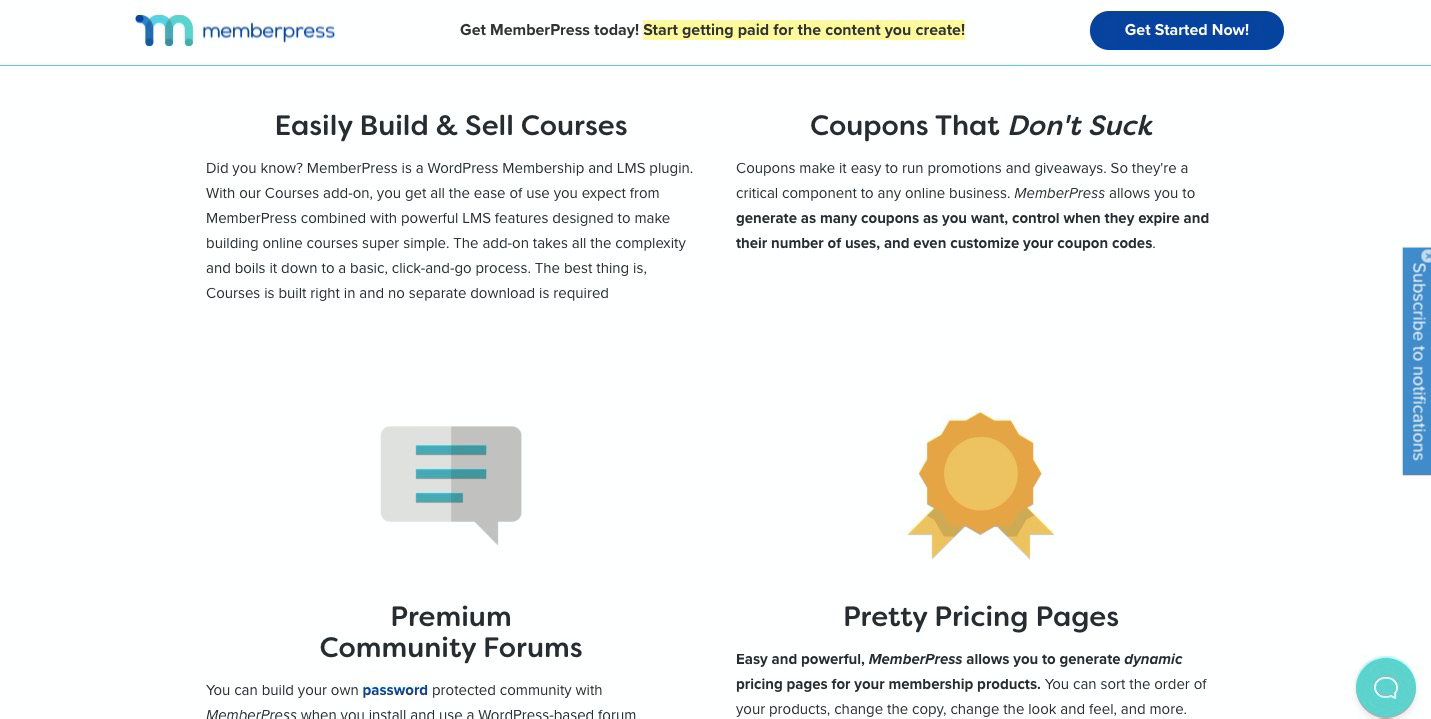 Pros
It is easy and simple to set up and use.

It gives you lots of options to make payments so you can pay whichever way you like.

It has a massive catalog of add-ons to make your site look impressive and big.

It is highly suitable for any booking website.

With MemberPress, you can set up different tiers for your course sites or membership sites with ongoing content support.

It offers integrations with several email marketing services and other related tools.

It offers a 100% money-back guarantee if you remain unsatisfied with the MemberPress services.
Cons
The MemberPress interface is not that friendly in comparison to other membership platforms.

There is no lifetime pricing possibility; therefore, the plugin will be rather costly overtimes.

Some features that should be in-built are sometimes added as add-ons.

There are lots of instructions for all integrations which becomes quite troublesome to go through each.
Pros and Cons of Kartra
Pros
It is easy to use and proven effective in improving sales conversion rates for users.

It brings your entire client portfolio into one unified billing profile.

It is cost-effective as all of the main features are compiled into a single platform.

Lots of in-built customizable templates are accessible in Kartra.

The platform has an inbuilt video hosting app for users who want to add visual content to their site.

You can track a clear picture of a customer's journey by tracking the flow of funnels.

It provides a 30-day money-back guarantee regarding dissatisfaction of users with the platform.
Cons
Kartra is not suitable for selling physical products as it is more of a business management tool.

It comes with several technical glitches and kinks making it challenging to use at times.

The platform is a bit expensive, especially for beginners and newbies using the membership platform for the first time.

It lacks integration options and webinar services.

Drag and drop options are also slower in Kartra.
MemberPress vs. Kartra: Which one is better?
MemberPress is easy to use the efficient plugin to create a membership site. It's really good if you need to:
Develop a small gated membership community

Teach courses on a short scale

Offer subscriptions to access your courses
However, I would strongly recommend using the Kartra membership option for all the aspects we've glanced at. It is perfect for educators, education centers, or anybody interested in training courses.
Also, almost any form of the training material may be created with Kartra, which integrates one or more text, audio, video and photos. Indeed, the ability of Kartra to combine convenience with complete functionality is the crux of this exceptional software.
Final Words 
Now that you've gone through what MemberPress and Kartra offers; It's your chance to take note of your necessities and choose the best membership platform based on your requirements.
MemberPress is easier to use and Kartra is much more feature-rich, customizable, and flexible. If you're looking forward to selling products as well as managing a membership website, Kartra is a better option.
As WordPress users, we find MemberPress to be the best LMS and membership plugin. So if you want to stick with your WordPress website and build a membership website on your domain, MemberPress is the best.
You might also like to check out our guide on the best course management/LMS platforms.