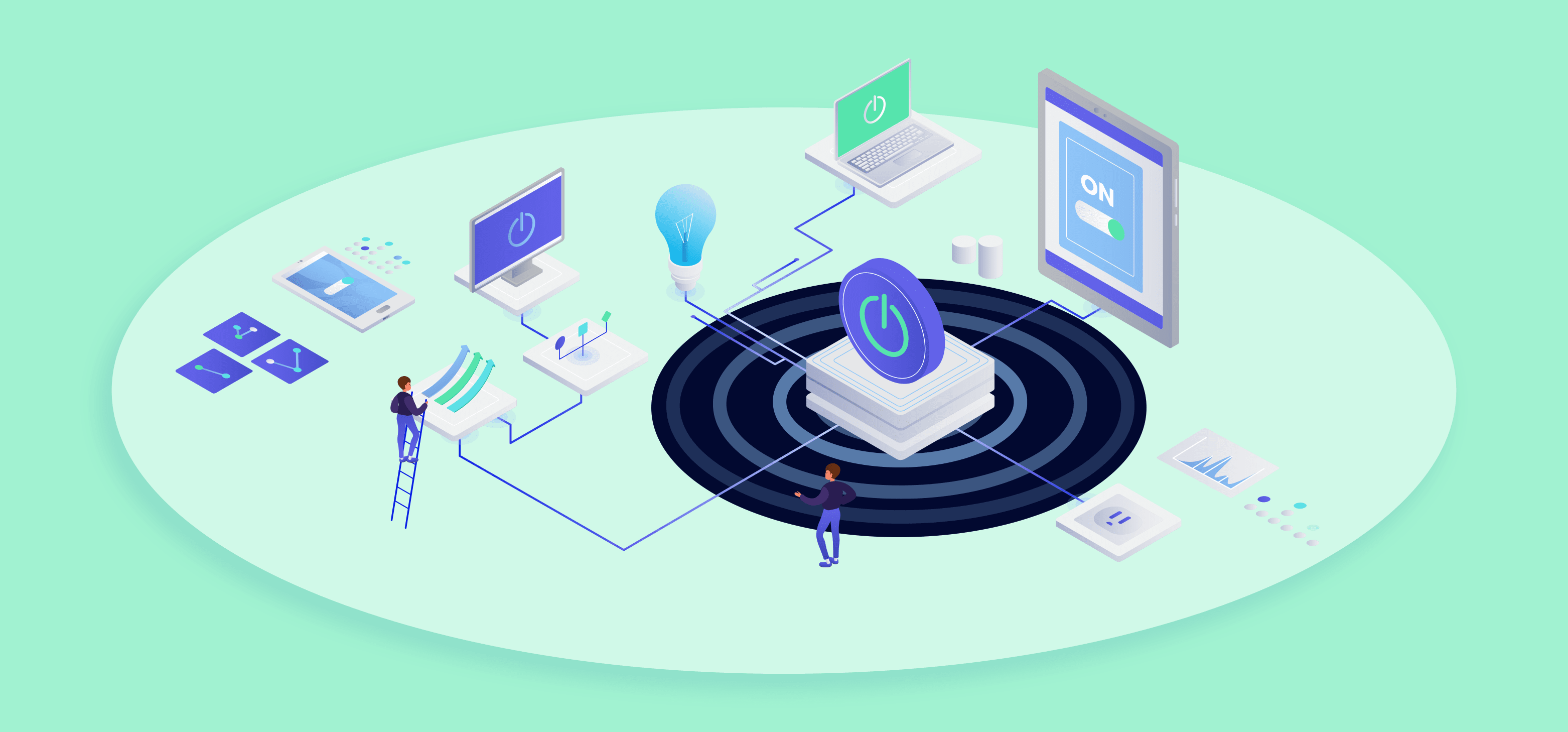 Gone are the days when people stood patiently in line to buy groceries. Today, from food delivery in 30 minutes to nationwide deliveries within 48 hours, the world is quickly moving forward.
In today's fast-paced world, nobody has the time or patience to wait to be served, especially if you have recently started your endeavor.
Consumers these days have low attention spans. Therefore, to ensure a good user experience, webpage loading speed is a very important factor. If your website takes ages to load, nobody will wait, and you will eventually lose traffic and potential customers.
CDN, Content Delivery Networks, can save you from such loss by significantly enhancing your webpage load speed and improving your website's security.
What is a CDN?
CDN consists of data centers involving proxy servers that help deliver your website content, including text, images, graphics, and all kinds of other web media, including downloadable or live, to the nearest server of the consumer.
This way, the time to load content from the server the website is hosted on is reduced, and consumers across the globe can have a seamless user experience regardless of the distance between them and the main server.
Along with increased speed, CDN also provides added security from hackers by masking the main source and making it basically invisible. Moreover, CDN also reduces bandwidth costs through optimization and caching.
All in all, utilizing CDN services is a must for any business operating online. While there are plenty of CDN services available, the process of picking the one to meet your needs can be difficult. This is why we weighed numerous factors to bring you the 15 best CDN services for startups.
Best CDN Services & Providers For Startups
An ideal setup would have the best cache services, top-notch bandwidth speed, advanced security settings, and premium optimization for dynamic loading content for anyone with basic knowledge of content development networks.
Well, we've considered all these aspects and more before arriving at the following list of options for your business!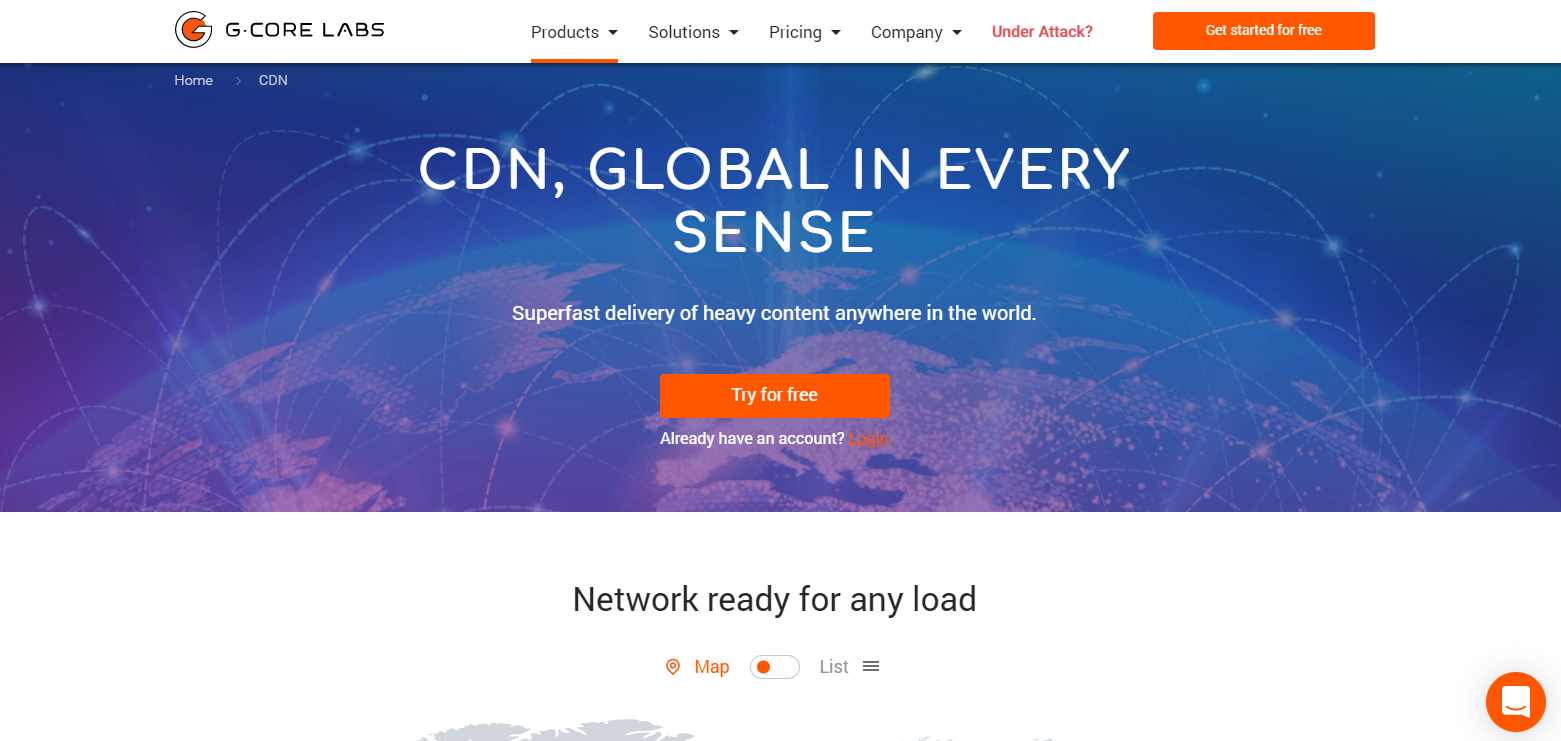 Of course, the no.1 spot had to be taken by G-Core Labs. G-Core Labs is one of the best in the industry, with its 30ms worldwide response time and total network bandwidth of 70+ Tbit/s.
G-Core Labs can handle even the heaviest form of content, including high-quality games. It provides smooth and effortless streaming of all kinds of content regardless of the load.
Its efficient cloud infrastructure enables you to place unlimited virtual resources from anywhere in the world at any time. Not only it is superfast and reliable, it is also budget-friendly and easily scalable as per your project's needs.
G-Core Labs CDN provides you with more than 6000 peering partners, over 120 presence points, an ISP license, malware bot protection, and 24/7 technical support in 4+ languages.
Key Features
It provides an Al platform powered by the Graphcore IPUs.
You get WordPress CMS integration.
Premium security against malware and DDoS attacks.
It provides you with S3-compatible object storage for faster scaling.
It allows you to use site-to-site VPNs all over the world.
It offers more than 120 points of presence.
Pros
It guarantees 100% Uptime
Holds the capacity of 90 plus terabits per second
Free SSL certificates
Real-time analysis
It has over 6000 peering partners
User-friendly interface
Cons
Quota setting is a bit tricky to set
CDN performance depends upon how you set it up
Pricing Plan
G-Core Labs CDN comes with four types of pricing plans. The first one comes with 1000 GB per month, which is completely free. Moving on, as the RAM increases, so does the price. For 1.5 TB, you pay 35USD/mo, 5 TB is for 100USD, 10 TB is for 150 USD, and if you need 10 plus TB, then you can contact the G-Core team to get exclusive offers.
You can test out this CDN service provider using a 14-day free trial and thank us later.
If you are a little bit familiar with the CDN market, Cloudflare is the name you must have heard. With about 29% of the top Alexa websites using its CDN services, Cloudflare has come out to be one of the most popular CDNs in the business. According to the WEF, Cloudflare is a technological pioneer that offers a reliable and fast global network.
Cloudflare rightfully boasts data servers in over 100 countries worldwide, providing end users with scalable speed and top-notch security. Its network system is specially designed to protect against cyber threats, including DDoS attacks, Cross Site Scripting, malware, and SQL injection.
Its "I am under attack" mode closely monitors your website traffic before sending them to your site.
Not only does it cache the dynamic content, but it also caches the static content like images and videos, resulting in ultra-fast content delivery across all electronic devices.
Beginners will love the easy-to-use interface of this CDN. You also don't have to have technical knowledge of coding to use Cloudflare. The entire process of setting it up is pretty straightforward, which surely takes much of the load off your shoulders.
Another plus point for newbies is its auto-generation of DNS records. More to appreciate is its user-friendly control panel that allows you to monitor your website performance and clears up the caches without the hassle of installing external plugins.
Key Features
Its Argo Smart Routing feature significantly reduces latency.
It is compatible with any cloud infrastructure and retains the integrity of your website with a cloud firewall.
It provides detailed insights into web performance and cache through performance dashboards.
You can filter out specific hostnames, dictate the behaviors of specific URLs, decide what to cache, and for how long using Page Rules.
With the 'Bring your own IPS- BYOIP' feature, you can have IP addresses decided by Cloudflare, with an option to decide on Cloudflare services to attach them to.
Pros
Profoundly reduces the Bandwidth costs
Supports HTTP 2/3 accelerators
Detailed security measures
Efficient Uptime statistics
Smart traffic routing
Budget-friendly
Cons
Some regions might suffer from slow speed
Pricing Plan
Cloudflare's subscription comes with a free 1-month trial which you can upgrade to the Pro version starting from 20 USD per month with access to more features alongside free SSL certification and DDoS protection options.
The Business plan starts from $200/mo, and an Enterprise plan's quote can be decided based on your add-on needs.
Sucuri is widely known for its first-class security and CDN services. It is best for those who are looking for unbreakable security and expeditious web load time.
Sucuri, under its umbrella, offers many security-related products. Sucuri CDN puts up a strong firewall that thoroughly filters out the incoming requests before they reach the host server and blocks out threats and malware.
The Sucuri Anycast network is meticulously placed all over the globe to bring website visitors closest to the fastest server available (even during the hosting downtime). It is HTTP/2 supported, which ensures the optimal performance of your website.
Furthermore, you can customize your website load time using Sucuri flexible cache options. You also get options to set your security and performance settings according to your needs. If you face any problem during the set-up, you can contact Sucuri 24/7 customer support or use live chat to seek assistance.
In case of any security breach, Sucuri provides you with an audit trail highlighting vulnerabilities in your website that led to the attack. In addition to this, Sucuri's support team takes every measure to ensure this never happens again.
Key Features
Sucuri provides you with multiple caching options which you can customize.
Its worldwide extensive Anycast network prevents network interruptions and downtime.
It automatically scans the website for malware and threats and sends out alerts.
The WAF's intrusion prevention system of Sucuri blocks cyber threats and DDoS attacks.
With 24/7 dedicated customer support, you get round-the-clock assistance.
Pros
Unmatched and extensive security
Instant customer support will resolve all kinds of issues
Patches the vulnerabilities in your site
Auto-scans for threat detection
Cons
No free trial period is available
Pricing plan
Sucuri features three pricing plans which are billed annually. The basic plan starts at $199.99 per year that features a security scan once every 12 hours. You can upgrade to a professional plan at $299.99/yr or a business plan at $499.99/yr.
StackPath, previously known as MaxCDN, is an all-in-one solution for your CDN needs. By pairing their CDN with other StackPath edge services like Staminus, Highwinds, Encrypt.me, and Fireblade, StackPath has leveled up the whole CDN game.
StackPath ensures that your website visitors have a smooth experience by providing them with swift page loads, fast large-size file downloads like software, HD/4K videos, buffer-free streaming, and more. Its web application firewall further decreases server load resulting in a better quick HTTP response rate.
It hosts 45 PoPs strategically placed across the globe and is supported by a private network that acts as a backbone between all the locations and helps deliver content in very little time to the first byte, TTBT significantly reducing the bounce rate.
When it comes to security, StackPath ties all the loose ends to bring you the best. It provides end-to-end encryption between your website and consumers via free SSL and its application filter protects you from malicious attacks, bad traffic, SQL injections, and spam.
Key Features
It features 40+ points of presence in over 35 markets worldwide.
Its end-to-end encrypted firewall provides added protection alongside other security features like DDoS attack mitigation, delivery control, content protection, SSL, private network backbone, etc.
It offers detailed analytics reports on bandwidth rate and usage, cache hits and misses, request volumes, and data center performance.
The canonical feature of StackPath prevents the content duplication issue, thus improving the overall SEO of your site.
Pros
Easy integration with numerous web properties
Multi-cloud support
High return on value
Free SSL
Cons
Does not support TLS1.3
Only supports IP version 4
Pricing Plan
StackPath offers three pricing plans. Its basic plan starts at 10 USD per month with 1TB of bandwidth, DDoS protection, cache in all PoPs, insightful analytics on website traffic, and resource usage.
You can upgrade to an advanced version which starts at 2000 USD per month and offers 100TB/mo bandwidth. All StackPath pricing plans include DDoS protection, WAF, and free SSL.
For those of you looking for a quick solution to deliver high-load media files like HD videos, your search ends with Cachefly. Cachefly is one of the fastest CDN service providers and is the pioneer in introducing the transmission control protocol (TCP) anycast method through which you can have the same IP address for your website across the globe.
Its superfast network and strong architecture make it best for high-loading content delivery in various niches, from regular content to high-quality HD videos to anywhere in the world.
Cachefly provides you with added security features that you can use to protect and prioritize your content among the web of digital traffic. With Cachefly's ample amount of storage, you can reach out to your viewers more competently and reliably, especially consumers from hard-to-reach areas.
Moreover, its ultra-low latency encoder allows your consumers to have buffer-free user experience on endless video/live streaming.
What's more? On Cachefly you get 50 plus POPs locations, fallback mitigation, superfast libraries, an impressive and simple user interface, and much more.
Key features
Cachefly live video workflow and WebSocket-based solution blesses you with ultra-low (less than 1 sec) latency on live or video streaming
You get multiple CDNs across numerous providers like AWS' S3, Google Cloud, and Azure Storage.
It has 50 plus points of presence across the six continents.
Smart storage optimization leads to a great performance rate and fast content delivery
It provides a high-end mobile experience with its smart image optimization
You get a 100% guarantee on the Service-Level Agreement.
It boasts 24/7 user support and one hour response time
Advanced security to block DDoS attacks, malware, bot mitigation, etc.
Pros
Advanced security
Detailed analytical reports
TCP anycast methodology
Unmatched scalability
Less than 1s latency
Cons
Dynamic content catching needs improvement
Lack of live chat customer assistance
Pricing Plan
You can avail the free trial to see if it works out for you. The basic pricing plan for small businesses starts at 292USD per month, if you pay annually, you get 2 months of free service.
The package is further modified to Enterprise and Smart Edge Apps, which costs $600 and $2000/mo, respectively.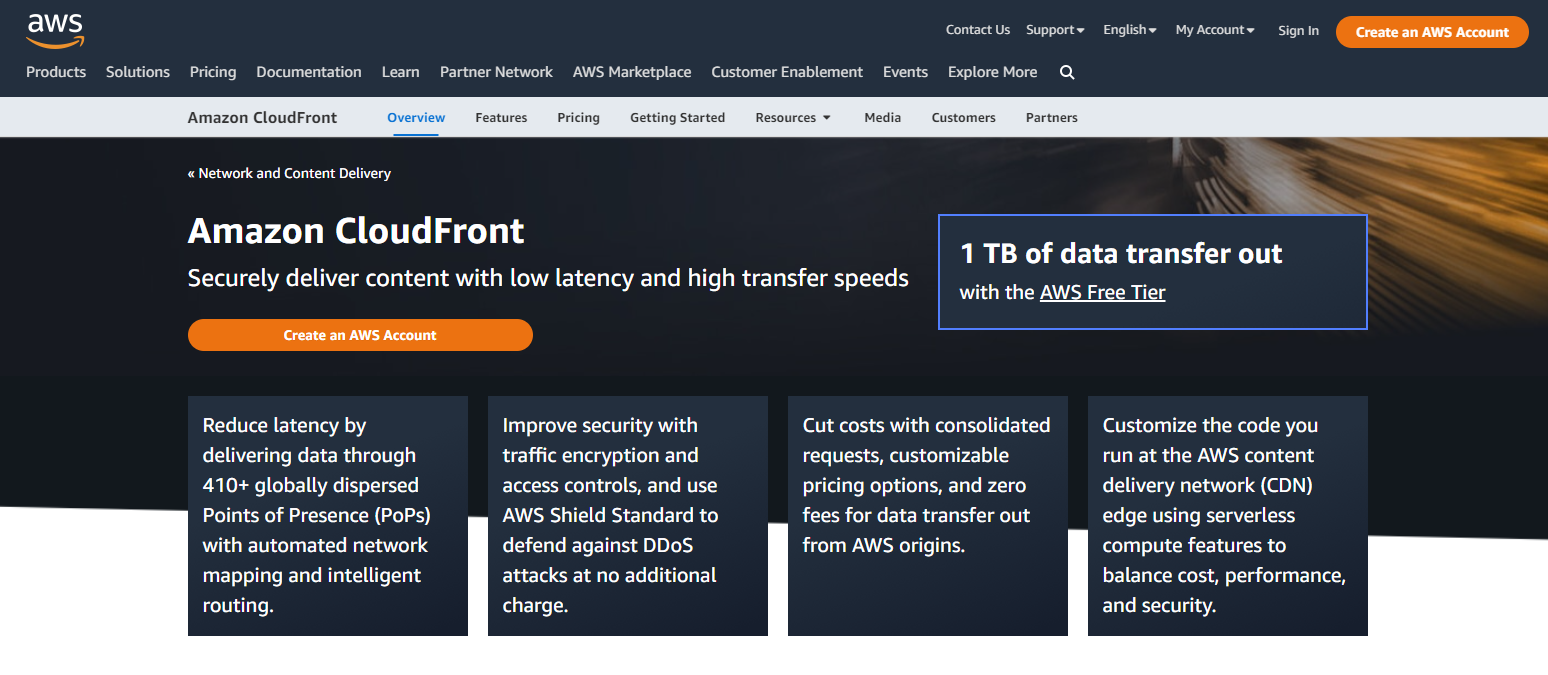 This CDN is powered by one of the best cloud infrastructures: Amazon Web Services (AWS). Its customer base includes popular names like Canon, Slack, Rovio, etc. Amazon CloudFront provides lightning-speed content delivery thanks to its highly advanced technologies and extensive global servers across 33 countries.
The CDN ensures security against DDoS attacks using the AWS Shield Standard. Along with this, you also get integration with other AWS services like Elemental Media Services, Amazon EC2, Amazon S3, and Elastic Load Balancing.
You can manage these integrations through the AWS management console or APIs. You can use API to integrate with other software if you need more automation and customization of your CDN.
Amazon Cloudfront incorporates the AWS Shield Standard for DDoS protection. Also, it includes AWS Certificate Manager (ACM) for custom SSL certificate management.
Key Features
Amazon's Cloudfront is compatible with the original redundancy feature of CDN networks, allowing it to load content with the original server offline.
It supports both HTTP and HTTPS web formats.
Amazon CloudFront also comes with a fully powered API setup.
The CDN's low-latency feature also helps offer a much better speed when compared to most other networks.
Pros
The server provides both advanced shield and firewall protection.
Amazon's CloudFront is extremely adaptable and thus works well with the existing AWS tools you're using.
The analytical feature of this CDN generates a data-enriched dashboard helping you track the website's key performance metrics.
Cons
The cost of its plans might seem a little high for businesses availing of a CDN for the first time.
Pricing Plan
Although AWS provides a security savings bundle, its common packages are either pay-to-go or customizable. This means you can pick the features you consider relevant to your virtual setup.

Akamai is one of the oldest CDN service providers in the market and has earned a stellar reputation and customer trust. Its substantial global network consists of over 275,000 PoPs in over 130 countries. Presently, Akamai caters to nearly 30% of the internet traffic.
Akamai's reputation and experience have earned it renowned companies as its clients. Its client list incorporates Facebook, Best Buy, Audi, Airbnb, Adobe, Fox, and many more. Akamai is the right pick for you if your website has heavy traffic or if you need immense customization.
However, you must have the technical knowledge to move around its dashboard. There are lots of features and advanced options that beginners might find intimidating. But don't worry. The Akamai support team is available 24/7 to guide you through each step.
Akamai is worth the effort. Its advanced features, cutting-edge technology, and premium customer support have made it a favorite among professionals. Akamai's special security manager keeps you updated with the latest status of your website. For more advanced security, you can turn on the 'enterprise threat protection' feature, which will block ransomware attacks, and prevent DNS tunneling, malware, and phishing.
It also provides an option of Netstorage and visual media optimization, significantly improving the delivery of high-load content to a larger audience and enabling your visitors with quick access and a seamless user experience.
Key Features
It sets smart traffic routes based on geographical location, IP address, and server status.
Akamai's chunked transfer encoding (CTE) ensures low latency and improved transfer time for live transmissions.
Protection against DDoS via scalable cloud security.
It is compatible with every cloud computing type.
It provides detailed insights into the content quality and software delivery through Audience Analytics and Quality of Service Monitor.
It offers bulletproof security through numerous security solutions.
Pros
SQL injections and XSS attacks protection
Solid global footprint
The dashboard is loaded with complex options
Cons
Offers limited integration
A bit costly compared to its competitors
Pricing Plan
Akamai does not offer any defined pricing plans; their rates depend on individual implementations. You can talk to the experts to get a quote.
Azure is powered by Microsoft Inc. which is a well-reputed name in the industry. Azure delivers high bandwidth content to end users by concealing the data in physical nodes which are placed all around the globe.
Azure services are best for media content like gaming, live streams, etc., and website development. In addition to this, it is also great at dynamic media delivery. Its routing optimization technology makes the delivery of dynamic content super fast, even if it cannot be retained in the cache.
Azure efficiently decreases load time and saves bandwidth, which makes it capable of handling heavy loads and sudden traffic spikes. Consequently, it significantly improves web performance and user experience.
Azure also boasts of holding the greatest number of security certifications than any other competitor. You can rest assured that your website has an unbeatable defense against cyberattacks and malicious threats with Azure.
You can optimize Azure features to best fit your needs. You can also avail of other Azure services which are integrated on this CDN, like web apps, cloud and media services, and storage.
With Azure analytics, you can track content engagement on your web, granular or real-time analytics, and cached assets.
Key Features
Its PoPs run across all six continents and it has access to further locations by partnering with Akamai and Verizon.
You get insightful analytics about user engagement, real-time web traffic, and cached assets.
Better handling of sudden load and traffic spikes due to large scaling.
You get HTTP custom domain support.
Pros
Strong security
Less load on the original server
Easy to maintain and user-friendly interface
Cons
In case of server failure, there is a chance of misplacement of website discernibility.
Pricing Plan
Azure does not have a predefined pricing plan. It works based on pay-as-you-go.
CDN77 is a high-performance, low-cost product with unmatched functionality. Push/purge cache, Brotli compression, and a data center optimizer are all the CDN services that are provided by this solution. The best part about this is that more than thirty POPs all over the world back up the network infrastructure for accelerating all applications and websites.
The user interface is dazzling and pretty noticeable since it is intuitive, clean, and fulfills the wishes of a person who wants everything in an interface. This interface also makes the process of the configuration of the site easier.
Moreover, it comes with a knowledge base that is detailed for guidance. CDN77 enables the shielding of your webpages from getting affected by SQL injections and other things, including remote file intrusion and PHP injections, etc. Bandwidth can be tracked by the presence of an advanced analytics dashboard. This dashboard also tracks visitors and server requests.
Key Features:
It has a network manager for content delivery, assisting the user in setting up servers based on preferred locations.
The user has the autonomy to whitelist or blacklist traffic incoming from particular geographical regions.
Another one of its features is DDoS protection, which protects users from hackers. Not only this but CDN77's advanced Web Application Firewall (WAF) outsmarts the majority of the top-notch providers of CDN.
A billing and cost feature generates usage bills promptly for the user, and the user is then enabled to check resources utilized for making prompt payments.
For automating any operations, the REST API comes in handy, allowing the creation of custom applications to manage purge/prefetch requests, invoicing, logs retrieval and reporting, etc.
Pros:
Multiple server resources
Real-time traffic statistics
HTTP/2 delivery optimizations
Advanced DDoS protection
RESTful API
Easy CMS integration
Cons:
High overage fees
Big budget needed
Pricing Plan:
CDN77 subscription starts at $0.045/GB, increasing as you avail of advanced features and consume more. However, they will expire after a year if you don't use your credits.
You can also avail their 14-day free trial.
Rackspace is a powerful CDN that offers 200 PoPs all over the globe. Its integration with Akamai boosts content delivery to another level. All kinds of content, including live, static, dynamic, and interactive, are delivered with utmost efficiency and robustness within a matter of milliseconds.
Rackspace CDN offers unique features like content purging, cache rules, content pull, and access restrictions. Furthermore, you can benefit from other Rackspace web resources such as cloud load balancers, cloud servers, cloud files, dedicated servers, or any other resource from public servers. You can set up the CDN settings however you want using the RESTful API or Rackspace cloud control panel.
Another advantage of using Rackspace is its dynamic routing technology. Through this, you can route traffic to the nearest server and improve web performance. It also helps in case of traffic spikes, where it sheds the load on the main system by spreading it up on multiple points of presence. This way, latency is reduced, and content is delivered swiftly.
Key Features
It offers over 200 edge nodes spread across the globe.
You can set up the Rackspace CDN in a matter of seconds through Cloud Control Panel, RESTful API, or language bindings.
Rackspace origin-pull technology and DNS can identify your site and content origin and accelerate your whole site.
You can use your own domain while serving content over HTTPS.
Pros
Quick set up with REST API
Complete control over IP addresses
User-friendly dashboard
Cons
Limited features compared to others
Workflow can sometimes slow down
Pricing Plan
Rackspace offers 100 USD free credits, which you can use within 60 days to test out the service. Later you can buy the subscription, which starts at $0.16/GB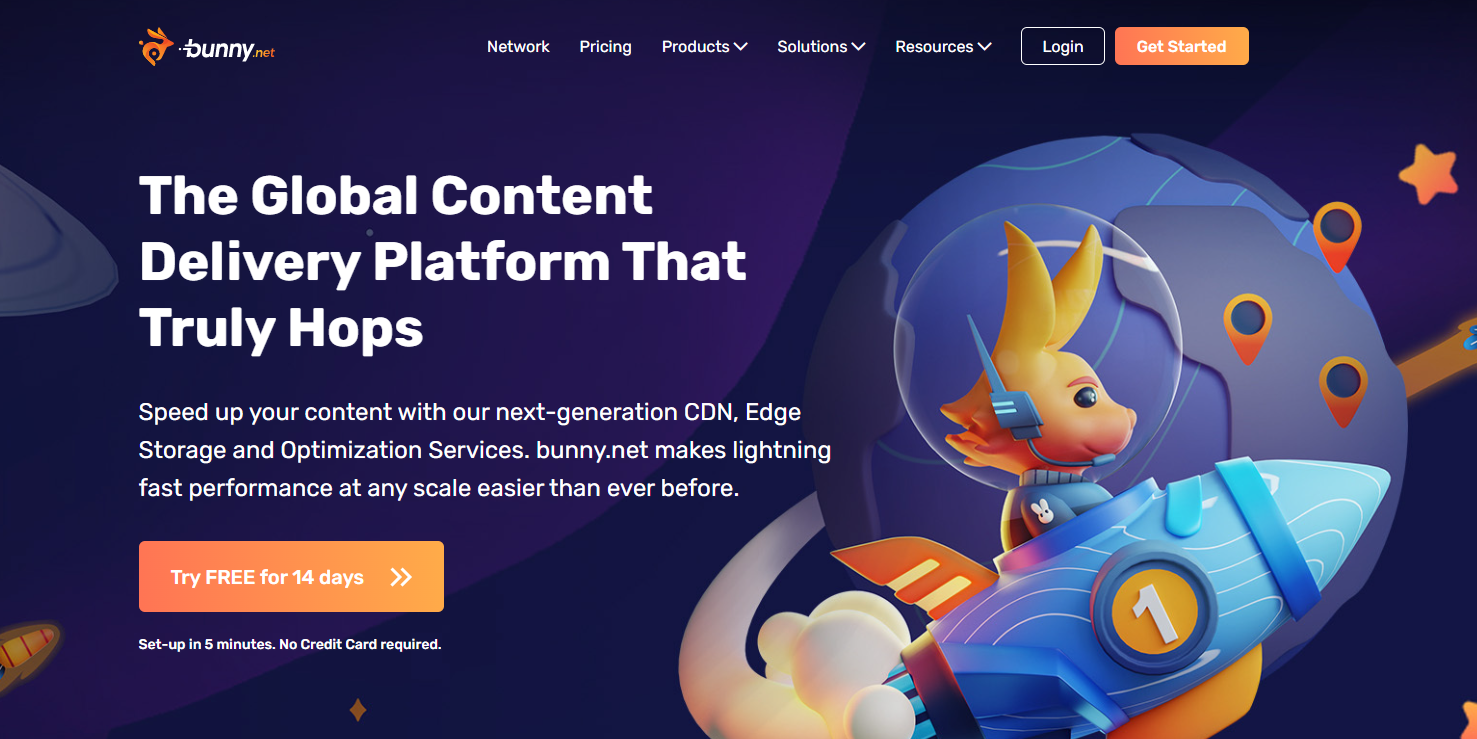 Let's dive on to one of the more popular choices now, shall we? With its server networks spread out over 54 locations on seven continents, Bunny.net has grown into one of the largest and most reliable CDN services for all business types.
The main reason for its popularity is how easy it is to set up. The service providers offer their own customized plug-ins to set up the operations on WordPress. If you don't want to use them, you can always use WordPress's plug-ins like WP Rocket.
Although grown to be very popular lately, the CDN has not compromised on its elegant interface and easily accessible configuration settings.
Bunny.net is your go-to solution for all CDN service requirements. Their data centers help provide users with the best cache network services. Moreover, you can avail of their additional features for video transmissions.
To be honest, Bunny's cloud storage service was its key selling point for us. The cache data is saved on the server closest to a user and is then transmitted to the main server. This not only protects the flow of stored data but also makes the process quicker and more efficient.
Key Features
Bunny.net provides free data flow services. For a very menial price, you can also save your data on the CDN cloud.
The service also provides a free SSL certificate that helps authenticate the domain of your website.
The network generates several reports to track various KPIs such as website traffic, cached speed, and bandwidth capacity.
Being a video streaming CDN, Bunny also transmits video content on your website at the best quality and speed possible.
Pros
You can establish pull zones for mp4 files and manage them through your main server.
This CDN is protected from any distributed denial of service attacks.
You can optimize various features on your websites, such as images and videos.
Users do not need any coding language to manage Bunny.net's CDN effectively.
Cons
The CDN service does not provide any firewalls to block certain web applications.
Pricing Plan
Bunny.net doesn't have a single pricing plan. Its basic plan, though, is based on per GB usage. The charges vary from $0.03 in Asia to $0.06 in Africa.
MetaCDN is not like other CDN providers. It is innovative, comparatively, since it provides live streaming services too. The Harvard Business School, Sony, and the University of Melbourne are some of its famous users, including many others.
Microsoft Azure CDN, Fastly and Edgecast are all CDNs with the abilities of MetaCDN like providing multi-CDN, which is a powerful CDN coverage, but MetaCDN has other abilities too.
MetaCDN, on the other hand, has more than 120 points of presence around the world. As a result, all locations around the world can access website content.
A CDN service provider partnership makes MetaCDN's content delivery fast, thanks to its combination of CDNs.
In the event of a downtime with one of their CDN providers, MetaCDN will redirect the traffic of the user to the nearest available CDN provider.
The site accelerator tool helps users speed up the loading time of their websites. The MetaCDN service also provides daily reports on the usage and performance of the user's site.
MetaCDN, on the other hand, offers affordable pricing plans that are tailored to suit the individual needs of website owners of different types.
It's interesting to know that MetaCDN lets you carry over your allocation from one month to the next.
Features
A powerful RESTful API tool is provided by MetaCDN which helps users to access their accounts from different custom platforms.
MetaCDN is integrated with WordPress CMS, which helps WordPress site owners.
W3 Total Cache plugin is also pre-integrated for WordPress.
Users can experience the hybrid effects of getting their hands on multiple CDN providers simultaneously for WordPress with MetaCDN.
Pros
Smart routing
Multi-CDN networks
Quick purge
Credit rollover
Detailed analytics and statistics
Cons
Lacking advanced features
A little cost-ineffective
Pricing Plan
Meta CDN provides three extensive plans for you to avail yourself. The basic plan costs $20 and is enough to accelerate 1 website. The lite and pro packages cost $50 and $100, respectively, and are ideal for those who aim to accelerate multiple sites while availing of monthly credits.
KeyCDN is a budget-friendly CDN that offers a range of features that not only speed up your content delivery but also optimize your website.
Its wide range of options includes real-time image optimization, image transmission, unlimited SSL certification, aggressive GZIP compression, and many more. You also get to choose the tools you want to use and pay only for them.
The setup process of KeyCDN is quite easy. On the Web console, you get a multitude of options to set up your CDN quickly. You can also get plugins to manage your content on renowned content management systems like Joomla and WordPress.
When it comes to its best features, 'traffic limiter' is the winner. Using this feature, you can stop others from stealing your bandwidth using hotlinking. You can also set expiry dates for your downloadable content and prevent the misuse of the resources.
KeyCDN ranks at the top as one of the fastest CDN, with a speed of around 500ms. It lessens the load on the original server by distributing the content across 34 data centers in about 25 countries. The GZIP compression tool further decreases the overall size of pages and boosts page loading time.
Key Features
A multitude of options available for quick CDN setup and different content types
Insightful and detailed analytics and logs for analysis of content delivery and troubleshooting
Full control over the account in any device and language via RESTful API
Compatible with all types of cloud infrastructure
Pros
Easy to set up
Free SSL
Free trial without inserting your credit card details
Supports HTTP/2
Cons
Small network
$49 minimum credit
Poor response time
Pricing Plan
KeyCDN offers a volume-based pricing model starting at $0.04/GB. You can pay according to your traffic requirements. You can test this CDN with a free 25 GB.
WordPress sites benefit from Google Cloud CDN's fast speeds. Users around the world can access it using the same infrastructure Google uses.
Thanks to Google Cloud CDN's anycast network architecture, your WordPress site will have a single global IP address.
More than 90 locations in the world host servers for Google Cloud CDN. Your global website visitors will be able to access your content significantly faster, thanks to this.
Your WordPress site will also be accessible on mobile devices thanks to Google Cloud CDN, which supports HTTP/2 and QUIC protocols.
Users can also access detailed logging reports via Google Cloud CDN integrated with Stackdriver.
WordPress websites hosted on Google Cloud Platform (GCP) using Google Load Balancer are recommended to use Google Cloud CDN.
Google is the only company that has global points of presence. One of the most optimized and fastest CDNs available is delivered by the Google Cloud CDN by leveraging the company's presence. With the Google Cloud CDN, delivering web and video content across all continents was reliable and efficient.
The company can achieve great connectivity through peering with most of the major end-user ISPs. Besides providing consistent performance across desktops and mobile devices, a Cloud CDN assigns your website a single global IP address. Google Cloud CDN offers users industry-grade security, real-time monitoring, and powerful reports through integration with Google Cloud.
Key features
Anycast architecture.
Multi-cloud and hybrid architectures are supported.
QUIC and HTTP/2 support.
TLS (SSL) certificates for free.
Google Cloud integration.
Pros:
Among the fastest and most secure CDNs in the world, it is known for its security and speed.
Websites and web applications perform better with it.
By reducing latency, content loading time is also shortened.
This technology enables the use of SSL to improve security and HTTPS to serve the content.
Cons:
It takes a long time for their support system to respond.
Beginners might have a hard time setting up for the first time.
Pricing Plan
Google Cloud CDN service has the most dynamic pricing plans available. It is a go-to pay service where you can customize your plan by choosing the exact bandwidth speed, cache service, and security levels optimal for your business setup.
ArvanCloud is another excellent option for startups looking to avail themselves of integrated CDN services. The international service provider optimizes your content's security and protects it from any external attacks.
With over 40 servers developed worldwide, Arvan offers a full-scale solution to users' cache-related issues. The CDN can not only identify a user's geo-locations and thus connect them to the nearest located server, but also protects this loaded content against DDoS threats.
ArvanCloud stands out on this list due to several reasons. It provides a clean, bug-free dashboard, multiple analysis reports, and the best DNS. This helps reduce cache time while also ensuring the loaded content is clear.
If you want to further enhance the security level of your web domain, you can avail the free SSL certificate provided by your CDN service. It helps your website fit into the more reliable HTTPS format and adds a layer of reliability within the user's mind.
Key Features
ArvanCloud helps generate private keys for your confidential and sensitive information.
Dynamic content such as images and videos are enhanced by securing strong connections to host servers.
You can also use the CDN to compress the pictures that are to be uploaded to the main website.
It also provides an API service
Pros
You can view various reports on the main dashboard to optimize your website's performance.
A free plan is available for startups who want to test their operational compatibility beforehand.
ArvanCloud's two-factor authentication helps protect your data
Cons
The service does not provide the option of file sharing.
Pricing Plan
The basic plan can be availed for merely $15. It provides up to 450 GB of cache-filled data. The standard plan costs $36, whereas the enterprise plan, designed for well-established and large-scale setups, costs $300.
Conclusion
Well, that's what we have for you right now. Many businesses plan to grow their operations overseas as the world grows into a virtual inter-connected hub.
What's even the point of being limited by borders in online space? Thus, Content Delivery Networks have become vital for the effective provision of services online.
The list is long but effective!
You're incurring a business cost, and you deserve to be well-informed before you do so. Analyze which pick suits your business needs the best, and get ready to take your business global!