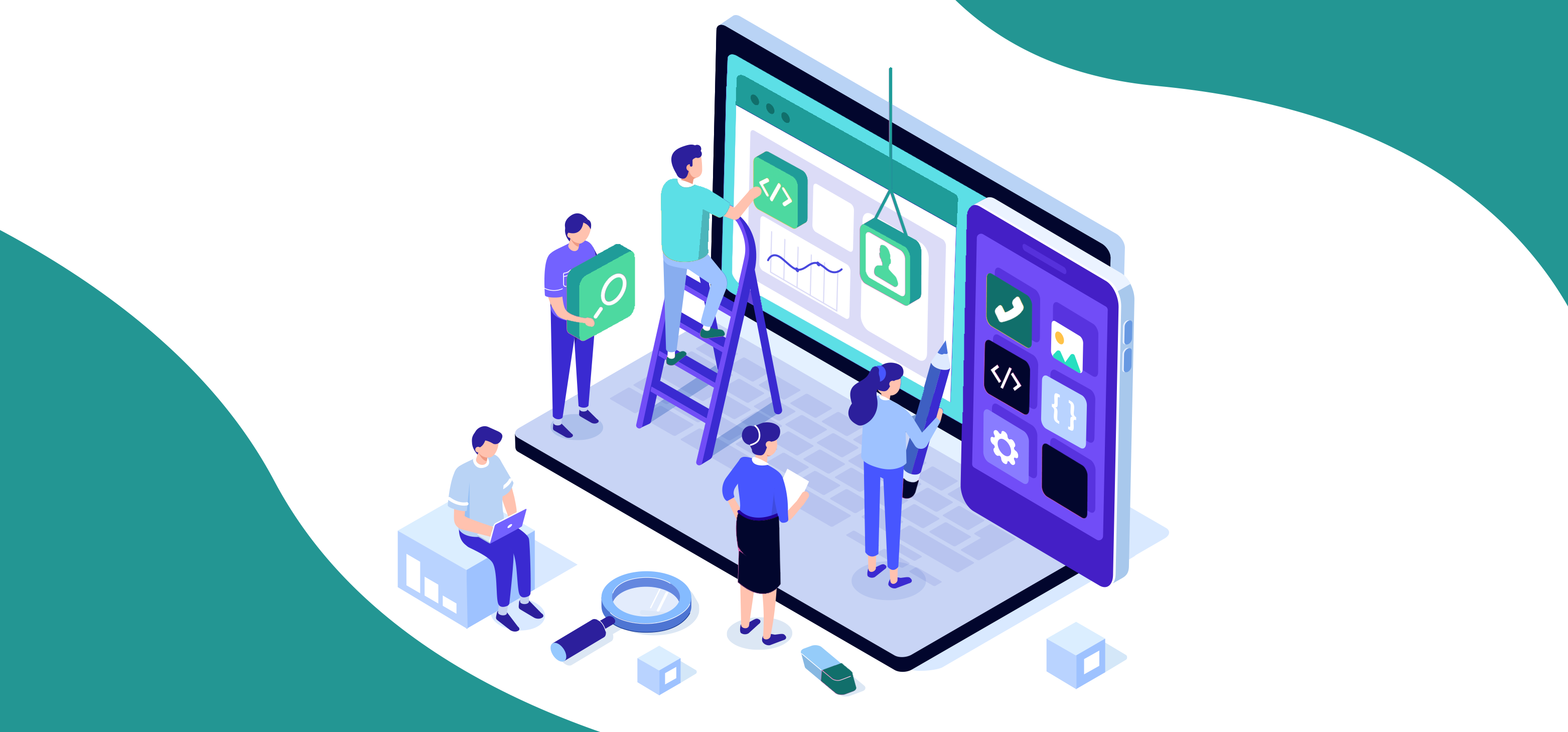 Unbounce is a well-known landing page builder.
Tons of small businesses and established organizations prefer it over others because of its high-converting templates, powerful A/B tester, and smart tracking.
But as a niche platform, it has certain limitations.
While it's ideal for PPC ads post-click landing pages, it's less flexible in some areas, making it an inconvenient choice for, say, a membership or a portfolio site.
If you're looking for a closely related app that meets your business needs, take a look at the 12 best Unbounce alternatives I have listed below and explore their features.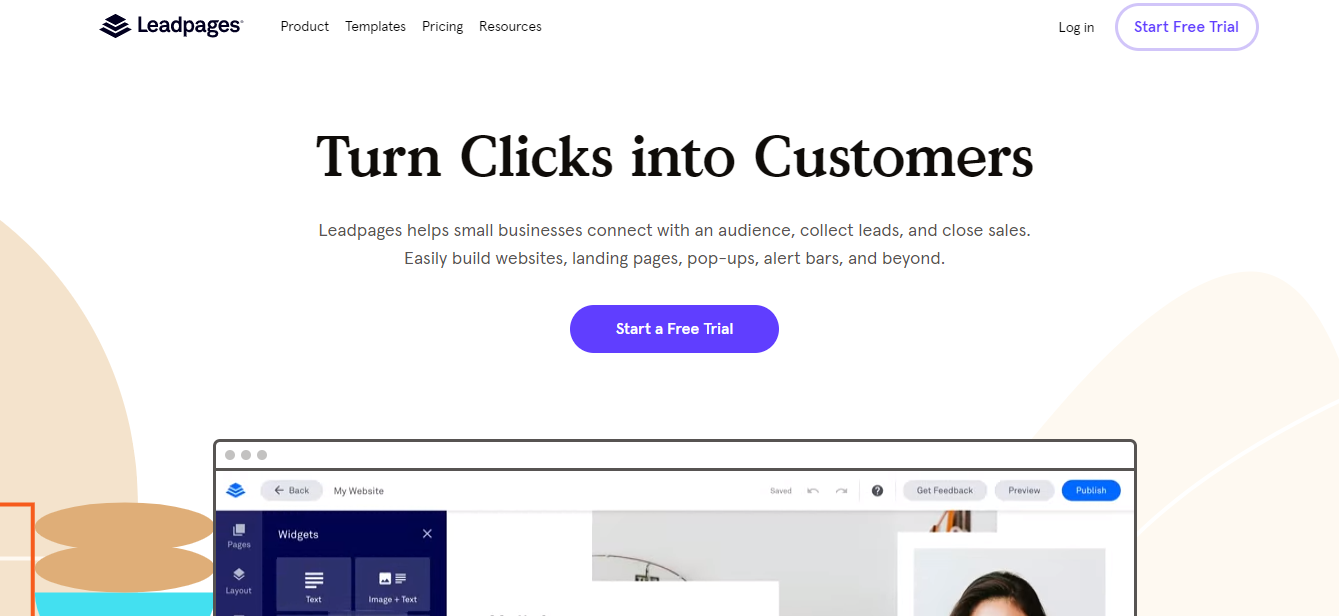 Leadpages is a conversion platform that offers optimized landing pages to help you grow your sales.
It provides a user-friendly drag-and-drop builder, which makes it effortless to customize the layout and personalize your template.
You can use it to create visually appealing landing pages and pop-up forms, split test several variations, and track leads to measure your campaign performance.
It also displays a checklist at the top editor bar that scans your template and shares how you can make it more optimized. It, additionally, has an in-house team that you can contact directly from the builder for expert opinion.
Both are useful options for those who require help designing high-converting pages.
Let me summarize its features.
Features
Website and landing pages.
Opt-in forms.
Pop-up and bar layout.
Sales and checkout cart.
A/B testing.
Tracking.
Conversion checker.
Expert feedback.
Integrations.
Price
LeadPages charges a minimum of $37 a month
Swipe pages make it easier to design, host, and manage your landing pages.
It offers 40 different layouts, custom domain integration, AMP pages, and split testing.
You can produce multistep pages, add product carousels, embed on-scroll animation, and personalize over 20 widgets. Its in-built templates are completely customizable, allowing you to tailor the entire theme.
With its A/B testing and powerful analytics, you can also ensure your landing pages drive high conversions and meet your target milestones.
In addition to the builder, Swipe Pages share admin control and role assigning option as well. It allows you to invite team members to collaborate on your project and work together to produce professionally designed pages.
Here're its core features.
Features
Landing page and theme builder.
A diverse range of widgets.
Style copying.
On-scroll animation and dynamic text replacement.
Custom domain and SSL.
Amp pages.
A/B testing.
Team collaboration.
Google login.
Zapier Integrations.
Analytics.
Price
Swipe Pages offers three monthly plans starting from $29. You can also try it for free without sharing credential details.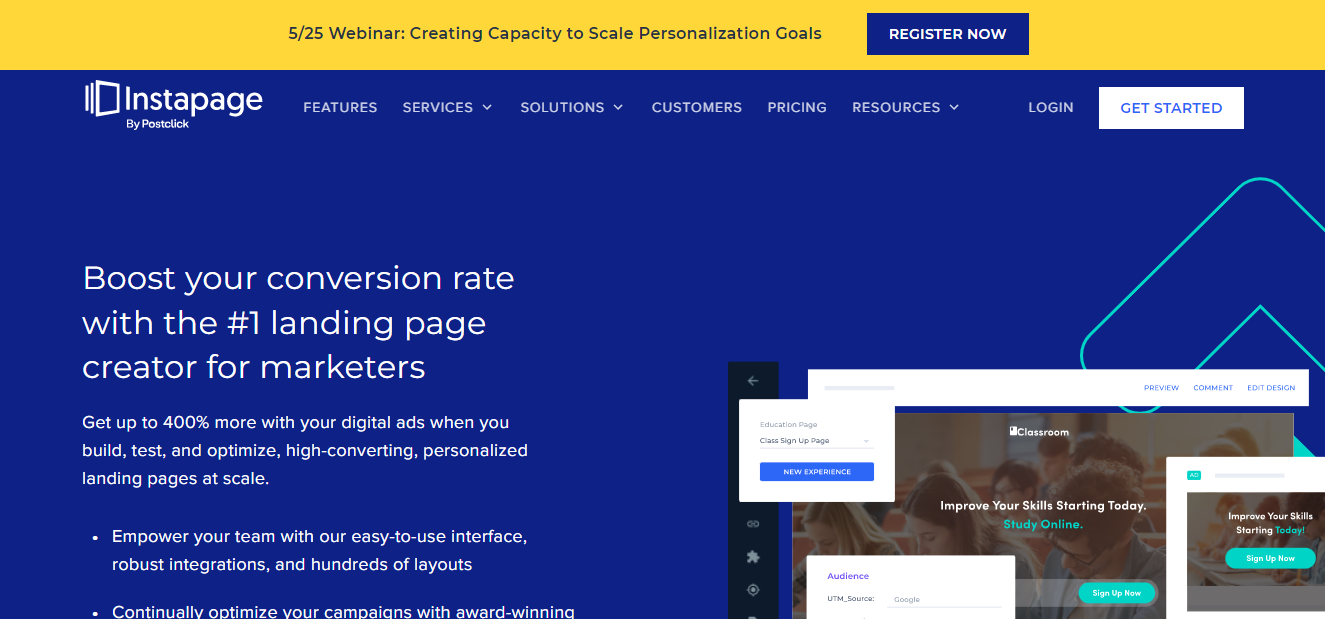 Instapage is ideal for PPC landing pages and advanced themes.
It has a highly flexible builder that lets you tailor your page for almost any specific campaign. More, it offers high-converting elements like dynamic text replacement to optimize your page for multiple target audiences.
Some of its most notable functions that match Unbounce features include post-click pages, A/B testing, mobile responsive designs, and conversion tracking.
One other thing you'd love about Instapage is its global blocks. It allows you to design a particular section or block and apply the setting at scale. It's an incredibly time-saving feature that makes it easier to edit multiple pages at once.
Here're its core functions.
Features
Post-click landing pages.
Advanced builder.
Split testing and heatmaps.
Dynamic text replacement.
Team collaboration.
Tracking and Analytics.
Custom coding.
Integrations.
Mobile page.
Price
Instapage's starting price is $199 a month. You can also customize your plan.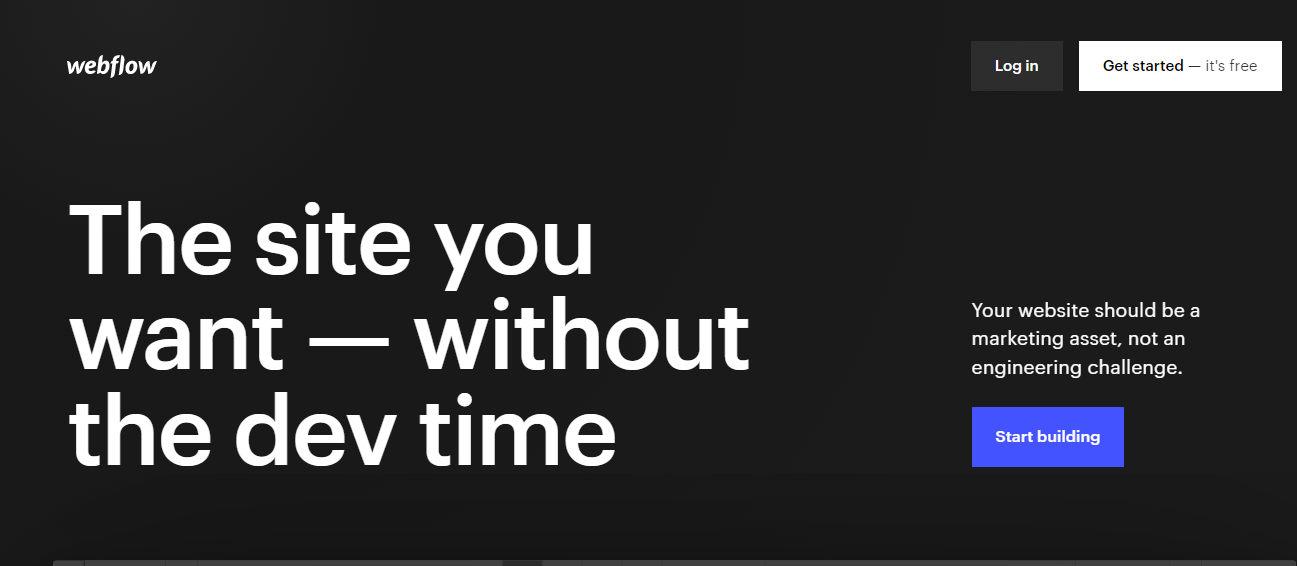 Webflow helps you create full-fledged responsive websites without using any coding.
With its intuitive builder and custom templates, you can edit elements you don't want, change color schemes to match them with your brand tone, and add preset animation. It offers stunning interactive elements that immediately animate your page as you scroll it up and down.
It's also planning to introduce a membership page soon that will allow you to embed paid subscription forms.
Overall, it's a great platform for those who want to design interactive websites.
I do want to point out that Webflow might be slightly more complex than others. While it doesn't require coding, it has a learning curve.
If you're alright with it, go for it.
Here're its core features.
Features
Website builder.
Login pages.
Interactive elements.
SEO option.
Team invitation.
Integrations.
CMS.
Hosting service.
Price
Webflow is free for new users. Once you get familiar with it, you can upgrade it for $12 a month.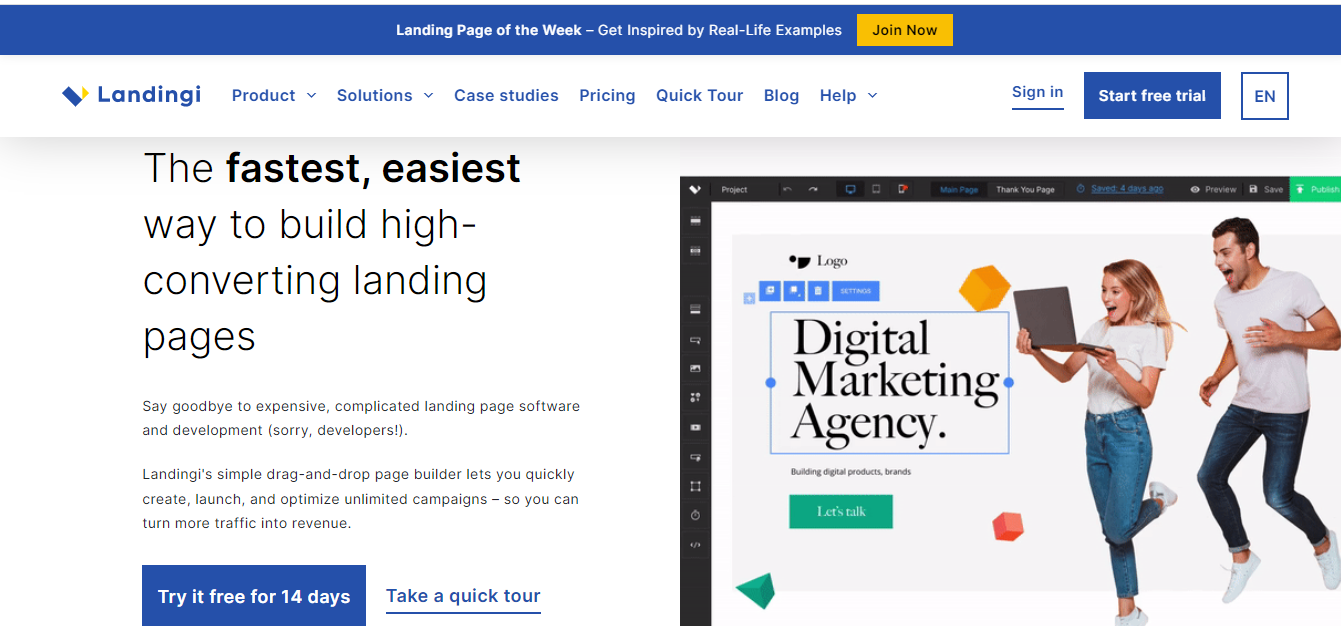 Landingi provides you with versatile solutions to generate high-converting sales pages and storefronts.
It offers over 400 templates, a funnel builder to create a marketing campaign sequence, and a checkout page to capture sales.
You can design visually appealing eCommerce storefronts, seamlessly connect payment methods to streamline your checkout process, and manage orders directly from your account.
With its Pageinsider AI, you can get data-driven insight into what captures more attention and apply it to improve your layout.
You can also add a custom domain and connect Landingi with third-party marketing apps for more brand exposure.
Here're its core features.
Features
Multi-section landing pages.
Sales funnel.
Over 400 templates.
Mobile themes.
Light boxes and pop-ups.
A/B testing.
Custom domain.
Lead data and conversion statistics.
Integrations and WordPress plugin.
In-house expert.
Price
Landingi's subscription charges come between $65 to $109 a month.
Elementor is a popular builder that allows you to create, publish, and market your site on WordPress.
With its versatile widgets and over 300 layouts, you can develop almost any type of page, from simple squeeze pages to complex interactive websites.
With its custom options, you can edit page elements, apply global font on all your pages, produce tailored themes, and use custom codes. It has a live and responsive editing feature that lets you preview your changes in real-time as you go along.
You can also create multi-step landing page forms with Elementor to offer a personalized experience to your visitors.
Here're its core features.
Features
Website and landing page builder.
WordPress plugin.
Over 90 widgets.
Custom coding.
Responsive pages.
eCommerce store layout.
Lead generation forms.
Hosting.
Integrations.
Price
Elementor charges $99 for a cloud site and a minimum of $49 for its plugin. You can also try it for free, however it may have certain limitations.
Optimize Press is another powerful WordPress plugin that provides a suite of tools designed to boost your conversion rate.
You can use it to create ten various types of lead generation pages, opt-in forms, functional checkout carts, and membership sites. It has flexible layouts and an A/B testing option to help you fine-tune your landing pages.
It also shares funnel automation and stripe integration feature. If you run an online store or provide digital services, they can help you operate a complete sales cycle from one place.
Let me summarize its core features.
Feature
WordPress plugin.
Landing pages.
Opt-in forms.
A/B testing
Sales funnel.
Checkout cart.
Over 250 templates.
Stripe integration.
Price
Optimize Press's best-selling plan costs $199 per year. You'll also get the 30-days refund options to explore the software.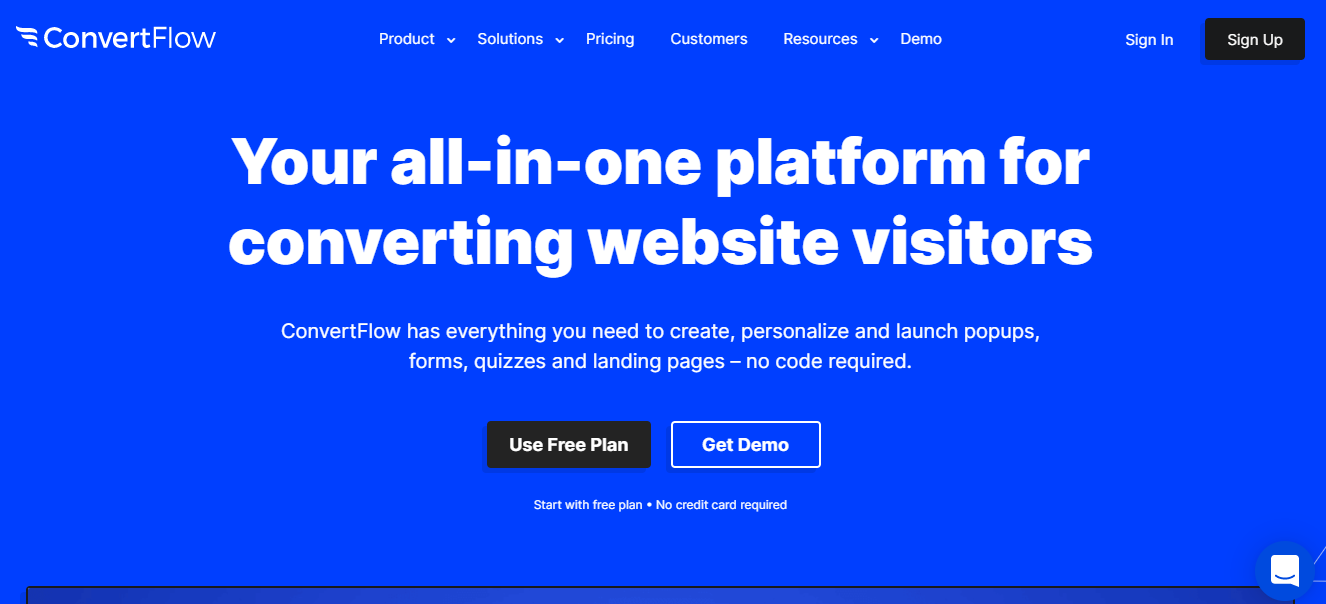 Convertflow offers you an advanced landing page and funnel builder to test, publish, and effectively run your campaign.
It is an all-in-one conversion platform that allows you to launch mobile responsive pages, test different variations, automate your workflow, and track visitors.
You can produce personalized landing pages, optimized pop-ups, and persuasive sticky bars to increase your site visits. It helps you generate interest with dynamic content and capture leads with visually appealing forms.
It also offers survey forms and quizzes. With it, you can engage your audience and gather feedback at the same time to improve your conversion strategy.
Here're its core features
Features
Landing page, pop-ups, and sticky bars.
Over 100 templates.
Quizzes and Surveys.
Site message.
Personalization.
Integrations.
Mobile support.
Price
ConvertFlow basic plan is completely free, while its premium monthly subscription costs a minimum of $99.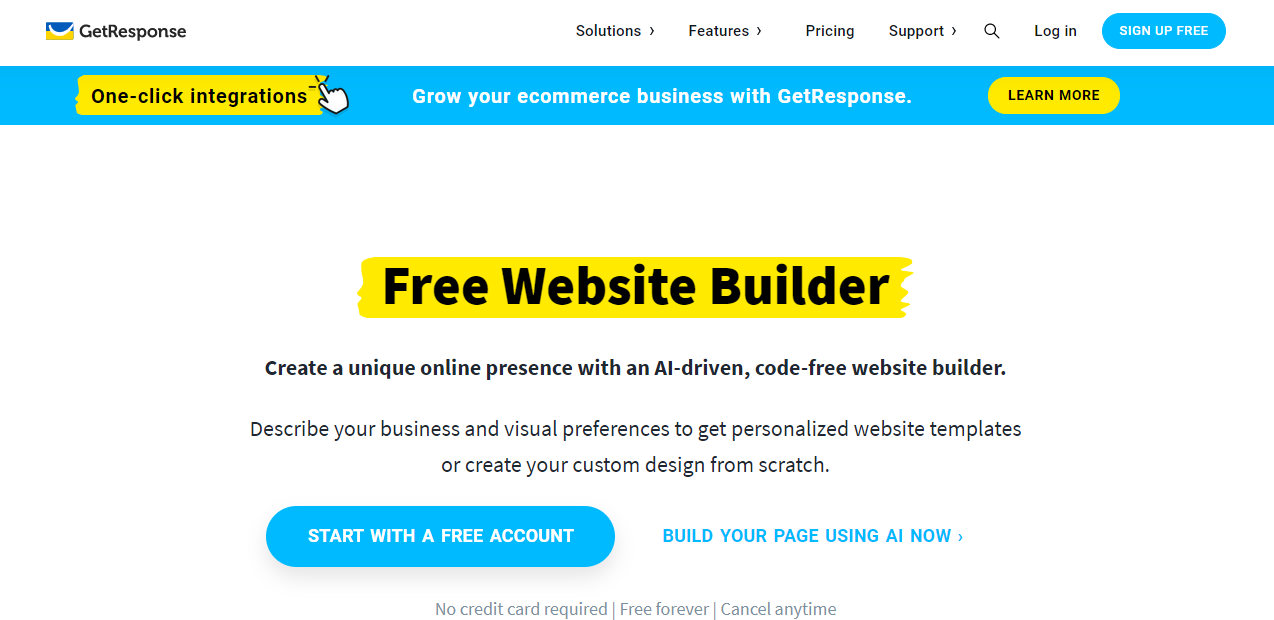 GetResponse is a marketing automation software that sells a collection of lead generation tools, which also includes a robust website builder.
It's powered by artificial intelligence that automatically tailors your website layout based on the specific question you answer.
You'll have the option to go for the layout generated by AI or select a ready template from its library. It shares a diverse range of pre-defined landing pages, pop-ups and website pages to help you develop a personalized website.
It also makes it incredibly easier to add custom domains. You can link your existing URL, buy it directly from the app, and even pick out any available free domain.
Let me summarize GetResponse's core features.
Features
Drag-and-drop editor.
AI Wizard.
Website, pop-ups, and signup forms.
Ready templates
Global styling.
Easy domain acquisition.
Analytics.
Email marketing.
Social Ad editor.
Price
GetResponse's starter plan is free. To unlock the limit on landing pages, you can buy its premium plan for $19 a month.
If you feel more comfortable conducting business via your cell phone, you'll love PhoneSites. It's a user-friendly builder that lets you design your landing pages from your smartphone.
You can both pick out pre-defined templates for quick launch and create your page from scratch. Its templates are already optimized for high conversions, but they offer you the flexibility to customize them as well.
Some of its notable functions are drag-and-drop builders, basic sales funnel, email automation, and performance metrics.
Another interesting feature that sets it apart from others is its AI writer. It's an auto-copywriter that can help you draft high-converting marketing and sales copies.
Overall, it's a decent app for simple and quick landing pages.
Here're its core features.
Features
Mobile landing page builder.
AL writing assistant.
Auto-funnels.
Email marketing.
Social media advertising.
Reporting.
Custom domain.
Speed efficiency.
Integrations.
Price
PhoneSites shares three monthly plans that cost between $49 to $148. Additionally, you can order a digital business card for $9.
Squarespace is a website builder that's designed for entrepreneurs and small business owners.
It offers pre-made templates for several purposes, such as portfolios, resumes, individual services, and restaurants.
You can customize the layout to personalize your sites and optimize it for Google for better conversions. If you're a freelancer, you can add password protection to your site, so your portfolio would be available only to selected individuals.
What makes Squarespace unique, though, are its supporting features.
If you run an online store, you can create a storefront and manage shipments directly through Squarespace. If your business requires appointment settings, you can use its scheduler to book your clients. It also has recently added a membership site option for those who sell subscriptions.
It's a highly flexible tool that allows tons of add-ons to help you develop a custom site.
Here're its core features.
Features
Site builder.
eCommerce store widgets.
SEO tools.
Add-ons.
Custom domain.
Email campaigns.
Mobile support.
Analytics.
Price
Squarespace extends four pricing options charging $19 to 65 a month.
HubSpot marketing suite offers you a free landing page builder tool that shares similar features to Unbounce.
You can use it to produce visually appealing landing pages, optimize them for your target audience, and A/B test multiple variations to identify the best performer.
It has a drag-and-drop editor that lets you add media, make text alterations, and adjust block sizes. With its dynamic content feature, you can display content based on your audience preferences to make their experience more personalized.
Its analytics section is also pretty robust. It displays essential conversion metrics to help you further improve your design.
Let me summarize its core features.
Features
WYSIWYG editor.
Custom widgets.
Pre-made templates.
Dynamic content.
Split testing.
Analytics.
Integration with HubSpot CRM.
Price
Landing Page Builder is a complementary app that's included in the HubSpot marketing plan. The minimum subscription charges are $45 a month.
Final Words
An ideal landing page builder should offer you enough custom options to personalize the templates and tailor them to suit your requirements.
Since all the listed apps provide you that flexibility, ask yourself what "else" you want in a landing page builder. 
Pick out the best matching tool and use it for your next lead generation campaign. Good luck!