There is no denying that Things is an aesthetically pleasing to-do list app. It has a loyal community and all.
Yet, there are several reasons why you should consider trying its alternatives.
Firstly, it is exclusive to Apple devices, limiting its accessibility. In addition to that, there may be other options available at more affordable prices.
Furthermore, you may be digging for a tool that provides a breath of fresh air or offers custom features that Things currently lack.
No matter what your reasons may be, get ready for a glow-up because I am here to review the 12 best alternatives to Things, catering to a variety of task management and productivity features.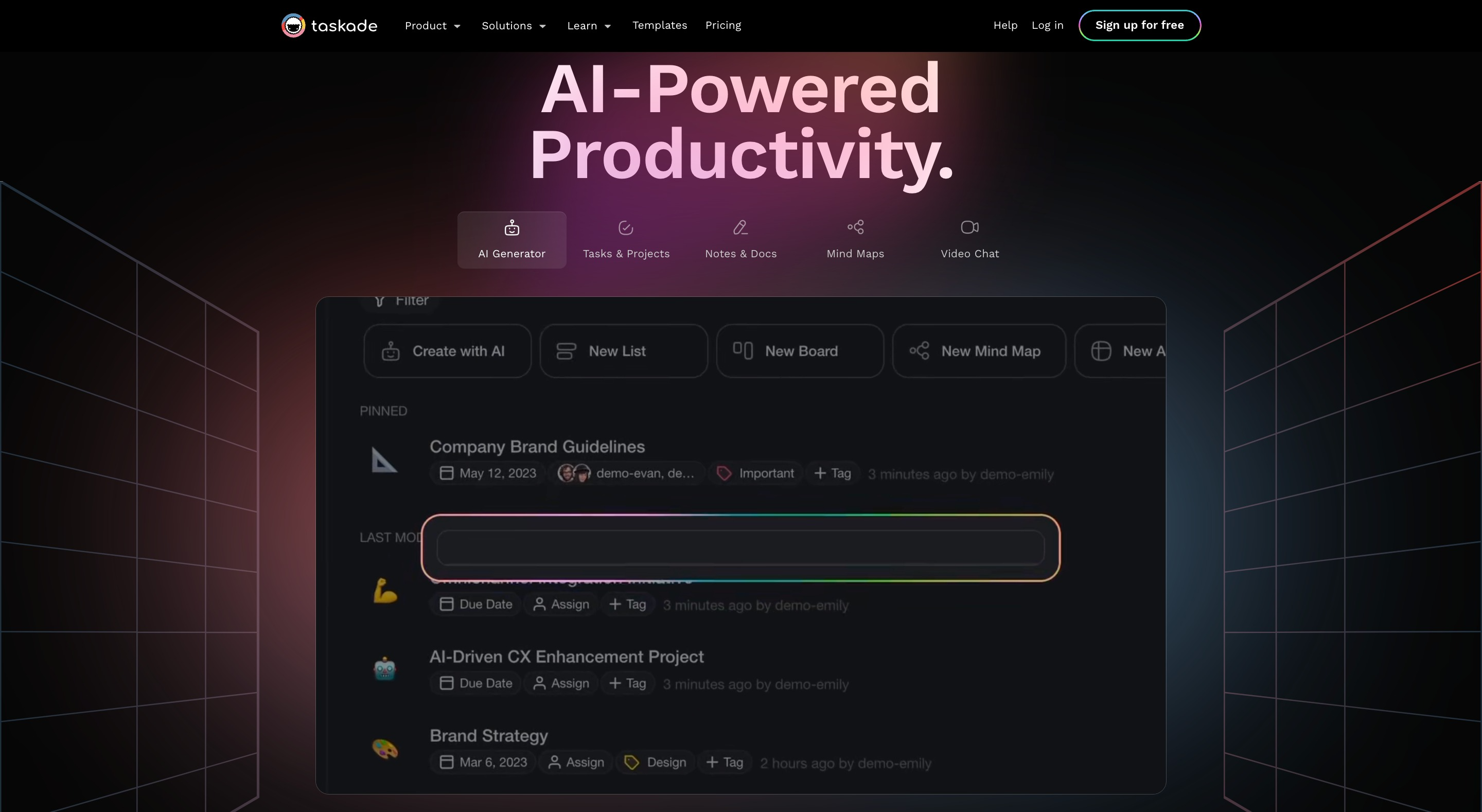 Taskade is an AI-powered productivity platform designed to enhance team collaboration and streamline workflows.
From generative workflows to task automation and real-time collaboration, Taskade offers a range of tools to jumpstart your productivity and empower teams.
Taskade leverages AI technology to provide you with an enhanced productivity experience. You can generate tasks, outlines, mind maps, and more, making it easier to organize and execute your work.
In addition, Taskade aims to replace traditional task and project management tools by offering versatile ways to organize and visualize tasks, notes, and projects.
Taskade facilitates seamless collaboration within teams by providing shareable links. This makes it effortless to share projects for review, invite team members to workspaces, or engage in real-time chat and video calls with stakeholders.
Taskade's Personal & Family plan is completely free to begin with. The Starter plan costs around $7.91/month for up to 3 members. Furthermore, the Plus plan costs $14.61/month for up to 5 members, both on an annual billing cycle.
Core Features of Taskade
AI-powered features (chat bot, writing assistant, and workflow creation)
Tools to organize and visualize tasks, notes, and projects
Shareable links for collaboration and communication
Built-in video chat capabilities
Cross-platform accessibility
Synced unified workspace
Akiflow is a powerful productivity tool that enables you to consolidate all your apps in one place and effectively block time for your tasks on your calendar.
One of the key features of Akiflow is the Universal Inbox, which allows you to import all your tasks from different tools into a single inbox.
Akiflow also offers several other powerful features that contribute to a beautifully organized schedule.
With quick task actions, you can prioritize, plan, and snooze tasks using convenient keyboard shortcuts.
The ability to share availability eliminates the hassle of switching between email and calendar tabs when scheduling meetings or appointments.
Akiflow also has a timezone feature that lets you view multiple city time zones alongside your local time, providing added convenience for global collaborations.
Efficient search capabilities in Akiflow enable you to quickly find events, tasks, people, and email addresses, enhancing productivity and reducing time spent on searching.
Akiflow offers a week-long free trial. Afterward, you can choose to upgrade to the paid plan, which costs $24.99/month (or $14.99 per month when on the annual plan).
Core Features of Akiflow
Consolidate all your apps in one place
Block time for tasks in your calendar
Universal Inbox to import tasks from different tools
Quick task actions with keyboard shortcuts
Share availability for scheduling meetings or appointments
Timezone feature for viewing multiple city time zones
Efficient search capabilities
Ellie is a user-friendly day planner app that helps people plan your day effectively and more.
How it Ellie different from other to-do list apps? It helps you plan your day by assigning tasks to specific times on your calendar. In other words: time blocking.
The app features a straightforward drag-and-drop Kanban board where you can quickly add tasks and then drag them right into your Google or Apple calendar.
Ellie has a special feature called built-in analytics. It shows how you spend your time.
Additionally, the time tracker helps you see where your time goes, so you can find productivity leaks and improve your schedule.
iPhone and iPad users can easily plan and sync events across devices using Siri and Apple Calendar.
Not to mention, Ellie also offers extra features like labels, subtasks, week views, and filters to meet diverse planning needs.
Ellie has a free plan where they enable you to create unlimited tasks, and you can use Ellie on with web and as an iOS app. The brain dump feature is also free. To get full access to other premium features, you can choose to upgrade to the paid plan that costs $4.99 per month.
There is also a lifetime plan at a one-time cost of $149.99.
Core Features of Ellie
Kanban board for task management
Time blocking by dragging tasks into calendar
Integration with Google Calendar and Apple Calendar
Brain dump feature to capture all ideas
Recurring tasks for routines
Built-in time tracker and analytics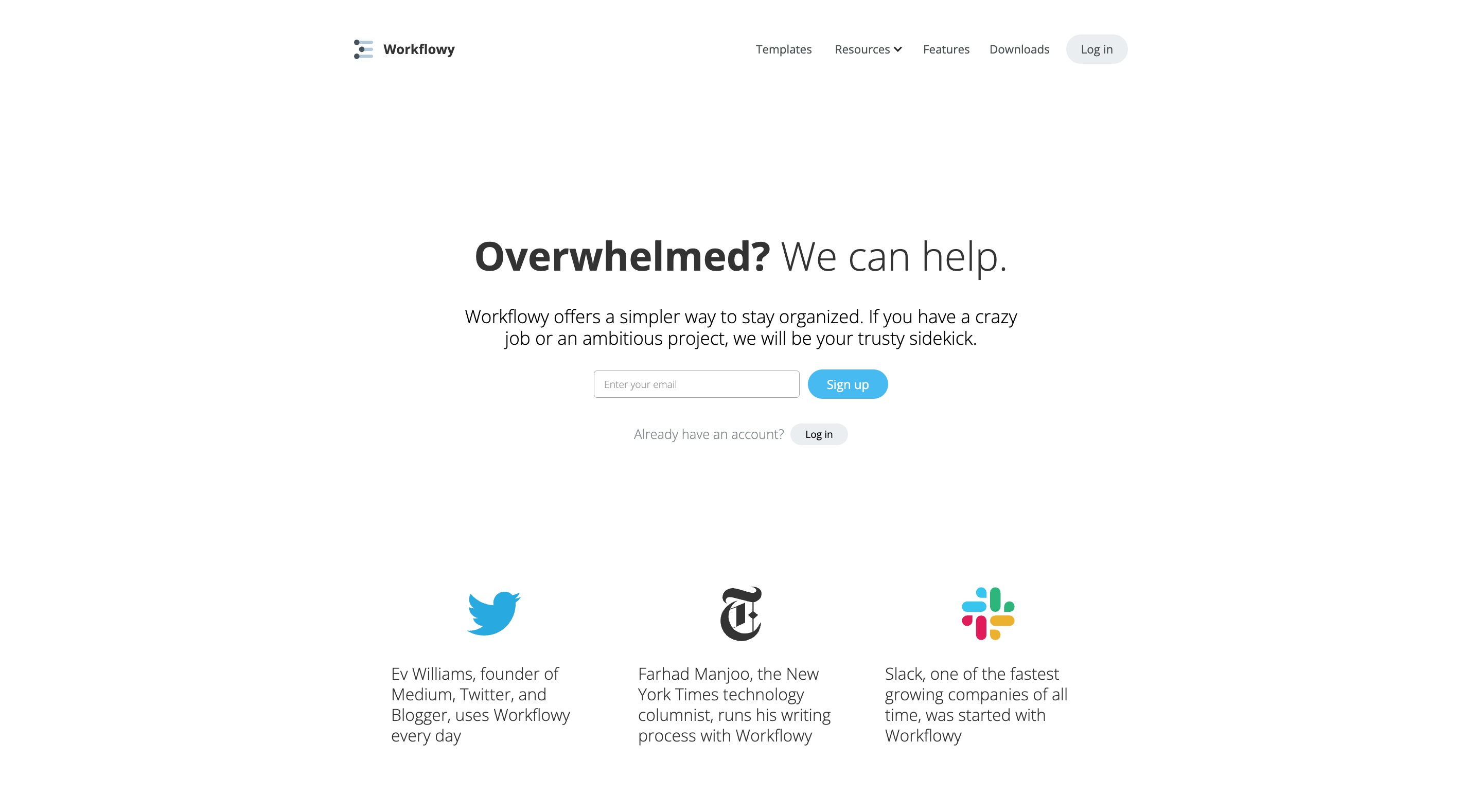 Workflowy is a remarkable online notepad that combines ease of use with incredible power. They offer a range of powerful features designed to help you capture, organize, analyze, and share anything.
it is known for its lightning-fast performance. You can simply open the app and start typing, allowing you to capture your thoughts and ideas instantly.
Additionally, it allows you to seamlessly drag-and-drop files in-line, eliminating the need to switch between different applications.
One of Workflowy's standout features is its infinitely nesting structure, which empowers you to organize your world exactly as you want it.
This means you can create hierarchical lists within lists, providing a highly customizable organizational system.
Furthermore, Workflowy offers additional organizational tools such as Kanban boards and live copy functionality.
Workflowy helps you analyze your information deeply by providing a flexible zooming feature.
You can effortlessly switch from a thousand-mile-high view to a microscopic one, allowing you to focus on important details or collapse unimportant ones.
And you have complete control over who can view and edit your shared items, and the best part is that collaborators don't even need to have an account to access the shared content.
Workflowy's Basic plan is free to use. Workflowy Pro costs $4.99/month ($4.08 when billed annually).
Core Features of Workflowy
Seamless drag-and-drop functionality for files
Infinitely nesting structure for highly customizable organization
Additional organizational tools like Kanban boards and live copy
Collaborators can access shared content without an account
Flexible zooming feature for deep information analysis
Complete control over sharing permissions
Zenkit To Do is a comprehensive task management solution by Zenkit that offers a suite of tools to skyrocket your productivity.
Zenkit To Do provides various smart lists, including Starred, Today, This Week, and Assigned to Me. These smart lists help you prioritize and identify tasks that need to be done and determine when they should be completed.
When it comes to collaboration, you can easily share your lists and folders with team members, friends, and family. You can add members to tasks, leave comments, and use @mentions to notify others and discuss task details.
In addition to collaboration, Zenkit To Do allows you to set due dates for tasks to stay on top of your schedule. You can also create reminders to receive notifications for upcoming events and deadlines. This feature also applies to recurring tasks.
One of the features I particularly appreciate about Zenkit To Do is the ability to break down tasks into manageable subtasks and mark them as completed.
A visual indicator for completed tasks helps you stay on track and monitor your progress effectively.
Zenkit To Do offers a free Personal plan. The Plus plan costs $4 per month (or $3 per month with annual billing), and the Business plan costs $19 per month (or $15 per month with annual billing).
Core Features of Zenkit To Do
Team communication & project organization
Notes and rich text formatting
Email-to-task integration
Subtasks and checklists
Customizable themes
Search functionality
Gone is an innovative and refreshing free alternative to Things 3, offering a unique and simple approach to task management with its ephemeral to-do list concept.
One of the standout features of Gone is the Weekly Overview, which allows you to reflect on your week and evaluate how well you have accomplished your tasks.
Notifications are another powerful tool in Gone's arsenal. They serve a dual purpose by alerting you when tasks are about to expire and reminding you to review your week.
To enhance the user experience and cater to individual preferences, Gone offers a Dark Mode option.
By embracing impermanence, Gone encourages you to focus on the present moment and prioritize tasks accordingly, fostering a sense of urgency and promoting productivity while discouraging procrastination.
Gone is free to use and is currently available on the Mac App Store.
Core Features of Gone
Ephemeral To-Do List
Ultra minimal user interface
Weekly Overview
Notifications
Dark Mode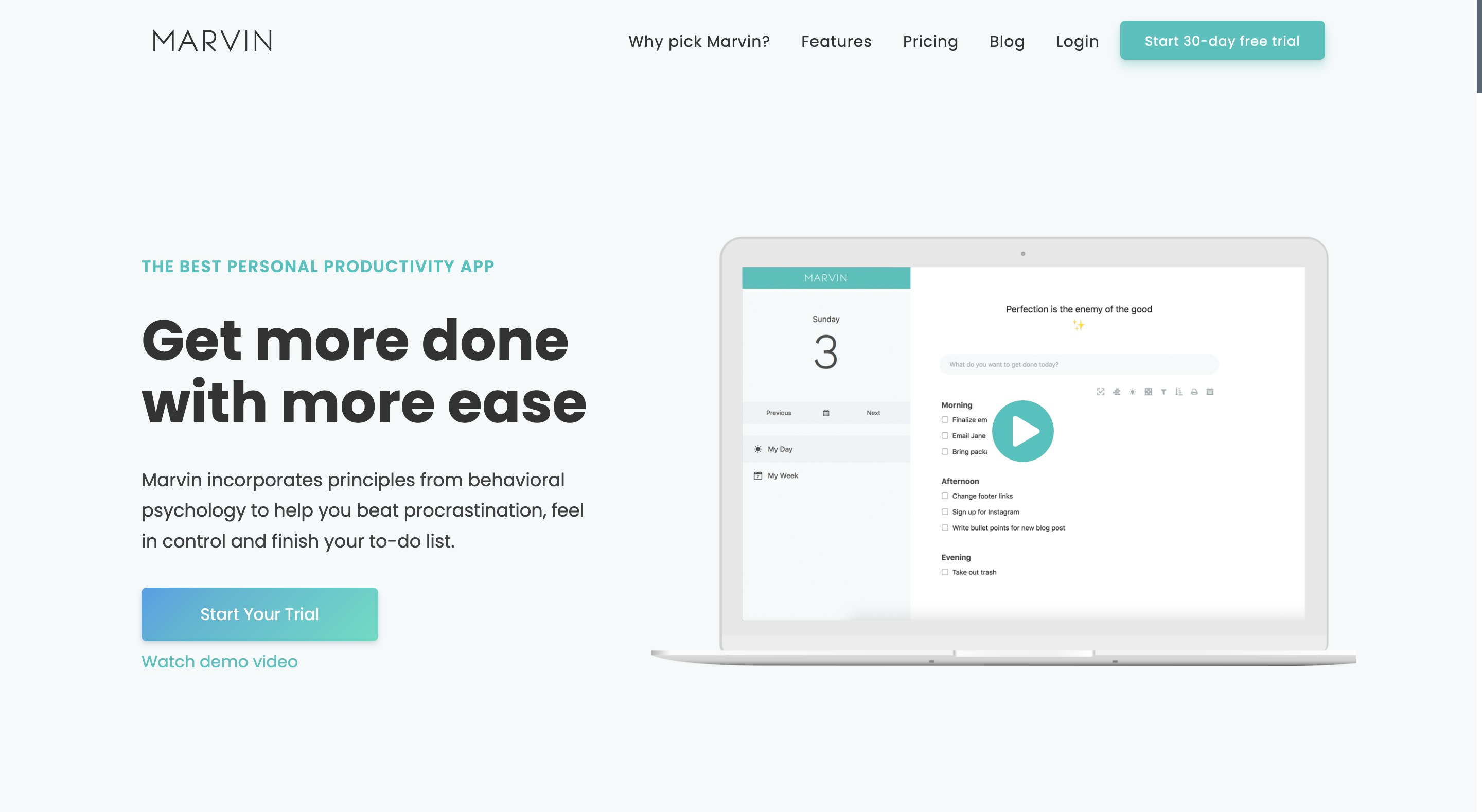 Amazing Marvin is a task manager and daily planner with a clean design and powerful capabilities.
Marvin's ability to organize tasks into nested categories and projects allow you to create a hierarchical structure for your tasks.
The day planner in Marvin ensures that each day has its own to-do list, enabling you to focus on daily tasks and prioritize your activities effectively.
Additionally, Marvin's full-featured calendar and events functionality help you stay on top of your schedule by providing a comprehensive view of upcoming events and tasks.
Marvin also offers various date-related features, such as assigning due dates, do dates (scheduling tasks for specific days), start/defer dates (delaying tasks and projects to start at a later date), and end dates (setting artificial deadlines).
Another noteworthy feature is the inclusion of built-in timers, including the Sandlock and Pomodoro timers.
The super focus mode ensures that you stay focused on one task at a time, minimizing distractions and increasing efficiency.
For long-term planning, Marvin offers the ability to plan projects for specific weeks and months, allowing you to monitor progress and stay on track.
Amazing Marvin offers a 30-day free trial, after which its monthly subscription costs $12 per month ($8 on annual billing). As of writing this, they also have a lifetime plan available for a one-time fee of $300.
Core Features of Amazing Marvin
Task organization into nested categories and projects
Day planner with a separate to-do list for each day
Full-featured calendar and events functionality
Various date-related features (due dates, do dates, start/defer dates, end dates)
Built-in timers (Sandlock and Pomodoro)
Super focus mode for increased efficiency
Long-term project planning for weeks and months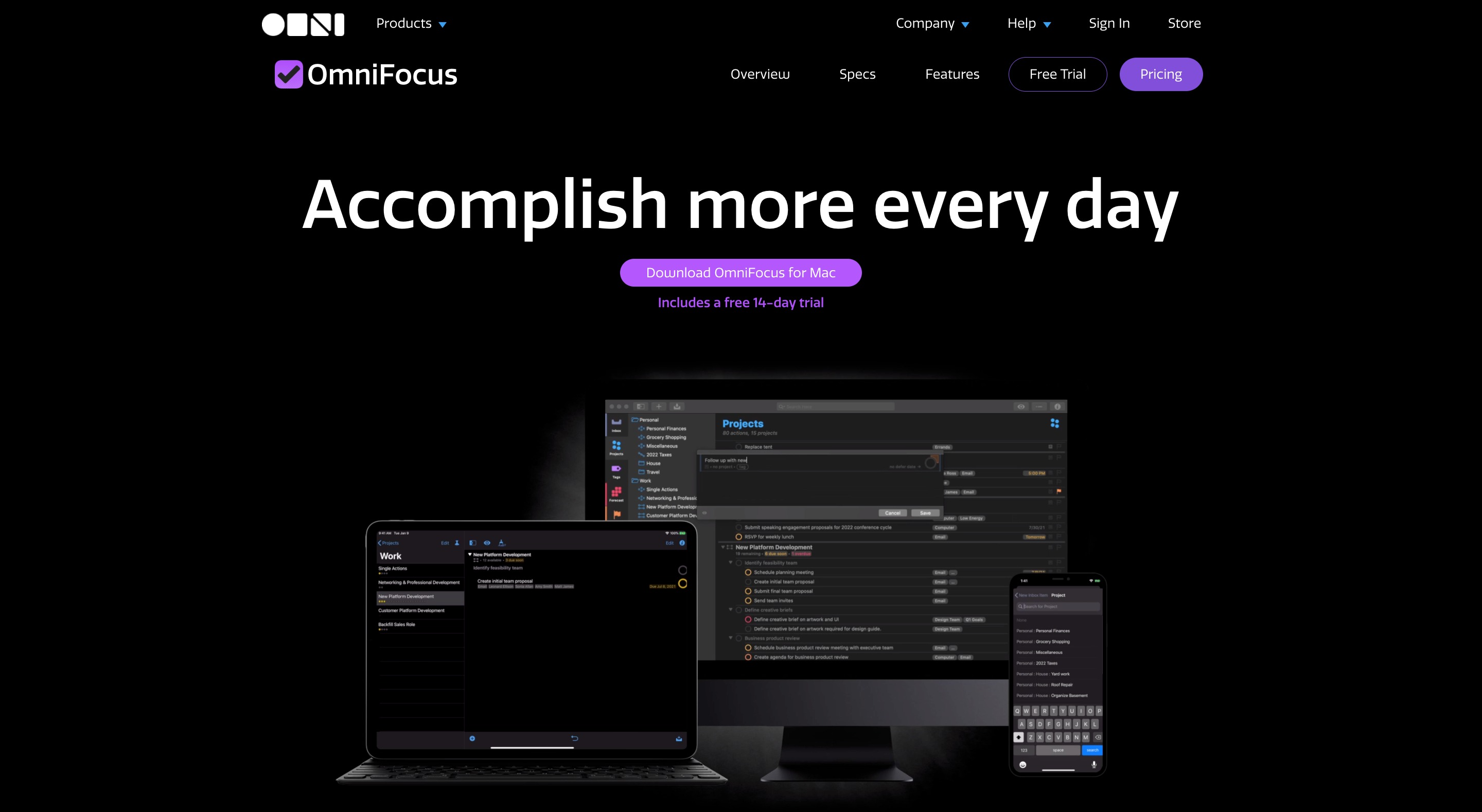 OmniFocus is a powerful task management software designed specifically for busy professionals. With OmniFocus, you can effectively capture, organize, and prioritize tasks, allowing you to focus on the right tasks at the right time.
One of the key features of OmniFocus is its ability to capture tasks from anywhere. With its seamless integration with Apple devices, you can easily keep track of everything you need to do.
In terms of organization, OmniFocus provides features like forecasting, projects, and tagging, which help you turn chaos into order.
You can quickly lay out your week, set due dates, and tag tasks for maximum productivity. The Forecast feature shows users what's coming up, enabling them to prioritize their tasks effectively and reduce stress.
When it's time to work, OmniFocus keeps users focused on what matters most. It provides a to-do list that tracks priorities and suggests the best task to focus on next.
OmniFocus offers a 14-day free trial and two pricing plans: a subscription plan and a traditional one-off payment plan.
The subscription plan costs $9.99 per month for access to OmniFocus on Mac, iPhone, iPad, and the web.
The traditional one-off payment plan is available for Mac, iPhone, and iPad separately. The prices for the Mac version are $49.99 for the Standard License and $99.99 for the Pro License.
The prices for the iPhone and iPad version are $74.99 for the Pro License and $49.99 for the Standard License.
Core Features of OmniFocus
Seamless integration with Apple devices
Second brain for capturing and organizing activities
Forecasting feature to plan and prioritize tasks
Projects and tagging for better organization
To-do list with tracking and priority suggestions
Timely reminders and alerts for deadlines
Custom Perspectives for personalized workflow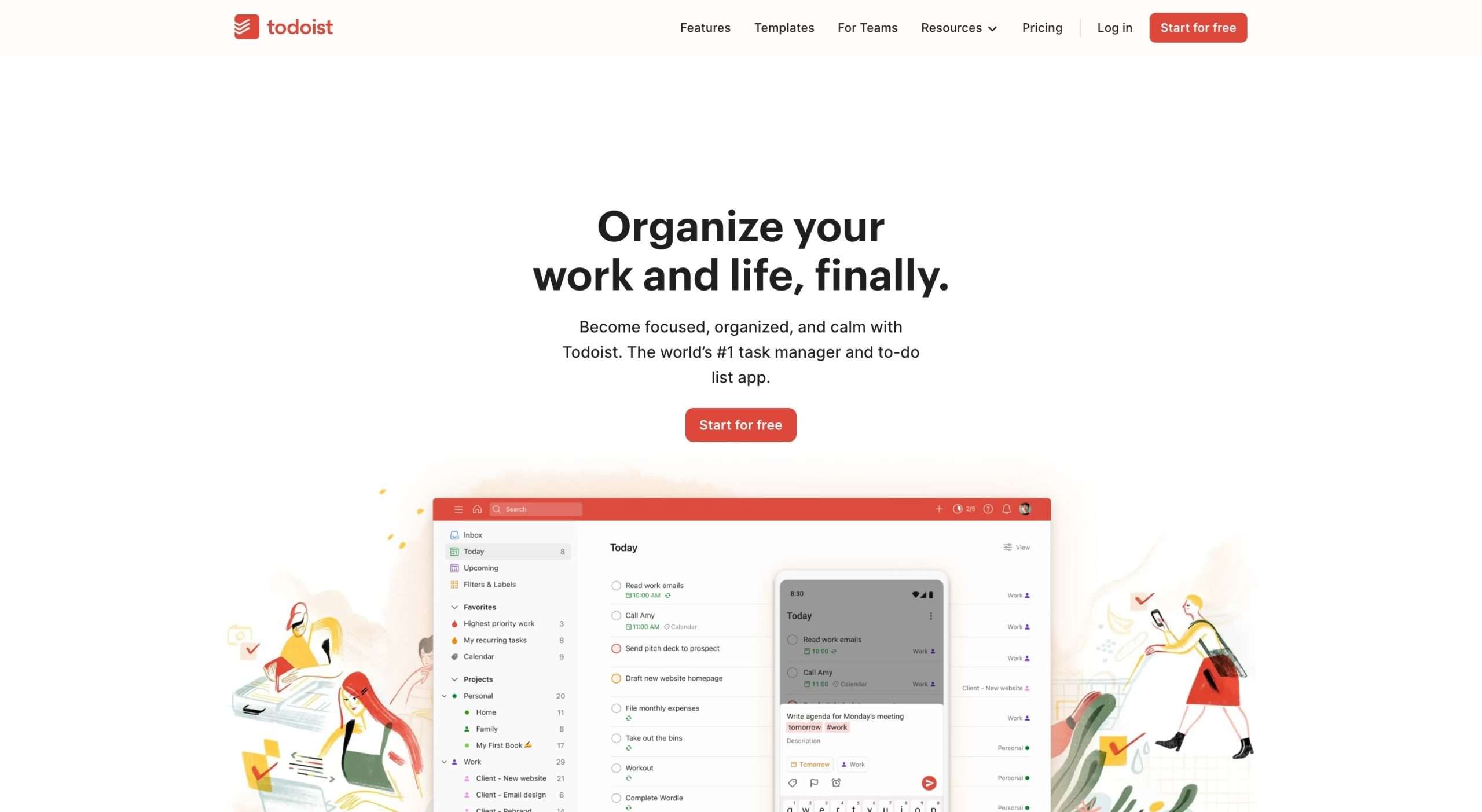 Todoist is a powerful productivity tool designed to help you effectively manage both your work and personal life.
I frequently use their "Quick Add" feature (via mobile widget), which enables me to capture and organize tasks within seconds. This feature proves to be highly convenient and efficient in staying on top of your responsibilities.
Moreover, Todoist aids in task prioritization by highlighting the most important tasks of the day through priority levels, (indicated by flag-like symbols such as 🚩).
Collaboration becomes effortless with Todoist's capability to share projects and delegate tasks to others, streamlining teamwork.
In addition, Todoist allows you to personalize your task views to align with your unique style and workflow.
The "Boards" feature presents tasks in a Kanban-style visual representation, offering a comprehensive overview and helping you grasp the bigger picture.
To further enhance your task management experience, you can leverage labels, filters, and themes, enabling you to customize Todoist to suit your specific needs.
Furthermore, Todoist provides tangible progress tracking through productivity visualizations. By establishing daily and weekly goals, you can visualize your productivity trends, track your progress, and ultimately achieve your goals over time.
Todoist offers a free plan for starters, and to be perfectly honest, it performs most of your essential tasks quite well. The Pro plan is priced at $5 per month ($4 with annual billing), while the Business plan costs $8 per month ($6 with annual billing).
Core Features of Todoist
Quick Add feature for capturing and organizing tasks
Priority levels for task prioritization
Collaboration through project sharing and task delegation
Personalized task views with Boards, labels, filters, and themes
Comments and file uploads for collaboration and file sharing
Productivity visualizations for progress tracking
Integration with various apps and services
Routine is an advanced calendar app designed to enhance productivity by consolidating tasks and notes into one powerful tool. It is available on iOS, macOS, and Windows, with Android support coming soon.
One of the notable features of Routine is its ability to centralize all tasks. By integrating various services like email, chat, and project management tools, you can have a comprehensive overview of all your work in a single location.
Routine also provides a robust console equipped with natural language processing, allowing you to quickly capture thoughts and ideas.
With Routine, you can save non-actionable information as notes and organize them hierarchically through pages. These notes can be enriched with media such as photos and videos, and you can also link them to tasks, events, and contacts.
You have the flexibility to define your ideal schedule through rituals, and Routine will safeguard your agenda from disruptions while optimizing your time through smart scheduling.
In addition to many other features, Routine offers event notifications, the ability to share availability for scheduling meetings, the option to save links and messages from mobile devices, and powerful search capabilities.
It also provides a dashboard for easy access to tasks, upcoming events, and the console.
Routine offers various pricing plans, including a free Starter plan and a Professional plan available for $15/month.
Core Features of Routine
Natural language-based console for capturing thoughts and ideas
Slots for recurrent activities with time preferences
Linking notes to tasks, events, and contacts
Rituals for defining ideal schedules
Time blocking for prioritizing tasks
Availability sharing for scheduling meetings
Powerful search capabilities
Taskable is an integrated task management tool that combines tasks, calendars, and time blocking to help you better manage your time and increase productivity.
With Taskable, you can integrate your tasks and calendars from existing tools, creating a unified to-do list and calendar for a comprehensive overview of your priorities.
One of the key features of Taskable is time blocking.
You can easily drag and drop tasks directly into your calendar, making it effortless to allocate specific time slots for each task.
Taskable also offers seamless integrations with various apps, allowing you to connect all your workflows in one place.
In terms of pricing, Taskable offers both free and Pro plans. The free plan includes features like time blocking, up to two integrations and calendars, a browser extension, and advanced tags and filters.
The Pro plan, available at a monthly subscription of $10 (or $15 on a monthly billing), offers additional benefits such as unlimited integrations and calendars, priority support, and a 30-day free trial.
Core Features of Taskable
Integration of tasks and calendars from existing tools
Unified to-do list and calendar for an overview of priorities
Timeblocking feature for allocating specific time slots to tasks
Automatic task and information syncing
GoodTask is a powerful task manager and planner app that builds upon Apple's Reminders and Calendars.
GoodTask offers a familiar and seamless interface while introducing enhancements to make your task management more efficient.
One of the key advantages of GoodTask is its versatility, catering to a range of situations, from simple checklists to complex project management.
With its clean interface, Smart Lists, and customizable options, GoodTask provides a seamless experience for task management and organizational strategies.
Whether you need to create a basic to-do list or organize a large-scale project, GoodTask is flexible enough to adapt to your needs.
Currently, GoodTask is exclusively available for Apple users. The iOS app is free to download with in-app purchases of $9.99. Additionally, the GoodTask app for Mac costs $39.99 and offers a free trial period.
Core Features of GoodTask
Comprehensive task manager built upon Apple's Reminders and Calendars
Clean and User-Friendly Interface
Checklist and Project Management
Subtasks for Calendar Events
Smart Lists (filter and organize tasks based on specific criteria)
Swiftly add tasks in a customizable and efficient manner.
Pre-defined shortcuts or templates.
Conclusion: Choosing The Best Things Alternative
So there you have it! The 12 absolute best alternatives to Things for better task management.
Whether you're in search of broader accessibility, more affordable options, unique features, or enhanced collaboration capabilities, at least one of the 12 tools mentioned in this article has got you covered.
From the AI-powered productivity platform Taskade to the comprehensive task management solution Zenkit To Do, each alternative offers its own set of features and benefits to cater to your specific needs.
So why not give them a try?
Don't settle for a to-do list app that doesn't fully meet your requirements.