Imagine a day in the life of a PhD-level researcher.
You wake up early, gulp down your extra strong latte, and settle down in front of your computer to begin your day's work.
The first thing on your to-do list?
Writing that research paper you've been working on for weeks.
As you stare at the blank page in front of you, you feel a familiar sense of dread creeping up on you. You already know that writing a research paper is no child's play.
At this very moment, you don't need a second cup of coffee.
What you truly need is an assistant that will not only cut down the researching and writing time but also make the writing process enjoyable.
Now imagine:
What if you had access to an online tool that could help you research, outline, and even write your paper for you?
Doesn't matter if you are writing a capstone project as an undergraduate or a highly significant paper on something disruptive, you need to check out these 12 AI research paper writing software.
Because they are not only more efficient but also more reliable as long as you have a good internet connection.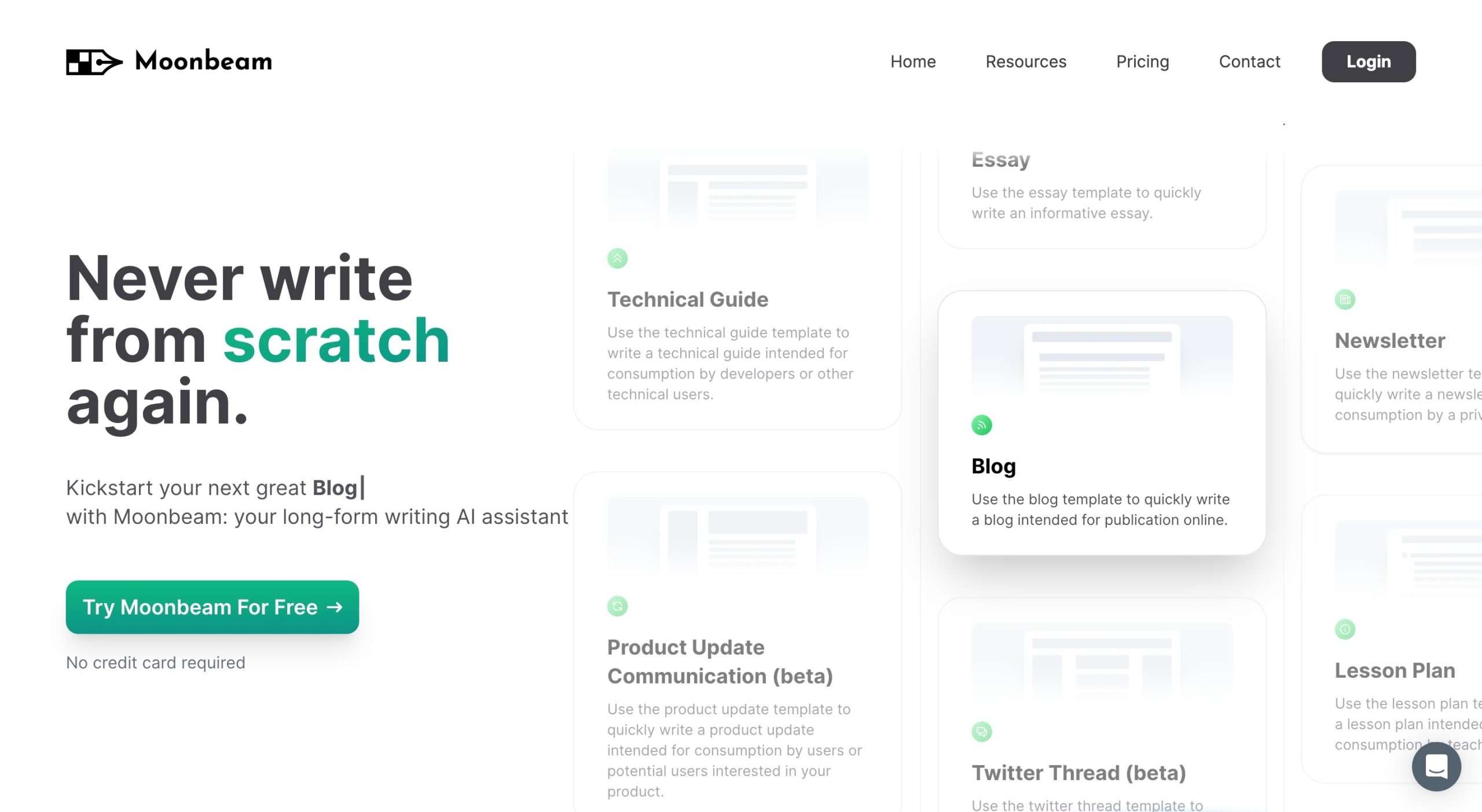 Moonbeam is a truly minimal and completely aesthetic AI-writing assistant.
Unlike its substitutes, Moonbeam claims to be the only tool that has specifically trained its language models to write awesome-quality long-form content.
They have a feature called Wizard that aids you by turning your jumbled notes into a detailed outline. And then it turns that outline into meaningful paragraphs – all in a matter of seconds.
The AI behind Moonbeam is called Luna. It is a prompt answering machine that answers any questions you have, in detail.
Once it answers a given question, you can again edit and refine the answers until satisfied.
Moonbeam is equipped with a custom style generator, meaning you can tell it to write content based on a writing style of a famous writer (like Mark Manson), and in a writing tone of voice you prefer (like Conversational).
Now, Moonbeam may not offer as many templates as Jasper, Copy.ai, or any AI tool for that matter, but what it does offer is a sense of calm amid chaos through the simplicity of its user interface.
Core Features of Moonbeam
Simple and user-friendly interface
Trained specifically for writing high-quality long-form content
Wizard feature to turn notes into detailed outlines/paragraphs
AI named Luna for context-rich prompt answering
Custom style generator
Moonbeam Pricing
Moonbeam's free plan offers 30,000 words/per month, while its Pro plan costs $29/per month. It also has a Team plan that costs $50/month/member.
Although Copy.ai primarily claims to write better marketing copy and content, they are not limited to it.
Unlike Jasper.ai, it is cheaper and also offers a completely free plan. But of course, that is not the only reason to jump to it.
Copy.ai comes with over 90 different built-in tools and templates to leverage the power of AI in research assistance and content creation.
These templates are really helpful when all you have is a blank page, and you'll be looking for genuine ways to fill it up – with great text.
Copy.ai supports and writes in around 25 languages.
Not only that, they also have their own AI chatbot that answers all the questions you have in real-time.
The best part is that this chatbot is chipped in into their inline text editor. This means you can take answers you like from the chatbot and directly paste and edit them into the editor, all within one page.
Core Features of Copy.ai
Various use-case-equipped AI-powered writing assistance
Over 90 built-in tools and templates
Multi-language support (over 25 languages)
AI chatbot support
Seamless inline text editor
Copy.ai Pricing
Copy.ai comes with a completely free plan with access to all the 90+ tools and templates. Its Pro plan costs $49/month (at a monthly billing) and $36/month if billed yearly.
Writesonic is highly popular and, again, a very cheaply priced AI writing assistant.
It's highly easy to use, and you can get easily get started with their beginner-friendly templates.
Their Sonic Editor which they call an enhanced version of Google Docs is equipped with all the essential writing features (like paraphraser, expander, and shortener) to help you write epic content with the least possible distractions.
Luckily, they also have their chatbot (they call it Chatsonic) that promises to answer any burning questions you have about almost anything.
And unlike ChatGPT, Chatsonic is trained with a voice-to-text feature that lets you write using your voice. It will also detect the emotion and tone of your voice.
If you need unique and relevant art to include in your research paper, Writesonic also offers an AI art generator that generates extraordinarily beautiful art in just seconds after giving it prompts.
You can also install its Chrome extension to use it from anywhere.
Core Features of Writesonic
Beginner-friendly templates
Sonic Editor with essential writing features
Chatbot (Chatsonic) for answering questions through prompting
Voice-to-text feature for writing using voice
AI art generator for generating relevant art
Chrome extension for flexible & easy access
Surfer SEO integration
Writesonic Pricing
Writesonic offers a free trial worth 10,000 words. You can then choose to upgrade to their Long-form plan that costs $19/month for a monthly billing and $12.67/month if taken a yearly plan.
Now let me warn you well in advance – Scrivener is not an AI-powered writing assistant, but I have a solid reason, or rather reasons, to include it in the list.
Be it writing a never-ending book, a dissertation, or even a thesis, Scrivener lets you do all of that and plenty more from start to finish – in a structured and organized manner.
You can break down topics and write them on different documents. Scrivener will then do a good job of joining the puzzle.
It allows you to quickly switch between editing a single section of your research paper and editing the whole piece.
Meaning, it breaks down your long documents into readable sections that are easy on the eyes. The Scrivenings mode lets you edit and join all of your separate documents together.
Scrivener's text editor has nearly no learning curve. If you've used a Google Doc or Microsoft Word before, you're great to go.
It comes with all the built-in styles (like headings, bold, italics, block quotes, and more) to format your paper correctly.
Fortunately, if you have an existing research paper already written somewhere else, Scrivener enables you to import that as a Word file, plain text file, image, PDF, etc.
You can also create templates for specific section (like one for the Abstract outline) that helps you jot things down when the clean slate is all you have.
Core Features of Scrivener
Structured and organized writing
Quick switching between editing a single section and the whole document
Scrivenings mode to join separate documents
Text editor with no learning curve
Built-in styles for formatting
Ability to import existing documents in various formats
Progress tracker
Scrivener Pricing
Scrivener's Standard License for Windows and macOS costs around $63, and its license for iOS costs $23.99.
Trinka is a grammar checker and a language corrector exclusively created keeping in mind academic and technical writing.
Trinka claims to correct over 3000 complex writing errors that other tools overlook in academic writing.
They also do a good job of choosing the right words for a certain sentence.
And because academic and technical writing mostly, if not always, needs to be professional and formal, Trinka ensures that the language you're using is well – formal & professional.
Luckily, they are also equipped with advanced spelling-checking features. Their contextual spelling check assists you in picking the exact word for that sentence.
Because Trinka knows that you want to make your writing piece publication-ready, they give writing suggestions based on APA and AMA styles.
One of the unique and USP features of Trinka is its usage of unbiased and insensitive language.
It also comes with a built-in plagiarism checker to avoid duplication.
What's more, Trinka has its citation checker that makes your citations credible by suggesting removing the weaker citations.
Core Features of Trinka
Corrects over 3000 complex writing errors
Right word choice for a sentence
Ensures and implements formal and professional language
Advanced spelling check with contextual suggestions
Writing suggestions based on APA and AMA style
Built-in plagiarism checker
Citation checker to improve the credibility of citations
Trinka Pricing
Trinka's Basic plan is completely free to use. Its Premium plan starts at $23/month.
Scholarcy is for all of you who want to quickly read and summarize any type of long research paper.
If you're new to a certain field and want to explore all the critical aspects of that field, Scholarcy generates a background reading list of all the relevant and important topics of that field.
Its Robo-Highlighter feature uses AI to identify and highlight all the important points and contributions made by the author. This is a very time-saving functionality.
Scholarcy also summarizes the complete paper with customized rewording and references.
When it comes to finding very specific references, Scholarcy has got you covered there too. It uses UnPaywall API to locate all the PDFs from Google Scholar, and more.
Lastly, Scholarcy also allows you to import data and statistical tables directly from a PDF in Excel format.
Core Features of Scholarcy
Summarization of long research papers
Background reading list generation
Robo-Highlighter to identify and highlight important points automatically
Customized paper summary with rewording and references
Import of data and statistical tables from PDF to Excel format
Scholarcy Pricing
Scholarcy has a free Chrome and Edge extension. Its Personal Library plan costs $7.99/month.
Paperpal is a tool created for academic writers enabling writers to write better content, faster.
Available as a web app and a Microsoft Word Add-in, Paperpal takes your writing to another level through the features they provide.
For starters, it gives you suggestions to improve sentences that may seem confusing to your readers by replacing them with something better.
Paperpal also checks for structural and technical inconsistencies and gives improvement recommendations based on what they find out.
Similar to Trinka but not as powerful as it is, Paperpal also has built-in capabilities to check for complex grammar errors and typos in the world of technicality.
Their AI algorithms are smart enough to understand the context of your writing piece, making it easier to provide insightful suggestions.
Core Features of Paperpal
Technical language suggestions with context
US-UK writing style & recommendations
Academic language translation to over 25 languages
Microsoft Word add-in
Grammar and spelling checker
Paperpal Pricing
Paperpal has a completely free plan that provides up to 500 language suggestions per month. The Prime plan costs $12/month.
Paper Digest is an extremely simple and easy-to-use Artificial Intelligence-based academic article summarizer.
The best part? Irrespective of the article length, they claim to reduce the reading time of a paper to 3 minutes.
While summarizing a research paper, Paper Digest picks up the core ideas discussed in the paper, and smartly puts them together in the form of meaningful sentences.
You can use Paper Digest in two ways:
Paste the link of a PDF file in their link box
Upload the PDF directly from your local folder
It will come up with a summary consisting of relevant headings, bullet points, and important sentences from any research paper.
Paper Digest is really helpful when it is difficult to conclude what a paper is about based on the abstract.
It is also very helpful as it saves time and almost never misses any significant point or data discussed by the author.
Core Features of Paper Digest
Reduces reading time of a paper to 3 minutes
Picks up core ideas and presents them in meaningful sentences
Summarize PDF files from local folders
Provides summary with relevant headings, bullet points, and more
Useful for understanding a research paper beyond the abstract.
Paper Digest Pricing
Being still in beta, Paper Digest is free to use for all.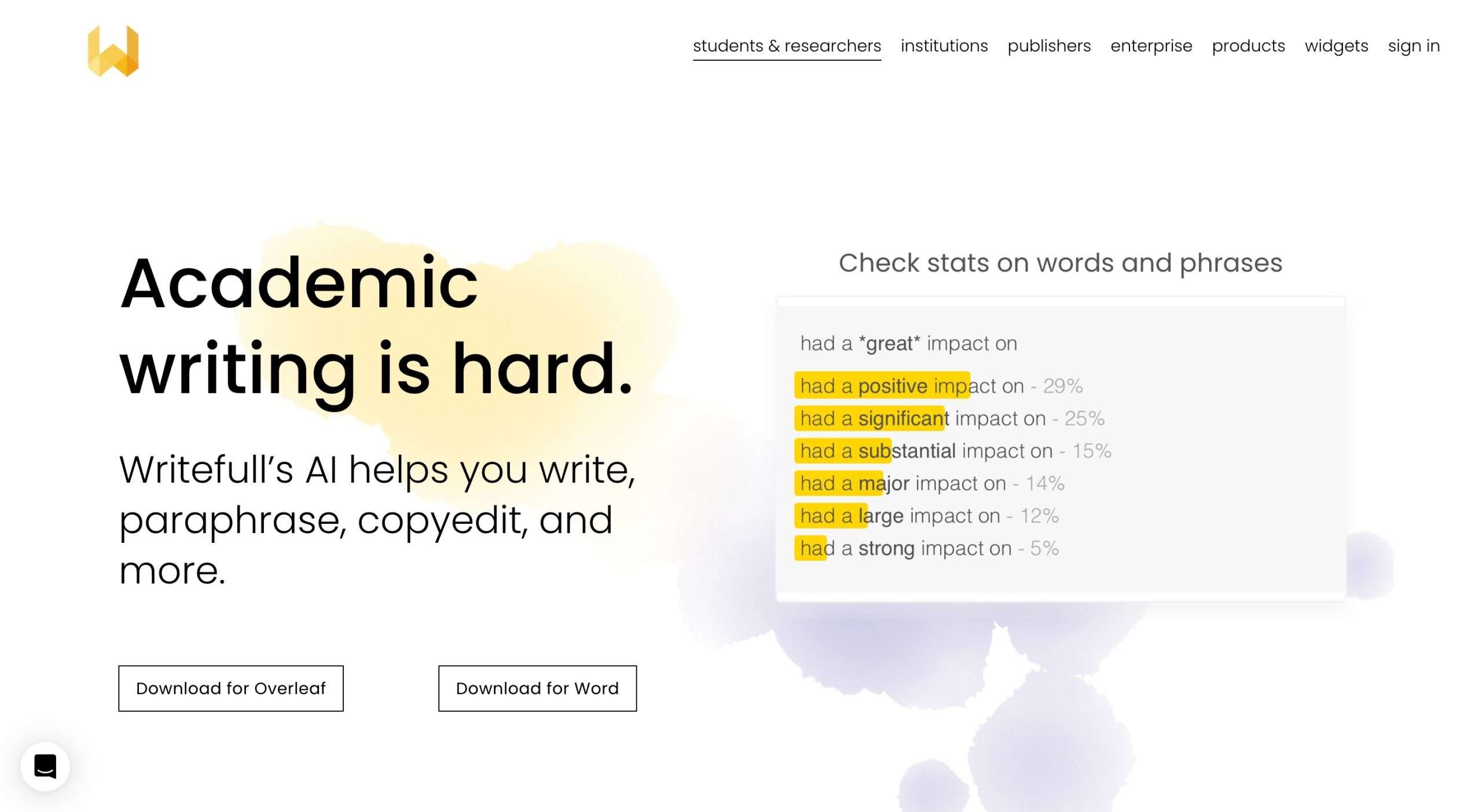 Writefull assists you in writing better academic pieces of content, paraphrasing or rewording existing content, and more.
One thing that sets Writefull apart from almost most of the other AI writing tools is the language models they are trained on.
Unlike else, Writefull is trained in millions of credible journal articles, making it extremely smart when it comes to writing research papers.
Talking about security, Writefull does not store any of your texts or searches, making it fully secure from data sharing or leaks.
Its amazing feature is the Full Edit mode. Unlike a typical grammar checker, it goes to the depths of the sentences to enhance their quality and impact.
Another cool feature is Academizer. It turns a simply boring text into something more sophisticated and academically professional.
I saved the best for the last. The Language Search gives you real-time suggestions while writing the content. Meaning, it will help you compare the quality of a single sentence written in different variations, and so on.
Core Features of Writefull
Writing assistance for academic content
Paraphrasing and rewording capabilities
Trained on millions of credible journal articles
No storage of texts or searches for security
Full Edit mode for in-depth sentence improvement
Academizer for more sophisticated and professional writing
Language Search for real-time suggestions and comparisons
Writefull Pricing
Writefull is completely free to use as of now. It is available in Word and Overleaf (online LaTeX editor).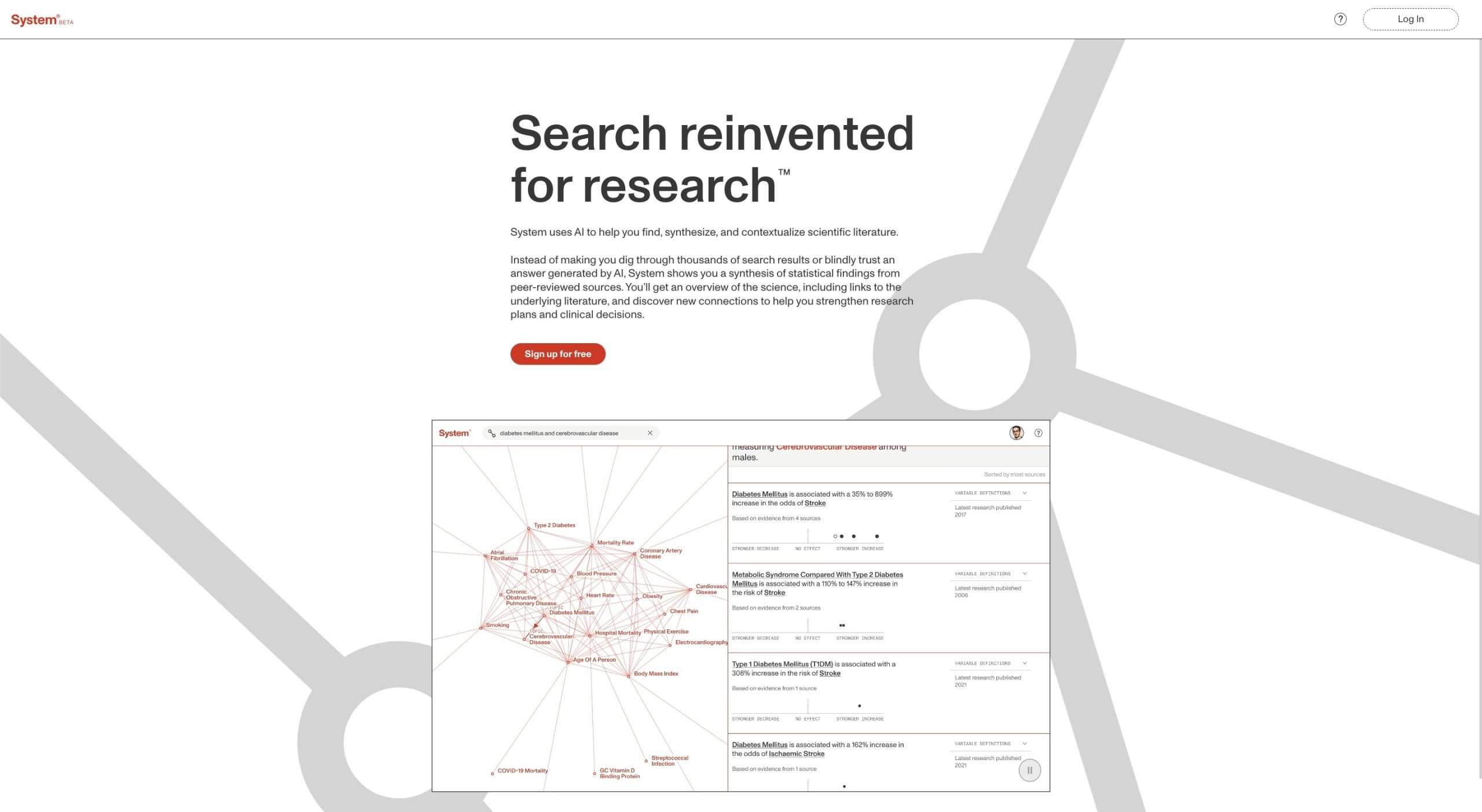 System is not an AI writing assistant, but rather an impressive AI-based research assistant and scientific literature finder.
It runs on a simple search query that you can make about any topic and with its learning algorithms, it will come up with the most useful content(s) for your query.
If you want to find relations and common data between two different terms, just search for them together (for example – Writing and Philosophy).
It will come up with all the statistical data and studies showing the relations between writing and philosophy.
System is also helpful in connecting the dots by finding completely different topics but still relevant to your paper, all thanks to its spider-web-like graph view.
Once you search for any specific term, you will see the graph view on the left side and all the published research on the right side.
For any term, System also provides you with every possible indexed source ever.
What does this mean? You will be able to access all the paper that sources certain query and paper.
You can also easily know how many times a certain study was cited. This also helps determine the quality and importance of that scientific paper.
Core Features of System
AI-based research assistant and scientific literature finder
Runs on a simple search query
Finds relations and common data between two different terms
Spider-web-like graph view to view relations between distinct topics
Provides every possible indexed source ever for a term
Shows how many times a certain study was cited
System Pricing
System is open-source and free to use scientific paper search app. It is still in beta.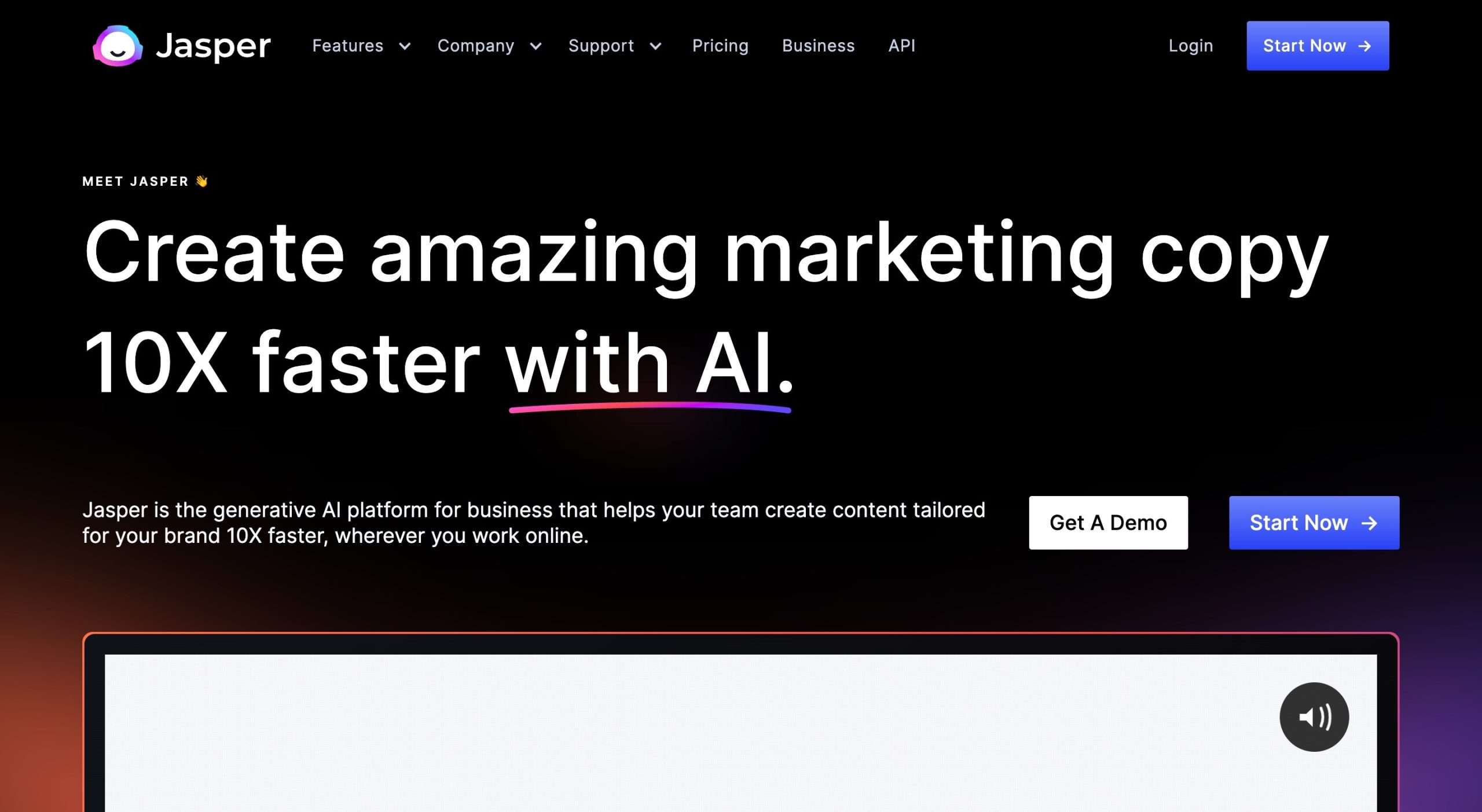 Jasper is considered to be one of the finest and most reliable content writing assistants by many. And no, a captivating former name (Jasper) and hefty funding are not the only reasons.
In fact, I've tested Jasper and compared its writing quality with other close substitutes. Jasper is not only better but context-rich AI bot.
It remembers all the prompts and data you fed it before and will consider that (if you want it to) while writing the ongoing sentences.
Jasper's Boss Mode is one of the easiest writing editors I've ever come across.
Write your command and hit compose button or a keyboard shortcut, and it will start generating output for you.
You can even access a lot of pre-made and optimized templates without going back and forth on different web pages.
Jasper is known to write good quality long-form content, which also includes complex research papers and essays.
What's more, Jasper can understand and write in more than 29 different languages.
And with their relatively new Jasper Chat feature, you can ask it any questions you have about the research topic you're working on.
I suggest keeping two tabs open while using Jasper:
Long-form content editor for writing the research paper
And Jasper Chat to come up with answers to short questions
Jasper also has a Chrome extension, which means you can access it on almost any website where you can write (like – LinkedIn, Twitter & Gmail).
I believe that a considerable amount of price cut down and an increment in its monthly word count supply can make Jasper a perfect AI writing assistant.
Core Features of Jasper
Complete beginner-friendly with a minimal learning curve
Over 50 different templates for various use-cases
Writes in more than 30 different languages
Grammarly's integration for better grammar correction
Built-in plagiarism checker (requires extra payment)
Command recipes to load a set of commands for a certain end goal
Easy document sharing and team collaboration
Jasper Pricing
Jasper has a Boss Mode plan that starts at $59/month for monthly billing and $49/month if billed yearly.
Elicit is here to help if you constantly find yourself researching for very specific data or writing a literature review.
Just like System, Elicit allows you to search for a term, and without writing a perfect keyword match, it will come up with relevant papers.
Even better, it will summarize the key takeaways from every paper, connecting and still providing answers to your search query.
Quite powerful!
It also extracts crucial information (like references related to years, data, viewpoints, etc.) from any paper.
Elicit comes with a powerful filter that enables you to get exactly what you want with your query.
Besides summarization and academic research, Elicit helps with brainstorming and text classification.
Core Features of Elicit
Helps with researching specific data
Writing flawless literature reviews quickly
Provides relevant papers without perfect keyword match
Summarizes key takeaways from every paper
Search filter for more customization
Helps with brainstorming and text classification
Elicit Pricing
As of now, Elicit is completely free to use.
Closing Statements
Whether you're a student, a professor, or a seasoned researcher, the AI tools mentioned in this article can help you take your writing game to the next level.
Whether you're a procrastinator who needs a kick in the pants or a perfectionist who needs to let go of control, there's a tool on this list for you.
So, let's raise a glass to these invaluable AI assistants, and cheers to never having to pull an all-nighter again!