By offering better discount options, exclusive deals, and promotions to your customers, you can improve your sales dramatically.
Shopify has a built-in discount feature, which is good, but not the best.
However, it's Shopify we are talking about. There's an app for everything!
Whenever you look for "discount apps" in the Shopify App Store, you will find several options. Finding the ideal one is certainly quite overwhelming.
In this article, we will make it easier for you by comparing the best discount applications for Shopify stores.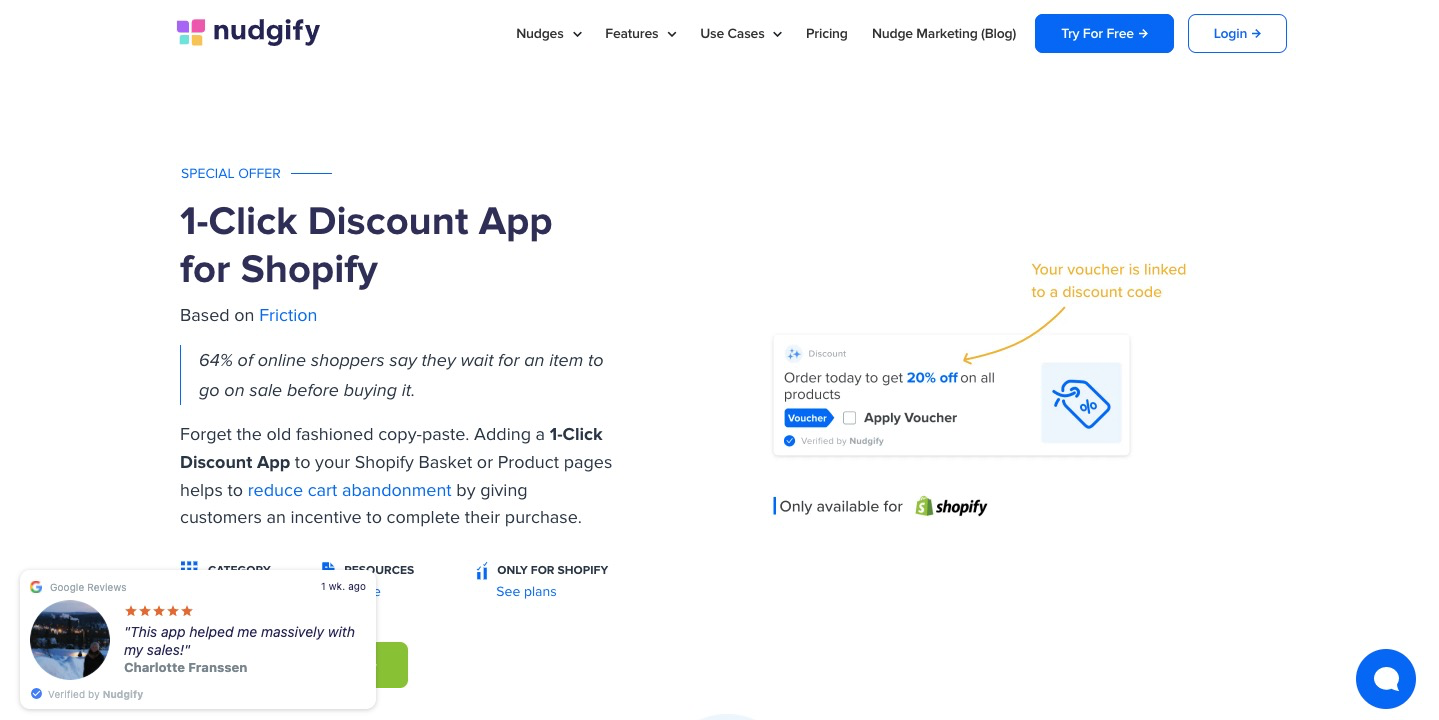 The Nudgify App displays to your consumers what is normally hidden while shopping online.
You can use "nudges" to show recent purchases, sign-ups, as well as customer satisfaction surveys or feedback. This could be used to display whenever the product is out of supply, inducing increasing conversion rates and a strong Fear Of Missing Out (FOMO).
Nudgify is the only native Shopify Social Proof application where you can display real-time social proof and obtain extensive metrics with little to no setup or administration.
As it works seamlessly well with Shopify, customers can easily install, control, and use it with one click-everything without really quitting the platform.
Features:
"Sales Pop" or "Recent Activity Nudges" displays whenever a sale occurs, providing real-time social proof for your store in Magento. It can be integrated with your other applications as well to display activities at any point in the channel.
"Visitor Counter" alerts or "popularity Nudges" display the number of individuals who have already seen a specific website or item and create urgency among customers to buy them readily.
Low Stock and Fast Selling Nudges that indicate limited inventory and rapid sales indicate how rapidly the goods are sold off. Consumers will quit waiting and hurry to the checkout as a result of FOMO.
The Free Delivery Nudges highlight how far off your consumers are from receiving free shipping. You could also raise the average order value by reducing basket abandonment and by providing shipment services to users when they access the checkout process.
Order Soon Nudges display a deadline for the order to be delivered by a specific date. You can encourage additional viewers to purchase quickly by establishing a sense of excitement about the buying choices they are presented with.
Custom Nudges enable you to deliver important customer data at any point in their experience. You may ensure that viewers have the most essential information by highlighting special discounts, offers, and announcements, as well as industry-related awards.
Pricing:
The Free 1K Nudges plan.
The 10K Nudges plan at $9 monthly.
The 100K Nudges plan at $29 monthly.
The 1000K Nudges plan at $89 monthly.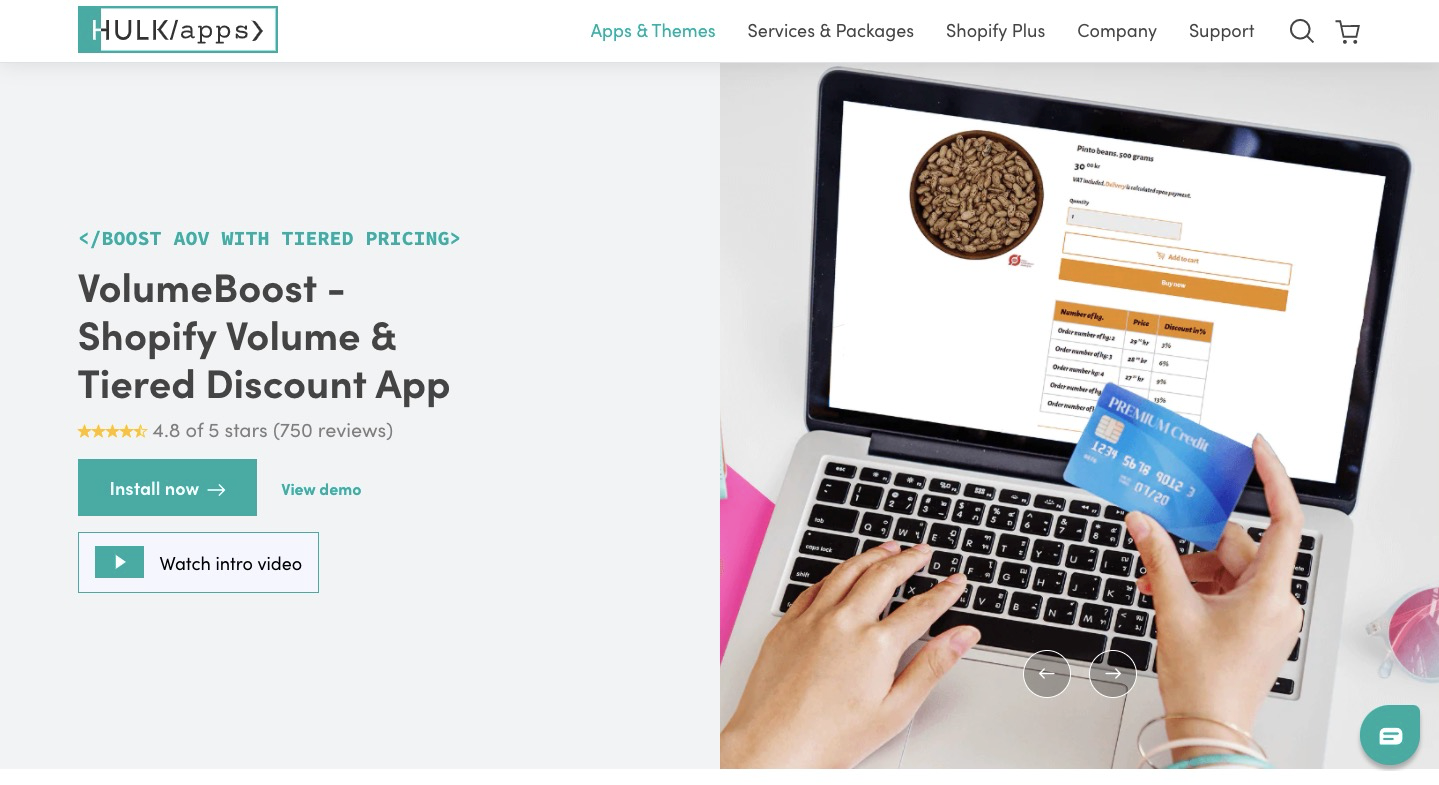 The HulkApps VolumeBoost app is among the easiest ways to build discounted price initiatives throughout your entire product catalog.
Previously known as Volume & Tiered Discounts, you could use the App to create a wholesaling program, attract more customers, or just reward loyal and frequent consumers.
It is used to establish bulk prices, quantity discounts, and tiered price sales. You can also choose to allow customers to purchase in bulk and receive discounted rates, encouraging them to put more items in their cart.
Features:
Allow clients to receive a quantity discount if they purchase a particular volume with just one item or any of its alternatives.
To upgrade and improve sales, use a notification bar on the cart page to show consumers the bulk purchase savings.
Like a daily pricing structure or while on Black Friday and Cyber Monday (BFCM) seasonal sales periods, bulk discounts, as well as tiered pricing, are among the best strategies to raise the AOV (short for average order value).
The software has several tools that will increase your average order value or AOV while also providing a visual delight by enabling you to adapt the look, feel, and style of your customized cost to your shop.
Pricing:
The Shopify Basic plan has a monthly fee of $9.99.
The Shopify Pro plan has a monthly cost of $14.99.
The Shopify Advanced plan has a monthly cost of $24.99.
The Shopify Plus plan has a monthly cost of $39.99.
The Discount Reminder application by SpurIT allows businesses that are using Shopify to operate online shops to send off alerts to clients regarding discounts on specific products and encourage new consumers to use "the Service."
Whenever you download or use the App in conjunction with your Shopify-supported shop, the Privacy Policy explains how the private data is gathered, handled, processed, and distributed.
Features:
Installation is simple and does not involve any code.
You can completely customize a "Notify Me" popup that suits your business.
You can add a "Discount Reminder" button at any time.
The application form can be translated into any language.
Since customers are from various nations, email content could be defined in a variety of languages.
Well-presented graphs and statistics based on the available information.
 Pricing:
The Basic plan is priced at monthly $9.95 or $8.33, annually at $99.95.
The Priority Support plan is for monthly $18.95 or $15.83 billed annually at $189.95.
The Bulk Discount & Sales Manager app by Amai is yet another effective Shopify discount application that allows shopkeepers to add a discount or even set up bulk discounts on a product, variant, collection, or the entire shop using this discount software.
With its help, you can set up, adjust and manage monthly or weekly sales with recurring discounted prices, schedule sales, and initiate a series of item discounts.
Also, once the deal has ended, the tool automatically restores the rates to their prior amounts. The sale discount could be applied to almost any item or even its modified versions, and you can even quickly create a storewide or collection discount.
Features:
The bulk-discount editor easily sets, disables, archives, duplicates, schedules, and organizes your sales, and creates bulk discounts for an individual item, a variant, a collection, or the entire shop with just a single click.
Plan and establish recurring discounts for weekly and monthly sales, rolling out a series of good discounts.
You can also choose from the App's sale badge collection or create your own customized discount label as well.
Quickly highlight the items with attractive discount icons using the smart drag-and-drop editor.
The "quick view" feature helps take a closer look at the goods or collections for which the rules have been implemented from the dashboard. With this, there is no need to look through each and every regulation to know what you are looking for.
Pricing:
There is a free plan.
The Unlimited plan, which costs $18.95 per month
The Priority Support plan, which is priced at $27.95 monthly
With its goods bundling feature, the Bundle Products app by Thimatic is designed to boost your store's sales and distribute the greatest possible range of goods.
By supplying a variety of things within each package, you will certainly be able to encourage your customers into considering them.
With just a few clicks, you can create endless unique bundles and display discounts wherever in your shop you want.
This bundling tool enables you to increase your revenue, sell flat-store products, showcase discounts, and yield better results with client connections.
Features:
By selling similar frequently bought products collectively, you can boost your revenue.
You can build a bundle of non-selling and similar items with only a single click. Allow your consumers to pick and choose whichever things they want in the package.
There are two ways to use the bundle discount: the order draft and a discount code that is automatically applied.
You can add a bulk discount to your package to boost sales.
The bundle discount will appear on the checkout page for the draft order.
With the "bundle page" feature, you get the option of creating a website on which you can showcase every one of your shop's customized bundles. With only a single click, all customized bundles can indeed be loaded into the cart.
Pricing:
The starter plan is for $7.49 monthly
The advanced plan is $12.49 monthly.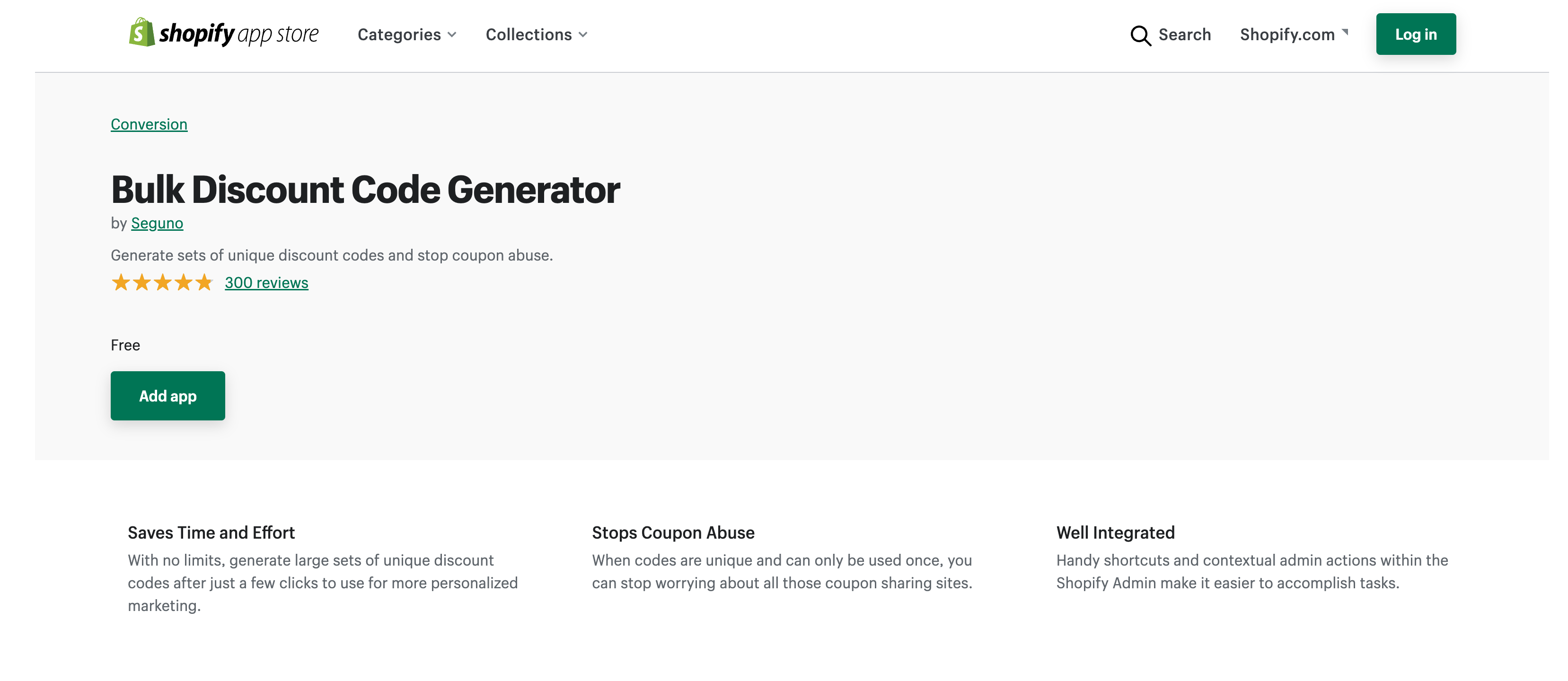 The Bulk Discount Code Generator saves money and effort by allowing users to input many coupons into Shopify discounts.
You can either have unique codes produced regularly in an automated manner or offer specific codes manually.
To minimize support requests, the App immediately sorts off misleading elements, words, or phrases. The patented purifier further guarantees that no unwanted terms will appear in your created codes.
Features:
With the "Save Time and Effort" feature, you can build massive collections of high-quality coupon codes. There will be little or no limitations to using them for more specific personalized, targeted marketing with just a few clicks.
The "Stops Coupon Abuse" feature makes you forget about all of those coupon-sharing websites when coupons are limited-time offers that can only be used once.
There are fully integrated, convenient shortcuts and straightforward command actions within the Shopify Admin that enable the operations to be easily completed.
Pricing:
It's a free Spotify Discount app.
The Wholesale Pricing Discount is a great Shopify discount app where discounts can be applied to various products, collections, or the whole shop. It is basically designed for B2B Shopify stores that want to provide wholesale rates to certain consumers.
You can indeed set the necessary average order volumes or monetary values, as well as particular wholesale delivery costs with the help of the App.
The developers of Wholesale Pricing Discount state that their purpose is to improve your profits, which is backed up by a unique combination of upselling strategies built into the program.
The success of the software may certainly be attributed to its efficiency in operating your wholesale business. It has earned its brand image as among Shopify's most popular and well-reviewed wholesaler apps.
Features:
The Wholesale Pricing feature gives selected consumers, commodities, collections, etc. in your shop special rates for bulk prices in dollars or percentages.
You will be able to boost your wholesale income by providing bulk discounts to the buyers.
It allows customers to shop online and see just how much money they could save.
Your consumers can also place online orders for charges that are specific to them.
Pricing:
The basic plan is $19.99 monthly.
The Professional plan is $34.99 monthly.
The Enterprise plan is for $44.99 monthly.
HappyHours is a simple tool for creating personalized sales campaigns that attract customers at large. With it, you can Instantly schedule storewide specials, flash deals, and discount offers, and the price discounts and various other bulk adjustments can be automated.
Without needing to slow down your store, set sales on autopilot, automate recurrent sales campaigns, and bulk modify product prices. It takes a while to manually configure discounts and change product pricing for approaching sales promotions or merchandise sales.
HappyHours takes care of these responsibilities so that you can concentrate on expanding your business.
Features:
Set the value of a large variety of items, each one with ease.
Employ advanced filters to pinpoint the items you wish to reprioritize.
With such an incredibly quick bulk price editor, you can plan repeated merchandise sales or flash discounts without causing your business to slow down.
It will carry out numerous sales promotions on time and restore value once they are completed in a seamless manner.
Quick response time for immediate help with product discounts and sales automation.
Notifications on promotional activities or campaigns and sales trends are sent on a routine basis.
 Pricing:
The Basic Plan is free of cost.
The Pro Plan is for $9 monthly.
The Pro Annual Plan is $90 yearly.
Disco is another efficient app that you can use to organize your regular deals, flash or BFCM sales, in advance to save money, time, and effort.
If they do not have a promo code or a fully automated discount, consumers will leave.
S o, with this discount application, you can provide a discount on every item in your sale at the same time you specify and advertise this with a countdown timer.
Features:
With the Storewide sales feature, you can create a flash program that applies to every one of your goods.
You will be able to make a rotating announcement bar.
There is a separate area called "Sale Collection" that lists all of the items that are on sale.
You can effectively plan your sale ahead of time, and with a single click, you can apply storewide discounts.
In the top bar, it automatically reports sales. With this, you can generate traffic for a live sale or gather email addresses for a future purchase.
You can display the amount of time left in the sale on the product page and on the countdown timer bar and personalize it to reflect your style and needs as well.
 Pricing:
The Starter Plan is available for free.
The Builder Plan for monthly $9.99.
The Grower Plan for monthly $14.99.
The Scaler Plan for monthly $19.99.
10. Bold Discounts: The Sales & Promotion App by Bold
Bold Discounts sales app by Bold makes it simple to design unique promos to appeal to as well as convert clients. Nearly 10,000 sellers use this to execute promos, and indeed, it comes with an industry-leading assistance service.
When you are using Bold Discounts to conduct a storewide sale, it goes throughout your entire store and modifies the value of every product that goes on sale.
All of these are placed at the previous normal price in the "compare at" pricing column.
Features:
With the help of the pre-schedule sales feature, you can start and stop your sales whenever you want. You could even conduct many deals at the same time without having to think about discounts merging or stacking. The items will automatically switch to their listed amount after the deal has ended.
The "Compare at" price feature showcases the initial cost of each discounted item so that customers will recognize how good of a bargain they are receiving. Buyers will see how much they are saving directly on items and collection pages since the estimated cost is next to the discounted rate with something like a strikethrough mark.
The countdown timers feature displays a completely customizable live countdown timer on each product in your shop to generate excitement and encourage customers to purchase right away. You can easily add this to your main website through one single code line.
Highlight your daily deals and superior products on the homepage to draw attention to any purchased products so that everyone who visits your page can see them.
Cost values can be changed on almost every authorized marketing platform your shop is linked to, be it Facebook, Instagram, Amazon, Pinterest, etc., because the discounts are initiated directly within your Shopify admin.
Pricing:
The Essential pricing plan for Bold Discounts costs $19.99 per month.
Another amazing option with a lot of features is SELLY Promotion & Pricing. It is among the best Shopify POS tools for online retailers who want to elevate their business to new heights.
To be effective, this software must be used in conjunction with another Shopify POS app, notably Shopify Point of Sales.
Nevertheless, when you've accomplished that, you'll be able to acquire some of the highest levels of care and assistance for your POS company.
Features:
Boost sales by displaying special offers such as BOGO, free gifts, free delivery, and 20% off to attract a diverse range of bargain shoppers.
Increase the average order value by suggesting that customers can avail themselves of efficient discounts by adding more things to their cart.
Enhance customer loyalty by placing a coupon on the order status tab, where customers can use it or connect with friends for their next purchase.
Pricing:
The Standard Plan is for $29 monthly.
The Advanced Plan is for $39 monthly.
The Plus Plan is for $69 monthly.
This program allows you to give tiered discounts on a variety of product amounts, encouraging your consumers to buy in bulk. Finally, it helps you make more money by offering discounts on large quantities of items purchased.
The application allows you to create tiers one by one using an intuitive GUI interface. You can also do it in bulk via a CSV file upload.
Features:
The app allows your customers to spend more money, resulting in increased income and revenue.
The discount tiers feature to set limits on the purchase of larger quantities of specific items.
Setup Tiers allows you to organize product amount tiers and exchange records manually.
Pricing:
The plan starts at $11.99.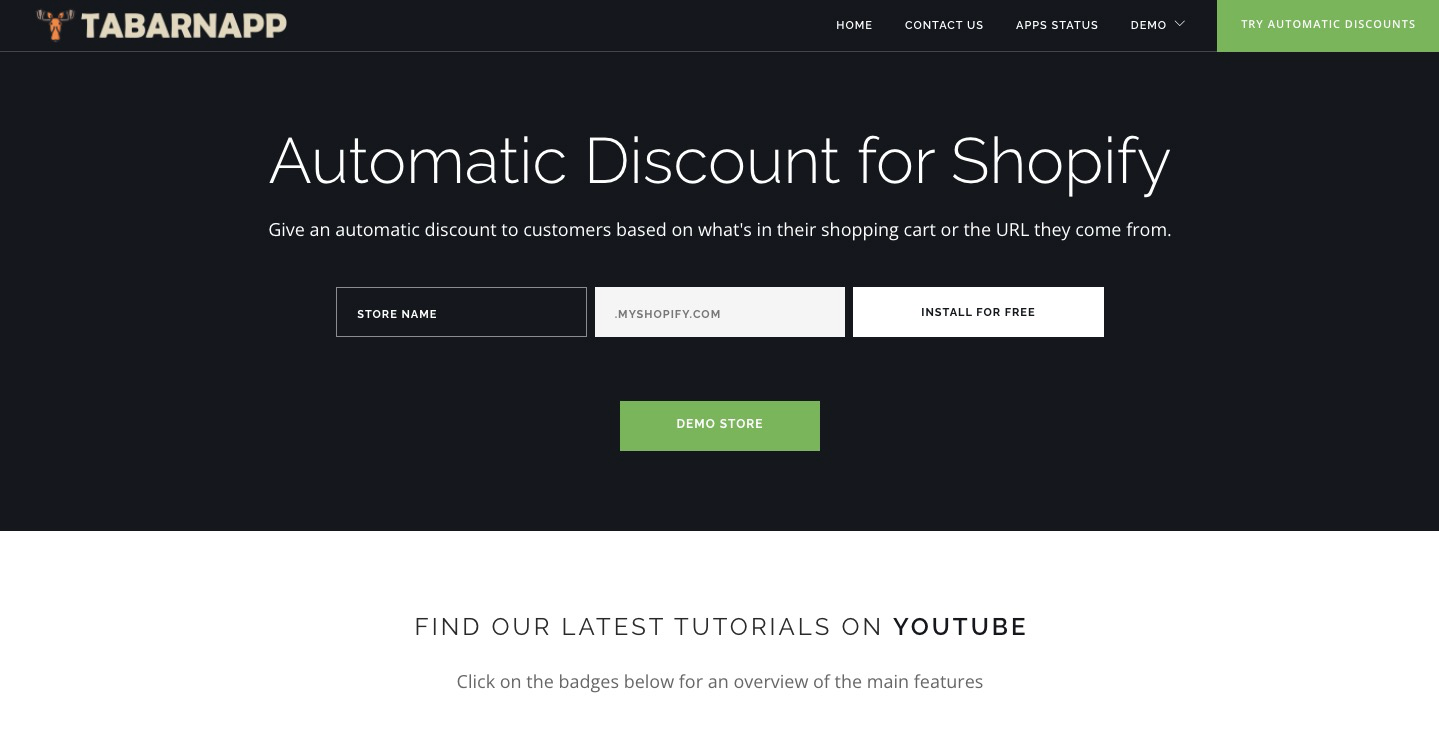 With the Automatic Discount & Gift application by Tabarnapp, you can easily create rules, codes, or links that set off discounts depending on the value or quantity of the products inside the cart or basket and who is purchasing based on past orders and customer tags.
You could allow consumers to choose gifts from a variety of products or immediately add a gift to their cart in an automatic manner. In the cart, there are upsells, cross-sells, and BOGO offers.
Unlike Shopify's automated discounts, you can also publish numerous automated discounts at the very same time with this Shopify App by Tabarnapp. Consumers will definitely not be locked down when the first automatic discount is provided.
Features:
The Rebate Joins feature simplifies referral crusades. With it, you can build and monitor connections and load the cart with supplies ahead of time, whether through a Shopify coupon or a clever deal.
Depending on the cart, product amount or quantity, and who should be buying it, offer a Shopify refund or a Smart Deal (client tag, past requests). There are some discounted guidelines that you can easily follow or combine.
With just a personalized deal, you can upsell and cross-sell your customers on the cart.
Upsells, BOGO, and free gifts on a variety of items are available.
 Pricing:
There is a free Plan
The Shopify Basic Plan costs $24.99 per month.
The Shopify Plan costs $34.99 per month
The Shopify Advanced Plan costs $44.99 per month.
Users can find their information via a popup on your web page. On average, authentication takes less than 30 seconds to complete. Following that, your customer will obtain a one-time-use discount coupon for your shop.
You can also customize your discount groups and settings based on the amount and collection, as well as create a new page in your document.
In the header or footer, connect to your new web page section. Buyers can immediately proceed using your special offerings by mixing reliable data sources with a speedy, simple popup window.
Features:
Senior Citizens, Students, Teachers, Medical Workers, Non-Profits, Military, Commercial Drivers, Responders, and Others are among the several identity groups for discounts represented in this App.
These groups are all enabled with a toggle switch, and our ID verification services are supported in Australia, Canada, U.S. and U.K.
Consumers could verify it in far less than thirty seconds before having to provide sensitive information.
AMC Theaters, Priceline, Sam's Club, etc., are among the over 1300 companies that have placed their faith in this application.
 Pricing:
The Tier 1 plan is priced at $19.99 monthly.
The Tier 2 plan is priced at $49.99 monthly.
The Tier 3 plan is priced at $99.99 monthly.
The Tier 4+ plan is priced at $199.99 monthly.
Discount Ninja by Limoni Apps, doesn't really generate any variants or items. It is compatible with the products and prices you have set up in your product catalog.
No pricing changes or computations are really necessary to place any item on sale.
The application can be used to apply discounts to items purchased through the online marketplace network. However, it cannot be used to provide discounts on items purchased through Google Shopping or Facebook.
Features:
Create clever, rules-based exclusive deals using free give, BxGy, BOGO, and more.
Based on activity, cart material, or value, you may qualify for a discount, gift, or delivery.
The Merge and Bundle promotions features make offers happen right away with coupon codes or shareable links.
Across product pages, set pages, and cart pages, show the cost or value.
Promotions can be customized to your needs, such as seasonal deals or one-time sales, rewarding your VIP customers. Unlocking incentives for retargeting products and cart sequencing that have been abandoned.
Pricing :
The Silver Plan is for $89 monthly.
The Gold Plan is $195 monthly.
The Platinum Plan is $389 monthly.
We hope this article helped you find the right discount app for your Shopify store. You can't go wrong with either one of the 15 apps we've listed here.
Good luck!