When you get into a new building, do you know what's the number one security measure you need to take?
Checking the exits, in case of fire or any other accident.
If you work at a workplace, you might also have had to participate in fire drills. These sorts of exercises and clear getaways dispositions are meant to greatly reduce risk and remove anxiety.
The same goes when you have a business. You need to know your way out and plan for it, so the exit turns out as good as possible.
An exit strategy will help you minimize losses and maximize profits on investments.
Exit strategies vary depending on your role, so naturally, companies and investors will have different strategies, but also will startups and established businesses.
Today, we're going to focus on 9 exit strategies for startups.
But first, you might be asking yourself, is it really that necessary to have an exit plan?
Why is it important to have an exit plan?
Having an exit plan might sound like something you consider when things are going south. However, just like in our safety measures comparison, precautions need to be taken beforehand, that is when things are going well.
Because, what happens if, God forbids, you to get sick?
Or your company loses a vital supplier or customer all of a sudden?
Unexpected events happened and are a part of life. Planning in advance will minimize potential losses and capitalize on gains.
It will also help to make the process as simple as possible. Some exits have the potential to create conflicts. For example, in succession processes. Having a step-by-step guideline will mitigate friction.
The ideal moment to plan your exit strategy is as early as before launching your business. That's because your exit plan will influence business development decisions.
However, we encourage founders to take a product-first approach rather than a business-first approach. It is wise to prepare for an exit but approaching every business decision based on that would be catastrophic.
All things come to an end.
Book Depository announced last week they were closing. But they plan ahead their moves and make sure every customer receives their purchase.
The Best Exit Strategies for Startups
1. Friendly buyout
Friends and family are two key groups for a startup. They are usually the ones who help you fund your company and, in some cases, they might also be brought up with an intimate knowledge and understanding of your business.
Who better pass things on, then?
You might have already been mentoring your children, your siblings, or other family members to run the show. If so, continuing the legacy through your family might sound like the ideal exit for you.
But be sure to consider things thoroughly since for some relationships mixing business with family and friends can get a bit messy.
Have a solid plan on how to navigate conversations about price, timelines and business management. And once the company is sold, try to keep the lines clear to avoid stress in family dynamics.
A lot of famous companies started as family businesses, just as Warner Bros.
2. Initial public offering (IPO)
Going public with an Initial Public Offering is not something every startup will be prepared to do. It involves going through a lot of scrutiny and meeting strict regulatory requirements.
But it might be a dream option for you.
In an IPO, your shares are offered to the public and serious investors on a stock exchange for the first time, opening up potential opportunities to make great profits. These buyers will then become stockholders in the company.
To prepare for the IPO, you can hire an underwriter like an investment bank to consult on the IPO and prepare key documents for investors.
If things go right, by taking your business public, you can secure more funds to help pay off debt. In fact, it's the most lucrative exit strategy.
3. Liquidation
But the most common exit strategy for startups is, of course, liquidation. This can sound like a terrifying word. What about employees and customers?
Indeed, the potential loss for your community is definitely something to keep in mind but, depending on your circumstances, liquidation might be the best strategy for you.
Liquidation enables you to avoid making difficult decisions, you just simply shut down your business and sell your assets.
If the business runs well and is attractive to buyers, liquidation can be one of the simplest and fastest exit strategies.
4. Management buyout (MBO)
If selling your startup to your family sounds like complicating family dynamics but you still want to leave your company to people you know well, consider your managers.
Sometimes a rising generation of company leaders takes over the business. If your management team has a good track record and are skilled individuals with the drive to succeed, then this might be the best strategy for you.
It will be flexible and comfortable and you will probably remain in the loop or involved with the business in some way.
5. Third-party sale
Selling your company to a third party on the open market is a great option if you are planning really in advance since it can take years to find a buyer.
The benefits, though, are huge. To start is a clean and simple process. Once the transaction is done the exit strategy is super quick.
Moreover, it results in a successor with a keen interest in your business. It will also mean receiving a lucrative selling price and optimal sale terms.
6. Employee stock ownership plan
Just like you can sell your startup to managers, you can also sell it to an Employee Stock Ownership Plan (ESOP).
When you sell your company to an ESOP, your employees become beneficiaries of your company stock and you're essentially "selling" the company to them.
This is a unique path because ESOP offers you liquidity, a significant tax advantage, and the possibility to remain involved in the business.
Another advantage of ESOP is that employees don't necessarily have to use their own money to invest. The sale can be structured using borrowed funds, or it can be seller-financed, or some combination.
Finally, an employee-owned company is not only an exit strategy but an opportunity to grow. This type of company thrives and grows due to enhanced culture and commitment. The feeling of belonging is naturally stronger.
Brookshire Brothers is a Texas-based grocery store that started as a family business but is now employee-owned.
7. Acquisition
Being acquired by an outside company is another exit strategy. A big fear of entrepreneurs is losing control of the future vision of their companies. And acquisition can sound like leaving your baby in the arms of a stranger.
However, it doesn't have to be that way. A friendly acquisition means you go and find an acquiring business that you want to sell to. That company will probably align with your values and make justice to your startup.
Moreover, the acquisition allows you to name your price and sometimes you'll receive a higher price than the actual value of your company.
In some cases, your startup will operate under the name of the parent company but in others, it will retain its original name. That's what happened with an AI writing tool, Shortly, that was acquired by Conversion.ai.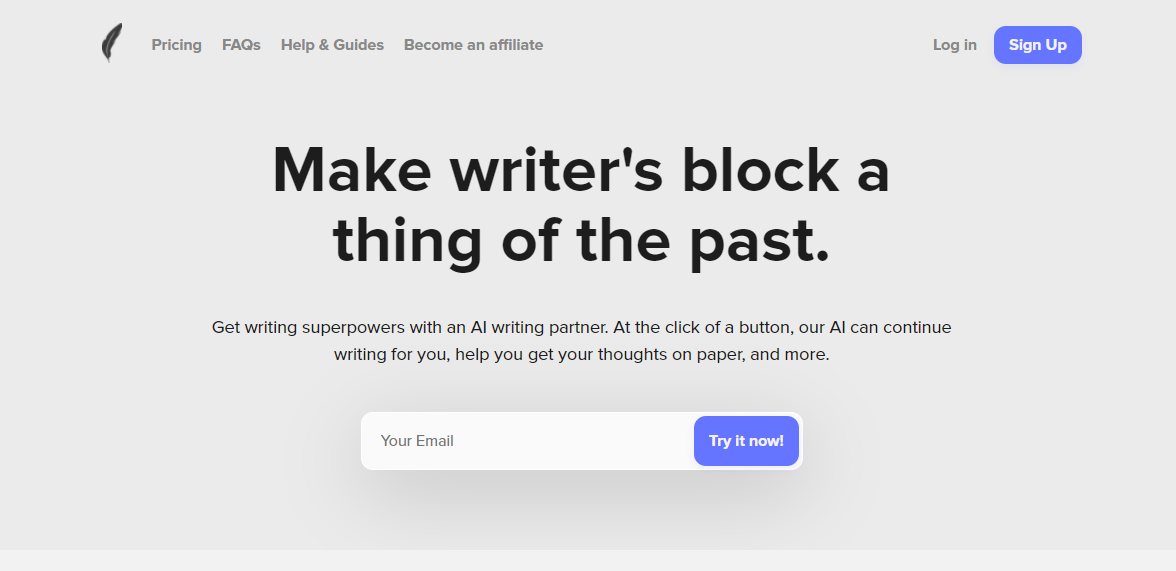 8. Merge
A transaction usually mentioned alongside acquisition is merging. Merging your company is a complex process that involves combining it with one or more other companies and transforming them into a single entity.
Unlike acquisition, you'll still have a level of involvement in the company since the two companies will be equals. The merged entity will, yes, have to leave your company's original name and operate under a new one.
The merged company issues new shares and the shares will be distributed proportionately among existing shareholders of both parent companies.
9. Acquihire
An acquihire or acqui-hiring is frequently referred to as an exit strategy for employees. It is, after all, a portmanteau of "acquisition" and "hiring", also called talent acquisition.
However, acquihire offers benefits both for your employees and yourself.
When one company buys your startup to acquire your skilled or talented employees, it both secures your employees' future and gives you a profit.
That's why it can be an excellent option if you're particularly worried about your skilled employee's future.
Note: A lot of lists also include "bankruptcy" as an exit plan but it's not much of a plan at all but rather your last option. The exit strategies above are destined to avoid you from dealing with that.
Final words
A key aspect of an exit strategy is business valuation, so make sure you consult specialists that will examine the company and determine its value.
Whether it was out of curiosity or urgent need, I hope this post helps you understand the best exit strategies for your startup.
It certainly is not an easy situation, but these options can help you reduce your anxiety and decide the best path for your company.
Good luck!