Leadership coaching programs are for CEOs, entrepreneurs, and executive managers who've untapped potential but may need counseling to cultivate their talent.
These platforms give you the tools and resources to uncover and develop your leadership qualities so you get the clarity to achieve your goals and make better decisions.
I have reviewed the best available leadership coaching programs and narrowed them down to the nine platforms.
Some of them provide digital courses to help you improve your soft skills, while some offer in-person professional coaching to get you advanced executive training.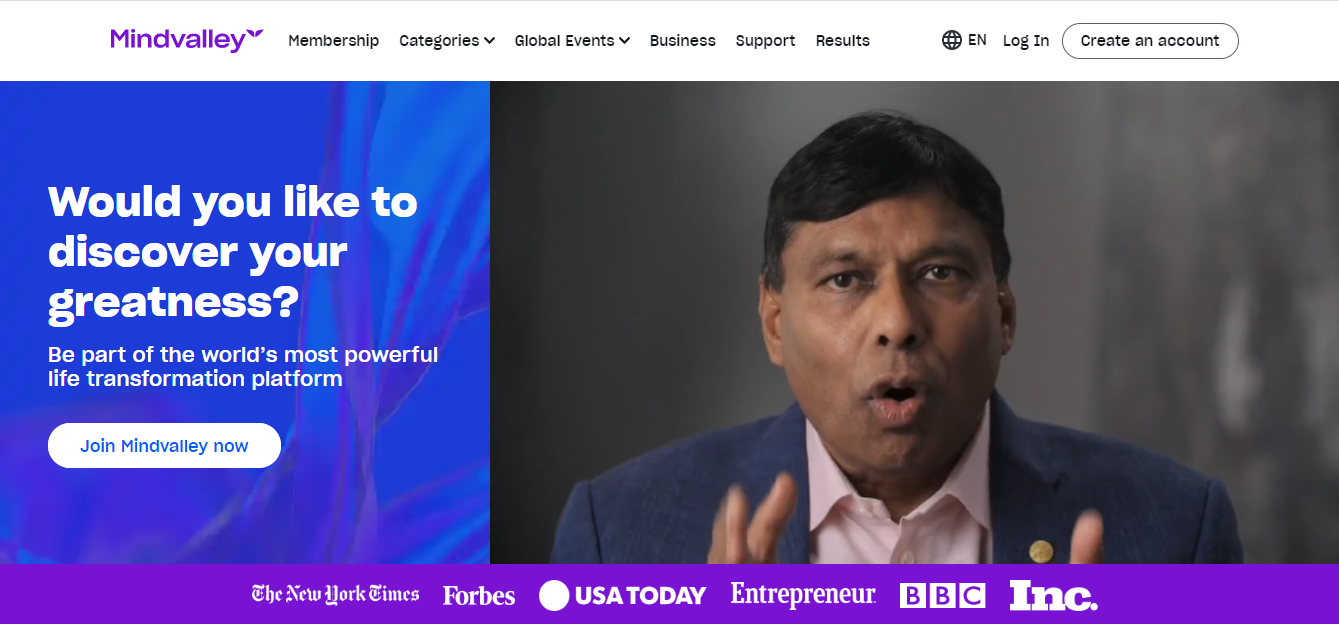 Mindvalley is a membership-based learning platform that offers you courses on mindfulness, personal development, and meditation.
It focuses on transformative learning, sharing relevant training, quests, and live sessions to improve your perspective on life and the ability to reach your professional goals. Some of the areas it covers include confidence, entrepreneur mindset, optimism, spirituality, and physical workouts.
You'll get access to a content library and a community of peers to receive daily inspiration and tips on personal growth. It also runs global events to give you the opportunity to meet influential leaders and gain valuable advice.
It's an ideal platform for those who want to strengthen their mind, body, and soul.
Core Services
Personal growth, meditation, and business soft skills courses.
Live sessions with experts.
A diverse range of healing music.
Admission to a network of like-minded individuals.
Opportunity to join events and meetups.
Productivity quests.
Price
Mindvalley offers two plans for $25 to $59 a month. The subscription will provide membership to the community and access to all the courses and resource material.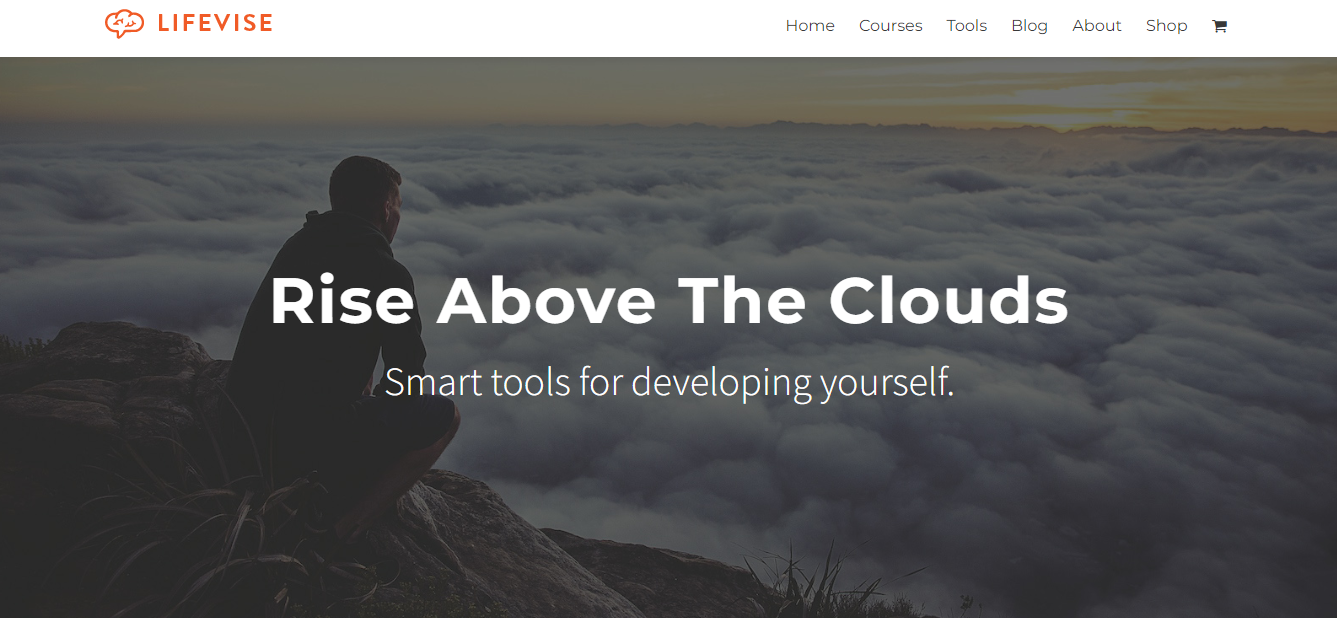 LifeVise delivers a diverse range of free and premium tools to help you master your soft skills and improve your life choices.
It shares free short courses designed by industry experts to offer quick guides on personal growth. Additionally, you can hire professional coaches and get on-demand advice on how to improve your decision-making.
Some of its other notable features you'd definitely love to include an audio program on spiritual guides, a collection of books on attaining a balanced lifestyle, and a daily motivational newsletter.
It also has a well-structured community where you can meet like-minded people and receive moral support.
Core Services
Short courses on personal development.
Individual leadership coaching.
Audio programs and books on mindfulness.
Calendar and plans on a healthy lifestyle.
Daily Newsletters for inspiration.
A community to connect with learners.
An opportunity to become a mentor yourself.
Price
LifeVise delivers its services in the form of products. Its coaching course costs $35 and its audio program is currently priced at $49.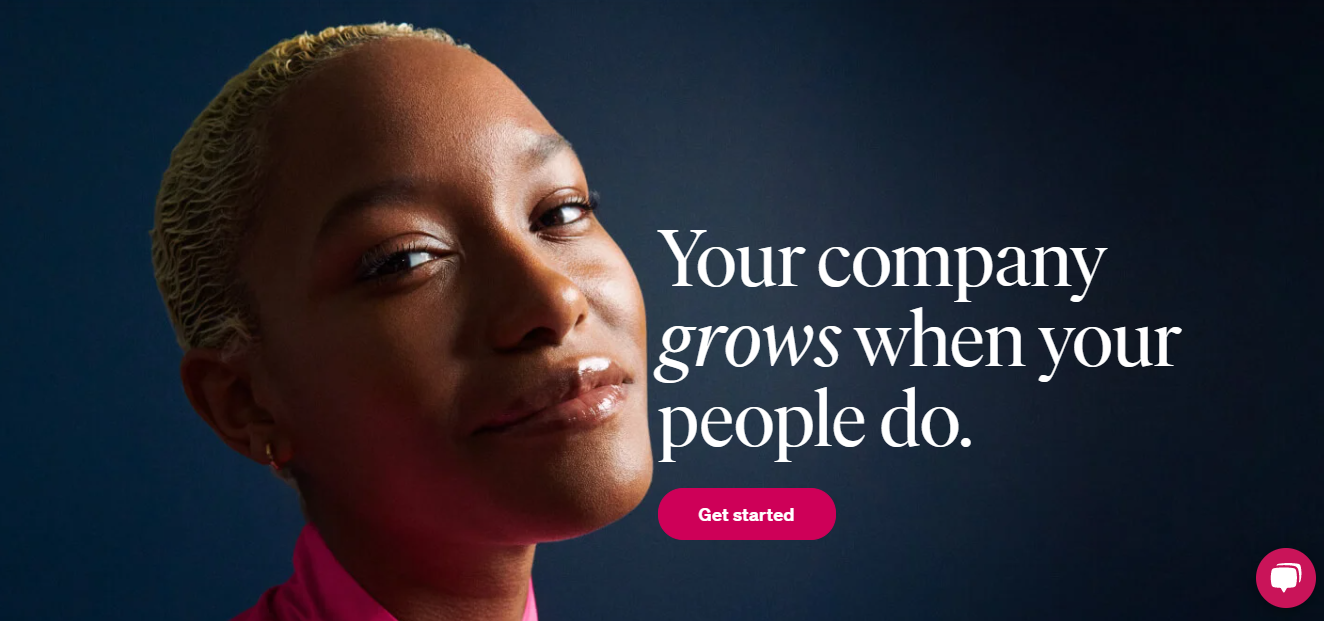 Better Up is a personal development SaaS program that connects you to a global network of mentors and matches you with coaches that best suit your current needs.
It uses a combination of AI technology, behavioral techniques, and expert advice to help you assess your strength and weakness and boost your soft skills.
You can choose your coach based on their individual styles and request another if you feel dissatisfaction. It provides scalable and tailored options to ensure you get the guidance you need to reach your full potential.
Core Services
Coaching on business, personal growth, and workplace challenges.
Downloadable 360 assessment tests to evaluate your current skills.
Experts specialized in commerce and business psychology.
One-on-one sessions.
The choice to pick a coach that best matches your style.
Access to valuable information resources, including on-demand events.
Messaging app for seamless communication.
Insights into your growth.
Price 
Better Up delivers custom quotes and free coaching sessions to let you make an informed decision.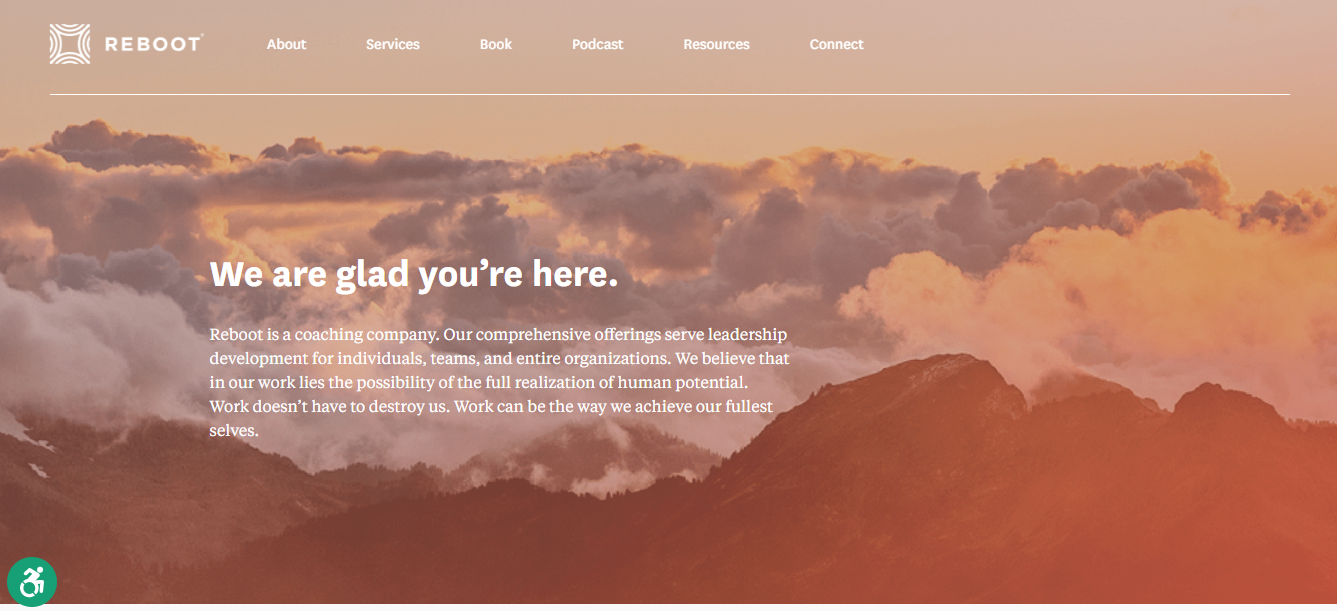 Reboot.io specializes particularly in executive coaching.
It offers a unique blend of business therapy and personal growth workshops to help CEOs hone their leadership qualities.
You get the opportunity to learn from industry experts and apply it to your current management process to see the results in real-time.
Its exclusive boot camps and tangible exercises deliver a definite guide to developing your leadership style. It also launches occasional quests in a controlled environment that provides support throughout your transformational journey.
In addition to individual coaching, Reboot.io also offers group training to establish a work culture that allows teams to grow together. It involves off-site sessions on organization goals and virtual training on personal development.
Core Services
Executive coaching for startup CEOs.
Workshops, boot camps, and training sessions.
Professional specialized in personal development.
Group sessions to improve team management.
Performance assessment of your strengths.
Post casts and reading material.
CEO quests for a personalized experience.
Price
Reboot's price plans are not listed on its official website. Drop your inquiry to get the details.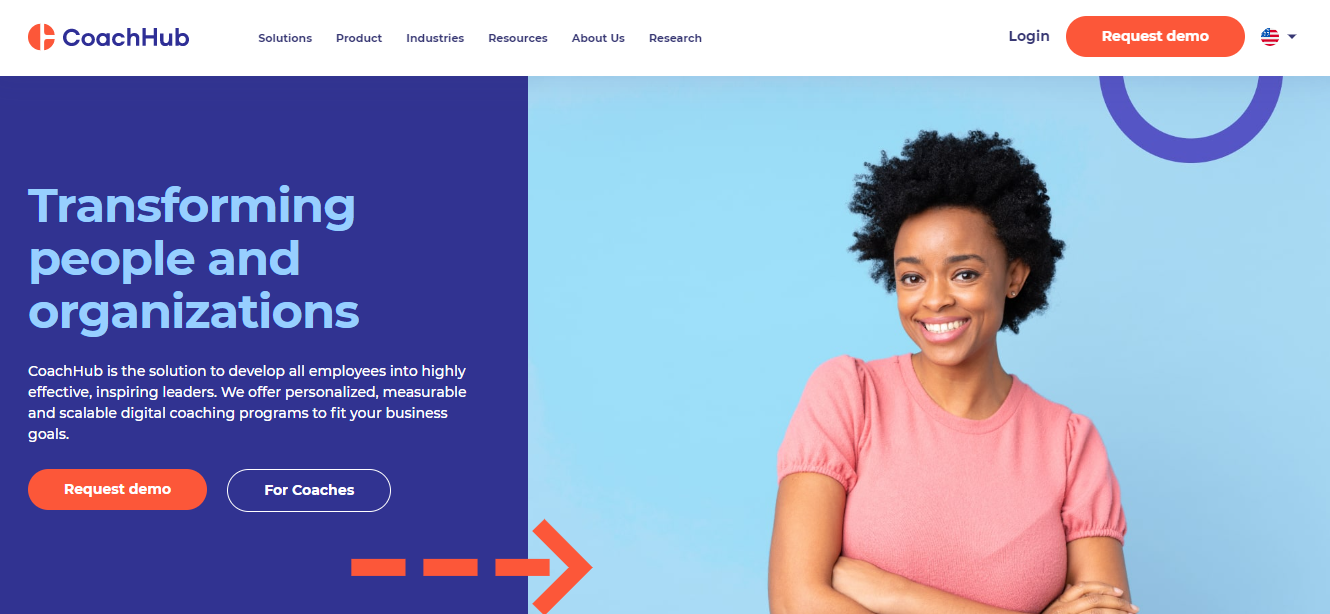 Coach Hub works similarly to Better Up, but it focuses more on employees' personal development. It uses data-driven methods to identify areas for improvement and then offers organizations the best solutions to develop potential leaders.
Its coaching programs share a combination of weekly sessions, training exercises, and in-person advice to help your employees think like a leader. All its micro-learning exercises, performance analysis, and content material are designed to sharpen your focus and hone your problem-solving ability.
You can hire counseling for small teams and get a scalable plan based on the assessment results. It offers a comprehensive evaluation section that allows you to measure your team's strengths and devise a personalized plan.
Core Services
Digital personal development and executive coaching.
Science-backed short sessions and mind exercises.
Extensive research and learning material.
Messaging app to keep in contact with your coach all the time.
Automated analyses of your progress.
ROI calculator.
Mobile support for easy access.
Price
Coach Hub hasn't listed the price plans on its site. Request a Demo to learn more about it.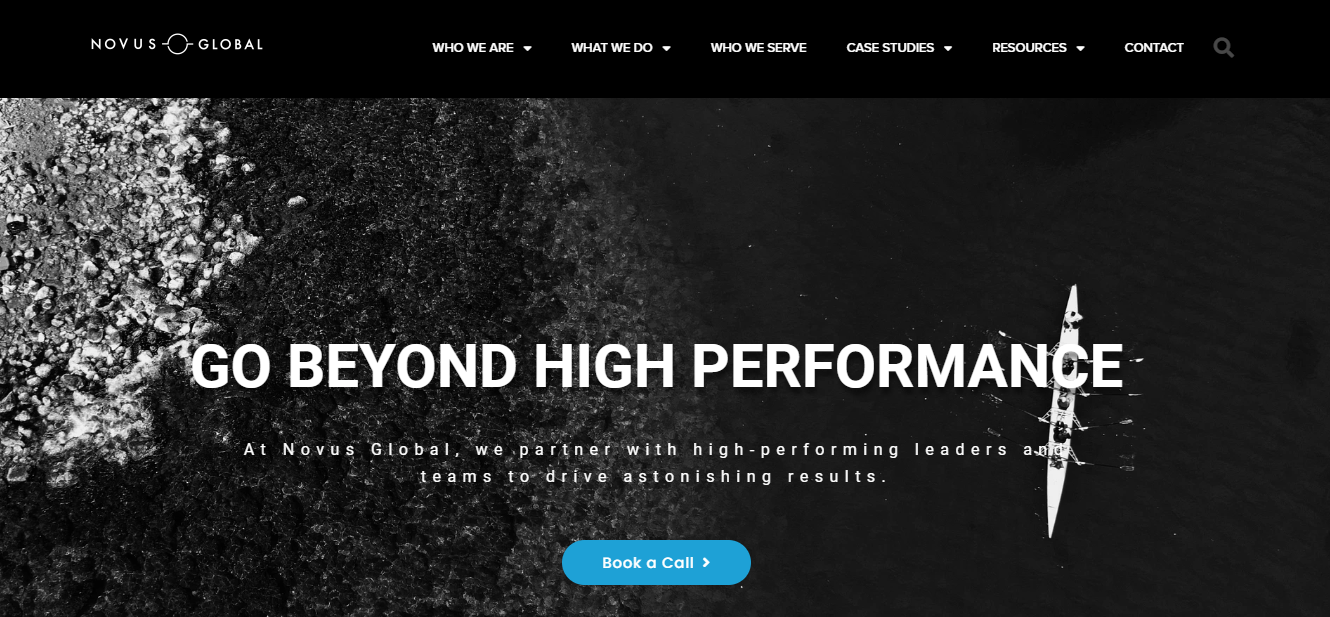 Novus Global is a well-known personal development platform that serves in 13 countries and has coached over 21 k leaders.
It offers access to elite mentors, virtual seminars, and comprehensive training sessions to broaden your business mindset and change the way you do things.
You can get one-on-one sessions with experts specialized in the field and admittance to workshops that outline the focus areas to improve your soft skills. With its extensive supplementary material and short courses, you can further increase your knowledge base.
Its coaching structures are tailored to individual needs, so anyone, whether they're entrepreneurs, emerging artists, team leads, and authority figures, can benefit from them.
If you're looking for a platform that can help you break your plateau and unlock your full potential, Novus Global is ideal for you.
Core Services
Individual and team coaching.
In-person and virtual training sessions.
Periodical workshops to discuss versatile topics and receive feedback.
Blogs, podcasts, video resources.
Personal assessment.
Short courses on personal growth.
Price
Nobus Global offer custom quotes based on your requirement. Book a call to get the details.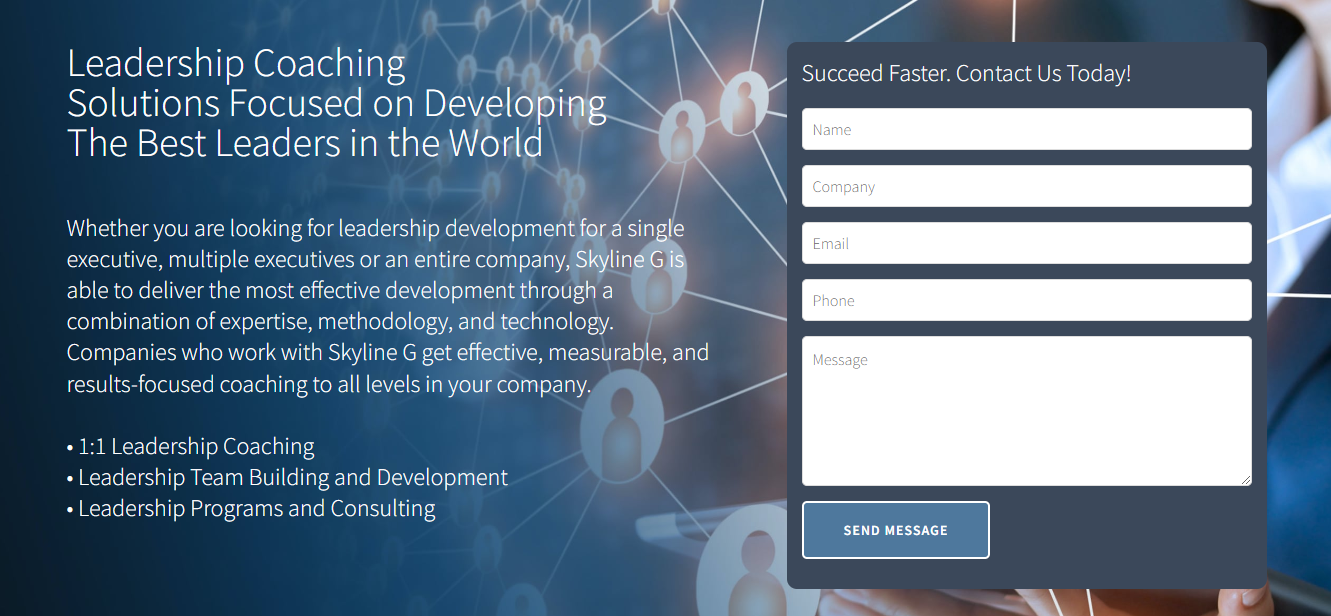 Skyline G is another great option you can consider for one-on-one training sessions. It has served Fortune 500 companies and connects you to over 180 professional coaches globally.
Its training program is pretty straightforward and similar to other platforms—you receive the best assessment of your skill set and relevant plans to maximize your leadership qualities.
What distinguishes it from others, though, is its scalable model.
It's designed to support large-size companies that want to establish leadership development programs for their in-house executive employees.
It also offers versatile solutions for team building and a separate program for women entrepreneurs. The latter focus on gender challenges faced by women, and shares tangible techniques and advice on how to meet them head-on.
Core Services
Coaching potential leaders, existing executives, and managers.
Personal development programs for large-scale companies.
Team building and coaching.
Strengths and weakness assessment.
Performance tracking.
Blogs, downable books, and videos.
Tailored plan for women entrepreneurs.
Price
Skyline G delivers custom plans.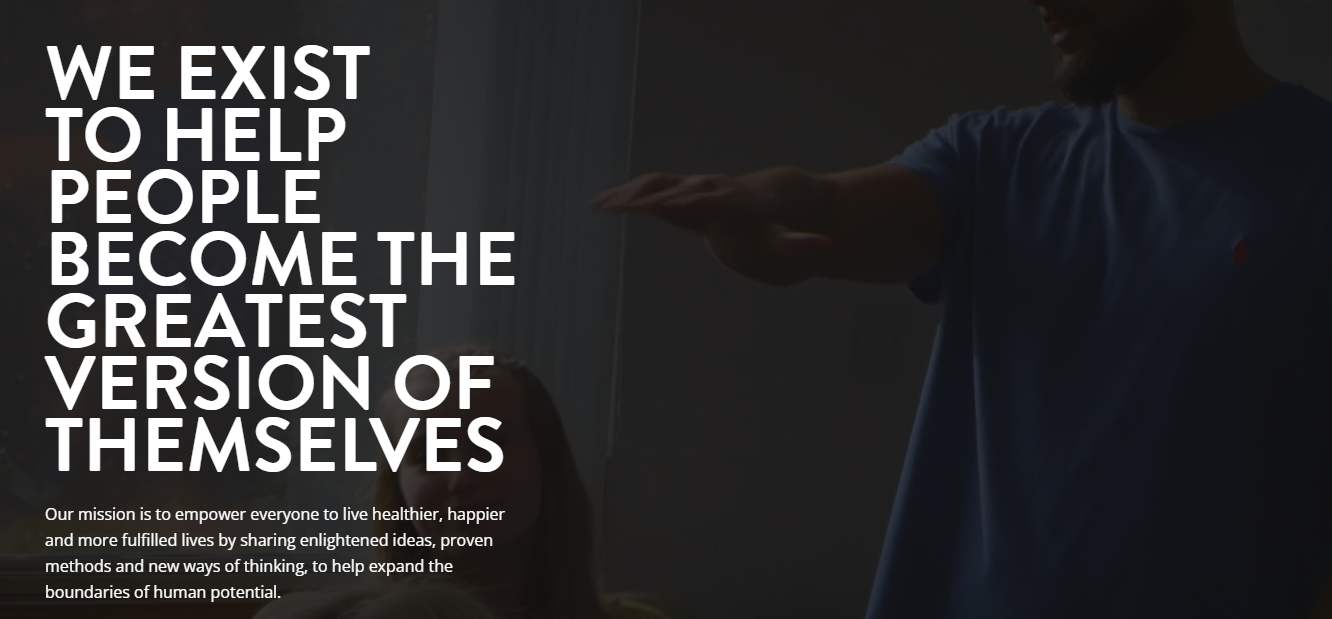 Greater Minds is a publishing platform that runs multiple sites dedicated to professional growth, mindfulness, and healthy life.
It's a brainchild of Paul and Andrew, who themselves went through an eye-opening transformation journey and want to inspire others to have the same experience.
You'll get tips, lessons, and exercises from top authors and industry leaders on how to bring changes in your life and how to hone your intrinsic qualities. In addition, it delivers self-hypnosis content produced by renowned hypnotherapists like Dr. Steve G. Jones.
One of its platforms you'll especially love is the law of attraction. It offers professional advice on developing positive thinking and shares visualization tools for the best results.
If you're looking for an information platform to learn what makes great leaders, go for Greater Minds.
Core Services
Expert advice on personal development and healthy living.
Inspirations stories, shared by like-minded people.
Focus on mind, body, and spirit areas.
Self-hypnosis CD downloads, designed by industry experts.
Tool kits and books on the law of attraction.
Price
Greater Minds charges for its products only. It also provides free books and exercises to new subscribers.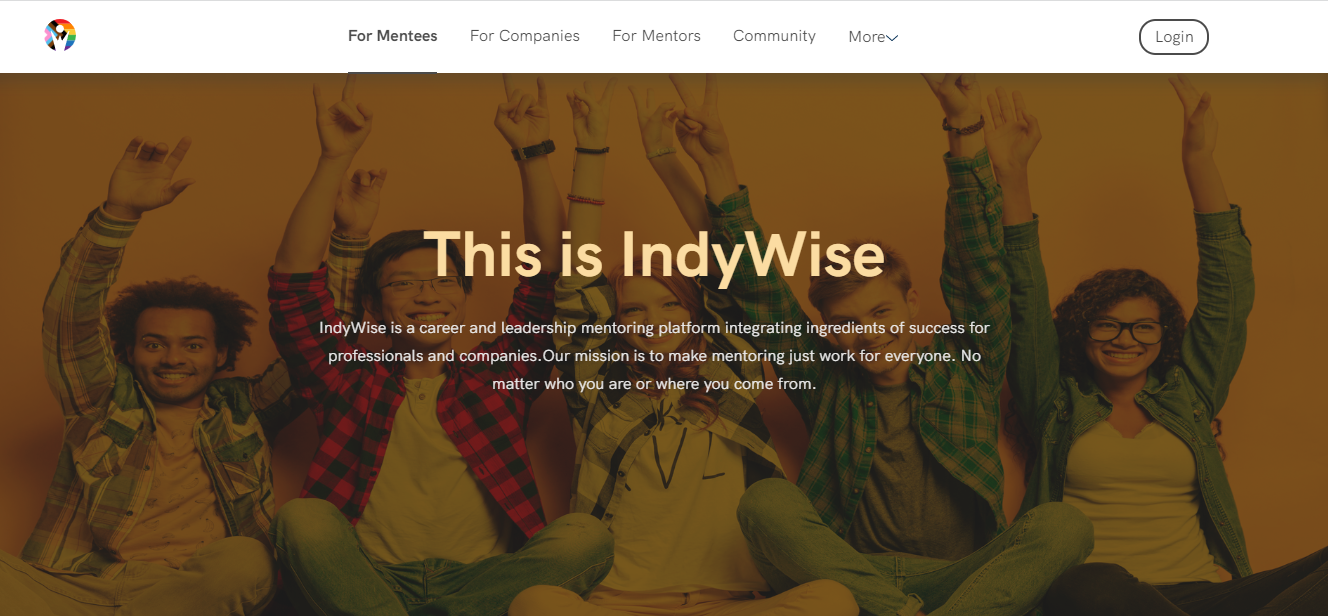 IndyWise is an emerging mentorship program for people who want to make better career moves and companies that are looking for effective employee empowerment solutions.
Individuals can get in touch with industry experts and receive personalized plans; designed to boost their soft skills. For organizations, it provides data-driven corporate training to increase their retention rate and improve the company's culture.
IndyWise also invites you to a telegram group that hosts mentors from 19 countries. It gives you the opportunity to get instant answers from industry leaders and access to valuable content.
Core Services
Individual and team coaching program.
Soft skills courses and recorded sessions.
Employee evaluation.
Free Content library.
Progress tracking scoreboard.
Access to a global community of mentors.
Free advice, tips, and solutions to overcome professional obstacles.
Price
IndyWise offers free sessions to get you started. Once you're ready to buy its services, it creates custom plans tailored to your needs.
Conclusion
In today's time, when digitalization has made embracing entrepreneurship relatively easy, the concept of born leadership no longer applies. 
Researchers had already determined early on that a successful leader can be made with professional coaching and proper training. You only need guidance to make a smooth transformation journey.
With these coaching programs, you can better understand your potential and start thinking like a leader. One-third of Fortune 500 use them for that very purpose.
I recommend exploring these options. Almost 99% of professionals have received satisfactory results after hiring mentors.