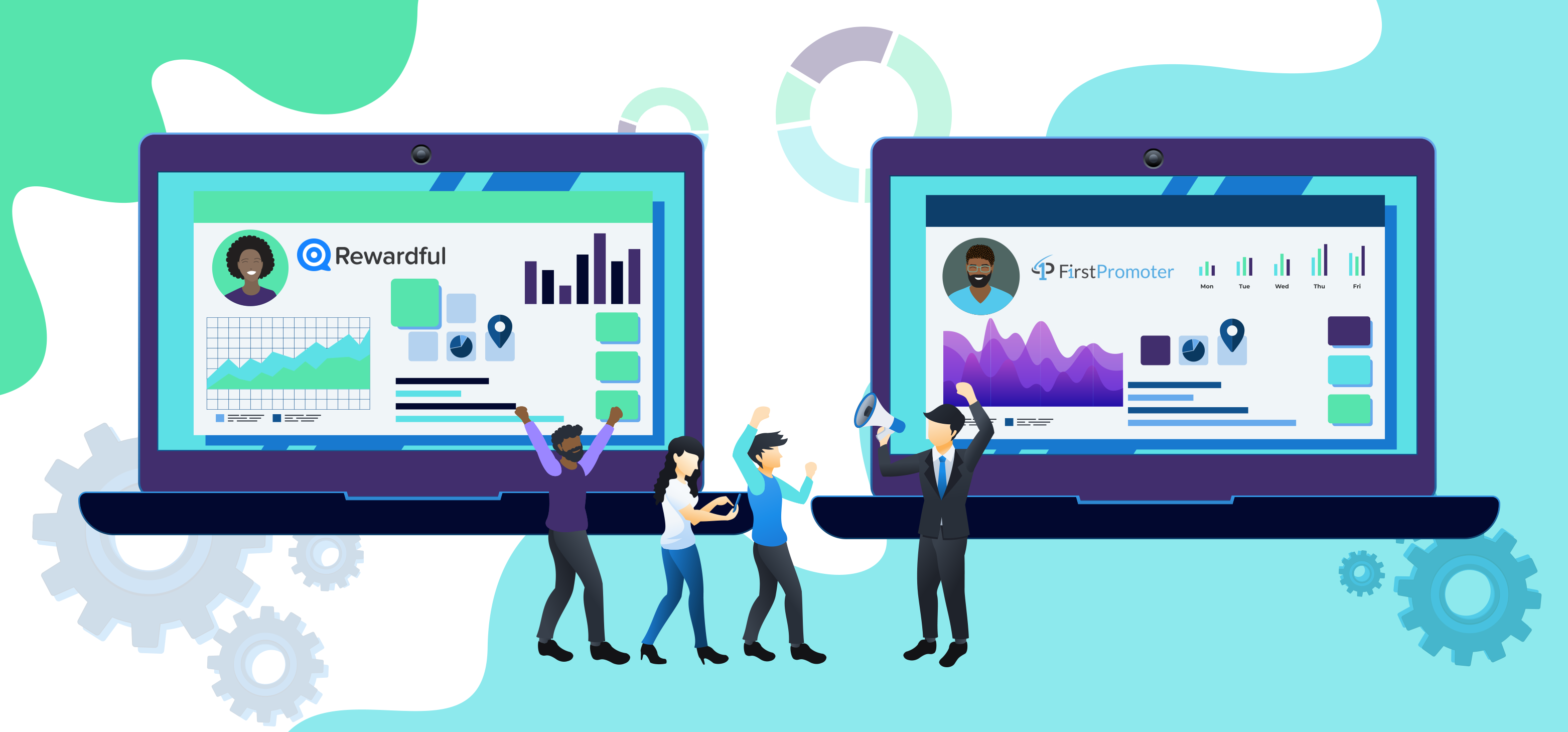 Rewardful and FirstPromoter are popular affiliate marketing tools for SaaS businesses.
They offer a hassle-free way to manage affiliate campaigns, and also deliver a centralized platform to track sales generated through referrals.
In this article, I have reviewed Rewardful and FirstPromoter to share their core capabilities and top features.
Since they sell a similar software product, I have compared their features, prices, and integration to highlight the differences.
Rewardful Overview
Rewardful provides affiliate and referral programs for subscription-based products. The software enables you to set up branded affiliate campaigns for product marketing and manage partners and brand ambassadors from one place.
It's easy to implement and delivers a wide range of tools to tailor the campaigns as you see fit. You can recruit partners through multiple methods and offer several commission options to get the best results.
With its secure and flexible functions, you can easily onboard and pay your partners and brand ambassadors.
Rewardful Key Features 
Unlimited affiliate and referral programs.
Flexible payment and tracking.
Customization and white labeling.
Integration and API access.
Multi-channel customer support.
Rewardful was founded in 2017. It now works in 110+ countries.
FirstPromoter Overview
FirstPromoter is a European-based affiliate software product. It delivers branded portals for affiliate and referral programs and powerful analytics to keep track of campaigns.
With flexible commissions, customizable payout terms, and currency conversion options, you can easily attract partners from all around the world and pay them in their local currency.
Through advanced reporting, you can get insights into each campaign and measure their performance.
Overall, the app is user-friendly, secure, and supports custom integrations.
FirstPromoter Key Features
Branded affiliate and referral program.
Flexible commission and payout options.
Customization and automation.
Tax form collection.
Fraud protection.
Reporting and tracking.
FirstPromoter was founded in 2016. Since then, it has attracted clients from different countries, including brands like ClickUp and Wishpond.
Feature Comparison
Rewardful and FirstPromoter have excellent customer reviews. They entertain thousands of SaaS businesses worldwide and deliver exactly what they promote.
Let's explore the below reviews to compare their strength and flexibility.
1. Affiliate Program
I have used affiliate program as a general term to cover a number of initial setups—such as signup pages, custom branding, personalization, and workflow automation.
Most software products typically offer all of the above, but their flexibility and accessibility generally differ.
Here's a summary of Rewardful and FirstPromoter's affiliate program.
Rewardful Affiliate Program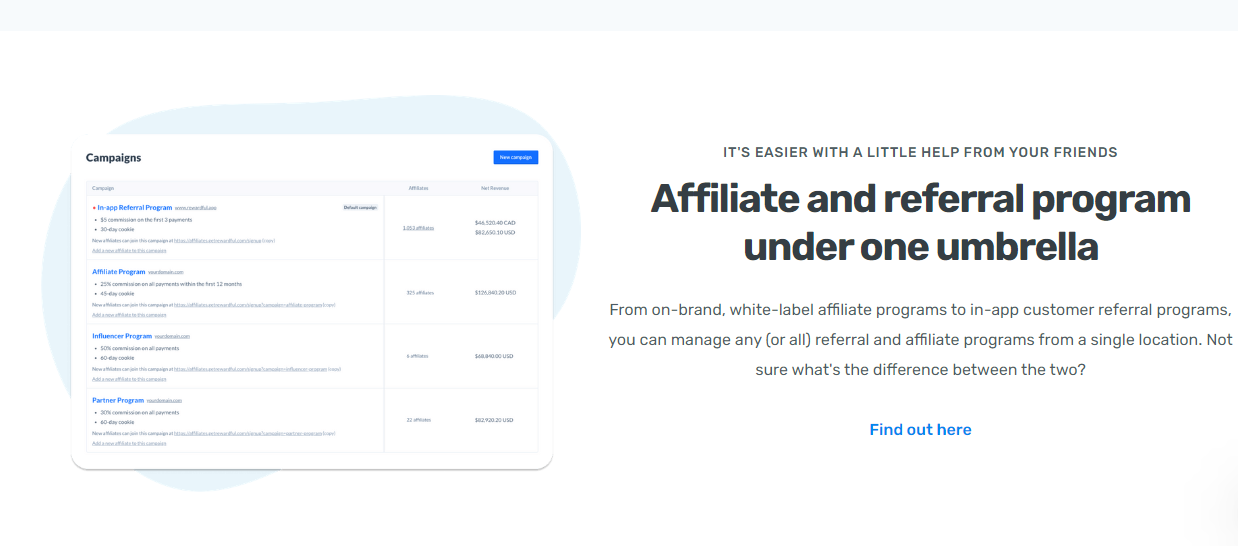 Rewardful setup process comprises five simple steps. You connect your payment gateway, create your first campaign, install Rewardful on your website, build your landing page, and launch your program to recruit partners.
Some may find the installation process a bit technical, but the in-house team can help you with the initial setup.
You can add over a dozen elements to personalize your landing page, embed your branding to make your dashboard look professional, and integrate email marketing to send bulk messages.
To attract partners, you can launch referral and influencer marketing campaigns, and optimize your page to make your program public and visible.
You'll have the option to customize your dashboard and invite other team members to manage the account together.
FirstPromoter Affiliate Program
FirstPromoter works similarly to Rewardful.
You can set up a signup page and branded dashboard as the first point of contact, create promotion campaigns to attract partners, and design agreements to define terms and conditions.
To make the program accessible, you can embed the dashboard into your application and invite team members to manage campaigns.
For security, you can implement fraud protection to vet affiliate partners and detect suspicious activities like self-referrals.
Your affiliate partners will get the option to A/B test their marketing methods and add webhooks to track conversions.
FirstPromoter has some learning curve, but once the initial setup is complete, you will be able to comfortably run your affiliate program.
Verdict
Rewardful and FirstPromoter's programs are nearly similar. You get branded portals, sign-up pages, content customization, and team invitation.
FirstPromoter's fraud protection, however, is comparatively better. While Rewardful has this feature, it's relatively new.
FirstPromoter also offers more flexibility to the affiliate partners.
Rewardful, on the other hand, has excellent admin control. You can manually assign commissions and stop current campaigns anytime.
Its' email marketing feature is also pretty good. You can easily integrate marketing platforms like Mailchimp with Rewardful to perform bulk actions.
2. Campaigns
Rewardful and FirstPromoter organize your affiliate program into various campaigns.
Companies can use this feature to create various targeted product referral offers and categorize promotional activities.
Below is the summary of Rewardful and FirstPromoter Campaign features.
Rewardful Campaign
Rewardful lets you create public and private campaigns. 
You can build multiple campaigns with different reward structures to personalize them for each affiliate marketer and design exclusive offers for invite-only programs. 
To improve user experience, you can link promotions to your website page to eliminate third-party redirections.
You can generate discount coupons to create a double-sided incentive campaign for referral marketing, and customize your rewards to make your offer more attractive. 
Via the dashboard, you can easily monitor your leads and conversions. 
FirstPromoter Campaign
FirstPromoter shares the same features. You can create public and invite-only campaigns, set flexible commission rates, and group your campaigns by rates or events.  
Each campaign clearly defines promotion offers, payment terms, and other incentives to make the performance measurable.
You can set up custom terms and conditions and build two-sided incentives with personalized referral links to reward both marketers and customers for successful signups. 
If you have a team, you can let them manage your campaigns and provide them with monetary incentives as motivation.
To monitor performance, FirstPromoter shares a reporting section. It's a new addition that provides advanced states on 14 different areas, including clicks, referrals, and new customers.
Verdict
Rewardful and FirstPromoter both deliver excellent campaign tools.
Via Rewardful, you can generate unlimited campaigns, invite as many affiliates as you can afford, and set up custom agreements to optimize your marketing costs.
With FirstPromoter, you can launch public and private campaigns, and customize the terms and conditions based on the product's nature.
Some notable difference between them appears to be in the reporting area. Rewardful displays essential performance metrics, while FirstPromoter provides advanced reporting. 
3. Commissions, Rewards, and Payments
Rewardful and FirstPromoter offer several commission terms to give you the flexibility to run regular and seasonal campaigns.
With multiple options, you can customize your rewards and include attractive packages to get maximum conversions.
Below is the summary of the types of commissions Rewardful and FirstPromoter support.
Rewardful Commission
Rewardful allows you to create five types of commissions/rewards. 
You can offer a percentage of your revenues to affiliate partners to encourage them to generate more sales. You can build a referral campaign and set fixed rates on successful purchases. You can even establish a recurring commission structure to get long-term customers. 
To save time, you can automate your workflows on recurring campaigns, so the app auto-adjusts your commissions on upgrades or cancellations. Any time your commission liability gets recorded, you receive an alert via email.
If you want more control, you can manually add or remove affiliates and campaigns.
FirstPromoter Commission
FirstPromoter provides fixed, recurring, and percentage-based commissions. You can tailor your payout terms and exclude any subscription plan from your campaign.
There's an incentive option for your team as well. You can reward your team members with commissions on good performance.
Other features I found interesting are; campaign bonuses and multi-level incentives. You can reward brand ambassadors for accepting your offer and create different tiers to upgrade their rates on meeting targets.
FirstPromoter also provides VAT collection services specifically to EU companies. It automatically calculates your VAT and applies them to your invoices.
Verdict
Rewardful and FirstPromoter both share flexible commission rates. Their automation and refund features are also efficient. 
The difference mainly appears to be in the admin control. 
Rewardful helps you monitor your commission payments and allows you to deactivate current and future commissions anytime. 
FirstPromoter provides more security. You can vet potential partners before hiring them, detect false commissions and refunds, and release payments on confirmed sales. 
4. Integrations
In this section, I have covered the various integration options offered by Rewardful and FirstPromoter.
Both apps can be connected with multiple payment gateways and several business tools.
Let's review them.
Rewardful Integrations
Rewardful supports 25 third-party applications, which include Stripe, Samcart, Paddle, WooCommerce, ClickFunnels, and Podia. 
You'll also get an API for customization.
For payment processing, Rewardful provides integration with Stripe, PayPal, WISE, and Paddle. You can send bulk payments through PayPal and WISE, both.
FirstPromoter Integrations
FirstPromoter supports PayPal, WISE, Stripe, and Paddle to facilitate payments. If you have PayPal or WISE, you can process mass payments via these platforms.
In addition to payment gateways, FirstPromoter allows integration with Recurrly, Braintree, and Chargebee. It also delivers API to customize workflows.
Verdict
From a commission payment perspective, Rewardful and FirstPromoter are on equal footing. They support major payment gateways and provide access to a subscription management platform for easy processing.
Based on business tools integration, Rewardful is a better choice. Not only it delivers more plugins, but it also accepts custom integration requests.
FirstPromoter's list is extremely limited. But you can integrate it with Zapier to reach other third-party applications.
5. Prices
As cloud-based platforms, Rewardful and FirstPromoter, both sell monthly subscriptions. You'll get several premium packages, and a trial period to explore the features for free.
Below, I have summarized their pricing structure and package rates for comparison.
Rewardful Prices
Rewardful has created its monthly plans around affiliate marketing revenue.
For example. If your partners bring more than $5000 in revenues per month, you can purchase the basic plan and later switch to the advanced one as you grow your business.
There's also no transaction fee on any of the packages, which means you won't incur any additional charges irrespective of the plan you choose.
Here are the Rewardful packages;
Starter plan costs $49 per month—well-suited for companies that generate up to $5000 from affiliate marketing.
Growth plan costs $99 per month—ideal for businesses with $10k to $15k sales from affiliates.
Enterprise plan costs $299+ per month—best for the high-volume.
You can take a 14-day free trial and get a refund within 30 days of purchase.
FirstPromoter Prices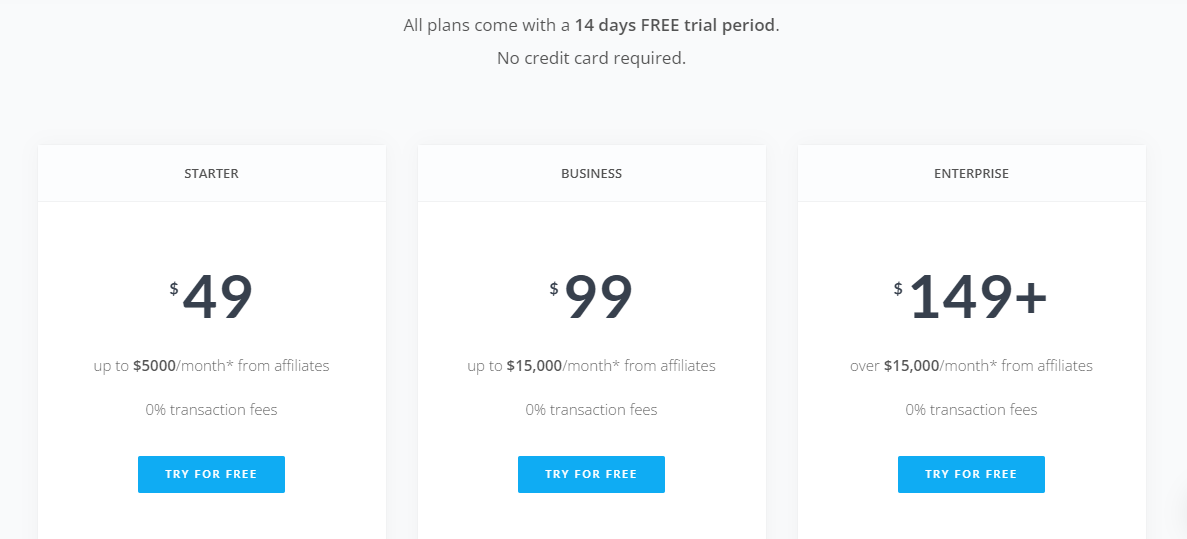 FirstPromoter follows the same principle. Its basic plan is built for small businesses that generate limited revenues, while its premium packages are well-suited for growing and mid-size companies.
You can purchase monthly or annual subscriptions, and cancel or upgrade your monthly plan anytime.
Here are the FirstPromoter packages;
Starter plan costs $49 per month—an affordable solution for businesses.
Growth plan costs $99 per month—best for companies with up to $15,000 monthly revenues.
Enterprise plan costs $149+ per month—ideal for established businesses.
You can take a 14-day free trial without providing credit card details.
Verdict
Rewardful and FirstPromoter pricing structures are identical. They share three tiers, charge zero transaction fees, and offer monthly and annual packages.
There's no difference in their rates, either—save for their enterprise plans. FirstPromoter's scale package is comparatively more affordable.
Conclusion—Pros and Cons
Rewardful and FirstPromoter are efficient tools for affiliate marketing.
Both are designed to support different business sizes, and both offer versatile features to help you increase your customer base.
But as competitors, they have some unique features that set them apart from each other. Their software capabilities may also vary slightly.
Below, I have shared a few benefits and weak spots of Rewardful and FirstPromoter for you.
Rewardful Pros and Cons
Pros
It has an intuitive interface.
It comparatively offers more integration options.
The landing page tool is flexible.
Cons
Its fraud protection is still in the early stage.
You may have to look for third-party applications for taxes.
FirstPromoter Pros and Cons
Pros 
Affiliate dashboard functions are versatile.
It offers a tax collection option.
The fraud protection feature is one of its bestselling points.
Cons
The interface is a bit complex.
Its signup page appears simple.
The integration options are comparatively limited.
Hope this article has given the necessary information to make your purchase decision. Good Luck!