Instagram is one of the biggest social media platforms out there!
That makes it a fantastic place for business owners and marketers to promote their brands and products.
However, if you don't understand Instagram, you won't be able to skyrocket your brand to new heights!
So in this blog post, I'm going to reveal to you 16 of the essential Instagram marketing statistics.
#1 – Over 1.44 Billion People Use Instagram Every Month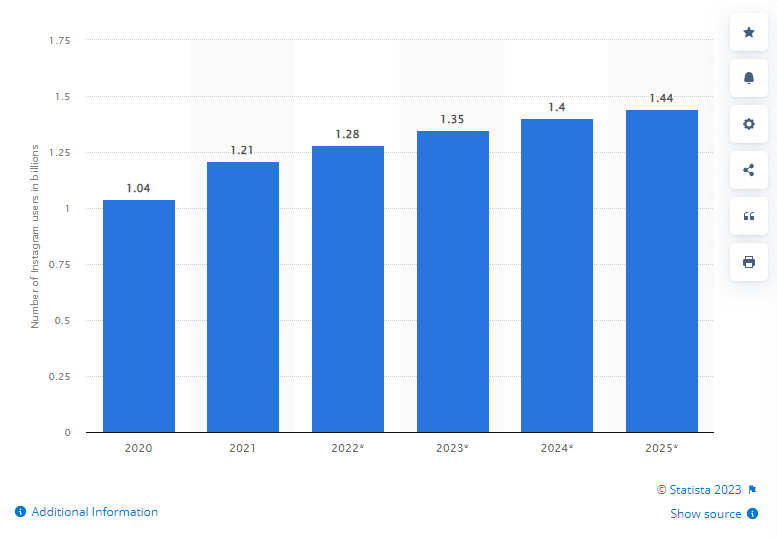 The number of people using Instagram is mind-blowing.
And, this could be as high as 1.44 billion people! That tells you one thing; you'll probably find your target market there.
So if you've been on the fence about marketing on Instagram, then this is your last chance to build an audience.
#2 – Over Half of Worldwide Instagram Users Are Under the Age of 34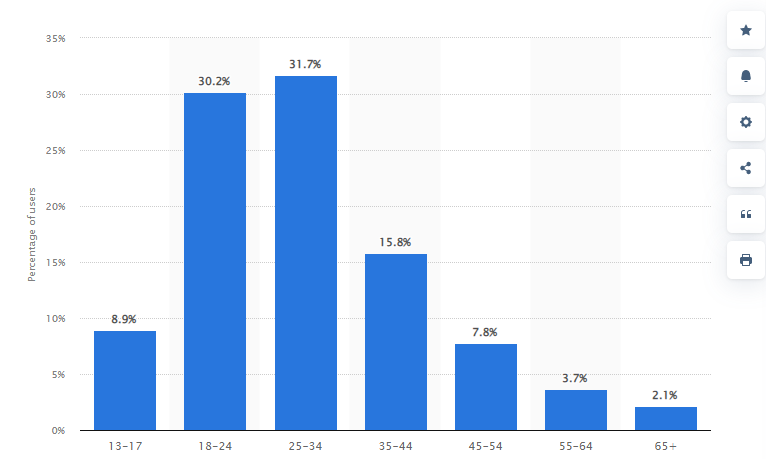 Let's get deeper into Instagram users, shall we? According to Statista, most Instagram users are under the age of 34. That means this platform is something that works for younger audiences more.
However, that doesn't mean you need to have a business that appeals to younger people. For example, many real estate agents and lawyers succeed on those platforms.
#3 – On Instagram, 49% Of Users Are Female, While 50.7% Are Men
Another notable statistic you should know is that 49% of users are female while the rest are men.
That might not mean anything to you at first, but it tells you one fact; it's a genderless environment.
That means all companies should do well. Women-tailored products are not going to be better than those implied for men.
So you shouldn't have any problems with gender bias!
#4 – With Instagram Ads, You Can Reach About 1.4 billion People
Instagram ads are a compelling way to boost your brand awareness and increase your conversions quicker. So how many people would you be able to reach through advertising?
Well, you should be able to reach 1.4 billion!
However, that shouldn't mean you'd want to.
Instead, I'd suggest you find the one million people that would be interested in your product!
That way, you won't be wasting any money advertising to people who don't want your products.
And in the following few statistics, I'm going to tell you how to get them in the best way.
#5 – On Average, You Get 1 Comment per 1000 People on a Photo Ad
Comments are critical.
If you get a lot of them, Instagram takes this as good content/ad and will promote it to more people for a lower price.
But even if your ad does well, don't expect to get a crazy amount of comments.
That's because, on average, photo ads get only one comment per 1000 viewers. So even if you get three comments out of 2000 viewers, you're doing very well!
#6 – Video Ads Engagement is 0.6%
So what ads get more engagement than photo ads?
Easy! It's video ads. This number could be higher than this. These two reasons can easily explain this:
People watch videos longer – With photos, all they need is a few seconds, and they're done! But with videos, they will have to look at the videos longer, making videos more engaging.
Instagram promotes videos more – Instagram wants to keep people on their site for longer! So instead of promoting pictures, Instagram tries to encourage more videos so their users will watch them, making them stay more on the platform.
So when you're creating ads for brand awareness, video ads are the way to go!
#7 – Collection Ads Increase Conversions by More Than 6%
But what if you don't want to get more awareness for your brand. What if you're looking for more conversions?
Well, then you should make some collection ads!
These ads are basically carousel posts where you can see multiple pictures of your products in one post.
And the effect this has is quite considerable! According to Jumper Media, you should expect conversions to increase by 6%.
#8 – Facebook Ads Have Higher CTRs Than Instagram Ads
But the other reason for having lower conversion rates is also tied to click-through rates.
According to states, the difference is pretty huge. For Facebook, the CTR is 3.06%, while Instagram is 0.68%. That's more than two times less.
#9 – 44% Of Users Shop on Instagram Weekly
So does that mean selling your products is pointless on Instagram?
The short answer is absolutely not!
The number of shoppers on Instagram is mind-blowing. Instagram themselves told us that about 44% of their users shop there weekly.
That means millions of people shop there, and you could be part of it!
How much, you ask? Well…
#10 – Each Month, 130 Million Instagram Users Tap on Shopping Posts
While the feature is only a couple of years old, it's still amazing how many users tap the shopping post.
According to Instagram, this is as high as 130 million users. That means millions of people are interested in buying what brands offer as they check for prices.
#11 – 80% Of Instagram Users Use the Platform to Make Purchase Decisions
Source: Facebook
Another remarkable statistic you must know is that four out of five Instagram users use Instagram to make purchase decisions! But what does that mean to you?
Well, it means two things:
First, if you're not on Instagram, you're going to lose a lot of sales!
And secondly, you're going to have to make your product as attractive as possible!
But how do you do that?
Easy! All you need is to create lifestyle product pictures.
Just get someone to use your product in a situation your ideal client would be or like to be.
Then your potential customer will start associating your product with their ideal lifestyle, which makes them desire to purchase from you.
#12 – 50% Of Users Have Used Instagram to Discover New Brands
However, there's more to Instagram than being a great place to get some extra sales!
Additionally, Instagram is beneficial for increasing your brand awareness. According to Instagram, 1 in 2 have used and keep discovering new brands on Instagram.
That's awesome, right?
Well, it gets even crazier!
#13 – 90% Of Instagram Users Follow at Least One Business
One of the most impressive statistics about Instagram is that nearly everyone follows at least one business. That means it's widespread for companies to sell their products and services there.
In fact, Instagram says that only 1 out of 10 people don't follow any businesses. So again, if you aren't on Instagram, you're missing out on a lot of business.
#14 – 67% Of Marketers Use Influencer Marketing on Instagram
Buying ads on Instagram isn't the only way marketers can promote their products. They could also pay influencers to showcase their product on their pages.
Actually, about 67% of Marketers do that.
But why, you might ask?
Well, there's one massive strength for it, and that's that the audience is warmer than when using ads.
That's because fans already trust the influencer. And once they say something about a product, they like, their fans are likely to buy it as well!
#15 – 71.9% Of the Instagram Posts Are Photos
Another interesting statistic about Instagram is that the overwhelming majority of posts on Instagram are photos. It's 71.9%, to be exact! So what you should do is post pictures, right?
Wrong!
Instead, I want you to do the counter-opposite.
As mentioned before, videos are way more engaging, so whenever you can, then try to post videos. That means you'll get both more engagement, but you'll also stand out from the crowd.
#16 – Accounts That Post Daily Get Considerably More Followers
And lastly, I want to tell you about the importance of posting daily. While this will take considerably more work every day, it's well worth it.
The biggest reason is that your follower growth rate will be much higher!
According to Tailwind, you should see a whopping 58% growth rate when you post daily or more. It's because of two reasons:
First, you'll get more chances of going viral as you post more frequently.
Secondly, Instagram promotes your pictures more as you longer keep them on the platform.
Conclusion
And those are the 16 essential Instagram marketing statistics you must know!
I hope you found this report helpful and find new ways to take advantage of this platform.
But before you go, what I want you to know, are these three things from the statistics:
Instagram is still a fantastic platform to market your products.
Use advertising primarily for brand awareness
And sell your product organically with shopping posts
Then you'll be able to see success on Instagram!