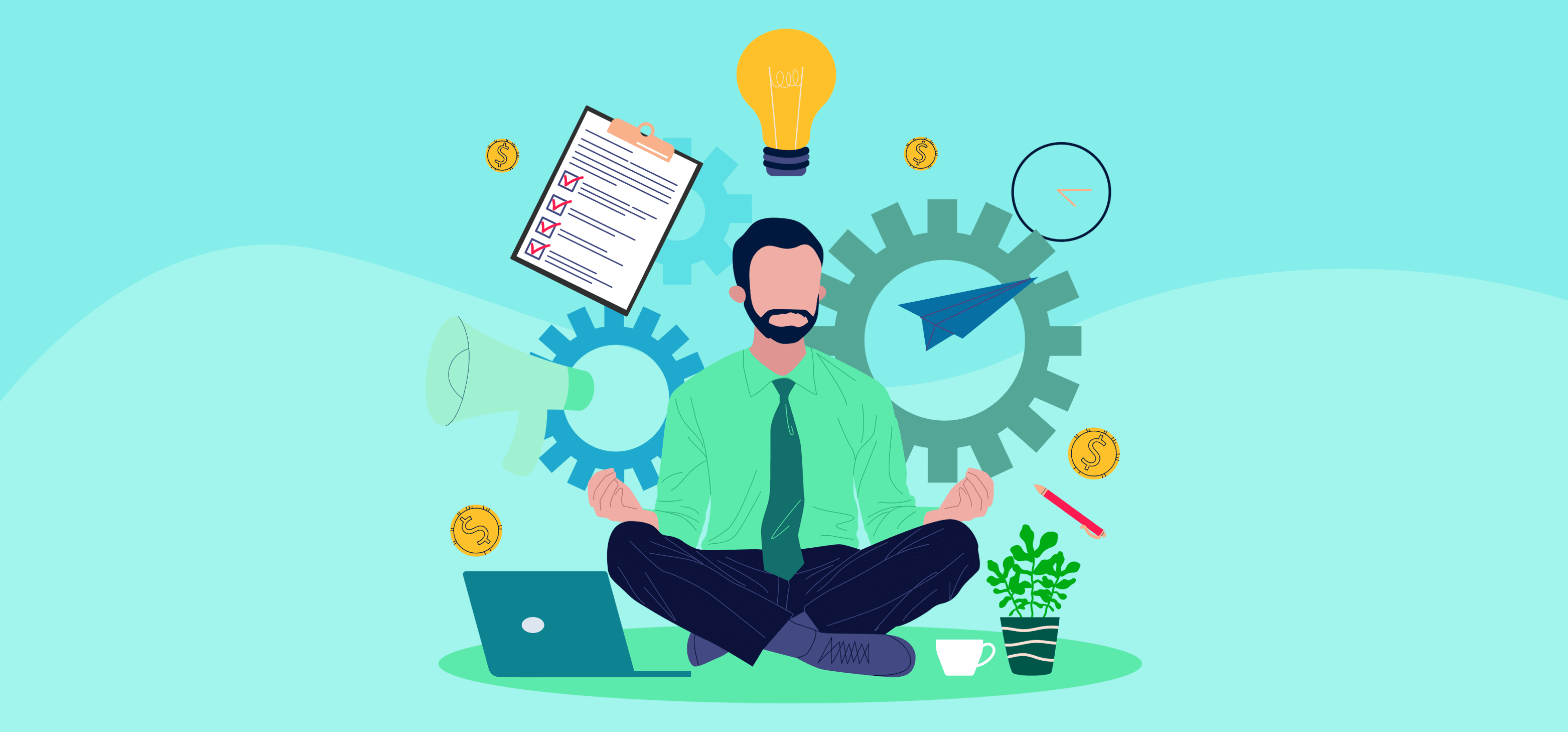 "The greatest weapon against stress is our ability to choose one thought over another." – William James
I have met many entrepreneurs of small to large-scale companies. Stress is the most common thing I find among all of them.
The entrepreneurs of startups worry about funding, lack of resources, market competition, and above all, family pressure to leave the business and do a job.
On the other hand, corporate entrepreneurs stress improving the supply chain, business expansion, finding new opportunities to increase sales, etc. And most importantly, taking out time for the family out of their busy schedule.
But the difference came when I saw different people dealing with stress in either way.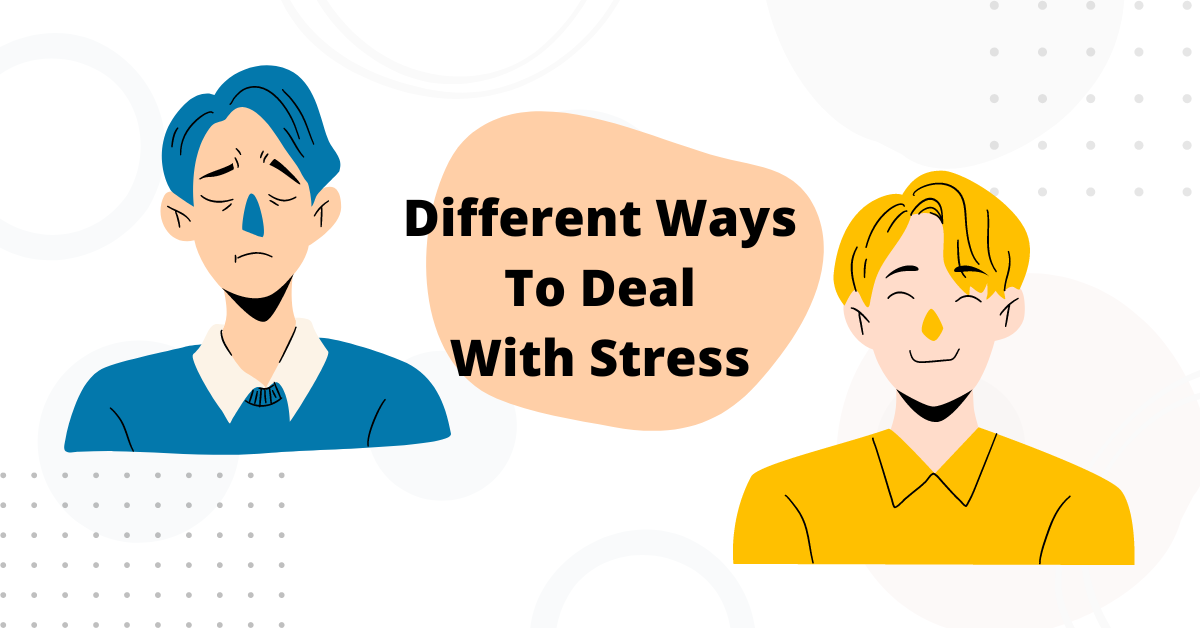 Which one are you?
If you choose the second one, you know how to manage stress. But if it's the first one, you need to work on it.
Stress can cause many health problems. Some of its effects are as follows:
| | | |
| --- | --- | --- |
| On Body | On Mood | On Behavior |
| Headache | Anger | Binge eating |
| Hair loss | Irritation | Lack of focus |
| Muscles pain | Anxiety | More alcohol consumption |
| Chest and back pain | Restlessness | Use of tobacco |
| Fatigue | Lack of motivation | Skipping workouts |
| Upset stomach | Sad | Less energy |
| Sleeping problems | Depression | Forgetfulness |
| Dull face | Worry | No socializing |
But don't worry.
I will tell you some highly effective ways to manage stress as an entrepreneur. These are even followed by the successful entrepreneurs of the leading companies.
So, without wasting any time, let's dive deep into it.
1. Face the Problem
The first solution I would suggest is instead of running from the problem, face it.
Going away from it will not solve it. Rather, you will stress its existence. You would like to get rid of it.
Leave the unavoidable situations. You cannot do anything. Time will take care of it.
But those that can get solved, need your attention. If not whole but its effect can be reduced.
So, instead of finding ways to divert your attention and avoid it for no reason, schedule a team meeting and get it resolved.
2. Take Breaks
Do not work continuously. Rather, take a proper break at certain intervals.
Working for long hours on the same thing is not good for both the body and your mind.
When you keep working by sitting in one place, your body starts aching. Your neck, shoulder, and back get in pain.
Also, your mind will get blocked. It will stop generating exceptional ideas.
Both of these will lead to stress and irritation. Your focus will get diverted to the body pain every time. On the other hand, you will get irritated when your mind will stop working.
It happens to me. When I do content writing for a long time, at some point my brain stops working. I am unable to generate creative lines to present the content. It is termed 'Writer's Block' in the writing profession.
To overcome such situations, I take breaks at some intervals. I get away from my work desk and go out for an environment change. At times, I spend some time with my family and friends.
In short, shifting mindset is important. So, that when you come back to work, you will be having refilled energy, and your mind will be empty enough to again give you fresh inputs on the work you were stuck on.
3. Work-Life Balance
"A balance between work and life is the key to happiness. I sacrified my life for my work and if I had a chance, I would do the opposite." – Giorgio Armani
I cannot stop stressing much on this topic. It is so important that even the top businessmen try to maintain it.
If you are new to the corporate world, then follow it from the beginning.
Do not always be like, "Work, work, work, work…"
It is not going anywhere. Rather, it will give more and more stress.
Set a time for work and personal life. For example, morning 10 am tonight 9 pm is the time completely dedicated to your business. After 9 pm, you should not receive any calls and messages related to work. It should be a time for you, your family and friends.
An emergency is an exceptional situation.
Else, imagine someday it might be, god forbid, your office catches fire due to a short circuit. In that case, everyone is calling and texting you to tell you about the situation and you are completely in a different zone. You are ignoring them, thinking, "Work-life balance." The next moment you sit with your family to watch the news, you will see the media covering your office burning.
#work_life_balance
So, schedule your time when and when not to work.
4. Socialize
At times, socializing works best to get out of the stress.
We all have that friend who is crazy and makes us forget everything. Even a small conversation with them freshen ups our mind. Though for a small period, but it works as a medicine.
So, go out, meet them, have a party, and chill out. If not possible, then social media is the best medium.
Also, make new connections, meet new people, and have conversations with them. You might get something new to learn. Some might become your inspiration. And who knows, one of them can be a good resource to help solve your problem you are stressing about.
So, never go into loneliness while on stress. That is more harmful to your body and mind. Socializing can change your mood and give you relief.
5. Avoid Procrastination
Procrastination means delaying the work for no reason, only because you do not want to do it now.
Please try not to fall into that trap. When you delay every task, a time comes when you see a pile of work that needs to get done soon.
Now that point causes stress. You will not be able to keep up the pace to complete all. You might get mood swings and start getting irritated with small things. This can also affect your relationships.
So, if you have any work, do not leave it for the end moment. Like we used to do for our college exam preparations.
Either complete it today or do a small bit every day. It will keep you organized and you devote your time to every aspect of your life.
6. Vacation
I know that entrepreneurs rarely get the chance to go on a vacation. Even when they are home, they worry about their business and clients.
But when you are under stress, changing the location, environment, and vibe becomes essential.
Plan a trip where you can be near to the nature for some days. Away from all the hustle and bustle. It will help you relax and make you calm.
Explore new cultures and traditions. Meet new people. Try some adventurous activities like hiking, camping, water or skydiving, etc. Book a resort on the beachside and enjoy its breeze.
Experience them all. Work and stress will be there. But it does not mean that you will stop living your life.
Give yourself some time and then see. Everything will fall into its place.
7. Meditation and Deep Breathing Exercise
Most of us find meditation boring. We say, "What's there in it? We only have to sit, close our eyes, and practice deep breathing."
But it is scientifically proven that meditation helps reduce stress.
When you are under stress, many random thoughts run into your mind. You cannot control them. Even if you do not want to think, it will come to your mind.
With meditation, you can overcome this problem. It helps stay calm, focused, and live in the present moment.
Now, how does this happen?
A neuroscientist, Sara Lazer, proved this in the TedX Talks at Cambridge University. She did a few experiments that resulted in the size improvement of key areas in the brain. It helped improve the brain and become resilient under stress. There is a neurobiological reason for feeling less stressed.
So, try practicing meditation and deep breathing exercises.
8. Physical Exercise
Although I highly recommend practicing meditation, there are some who fail to continue.
Physical exercise is the alternative.
Take some time out of your busy schedule and go for a workout. Either do it at home (if you are highly motivated) or join a gym.
It is also a good way to release stress. Channel your energy towards working out your body. It will keep you fit and makes you feel fresh and good from within. And when you feel good, it reflects on your behavior and you take a different approach to things.
You can also try playing your favorite sports like golf, snooker, cycling, basketball, etc.
It helps deviate your mind from work stress and relaxes you for some period.
9. Healthy Diet
Your stress level is also related to what you eat.
Stress leads to fluctuation in appetite and some digestive problems.
As per the Nutritionist Resource UK :
Our appetite and food cravings increase, which leads to a drop in metabolic rates. Then your body starts storing fat and gaining weight.
So, those who take a healthy diet are less stressed than the ones who don't.
Here is a list of foods you should take and avoid.
| | |
| --- | --- |
| Food to Take | Food to Avoid |
| Fruit and vegetable | Caffine |
| Unprocesses carbohydrates (oats, brown rice, cereals, etc) | High in fat and sugar |
| Essential Fatty Acids (nuts, oily fish, seeds, etc) | Alcohol |
| Calcium (yoghurt, low-fat milk, cheese, broccoli, etc) | Fast foods (pizza, chips, pastries, etc) |
10. Hobbies
Finally is spending time on what you love to do.
Give some time to your hobby. It can be playing any musical instrument, reading books, dancing, painting, writing, etc.
It becomes a way to divert your mind from the rush and spend some peaceful time with yourself. You can channel the energy getting wasted on stress to create something unique. It is a form of expressing your emotions.
If you love writing, then express your uneasiness and worry in the form of a poem or story. Maybe you can create a beautiful musical note. Or, if you like sketching, give it a visual form.
And before going to bed, set your mind away from all the negative energy. Read a mindfulness book or a fictional story from the genre you like.
You will feel relief from the stress and rejuvenate your mind.
I do the same by listening to music, playing guitar, or reading novels.
And believe me, it does help a lot.
If you say that, "Hey Shruti, you know, all these are bullshit advice. Nothing happens."
Then maybe you should consider Mr. Barack Obama advising the same on stress management while getting interviewed by the HuffPost.
Conclusion
You wanted to become an entrepreneur. And you also knew the challenges it would bring along. So, now that you are here, there's no way out.
You get two choices: quit or face it.
Quitting is the choice of failure. You don't want to be on that list.
So, roll your sleeves and face the challenges this profession throws at you.
And whenever you feel stressed, bookmark this page and always remember Squeeze Growth. It has all the answers to the problems you face in your business, packed with some motivation and self-productivity tips.