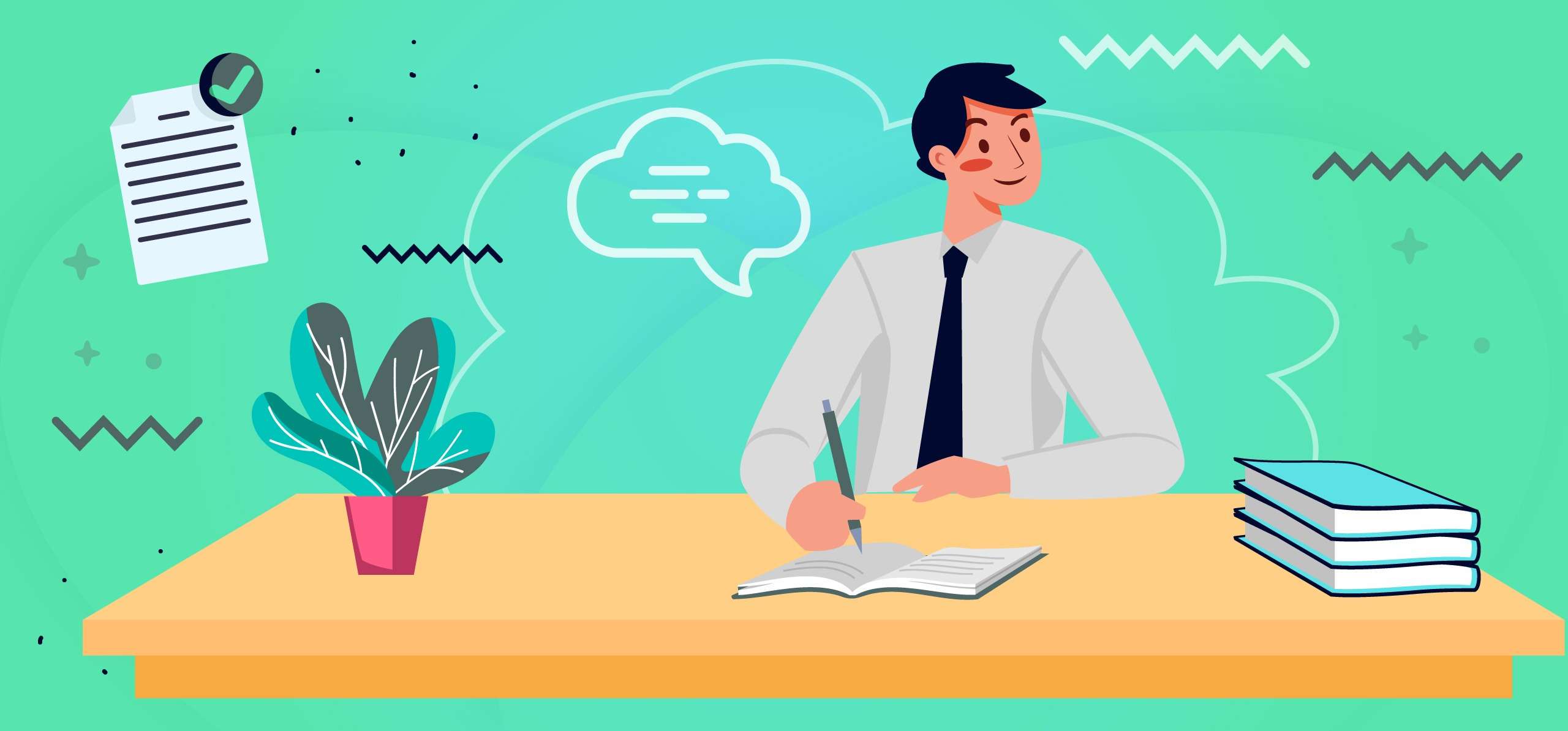 Journals are a great way to keep your life systematized and free from the worry of overlooking things that are not meant to be forgotten.
Successful entrepreneurs rely heavily on their periodicals for reaching goals and sustaining growth throughout their careers.
Research shows that entrepreneurs can achieve more than a 42% increase in productivity if they use a journal.
Here are the 7 best journals for aspiring impresarios to help you climb the ladder of success.
SELF Journal by BestSelf is well suited to a specific type of individual rather than a journal aimed at the masses. We will talk about it in just a second, but first, let's focus on who is meant to be using SELF Journal.
This journal is designed to be for people who are working towards achieving a goal that is not yet certain. Even then, this journal is NOT a deal-breaker for people who are using a methodological approach for predefined goals.
Why SELF Journal Ranked No. 1?
This journal uses 13-week daily planning psychology (a calendar quarter basically) to help you organize your tasks. It focuses on one to three main goals that you are going to achieve within these 13 weeks.
Unlike traditional planners, BestSelf's goal planner is based on how people will be filling it. If you are switching from an existing planner, you might want to read everything about using SELF Journal before writing in it.
Things like your mood, habits, relationships, wins, and lessons are separately recorded, which is a good thing to have.
The design and binding are robust and comfortable to hold in hands mainly because of the cloth-finish. Opening it up will reveal a premium page that will not bleed ink to other pages and is not see-through unless you tend to hard-press your pen.
There are a few things that are not at their "very best" but that can be improved. Like, you cannot lay the journal flat with your daily page open, which can sometimes be uncomfortable, or the fact that it takes longer than other journals to set-up.
This is pretty much why the SELF JOURNAL is best suited for a specific type of individual or, in a shorter sentence, for the pros. Thus, earning it a number one place on this list.
Next up is the Conquer Your Year Journal from Emmy Award-winning entrepreneur Natalie MacNeil.
Unlike the Self Journal that focuses on multiple goals, this journal spotlights your attention on a single objective that can be divided into milestones over one year. You can also put health and relationships along with business goals as business and life go together.
Many aspects of this particular journal make it one of the most efficient journals to have around. Ever heard of the "divide and conquer" rule?
Conquer your year uses the same concept to achieve your goals for you. You are first required to choose your word of the year, define your "bigger picture objective," and then divide it into five actionable baby steps.
Admittedly, the Conquer Your Year journal is efficient in what it does, easy to use and understand, and has the immersive-ness that most journals lack. A colorful design and premium build make it a go for startups and major goal-oriented individuals.
Nevertheless, the journal does limit you to a single approach with a little flex towards your relationships and health but does not let you focus on parallel, smaller goals that might be important and relevant. However, this journal's inability to address smaller goals alongside that one "main goal" makes it only second to the Self Journal.
Quite literally, this journal helps you conquer your year "all day long."
Like the Conquer, Your Year journal focuses on a single goal to be achieved in a year. The Freedom Journal focuses on a single goal in 100 days or 3 months.
This journal is adapted towards achieving success and goals over a short time, which makes it very useful for entrepreneurs who are keen on completing projects and benchmarks within a short time.
The freedom journal does not revolve around the outmoded charisma of journals for entrepreneurs, but has a creative answer to their biggest problems: managing success over a short period.
Having the luxury most journals cannot afford, the Freedom Journal packs some characteristics from Self Journal and Conquer Your Year, being spot-on in the application and a managerial for a bigger objective over a short time.
Crafted from premium pages and an impeccable design with bookmarks, tabs, and remark boxes, Freedom Journal can please anyone—no worries there at all.
You need something out of the spotlight. A less business-oriented journal and more of a journal that gives YOU control rather than taking it away.
If that is the type of journal you've been searching for, Go Journal will blow you away with its simplicity, weekly resets, and outlines that are filled by YOU in YOUR WAY.
Go Journal essentially adds customizability to an entrepreneur's handbook. This journal's design is also kept minimalistic to add "more focus" to the whole equation.
It only takes 10 minutes to fill your Go Journal every day and 90 days to achieve your goals with it. It seems like a good deal, right?
Additionally, this journal allows you 12 weekly resets for personal assessment within that 3-month window and some exercises that will encourage you to write in your journal regularly – a very important habit to develop for new entrepreneurs.
Go Journal features a notebook-like design with no compromises on-page quality.
There is no ink bleed at all – highlighters work well, and writing with pencils is a walk in the park. Writing on these pages feels like lettering a cheque – maybe more like cashing a cheque, but you get the idea!
Always Satisfied Daily Planner (ASDP) speaks to YOUR schedule and allows you to save time by cutting some unproductive activities.
Thanks to daily planning, you can effectively review critical work decisions or commitments for your side hustle.
The goal of this planner's design is to picture your whole day in front of you.
ASDP follows the traditional daily planning outline with high-grade pages and contrasts, separated categories to help you organize stuff in a better way, and an overall great layout.
However, getting familiar with this journal's basics might prove helpful if you are switching. There is only one bookmark and no-tabs involved. Undated pages can help you take breaks or skip days, though.
Like the Always Satisfied Daily Planner, Ignited Life Planner uses the key strategy of giving you insights about your day and allowing you to foresee, review, and target your productivity.
It can handle any schedule and is not day/time-specific. For example, you can leave a task for ten days if it's not relevant anymore and return to it later and still be on track.
Instead of following a 90- or 100-day goal plan, Ignited Life Planner gives you a year to hustle and achieve your goal, making it a perfect addition to your desk.
There are more than three different versions of the planner available online to suit different moods and personalities.
Ignited Life Planner will still be one of the easiest to start with, even if you have absolutely no idea what a journal or daily planner is.
Not to mention that it is effective, and writing on it feels like a "cool breeze of summer."
7. A Classic Notebook Journal
This may sound like it is not a well-designed, psychologically structured marvel from a successful person, but it will surely help you more than any journal anywhere.
Planned Journals are a good thing to have. They help us get where we want to be a tad bit swiftly.
A journal that was probably designed without keeping you and your situations in mind is nothing but taking a risk, and it depends on you if you're willing to take it.
With that said, you can be equally successful with a handbook or a diary with nothing but a blank page and a horizontal line to put in a date.
That's it! – No fancy bindings and crowded pages.
What a blank page can give you is something no journal will.
Take a guess, what would be the difference in the meaning of the words you fill in on a blank paper when I ask you to write about your day or something about yourself?
We'll leave the answer up to you. 
Stoic is a daily self-care journal that helps you track your mental health and helps reduce/control stress in your life.
Since it is tough to come by a person who is not using a cell-phone these days, we must agree that the best way to interact with your daily journal is to carry it around in your pocket.
You wouldn't want to be carrying a whole book when you can have it on your phone now, would you?
That is where Stoic comes in to play.
This app effectively lets you plan your day and record your progress throughout the afternoon, only for you to be able to review it in the evening. You can also add some little details about your day, like your overall mood, and read some quotes.
"We don't get to choose what happens to us, but we can always choose how we feel about it. And why on Earth would you choose to feel anything but good?"

Ryan Holiday (Quoted in Stoic.)
The "Good Night" & "Good Morning" messages and the notifications further enhance the overall user experience.
You will immediately notice how good its UI is after using it for the first time.
Tons of exercises and motivation will boost your mood and connect you with your life on a deeper level. The black and white theme relieves your eyes from too much contrast. This design and exercises make sure a flawless daily routine once you get to know more about it.
There is a subscription system in place through in-app purchases, but you can use it for free and still have all the basic features you'd need. It is available on both the iOS App store and Google Play store.
Which one's your favorite journal?