There's no doubt that Dropshipping is an attractive business model to start. With the low startup costs and the opportunity to make millions, you'd be foolish not to create one yourself.
However, for that, we first need to get ourselves a dropshipping plugin.
With it, we can make managing our online store a breeze as we don't have to spend hours importing products and fulfilling orders.
So in this blog post, I will show you the nine best dropshipping plugins for WordPress. 
If that sounds interesting, then keep on reading.
Strating off, we have AliDropShip. It's a popular dropshipping plugin for WordPress dropshippers.
That's for a couple of reasons.
First, AliDropShip makes it easy to import products from AliExpress. All you need to do is:
Install AliDropShip Chrome extension.

Find the product you want to sell.

And with one click, you've imported a product to your store.
It's that easy!
But the benefits don't end there.
This plugin will keep an eye on the price changes happening with your supplier to make it even easier to manage. So, when your supplier starts charging more, AliDropShip will automatically increase your prices.
Furthermore, AliDropShip comes with extra services. Once you purchase AliDropShip, they'll give you multiple free themes to choose from, which have been tested for high conversion rates.
And to top it all off, we need to discuss AliDropShip's pricing. You no longer have to worry about monthly fees to get access to everything. All you have to do is pay the one-time fee, and you're good to go.
So if you're looking to dropship AliExpress products, this is the one for you.
Main Features:
One-Click Import lets you import AliExpress products at a time or in bulk without the manual work.

Get Access to High-Converting Store Themes Tested by AliDropship themselves.

AliDropShip automatically updates store prices when your supplier changes them.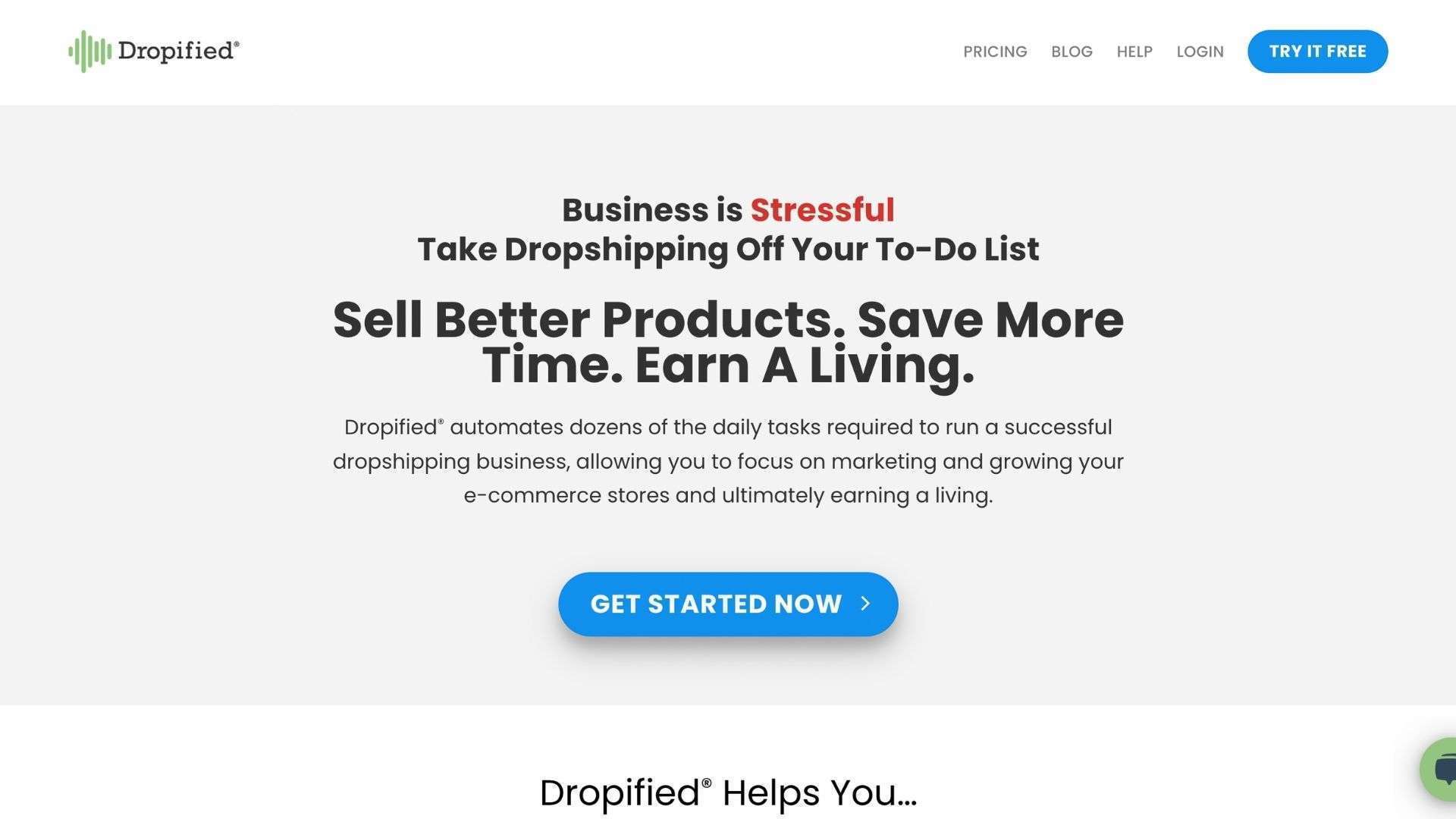 Next up, we have Dropified. It's yet another excellent dropshipping plugin and for some good reasons.
What differentiates this one from all the other services is how many products you can import. The thing is, you're not limited to only AliExpress products. Instead, you can also import products from Alibaba, eBay, and more.
And to make it even easier for you, fulfillment has never been more effortless. That's because, with Dropified, you can fulfill multiple orders simultaneously. That means you'll only spend a couple of minutes fulfilling orders, even if you get hundreds of orders daily.
But what makes this even better is that you can dropship your products on multiple platforms. Instead of just selling products on your WordPress website, you can also sell them on Facebook Marketplace.
And lastly, let's talk about the pricing. What I enjoy the most about Dropified is how budget-friendly they've made it for every dropshipper. That's because it has a free version where you can import up to 4,000 products.
So overall, Dropified is one of the best dropshipping plugins for WordPress.
Main Features:
Weekly Insider's Report shows you the hot products with accurate marketplace sales data.

Auto-fulfill multiple orders at once in Alibaba, AliExpress, and eBay.

Use Dropified product image editor to remove backgrounds and make them unique to your store.
Continuing down the list, we have DropshipMe. Just like the last two, this one also lets you dropship AliExpress products. However, it does with a little twist.
Instead of letting you choose from all products, DropshipMe only enables you to choose from the 50,000+ handpicked products. While that might reduce the choice of what you can choose from, it comes with some great benefits:
All of Them Are Winning Products 

– DropshipMe has ensured that you only get access to products selling well. So, you'll have a higher chance of success for your dropshipping store.

Remove any Problems with Suppliers – 

DropshipMe has ensured that they only work with the best suppliers. That means you'll always get the best prices and consistent shipping, reducing many headaches.

Custom Pictures and Product Descriptions – Instead

of copying the descriptions and images from AliExpress, DropshipMe creates custom ones to ensure your product page sells.
They have a very affordable pricing plan. Instead of paying a monthly fee, you can start for free. However, this limits you to importing only *X* products. But when you want to have more, all you need to do is pay a small fee. 
For example, you can get 100 new imports for paying $12. So as you can see, DropshipMe is a unique solution for your dropshipping plugin problem.
Main Features:
Choose from 50,000+ handpicked winning products

Custom Product Descriptions and Photos.

Import real reviews with DropshipMe
However, while the previous three have been great, some of you might not have a WooCommerce store instead of a WordPress one. Well, for this, you could use WooDropship.
It's an excellent dropshipping plugin that offers you the easiest way to import your products. All you need is a couple of clicks, and your selected AliExpress products are live in your store. 
The same thing applies to fulfilling orders. Once you get an order, you only need to do a few clicks, and you're done. That's all thanks to the Chrome extension included with the plugin.
However, what makes WooDropship unique is apart from offering you a solution for dropshipping, they can also help you build your dropshipping website and make sure it converts.
With this package, you get:
Access to the WooDropship plugin

A custom dropshipping site

Deep analysis of your market

Profitable products already imported to your site

Business logo

And more
Basically, you're getting a store that is ready to start selling. And in terms of pricing, they've made it flexible for everyone. If you only want the plugin, you'll have to pay a one-time fee of $49.
However, the custom dropshipping sites start at $199.
Main Features:
Easily Import AliExpress Products to Your WooCommerce Store

Fulfill your orders in a few clicks with the WooDropship Chrome extension.

Get a custom dropshipping site with deep niche research, email setup, and products already sourced.
We have only discussed dropshipping plugins that let you fulfill and import AliExpress products. While that might be profitable, it has some problems, like long shipping times.
So, is there a way to dropship products besides China?
The answer is yes!
And that's where Spocket comes in. Spocket is a dropshipping plugin that offers you suppliers from US and EU. While the costs might be higher than with Chinese products, there are a couple of benefits:
Fast and Reliable Shipping –

With

AliExpress dropshipping, it's not uncommon to see orders getting to your client in weeks, if not months. However, with Spocket, that's not a problem as most orders come in within a week.

Quality Products –

While

Chinese product quality isn't too bad, it doesn't compare to what EU and US sellers have. That applies especially to tech products.
But that's not all that Spocket offers. Additionally, to provide you with better products and shipping time, Spocket also lets you create branded invoicing, which helps your company look more professional and trustworthy.
However, we're done yet. Sprocket also makes fulfillment effortless. All you need to do is click one button, and you're done.
And lastly, let's talk about the pricing. You can start using it for free. With it, you can browse the catalog and add AliExpress products. However, when you upgrade your accounts, you get access to unique and premium products, which many sellers don't have access to.
So if you're looking for a way to dropship products with faster shipping, then Spocket is for you!
Main Features:
Dropship EU and US supplier products for fast and reliable shipping times.

Get Branded Invoicing for better brand building

One-click fulfillment
This dropshipping plugin is quite unique on the list. That's because you're not selling other people's products. Instead, you're selling products that are designed for you.
That's because Printful is a POD (Print on Demand) dropshipping service company. With them, whenever you get an order, they'll print your design on a product and ship it directly to your customers.
You can choose from a large variety of products:
Hoodies

T-shirts

Canvases

Puzzles

Mugs

And so much more.
Printful offers you branding tools. That means no order will have any Printful branding, which helps you look professional.
If you're looking to sell your own products, Printful offers you a warehouse service where you can send them their products. Then whenever an order comes in, Printful will ship the product to your client without you having to do any fulfillment.
That also applies to POD products. So if you're looking to build a store with unique products, Printful might be your plugin.
Main Features:
Dropship custom-designed products

Automatic fulfillment from getting an order to the customer getting the product. All done by Printful.

Custom Branding Tools to make your orders look branded.
Continuing down the list, we have WP Amazon Shop.
What makes this unique is that it offers you different businesses you can start. You can either:
Dropship Amazon products

Or create an Amazon Affiliate store.
And do you want to know the best part?
You won't need to have any AWS keys to start selling.
All you need is this plugin installed on your WordPress site, and you're good to go. However, the benefits don't end there.
For starters, this plugin offers you two ways of importing Amazon products:
First, you could use their Chrome Extension to import them from Amazon quickly.

Or you could go to their plugin page on your WordPress admin page and import them there.
That makes it simpler and quicker to add new products to your store.
I'd also like to talk about the pricing. Like many other plugins on this list, WP Amazon Shop also offers you fixed prices. However, the price depends on how many stores you want to use it for.
There are three options:
$59 

for one store

$99

 for five stores

$139 

for ten stores
So if you're looking to dropship Amazon products, this is your solution.
Main Features:
No AWS keys are needed to start selling Amazon Products

Easy import through the Chrome extension or within your store itself.

Add Amazon product comparison tables to your store.
If you're looking for the most straightforward and most affordable solution for your WordPress dropshipping store, then WooShark is your answer!
It offers everything you'd need from a dropshipping store: easy import and fulfillment, auto-price check, etc.
However, it does come with a unique feature. Instead of only importing the title, product description, price, and other essential details, it also adds all shipping options to your store.
And if there's a shipping option with the word "AliExpress," it will automatically rename it to a standard shipping option.
If you're looking for a jump start with your dropshipping business, you can hire them to create a website for you. It will come with a professionally designed website and high-demand products already imported.
And in terms of pricing, they are pretty generous. At the time of writing, you could get their plugin for $29.99, and with it, you can use it for ten different stores.
So if you don't have a high budget to start dropshipping, then WooShark is the answer for you.
Main Features:
Fulfill Orders and Import AliExpress Products in a Few Clicks

Automatically update product price and shipping costs

Import shipping costs to your WooCommerce store.
And lastly, we have Knawat. It's yet another fantastic dropshipping plugin for your WordPress website. However, it has a couple of things that differentiate it.
Just like with Spocket, you can dropship EU products with it. That means you'll be able to get fast and reliable shipping to first-world countries. However, the benefits don't end there.
What makes Knawat different from others is two things:
Multi-product dropshipping

And multilingual product descriptions
That means whenever your customer orders multiple products from different suppliers, you can be sure that they get one package instead of multiple, saving your customer from any confusion.
And in terms of product descriptions, you will be able to get translations in three languages:
Knawat also helps you become a better marketer. That's because they'll periodically send you tips about online marketing once you're their client. That means you'll have the potential for more conversions.
Main Features:
Dropship products from Turkey and EU suppliers with custom branded packaging.

With Quantity Auto-Update, you won't have to worry about selling out-of-stock items.

Get tips on marketing skills periodically to get more sales.
Conclusion
And those were the nine best dropshipping plugins for WordPress.
Instead of letting this info rot in your brain, why not take the first step and start dropshipping?
You need to pick the one that suits your budget and preferences the most, and then you can start selling.