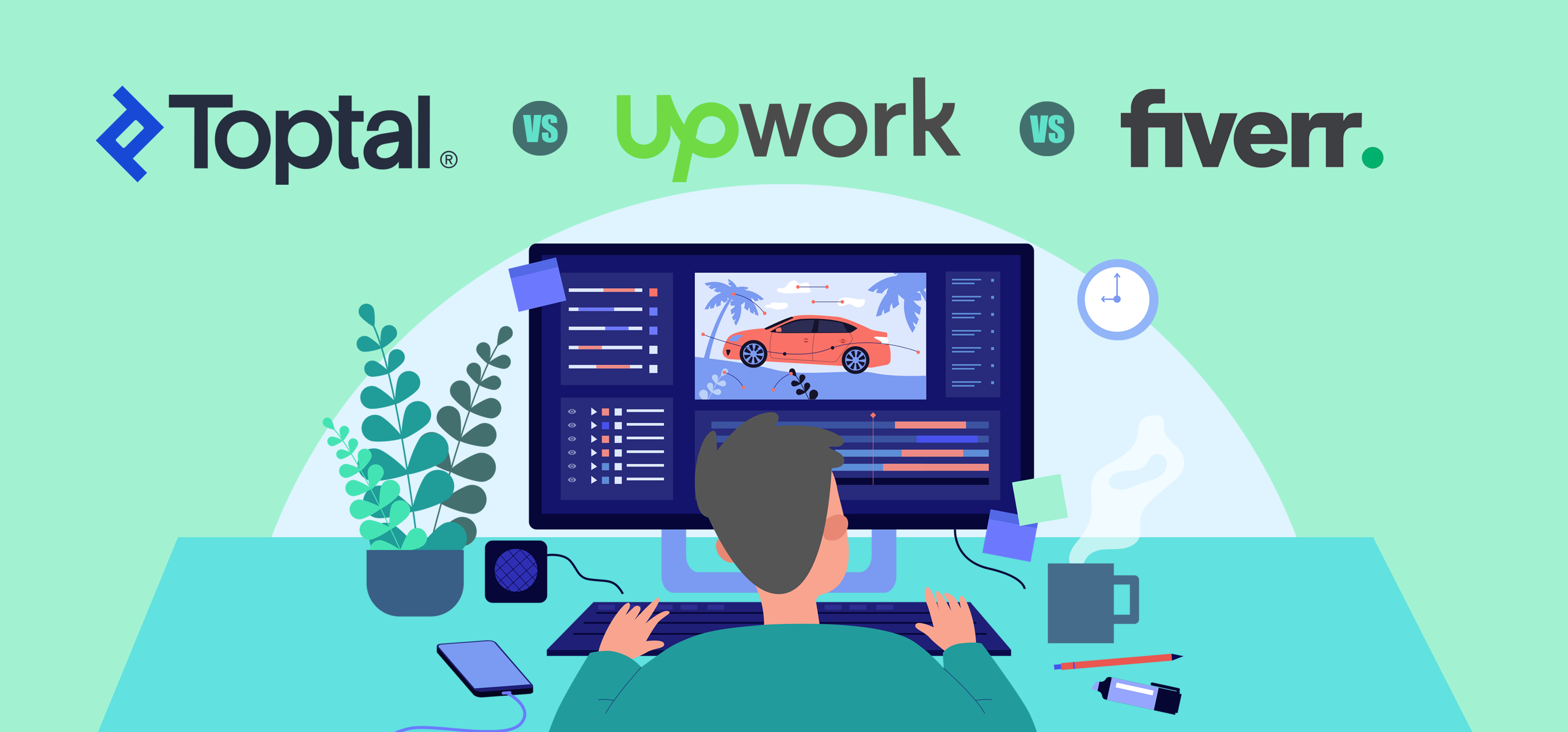 If your business is at an early stage, hiring full-time employees may not be cost-effective.
At times, you need a specific task done on a one-time basis but need a specialist in that field. In such a case, hiring full-time talent won't be practical.
Further, if you operate at a global level, you may need to hire someone from across borders.
Whatever your hiring needs, freelance networks are a great place to hire the right talent who will help you build your business. Additionally, these platforms bring in advantages like flexibility, less time for hiring, and cost-savings on physical infrastructure.
In this article, we'll compare the three most popular platforms for hiring independent professionals – Toptal, Upwork, and Fiverr.
Toptal is one of the most recommended platforms for hiring freelancers. It was initially a dedicated software developers marketplace. Currently, it serves multiple niches, from design to financial services.
Leading industry giants like Bridgestone and Microsoft also use this platform to hire skilled individuals for their projects.
Toptal's "Top 3%" value proposition is most noteworthy. 
For applying as a freelancer in Toptal, the applicant must go through a screening test. This screening process is specifically designed to evaluate the levels of professionalism and expertise of an applicant. The strict evaluation of freelancers makes them stand out in the market, providing top-notch talent in the industry. 
This helps to make sure your job gets done with excellent quality and drives the best business outcomes for you.
Upwork was initially known as Elance-oDesk. It has always been one of the most influential freelancing platforms that connects a person with a corporate problem, and the freelancers with a solution to that problem.
It is one of the largest networks of professionals offering services across a plethora of fields.
Besides posting your job offer, you can buy predefined projects posted by service providers.
Also, with Upwork Enterprise, you can lessen your corporate struggles by working with capable individuals or agencies to run your business or handle your projects at scale.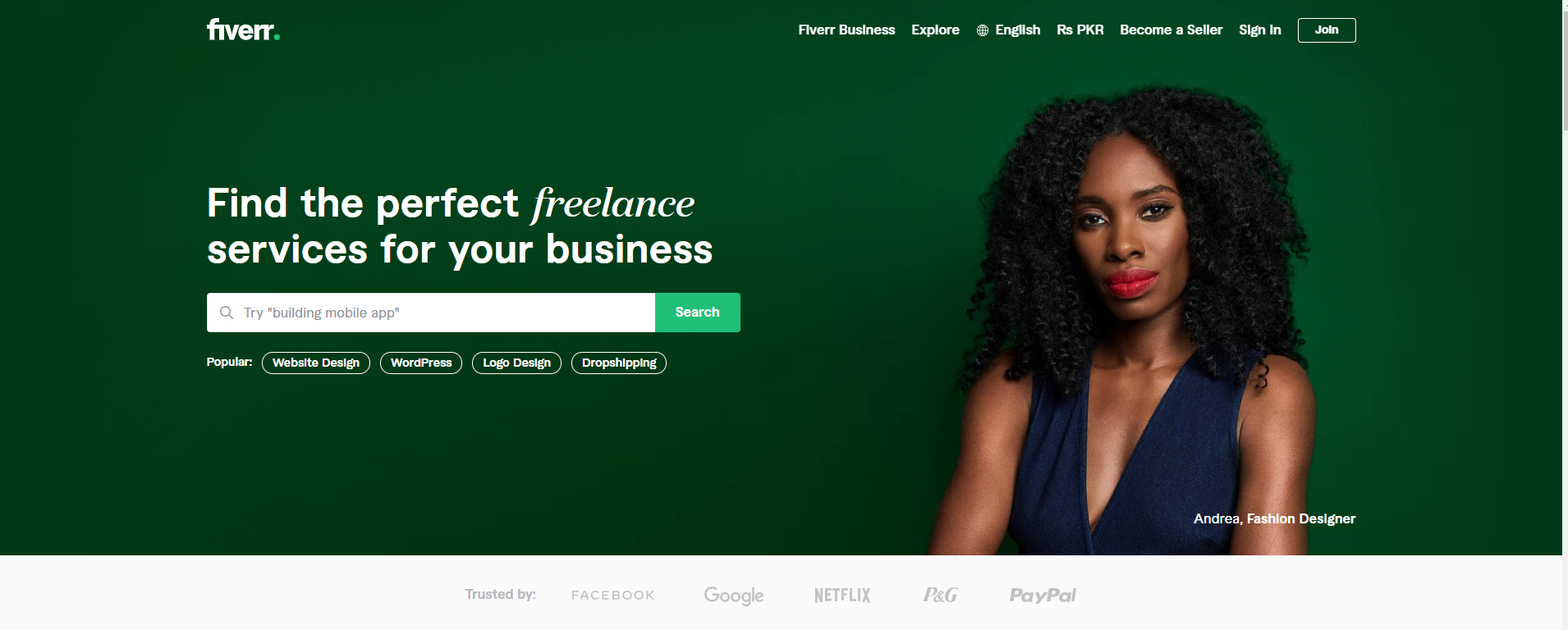 Fiverr is a highly-acclaimed Israeli freelancing platform best for low-cost service providers worldwide. With Fiverr, you need to pay in advance. These payments, along with the service, are called a "gig."
On Fiverr, the seller selects their employer. 
Besides buying and selling services, one can also put a buyer's request for a service, after which the service sellers can approach the one who posted the service request. This feature helps service providers to meet the client's needs efficiently. 
Moreover, the Fiverr Business feature specifically deals with building teams based on talented individuals who can deliver quality work to enterprises. 
Let's now compare all three freelancing platforms and see which one is the most suitable for employers.
TopTal vs Upwork vs Fiverr
Service Categories  
Out of the three platforms, Upwork and Fiverr have job seekers serving across hundreds of categories.
On Fiverr, you can find candidates under the following broad service categories which extend to over 400 fields. 
Graphics & Design
Writing & Translation
Video & Animation
Music & Audio
Programming & Tech
Data
Business
Lifestyle
Similarly, on Upwork, you can find candidates across the following service categories:
Development & IT
Design & Creative
Sales & Marketing
Writing & Translation
Admin & Customer Support
Finance & Accounting
Legal
HR & Training
Engineering & Architecture
While you can find pretty much all kinds of services on Upwork and Fiverr, your options may be limited on Toptal. You'll find candidates under the following broad categories:
Design
Finance
Product Management
Quality of Freelancers
All the three platforms house a large pool of service providers across the variety of service categories. So, your odds of finding the right fit are high on each of these.
Anyone can start providing their services on Upwork and Fiverr by creating their account, completing their profile, and going through the verification process. The screening is mainly based on profile completion and identity verification.
You can judge the suitability of candidates based on their profile, clients feedback, and ratings. Moreover, both Upwork and Fiverr also award "Top Rated" badges to freelancers whose work standards continue to be up to the mark, which can help you with the screening.
However, on Toptal a candidate has to go through their stringent screening process that tests their skills on various parameters. Only select candidates make it. Hence, their claim of the "Top 3%" talent. Besides, you can also judge the Toptal freelancers based on their profile, ratings, etc.
Hiring Solo Professionals or Teams
Fiverr and Toptal are dedicated to solo professionals, while Upwork allows both individuals and agencies to provide their services.
If you're looking for an agency-like service or larger team of professionals for your projects, Upwork is the way to go.
Ease of Use
As there are a plethora of categories and subcategories for almost every niche in the market, Fiverr is the most convenient platform for getting comprehensive service choices and an interactive, well-arranged interface. 
TopTal is simpler to use since it has limited categories as well as a limited talent pool that makes its interface minimalist and the easiest to understand. 
As far as Upwork is concerned, it has an appealing interface but is a bit complicated to use since it has many filters that eventually lead the seller and customer to spend more time finding a desired job or task. 
Time to Hire
All three platforms serve as a marketplace for independent service providers and employers. That is, they don't mediate the interaction between you and your potential hire. The job application and negotiation will entirely be between the candidates and you.
At times, you may get tons of applications on your job postings. Other times, you may receive limited applications.
So, on any of these three platforms, you cannot estimate the time to hire. It may take a few hours or weeks depending on various factors.
A thing to note is that if you subscribe to hiring support from any of these platforms, the time to hire can become quicker. They provide support to businesses by recommending the talent in their network.
Freelancer Charges
The minimum charges for a project on both Upwork and Fiverr start at $5. While Fiverr only allows project-based pricing, Upwork allows fixed-price as well as hourly rates.
On Fiverr, freelancers can price their gigs at anywhere between $5 and $995. Depending on the project, the charge may even go as high as $10,000.
Similarly, on Upwork, freelancers can charge anywhere between $5 a project to $1,000 per hour based on the scope of a project. On Upwork, you can also quote a price on your job posting.
Given the number of freelancers listed on both these platforms, you can easily find someone who suits your budget.
Talking about Toptal, freelancers charge higher as they come with higher credibility. Typically, a project price range between $60 per hour to 250+/hour for part-time hires. If you want to hire someone full-time, it will cost you more.
Pricing, Billing & Payment Safety
Toptal
To start hiring on Toptal, you need to deposit $500 when you make your first hire. If you remove the job posting, you will get it refunded.
Toptal does not charge any service fees on your payments to freelancers. It accepts all major credit cards, ACH, bank wires, and PayPal.
Upwork
You won't have to deposit any amount, but Upwork charges a 3% processing fee on all payments by employers. You can pay via all kinds of major payment methods – credit cards, PayPal, wire transfer, etc.
Upwork also provides payment protection to clients. While you deposit in escrow once the contract starts, the payments are not released until you approve the work.
If you're not satisfied with the work, you can also ask for revisions or request a refund if necessary.
Fiverr
The service fees depend on the project or service. At the time of placing an order, you'll have to pay the gig price. However, the payment will be released once you approve the project.
You can also ask the service provider for revisions if you you're not satisfied with their work.
Pros
Let's look at the key advantages of each platform.
Toptal
Thorough screening process: 
The strict screening of the freelancer platform stands out in the crowd as it gives a chance to the service buyers to trust the service providers that they will deliver quality work in the timeframe they are assigned. 
Adjustment of time-zone:
While hiring freelancers from different parts of the world, one of the significant hurdles clients face is the differences in time zones for both the client and the service provider.
While clients face difficulty syncing with time zones on most of the platforms, TopTal gives its customers the option of freelancer relocation. The process takes a week, after which the freelancer will work in accordance with the client's timezone.  
Free-trial and refund: 
Another edge Toptal has is the option of a two week free trial, including a refund if you are not satisfied with the services they provide. 
Upwork
Massive pool of service providers:
Upwork's competitive edge is its vast database of talented service sellers. Just the standard packages give one a massive collection of professionals at an affordable price. 
Convenient payment method:
As Upwork's approach is inclined towards the employer, the platform has a variety of payment methods that can be chosen by the employer for online payments, especially for those who are working remotely. 
The bidding process:
Upwork's efficient bidding process allows developers to bid and employers to give their rates for the service. They can agree on an affordable price, and in this way, employers can hire service providers at a lower rate than most freelancing platforms. 
Fiverr
Low bid pricing:
Fiverr gigs start from as low as $5. 
Range of expertise selection:
One can choose from beginner level to expert level of the service provider. 
User-friendly interface: 
Fiverr's interface is easy to use for both the employer and also the developer/service provider. 
Mitigating chances of fraud/scams: 
Scams at both employers and the service provider's end significantly decrease as Fiverr has stringent policies regarding a job posting, buyer's request, approaching an employer, and even restricting some words in the Fiverr chatroom.
Fiverr gives negative reviews and bans all accounts after a warning of whoever violates the Fiverr policies. 
Outstanding customer support:
Fiverr has immaculate customer service. In case of any kind of fraud, the employer or seller can complain in Fiverr's customer support section, and the platform does its part by considering the accused.
Cons
The drawbacks for each freelancer platform are as follows:
Toptal
Limited service providers:
Since Toptal rigorously screens every freelancing applicant and only the top 3% are selected, it has significantly fewer service providers, which eventually encourages them to charge more from service buyers. 
Upwork
Employer trial and error:
Since the talent pool is vast and there is no strict vetting procedure, it takes a lot of time for employers to find the right service provider to present them with top-notch work. 
Fiverr
Fake gigs:
Despite strict Fiverr policies, some scammers still make fake gigs and sell them at a higher price, which can be a big issue for the employer. 
Conclusion
Toptal, Upwork, and Fiverr are trusted names to hire skilled professionals who can get your job done right. 
TopTal is the best choice if your budget is high for your project and if you need a top-notch professional. The categories although limited can hire people who will give you expert-level advice and work for your project. 
Upwork is efficient in job posting and has various payment methods which make the employer's work easier. 
Fiverr is great if you are a start-up and tight on the budget. The lowest bid costs $5, and it is nothing compared to the Toptal deposit, which is $500. 
All the three platforms in comparison have their own advantages and some disadvantages.
According to your needs and budget, go for the one that suits you the best.
To test the waters, I recommend exploring both Upwork and Fiverr.