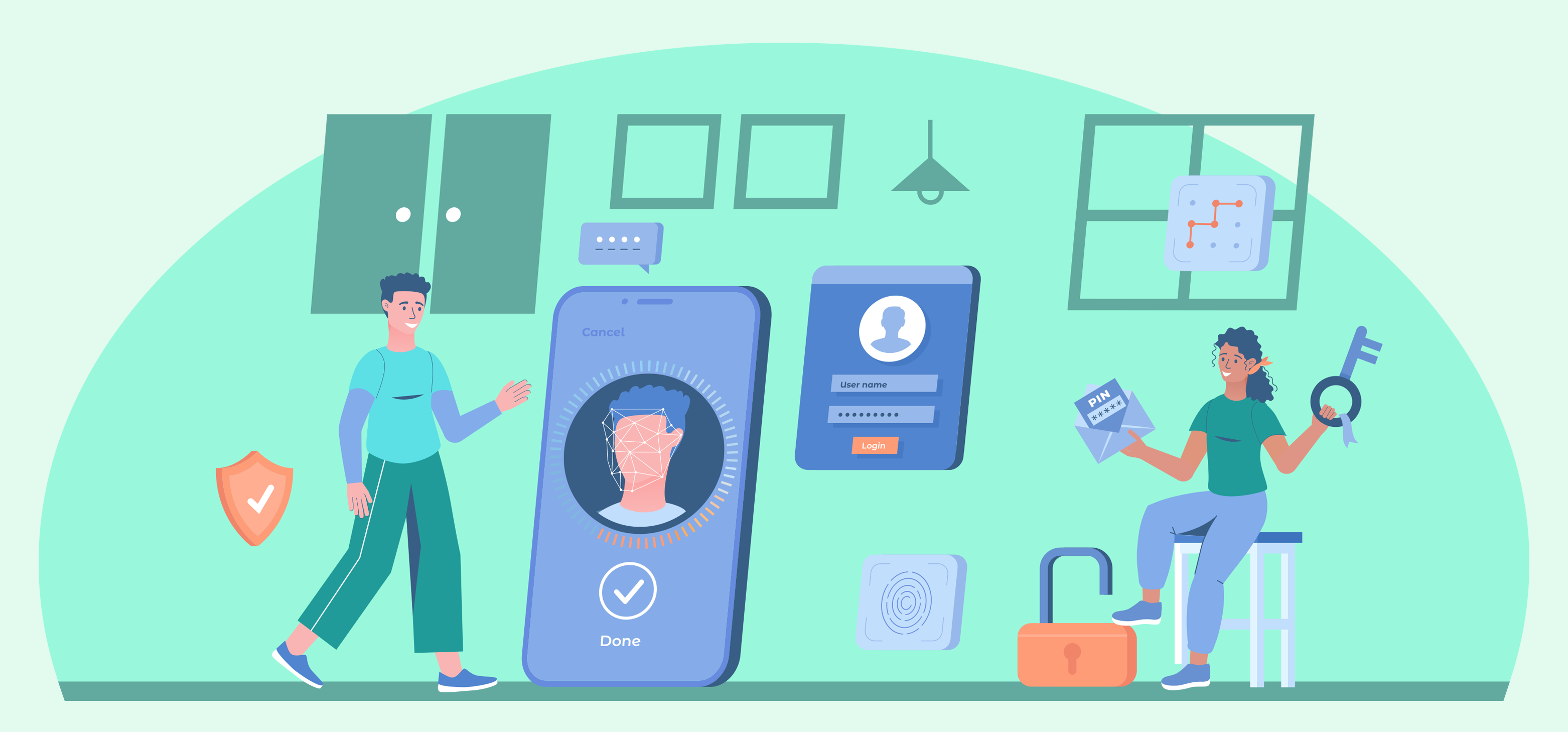 Bank heists, identity thefts, transaction hacks. They look cool on reels. But in real life, they pose a grave impact on individuals as well as the economy.
Cyber fraud isn't new. But its presence was more experienced around COVID.
Back then, identity verification wasn't the first thing we cared about the most. With ever-rising global identity fraud, financial institutions are compelled to increase their security budget.
But what about startups where financial literacy remains minimal?
Well, if you're one of those and looking for the right source to secure your business. You're undoubtedly in the right place!
Because in this listicle, you're going to explore the 12 best identity verification platforms. Armed with machine-learning capabilities.
Equally viable for startups as well as scaling businesses. Where the potential customers are generally asked to:
scan government-issued documents,
capture a selfie (without pouts),
and go live for liveness checks (can smirk).
While these checks coherently confirm the identity of users as the ID verification platform processes them. Or else, reports an
anomaly during any fraud attempt.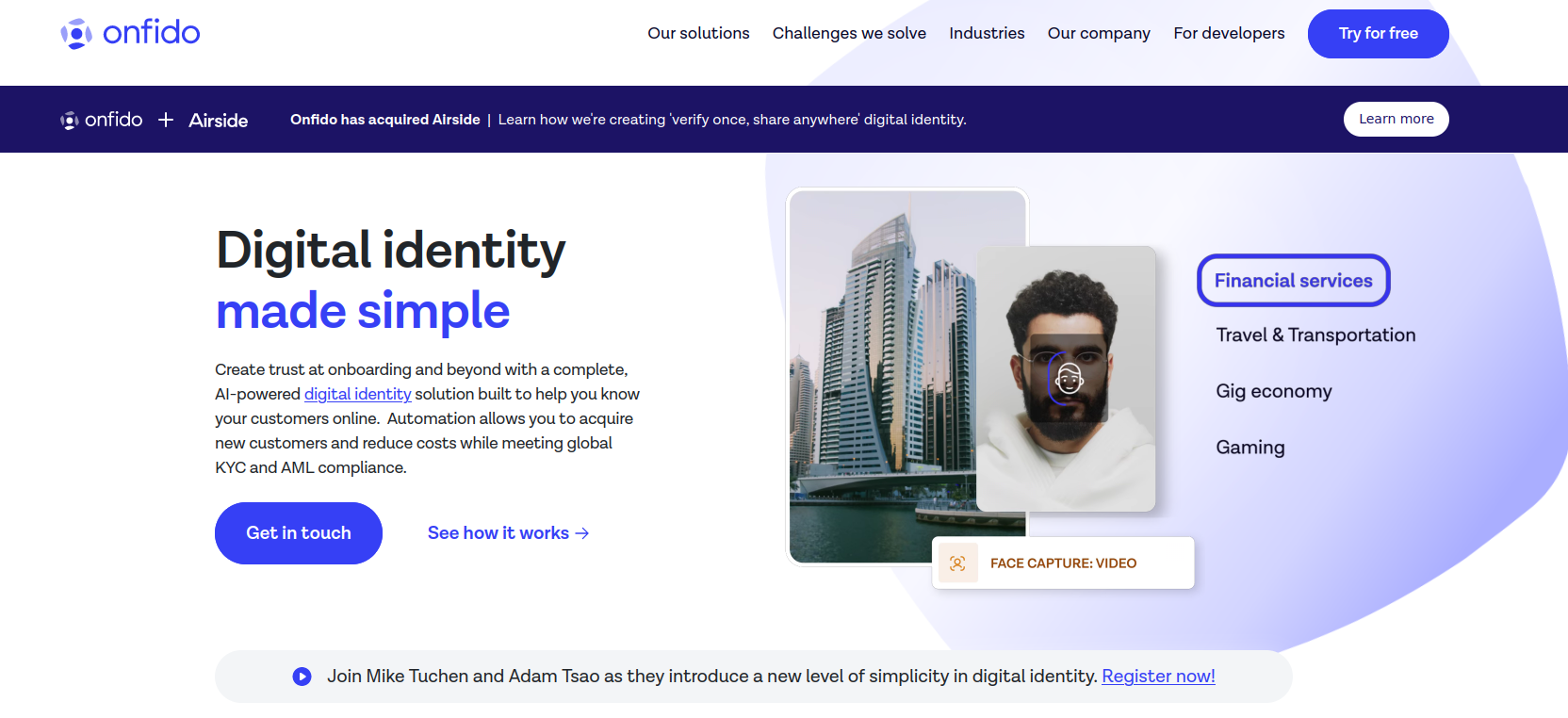 Businesses are leveraging the benefits of a number of verification tools out there. Yet for many, a smooth onboarding process remains an uphill task. 
But the reason?
Algorithmic bias. Although AI-enabled software is capable of advanced fraud detection. However, the way data is trained often fails to keep up with real-world variations.
Unless it undergoes active bias mitigation to make sure the verification process is fair for every user or every agency. 
Just like the UK-based Onfido which takes this fairness for granted.
Onfido uses its award-winning AI technology, Atlas, to streamline biometric and document verification processes. 
The algorithms are quite adaptive to any conditions. Automates the cross-checks with a library of trusted data sources. And navigates KYC and AML verifications at scale. 
Onfido currently operates across 190 countries. While also venturing into innovative ways like Smart Capture SDK, NFC scans, and autofill to reduce user friction and maximize fraud detection. 
Onfido Key Features
Onfido's proprietary technology, Atlas AI, helps you fetch fair results. Intensively trained with millions of global data that can reduce algorithmic bias during user verification.
For example, to counter the challenges of variations in global demographics. And bring a balance in race, region, and ethnicity. The AI also features 10,000 specialized micromodels that fine-tune any image to give pixel-level details and hence, clarity.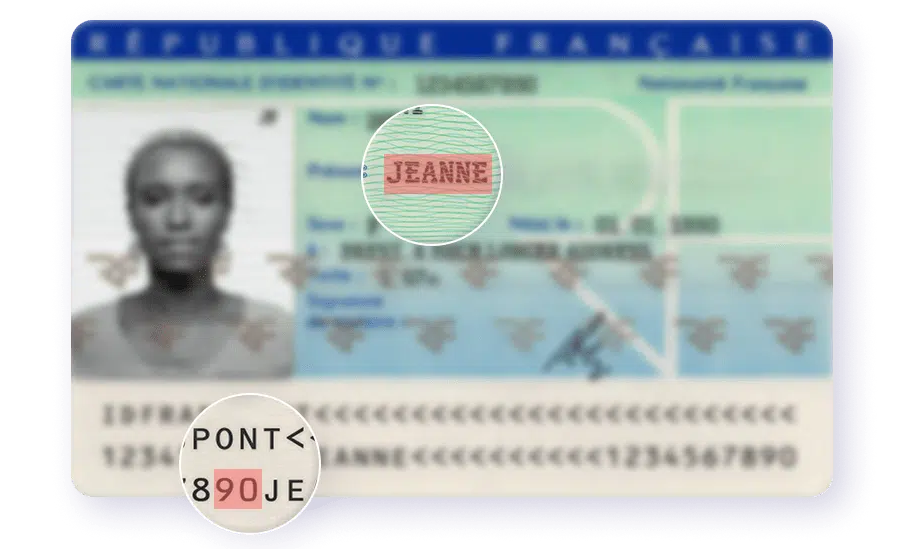 Onfido's verification suite is an all-round package for customer onboarding. From using Atlas AI's liveness check to assessing users' phone intelligence, the behavioral and ownership metrics are spot on for every individual.
Smart Capture SDK feature improves the user verification experience. For example, instant feedback when the captured image has blur or glare. Captures a short video and picks the best image frame-by-frame to further improve acceptance. Also comes with real-time assistive features like screen reader assistance, device font resizing, touch targets, and keyboard support.
Onfido Studio is a unique no-code workflow built for mission-critical use cases. Using Studio, you can tailor the experiences of customers in any part of the world. During the onboarding process, you can access detailed performance analytics that can further help you optimize the verification journey of the users. As well as streamline global compliance requirements.
Onfido Pros and Cons
Pros:
Advanced AI verification solution

Trained to reduce algorithmic bias

Comes with the native mobile app 

Optimized for the multi-industry use case
Cons:
Some global government documents are still unrecognizable which then requires manual checks
Who should you consider Onfido as their best identity verification platform?
Fintech, professional services, healthcare, e-commerce, telecom.
Pricing
Available upon quote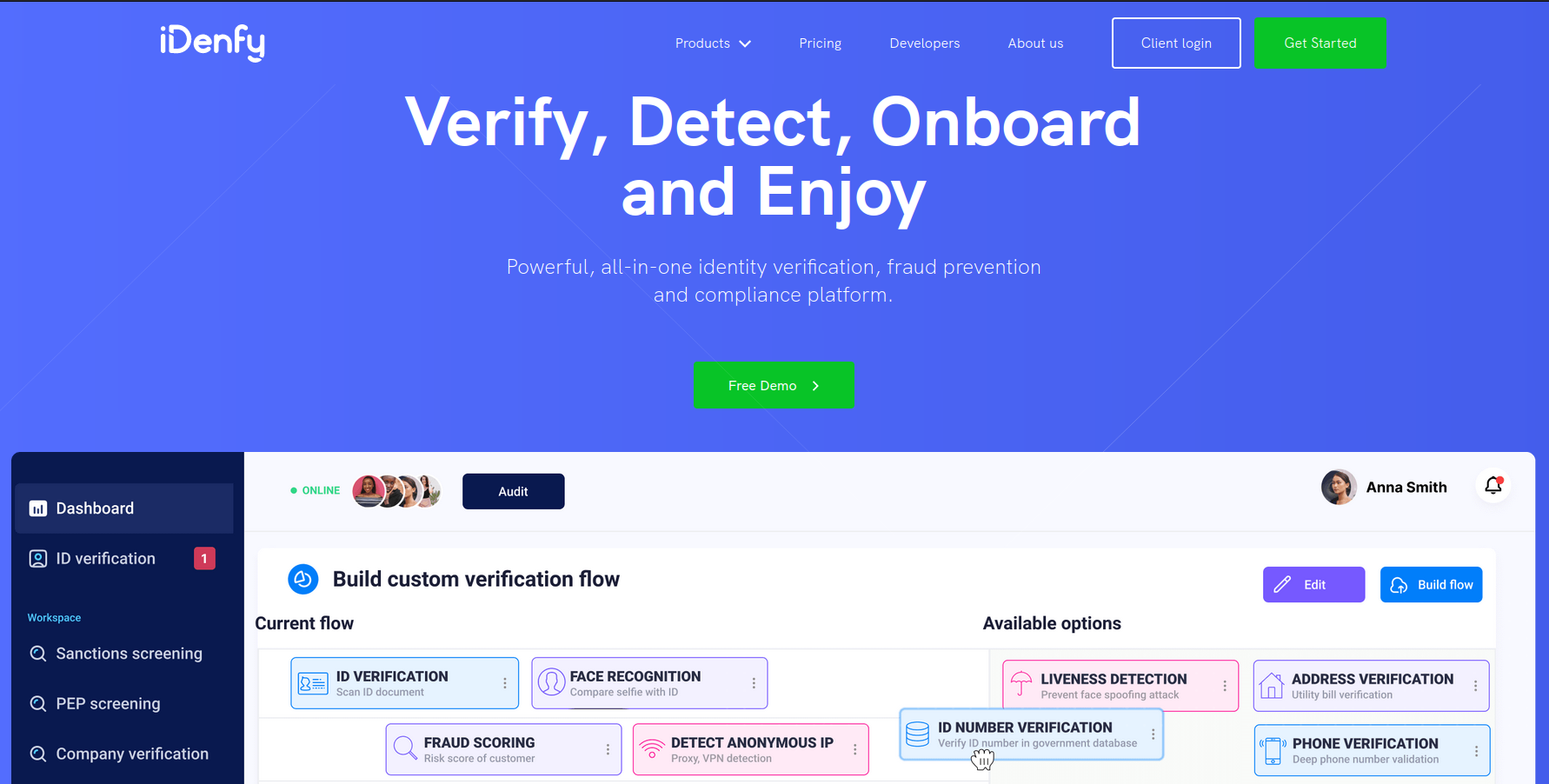 Fraud is where the money is. While many startups aim to eliminate bad actors across banks, card transactions, and e-commerce sectors. 
This Lithuania-based startup was not convinced by how much online activities like streaming, betting, and proxy surfing were overlooked. 
iDenfy started with a Fintech solution provider in mind. However, the risks were not just confined to the cash flow. 
In many countries, some of the online activities as mentioned are yet to be regulated. Leaving a loophole for the fraudsters on the loose that leads to spoof attacks or account takeovers. 
Therefore, iDenfy finds it equally important to keep pace with the exponential use of such services by:
securing age-restricted content on streaming, 

onboarding age-verified players for betting, 

And protecting IP reputation while identifying stolen proxy users or malicious use cases.

iDenfy layers its proprietary 3D liveness detection upon KYC, AML, KYB, and NFC checks. While combining automated verification processes with manual human checks to ensure no room is left for spoof attacks. 

Spanning over 200 countries, iDenfy has now become one of the few startups that can offer verification services to not a few. But to almost every industry vulnerable to digital fraud. 
iDenfy Key Features
Comes with an intuitive dashboard with built-in drag-and-drop workflow editor and useful metrics including verification details, risk scores, cost of onboarding users, results under watchlists, and negative news.

Not just for the individuals, but also lets you audit the business website's authenticity.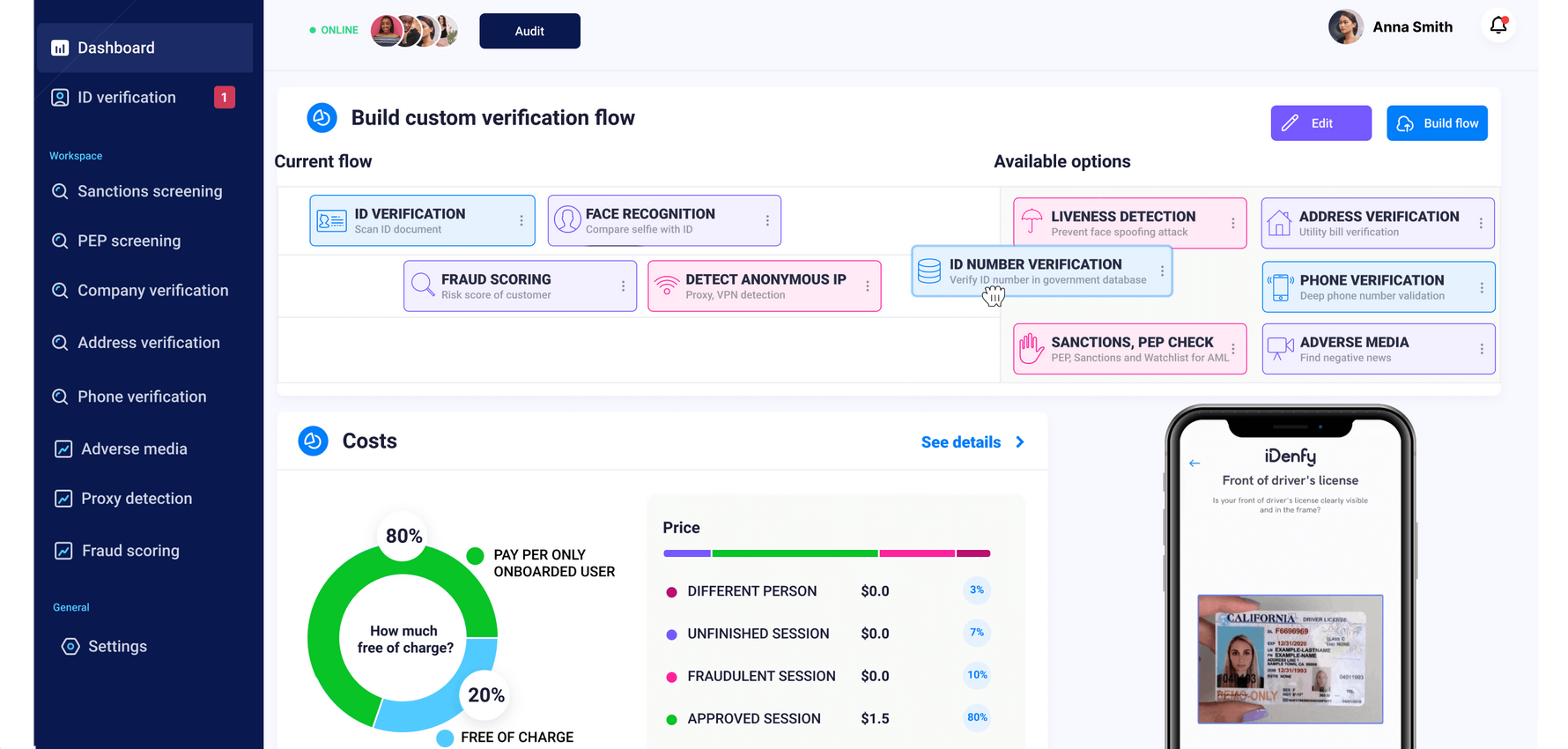 iDenfy's patented 3D liveness detection is an iBeta-certified biometric solution for quick KYC and customer onboarding. The system is synced with over 70 national government registries to ensure improved screening and success rates. 
With the magic link feature, iDenfy helps you in generating a unique single-use URL that can be sent to email IDs of registered users. Especially helpful when you're onboarding a large number of users. Or hiring a few candidates from thousands of applicants.
iDenfy lets your customers choose the types of verification they're comfortable with. Also, you can guide your customers with their selected mode of verification in a demo session before offering any plan.

iDenfy Pros and Cons
Pros:
Automated and manual checks

Wider industry use case, so they frequently introduce new features

Mobile app for an improved user experience

Magic link useful feature for verifying big batches
Cons:
Lacks device fingerprinting for verification
Who should consider iDenfy as their best identity verification platform?
Credit card companies, streaming, betting, and proxy providers.  
Pricing
Customized plans upon quote.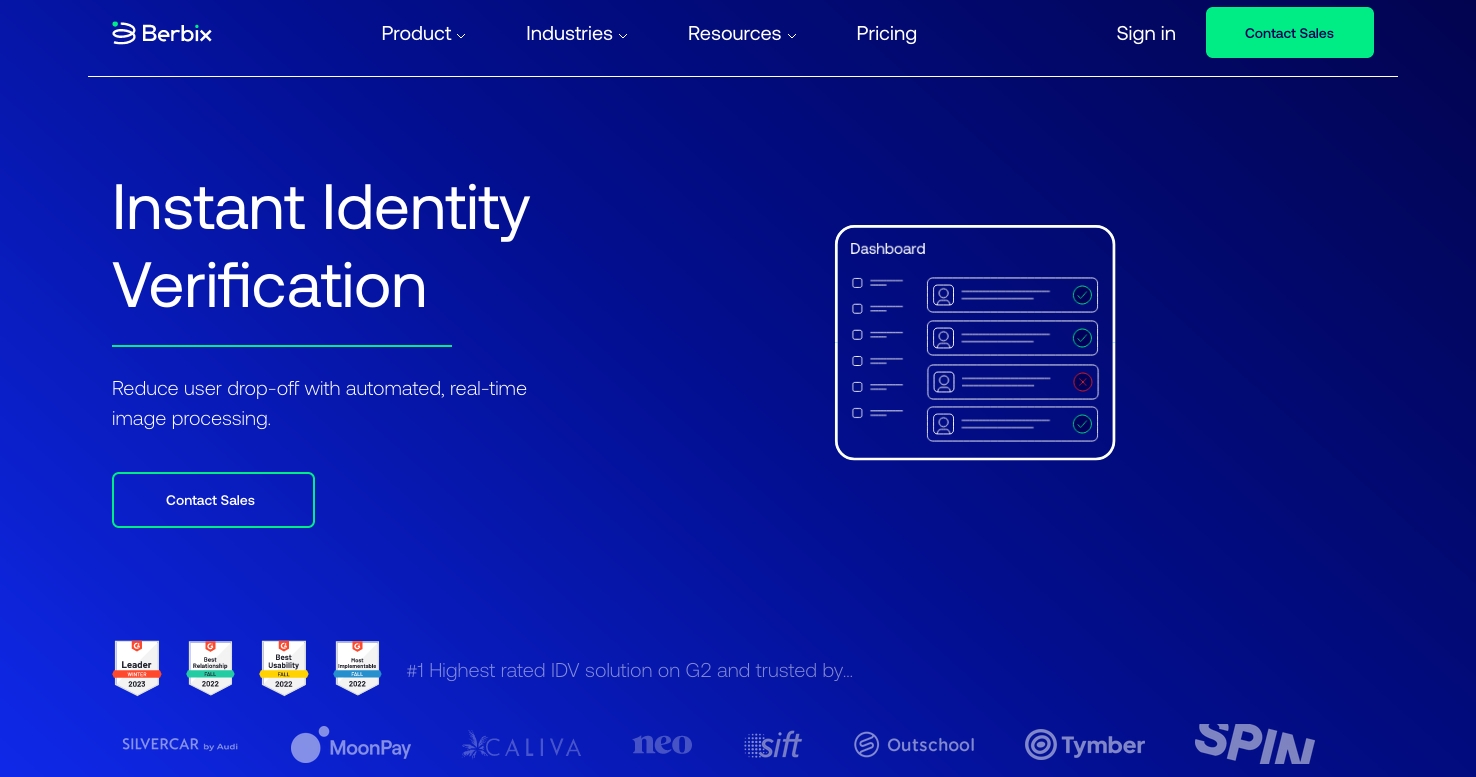 E-commerce and micro-mobility are two of the restless economies. However, what's putting brakes on those economies are fraud and vandalism. 
While we may have several verification platforms that help fintech businesses with secure onboarding and transactions. However, with many bad actors still lurking around, we need a special focus on the e-commerce and mobility sectors.
So when it comes to focusing, Berbix ensures not only to monitor intentional damage of commodities. But also to keep an eye on fraud signals.
Founded by ex-members of the Airbnb Trust and Safety team, the startup aims to streamline real-time verification and onboarding processes. 
Warehousing staff, ride-hailing drivers, or users of rental services. Berbix gets each of them a green signal with quick liveness and document checks. 
The platform also helps the sellers of expensive or legally-sensitive products with compliance procedures. For example, cannabis products like CBD. Provided with age verification KYC that makes sure the consumers are of legal age. 
Berbix Key Features
Action maps in Berbix are a workflow-like feature with three default action types: Reject, Review, and Accept. You can easily customize the business logic based on how the user's conditions are met or not met during the verification process.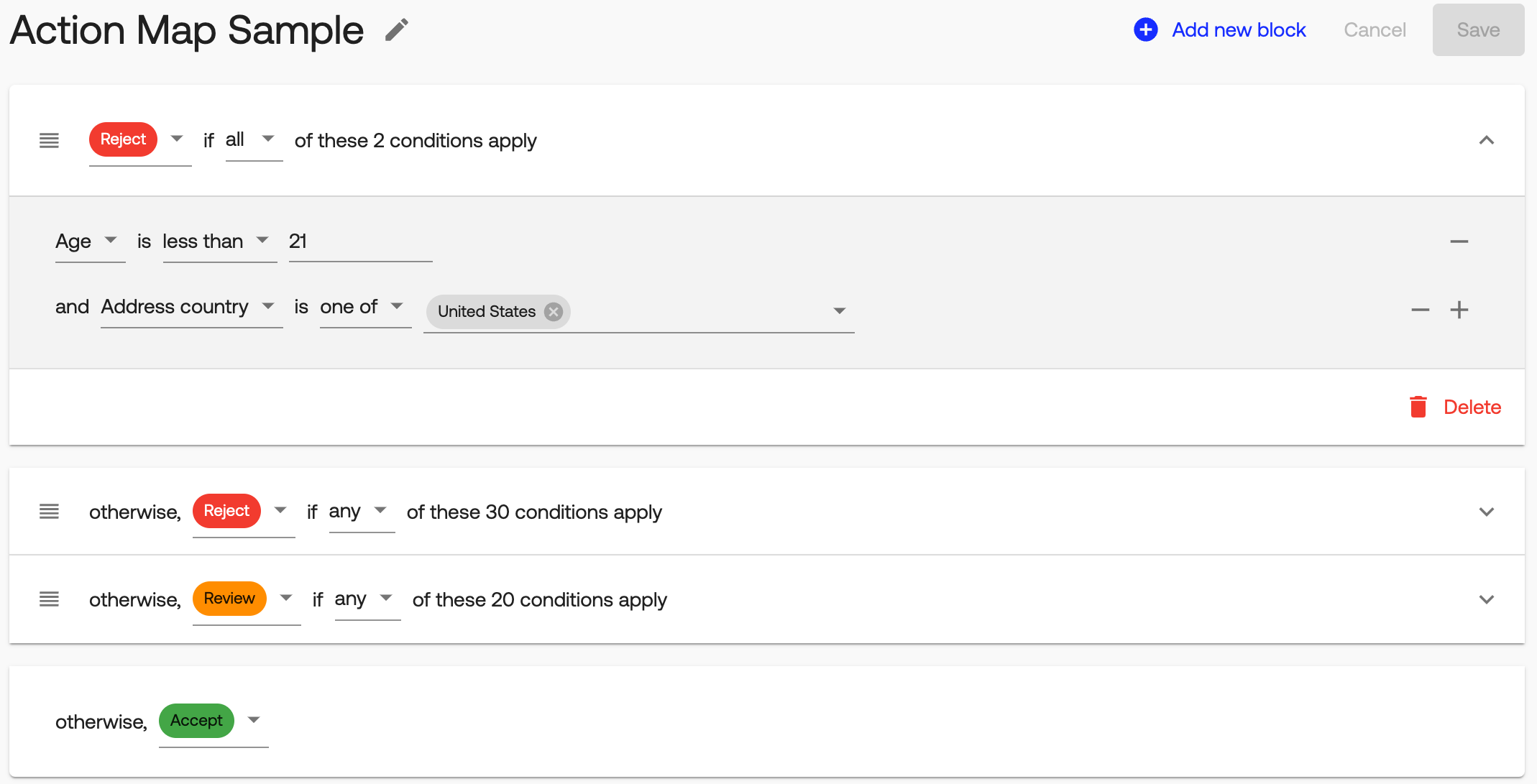 Ability to customize the list of photo IDs that you would like to add to the verification flow. For example, you can choose to add passport verification from any other country. However, the driver's license option is only available for US and Canadian residents.
Re-verification process is an essential step for the workforce especially associated with e-commerce and micro-mobility. All they need to submit is a selfie which is checked against the previously submitted ID.
With Hosted Flow feature, you can use Berbix domain as a host platform for your company's verification needs. No integration is required, especially when you don't have the technical resources to link your site with Berbix's SDK. 
Berbix Pros and Cons
Pros:
Ideal pricing for start-ups

Option to choose from Berbix's SDK and hosting verification process on its domain

Action map, an automated workflow that accepts and flags IDs
Cons:
When a customer's ID gets rejected even when it's fair, a new link needs to be generated manually. 
Who should consider Berbix as their best identity verification platform?
E-commerce, micro-mobility, fintech
Pricing
Monthly pricing starts at $99 for the first 100 ID verifications. Costs $0.99 upon further verifications but limits you to 750 verifications per month. 
For more, you need to request for quote.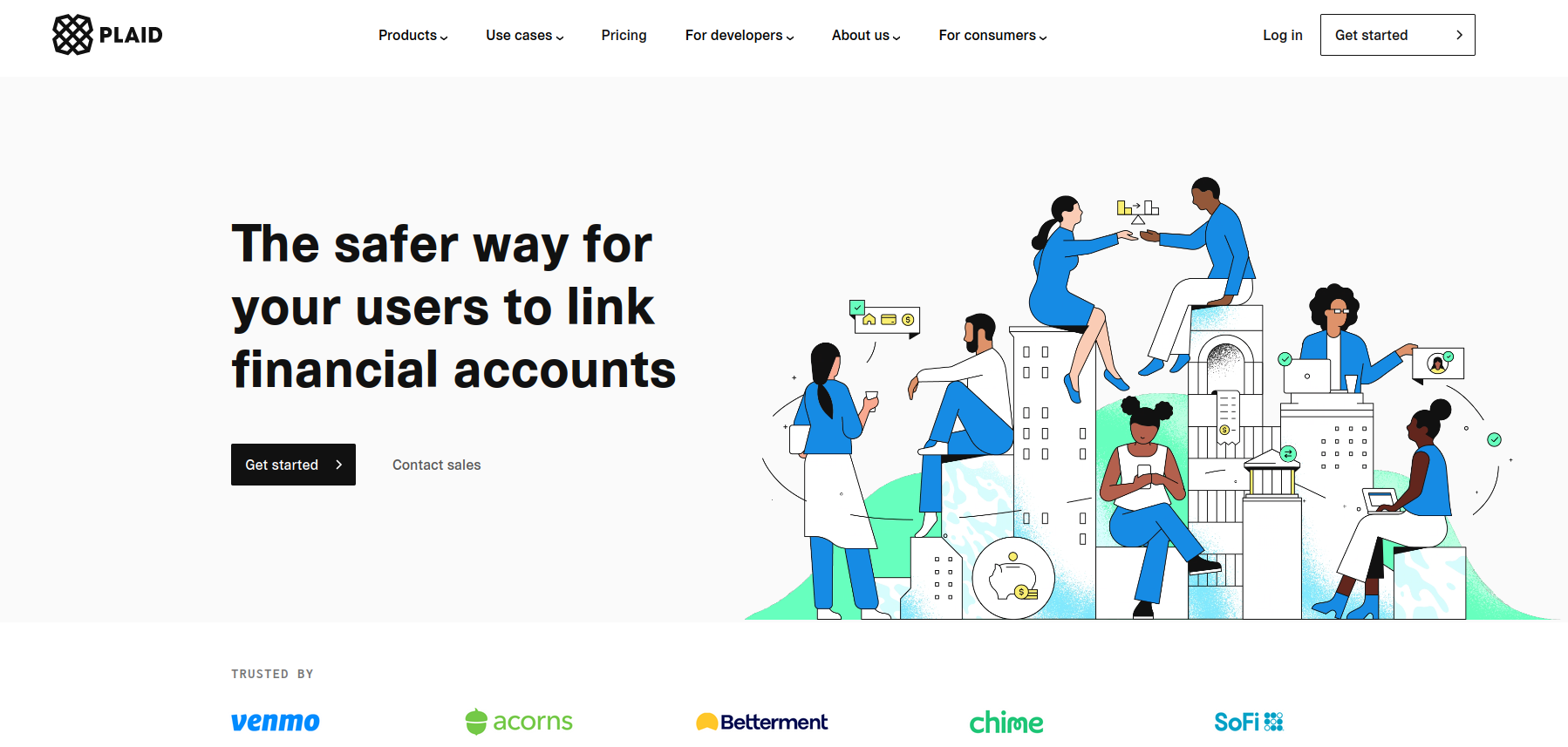 There have been cases of financial inaccuracy whenever a person, for instance, joins a new company or applies for a loan.
On one hand, an employer finds a candidate's past employment claims skeptical. While on the other hand, an employee couldn't apply for a loan because of an inaccurate display of credit score. 
That largely happens because some employment and income verification processes are compromised.
Some third-party financial apps purchase financial information. And resell them at a profit. Leaving users with no clue about it. 
That's where Plaid comes into play. It's an employee-centric identity verification platform where users can connect their bank accounts to financial apps. While keeping your data secure. 
For example, when you use Plaid with, say, a trading app, it acts as an intermediate layer that uses a tokenized version of login credentials on that app.  
Then Plaid pings the bank's server to verify you're a valid user, have a valid balance, and have valid spending limits.
In response, the bank immediately confirms that everything is fine which then lets you carry on with the trading app. 
Plaid's ID verification solution has unimaginable coverage across the US, Canada, the UK, and Europe with over 12,000 financial institutions relying on it. Including American Express, Bank of America, Wells Fargo, and many global players.
Plaid Key Features
Ability to verify about 16,000 types of ID documents across 200 countries. Comes with an autofill feature to speed up the document verification process.
Plaid monitors how users type their personal identifiable information (PII). And uses its proprietary algorithm to identify any risky behavior signals such as typing speed, copy-pasting information, order of filling up the information, etc.
Plaid's partnership with Truework is geared towards employment and income verification. This helps in generating the employee's accurate credit score, giving lenders confidence, and approving loans at an appropriate interest rate.
App2App account authentication feature helps you link your bank account with any financial app. It redirects users to their banking app where they undergo fingerprint or facial biometric identification. Once done, users can continue with the third-party apps without worrying about privacy. It's way faster and said to reduce the drop-off rate significantly. 

Plaid Pros and Cons
Pros:
Wide range of document support 

Robust employee and income verification process

Pay-as-you-go pricing with no monthly minimum
Cons:
Banking coverage confined to the US. Lacks support to a wider range of foreign banks and cards
Who should consider Plaid as their best identity verification platform?
Banking, budgeting apps, loans/ installment payment platforms.
Pricing
Comes with a freemium pricing model. No charges on the first 100 connections. Everything beyond is chargeable with pay-as-you-go model which is available upon quote.
There is no monthly minimum as well.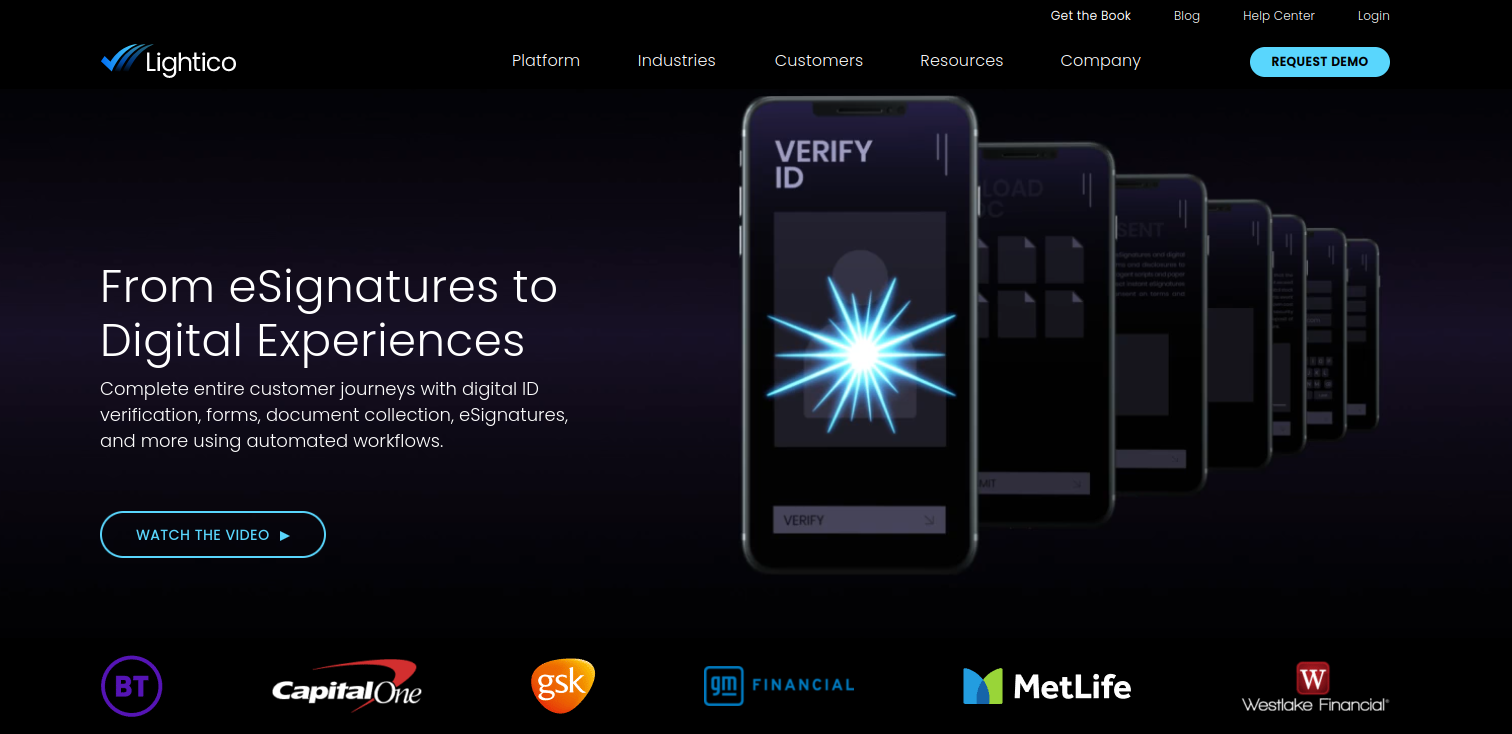 While the rate of digital fraud might be catching up at the speed of light. Lightico's ID verification solution makes sure your business always stays a step ahead. 
Lightico is quite focused on the customer's digital completion rate. No compromises with speed and accuracy.
That's why it leverages the capabilities of the digital completion cloud, which is a proprietary cloud solution to manage high-friction interactions seamlessly.
You can not only create a seamless journey for your customers using no-code workflow. But also create an option to choose from real-time agent assistance or self-serving portals.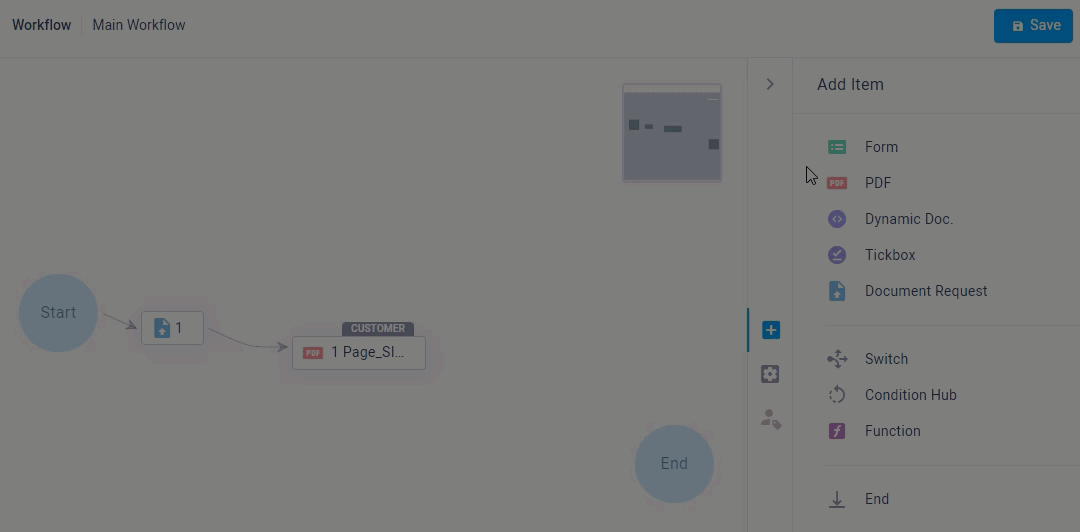 As your Lightico agent sends an SMS to the user, all they need is to click the link and follow the simple steps.
Alternatively, on a call session, your agent can guide the customer to share documents, selfie biometrics, and of course, e-signature for the consent – until everything gets synced and approved. And that's all within 5 minutes. 
Consequently, businesses can enjoy a quicker sales cycle, more completion rate, better Net Promoter Score (NPS), zero fraud. And ultimately, successful B2C relationships. 
Lightico Key Features
Lightico seamlessly integrates with sales and customer service providers like Salesforce and Zoho. With bi-directional database syncing in real-time, Lightico works shoulder-to-shoulder in simplifying user verification, form filling, and document scanning processes. 
For existing customers, it makes re-verification easier by pre-populating the existing records and cross-checking with new records. 
Lightico is a lightning-fast solution for onboarding new customers. Thanks to its proprietary unified cloud technology and automated workflow. Instead of siloed data collection, it helps in capturing user information and undergoing the onboarding process – all under a single roof. 
Shared Review is Lightico's collaborative feature. It's great while onboarding customers in real time. While agents and customers are on a call, Shared Review helps in co-reviewing the document for corrections or eliminating any doubts.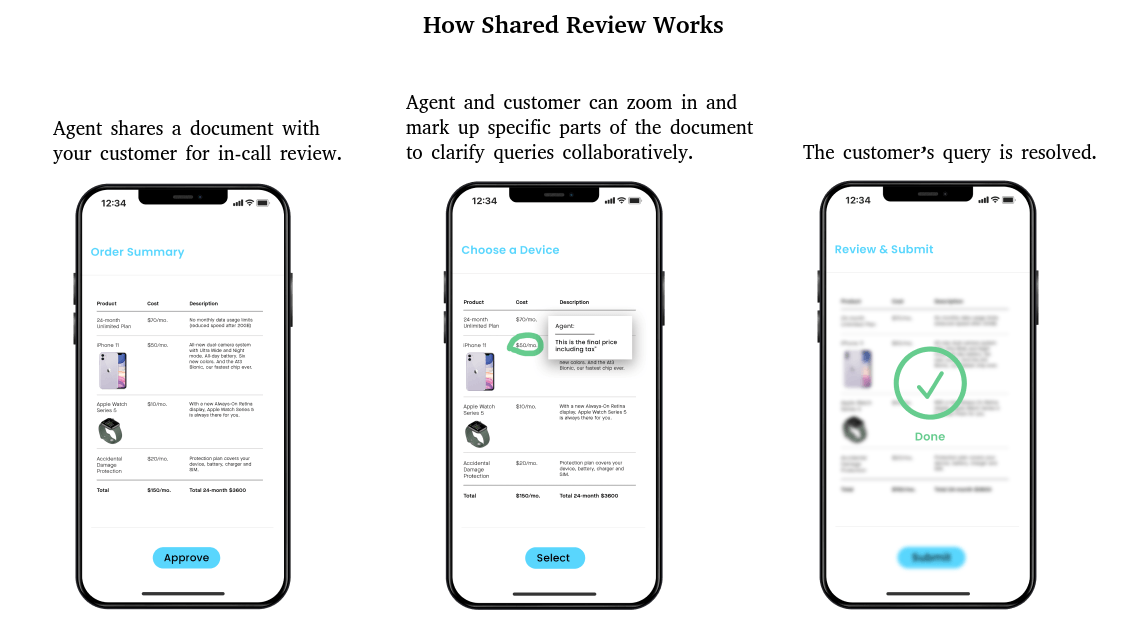 Lightico Pros and Cons
Pros:
Mobile-first service with fast turnaround time

In-call verification process along with shared review  

Sharing media files via the chat link

Screen sharing with customers during the verification journey 
Cons:
No option to delete extra portals generated for customer verification session
Who should consider Lightico as their best identity verification platform?
Digital lending like Loan/ insurance providers, Auto finance, Telecom.
Pricing
Starts from USD $300.00/ month. Free trial also available.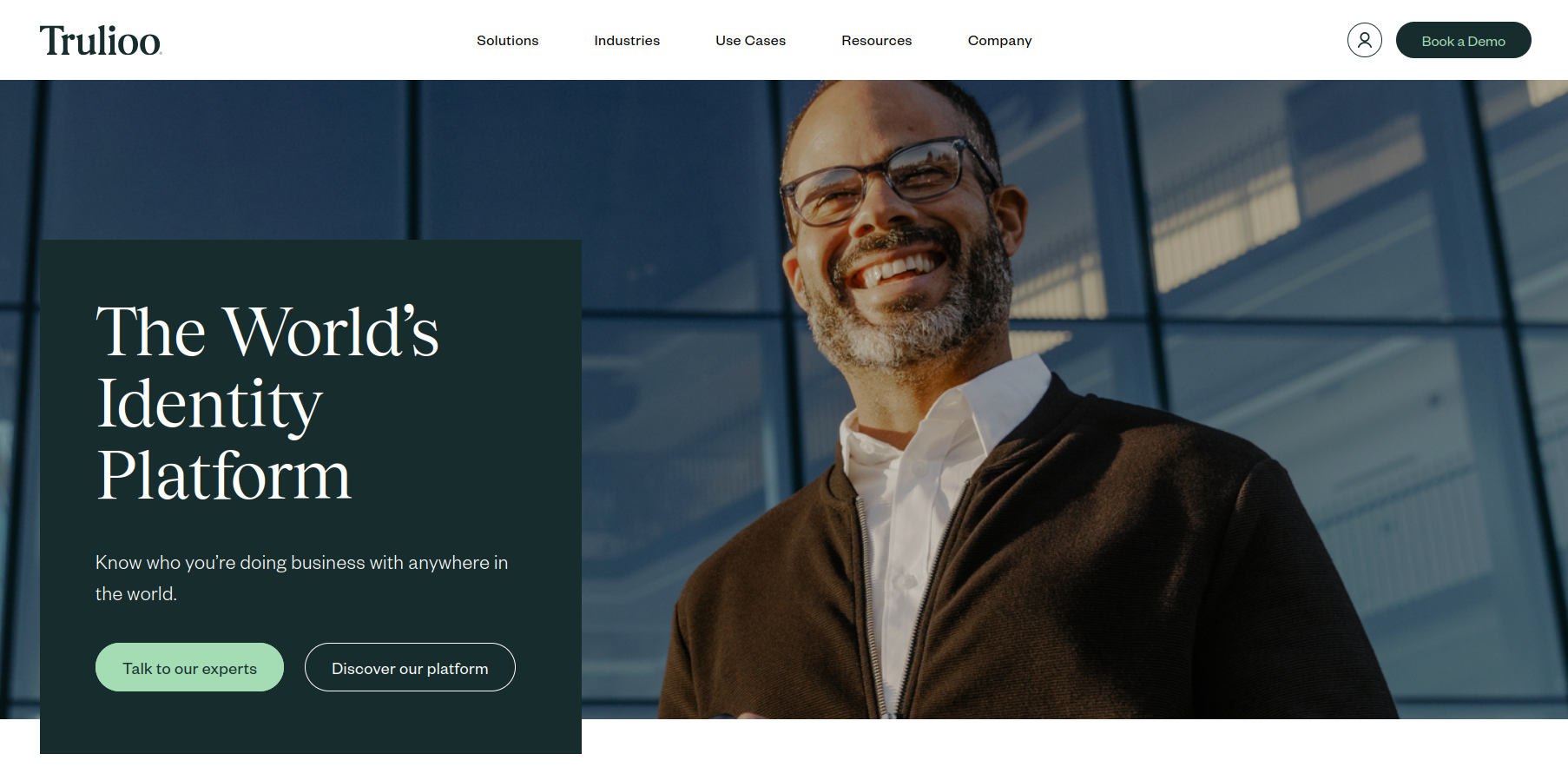 The ever-increasing fintech ecosystem has made the smooth flow of money possible. It's bridging the gap between users, businesses, and the entire digital marketplace.
However, considering the fraud risks, many fintech startups are posed with growing regulatory pressure. Mainly because of changing dynamics of the local legislation. 
But the result?
This bottlenecks customer onboarding. And creates an unbalance between onboarding costs and their lifetime value. 
But then, there is Trulioo. A Vancouver-based ID verification platform that can streamline this balance. While catering to the KYC, AML, and KYB needs. 
Therefore, to ensure these needs are fulfilled, Trulioo comes with an interactive portal Global Gateway. Pre-configured with verification entities for new users. 
Although niche platforms are offering a suite of verification solutions. But the range of document checks, which is about 11,800 for verifying a whopping 5 billion users and 330 million commercial entities, is simply unparalleled. 
Not only does it help with accuracy and high match rates. But also improves customer lifetime value. While maintaining market agility by quickly adjusting to changing compliance.
Trulioo Key Features
Trulioo's Global Gateway feature is a robust low-code single API integration. A complete watchlist service where you can set automated verification checks. While letting you create different onboarding processes for different regions, demographics, and businesses. 
Not every verification provider considers utility data for customer onboarding. But Trulioo cares about it. User name and address on more than 2200 utility bills like water, electricity, gas, network connection, etc add to the trust score and transparency. Pretty useful especially in high-risk score areas.
Trulioo's Navigator is a place full of learning resources. From video guides to best industry practices, Navigator helps you with insights on ID verification tactics, deployments, analysis, and global compliance. 
It helps you curate as per business use cases and country specifics. And turn you into a workflow creator to get things automated like a pro. Even some of the best identity verification platforms lack such a library. 
The drag-and-drop and code-free workflow studio is Trulioo's robust automation tool. Unlike many other platforms, it comes with a pre-configured map that can be easily customized to withstand any verification, onboarding, and compliance challenges.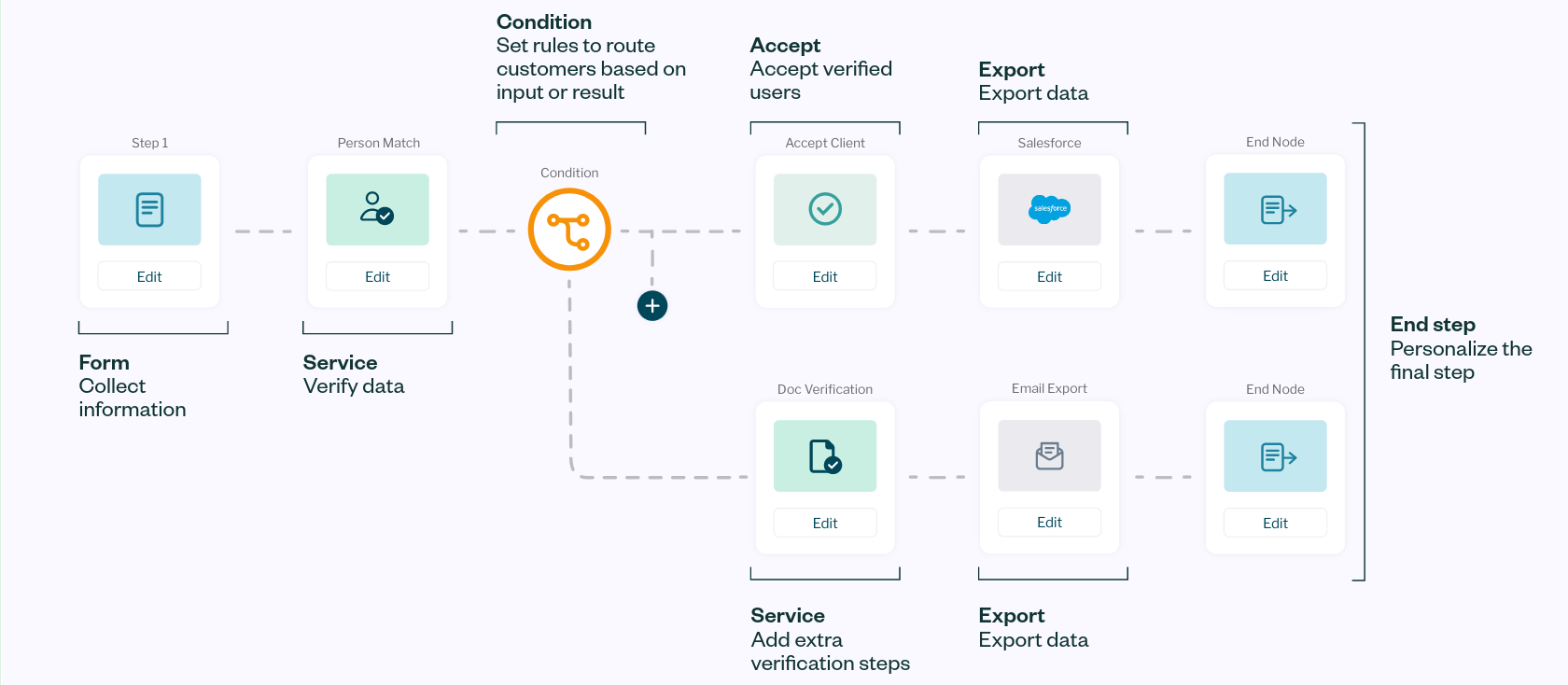 Trulioo Pros and Cons
Pros:
Huge global database: 5 billion identities, 195 countries and 11,800 types of documents are not numbers to be sneered at.

Flexible workflow studio

Navigator portal packed with useful learning resources
Cons:
No data enrichment or risk scoring: As an ID verification solution, it's great. To get an understanding of user behavior, you'll need another tool.
Who should consider Trulioo as their best identity verification platform?
Fintech, Crypto exchanges, Payment processors, E-commerce 
Pricing
Plans available upon request. Free trail also available.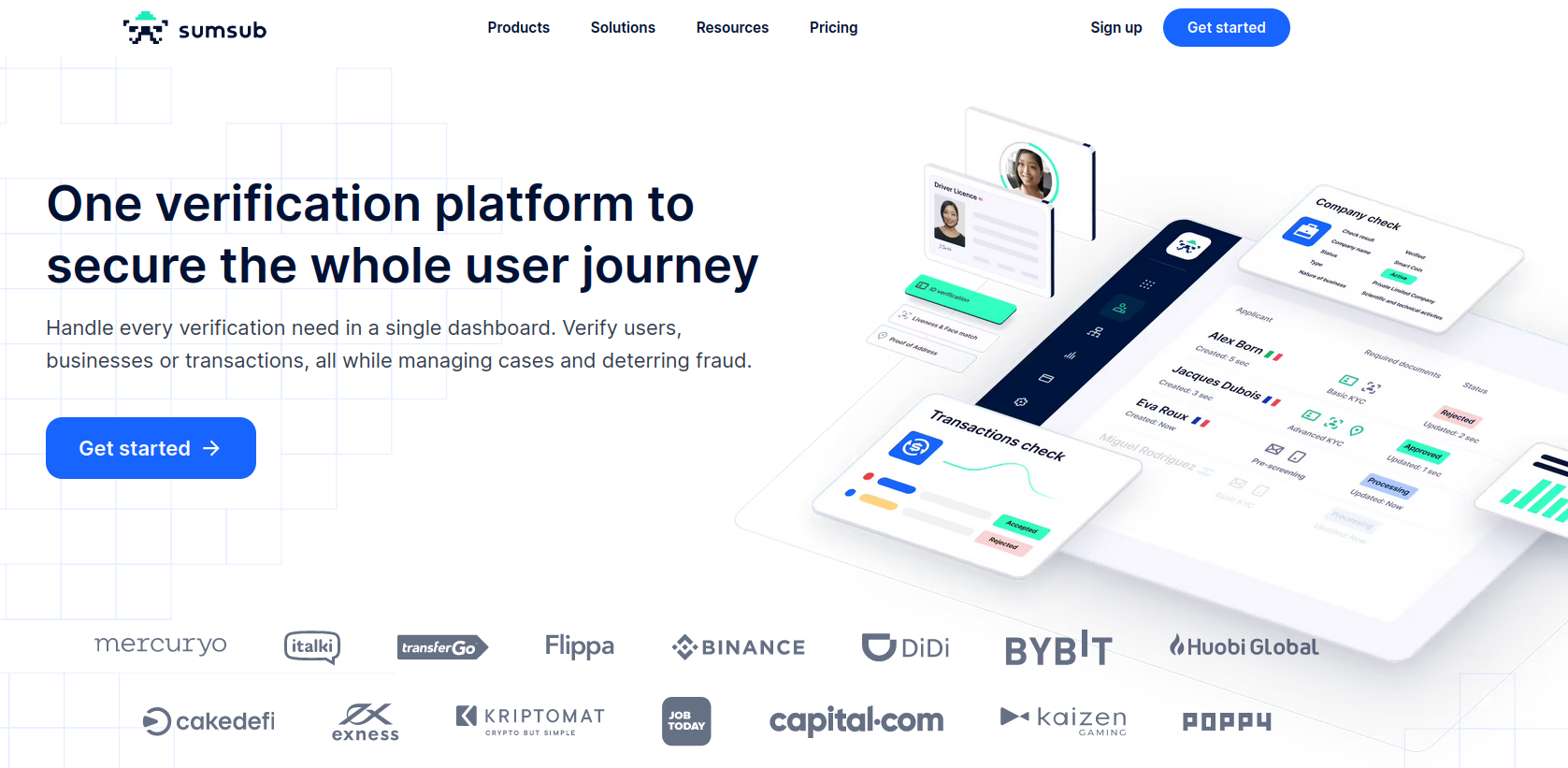 We often see that new businesses focus too much on the technical infrastructure. But when they scale, they encounter challenges that are immensely immeasurable.
For example, increased customer flow, B2B partnerships, and transaction monitoring.
And so challenging is staying compliant with an ever-increasing tech stack. Especially if you lack an in-house compliance team (which many do).
Sumsub, therefore, bridges that gap by offering complete compliance solutions for KYC, AML, KYB, and KYT. 
It's a UK-based startup that introduces the world's 1st compliance-as-a-service. That means their in-house team helps your business meet regulatory requirements on all three levels:
on an individual level (which is KYC), 
on business collaborations (KYB), 
and on the transactional level (KYT). 
So that you worry less about fraud checks and focus more on new customers. 
Sumsub Key Features
No-code workflow builder helps you build different touchpoints of audience verification depending on factors like country, compliance, links among users, transactions, and different background checks. While it automates the entire onboarding process where suspicious cases would be blocked or require more steps to get approved. 
Sumsub's KYC verification process is applicable across 220 countries. And supports over 6500 types of government-issued documents. That's a big number.  
You can attract more companies with its KYB solution which helps you approve legal entities in B2B exchanges. In only 3 hours, you're provided with a complete verification check of any business you're about to partner with. 
1-click or no-document verification is a refreshing take on the customer onboarding process. But what's that for? And why is it important?
There are still some regions using non-standardized IDs for local verification needs. While some places have completely digitized paper IDs.
This is where no-document verification helps your business overcome regional differences where you adapt to the local market and open new doors for them.
Sumsub's video-based KYC is one of the easiest options to verify and welcome users in real time. Few custom questionnaires, on-camera document checks, sharing smiles, and it's done. 
Sumsub Pros and Cons
Pros:
One-stop platform for verification checks and compliance

The mobile app makes the verification process easier

Support and compliance team is always a message away
Cons:
Per user verification charges are on a pricier side
Who should consider Sumsub as their best identity verification platform?
Financial institutions, Crypto, Gaming, Professional services
Pricing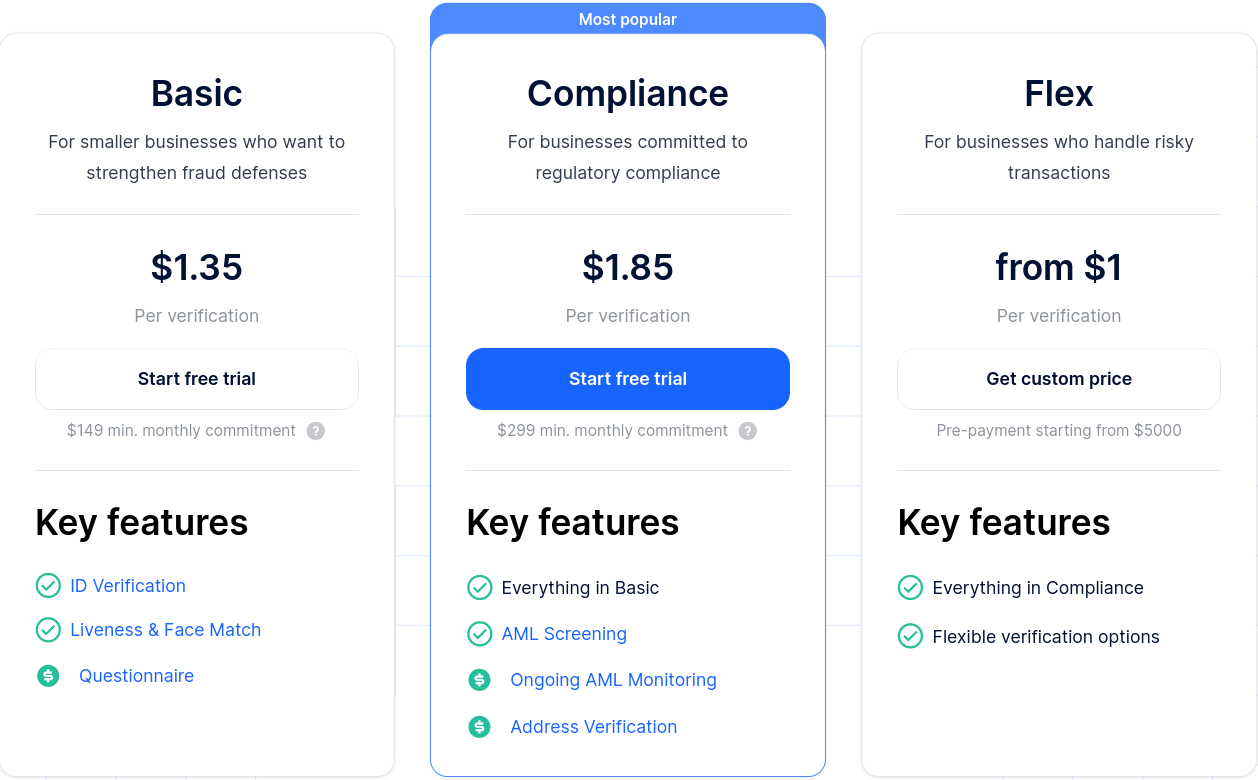 Also comes with a 14-day free trial along with 50 free checks.
API integration option available on custom plan.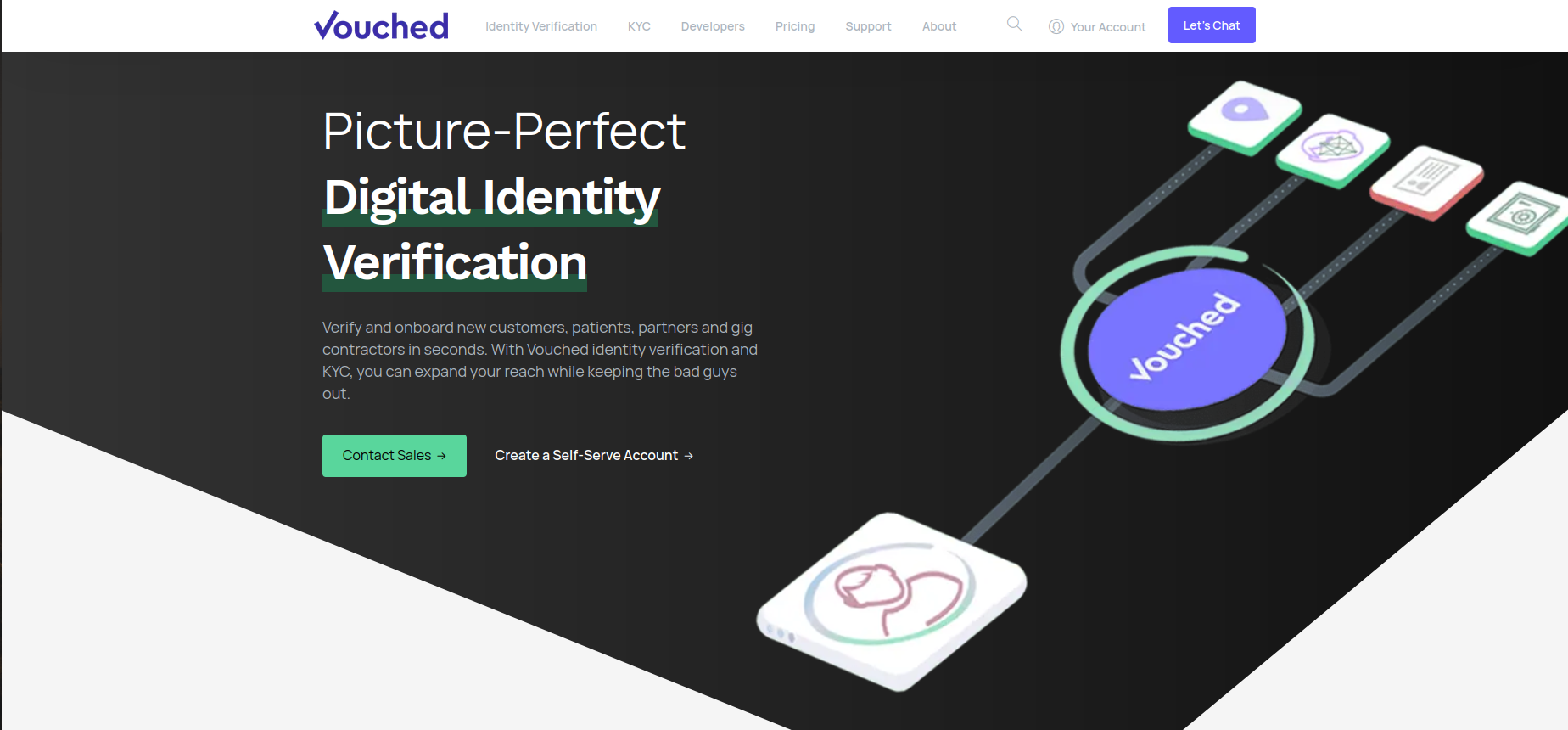 Vouched is a Seattle-based ID verification startup. Not quite long ago, it started off serving financial institutions, healthcare, and the gig economy sector. 
Quite a confined reach than what you might expect with an ID verification provider. But the way it went through successful fundraising to serving over 800K companies across 50 countries is impressive. 
Initially, it was designed with developers in mind who can configure APIs and SDKs to make the most out of the tech stack. 
However, to grow its outreach, Vouched then reduced its integration complexities to a few lines of code. And now, it's trying to bring in a Stripe-like verification model, applicable for a wider industry. 
But the entire verification process has the same OCR, facial, and liveness determination that you can find in all other ID verification platforms. 
So why are we vouching for Vouched?
Because of its unique pricing model. 
Vouched is what every concerned startup would want to partner with. Thanks to its pay-per-use plan that quite resembles Stripe.
If all you need is a visual ID verification, it costs you only $0.50 per user. 
For advanced insights, however, it would cost you $1.00 per user with access to verification checks for the physical address, IP address, and dark web analysis.
Vouched Key Features
Vouched system uses Electronic Consent-based Social Security Number verification (eCBSV) to speed up the multi-factor ID verification process with the highest accuracy. 

Fraud doesn't end even after you've verified users onboard. It's equally important to keep track of the existing users throughout their lifecycle. Therefore, Vouched comes with an automated re-verification solution that is triggered when:
User changes account information
Document gets expired
Attempts suspicious transaction
Your business faces a data breach
Regulation changes
It comes with a pay-per-use pricing which is suitable for startups that need to run a limited verification. While the basic rate costs you 50 cents per user. However, that cost drops to 40 cents per user for 30,000+ verifications.

Its advanced plan offers deep authentication features like physical address, IP address, driving license, and data cross-check across the dark web.
Vouched Pros and Cons
Pros:
Flexible pricing structure

eCBSV SSN verification speeds up authentication and onboarding

A waiver on monthly fee with 100+ IDs on Identity Premier plan
Cons:
Relatively new in the market and not enough recognition
Who should consider Vouched as their best identity verification platform?
Venture capital firms, healthcare, gig economy
Pricing
Also offers a 14 Day free trial.
You'll receive 50 Free ID checks upon sign up.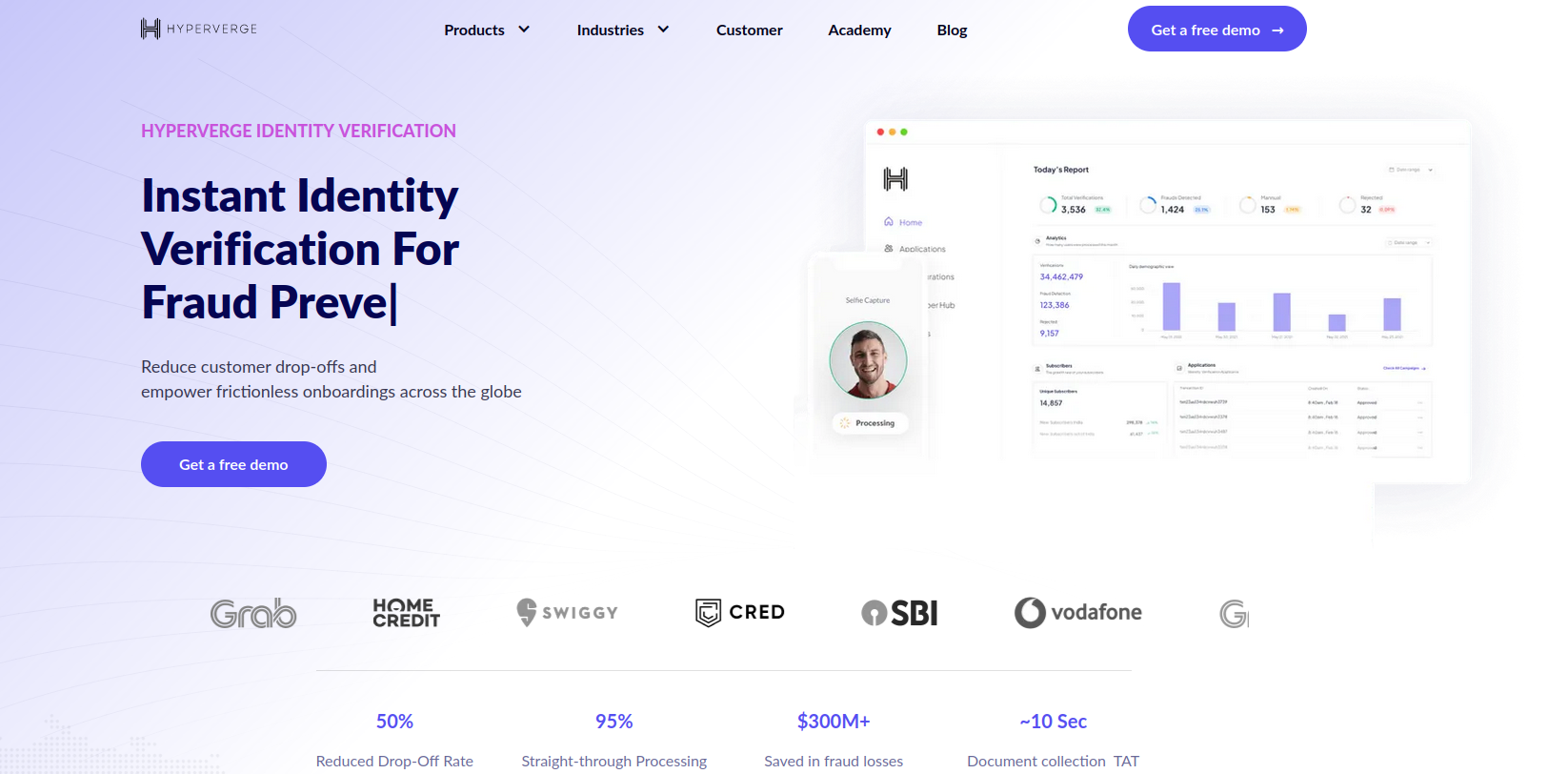 Many financial institutions undergo thorough OCR, KYC, and AML processes. But barely anything is done to reduce customer drop-offs. They often go for third-party authentication solutions. 
However, accuracy remains a big issue. 
What an online identity verification service should have is proprietary AI technology that can:
reduce drop-off rate, 
speed up processing and turnaround time, 
and let you add custom checks. 
And HyperVerge delivers exactly the same.
HyperVerge is an Indian startup that not only earned iBeta certification for passive single-image liveness check. But is ranked among the best facial recognition systems as per the prestigious NIST ranking.
Besides online ID verification, HyperVerge is acing real-time surveillance at airports, workplaces, and even use in ATM kiosks.
On top of that, HyperVerge can also work on low-end devices – even in 2G bandwidth. That's why this platform is said to stand up to a wide range of user verification challenges. 
Hyperverge Key Features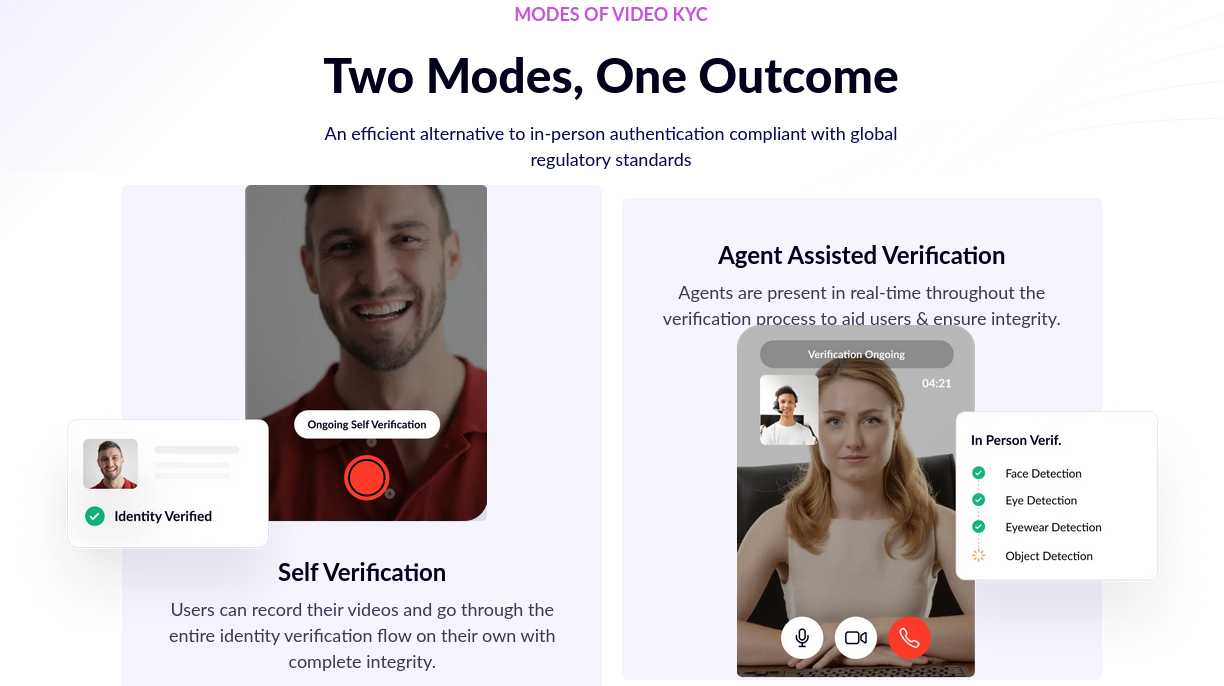 Claims to be one of the very few platforms to have iBeta certification for passive single-image liveness check. The system uses video KYC – a fixed-length live video capture to detect skin texture, subtle facial or eye movements, and many complex characteristics. 
Engineered to work even in weak network conditions. 
Users can choose to get assistance from the agent. 
Or record their video and follow the verification flow with complete integrity. 
Can you imagine how much space can be occupied by duplicate or redundant data? About 10-20 times more than what's required for storage.

Therefore, HyperVerge's ML models are designed to run data de-duplication to reduce junk data and maintenance costs. However, this is more than just a space-saving feature. 
Helps you keep up with compliance and regulatory reporting. 
And also keeps the accountability of multiple fraud payments.
Customizable workflow builder helps you create no-code routine functions to automate and simplify user onboarding.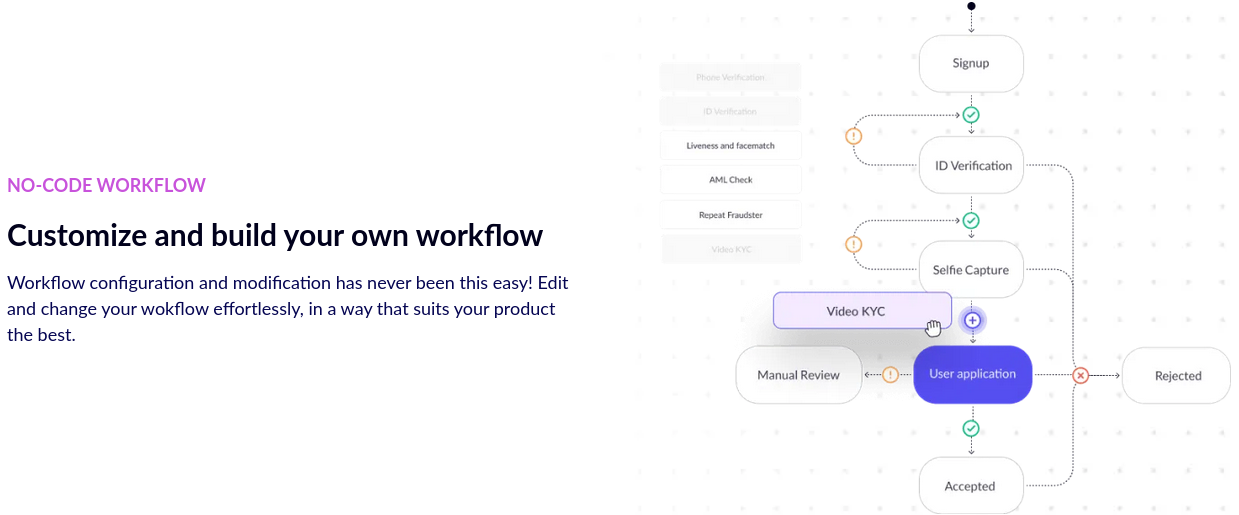 HyperVerge Pros and Cons
Pros:
Passive single-image liveness check

Real-time video KYC verification

Customizable workflow as per the industry 
Cons:
Few users recommended dashboard improvements
Who should consider HyperVerge as their best identity verification platform?
Financial institutions, crypto industry, accounting, employee/ public monitoring.
Pricing
Three levels of pricing plan available – for startups, mid-sized companies, and enterprises. Request upon quote.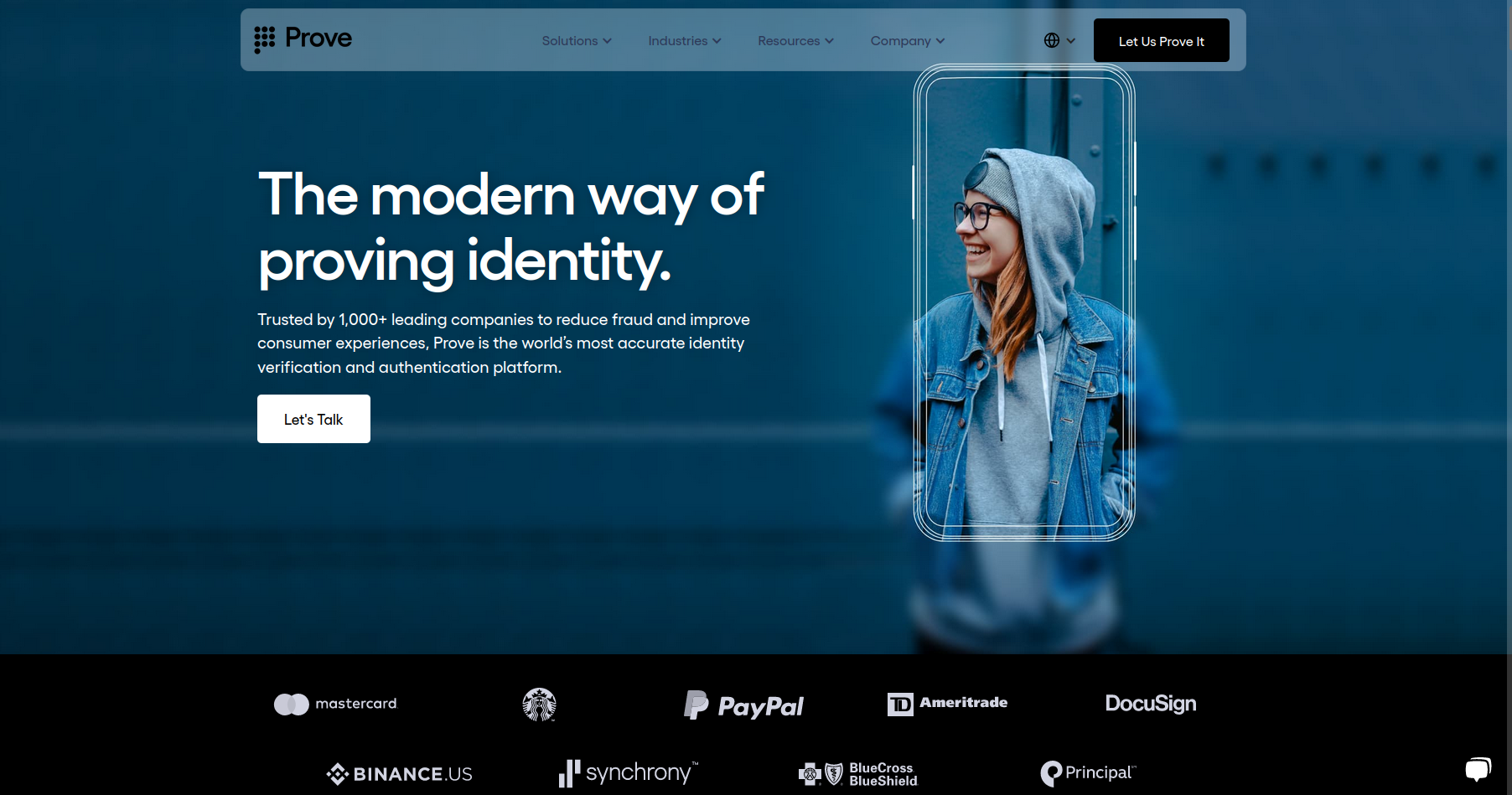 Not only do we endure the double standards of the society we live in. But the digital world as well.
Sim-swapping or sim-hijacking is that double standard act where a fraudster blocks the original SIM. And duplicates the victim's number. While successfully gaining access to OTP and draining your bank balance. 
It happens when a scammer gets a duplicate SIM card. Or takes control of an already existing number by porting illegally. 
Mainly due to the lack of a 2-step verification or 2-factor authentication process. 
While many ID verification platforms offer layered authentication checks. Yet the sim-swap remains a big concern. 
Unless you come across Prove ID verification software. 
Prove comes with a unique phone-centric identity which is a game-changer in eliminating mobile fraud. 
It uses behavioral biometrics – a passive identity technology from UnifyID (now acquired by Prove) that powers the authentication process.
This can immensely help businesses validate users earlier in the process. Even before they enter the session. So it is no surprise that 9 out of the top 10 US banks have partnered with Provees services.  
Prove ID verification Key Features
Behavioral biometric authentication relies on countless mobile signals. A technology that authenticates the pattern of users based on their everyday motion and behavior. The accuracy is so high that it doesn't require your users to do anything different. 
There are 3 aspects to this phone-centric identity process:
GaitAuth – Every person has a unique gait, based on how they walk day in and day out while having a phone in their pocket. The technology passively pulls data in real-time without ever compromising your privacy. 
MotionAuth is one step ahead of gait. It pulls the signals based on the user's activity like the way they move or twist their body, sit or stand. For example, a person sits with legs crossed. Whereas the person next to him/her stays leaning back in the chair. 
PushAuth is a single-tap password less login process based on GaitAuth and MotionAuth. A secure alternative to message OTP or voice OTP. 

Provees identity manager registers the phone's identity tokens in real-time. That means, i

dentity manager maintains and monitors the accuracy of the phone number and its user throughout the lifecycle. 
Over 90% of cellular numbers are recycled to new users annually. Also, consider millions of new phones, new sim numbers, and lost cases that collectively challenge the accountability of identities. 
Proveees identity manager, therefore, assigns identity tokens that stay with the users. No matter if they change carrier, smartphone, or phone number.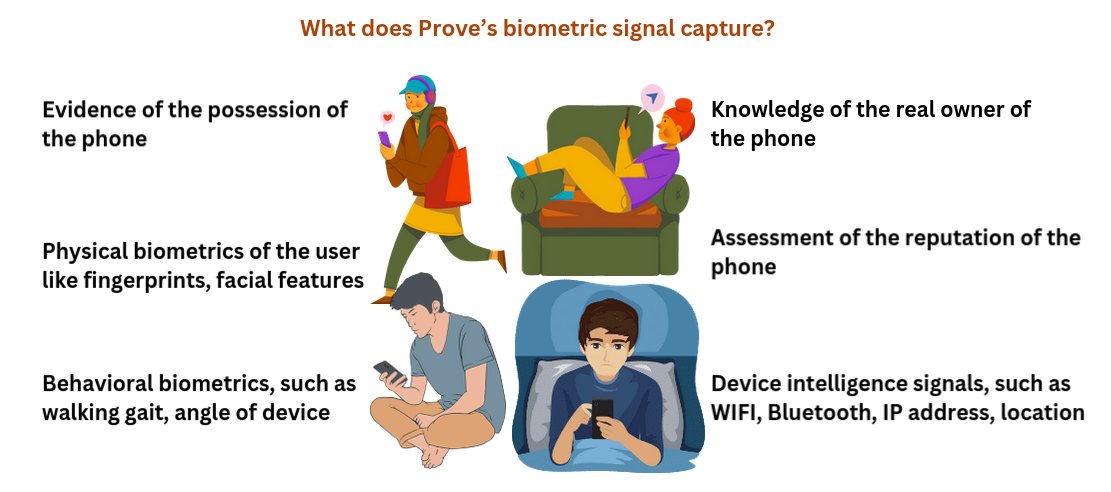 Prove Pros and Cons
Pros:
Blazing fast pre-fill solution speeds up the KYC process for customers

Behavioral biometrics is a gamechanger in ID verification

Identity manager keeps track of users switching mobile, carrier, or number
Cons:
Many users found API integration cumbersome
Who should consider Prove as their best identity verification platform?
Finances, Network Security, Healthcare
Pricing
Pricing available upon quote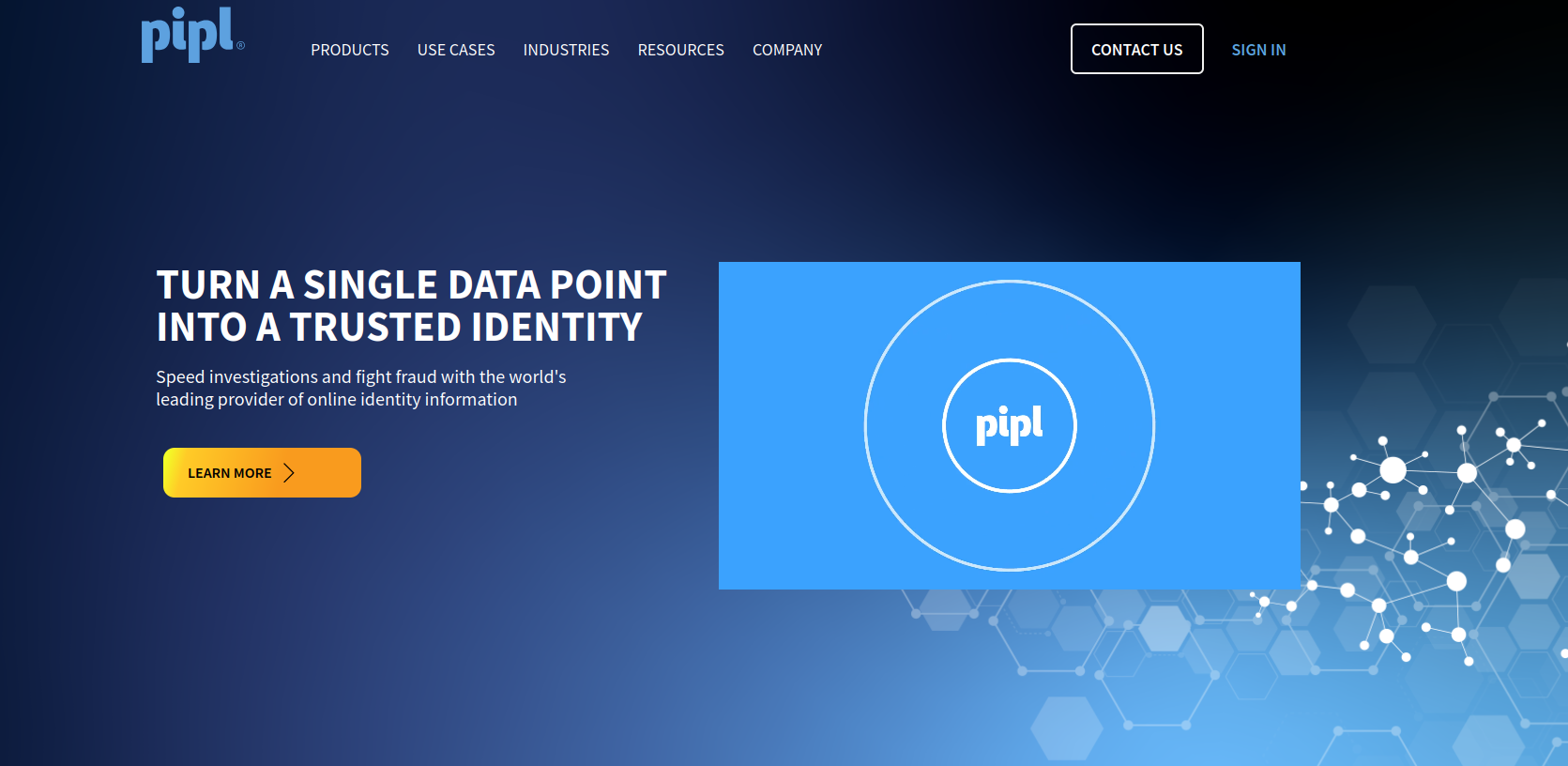 On average, a social media user is registered to 6-8 identity platforms. Plus, their online bank accounts, shopping sites, and various membership accounts.
With people creating multiple online accounts, online identity is exponentially growing to an extent where things are turning nasty. Consequences like account takeover fraud have become a digital plague. 
In such a mess, is relying on traditional identity details sufficient for businesses?
Absolutely not.
But relying on an ID verification platform like Pipl could be. 
Pipl comes with a unique solution that uses advanced data analysis. It's based on a recursive algorithm.
Its engine scours the internet and validates different identity fragments from exclusive sources of public data. 
This helps your business to generate a huge index of trustworthy online identities from a heap of digital mess. 
With such a computational ability, Pipl makes an ideal platform for leading e-commerce brands, fintech industries, insurance providers, and even government agencies. 
It's easily one of the top choices for enterprises that can assure your customers are real pipl. 
Pipl ID Verification Key Features

Relying on traditional data isn't enough especially when there are no significant digital footprints of the people. There is nothing much to generate questions from. Biometrics can often be breached as well. 
However, with Dynamic KBA (Knowledge-based authentication) method, you can take advantage of its deep search insights and trust score without leaving any room for breaches. 
1. By automated search and cross-referencing.  
Starting with as little information as a phone number, social username, email address, or physical address. Pipl then makes a cross-reference from over 25 billion identity records and gets you results. Thus, saving your hours of research. In case the search returns more than one match, it lays out results based on the highest confidence score.
2. By using predictive trust signals.
For example, when several account sign-ups don't turn into active users. In many cases, such accounts intentionally post fake reviews, post spam, abuse promos, or even take over accounts. To prevent this, Pipl uses automated decision by establishing deep connections of people among 5 billion trusted identities. Thus, leaving you with a room full of active users. 
Pipl Pros and Cons
Pros:
Easy screening based on the trust score

Helpful in getting necessary details for sales leads

Cross-referencing helps in finding connections with your prospects
Cons:
Expensive as mentioned by many Pipl users

Sometimes, cross-referencing leads to mishmashed data, like information of two or more people into one. 
Who should consider Pipl as their best identity verification platform?
Digital marketers, fintech, neobanks, law enforcement.
Pricing
Need to request upon quote. 
It's easier to know your customers when businesses are done in person. However, the relationship gets trickier online. Especially if a product is pricey or requires age verification. 
Even the products or services that have been a target of scams historically. 
So in this online marketplace where just about anyone is free to order anything, how can you assure if your customer is the one who he/she registers to be?
How can the verification process be made easier so that real people don't walk away?
By trusting Token of Trust – a startup that aims to reduce scams related to online orders. It is one of the fastest-growing identity verification platforms with a special focus on integrating with e-commerce platforms. 
If you're an online seller or service provider looking to 
reduce customer on-boarding friction, 
reduce cart abandonment,
Put returning customers in the fast lane,
reduce unwanted fees, 
and ultimately boost your sales,
you'll find Token of Trust a reliable platform to future-proof your online business. 
It also automates the PACT Act compliance process which is time-consuming and comes with legal barriers. 
Besides, Token of Trust is equally helpful for Fintech, travel, healthcare, real estate, and professional services. 
Token of Trust Key Features
Easy to set up integration with e-commerce platforms like Shopify, and WooCommerce. Its quick and automated KYC and ID verification steps help you to retain real people based on age or place. As well as make things easier for returning customers. You can create rules like age limit, purchase limit for products. You may also choose to modify the verification process whenever required.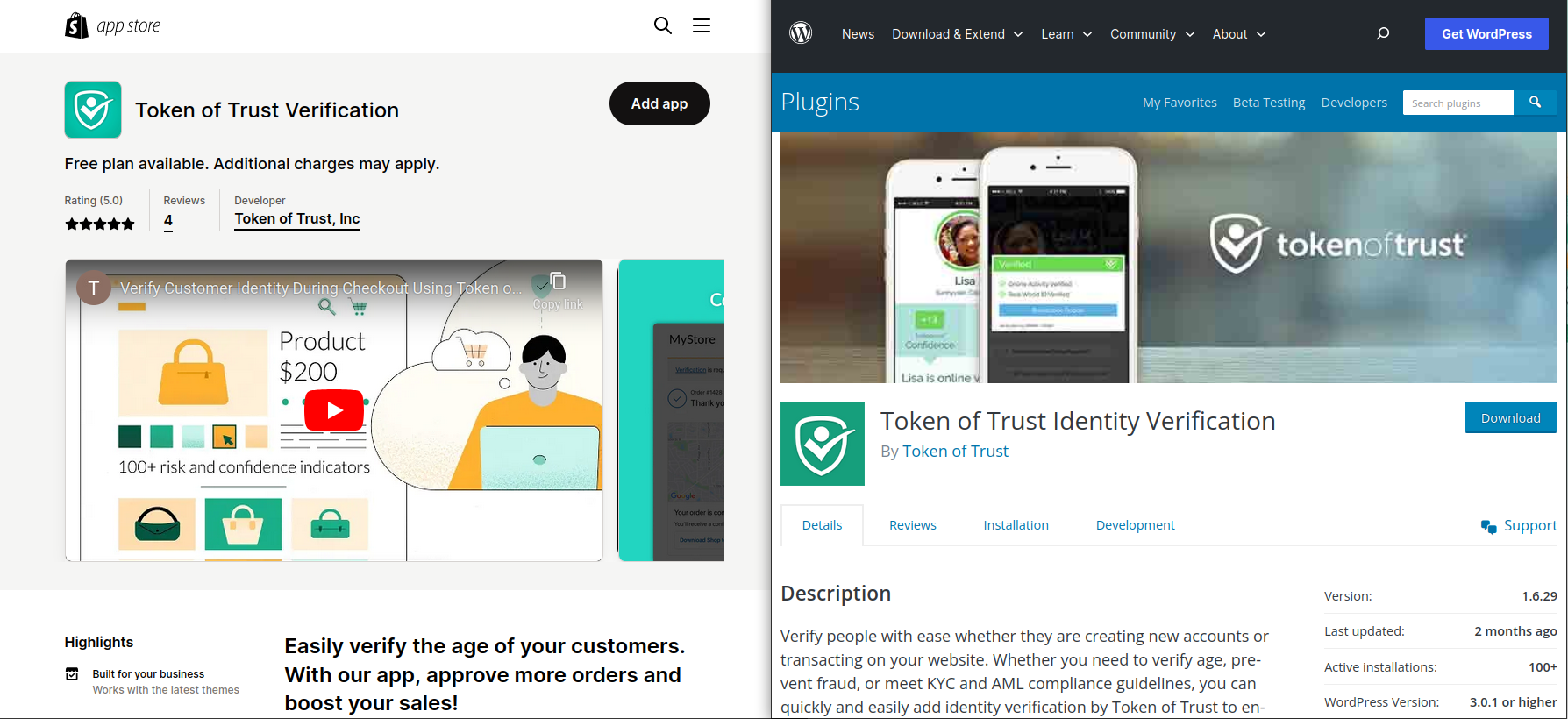 Ability to validate customers using biometric selfie and liveness checks. Token of Trust also uses eyeball verification to add precision to the user authentication process.
Uses electronic identity verification that relies on the customer's reputation score. This means the overall online reputation of the person is based on the commercially available database. This includes an active presence on digital media, reviews, etc.
Features PACT Act compliance. It helps sellers of smoking products, CBD, and other legally sensitive items overcome the barriers of getting a license. Also helps to onboard only users of legal age. 
Token of Trust Pros and Cons
Pros:
Ease of integration with e-commerce platforms (more to come)

Includes complete ID verification checks

Comes with a tax compliance solution
Cons:
Pricing on Shopify is a bit expensive. The starter plan is free to use but costs 99 cents for each order. However, the pricing isn't clear on WooCommerce. 
Who should consider Token of Trust as their best identity verification platform?
The WordPress integration is great for SMBs who use the CMS as their main website platform.
PACT Act compliance, tax calculations
Pricing
For different use cases, you need to request a quote. 
For e-commerce, Token of Trust has the following pricing for Shopify store owners:
Free starter plan + 99 cents per order
Standard plan: $25/month + 85 cents per order
Pro plan: $100/month + 60 cents per order
Final Thoughts
Fraudsters are storming the digital space. They never rest.
But with the best identity verification platforms, digital gatekeeping is getting stronger.
Forget about the endless paperwork for compliance. Forget about financial literacy. And expensive security budgets.
It's time to breathe a sigh of relief. As you stay compliant and create a better onboarding experience for customers.
Knowing how the capabilities of these verification platforms can power your start-up. While keeping fraudsters at bay as they tear their hair out at every unsuccessful attempt.
So now,  you're just one step away from future-proofing your business workflow.